A brightly colored freshwater fish, its name "koi fish" comes from the Japanese name Nishikigoi, which translates as "brocade carp". … Since "koi" in Japanese is a homonym for another word for love and affection, the koi fish is often a symbol of love, friendship, and devotion in Japan. They are often used to refer to difficulties that a person has overcome or is overcoming in their own life. Koi is a species of a common fish found all over the world called Carp. Their color and parentage make them unique. Some of the characteristics associated with the koi include Good fortune, Success, Prosperity Endurance, Courage, Ambition, Perseverance.
Below are some amazing tattoos to go for:
Up and Down swimming Koi Fish Tattoos
Meaning: This can be interpreted as fighting or grappling with obstacles and used as a reminder that you will not give up. You can also mark obstacles that have been crossed and gain strength to continue upstream.
2. Best Sleeve Koi Fish Tattoos
Meaning: Koi Fish Tattoos are a symbol of elevated status.
3. Lotus Koi Fish Tattoos
Meaning: The lotus flower grows out of the dust to grow to be a lovely flower. Together, lotus and koi fish tattoos constitute an increase and overcoming struggles.
4. Dragon Koi Fish Tattoos
Meaning: The dragon stands for strength, power, and ferocity, while the Koi embodies endurance and willpower. Together they allude to the legend of the koi fish, which stands for transformation and rebirth. This tattoo can mean a fresh start or a fresh start.
5. Ying Yang Koi Fish Tattoos
Meaning: The combination of the Yin-Yang symbolism together with the Koi fish often represents strong images and meanings. The Yin-Yang represents the good and the bad, the duality and harmony of life, while the Koi fish represents perseverance, struggle, and the Shows ability to achieve goals. which is also an important aspect of life.
6. Koi Fish Tattoos for Men Too
Meaning: These will look classy on men over women as they give the same look.
7. Small Koi Fish Tattoo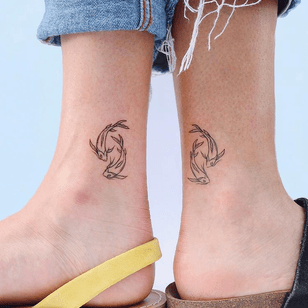 Meaning: These tiny tattoos will look cute. Like the mini version of the big ones. They symbolize luck.
8. Forearm Koi Fish Tattoos
Meaning: These forearm Koi Fish Tattoos will look stunning. It is believed that the positive energy that the koi icon attracts, especially in Asian cultures, brings happiness to everyone who touches it.
9. Colourful and Creative Koi Fish Tattoos
Meaning: Color makes everything looks pretty and so are these tattoos. Here's what each and their combinations of each mean:
Career success: the white frame and purple spots (Kohaku).
True love: a yellow, purple, or white koi with black markings (Bekko).
Business success: a strong silver-colored koi (Ogon).
Riches: a vibrant gold frame (Yamabuki).
Autumn: a brown and gray color. Specifically meaning "fallen leaves" fallen on water" (Ochiba Shigura).
Life changes: a white frame and black spots. Also with the aid of using a black-bodied koi (Kumonryu).
Long-lasting relationships: the purple and white "lipstick" colored fish (Kuchibeni).