So in countries like India, there is no wedding season because weddings happen all the time and when there is not a wedding happening, there is always an elaborative festive season going on. Anyway, this is a post about brides and particularly their wedding shenanigans like applying henna as a form of traditional and cultural rule as well as its booming trend all over the world. Nowadays brides are more into minimalistic Mehandi trends but there are still some brides who would want their whole arms and legs to be adorned by beautiful traditional henna designs for their special day. One can not ignore how beautiful these full traditional Mehandi designs look as they are available in different styles, like Indian, Arabic, and Pakistani Mehandi designs. And we have got this post exclusively for your full arm fetishes. This list will include right from the simplest to the most complicated designs on the market.
Because applying Mehandi is deep-rooted in the cultural past and the important significance it holds for the bride, we would not compromise on the variations of designs that we are gonna put up here and a brief description of what the design is along with it too. This will be every bride's dream henna for sure. The designs are quite endless and there's probably no end to satisfaction level because, to be honest, for most of us, the wedding day just come once in our lifetime and who wouldn't wanna look their best? We aim to provide you with the best designs that will meet your requirements or otherwise, there's always room for improvisation, ain't there? You can mix your traditional motifs with contemporary geometric designs as well as some inspiration from Arabic Mehandi designs and what a great idea it would be to add a touch of personal elements, right? Some go as far as portraying their wedding moments in their henna designs! Anyway, even if it's a bit far-fetched for your sensibilities, I would suggest you have a lookout for your perfect design with a lot of patience.
The first step, however, is to go through this list of multifarious designs that will give you an idea of what's hot and what's not in this sphere. We have all the designs that you need right from the front of your hand to the back of it. So keep scrolling down to the amazing 65 bridal designs for full hands to make you shine through your D-day!
1. Graceful Full Arm Mehandi Design
If you feel that getting a full hand Mehandi which will go up to your arms is a pretty messy idea, and well, besides, if you also feel that the whole process is rather monotonous and tedious, think again! Look at this pretty design, doesn't it look like it is worth the wait? This design is magical because it is not only neatly drawn, it also has beautiful motifs that look elegant. See how the lotus flower motifs are so brilliantly drawn on the fingers? This design also contains more than one mesh design, how cool is that? It is almost done in layers and each layer can be pointed distinctly.
2. Bold Full Arm Mehandi
This design is so strong and bold that it almost gives a 3-D effect. This striking design has it all. It hs beautiful floral patterns that will strike any woman as beautiful, it has elegant swirls and twirls that are wrapped around those flowers and it has an elaborate dome work too that gives the royal feelings. If you may notice, both hands have different design patterns that look amazing. That's the key to having unusual designs if you can't settle for just one. I agree that most of us want to have everything coordinated but maybe sometimes different is good! This design stands the testimony.
3. Traditional Full Arm Mehandi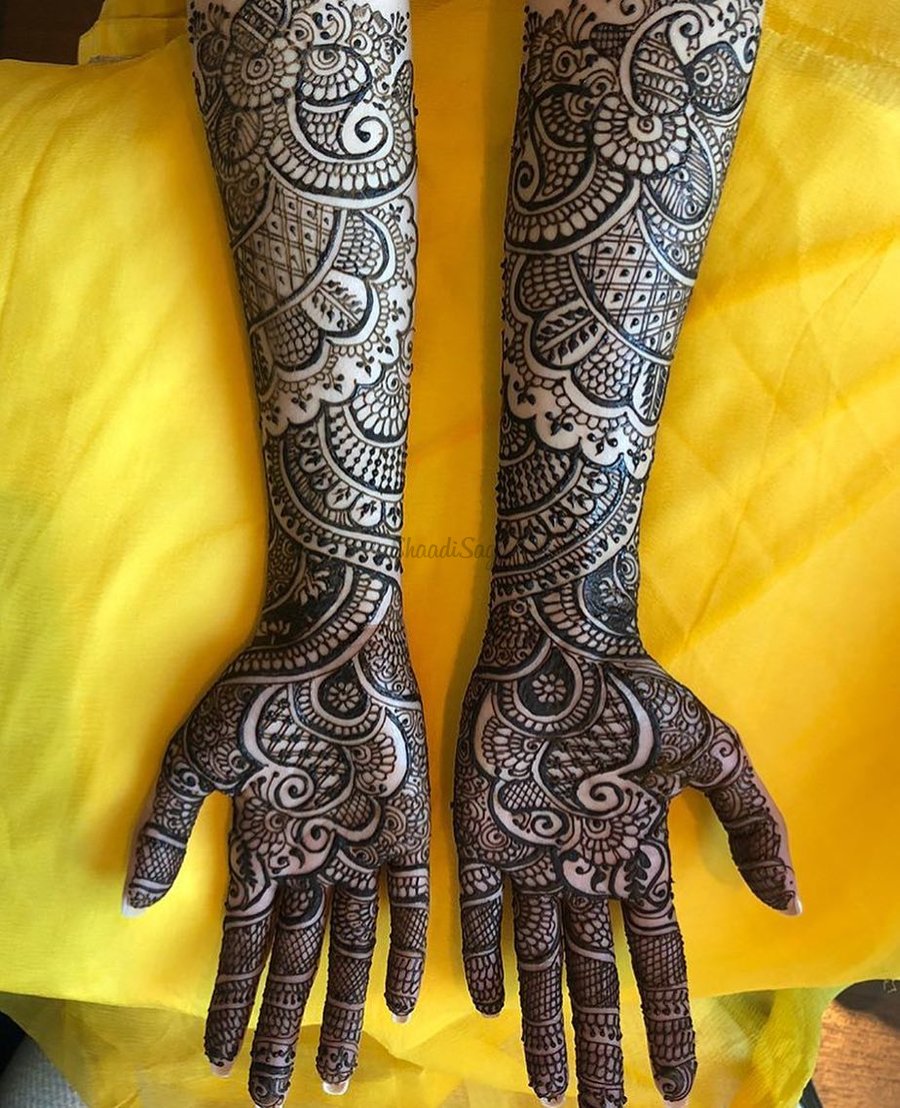 There are so many patterns in this one that we can not even comprehend where to begin from! I guess that is the beauty of Indian Mehandi designs. The traditional Mehandi designs have known to be crowded but doesn't it look splendid? There are a lot of mesh patterns, dot works, paisleys, and floral work going in here. Absolutely stunning.
4. Bride and Groom Mehandi Design
This is what I meant when I said that we can try and get a personalized Mehandi design for the special day. The hands have the motifs of the bride and groom. One hand is reserved for the bride and another one for the groom. They also have very conventional motifs like airplanes and huge skyscrapers. I am assuming that both of them share a passion for traveling. You can also add something that you guys like to do there and make your Mehandi design a bit more significant.
5. Game Of Thrones Inspired
So this couple is a Game of Thrones fan and probably they have a McDonald's takeaway while watching the series? That's all that I could infer from the bride's design. Anyway, it is such a modern twist on the traditional design, isn't it? The other motifs include a beautiful strip of roses on arm, a beautiful mesh design on fingers, and leafy patterns swirling their way in the design. I also love the fact that the two hands combine to form a mandala. That's pretty cute.
6. Bride and Groom Peacock Bridal Mehandi Design
This one again is dedicated to the bride and the groom but it does not have those contemporary elements to it and the wearer has decided to keep it traditional all the way. I loved the top of the design because of the two pots that have been adorned. The pots are called 'Kalash' and are considered very auspicious for the couple. Other designs include beautiful rose patterns and peacock designs. They look extremely gorgeous.
7. Rhombus Centered Design
The central design, I can say, is quite simple as compared to all the rest of the designs in this picture. This is a different look from the other ones as all the traditional patterns are enclosed inside the diamond shape. The fingers, however, have identical looks which are amazing if we want some symmetry in this design. The armbands are very intriguing because each section has some amazing feat of artistic work.
8. Intricate Full Arm Mehandi Design
The first thing you will notice is the fingertips of this quite unusual design. The beautiful leafy pattern will steal everyone's hearts. The whole design in general boasts of floral details and a great finish. It is indeed very neat. The v-shape designs set it apart from others. The delicate designs are perfect for any bride.
9. Playful Mehandi Design
This Mehandi design definitely tells the story of how they met. It was apparently on a tennis court. The meet has been incorporated amidst the traditional patterns of the Mehandi designs and it looks amazing.
10. Peacock Design for Full Arm
The Mehandi patterns are pretty traditional in this one. You can see a lot of meshwork, paisleys, and floral patterns. However, the peacock pattern at the top stands out the most, doesn't it?
11. Travel Buddies Design
Of course, this is a traveler's dream. Probably the girl is from Kolkata and the guy from Dubai? Or they might plan to move to Dubai? Or it can even be that Dubai is their honeymoon destination! This is something personal and we would also encourage you to get your Mehandi design personalized for yourself. The rest of the design is great too. It is done using a mesh pattern and the slanting motifs really stand out. It is an amalgamation of bold and intricate strokes that looks lovely by providing a unique contrast. The whole design tells a story that is quite heartfelt and that's the most amazing part of the design.
12. 3-D Mehandi Design for Full Arms
You will be so impressed by how this Mehandi has turned out to be! This is a classic Mehandi design that incorporates a bit of contemporary Mehandi ideas. The hearts are accentuated by giving it a 3D effect. It is just perfect for the wedding day as it screams out love! You can sense a sort of symmetry that looks absolutely feminine and elegant.
13. Lotus Inspired Design
This design seems to be inspired by the floral theme. There are lotus and roses and other random floral design that gives a feminine get up to this full arm Mehandi pattern. Although the designs on both hands are totally different, the use of the same motifs has related them to certain levels.
14. Bride and Groom with Initials
Like the ones above, this design also tells a story of how the couple met and their journey until they tied the knot. So it has all the elements that they enjoyed the most, for instance, the coffee! I also like how the message has been inscribed on one arm saying, "Tailor-made for each other.". That's pretty sweet. While the centerpiece of one hand is the portrait of the bride and the groom, the other hand has both their initials. Seems like the bride has totally dedicated her henna design to her wedding!
15. Radha Krishna Mehandi Design
Radha and Krishna are the ideal matches for each other. They have been considered the epitome of love and the perfect relationship. The portrait is quite easy to do and the design is not too complicated either. There are not many motifs except for the wrist bands.
16. Symmetrical Mehandi Design
The design on both hands is totally the same and so we can't stop gushing over the perfect symmetry of this design. The patterns are very intricate and look really delicate. It sure does require a lot of patience and precision. This design has all the motifs, like, paisleys, dot work, meshwork, and if you look closely, you will see a woman's face amidst all the traditional patterns. Now that's something unusual, ain't it?
17. Get Your Pet in the Design
If your pet is a super important part of your family why not introduce him to your wedding Mehandi? I think it is quite a different and creative way to express your love for him. It would also give your design a much-needed personal touch.
18. Dome Shaped Mehandi Design
We know that Mehandi designs on the front part of your hand are important, but you can not neglect the back of your hand for it. The back of the hand is equally important and this design is quite evident for it. It is made out of beautiful stokes that are neither too bold nor too intricate.
19. Neatly Drawn Mehandi Patterns
The design has a very neat look. It looks as if the design has been printed on the hand instead of being handmade because the designs on both hands are totally similar. They are like a mirror image! The symmetry and precision are commendable.
20. Mehandi With Checkered Patterns
This Mehandi sure has a lot of mesh designs. You can see them on the central hand area as well as on the arms too. It also has floral patterns and leafy trails that set the theme of the design. Besides this, the design also consists of many dome-like shapes which gives it a royal and traditional effect. The two half-squares come together to form a single shape which is also a distinctive element of the design.
21. Surreal Mehandi Design for Full Hands
This design definitely looks surreal. A lot of brides want to have floral and leafy patterns and a bit of twirl here and there but this design is a bit unusual. This design consists of many elements but they are just too basic. However, it is their simplicity that makes them so unique too because of their arrangement.
22. Wedding Elephant Designs
This design is great because it is only complete when the bride brings her hands together. One hand is dedicated to the groom and the other one is for the bride herself. I like how the image of the heart is complete and the couple is tied together. The tips of the fingers have been beautifully adorned in leaf patterns too. However, the most complex out of all is the elephant design that is standing there at the top. It looks exquisite. Elephants are considered lucky for weddings! Interestingly, can you spot the mickey mouse motif in this Mehandi design? Good luck with doing that!
23. Elephants and Mandalas
Just like the design above, the top of the Mehandi is adorned with elephants, and very similar to the design, this design also commemorates a whole design when the two half ones come together. It is a mix of bold and delicate patterns. The traditional motifs are arranged in a traditional pattern that looks extremely beautiful.
24. Classic Full Arm Bridal Mehandi Design
There is a lot of meshwork going on in this design. The lotus theme brings royal vibes to the whole design. The little elephant right in the middle definitely adds to the auspiciousness.
25. Traditional Bridal Mehandi
This design is very traditional. If you can observe, at the top of this design, there are paisley designs as well as a little 'Doli' motif which is significant for the bride. The extremely floral design looks very elegant in the hands of this bride.
26. Fusion Arabic Design
This design is amongst one of the prettiest designs you can find on this list. I love the extremely dark color of the henna here. It is a fusion of Arabic and Pakistani Mehandi styles. All the patterns are done very intricately and they look unique.
27. Om Religious Mehandi Design
Right from childhood friends to lovers, this pattern says it all, doesn't it? You can also see some religious motifs like the 'om' and the portrait of Radha and Krishna. It is quite romantic!
28. A Fairy Tale Wedding Mehandi
It is all set for a fairytale wedding. You can clearly see the prince and princess on one hand, while the other one is our traditional or 'desi' couple. Other motifs are put according to the appropriate hand. For the fairy tale one, there is the dog and the castle, while the hand with its own portrait has traditional religious motifs.
29. Perfect Symmetry Design
This design is also traditionally symbolical with all the motifs spread on the hand beautifully. This design is also completed when both hands are brought together. The swirly and floral patterns look amazing. The trail of leaves looks pretty feminine.
30. Hypnotic Mehandi Design
There are so many domes and curves that this Mehandi design is pretty attractive. The reason why it attracts so much that it is very precise and thus, kind of hypnotic. The intricate designs are neatly done. It is not a totally traditional design and is perfect for the contemporary bride.
31. Full Arm Mehandi Design
This kind of Mehandi design is great for the bride because of the bold patterns and the motifs but it can also be worn on other special occasions and festivals. It is quite an easy pattern to make and comprises floral designs while the whole arm is full of circular traditional patterns. Since this design has a single pattern that goes till the end, it might get a bit monotonous after a while. However, you can always glam it up by adding stones, glitters, or totally different color henna in the same pattern. I am sure it will definitely stand out.
32. Groom and Bride in Centre
This is a typical Indian Mehandi design with the portrait of the bride and groom in the very middle. The designs in these patterns are very good and intricately done. The paisley and peacock motif is great.
33. Detailed Mehandi Design
This is an extremely detailed one. I wonder how much time went into creating this design. A design like this needs great precision and professional skills. This Indian bridal Mehandi design would surely stand out amidst the crowd and capture everyone's eye.
34. Professional Mehandi Design for Full Arms
If you are looking out for a design like this you must acquire some professional hand for it. It might seem easy because of the simple patterns but it is not quite so. Once again this design has the bride and groom motif that is exclusive for any bride.
35. Simple Full Arm Design
This design is a bit easy because of the ample spacing left between the patterns. The designs are not super subtle and delicate. They are rather bold. The patterns include simple meshwork and dot work which fills up the gaps pretty easily.
36. Full Arm Mehandi Design
This too is a quite simplistic design for you except for the different kinds of swirls and dome structures. It has paisleys and drops motifs but not enough floral motifs as is common in usual bridal designs.
37. Regular Full Arm Mehandi Design
This Mehandi pattern has no complicated designs but it is quite elaborate and hence it is time-consuming. Some women like to get adorned with Mehandi till the shoulders. In that case, getting a Mehandi with a simpler pattern is always the best idea because sitting for a prolonged time is too tedious. Besides weddings, you can wear this for any other occasions and festivals and you will definitely thrive.
38. Rajasthani Full Arm Mehandi Design
This is great work that is done by professionals. This design can be said to be inspired by the Rajasthani Mehandi design because of the use of certain motifs like the paisleys and the flower motif. It can be used for any kind of celebration and is not necessarily restricted to weddings. It has religious symbols too which makes it pretty auspicious for the occasion. For a bit of contemporary design, you can add some chain or chandelier effect that will make your patterns resemble a lacework on a glove. Such elaborate designs look well with lehenga. Although this design is a bit region-appropriate, it can be used on other occasions too. You can add some personal motifs to make it look distinct.
39. Multiple Occasions Mehandi Design
With a design like this, I am pretty sure that you will rock any kind of occasion that you went to. This design would look best with traditional wear. While wearing such an elaborate design, you would not need much jewelry or ornaments. The Mehandi design would suffice.
40. Full Arm Arabic Design
This is the full arm Mehandi but the style in which it is made does not cover the whole arm and let it breathe! Not all women like full arm complex traditional Mehandi patterns so they choose the more contemporary Arabic Mehandi designs that offer some space and hence a neat look! This design is beautiful and very feminine.
41. Traditional Mehandi Design For Full Arm
This is a very traditional one, I must say! It is definitely the one if you are getting married. The design is intricate and offers many traditional motifs.
42. Flowery Themed Design
Although it is done with a simple black color, a great idea to enhance the looks would be to add more colors to it. Adding colors not only add vibrancy to the design but also makes it super attractive and unique. There are many more things like glitters and gemstones that can be added to the design to make it more appealing.
43. Mehandi With Matching Nail Art
This Mehandi looks super attractive because of the fine detailing work and the precision it might have taken to create something like this. However, I guess the result is totally worth it. I like how the bride has gone for matching nail art which resembles the theme of her look.
44. Bold Mehandi Patterns
This Mehandi design is a beautiful combination of bold and intricate patterns. There is nothing in this pattern that one can not love. The floral mesh stands out the most. The rest of the bold patterns include the leafy trails and the dot work. I think all these patterns really help to enhance the look.
45. Half Paisley Mehandi Design
Both the hands come together to form a beautifully detailed heart that has some amazing pattern inside. The design overall has a floral vibe to it which is super feminine for the bride. This design is, apparently, full of many geometrical patterns that make it a bit different from the rest of the works.
46. Flowers and Domes Mehandi Pattern
The beautiful dome stands right in the middle of the backhand of the bride. It makes the whole design look pretty royal. I like how it has been inscribed with lotus flowers. Both the designs are almost identical except for a few changes here and there.
47. Dancing Couple Mehandi Design
Once again this bride has decided to personalize the Mehandi for her. Her depiction of the story is completed only when she brings both her hands together. There are two types of figurines, the first one on the hand is of the couple on a date while the other one is of a dancing couple on the arm.
48. Paisley Themed Design
This design has a lot of paisley patterns that bring out the traditional theme of this design even more.
49. Intricate Mesh Design
This one is dominated by the mesh design for sure. Other designs include paisleys and dome patterns. I also like lotus band patterns on the arm and the back of the hand.
50. Matching Feet and Hand Design
The theme used in hand and legs is quite matches. The central motif is the paisley motif that is outlined by a dome-shaped pattern. The design also includes jewel patterns along with dot work. The ample amount of spacing provides neatness to the whole design.
51. Trendy Full Arm Mehandi Design
This one is not at all your regular traditional Indian Mehandi design. It includes Mehandi patterns like beautiful flowers and peacock motifs. The design is mainly floral patterns with bold and delicate strokes. The style is not typically traditional but rather fusion.
52. Fresh and Vibrant Mehandi Design
You can easily spot the huge flowers and paisley in this design. They look exquisite. I loved the finger designs the most and especially the trail of leaves moving from one finger to another.
53. Personalized Mehandi Design
This design has everything from the couple's first date to their dreams of traveling together. The hand design has the groom on the elephant and the bride in her 'Doli' as an implication of moving ahead for a new journey. The rest of the design includes swirls and twirls to complete the look.
54. Radha and Krishna Mehandi Design
This design consists of a portrait of Radha and Krishna on the arms and the couple itself on the hand. It is a beautiful and very significant design that has cultural and religious connotations. Besides this, the Mehandi design has many different patterns.
55. Layering Full Arm Mehandi Design
This full arm design has a lot of patterns going on. It includes the paisley and domes along with many criss-cross lines that have sectioned one design from the other. You might also notice a peacock or two in this design.
56. Mango Full Arm Design
A design like this is called a mango design with many mango-shaped motifs. It is not super traditional because of the reason that it has a lot of space and is not super complicated like the traditional designs.
57. Half and Half Mehandi
This kind of Mehandi design is called a half-and-half Mehandi design because the design is completed only when both the halves are joined together as the bride brings her hands together. Otherwise, both hands have the same designs.
58. Pakistani Mehandi Design
This Pakistani Mehandi design is stylish and unique. Its uniqueness will definitely attract attention.
59. Diamond Shaped Mehandi Design
I like how intricate this design is because it only makes it look more delicate. The diamond patterns are gorgeous and give a royal touch. This design is perfect for the modern bride.
60. King and Queen Mehandi Design
The design depicts a king and queen, which is symbolic of the couple, right in the middle of the arms. The ample spacing does not really make it a super traditional design but it does provide precision.
61. Mehandi Design With Traditional Symbols
This design has it all, right from the elephants to peacocks and other traditional motifs. I like how hearts are springing out from the elephant's tusk. It is quite creative.
62. Full Arm Glittery Mehandi
Adding glitters or gemstone adds a distinct look to your design by making it look attractive. You can add various glittery things to your design and especially if you are the bride.
63. Central Mandala Mehandi Design
The mandala is made in the half and half Mehandi pattern. This is quite a trend these days as it brings a little playfulness and creativity to the design. Otherwise, the designs are pretty common.
64. Stone Studded Mehandi Design
Adding colorful rocks always makes your Mehandi design stand out even more. You can get some simple designs and decorate them with beautiful rocks for an enhanced look.
65. Chirping Parrots Mehandi Design
Quite a mesmerizing design because of the parrots. It looks quite unusual. The parrots are traditional Indian symbols associated with being the messenger of love and affection.