It is true that not everyone has that pearly whites we all dream of but somehow still the celebrities tend to have the picture-perfect smile every time they face the came. How is it even possible? Well, the fact is that most celebs have gone through one or the other dental surgeries to set up their dentures. No one is really born with the perfect set of pearly whites and that is established as a fact. However, this also means that the non-celebrity folks, the commoners, like you and I can also have the perfect smiles because we relate to the celebrities at some level, at least. Dental procedures done by the experts are now accessible to almost everyone and so is the perfect smile.
Because of such a jump in the cosmetic dentistry, it is possible to correct all those misaligned ones and the stained smiled into a picture-perfect one. It is certainly not necessary for you to be a celebrity to get these surgeries done and if you need that leap of confidence that was long lost, science has made it possible! This industry is a product of decades of research and the enhancement of technology. It is quite innovative and considered "art" amongst the customers who are interested to get themselves fixed cosmetically. The result is that the customers can really relish that picture-perfect smile. Worrying about the deformities that you are born with is now a thing of the past. All it takes is one form to gain all your confidence back.
What are Veneers?
Well, Doctor Sam Saleh speaks of the veneers as a casing of porcelain that is used to enhance the teeth by attaching it to them. Veneers can help bridge the teeth gaps. give a length to the otherwise shorter teeth and disguise your crooked smile. The procedure is quite straightforward. The tooth is drilled and the porcelain is attached to the tooth to enhance the look. Braces are now a thing of the past because this process takes only two weeks. Hence, veneers turned out to be a great substitute for the braces. More for praise is the fact that it is highly customizable and gives your teeth a permanent fix. That's probably why it is such a hit amongst the celebs.
For the celebrities, it is important to look wonderful at all times as that's what their carer demands. Isn't looking tip-top their branding strategy? They are supposed to look a certain way in order to set an example for others and to sell what they are required to sell in order to earn their bread and butter. Hence, we have created a list of celebrities who went under the scissors to achieve a great smile. If you are curious to know about the transformation of your favorite celebrities and the secret behind their million-dollar smile, read along because the list is pretty huge!
Can you believe that the picture on the left is the 'before' picture of our favorite heartthrob, Tom Cruise? It's true that even a celebrity like him has to get the help of veneers to achieve what he looks like today. As a fresher, he did not really have a set of great teeth. They were stained and misaligned. The lead actor must have a great smile and that is what prompted him to get the work done too.  He went through procedure like whitening and alignment of teeth to fix his dental needs.  He also had veneers as it did not seem enough. I think, if the requirements are there, there's no need to shy away from getting them fixed by taking the help of the booming technology.
Probably every girl has had a teenage crush on Zac Efron right from his High School Musical days. He is one of the most popular celebrities amongst his generation and we can't blame anything but his smile that has captured many hearts. He is known to make the ladies swoon. However, the reality is that this Disney heartthrob has undergone dental surgeries to have that million-dollar smile.  During his Disney days, he was not really a fan of his crooked smile and had uneven teeth with a little gap in the front one. He decided to retort to having the veneers to fix his problem. Not only he fixed his tooth gap, but the procedure also made his teeth look shinier and hence a picture-perfect smile.
Nicolas Cage has made his name in the list of celebs who have had teeth procedures to achieve the smile. It all started with the role in the film called "Birdy" when in 1984 he got his teeth pulled out.  However, it was certain that he couldn't make it big with those same disheveled teeth and had to do something immediately. He decided to get the porcelain veneers done that was so talked about in Hollywood. Little did he know, the veneers did wonders and that's the reason, probably, for such successful roles in Hollywood ever since.
Did you ever think that George Clooney would ever make this list? I was pretty shocked too! However, the truth cannot be turned and it would be right to accept the fact that George took the aid of veneers too to help with his wonderful smile. He is considered to be one of the most handsome men in the industry but not everything was picture perfect when he landed in the industry. If you look at the old photos of him, you will find that he had rather uneven teeth. For reference, you can go back to his series, "Facts of Life". It was immediately after the series ended that he got a set of veneers and some other dental surgeries to straighten his smile. An interesting fact is that he was not really born with teeth like that. He is known to grind his teeth a lot under stress which might have led to the damage in his teeth. It was his dentist who suggested that he must get veneers to get the original shape of his teeth back.
Ben Affleck, since his younger days, is accredited with having the best looks that any man can have in the industry. He had a smile to die for and he exploited any opportunity that hit his door. Before he transformed into the Hollywood hottie as a grown man, he had quite severed teeth. He decided to go through many cosmetic surgeries to fix his set of teeth. In the end, he got his veneers and now he enjoys his pearly whites. You can see him with his perfect smile in successful films like "Daredevils" and "Batman vs Superman".
Jim Carrey is often associated with comic roles in the film industry. But isn't it quite an irony that a person pursuing comedy is not satisfied with his own grin? You might have seen him in various movies like "The Mask" or the "Pet Detective" and he was great at it. However, he has suffered a lot with dental problems and in order to correct him, he took the help of veneers.
We can't really say that everyone is as pleased with their teeth as they are with their acting skills because Morgan Freeman is a great actor but there was a time when his teeth were not. When he started out in movies he had stained teeth and some teeth gaps in his front teeth. Most certainly because of his age, Morgan Freeman decided to get them fixed by the means of veneers. He believes that it had made him more confident and hence got him more roles in Hollywood. Although his teeth problem arose because of his age, he started looking much younger than he did before after cosmetic surgery.
If anything else, Mike Tyson is not known for his set of pearly whites. He always has had a gap in the front part of his teeth and there was a time but a boxer like him had to get a gold cap on that part in order to enhance the look. However, it did not really help. Over a period of time, Mike Tyson decided to get his golden teeth replaced with a better option, that is, veneers. As a boxer, such deformities are quite common but still, he never had a pretty smile. After getting those veneers done, he bridged that gap a bit if not wholly. His teeth look perfectly aligned now and brighter in color too. We can now say that his smile is now worth a million dollars.
So we have people who look mature even when they are young and then there are people who seem to be looking great as they age….just like the wine! Demi Moore, undoubtedly, looks better than half of the actors her age and we must say that takes in a lot of effort to look that stunning. A part of those efforts is also maintaining those pearly whites. But did you ever think that it was not at all like this before? She made it into this list because she got veneers too to fix her smile. With her age, she had teeth discoloration and in order to prevent that, she opted for many surgeries before she settled in for veneers. Now her smile looks prettier than before, her teeth are sparkly white and more aligned than they have ever been. We all have the science to thank for that!
Catherine Zeta-Jones has an impeccable beauty and she is considered one of Hollywood's most charming women. However, behind this charming smile is cosmetic surgeries. As a young one, Catherine had disheveled and crooked teeth. If you dug deep, you will find her younger self in braces too. During her career, she decided to get that smile fixed and she went through procedures like teeth whitening and getting veneers. If it was not for the advancement in such techniques, we would have never seen the impeccable smile that Catherine Zeta-Jones has to offer now.
Everyone knows Celine Dion from her huge hit Titanic song, "My Heart Will Go On" and we must say that this Canadian born singer has one of the best voices in Hollywood. However, what she did not perfect it was her teeth. Before she was famous, she had some really misaligned and stained teeth which she desperately wanted to fix. As er career took the pace, she decided to undergo some cosmetic procedure to look like how she looks ow. She got her veneers done and now her teeth look as uniform as they can be. They are much white than before too.
We all know Hilary Duff as we know Zac Efron, that is, from their Disney roles. Hilary was once a household name starring in the show, "Lizzie McGuire", as a lead actress. She made it to this list as well! In her younger days, she didn't have a picture-perfect smile either, so as she took a leap from her acting career to her singing one, she decided to take the help of cosmetic surgeries. Once in her performance in 2009, she accidentally chipped her front teeth on a microphone. This was the motivation that she needed in order to fix her whole denture instead of just one chipped tooth. She now has her smile restored, more pretty than before and we can all thank veneers for that.
Do you remember that time when teenage girls went crazy over One Direction? I bet Niall Horan was as impressed too. However, what did not impress him was his crooked and misaligned set of teeth. As a part of one of the most popular boybands, he had to get them fixed. We can also see his before images in the show X-Factor where he was featured when he was just a teenager. He even tried wearing braces on for some time too. But thanks to his successful career, he can now enjoy a successful smile after getting those veneers done. And this is probably the reason for the ladies to swoon too.
You can clearly see the difference between Emma Robert's before and after pics. As a young child, her teeth were not aligned and a bit crooked. She decided to get them fixed like most of the celebrities were doing it, that is, by getting some veneers. And this is the reason why she is such a popular name in the film industry. I would blame it on her beautiful smile!
Miley Cyrus was everyone's sweetheart when she came on Disney channel as the sweet and charming Hannah Montana. However, she had a naughty and a crooked smile. She had misaligned teeth all her teen years but she looked cute. However, when she left Hannah Montanna and decided to jump into a singing career, she decided to get her teeth fixed too with veneers. There's a lot of difference in her appearance as it is quite apparent from her before and after pics here. Her smile looks gorgeous.
Jordyn has an iconic teeth gap that she was known for but probably she didn't like it that much and "wanted a change"? She went ahead and got some cosmetic surgery to get those gaps filled. She got the veneers and even fixed the misalignment. She's so ready for a picture-perfect smile.
Emma…or more like Hermione from Harry Potter? We have all known her since she was a cute little kid in that Harry Potter series and everyone loved her innocent little face. We have been with her at every step of her career and one can easily notice that she did not have the picture-perfect smile that she has now when she was younger. She had crooked teeth which looked cute when she was a child. However, she decided to change her crooked smile into something perfect by getting those veneers…And now, she definitely rocks all her red carpet moments.
So Cardi B got her name in the list and you may have guessed that from her own song too where she said, "got a bag and fixed [her] teeth." This is a line from her song, "Bodak Yellow." As a child, she had crooked teeth but she got $40,000 veneers done to get that smile and we can see how her net worth has skyrocketed ever since.
Snooki is our MTV fashionista. Nicole Snooki Polizzi has been on MTV with many fashion trends that caught up the rage like her beehive hairdo! However, her teeth were something she was always concerned about. She did not have a perfect smile but she decided to get them corrected and a bit brightened by the cosmetic procedures. One can easily make out that the Jersey Shore star is much happier with her new veneers!
So who really thought that there might be veneers behind that million-dollar royal smile? As a young kid, Meghan had braces but rumors are that she got veneers to get them fixed.
We have known Cheryl Cole from the British version of The X Factor, where she got a lot of love and admiration from the audience. She was peppy and had a cute smile with her beautiful dimples glowing. However, she was not really happy with her teeth. As soon as she received a bit of popularity in her career, she decided to get her teeth fixed because, for her, it was time for some show business. And no one can argue but she is on fire ever since.
This former Spice Girls member is known for her haute couture style and fashion. She is one of the most famous Spice Girls that our generation has ever known. However, as a kid, she had nothing glamorous going on with her teeth. Naturally, she had to join the list of the celebrities with perfect teeth and it was in the 90s when she opted to get the veneers done for herself. Look at her now!
So 50 Cent had to pay a little bit more price for getting his teeth fixed…and it is completely worth the shot. There's a story behind why the rapper got his teeth fixed because he seemed quite unfazed by them before. The reason was another rapper calling him out for his teeth gap. He did get his gap fixed but let his teeth remain in the natural shape as they were before.
Cheryl Cole was not the only one from the X-Factor show to get her teeth done. Louis Walsh is right behind her to get his teeth fixed too. Walsh is a famous Irish music manager who was one of the judges on the famous British reality show. But that's not the only thing he is known for. Before coming on television, he got his dentures fixed by getting those crooked teeth aligned and whitening those pearls. It was totally worth it, it seems.
We know that Gary Busey has such a different personality. For one, he is quite straightforward and outspoken and probably that matches his giant porcelain veneers too. The reason for a cosmetic alteration was because this Hollywood actor got into a motorbike accident in the late 80s and severely damaged his face. While he corrected the rest of his face, he opted a set of oversized teeth which only he can pull off.
Keith Urban looks handsome as even but before he looked like this, he had a gap in his teeth which is quite evident in his early photos. As he progressed in his career, he got his dentures fixed before he got married to Nicole Kidman in 2006. His teeth now look aligned, whiter and in shape. He has not made any comments on his cosmetic surgery and we can not really say what's the story behind it or when did it happen.
Seems like everyone on the X-Factor caught up the trend of getting their teeth fixed one after the other. Hence it is no surprise that Cher Lloyd also joined the line. Her voice was pitch-perfect, but all she lacked was a million-dollar smile. As she rose in her career, she got her pearly whites fixed by getting them brighter and aligned. In an interview during her early days, she told the interviewer that she hated her teeth which she thought made her looked like a bunny. Cher Lloyd has performed in the biggest of events after that, like Bloomingdale's Glendale Gala to benefit VH1 Save The Music Foundation and she is going strong ever since.
Chris Rock, like many actors and actresses of his time, was also insecure about how he looked. The greatest of all his insecurities were his crooked teeth which he thought formed an upside-down V shape. The actor, after he performed in his greatest film, "Lethal Weapon", decided to give cosmetic surgery to enhance is looks. He then took the help of dental surgery and got himself veneers.
Jennifer Graner has a pretty cute smile with her dimples showing. However, it was not all easy for her as she made it to this list. She, obviously, got her dentures fixed. She got veneers and got a brighter and more aligned smile than what she had before. I think it works magic on her. She looks stunning.
Nene Leakes became famous by featuring in the show Real Housewives and quickly became a household name. As soon as she peaked in her career, she decided to get her teeth done which she said was her desire for so long. Sure she has worked hard towards earning a completely new set of veneers. She spent a whopping 50 thousand dollars on the set to make sure her teeth are sparkling as bright as her career. This made her teeth look even more aligned and she sparks her picture-perfect smile all the time. I bet it was worth it for her.
Courtney Love is a great author and a singer who has matured beautifully with age. The beauty that she exudes came from her dental surgery which is not shy to declare. She got herself a new set of ceramic veneers for that brighter smile. Her teeth do look sparkling and aligned.
Janice Dickinson is a supermodel and someone who is looked up for inspiration or as a perfect example of beauty. Before she had many prostheses done to replace her missing teeth and she is a proud owner of two false ones. The news came to light when one of her teeth fell under a table while dining in a restaurant. The teeth were rather expensive and so she looked frantically for them. However, she was never shy of her false teeth and even talked about getting her teeth aligned and whiter with the help of veneers. I like how celebrities like her are not shy about their shortcomings.
Seems like Joe Biden was born with such a perfect set of teeth but it is not really true. The news is that he spent a whopping 20 thousand US dollars on his ceramic veneers before he got ready for his campaigns. His teeth now do look better aligned and shinier than they were ever before. Probably this is the reason why he flashes them pearly whites more frequently than he did before.
Just like the supermodel, Jamie Foxx has rumored to be wearing fake teeth too. He is an incredible actor and as actor accidents happen all the time. He never had a gap in his teeth and they seemed pretty okay but he is known to have a dental prosthesis. Furthermore, he also got his teeth fixed by the means of veneers so that his teeth look more naturally aligned and bright than they did before. Instead of braces, he decided to go the shorter way.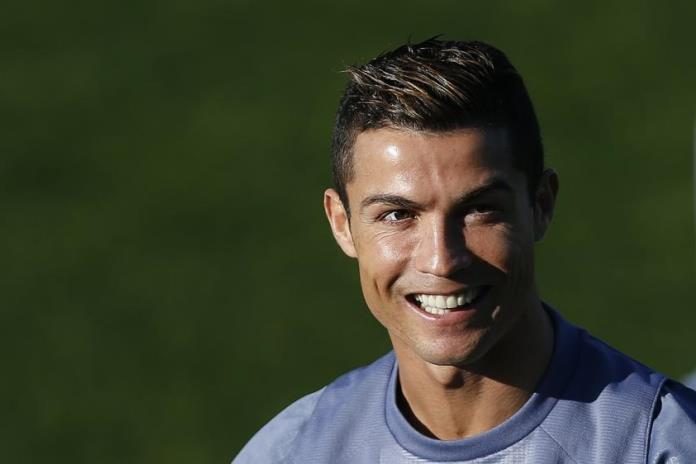 So everyone is so hung up on how desirable Cristiano Ronaldo looks and we can not agree more. That man got those beautiful leg muscles and a fit body that everyone desires. He is an inspiration to millions of boys and girls. However, he reached success because he was all about football and did not care about how he looked at all. Nonetheless, his crooked teeth were quite noticeable initially. As he was climbing the stairs of success, he decided to try on everything right from the braces to wiring and extraction to better his smile. However, he settled a bit later with a set of new veneers which helped him bridge his teeth gap and have a more aligner and shiny pearly whites.
It was not easy for LeAnn Rimes to have her smile corrected. It is in the news that she went through many cosmetic surgeries to get a picture-perfect smile. It was in the 90s when Rimes went through cosmetic surgery to get her veneers. However, it was all over the place that she had sued her dentist because the veneers caused her more pain instead of making her life better. Her pains led to a more dental issue which became a hindrance in her work too. This led to a series of even more surgeries and you won't believe it but it is 29 in total. She has had nine root canals out of them. However, seems like it was all worth the trouble because now she dons a beautiful and painless smile all the time.
Michael Douglas has always had a great set of teeth but the discoloration that comes with age was a problem. He decided to nip the bud and got himself porcelain teeth which really gave him a beautiful smile. It seems like he couldn't be any happier because he is often seen flashing his pearly whites.
Kate Beckinsale had her whole personality transformed when she got herself those porcelain veneers to get her smile fixed. She had larger teeth and her tooth enamel was a bit discolored. Now, her teeth look healthier than ever as she went under the needles. She explained the whole procedure in her interview and said that her veneers have blended really well with other features of her face totally transforming her look. With a little care and effort, the porcelain veneers are good to go for about 15-20 years down the lane.
Nicole Kidman did not really have a severely disrupted set of teeth but they were rather small. She went under the needles to make her apparent gum tissue removed so that her teeth could look bigger than before. The next step for her was to get some porcelain veneers to enhance the look.
I must say that when we realize that even celebrities have flaws as well, it makes us feel a step closer to them. All these things make us relate to them even more. Just like these celebs, we can get our tooth fixed or any other cosmetic surgery for that matter. With an increase in technology, everything is possible but it depends on you if you want to embrace it or choose the option of altering it.
Would you ever actually need veneers?
If you are unhappy with the way you smile or probably think that your teeth could look better you may be considering some options to change them. With the increase in cosmetic technology and awareness on how to do it, getting anything fixed is totally possible now. Veneers are one such option that will help you achieve your look. However, it does not always mean that it is the best option for you. Celebrities need veneers because they have their bread and butter earned by such means. The procedure is quite expensive and might require some special attention too. But just like LeAnn Rimes, you can face some after issues too…and that might even cost more.
So the question persists if the veneers are worth your time and effort? and do you really need to get them done because sometimes, we do confuse 'wants' with 'needs'? You need to consider more options that are available out there which are inexpensive but might take a bit more time. At least they are sure shot procedures.
Here's a list of signs that indicate that you actually need to get veneers:
If your teeth are broken, cracked, chipped because of some accident, you need a veneer. A veneer can help curb the problem and fix it for you. In particular, the porcelain veneer suits the best for anything like this. It will help restore the natural shape of your teeth to make you feel improved.
Teeth staining is a major problem and you just can not seem to whiten them no matter what the industry proclaims. You would definitely have to get a veneer for that. No amount of whitening products like toothpaste or gels are to be trusted because they don't work mostly. Or else, they might need years of usage to actually see the difference. Porcelain veneers can actually help and reduce the staining so that your teeth look whiter. It will help remove any kind of sports from your teeth.
People are mostly irritated by tooth gaps because they are not considered "beautiful" by beauty standards. In case, you have a tooth gap too, you can get veneer to fix your problem. A veneer can fix all the small or big gaps whether it is a single gap or multiple gaps. It is common for some people to even opt for teeth bonding but most people opt for veneers for an everlasting result. In any case, your doctor would know what's better.
If your teeth have been worn down, which is medically called as 'bruxism', you would need the help of veneers. Just like Tom Cruise, bruxism or teeth grinding is a common problem and people generally do it under stressed circumstances. It is referred to as clenching of the teeth together subconsciously. It can cause many problems related to oral health if proper help is not sought. It is here when veneers can help fix your problems.
Misalignment happens right in childhood after your temporary teeth have fallen off. To fix this problem, you need veneers. Some people also use braces because they are much more inexpensive than getting the surgery done. However, braces turn out to be a longer process.
Some Other Alternatives for Veneers:
There is always a debate about which is better, getting a veneer or a lumineer? Or if there are other methods to fix your teeth? Veneers are the top choice even for celebrities to fix any dental problems that they might have. However, you can also get them fixed by other alternatives because honestly, technology has come so far that no matter how complicated the problem is, there is a solution for that.
It is necessary to choose a better doctor for your teeth problem who is reputable and extremely well versed with his work. Talking to a dentist or orthodontist would do wonders because they are much more qualified to suggest to you about your problems. Many celebrities do have their veneers gone wrong and you do not want to fall a victim to that. There are naturally, the pros and cons of getting any cosmetic surgery. All you need is a little research and if the doctor is qualified and licensed, you don't have to worry about a thing.
Veneers can be expensive so there are many more alternatives to having one. There are simpler procedures that might take a bit longer time but are super affordable. You can easily talk about it with your doctor.
So, here's everything that you need to know about the veneers that are so popular amongst celebrities. I hope this article has answered all your questions well and you feel confident to make your doctor's appointment.