Many people have varied interests and when it comes to tattoo making, people like to choose elements that define their personality. The dagger or knife tattoo is not really a mainstream tattoo, it is quite unique and people usually get one to show their strength and courage. Although the dagger tattoo has many meanings and both positive and negative connotations associated with it, you can give your tattoo a wholly personal touch by adding particular elements which can also clarify the meaning that you want to convey to others.
When joined with symbols like a heart or a flower that have some romantic associations, daggers usually signify a failed relation or romantic treason. Sometimes, you can also supplement the dagger with a swallow to dispense a good fate. Moreover, in some countries like China, these blade designs are joined with a cherry to exhibit perpetuity. A simple dagger without anything else accompanying it can represent things like atonement, valor, and integrity. So if you think you got what it takes to represent your personality with a dagger tattoo, go ahead and check out our list of dagger designs.
This wolf tattoo with crossed daggers look amazing on the back. If you are into something that is huge, I think back is a great place for that.
Dagger With Girl and Snake Tattoo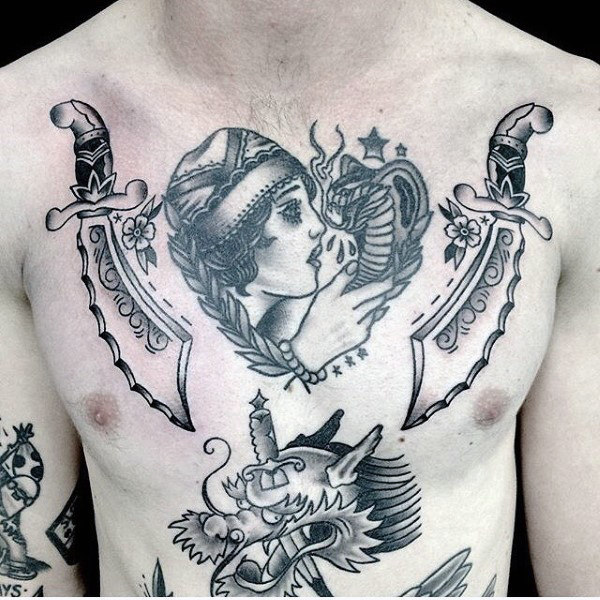 The daggers are on each side of the girl in between, who seems like someone who loves to play with danger and hence the cobra that she is handling.
The dagger on inner arm looks great. It is a great place to get a tattoo as you can hide even bigger sized tattoos.
Did you notice the golden tooth that this skull have? It looks kinda fancy, doesn't it?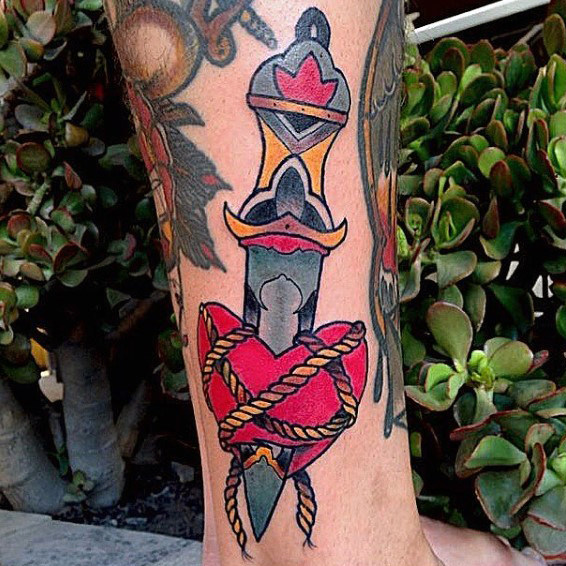 This heart which has a dagger going through it is tied down with ropes. It is of course a sign of broken heart or deception.
The purpose of this design is to give it a 3D look. The skull looks kinda scary with its tentacles and makes it look like a spider.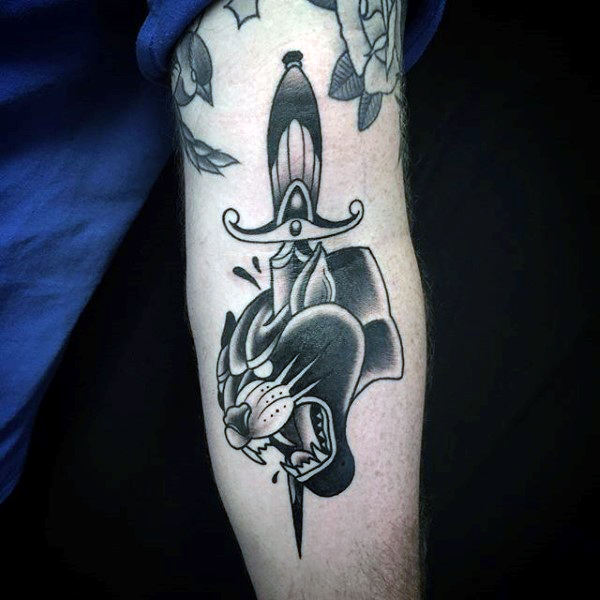 This dagger going through the jaguar makes the whole design look fierce.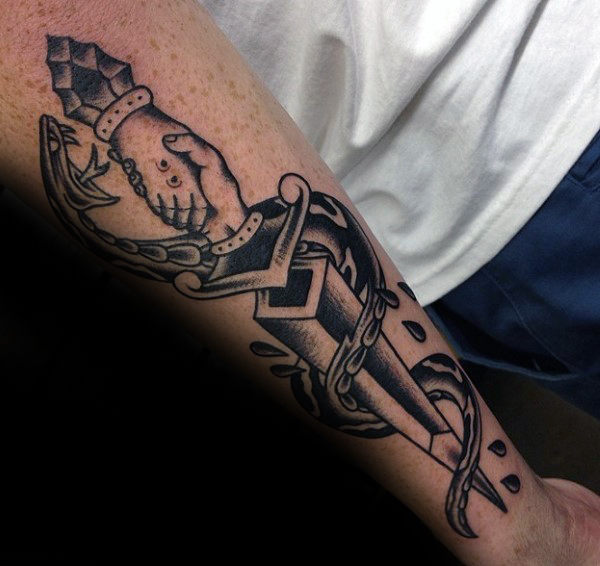 If you notice, the upper hand has had a snake bite. It is a sign of betrayal. This tattoo, therefore represents some sort of deception done by someone close.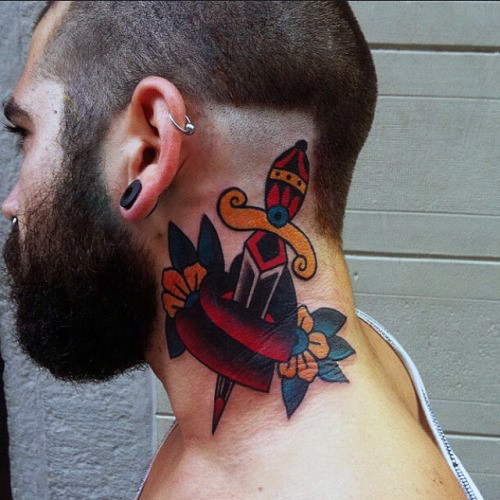 The side of the neck is a place that looks extremely cool when inked. This colorful ink tattoo is great to look at on the neck.
It seems like the heart in this image is an amalgamation of the real life heart and the symbol which stands for it.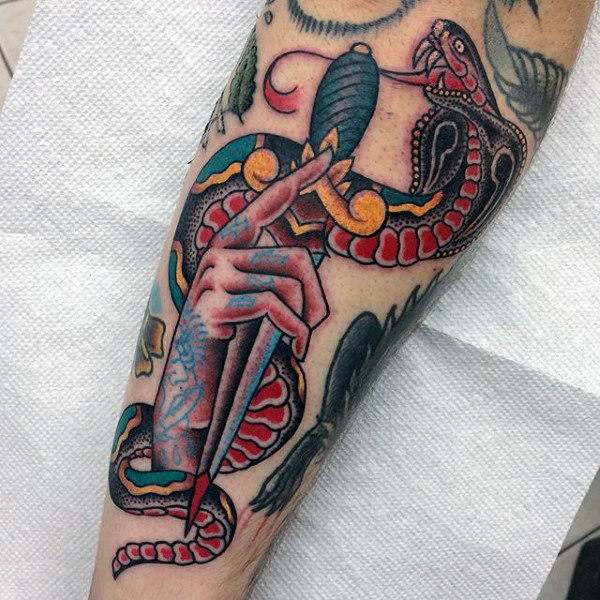 The tattoo comprises of a dagger held by a hand with a snake wrapped around it. Snakes and dagger together represent deceitfulness.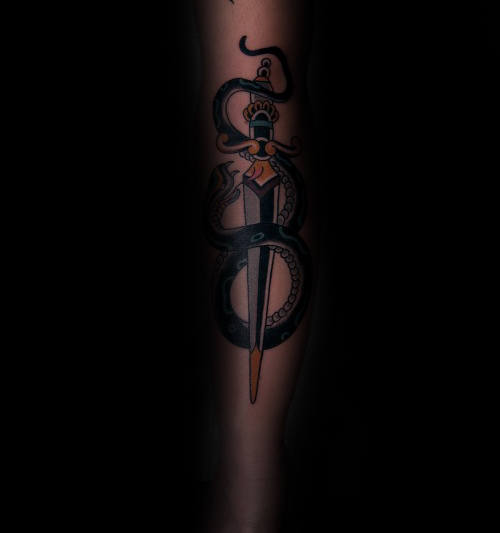 This is a very simple looking dagger captured by a snake.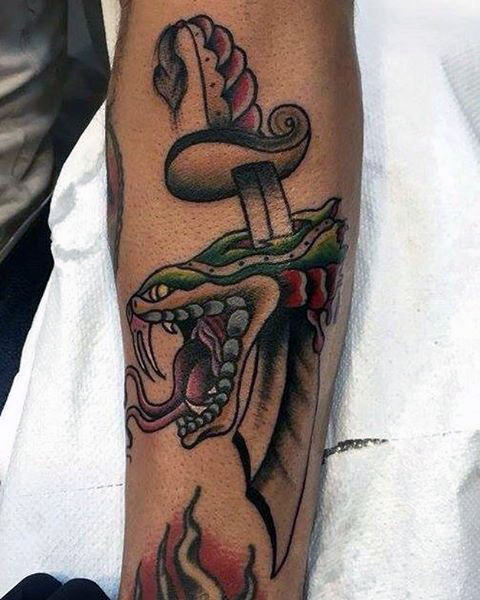 The dagger has pierced right above the cobra's head and has probably broken into two.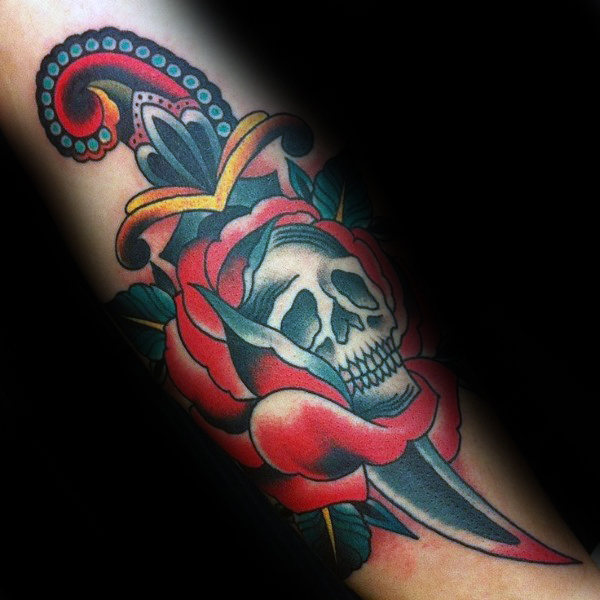 The skull and rose look amazing together. You must have seen skulls and roses many times in various design patterns.
Dagger and Diamond Tattoo
This dagger is made on the part where the thumb is attached to the hand. The diamond that is inked, probably intentionally, looks great on the hand.
This long dagger is sleek and looks kinda majestic.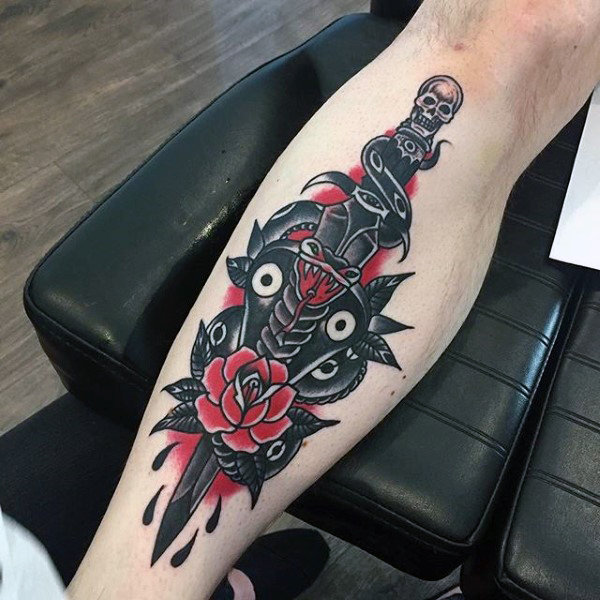 The cobra is standing tall right in front of the dagger as if to protect it. It is also supplemented by a red rose.
This image apparently represents the death and life theme. The skull is a unique addition. You can add the banner with some quote that you feel is relevant for you or your situation.
This is a common piercing the rose tattoo which has extremely bold colors filled in.
This dagger tattoo is only made of two colors, that is, black and red. Both these colors stand for strength and courage.
The banner is written in French and translates to "Help yourself and the sky will help you", which I think means, "Help yourself and the Gods will help you."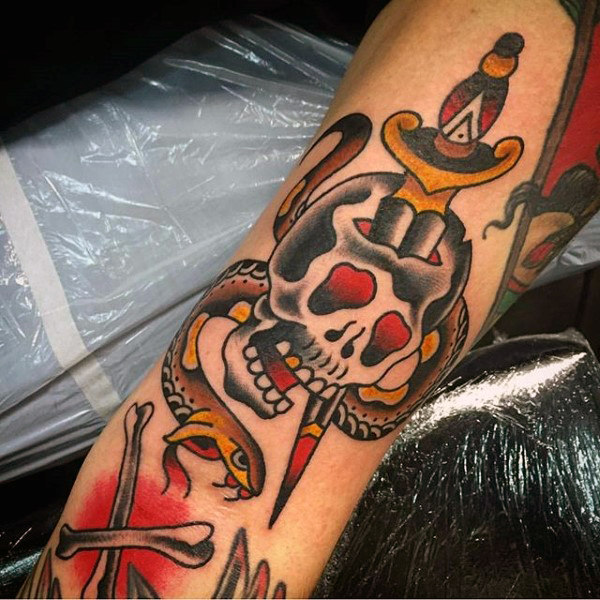 The skull looks kinda fiery in this design. This design symbolizes death and horror attached to it.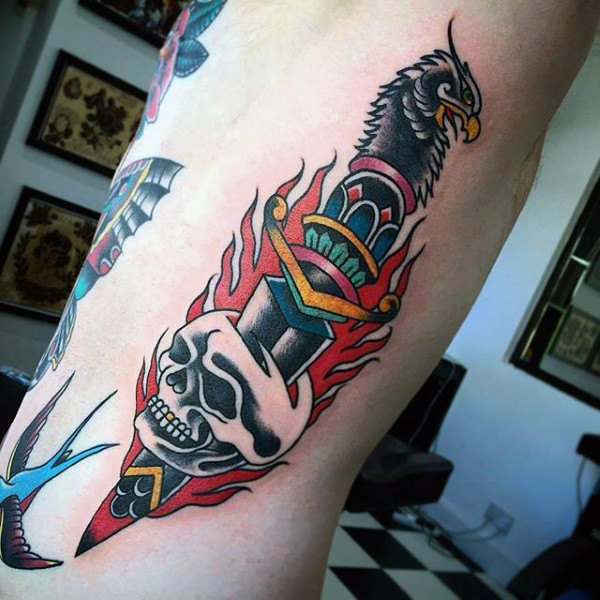 The background of this tattoo is fire that accentuates the overall fierceness of this design.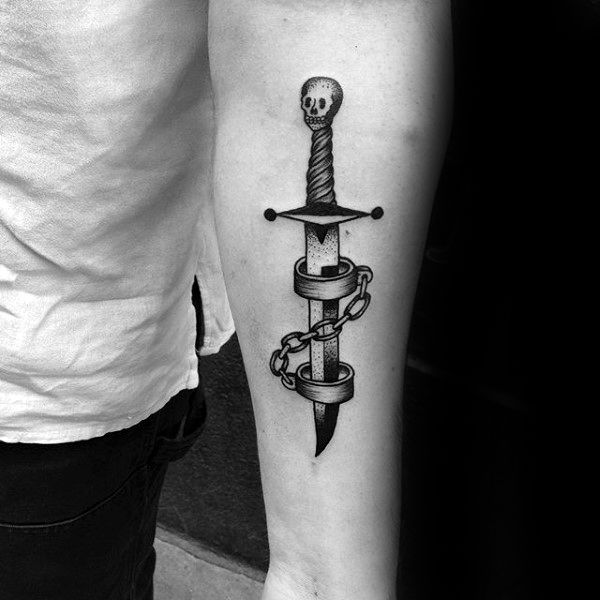 Seems like this dagger is handcuffed because of the many negative things it has done, or probably it is just captured by the circumstances.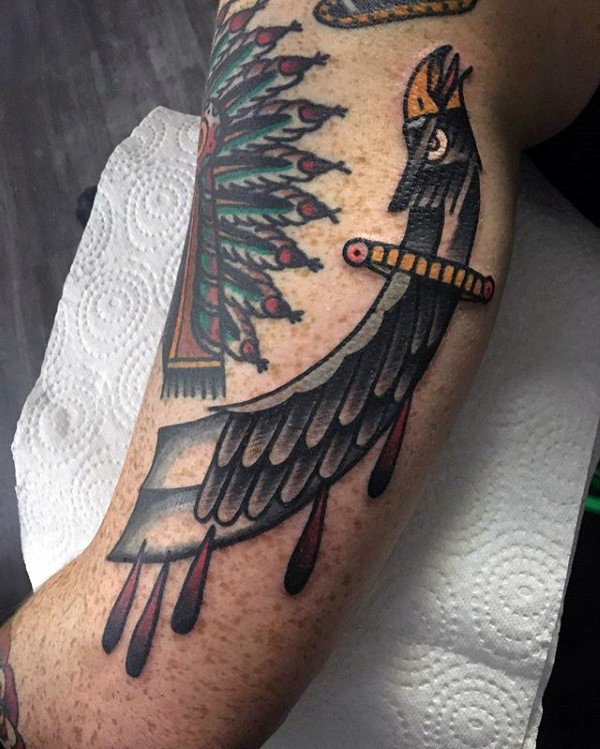 Dagger along with eagle as an additional element stands as a sign of power and courage.
Mid Section Dagger Tattoo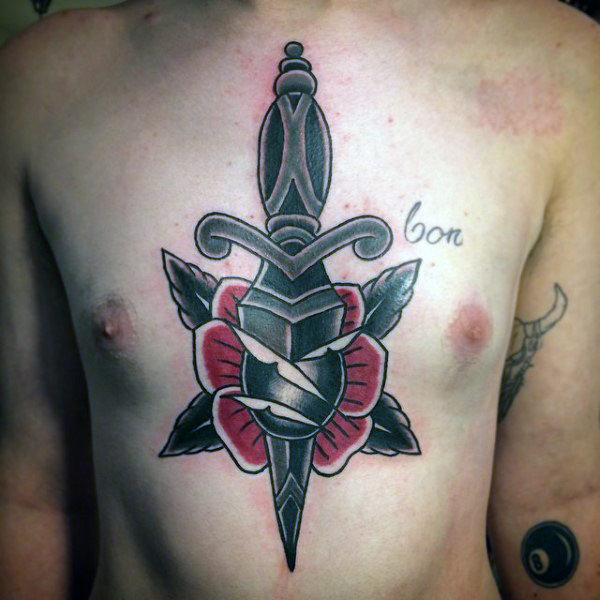 The huge dagger tattoo going down your chest looks quite amazing. The red and black colors used are quite contrasting.
This is a very simple tattoo design done with black ink.
The golden dagger along with rose looks quite amazing. The golden dagger signifies royality and in fact, in a way, rose symbolize the same too.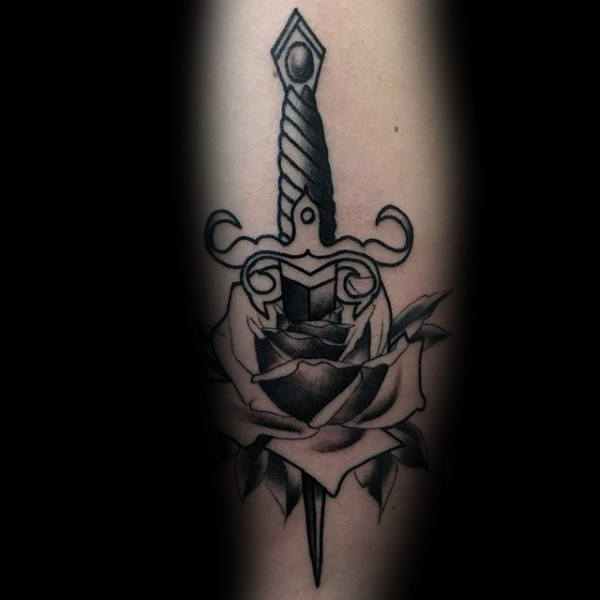 This is just a simple outline of the dagger inked on the skin. The rose looks quite elegant with the little shaded effect.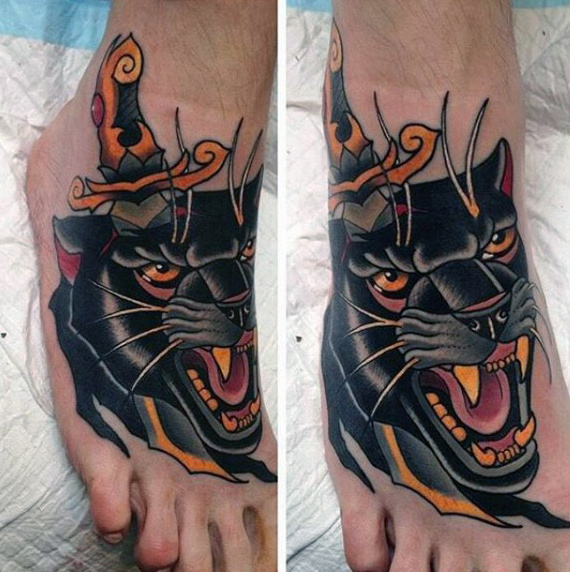 It is not compulsory that you get a tiger. When it comes to animal choices, you can choose from a variety of fierce looking animal that signifies something for you and your personality.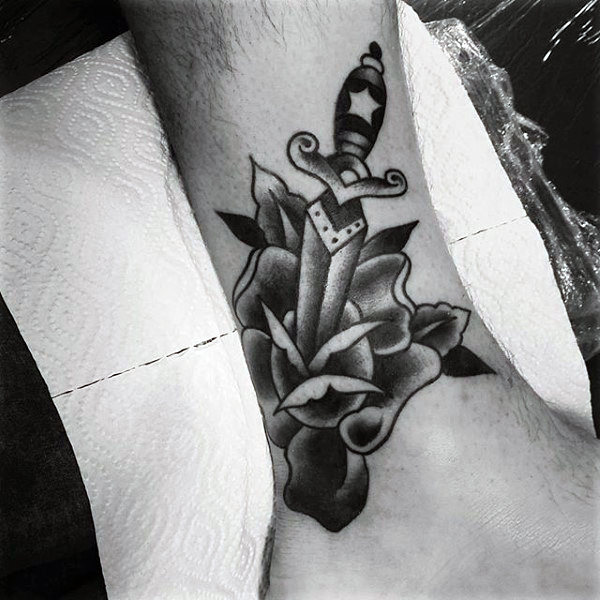 The ankle is one of the most attractive areas where you can get inked.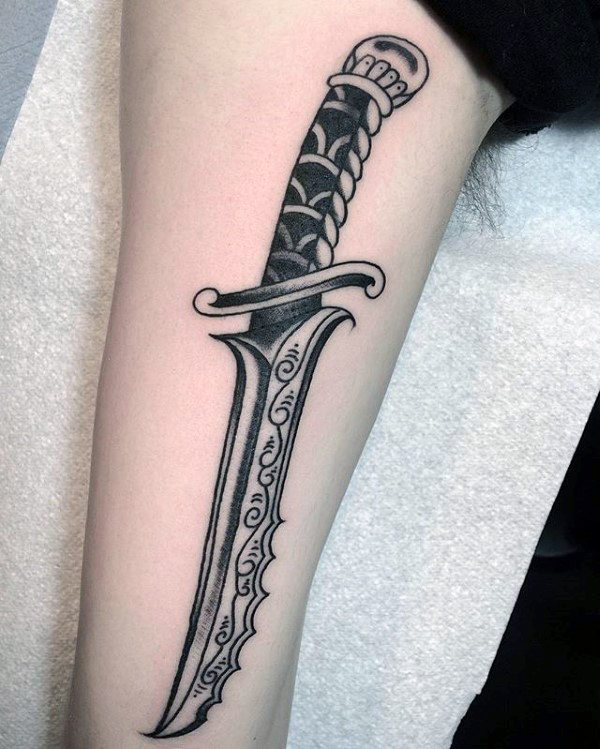 This dagger has a pretty great edge and seeps very fiesty. The ornamental design on the edge looks amazing.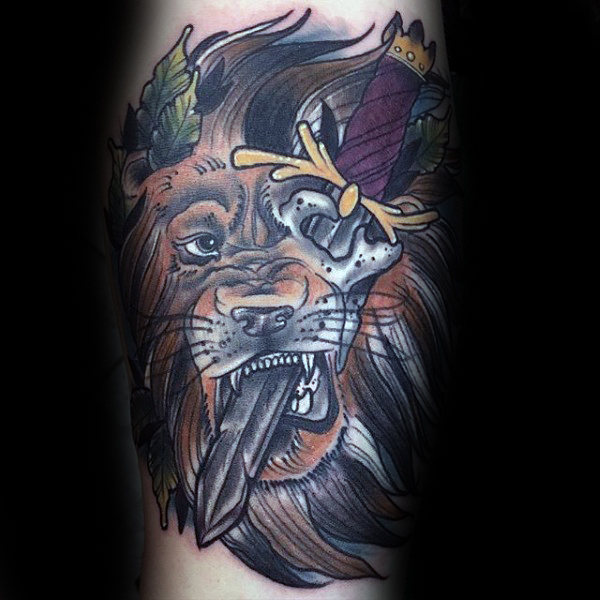 The dagger piercing the eye looks very painful even if its an animal. It is like you can almost feel it. The content is very explicit and might not cater to everyone's needs.
This skull and dagger tattoo is neatly made but has a little cartoonish touch to it.
This tattoo on the shoulder is beautifully made. The warm colors of flowers and the sunset gives an extra punch to the tattoo design. The sailor's boat and rope adds a classic element to the image.
The dripping blood effect on the side of the hand looks very attractive and creative. The tattoo here is done with just the black ink, bt you can use colors if you like.
This tattoo is extremely creative and probably the best which I personally find it to be. The tattoo here can be worn as a wrist band and not only a normal one but an extremely cool one.
Once again, a black and red colored tattoo like this looks plain but has a quite grave meaning.
This tattoo has a very realistic look to it. The dagger looks quite antique and the blooming roses are equally pretty.
The dagger here resembles a cross. Because of the shape, the dagger can be swapped easily for a cross sign and probably in the particular design, they might even have similar connotations.
This is a fun way to add some humor and wit to your tattoo design. These are two unexpected things which have been clubbed together.
This cobra, despite the blood flowing, is tightly wrapped around this dagger. The black and white ink that has been used looks quite exquisite.
If you want, you can write the name of your loved ones or your partner right across the dagger. Here, the dagger is piercing through the heart of this wearer.
This vicious looking tattoo is great as it is placed at a rather unusual location. The tattoo starts from the front side of the neck and goes down till the chest.
This is one of the most simplistic designs on the list and still looks pretty awesome. It is suitable for the leg or you can also get it inked on the arm.
Another great way to add some humor to the design is simple by adding a hamburger. It is not entirely witty if you come to perceive it from a different angle. What if the wearer is on a diet and this tattoo reminds him to kill the burger just like that.
It is not necessary to get a huge dagger tattoo. Smaller dagger tattoos have almost the same relevance as the bigger ones.
The petals of the rose seems to be made of paper. It looks extremely beautiful nevertheless.
Dagger With A Halo Tattoo
It seems like the dagger is having a halo around its handle. I like how the halo is constructed right in the middle of the neck.
Looks like this dagger is held by a zombie considering that zombies have a green skin color, mostly.
This blue rose looks pretty cool and is a bit distinct from the usual red or pink roses.
This rose looks kinda old and probably even dead. Maybe it has withered with time…or by this dagger.
The sword like dagger has pierced this wolf right in the middle of his head.
This is an image of a classy man who is looking not through tinted glasses, but blood tinted dagger instead. Probably he is a detective.
This chain has been broken due to the pressure built up by the sword.
Knee is one such unusual placement idea and this tattoo suits this area a lot.
This dagger looks like it has been picked up straight from a disney movie.
A great way to compliment someone is by printing a realistic portrait of them on a dagger. That killer looks deserve some appreciation, doesn't it?
This tattoo just uses two kinds of ink, black and grey and even without any embellishment, looks quite elegant.
This dagger is intricately designed. The design on it looks like the skeleton of the dagger itself.
Tiny Dagger on Finger Tattoo
Finger tattoos have gained a lot of popularity over the time. It is great for someone who would like to hide their tattoo instead of showing them off boldly. A tiny dagger on the side of the finger looks pretty cute.
While it will look amazing on boys too, I think, we will have to give one to the girls. The floral design looks exceptionally beautiful. The fierceness of the dagger has contrasted beautifully with the delicate flowers.
This is a great ornamental work. It almost looks like a dagger chandelier. It looks very exquisite.
A cute tiny wound done by a cute tiny dagger right on the collar bones.
Here is an image of a dagger reflecting the image of someone. It can have both negative and positive connotations.
It is so beautiful that the tiger has dominated this dagger design. It shows the valour and fierecness of a tiger.
It looks like the dagger is quite old and the bones are protruding from it.
The eye above the dagger is quite symbolic as it is the eye of god. The religious theme is accentuated because of the swallows and the fact that the dagger has pierced the hand, which could probably resonate with the story of christ.
This organ that the cartoonish looking sword is piercing is extremely real looking. The thing that is to be appreciated in this design is the compilation of the cartoon like design with the real life adaptation of heart.
This dagger is very decorative because of the beautiful patterns that is drawn on it.
A tattoo like this is very creative and the idea behind it deserves an applause. It needs a lot of precision to have an outcome like this.
Thigh tattoos are known to be humongous but you can get a small tattoo like this one on the side of your thigh which will look great.
This dagger with rose on the back of the arm looks very amazing. It has covered almost the whole arm which gives it a majestic look.
Rib cage is another great placement idea if you desire for something huge. It is not necessary that you get colors involved in this design as black ink alone looks astonishing.
What a great ripping effect does this tattoo have! The dagger has cut open the belly of the wearer.
This is a great way to create a design. You can use multiple daggers or knives to make a whole new design for yourself.
These are two swords that have pierced the man's neck both opening on the opposite ends.
Ancient Looking Dagger Tattoo
This looks like some ancient swords that has been scooped out of some treasure which must have been buried deep down.
An extremely simple dagger design for someone who doesn't need anything extravagant.
Red and Golden Dagger Tattoo
Red and gold colors look amazing on a dagger.
This dagger seems to have pierced through a brain which is quite different from all the other tattoo designs that we saw before.
The dagger looks like it is an extension of the tongue of the snake. Both the dagger and the snake have similar connotations.
Smashing the Breakfast Tattoo
This is a very cheerful as well as a colorful design. It is a dagger piercing through a lovely breakfast and smashing the egg yolks.
Swallow the Dagger Tattoo
Seems like this cobra is swallowing the whole dagger.
Dagger in a Coffin Tattoo
This dagger piercing the heart is symbolic of broken heart or deception. It is resting in a coffin.
This tattoo resonates strength and valour that is portrayed by this image of dagger.
Te blue flower looks pretty amazing and adds color to the whole dagger design.
Black and White Wolf Tattoo
The animal is quite feisty and looks in rage. The dagger is passing right through his neck which is a kind of deadly attack on it.
Dagger and Flowers Tattoo
The flowers and vines give a delicate touch to otherwise strong and masculine looking dagger.
This simple dagger tattoo is done with a monotone shade of black.
This snake encompassed around the dagger looks pretty vile.
You can add the names of your loved ones on this dagger tattoo as a sign of remembrance or as a sign of protection.
The bright and vibrant colors of the tattoo makes the pattern more attractive.
Piercing the Skull Tattoo
This is a very intricate design for someone who wants something grave out of their tattoos. This skull is not a human skull but of some fierce animal.
A simple and sleek dagger tattoo looks amazing on the forearm.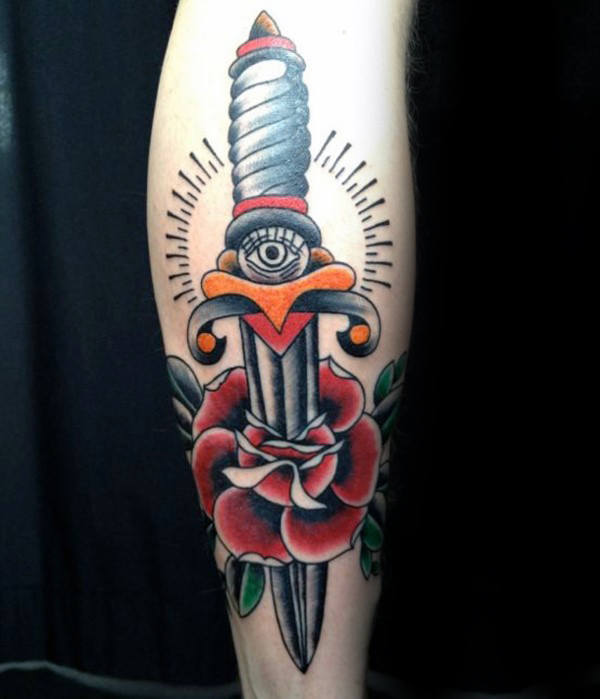 This piercing dagger has a third eye right on its handle. It is the eye of enlightenment.