Paris Jackson as we know is a singer, an actor, and a performer. To top it all she is the daughter of the Biggest Dance icon of the world, Michael Jackson. Paris has always been really fond of tattoos. Let's have a look.
1. Taking Spirituality To Another Level
Paris has got chakras inked on her front as well as back. She believes these chakras give her the energy and has followed her godfather, Macaulay Culkin in doing so. The tattoo appears in the most painful spot in the center of her chest starting from the sternum to the belly button, ending just above it.
2. Favorite Flower On Left Forearm
Paris Jackson has got a large sunflower inked on her left forearm by the tattoo artist Justin Lewis in October 2016.
3. Feathers Behind Right Ear
Paris has a pair of feathers just behind her right ear in its native form. This tattoo was also done by Justin Lewis in the month of July 2016
4. A Dead Bird With A Quote On Her Right
Paris Jackson has got the title of musician Butch Walker's Fifth album, "I Liked It Better When You Had No Heart" inked on the right side of her ribcage. The tattoo is preceded by a dead bird. The album was released under the name of Butch Walker and the Widows in February 2010.
5. Tribute To John Lennon On Left Arm
Paris has another tribute inked on her body. This time she paid tribute to The Beatles' John Lennon by getting the lyrics, "Imagine All The People Living Life In Peace" of his solo, "Imagine" inked on her left arm. The ink-work was done by the tattoo artist Connor Garrity in September 2016.
6. Tribute On The Lip
Paris Jackson took a step further in paying tributes by getting her lower inner lip inked, "MOTLEY" in April 2016. This came as a tribute to her favorite band MOTLEY CRUE which she has been following since her childhood.
7.  An Arrow Through The Heart With A Dear Under It
The tattoo-loving teen has another one on the back of her right arm. This tattoo was also inked by Connor Garrity in May 2016. In the tattoo, a stag is shown with an arrow piercing a heart between the antlers. This was the first tattoo done by Connor Garrity on her.
8. Frank The Rabbit On Her Right Forearm
Jackson has another tattoo that shows Frank the Rabbit Mask from the movie "Donny Darko" along with the words "Wake Up" below it on her right forearm. The rabbit is inked in grey-scale whereas the background has been given blue splatters in the tattoo.
9. Wolf Head On Left Forearm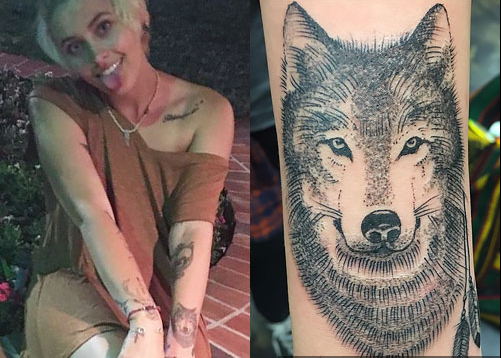 Paris Jackson got wolf inked on her left forearm. She got this tattoo done by Connor Garrity in May 2016.
10. A Tribute To Father On The Left Forearm
After all the tributes she has given by her tattoos, the biggest of them all came in May 2016. She got this design inked by tattoo artist Justin Lewis, which was taken from the cover of MJ's iconic 1991 album Dangerous which was designed by Mark Rhyden. The tattoo features the menagerie of animals just like it was on the album with MJ's eyes at the center with a curl of his hair in between the eyes.
11. A Cactus And The Name Of Her Pet On The Right Ankle
Paris has a tattoo of a cactus and the name of her pet "koa' in cursives which is a rescued pit bull mix.
12. A Tattoo For Little Brother On Her Left Ankle
Paris Jackson has a letter "B" tattooed in white ink on her left ankle. B is the initial for her younger brother Bigi (Blanket) Jackson. This is followed by a tattoo of the Millennium Falcon spaceship from the Star Wars movies done in black ink.
13. Snoddy On The Outside Of Her Left Ankle
Paris got her boyfriend's name "SNODDY' inked on the outside of her left ankle, who is a drummer in Street Drum Corps. How she got it covered by an artistic cactus design after their break-up.
14. Skull On The Right Ankle
Paris Jackson along with her boyfriend Snoddy has got a matching tattoo on her right ankle of a skull with three mini crosses on the top.
15. Eagle Shaped Tattoo On Left Ankle
Paris Jackson has a standing rock tattoo that looks like an eagle, a design by Stephanie Big Eagle, a participant of no DAPL movement and a descendant of Okewi Sakowin(Great Sioux Nation)
16. Voodoo Veve On the Right Upper Arm
Paris Jackson a tattoo of "veve" of Erzulie, which according to Haitian Vodou is the spirit of Goddess of love. Its symbols are a heart, a mirror, and a fan, which is quite visible in the tattoo on Jackson's arm. Erzulie is considered as the symbol of feminine grace and beauty and is taken as the most human relatable spirit or The Loa as it is known in Haitian mythology.
17. Another On Right Bicep
Such is the fan nature of Paris Jackson that she didn't stop after getting MOTLEY inscribed on her inner lip. She got a tattoo of a dagger that has a snake swirling around it with wings on the side and a skull on the top. This tattoo is taken from the cover of Motley Crue's album Dr. Feelgood released in 1989.
18. A Tribute To Led Zeppelin On Left Arm
Paris Jackson took to social media to show off her latest tattoos inspired by the band Led Zeppelin. It has four symbols that were used by the band to promote their fourth album, Led Zeppelin IV released in 1971.
19. Red Rose tattoo
Tattoo: 'Red Rose' tattoo on her arm.
Meaning: This is the matching tattoo that Paris got inked with Cara Delevingne in April 2021 after the Oscars.