To think of Lord Krishna is almost like to think of attributes like Love, Tenderness, Compassion and to some extent…mischief. Lord Krishna is a Hindu god who is believed to be the epitome of self-control and balance in life. While he is often depicted as mischevious, he strives to achieve a perfect harmony with the world that he lives in. While looking for a Krishna tattoo, these must be the exact qualities that you must strive to achieve. The tattoo ought to be a reflection of your soul.
Although Krishna tattoos may look the best in bright and watercolor effects, you can still achieve concrete and bold colors. The idea is to make your tattoo look as creative and appealing as it can be. And keep in mind that while you can get the contemporary portrait of the Lord himself, the things that signify himself, like his flute or peacock feathers are a great substitute too.
This Krishna design with a cow is looking amazing as it is not only well made but has been placed in an appropriate position too.
The Krishna tattoo on the shoulder is looking amazing. The black and white ink is giving it an authentic look.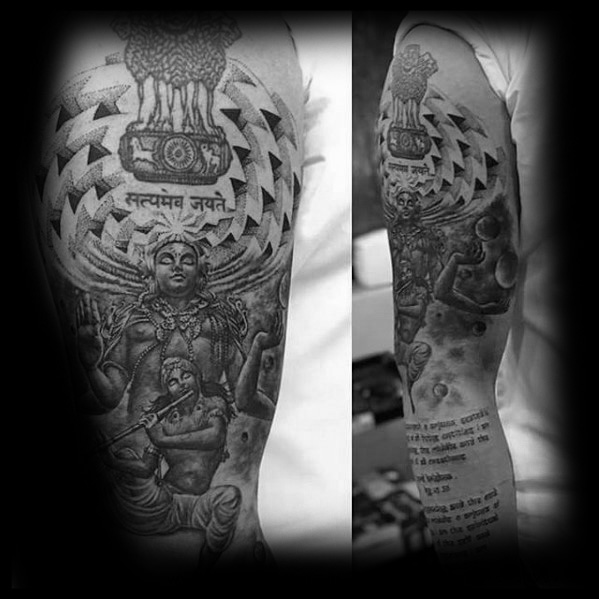 Seems like there are many other things that have been added to the Krishna tattoo besides he himself. Since Krishna is a Hindu god, there are many Indian emblems that have been added.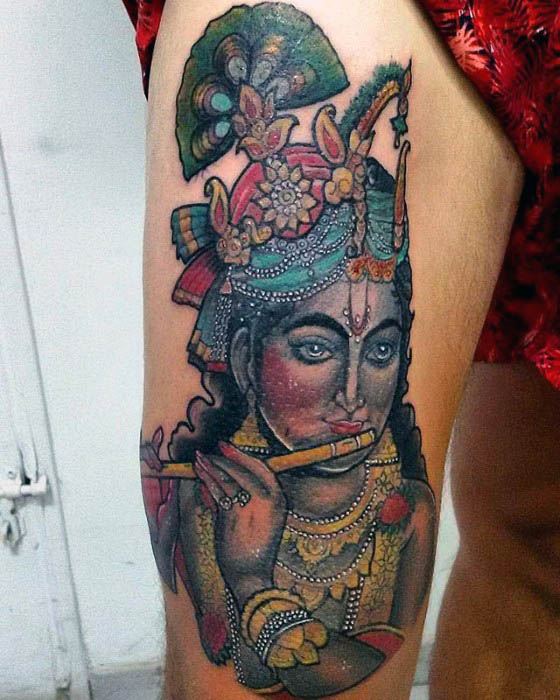 This colorful Krishna tattoo is very ornamental. The jewelry that he has been made to wear looks quite real.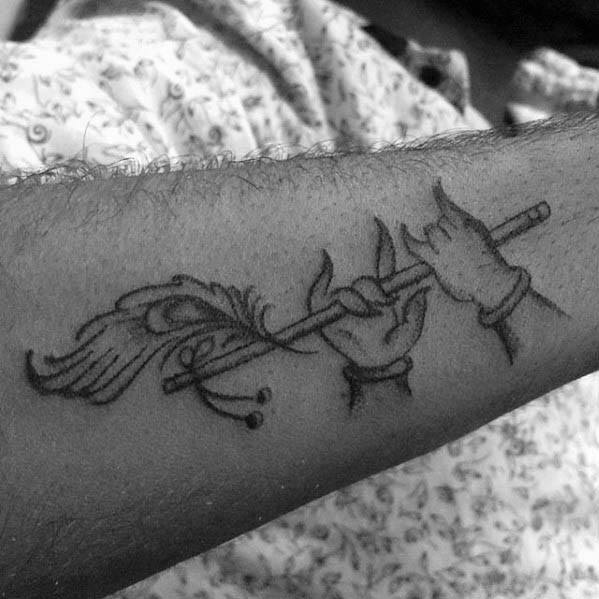 This adorable small design of Lord Krishna's flute is excellently located on the forearm and looks so angelic. The strong compact lines that has constructed the flute and a peacock feather on top of it, proffers it an attractive look.
Black and White Krishna Tattoo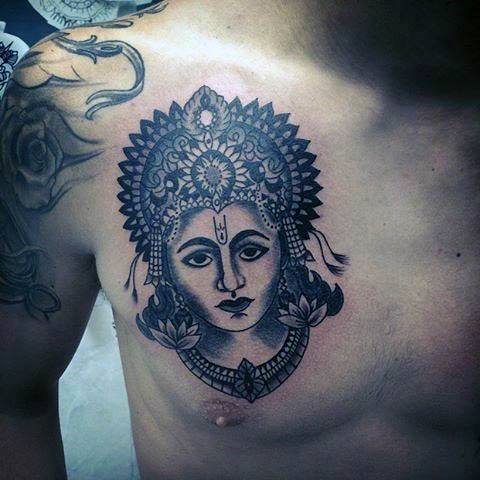 The headgear of this tattoo is quite exquisite. It is greatly detailed. If you can you can add some colors that will resemble gems and other precious stones.
This baby Krishna tattoo looks very vibrant because of the beautiful pastel colors that have been used.
Shaded art appends more intricacy to any simplistic sketch. The productive application of the ink to make the halo around the lord intricate has produced a more lovely design. This entire pattern seems so calm and peaceful.
Mischevious Krishna Tattoo
Many tales have been out regarding how mischevious was Lord Krishna when he was young. This whole back tattoo is a representation of just that. It is a greatly detailed work.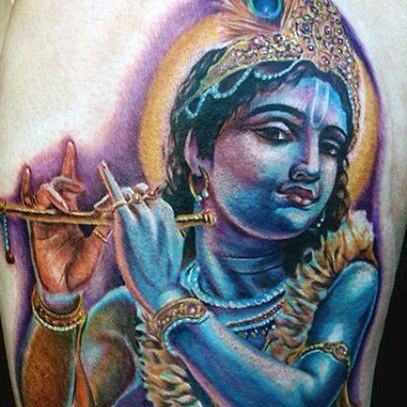 This Krishna tattoo portrait is so piercing that it will not only prompt you to chant the name of God but will also inspire the people around you to do the same. The design is otherwise very well made.
Little Krishna Black Ink Tattoo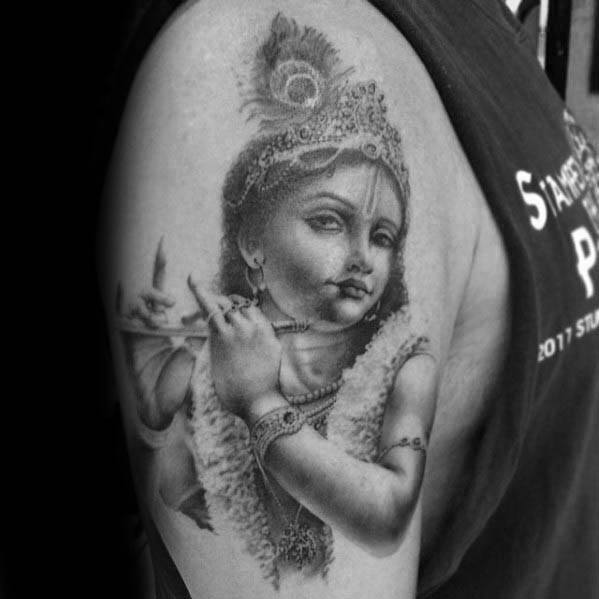 The black and white shaded Krishna portrait is very realistic looking. Colors can be added to give it a much greater appeal. The detailing work is very amazing as you can see in the crown and the garland too.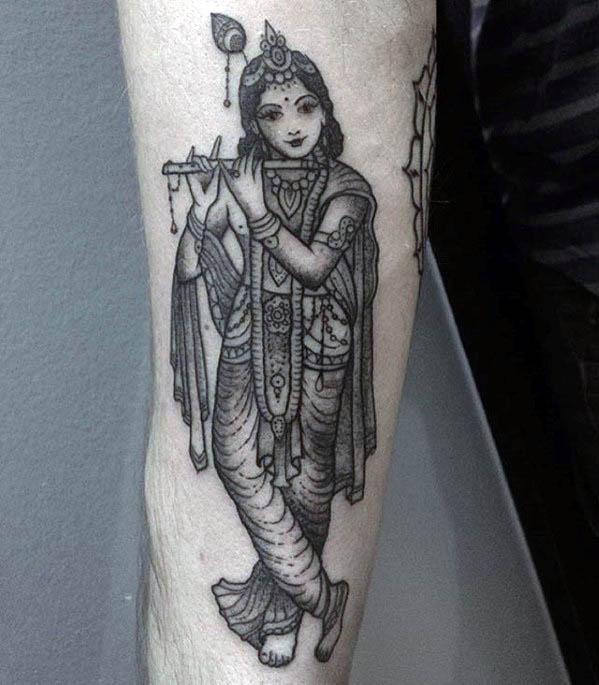 The boundaries and outlines of this tattoo design have been accentuated. The tattoo look very neat and composed.
Flute and Peacock Wing Tattoo
An only peacock feather is quite sufficient to confirm your affection for Lord Krishna. You can append some other things to your design that will be more relevant to the symbolism as well. For example, just like the passion of almighty, familial love is the only kind of love that is absolutely selfless, genuine and merciful. They experience the equivalent reverence in our world and hence it will be great to add some parental elements to your tattoo.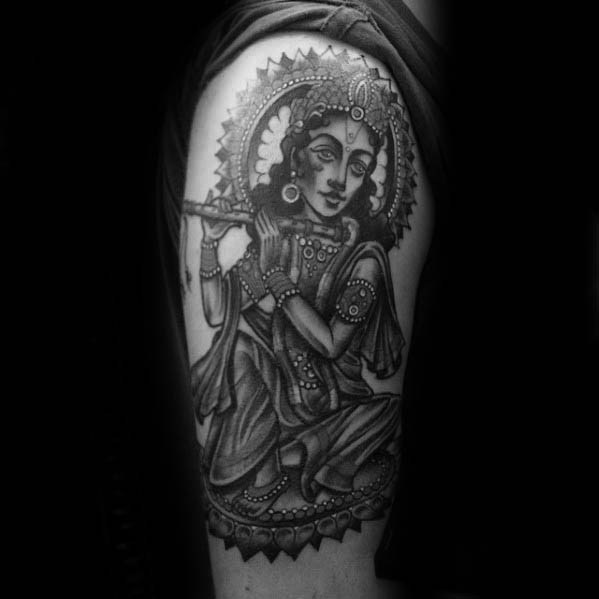 If you are a tattoo enthusiast and can comfortably sustain the discomfort of the whole process then you unquestionably would want to give this design a shot. The complete portraiture of Lord Krishna playing the flute and a beautiful halo enclosing him seems so cheery.
Can you see a third eye, most commonly called the eye of wisdom, on the hands of Lord Krishna?
This tattoo is not only very detailed and intricate in its make up but looks very attractive because of this reason too.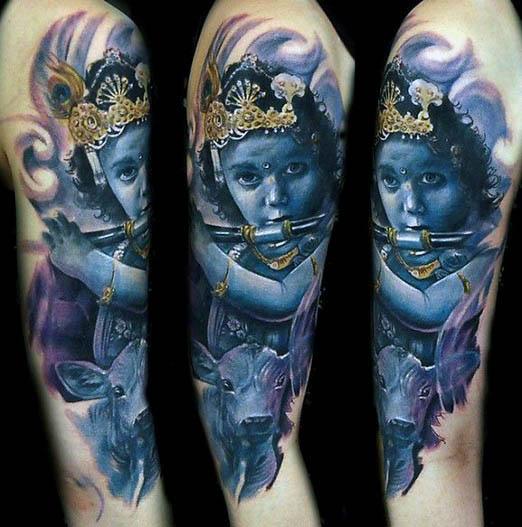 This picture seems as if the little Lord has suddenly come to life. The theme here is totally blue except for some tiny parts, but as the color blue is associated with Krishna, it is very appropriate.
You can add a Krishna tattoo on your skin if you think t will help you rekindle someone's memory that you have lost. You can inscribe some important dates or names associated with your purpose.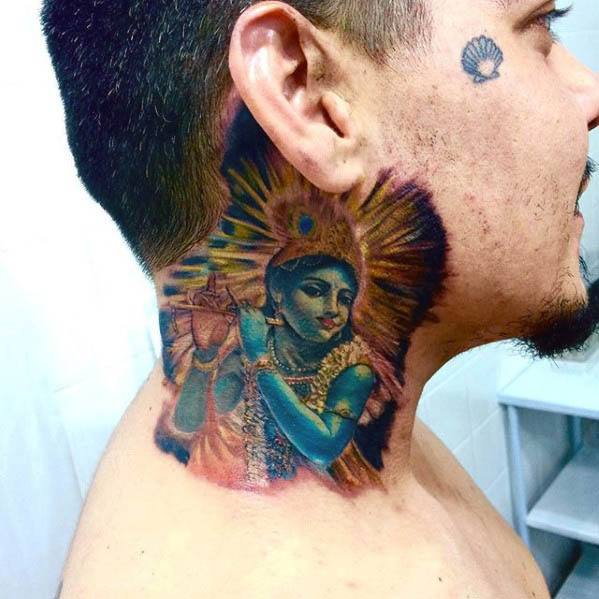 The neck is one great place to get inked and when a tattoo is as creative and colorful as this one, it looks superb.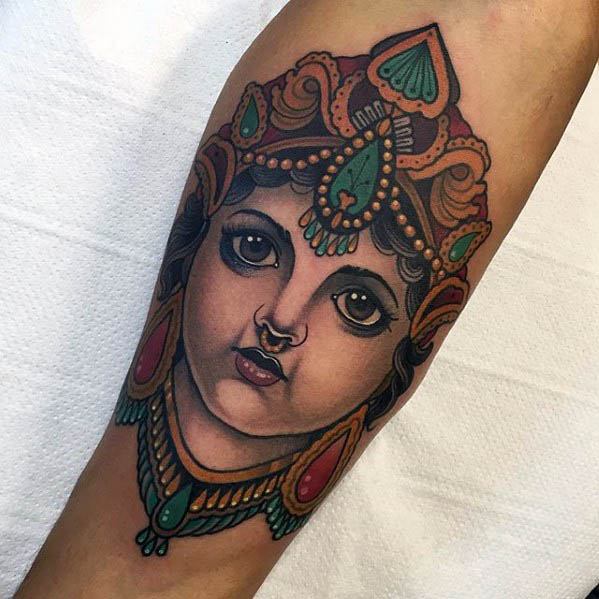 You don't really need to get the full picture of Krishna done. You can get the face of the Lord done beautifully and in a more intricate manner.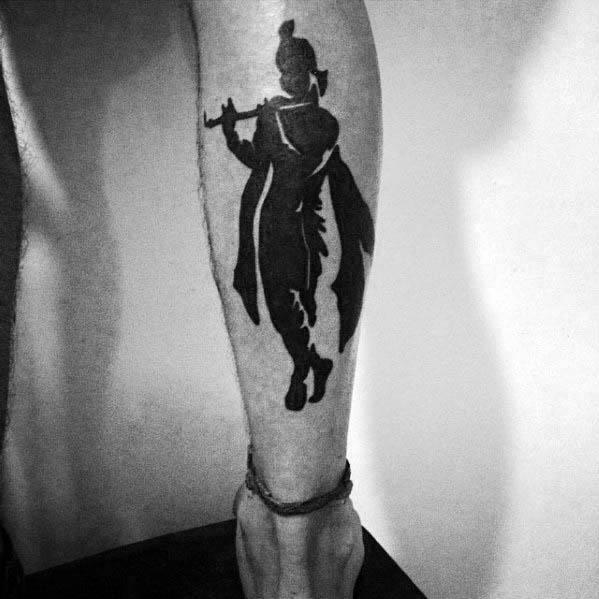 Colorful Krishna picture is preferred over the black and white one, however, this totally black shadowy image looks awesome.
Full Back Black and White Tattoo
Isn't this tattoo design quite dreamy? It must have taken hours and a lot of patience to arrive at something this beautiful and intricate.
It feels like the picture has been drawn with a pencil and has been shaded to give it a more creative effect.
Minimalistic Krishna Tattoo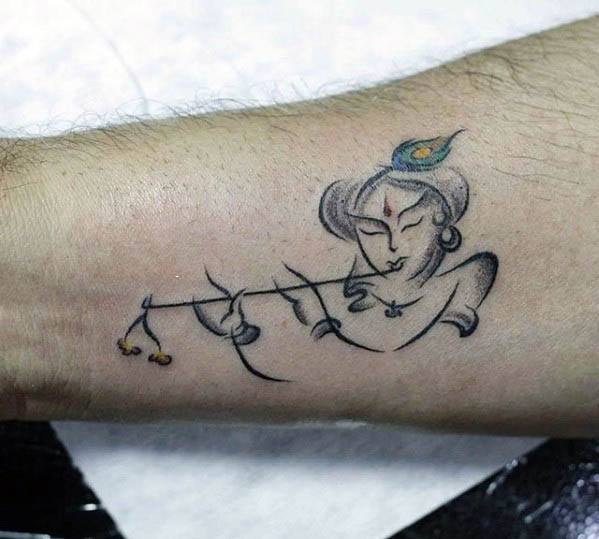 This Krishna design is very minimalistic as it only contains the contours of his head and flute. Anyway, it is great for someone who does not want something too eye-catching.
Krishna Tattoo With Bold Colors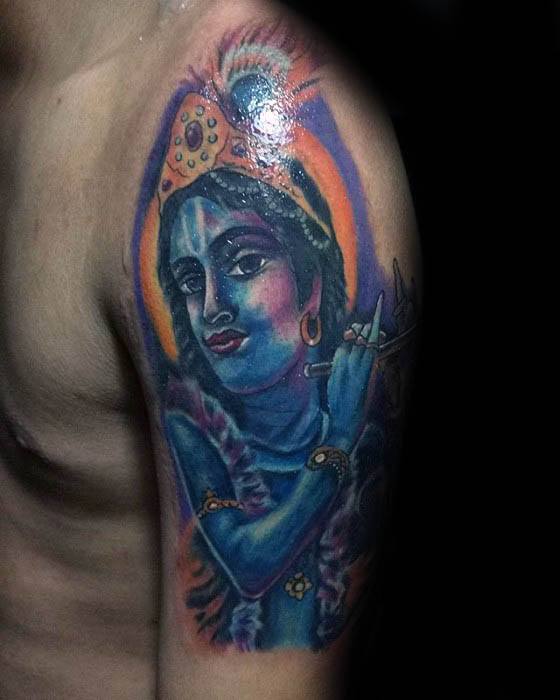 Shades add an extra appeal to any kind of creativity and this is valid indeed for tattoo plans. Lord Krishna is commonly acknowledged as Shyam for his dusky skin color and even the tattoo designer has stored this feature in his cognizance while working on this classic design.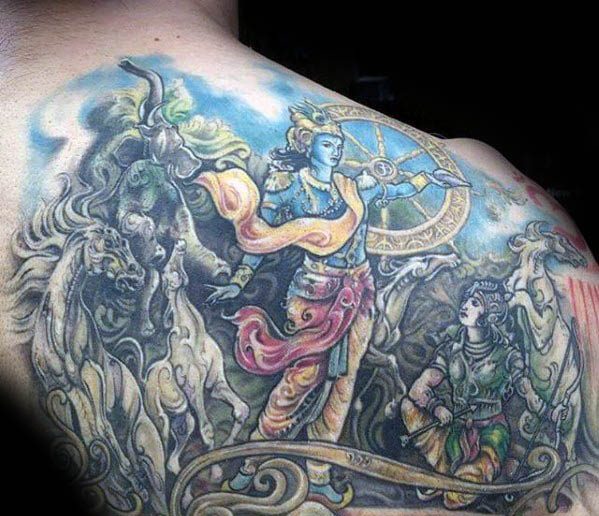 This tattoo seems as if it has been taken directly out of a scene from Bhagavad Gita. You can see many such tattoo designs that tell a story.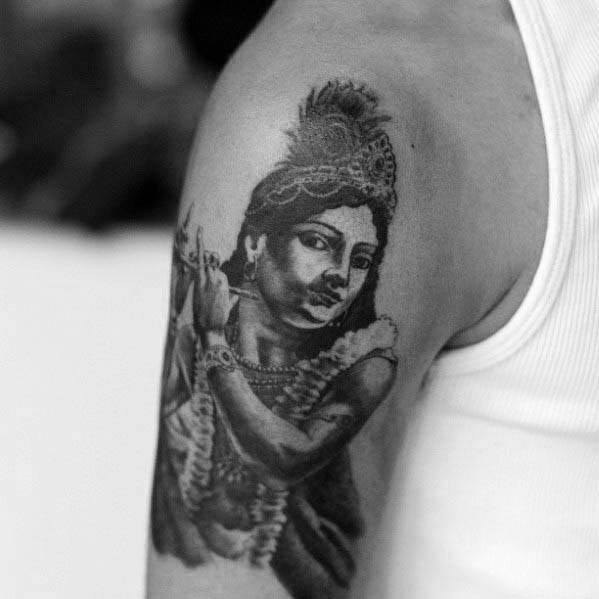 It looks as if a Krishna idol has been pasted as it is. The intricacy and detailing are marvelous and I think, one needs to lay hands on an excellent tattoo artist to achieve something this spectacular.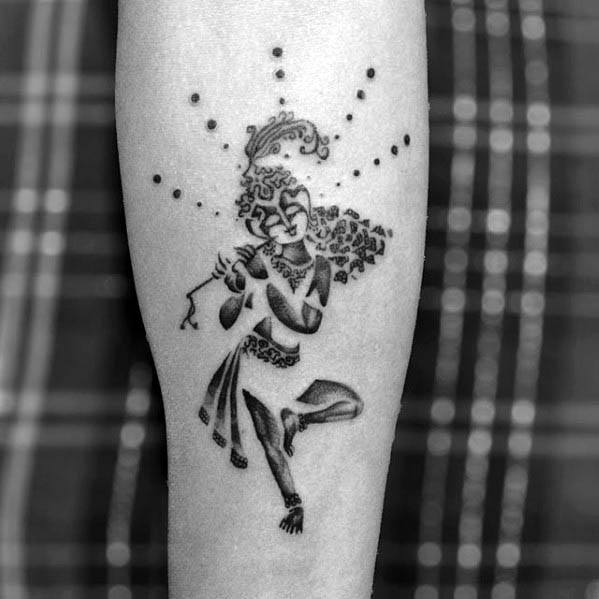 This is quite a modern-looking Krishna design. The design seems like it has been made out using a spray brush. It is quite a unique take on tattoos.