It is a recent development in the tattoo world that they have started incorporating quotes from foreign languages. Itis the true essence of the artistic occupations that it never stops growing and developing. Having said that, it is a greater known fact that Spanish is the language of romance and the language makes for wonderful quotes and sayings. In fact, some Spanish words have been incorporated into the English language and so are quite popular too. The tattoos here, in general, are compact quotes and sayings or probably one-worded (which probably communicate more than you think). It is a matter of interest that what design might catch your attention and what might not. If you're planning to leap in, make sure it is something significant while trendy too.
The language of love is often passionate and heartfelt. You can pair your Spanish tattoos with some romantic elements like roses and doves. You can get them tattooed on your wrist or your leg, right above your ankle. The rib cage is a great idea too. You can get it inked for your loved one or probably to get over a heartbreak. After you have selected the style that fits you the best, it is the perfect time to select what font or style you would want and if there are any elements that you will like to supplicate it with. There are a billion of ideas al over the internet and we suggest you do proper research before getting anything permanent.
"I want to do with you what spring does with the cherry trees." from Pablo Neruda's poem 'Every day you play' is quite a romantic and intricate tattoo idea.
Translation: Whatever will be, will be.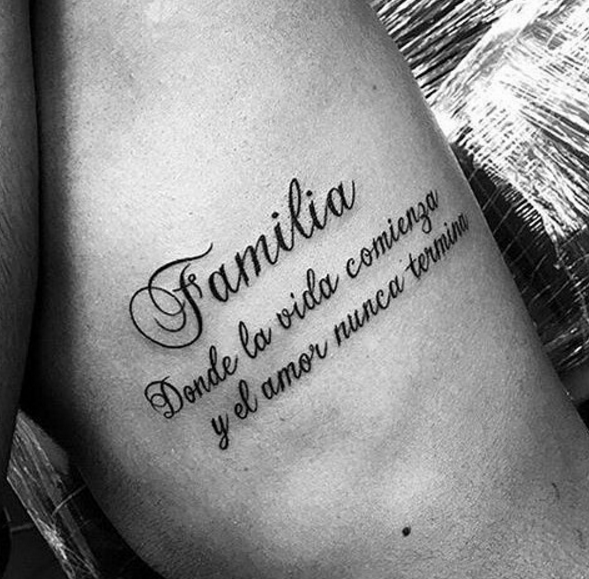 Translation: "Family, where life starts and love never ends". It is perfect for a family person.
This can serve as a great gesture to your family to show them how much you adore them.
Some people just love butterflies and one great and innovative way to show it is to get it inked. Well, but instead of the butterfly itself just get the word inked and that too in Spanish.
Jesy Nelson is known to have three tattoos on her hand which she got in a single sitting in January 2018. One of the fingers has "amor" inked on it which means "love" in three languages, Spanish, Latina, and Portuguese.
A piece of simple yet profound advice: "Live the life."
Translation: "Feet, what do I need them for if I have wings to fly."
When you think of bulls you might also be prompted to remember of bullfighting which still remains widespread today in places like Spain. A popular belief has been that red enrages this animal but it could be beside the truth! In actuality, bulls are red-green color blind, which proposes that it's really the matador's cape doing all the tormenting.
This ink is inspired by the poem of the Mexican artist, Frida Kahlo: "Se pueden inventar verbos? Quiero decirte uno: yo te cielo."
Translated: "Can one invent verbs? I want to say one: I sky you."
Tattoo in Spanish: "Recuerda que nadie puede cortar tus alas… tú eres quien decide lo alto que quieres volar".
English Translation: "Remember that nobody can cut your wings off… you are the only one who decides how high you want to fly." Does it ring a bell?
"Es tan corto el amor y es tan largo el olvido."
Translation: "Love is so short and forgetting is so long." Chilean poet and Nobel laureate Pablo Neruda drafted this when he made even unrequited love sound appealing in his poem 'Puedo escribir los versos más tristes esta noche' or 'Tonight I Can Write the Saddest Lines'.
"Te amo más que a mi propia piel."
Translation: "I love you more than my own skin". This is a quote from Mexican painter Frida Kahlo, an unconventional artist whose turbulent relationship with her husband, muralist Diego Rivera, was as vehement and vigorous as her extraordinary self-portraits.
Sometimes a single word conquers an emotion, an aspiration or a moment of understanding worth remembering to its fullest. A tattoo is a daily memorandum of that insight gained from expertise. One word, or the slightest phrase, is short enough for the side of a finger, the back of the neck just under the hairline or behind the ear, or a simplistic circle of letters encompassing a pierced navel. Choose your word, or words, discreetly for the supreme impact.
Destino: Destiny
Felicidad: Happiness
Serendipia: Serendipity
Vivir: To live
Para siempre: Forever
Vida mágica: Magic life
Que sera, sera: What will be, will be
Sigue a tu corazón: Follow your heart
"We don't choose our family, but we do choose who we love."
To portray your immense love for your family, quotes like these steal the show.
Translation: "There is no medicine that cures what happiness cannot."
Translation: "Follow your heart."
Translation: Magical life.
Inspirational Tattoo Ideas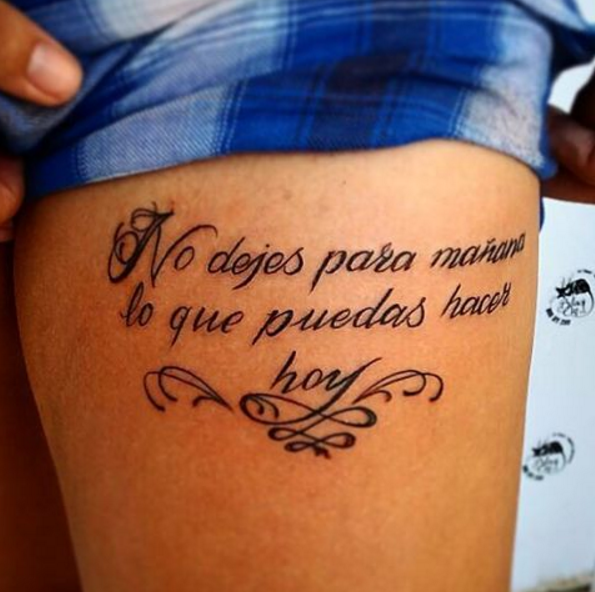 Translation: "Do not put off until tomorrow what you can do today."
The tattoo on the left side of Karis Anderson's bosom says "La Vida Loca" which is Spanish for "The Crazy Life." So if your life is crazy enough, why not get this inked on yourself too?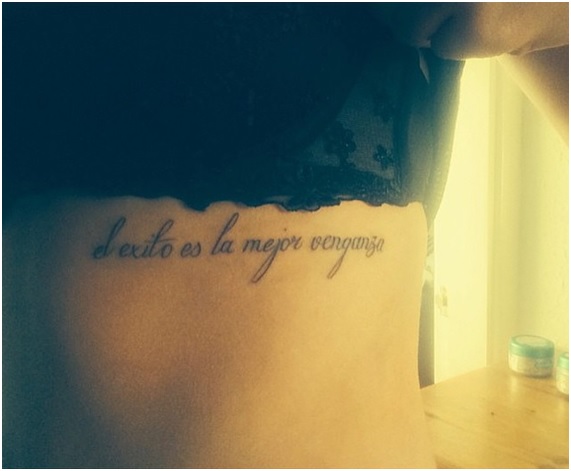 Tattoo in Spanish: «El éxito es la mejor venganza».
English: "Success is the best revenge."
Feeling revenge-y quite yet?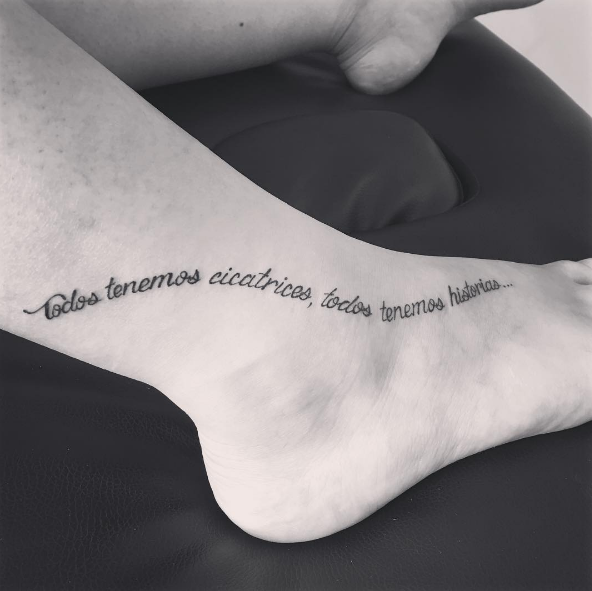 Translation: "Everyone has scars, everyone has stories…"
Translation: "Happiness is not the goal, it is the journey."
Translation: "What doesn't kill me makes me stronger."
Translation: "Everything is in your hands."
¿Hablas español? You are definitely in the company of the best of the people. So why try your hands for your next tattoo in the morphology of Cervantes and Neruda? Ink your skin in Spanish with an engaging phrase to commemorate your legacy. Otherwise, you can borrow inspiration from la vida apasionada.
Here are some more popular sentences and quotes which are inspired by classic Spanish authors and singers that you could consider and get inked on your skin:
1- "Pies, ¿para qué los quiero si tengo alas pa' volar?" / Feet? What do I want them for if I already have wings to fly. (Frida Kahlo)
2- "Viva la vida" / Live life. (Frida Kahlo)
3– "El conocimiento es poder" / Knowledge is power. (Francis Bacon)
4- "Si lo puedes soñar, lo puedes hacer" / If you can dream it, you can do it. (Walt Disney)
5- "Nunca, nunca, nunca te rindas" / Never, ever, ever give up. (Winston Churchill)
6- "Mi vida es mi mensaje" / My life is my message. (Mahatma Gandhi)
7- "Sonríe, es terapia gratis" / Smile, it's free therapy. (Douglas Horton)
8- "El amor es ciego" / Love is blind. (Geoffrey Chaucer)
9- "La belleza es poder; una sonrisa es su espada" / Beauty is power; a smile is its sword. (John Ray)
10- "Mientras hay vida, hay esperanza" / While there's life, there's hope. (Marcus Tullius Cicero)
11- "Cuando el amor no es locura, no es amor" / When love is not madness, it is not love. (Pedro Calderon de la Barca)
12- "No cuentes los días, haz que los días cuenten" / Don't count the days, make the days count. (Muhammad Ali)
13- "No llores porque terminó. Sonríe porque sucedió" / Don't cry because it's over. Smile because it happened. (Dr. Seuss)
14- "El amor lo conquista todo" / Love conquers it all. (Virgilio)
15- "Haz de cada día tu obra maestro" / Make each day your masterpiece. (John Wooden)
16- "El poder de la imaginación nos hace infinitos" / The power of imagination makes us infinite. (John Muir)
17- "No llovía cuando Noé construyó el arca" / It wasn't raining when Noah built the ark. (Howard Ruff)
18- "Todo lo que puedes imaginar es real" / Everything you can imagine is real.(Pablo Picasso)
19- "Solo se vive una vez" / You only live once.
20- "Siempre joven" / Forever young.
21- "Sueña como si fueses a vivir para siempre" / Dream as if you were going to live forever.
22- "Todo tiene belleza pero no todos la ven" / Everything has beauty in it, but not everyone sees it.
23- "La vida sigue" / Life goes on.
24- "Vive la vida que has imaginado" / Live the life that you have imagined.
25- "Mi vida es mi mensaje" / My life is my message.
Celebrities With Spanish Tattoo Designs
Karol G Spanish Tattoo Designs on Upper Arm
Karol G has a spot of ink in Spanish on her right upper arm which is a Spanish saying "Venecete a ti misma" that can be translated to "defeat yourself" in English. She took to Instagram when she revealed this tattoo to the world and wrote, "When you defeat yourself, there will be no sun to burn you, no rain to soak you, no wind to stop you, no mountain that will not yield to your steps … The only thing that can stop you is YOUR OWN WILL!"
Karol G Spanish Tattoo Designs on Ribs
Karol G has a tattoo on the side part of her ribs in Spanish that says "Mi Familia me hace humana, Dios me hace fuerte" and it means "My family makes me human, God makes me strong". Pretty simple but very emotional and effective.
Karol G Spanish Tattoo Designs on Hand
Karol G has a beautiful Spanish quote inked on her arm in calligraphic style font with the words "Esto Tambien Parasa" – which is Spanish for "this too shall pass". It is a very popular phrase in English that you can make in different languages.
Jesy Nelson Spanish Tattoo Designs
Jesy Nelson got three kinds of inks on her right hand all at once in January 2018. The tattoo on her middle finger knuckle says "amor" which means "love" in Latin, Spanish, and Portuguese. On her index finger and ring finger are the characters "E" and "J."  These characters are a bit of a conundrum considering her boyfriend's name is Harry James. It doesn't equal any of her family members either because her parents and siblings all have names that start with a letter "J."  The "J" might persist for Jesy, but we don't understand who or what the "E" denotes.
Kehlani Spanish Tattoo Designs on Neck
The ink on the side of Kehlani's neck says "Perdida y Encontrada" which is a Spanish translation for "Lost and Found." "I think it's a reminder if I do get lost again, I can always find myself," she took to her Instagram account to share her Spanish Tattoo design with her fans.
Kehlani Spanish Tattoo Designs on Face
Kehlani's first face tattoo was on her temple on the right side of her face. It tells "Espíritu Libre" which is a Spanish translation for"Free Spirit."
Becky G Spanish Tattoo Designs on Left Wrist
Becky G has a tattoo on her left wrist that is the word "Familia" which is the Spanish word for family. She hails from a Spanish-speaking Mexican-American relation and is really in contact with her legacy. "Although my Spanish is flawed and I didn't grow up in Mexico, I take pride in my roots. My family's history and the fact that all the traditions and morals passed down have shaped me to be who I am today is what it means to be a second-generation-born Mexican-American for me," she told PopSugar.
She got this Spanish ink from artist Dr. Woo in September 2016 at the same time as the dragonfly on her side. "My tattoos went well. I was not in pain. I felt very relaxed, very calm. And I think it's because I waited for the right person to do them. It was tattoos that I was very, very sure of and I just felt really right about it," she stated in a Q&A video on Youtube. She'd been thinking both of her ink designs for a long time and even took to twitter to tweet about needing a  "Familia" tattoo back in April 2016.
Amber Heard Spanish Tattoo Designs on Ribs
Amber Heard has Spanish writing etched in red ink on her left side. It is a saying from the famous and one of the most sought after Chilean poets, Pablo Neruda. The quote "te amo como se aman ciertas cosas oscuras, secretamente, entre la sombra y el alma" that she has as her ink is an English translation of "I love you as certain dark things are to be loved, in secret, between the shadow and the soul."
Jaime King Spanish Tattoo Designs on Right Foot
Jamie King has a word written in Spanish and done with blue ink on the side of her right foot. It seems to say "Porque" which is Spanish for"why."
Karis Anderson Spanish Tattoo Designs on Shoulder
The tattoo on the left side of Karis Anderson's chest says "La Vida Loca" which is Spanish for "The Crazy Life."
DEV Spanish Tattoo Designs on Elbow
Dev has a tattoo encompassing her elbow of the expressions "Esta Loca," which is translated in Spanish as "she's crazy" or "it's crazy" (feminine form). Dev is of Mexican and Portuguese lineage and values her culture with inks in both Spanish and Portuguese concerning her two grannies. "It says 'Esta Loca', because my crazy Mexican grandmother used to say that to me," Dev says.
Sarah Harding Spanish Tattoo Designs on Ribs
Sarah Harding has two rows of Spanish printed vertically on the right side of her ribs. Though it is somewhat hidden because of her dress, the apparent part states "Sé quien eres y … mente no importante…" which means "I know who you are and … mind not important…"
Christina Aguilera Tattoo Designs on Left Elbow
The ink etched on Christina Aguilera's left elbow is in two languages. The red cursive terms tell "Te Amo Siempre," which is the Spanish translation for "I love you always." Two Hebrew letters in the center also accompany this te amo Spanish tattoo design that is represented the initials of her ex-husband Jordan Bratman.
Cher Llyod Spanish Tattoo Designs on Right Arm
The premier tattoo that Cher Lloyd got on her right arm is a Spanish quote that says 'Bosillo lleno de sueños,' which is Spanish for 'pocketful of dreams.' This expression comes from Alicia Keys' verse "Empire State Of Mind (Part II)." Her ex-boyfriend told the reporter "She doesn't speak Spanish, she just thought it looked pretty and loved that song."
"Empire State Of Mind" was one of the songs that Cher played while she was on X-Factor, though she had the design even before she came on the show. On X-Factor she spoke about why she can compare to this particular song. "The lyrics basically explain how if someone wants something so bad, you have to get to the right places get it. And it's basically the story of me being here [on X-Factor] today."
In a world where the language is not a barrier anymore, thanks to google translate, we hope you find your perfect tattoo!