Nowadays tattoos are not branded any longer. Lots of people are looking at this art as a way of presentation and expression of themselves and are having beautiful body art. One can easily search online to get one of their own thoughts, a cover-up, design, or an idea from Pinterest tattooed. This is an awesome experience too.
Learning to get an appreciation for the beauty of body art, tattoos are becoming the part and parcel of life. Body art the best way of expressing your feelings. There are so many tattoo parlors coming up in India to meet the increasing demand for tattoos. This article is an eye-opener for the people who are a bit hesitant and pondering to go for it or not. Check out the best tattoo shop in Hyderabad here.
1. Subhojit Chakroborty- Koru Ink Tattoo Studio
Just like an unfolded silver fern leaf, Koru is spiral-shaped. It expresses new life, new strength, peace, and growth in life. They have their tailor-made art to represent the spiral-shaped life. The inner coil of the spiral represents the root and the outer coil is an expression of growth and life.
Subhojit has a passion for this art since his childhood. He found Koru art in 2011 and started to proceed in this field. He studied Animation & Design At Loyola College, Hyderabad and he made his first tattoo while learning. Afterward, there is no looking back. He started his work from home and after coming a long way, he finally set up his own studio. He worked at leading studios like Iron Buzz Tattoos, Mumbai, and Lizard's Skin Tattoos in Kolkata. Before setting up his own studio, he owned Greensoul Tattoos. With all his experiences and performances, he can participate in international tattoo conventions. He got the platform to share his work with renowned artists and secure the Best Realism Award for his work. This way he paves his own way.
The founder artist Subhojit Chakroborty instituted his venture by the name of Koru Ink in Sindhi Colony, Secunderabad. He established his position by securing the Best Realism Award at the Heartwork Tattoo Festival in 2015. Koru Ink became the most demanding best tattoo studios in Hyderabad.
Dot work, abstract, watercolor, geometric, hyperrealism, trash, psychedelic, etc. are some of their tattoo design brand. Their tattoos are stylish, diverse, and wonderful with different shades, lines, and shapes. One needs to take an appointment in advance to get the tattoo made so that they have ample time to meet your requirements. Their tattoos are unique and have tricky detailing that sets them apart from others.
Koru Ink Tattoo studio is based in Hyderabad with the best quality of tattoos. They specialize in the following:
•Realism
•Abstract Realism
•Line Art
•Psychedelic Art
•Geometric Art
•Visionary Art
•Pointillism (Dot Work)
They provide a secure, safe, and hygienic environment.
We at Koru Ink would like to give you a first-hand welcome to one of Hyderabad's newest Custom Tattoo Studio which is based in P.G Road, Sindhi Colony. Our resident artist Subhojit Chakroborty is known for his custom tattoo designs and many tattoo styles such as Dot work, Polka Trash, Geometric, Abstract & Psychedelic, and more, but majorly with his defined lines and shades with intricate detailing of Realistic tattoos.
He participated in many tattoo conventions in Delhi, Pune, Kolkata, and Nepal. His accomplishments can be seen there and observed. It also includes the Best Realism award at the Heart Work Tattoo Festival in 2015. So anyone can approach their studio to get oneself inked and get the best tattoo of one's choice based on their own idea. Some people are not able to express their thought, they help them out in such a situation.
One can go to Koru Ink and get the concept based tattoo fit for him. They are always ready to help you out.
Location on Google Maps:
2. Amin Sultan Hajiani, Ravi, & Alif- Angel Tattoo and Piercing Studio
The Angel Tattoo Studio is operational and run by  Amin Sultan Hajiani, an award-winning tattoo artist. Six artists work together in this studio. This tattoo gives importance to quality work. They deal with dotted geometric tattoos and work on unique pieces or style statement. Being a master in their artwork, they engrave your skin with worthy and meaningful tattoos. They can create a masterpiece, colored, or a beautiful grey and black tattoo. They work with proper shading techniques to have a good quality tattoo. They maintain cleanliness and work with proper hygiene in their studio. So, with Avant-Grade tools and trained artists, they cater to the needs of their clients as per their satisfaction.
Amin Sultan Hajiani has got a degree in Business Management. He was born in Mumbai and brought up in Hyderabad. He has a passion for the arts. During school time, he was practicing sketching, drawing, and creating different types of characters. He decided to choose an artistic career. He got a chance to work on national and international projects. He was into animated and cartoon movies. Cartoon Network, Pogo television are some of the projects, he worked on for more than seven years.
His passion for animation got him into tattooing. It was not his plan. He worked as a freelancer in early 2007 for the acquaintances but later on, Amin Sultan Hajiani established Angel Tattoo and Piercing Studio in 2011. He is one of the topmost tattoo artists in Hyderabad, Secunderabad, and PAN India. He had a lot of experience in his field.
Angel Tattoo and Piercing Studio have a second fine tattoo artist, Ravi. After completing his formal education, Ravi came to Delhi to pursue a tattooing Career. He was not a routine type of kid. He didn't opt for high professional courses like usual kids of his age. He prefers to be an artist than a doctor or engineer. He joined the KD Tattoo learning school at the age of 18 in 2011. He shifted to Hyderabad after completing his course. He wants to become the best tattoo artist in the tattoo industry. For this, he started doing freelancing. After a few months, his work becomes remarkable. He then joined Angel Tattoo and Piercing Studio. This is his hard work, he became the second-best tattoo artist.
With time, Ravi became the finest tattoo artist. He is devoted, dedicated, and sincere towards his work. He is in demand for his neat and clean work. His work with smooth lines and lovely shading on tattoos are the attraction for his clients. Ravi is one of the best tattoo artists in Hyderabad. He is the only tattoo artist in Jharkhand.
The motto of Angel Tattoo and Piercing Studio is to satisfy their clients with their quality tattoos. They use good techniques of shading and lines. They take care of cleanliness and hygiene. All are invited to have the experience of tattoos on their body which is memorable and bears appreciation. Piercing is also a wonderful experience in this studio. Angel  Tattoo and Piercing Studio also provide rigorous training to learn this marvelous art and people can make their career in Tatto and Piercing. After training, the trainees can open their own studio and flourish with their passion.
Angel Tattoo and Piercing Studio assure of the best and clean environment, economical price rates, protection, generosity, excellence in their work. Since 2011, it gave its best result with their artists who have experience of more than five years. Telangana, as well as the whole of India, ranked this studio as the best and highly reputed. Various national and international tattoo competitions awarded Angel Tattoo and Piercing Studio for their good work and its artists are appreciated. To improve their ratings on Instagram, Facebook, justdial, the studio try its best to thrive and maintain the quality of their tools and equipment. They also approve of their hygiene environment and good hospitality. They also provide the best advice to their customer on their desire and feeling. They try their best to make the tattoos and piercing process painless and safe. Renowned surgeons, professors, doctors, athletes, actors, actresses, IAS officer, fashion designer, youngsters, all approve of their work and quality.
Anyone can approach them for tattoos of their choice. The details are given below for easy access:
Shop Name: Angel Tattoo Studio
Address: Angel Tattoo Studio, Shop no. 15, Devki chambers, opp. HDFC Bank, Paradise Circle, Sindhi Colony, P.G. Road, Secunderabad 500 003. A.P., India.
Email: [email protected]
Contact: +919642033248,+91 998515 7654
Facebook: Angel Tattoo Studio
Instagram: Angel Tattoo Studio
Youtube: Angel Tattoo Studio 
Website: Art of Angel Tattoo, Angel Tattoo Studio 
Timings: Mon to Sun 11 am to 8 pm
Location on Google Maps:
3. Joysen- Joysen Tattoo and Piercing Studio
It's almost ten years, Joysen runs his studio in Hyderabad. He belongs to Kolkata and is devoted to his artwork. His work is desirable for everyone and he is a very faithful artist in the city. Besides portraits, he is indulged in shading and watercolor-effect too. To cover the spots and stains of the body, he is quite efficient and reliable. He covers up the scars and other body shades with new and modern tattoos. Joysen provides training on tattoos and body art services to young buddings in this field. His tattoos are acceptable and appreciated internationally and in great demand. No tattoos are difficult to be created by Joysen.
The most freakish studio, Joysen creates tattoos to the astonishment. He can't create a unique tattoo. He has the capability of converting any type of imagination, desire, and feeling into a pretty tattoo. He has proved time to time to claim that any sort of tattoo can be made.  He accepts the different types of stimulation and defines the artistic tattoo in simple terms. His work is accepted globally and appreciated on an international level. Various celebrities and models contact him for creative and unimaginable tattoos. If you want to check his work, browse his page, and get the tattoos done on your body, no matters what you desire. He can create diminutive of huge pictures or an original one.
Joysen Tattoos & Piercing Studio provides a variety of big and small tattoos and body piercing services to any age group. Based in Hyderabad, Joysen gives his best services and you need not go anywhere when the proficiency can be attained at his studio. To find out the best place for tattoos and body piercing without pain, simply click your mouse and get the details of them at Joysen Studio. The people of Hyderabad is thankful for his creation and look for him to meet their demand.
Joysen provides a range of unique designs of tattoos. He is acquainted with A to Z of tattooing after a few years of practice and experience. They have an economical range of price lists. Whether it's a complex tattoo or piercing, the three artists of Joysen are quite efficient. They do tattooing with utmost good skill and do piercing which is painless. They provide two modules of tattoo training, Basic Course and Professional Course. The Studio wants to sustain the natural culture and profession of tattooing in Hyderabad.
If you desire to have a superb permanent tattoo to be inked on your body, never forget to go through the details of Joysen Studio. Keeping in mind modernity, Joysen try to meet the requirement of the customers with style. The tattoos are awesome and fashionable always. His studio is the best in Hyderabad.
Hyderabad is converting into an urban city and it will take time to develop the taste of tattooing. New artists are trying to learn this body art but proficiency is still lacking unless guided by the best tattoo artist. The tattoo culture is yet to be spread in Pearl City. Situated at  Jubilee Hills, Hyderabad, Joysen Tattoos & Piercing Studio try to hire the best tattoo artists who can understand the taste and style of tattoo to be made, based on the idea of the client. Nowadays the customer is attracted to the unique idea of the tattoo with basic understanding.
Working women are specific in their choices of tattoos. They prefer a female tattoo artist to a male tattoo artist. Female artists are available at Joysen Tattoos & Piercing Studio in Hyderabad which is a great relief to many female fonds of tattoos. it gives opportunities to the female tattoo artist to become a good artist.
The cruel culture of spreading the wrong message concerning tattoos, they are working hard to give direction to the youths so that a good massage can be given.  Joysen Tattoos & Piercing Studio has been offering good and economical services of tattoo designing and body piercing in Hyderabad. I strive a lot to achieve the target smoothly.
Their artists go further to give the benefits of explaining the prevailing and trendy tattoos to their customers. They have compatible body piercing techniques that they apply to their satisfaction. They give their service smoothly and is always appreciated by the customers.
There are few details to contact the  Joysen Tattoo and Piercing Studio:
Shop Name: Joysen Tattoo and Piercing Studio
Address: Address 1: Jubilee Hills Branch – Plot No 8a, Beside State Bank Of Mysore, Indra Nagar Cross Road, Jubilee Hills, Hyderabad. Address 2: Kondapur Branch – Above Maavuri Vanta, Opp: Siddi Vinayaka wines, Near Kothaguda circle, Kondapur, Hyd, Address 3: Himayat Nagar Branch- Joysen Tattoo Studio Himayat Nagar Road, Gagan Mahal Domalguda, Himayat Nagar Hyderabad
Contact: 9989832713, 8897770464, 040 6613 1333, 8978061463, 8008956143
Email: [email protected], [email protected]
Instagram: Joysen Tattoo and Piercing Studio
Timings: Mon to Sun 11 am to 8 pm
Location on Google Maps:
4. Vinnu- Vinnu's Tattoo and Body Piercing Studio
If you ever get a chance to go to Ramnagar X Road, don't forget to try Vinnu's Tattoo studio. Portrait tattoos are their specialization.
The severe hygiene environment, best inking standards, and quality of tattoos are guaranteed by this studio. They also take care of the age of the customer. They follow the strict policy as far as age is concerned. the requirements, taste, and ideas are taken care of by every customer to get the tattoos done on their body. Vinnu has won many prizes for maintaining the quality of his good work. It is situated in Hyderabad and is best appreciated.
I personally feel that every tattoo, has one story or history , because doing tattoo is easy. but selection of design is tough task .because its permanent BOSS…….for selection of a jeans ,will go for different fittings  it may satisfy or may not be satisfy after trails. And for tattoo how can u select the design ..by seeing once.
The details of Vinnu's Tattoo and Piercing Studio are as follows:
Shop Name: Vinnu's Tattoo Studio
Address: Vinnu's Tattoo Studio, S.V.R Building 1-7-659/A/1, Ramnagar X Road, street no 8. Beside Vijaya Bharati model high school, Hyderabad, Telangana 500020
Contact: 

096666 66602, 098490 19555

Facebook: Vinnu's Tattoo Studio
Youtube: Vinnu's Tattoo Studio
Website: vinnustattoo.Blogspot. in
Timings: Mon to Sun 9 am to 5 pm
Location on Google Maps:
5. Aalim Hakim- Hakim's Aalim
Mr. Hakim Kairanvi is a celebrity hairdresser. His son, Aalim Hakim is fond of running a body art studio. His father trained him for improving his skills. Aalim Hakim opened his studio at Banjara Hills. Bengaluru, Chennai, Mumbai, and Dubai has branches of his tattoo art studio and it is a well-established brand now. This studio provides full make-over if one wants to like a haircut, tattoo, piercing, etc. They believe in following the latest trends in the market. They know how to keep the mood set for their customer by creating a modern and artistic setup in their parlor with soothing music. Their body art studio is run over the whole of India.
Celebrities like Shahid Kapoor, Salman Khan, Varun Dhawan, Sidharth Malhotra, Arjun Kapoor, Sanjay Dutt, Bipasha Basu, Katrina Kaif, Virat Kohli, Rohit Sharma, Ajinkya Rahane, K.L Rahul, Sachin Tendulkar, Suresh Raina, Hardik Pandya are fond of his artistic tattoos.  Aalim Hakim advises them on their hairstyle too. Even the south film industry is also styled by Aalim Hakim. Aalim Hakim also worked on south actors like Rajnikant, Mahesh Babu, Junior NTR, Vikram, Rana Duggupati, Tammana, Prabhas. His demand is catered to in movies too. He is the best tattoo designer who makes the tattoos keeping in mind the latest trends.
The details of the Aalim Hakim studio are as below:
Shop Name: Hakim's Aalim
Address: Hakim's Aalim, Plot No.1259/A, 1st Floor, Jahnavi Trade Centre, Road No.36, Jubilee Hills, Hyderabad, Telangana 500033
Contact: 

040 2354 1879

Facebook: Hakim's Aalim
Instagram: Hakim's Aalim
Timings: Mon to Sun 11 am to 8 pm
Location on Google Maps:
6. Vijaya Durga- Destino Tattoo Studio
The female artist, Vijaya Durga, has the flair to get the tattoo done on your body as per your ideas. Simplicity is what she provides. She is the best artist when simple tattoos are your choice. She was good at art and drawing and this led her to develop an interest in tattoos. She has her studio in Madhapur which is named Destino Tattoo Studio. Popular salon Alexander still has a connection with her. She is in touch with them in thriving her work. She does her with care and gentleness, maybe it's a standardized tattoo or customized one. her studio is within everybody's budget.
She is the first lady tattoo professional in Hyderabad. She does her work with proficiency. She has the capability of converting or altering the tattoos as per the ideas or requirements of the customer. She maintains the cleanliness around her surroundings. Besides inking, she tries her level best to perform the work with devotion. It enables her to get a fabulous piece of art on the body's skin to the satisfaction of the client. She assures me of finishing the tattoos with care and safety.
It's her passion for art and drawing since childhood that brings her in touch with handicraft specialists. Seeking advice and tips from them, she started working for different categories of salons in the city in 2012. She slowly develops her skill in tattooing and piercing which encourages her to open her own studio in Madhapur. Her dream of opening  Destino Tattoo Studio comes true. She is counted as a well-known artist in the city. One can find the best and simple tattoo at her studio at a low price.
It is exceptionally hard to be a tattoo artist in Hyderabad. Individuals are not extremely progressive, they can't acknowledge a female tattoo artist, when i told my family that i needed to seek after inking as a profession. They were dead against it, Yet now they bolster me a great deal so here I am. Said Vijaya of Destino Tattoos. The female tattoo artist at ink your Fate.
The details of her contacts are as follows:
Location on Google Maps:
7. Sana- Sana's Tattoo Studio
if you ever want a customized tattoo on your body, Sana's Tattoo Studio is the best choice. It caters to the needs of the customer with the utmost care and cleanliness. Their artists are proficient in this skill and create tattoos based on the desire of the customer. You can easily find out your ideas on your body in the form of tattoos. Wonderful creations!
Their details of Sana's Tattoo Studio are as follows:
Shop Name: Sana's Tattoo Studio
Address: Sana's Tattoo Studio, 2nd Floor, Plot No 41, D V Colony, Opp D V House 2, Above Arzoo Tailors, Minister Road, Secunderabad
Contact: 040 64589914
Timings: Mon to Sun 11 am to 10 pm
8. Vikram- Tattoos By Vikram
Renowned artist from Delhi, Vikram is an expert tattoo maker. Vikram is the best designer in all kinds of tattoo work. He is stationed in Hyderabad. He is working in Hyderabad since 2005. He is efficient in different types of tattoos; be it a realistic, spiritual, black, grey, customized, standardized, portraits, tribal, oriental, or modern art tattoo. He is very humble to advise you on the type of tattoos that suits you more. His team is awesome and with great teamwork, they provide all types of excellent ideas in choosing the tattoos. He says confidently, "I let my work speak for me!." His artwork is appreciated and sought-after by all in Hyderabad. He has an instinct for tattoo making and is well trained in his tattoo work.
They deal in black and grey, colored, portrait, oriental, custom, abstract, spiritual, standard, etc. They use all premium products and tools in their work. Cleanliness and hygiene are their priority before starting the tattoo.
To follow and contact them, the following are the details:
Shop Name: Tattoos By Vikram
Address:  Tattoos By Vikram, 3rd floor Bk estate Banjara Hills road no.1 opp. to Jalagam Vengal Rao Park, Hyderabad, Telangana 500034
Contact: 8106415324, 

081786 87129

Email: [email protected]
Facebook:  Tattoos By Vikram
Website:  Tattoos By Vikram
Timings: Mon to Sun 11 am to 8:30 pm
Location on Google Maps:
9. Dow Abhilash- Dow's Tattoo Studio
There is great pride in the work of Dow's Tattoo Studio. With full attention, they listen to their customers carefully and try to understand their desire and ideas. They use different techniques and equipment to satisfy their customer's needs and requirements. Dow's Tattoo Studio is working since 2014 and providing good quality work to all of their clients. This artist has practiced for many years and attain perfection to ensure the quality of their tattooing. They need to satisfy their customer first. For this, they give good and practical ideas too.
Every customer will be proud to have their tattoo done at this studio as they are always attentive to every detail of their customer. They proudly complete their work and satisfy their clients. The result is, no doubt, an awesome one. The customer feels proud to get his work done to his content. Various methodologies and technology are used to bring good output. Their work speaks a lot about its attainment in this field. The experience at Dow's Tattoo Studio is much more permanent than the making of the tattoo with ink. They are the best tattooer in Hyderabad city.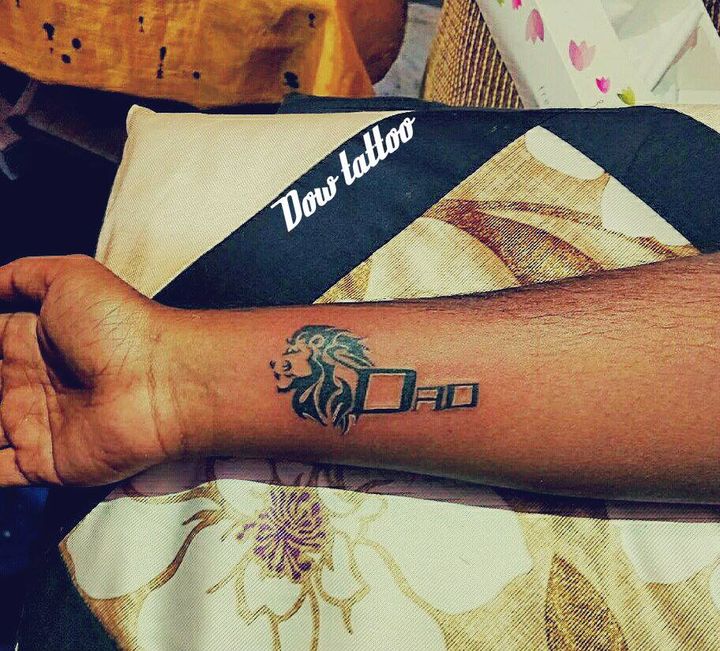 I took art classes in the early 2008's, mostly art history, color theory, and composition/life drawing classes. I spent three years apprenticing, learning everything about tattoo's and the business side of it, before starting my Own Studio. The best thing about my job is drawing on amazing people all day. My clients are the best part of the job.
The details of the Dow's Tattoo Studio are:
Shop Name: Dow's Tattoo Studio
Address: Dow's Tattoo Studio, 8-1-105/6/c, Sai Baba Temple Rd, Sita Nagar Colony, Maruti Colony, Shaikpet, Hyderabad, Telangana 500018
Contact: 

097008 87776, 995 111 1372

Email: [email protected]
Facebook: Dow's Tattoo Studio
Instagram: Dow's Tattoo Studio
Tattoo Culture:  Dow's Tattoo Studio
Website: Dow's Tattoo Studio, Dow's Tattoo
Timings: Mon to Fri 9 am to 10 pm, Sat 8 am- 9 pm, Sun Closed
Location on Google Maps:
10. Naksh Tattoo Studio
Offering colored tattoos, best black tattoos, permanent tattoo, ear, and nose piercing, Naksh Studio is in tattoo making field since 2012. They have very talented artists who work on a different aspect of tattoos and piercing. They provide free advice and consultation related to your ideas and imagination along with assuring the hygienic environment.
All work is done under one roof and there is no need to fix an appointment. Anyone can go there and get the tattoo or piercing done. It is situated in Hyderabad and people prefer to take their services. They also provide highly professional training to all age groups. They do tattoo removal and lip tattoo also.
Along with free consultation, Naksh Studio also maintains the tattoo culture and its growth. They have standard tattoos but they also specialize in customizing tattoo design to get the ideas of the clients. They claim to the best tattooer which can be confirmed after getting your first tattoo at the studio. You definitely won't be able to resist the next one.
They have an extension to Vicky's learnings and do piercing too. They are experts in ear piercing, nose piercing, body piercing, etc. They work with "Studex", an international company in partnership. Anyone can explore their way of working along with techniques. Somajiguda, AS Rao Nagar, and Hitech City are some of their branches they are working on. You can find many tattoo studios, but this one is the best in Hyderabad.
Details of this studio are as below:
Shop Name: Naksh Tattoo Studio
Address: Shop no 1 -86 2nd Floor Naksh Tattoos Hitech City Road, Gafoor Nagar, Madhapur, Hyderabad, Telangana 500081; Shop 2– Level 2, Asian Radhika Mall, 500062, Officers Colony, Dr. AS Rao Nagar, Hyderabad, Telangana 500062; Shop 3– Naksh Tattoos 1st Floor Oasis Center, Somajiguda Greenland Begumpet, Hyderabad, Telangana 500016
Contact: 090522 70001, 96767 51440, (040) 48530227
Email: [email protected], [email protected]
Facebook: Naksh Tattoo Studio
Instagram: Naksh Tattoo Studio
LinkedIn: Naksh Tattoo Studio
Youtube: Naksh Tattoo Studio 
Pinterest: Naksh Tattoo Studio
Twitter: Naksh Tattoo Studio 
Website: nakshtattoos.com
Timings: Mon to Sun 11 am to 10 pm
Location on Google Maps:
11. Varun and Vicky- V Square Tattoo Studio
Varun and Vickey are the masterminds behind the creation of V Square Tattoo Studio. People feel repose as they get into their touch and talk freely about their ideas. Customers generally are provided with a safe, neat, and clean atmosphere so that they can openly discuss the type of tattoos they require according to their needs and latest trends. They have female tattoo artists meant for females only. They give the best advice on a suitable tattoo after discussing the requirements. The studio has a team of efficient artists both male and female.
V Square Hygienic Tattoo Studio took its genesis because of Varun and Vicky. The whole studio is super clean, safe, and extremely hygienic for people to relax and have a good and safe tattoo making experience without worrying about anything else. At V Square Hygienic Tattoo Studio, they use sterilize equipment, top-quality ink, and needles that are imported from abroad so that the quality of hygiene is maintained. At V Square Hygienic Tattoo Studio you can be expected to get customized and unique tattoos. The people who work in V Square Hygienic Tattoo Studio maintain the health and hygiene education for the use of tattooing and body piercing. In fact, they have many testimonials where people applaud their extreme efforts in keeping the hygienic standards of the studio intact. They also have a female tattoo artist who makes tattoos only on girls. They also provide you with expert advice so that you can be on the right path.
Their specialty lies in making severe types of designs like Permanent Black, Temporary, Color, Wings, Names, Arrow, Unicorn, Lion, Butterfly, Memorial, Skull, Animals & Spiritual Tattoos. Vicky is a remarkably skilled natural artist and as well a 2D Art & Animation expert. A qualified and certified tattooist who is enthusiastic about skin sculpting and body piercing is skilled in making artwork that is based on certain concepts instantaneously to the satisfaction of the customer. Vicky is a particularly novel tattooist who is real with his artwork.
They keep on giving discounts and special offers during the events. It has been over a decade since they began this tattoo studio and say,
This Year 2018 we are celebrating our 8th Anniversary. We have a variety of talented tattoo artists, who can help you design your tattoos. We specialize in custom tattoos and unique tattoos. Our tattoo studio also has a female tattooist (only for girls). If you can't find what you're looking for, come, and meet with someone who will be glad to help you create the best tattoos for you. We also have a massive selection of tattoo designs that are ready to go. Come on down and have a look! Even if you're just browsing, google search is a great place to start researching your design. For unique tattoos search www.pintrest.com. The expert advice of our experienced artists will put you on the right path! If you have general questions, please check out the FAQ page to see if the answers are there.
The prices that they offer their services at V Square Hygienic Tattoo Studio begins from, for Permanent Black tattoo INR 500. They charge INR 1,000 for the first inch. For temporary tattoos, they charge INR 250. The 250 Rs tattoo stays for 10 to 15 days. The basic price for body piercing begins at 600 INR with 200 Rs extra for the stud. For permanent colored tattoos, they charge 800 INR and do the first inch in INR 1,000. For temporary tattoos, they charge 3,000 when you buy a minimum of 100 tattoos. They also provide a tattoo removal service at V Square Hygienic Tattoo Studio with the basic price of INR 1000 per inch.
They also provide services such as Permanent Make up that includes, lip color, eyebrow, white patches, Hair patches, Breast Cancer patients, etc. for the basic price of INR 3,000.00. They are one of few tattoo studios that also give painless tattoo services at an extra 200 INR per inch. They will also come to your doorstep to create your favorite tattoo design with an extra INR 200 per inch.
Their details are as follows:
Shop Name: V Square Tattoo Studio
Address: V Square Tattoo Studio, 3-5-908, 1st Floor, Pooja Manhore Arcade Below Narayana Junior College, Venkataswamy Nagar, Himayatnagar, Hyderabad, Telangana 500029
Contact: +918978620620, 9866773536, 7207777350
Email: 

[email protected]

Facebook: V Square Tattoo Studio, Best Tattoo Studios 
Instagram: V Square Tattoo Studio
Pinterest: V Square Tattoo Studio 
Website: V Square Tattoo Studio
Timings: Mon to Sun 9:30 am to 9 pm
Location on Google Maps:
12. Artcore Tattoo Studio
Banjara Hills, Hyderabad accommodates one of the best studios, Artcore Tattoo Studio. They are experts in making 2D tattoos and 3D tattoos, spray tattoos, permanent tattoos, illusion tattoos, biomechanical tattoos, and shaded tattoos. Safety, cleanliness, and hygiene are what they maintain at their studio. They deal with all types of tattoos and their skill and experience are marvelous.
They help customers in customizing their tattoos. Situated at, The Artcore Tattoo Studio is open every day and anytime between 09:00 to 21:00. The customers are taken care of with nice gestures.
Their details are as follows:
Shop Name: Artcore Tattoo Studio
Address: Artcore Tattoo Studio, 47, Rd Number 3, Panchavati Society Colony, AK Enclave, Green Valley, Banjara Hills, Hyderabad, Telangana 500034
Contact: 088869 52904
Facebook: Artcore Tattoo Studio
Pinterest: Artcore Tattoo Studio
Timings: Mon to Sun 9 am to 9 pm
Location on Google Maps:
13. Abdul Aleem- Deftinks Tattoo, Piercing, and Training Studio
The expression of an individual is very much preferred by anyone. Deftinks Tattoo, Piercing, and Training Studio helps an individual to express their gender identity, sexuality, religious attitude, personal, cultural, and other preferences. In this process, a person can express what they want to be in terms of their individuality, fashion, memories, sexuality, hiding of scar, personal tale, experiences, and whatnot through the tattoos.
Keeping in mind the hygiene environment, they don't compromise on quality tools and equipment. They generally sterilize all of their instruments. They provide the best body piercing services and also make self-portrait tattoos. Masterpiece on the body with proper hygiene is their specialization. This is the correct place to get the body art tattoo with utmost care and safety.
For his passion for arts, Abdul Aleem founded Metal Inks Tattoo Studio in 2012. He chooses to work as a freelancer in his own studio instead of becoming a master. After this, he worked as a professional tattoo artist in Angel Tattoo and Piercing studio. He worked there for four years and mastered his skills. After experiencing it for seven years, he became the best tattoo artist in Hyderabad. He was trained in various kinds of tattooing. His Metal Inks Tattoo Studio is situated in Gachibowli.
They focus on the expression of their customer for multiple categories. It includes spirituality, individuality, hiding scars, experiences, fashion, memories, personal tales, sexuality, etc. To get the masterpiece on your body, Metal Inks Tattoo Studio is the best place to choose. They provide training and give Cosmetic Tattoo services besides making tattoos and body piercings.
Their contact details are:
Location on Google Maps:
14. Karan Vadakedath- Buddha Tattoo Studio
Started by Karan Vedakedath in 2009, Buddha Tattoo Studio is one of the best studios in Hyderabad. This studio caters to the needs of more than 25000 clients. Their professional artists are very expert in their skill and each of them has experience of more than six years in tattoo making.
Rahul and Jeet are the other artists who work along with Karan and regularly advise their clients on post-tattoo care.  They are always ready to clear their doubts.
Their contact details are as follows:
Shop Name: Buddha Tattoo Studio
Address: Buddha Tattoo Studio, House no: 2-40/1/A, Beside Hadippa – the Urban Tadka Hotel, Gachibowli – Miyapur Road, Kondapur Main Road, Kothaguda, Hyderabad
Email: [email protected]
Contact: 040-40191129, 90100 54845, 91779 05143
Facebook: Buddha Tattoo Studio
Instagram: Buddha Tattoo Studio, Borojit Ink
Website: buddha tattoos.in
Timings: Mon to Sun 11 am to 10 pm
Location on Google Maps:
15. Pinku Bijoy Ghosh- Inkkraft Tattoos and Piercing
Pinky Bijoy Ghosh is one of the best tattoo artists in Hyderabad. He commenced his life by working as a jewelry designer. His passion for art and drawing and love for tattoo inspired him to become a tattoo artist. He established his studio in 2013 by the name of Inkkraft Tattoos and Piercing at Banjara  Hills on Road 9. With the latest tools and equipment, Pinky Bijoy Ghosh and his studio create customized tattoos. They always take care of the cleanliness and hygiene of the working area. They are ready to do all types of tattooing from basic to hyperrealism. They do piercing of body, ear, nose, etc.
In their own words, the crew at the studio explains, "Founded in 2013, InkKraft Tattoo Studio has been an innovating force in the tattoo industry here in Hyderabad. InkKraft is a FULL CUSTOM tattoo studio with high-quality ink and equipment. InkKraft has built a strong reputation as a welcoming tattoo studio. We will listen to all of your needs and want to provide you with a tattoo that you will be proud to show off and cherish for years to come."
According to them, the range and effect of tattoos depend on various factors, culture, desire, etc. It's an old form of art that is slowly coming back with certain modifications. It represented the ritual and status in the past but it covers various aspects of life.
It's their dedication to tattoos that create an atmosphere for the young tattooers to meet each other and discuss various stages and levels of tattooing. They also correlate with customers. They get together to discuss their journeys and progression in this field and even encourages the young enthusiast. They are not reluctant to introduce the energetic and creative with some modification as per the prevailing trends. They also invite outsiders to give a view of their experiences.
Their details are as follows:
Location on Google Maps:

One is attracted by fabulous tattoos on different parts of the body. We aim to provide you all the information on various parlors and studios having the tattoos service.  We think it's a duty to share the facts due to a large number of studios and that the roads of Hyderabad are not that safe. You can choose and pick the best tattoo parlor or studio and get yourself inked. Your experiences and stories are easily shared by us.