Anthony Jay Smith is an American professional mixed martial artist who currently is the strong competitor in the Light Heavyweight division for the Ultimate Fighting Championship (UFC). Not many people know that he was brought up by a single mother and is also a school dropout. Until 2016, he used to work as a full-time concrete finisher. He is known to have stepped into a professional career in MMA in 2008. Anthony has got multiple tattoos on his body just like other martial artists. Let us explore his body inks.
1. Tribal Design on Right Arm
Tattoo: On his right forearm, Anthony has got tribal patterns inked.
Meaning: Tribal tattoo designs symbolize the wearer's rich culture and heritage. It is a source of strength, encouragement, protection, and power.
2. Tribal Arm Tattoo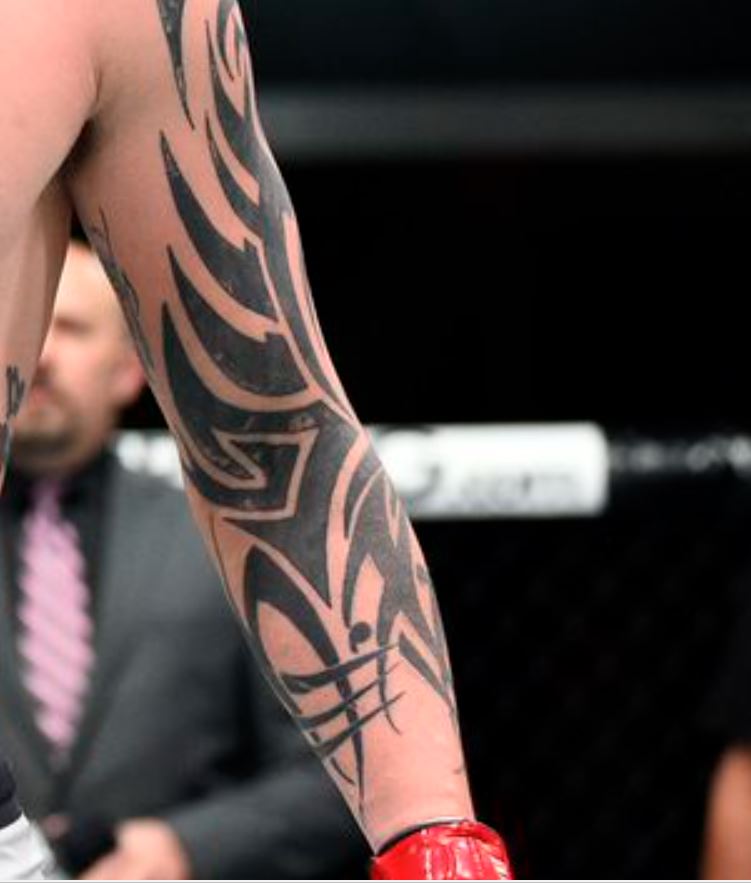 Tattoo: On his left arm, there is a magnificent tribal tattoo that covers the whole of his left arm.
Meaning: Tribal tattoos differ from culture to culture. Some people get these inked to reflect their rich culture and heritage whereas some get it to mark the progressive achievements of their life. It is also a source of representing masculine strength.
3. 'TAJ' Tattoo
4. Mandala Tattoo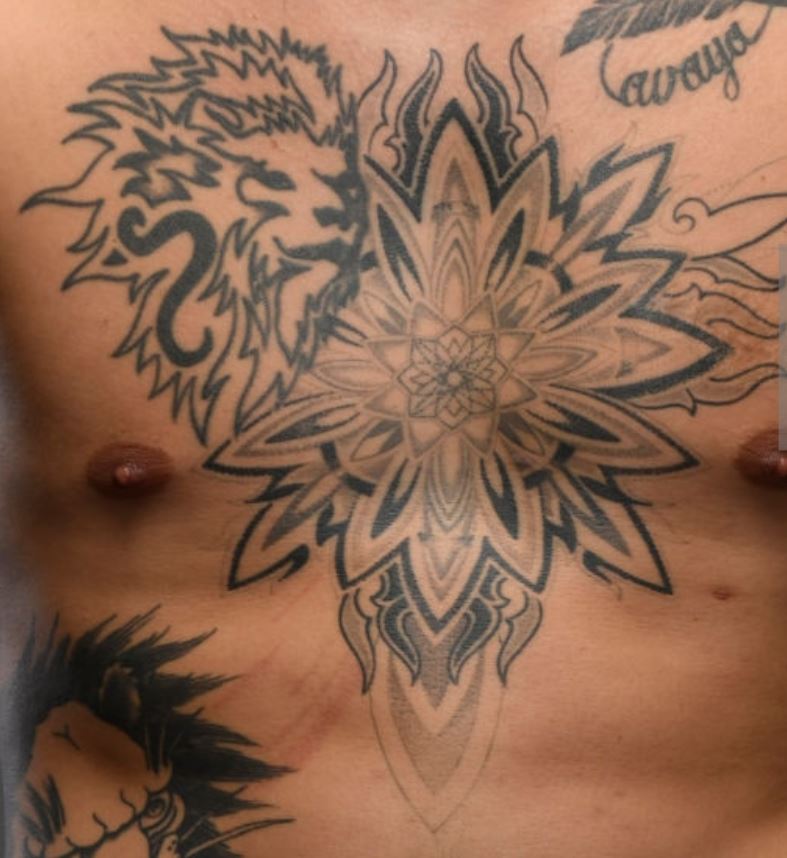 Tattoo: On the center of his stomach, Anthony has got an intricate design of mandala flower tattooed.
Meaning: Mandala stands for growth and rebirth. They hold a spiritual reference for many and stand for hope, love, charm, empathy, passion, and development. Mandala design itself holds a lot of significance owing to its design which is shaped in form of multiple circles in overlapping layouts.
5. 'SMITH' Tattoo
Tattoo: On the top of his back, Anthony has got the face of an Antler tattooed. Overlapping its face it the word, 'SMITH' inked.
Meaning: Smith is the surname of Anthony (Anthony Smith). The deer antler tattoo is the symbol of beauty and grace. It is the symbol that tells us that the tattoo wearer is at peace with himself and has a lot of love to welcome others and to share it with others. It also stands for fertility, growth, and swiftness in life.
6. Skulls on Leg 
Tattoo: On his left leg, Anthony has a tattoo of an intricate design that includes multiple skulls and a pattern that shows the bursting of nerves of his legs.
Meaning: Ghost/skull tattoo is the symbol of evil, death, and bad. However, some people get skulls inked to reflect the confidence and strength of overcoming the hard phases of life and also reflects that the tattoo wearer is not afraid of his death, it shall come when it has to, it is inevitable and thus, we should live our life to the fullest.
7. Samurai Tattoo
Tattoo: There is a samurai inked on Anthony's right leg.
Meaning: Samurai is the reflection of Japanese culture. The tattoo choice shows that Anthony owns the attributes and qualities of the samurai which are, strength, power, courage, and warrior-like being. The tattoo itself is the representation of the willingness of the individual to bear all the struggles with confidence and fight through them with ease.
8. Shoulder Tattoo
Tattoo: On his left shoulder blade, there is a tattoo of roman numbers that can be read as, 'XI-VI-MMXI' which when translated into numbers stand for, 11-6-2011.
Meaning: Anthony is married to Mikhala Renee Newman has got three daughters and this tattoo is dedicated to mark the birthdate of his eldest daughter, Ariah who was born on 6th, November 2011.
9. Tribal Astrological Lion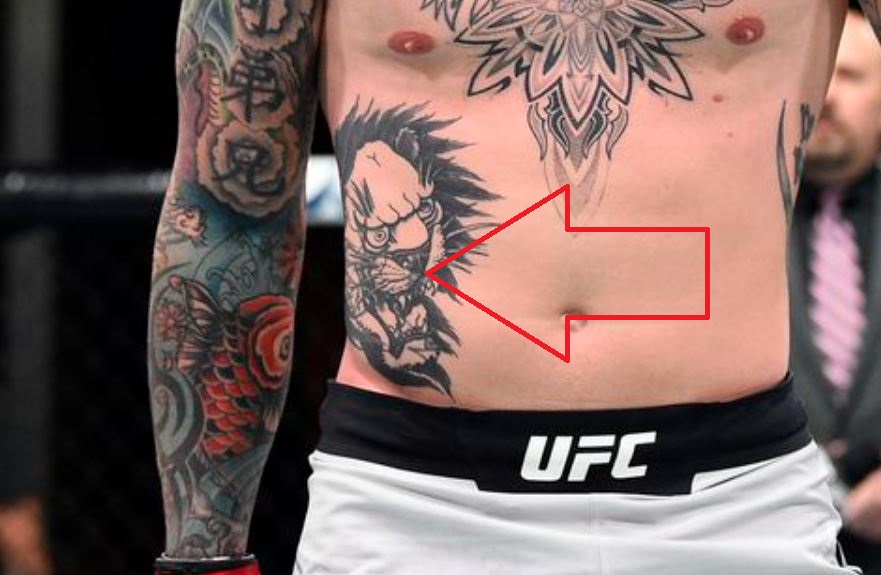 Tattoo: On the right side of his body, Anthony wears a magnificent tattoo of the tribal face of a lion.
Meaning: The tribal astrological lion signifies the person's loyal nature, honor, courage, and also the family crest. Lion is the universal symbol of fierceness, power, confidence, strength, and valor.
10. Samurai Face Tattoo
Tattoo: On his right hand's wrist, Anthony has got the face of a Japanese samurai tattooed.
Meaning: Samurai tattoo is a common tattoo choice among MMA artists. it reflects the powerful strength and courage of the fighter.
11. 'No Regrets' Tattoo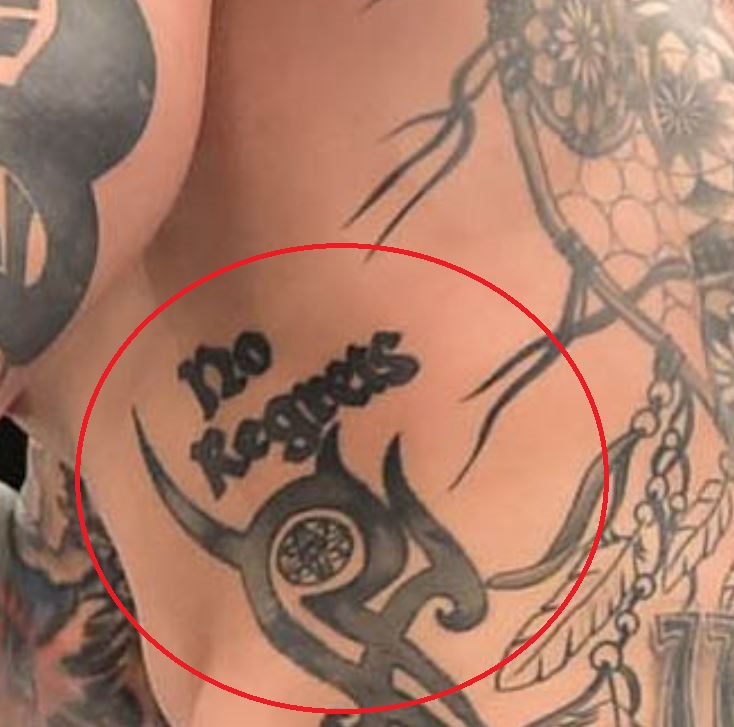 Tattoo: On the left side of his body, there is a writing that can be read as 'No Regrets'
12. 'Momma' Tattoo
Tattoo: On the inner side of his left forearm, Smith has got an italicized written word tattoo that says, 'Momma' The tattoo is his dedication of love for his mother. It is believed that he was brought up by a single mother and grandfather. Thus, he is quite close to his mother.
13. Lion Face Tattoo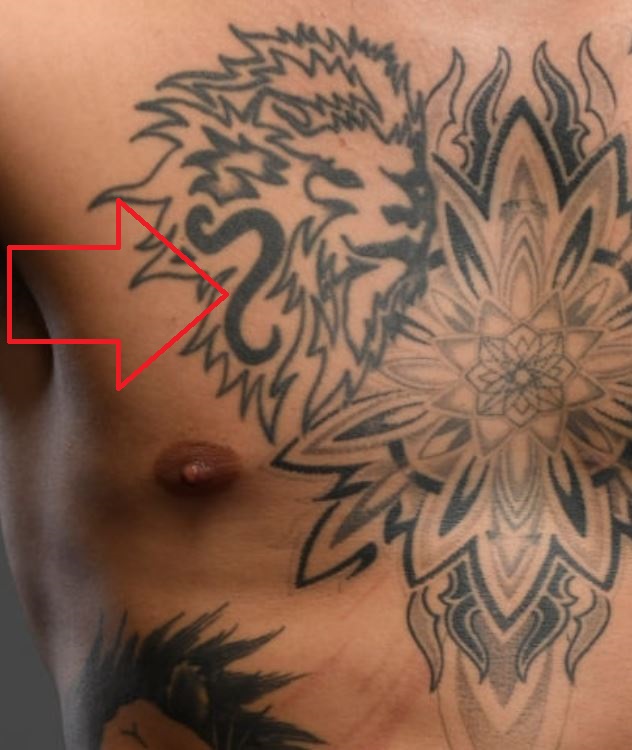 Tattoo: Alongside the mandala tattoo design, there is a face of a lion tattooed on Smith's stomach.
Meaning: Lion tattoo is the powerful representation of the wearer's personality and courageous nature. Anothony's lion tattoo is believed to represent his nickname i.e. "Lionheart". Anthony was brutally punished during the fights against Jon Jones and Glover Teixeira. However, he is known as Lionheart for a reason: despite all odds, he did not give up in both battles. Thus, reflecting his strong will and strong fighting nature of his.
14. Chinese Letters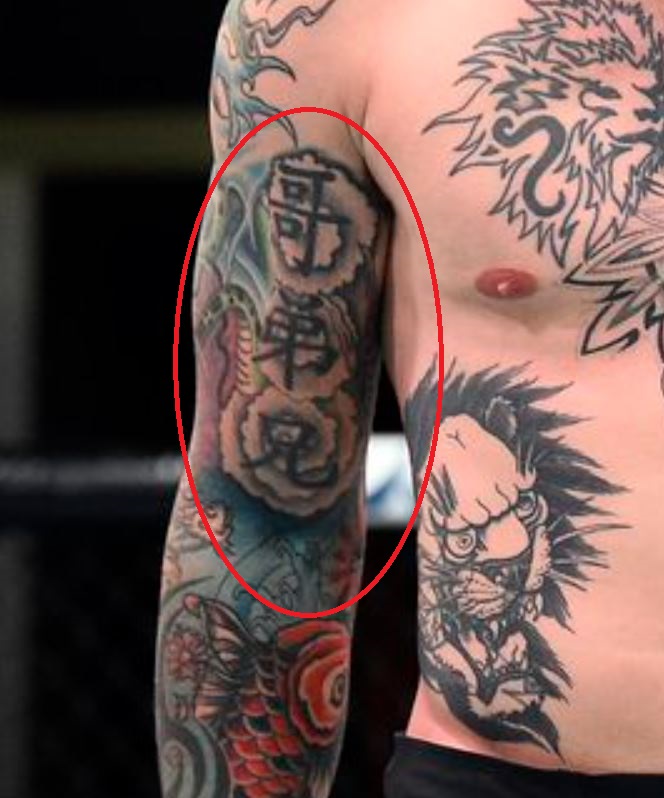 15. Koi Fish Tattoo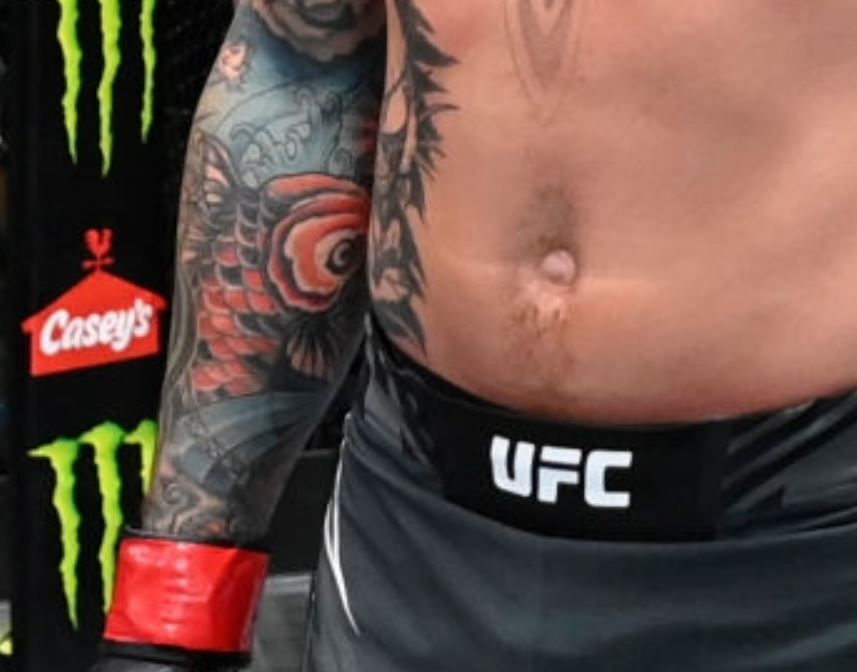 Tattoo: On his right forearm, we can see the tattoo of blue-colored koi fish.
Meaning: Koi fish is an important part of Japanese culture. It is the symbol of good luck, hope, fresh beginnings, and perseverance. It shows the strength of the wearer and his ability to deal with all the struggles, high/lows of his life without losing hope. Just like the Koi fish tolerates all the weather, similarly, it reflects motivation for the tattoo wearer to keep going in his life with positivity.
16. Water Design Tattoo Arm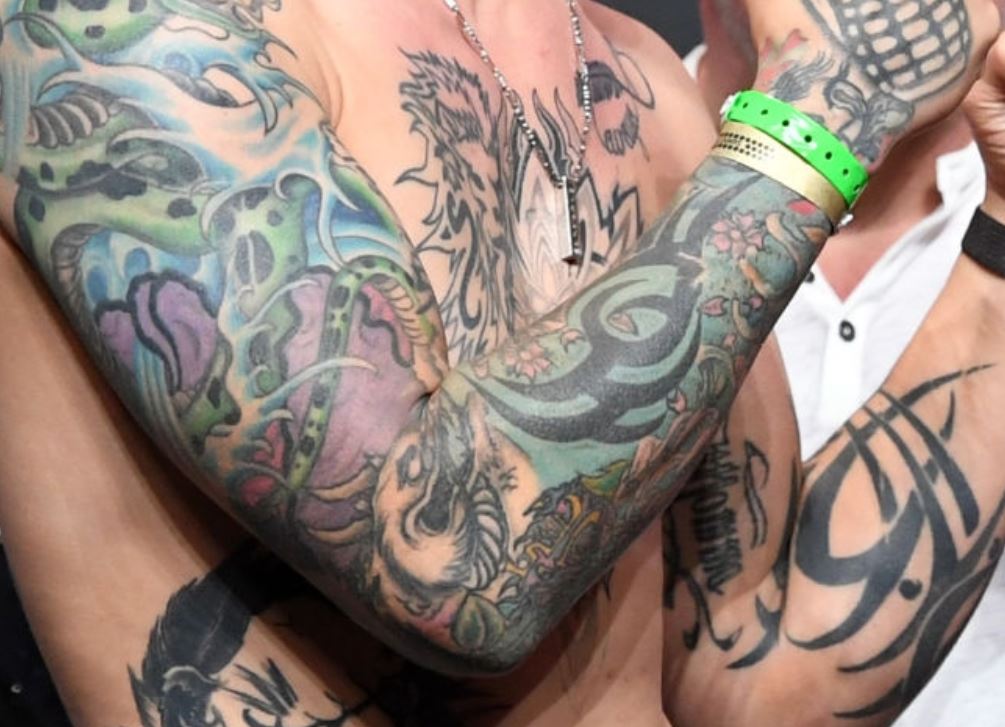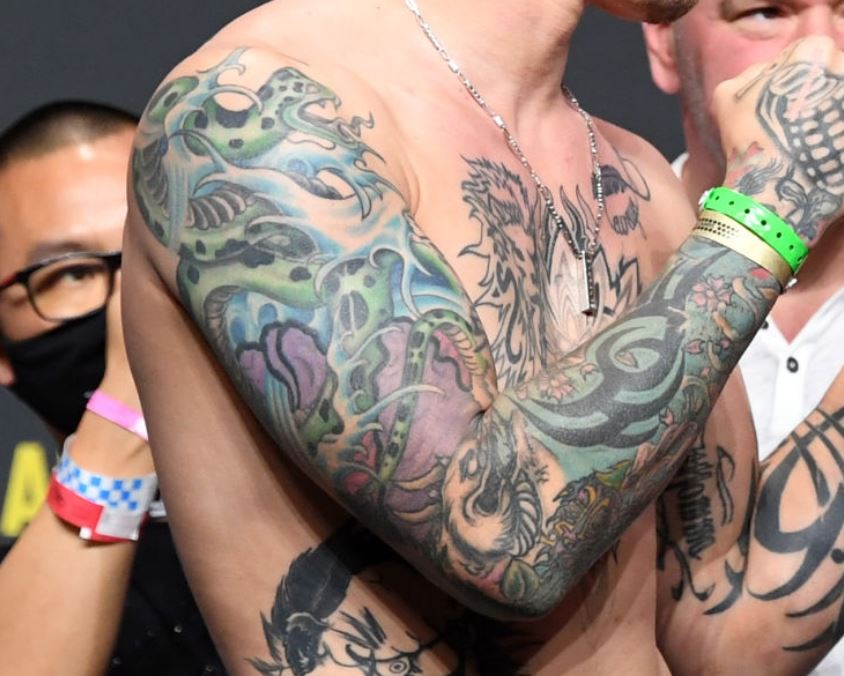 Tattoo: Anothony has got his right arm totally dedicated to water-based design. It includes the Japanese dragons, carp, water patterns, and koi fish tattoos. Japanese water dragons are the symbol of wisdom, strength, blessings, and strength.
Most people also regard the Japanese dragon as the symbol of good luck and harbingers of happiness. Japanese motif is the form of koi carp fish and is regarded to own and reflect the masculine features of strength and bravery
17. Infinity with Feather Tattoo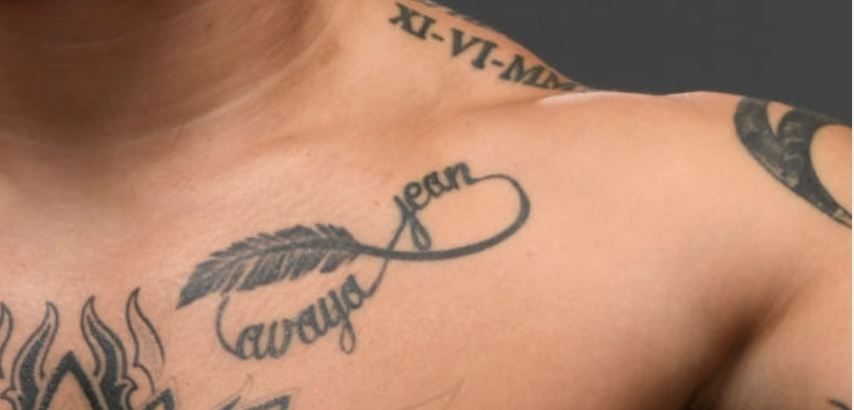 Tattoo: On the top side of his left pec, Anthony has got the tattoo of the infinity symbol entangling the names of his children, 'avaya' and 'jean'. The names inside the infinity feather are the names of his elder daughters. Anthony is happily married to Mikhala Newman. They have three daughters, Ariah who was born in November 2011; their second daughter Avaya, who was born in 2014 and the youngest daughter, Adley Joy, who arrived on June 14, 2017.
18. Grenade Tattoo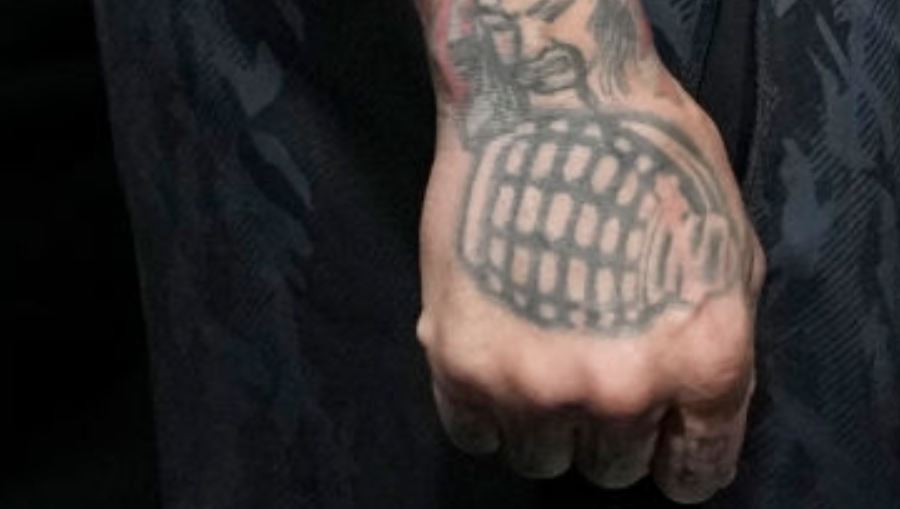 Tattoo: Grenade, which relates to the idea of the military, fight, war, or death, is inked on Anthony's right hand.
19. Antler holding a Dream Catcher Tattoo
Tattoo: On his back, Anthony has got a huge masterpiece inked. It shows a deer antler holding a dream catcher in his mouth.
Meaning: A stag holding a dreamcatcher is believed to combine two different Native American beliefs. The belief that deers are the most cal, beautiful, and precious creatures and thus, they must be protected and preserved and a dreamcatcher show that it is bound to give good dreams and positivity to the owner.
It is the representation of combining the power of Native American legends and the leadership of deer/stag.
20. Japanese Dragon Tattoo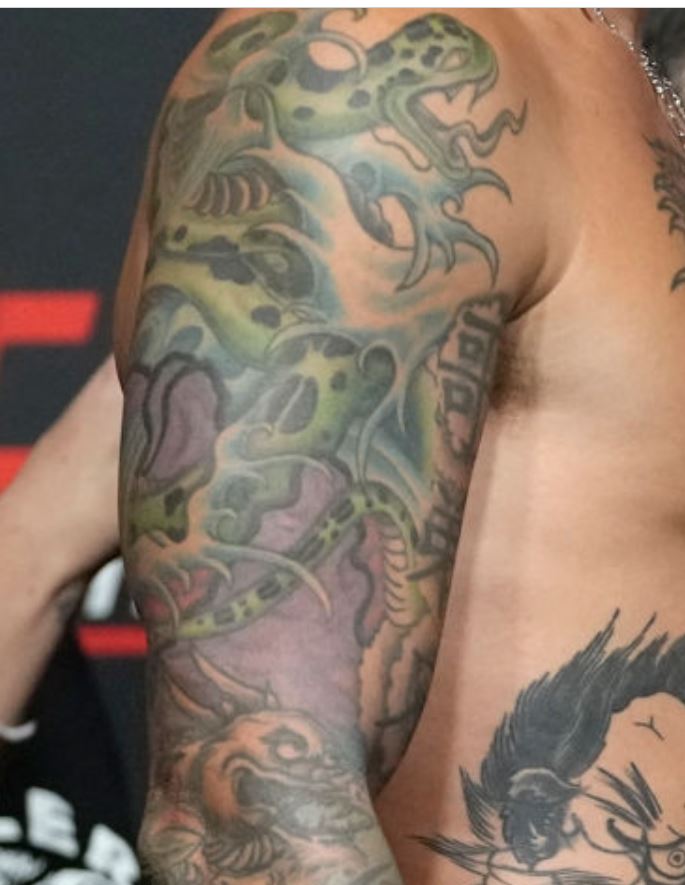 Tattoo: Japanese dragon, the symbol of power, strength, blessings, and the forces of the good is inked on Anthony's right shoulder. There is also a traditional belief that Japanese dragons have the power to manipulate the various natural elements to benefit the people and spread goodness and positivity all around.
21. Celtic Cross Tattoo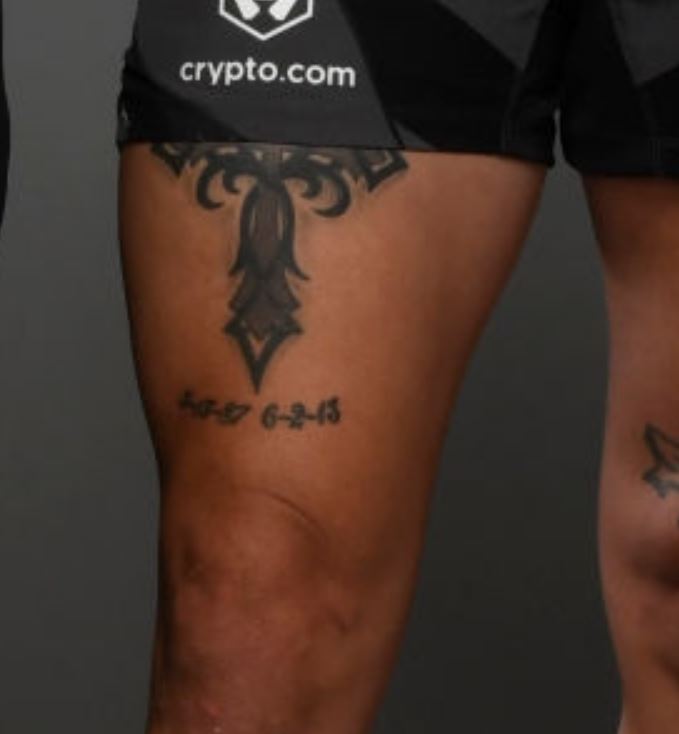 Tattoo: There is a Celtic cross inked on Anthony's right thigh. Under the cross, there are dates inked as '3-13-87  6-2-13.
Meaning: The dates inked under the cross on Smith's thigh reflect the birthdates of Anthony's wife and daughter, respectively. The Celtic Cross is the Holy symbol of Christians and tells us that the wearer is Catholic. A Celtic cross is also symbolic of eternal life, spirituality, life, and death.
22. All seeing eye Tattoo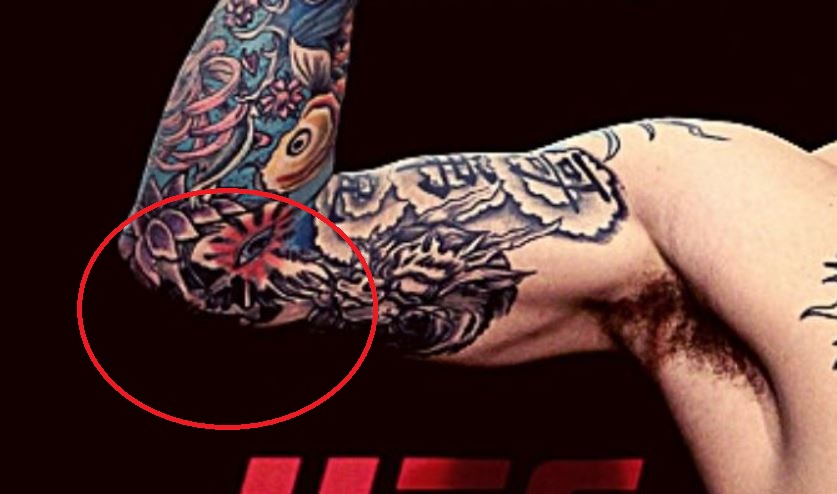 Tattoo: There is a tattoo of an all-seeing eye inked on the inner side of Anthony's right bicep. The All-seeing eye is also known as the Eye of God is a representation of the fact that God is omnipresent and thus, we should be cautious of our actions because he is above us all and is watching each action of us.
23. FEAR-NONE Tattoo
Tattoo: Across his knuckles, Smith has got the tattoo of the words, 'FEAR NONE'
The words are enough to reflect the strong personality and fearless nature of Anthony.
24. Skull Tattoo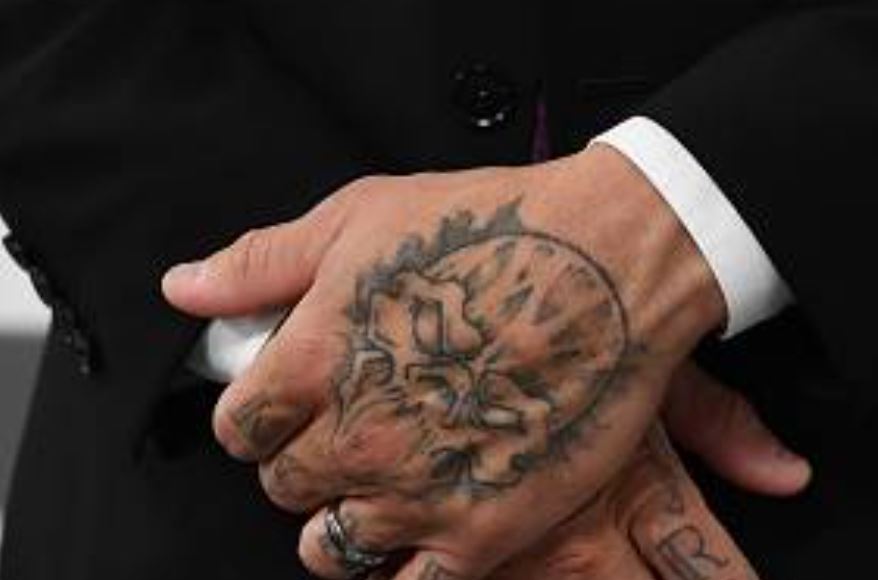 25. Fierce Looking Cat Tattoo