Ethan Dolan is one of the twins of the famous Dolan Brothers. Ethan is 20 minutes older than Grayson. Both the brothers gained popularity via 'The Dolan Twins' which continued for over five years. Ethan has got a huge number of tattoos on his body and many of them are common between him and his twin brother, Grayson. Let us explore his tattoos and their meanings.
1. Left Ankle Tattoos
Tattoo: On his left ankle, Ethan has got tiny tattoos of the word 'Animal', an image of a Camera, and a Lightning Bolt.
Meaning: The lightning bolt represents being powerful and quick whereas the camera represents Ethan's work of recording the videos of twin brothers. As per Ethan, every species is equally important be it, animals, humans, etc.
"Humans, as a species have come up with all of these rules, like the way you have to be, certain things that you have to do so you can be socially accepted and all when, at the end of the day, we're really just animals…so if you think about it, people shouldn't be telling you what to do."
Ethan said the lightning bolt means, "quick, at the moment, powerful" and the camera is because Ethan always does the film work for the twins' videos.
2. Roman Numerals Tattoo
Tattoo: We can see some roman numerals tattooed on Ethan's body as XII – XVI – MCMXCIX and inside the roman numerals, we can see a tiny cross tattoo.
Meaning: Roman numerals here represent the birthdate of Ethan and his twin brother Grayson's birthdate as 16 December 1999. This is the first tattoo which Ethan got when he was just 15 years old. The cross is his dedication of love for his grandfather.
3. 'Magnifying Glass' Tattoo
Tattoo: Towards the left side of his roman numerals tattoo, then has got a tiny magnifying glass inked. Also, within the glass, we can see a tiny word, 'NOW' inked.
Meaning: The tattoo was Grayson's idea but, Ethan decided to get it. The tattoo reminds Ethan to focus on 'NOW' and the present times rather than worrying about the future.
4. 'CREATE' Tattoo
Tattoo: 'CREATE' is inked inside the lower lip of Ethan.
5. 'Three Moon Crescents' Tattoo
Tattoo: On the back of Ethan's ankle he has got the tattoo of three crescent moons.
Meaning: The tattoo symbolizes Ethan and Doan's family crest. Also, this is a kind of family tattoo as their dad also has got it on his arm.
6. 'Moon Skull' Tattoo
Tattoo: Moon Skull tattooed on his right thigh.
Meaning: In this unique designed tattoo, the skull symbolizes the moon, the shadow, and the dying sun. The Skull tattoo is the symbol of evil and death, however, here the skull represents all the positive aspects and acts as the symbol of the strength of life meant to enhance the courage of the individual during difficult times of life. Moon skull is the symbol of God of death and the flowing times of life.
7. Number 8 Tattoo
Tattoo: On his thigh, Ethan has got a small face of a wolf, number 8, and a pair of skulls.
Meaning: Wolf is the symbol of courage and strength. Number 8 is actually Ethans' lucky number. He claims it to be his 'angel number' as, he gets to see it multiple times a day in his life.
"I always have kind of felt like it was my 'angel number' or something like that," Ethan explained about the number eight. "I see the number eight a lot throughout the day."
8. 'Fire' Tattoo
Tattoo: Just like his dad and brother, Grayson's tattoo, he has got the fire sign.
Meaning: Ethan has this tattoo to represent that he is a fire sign as well. The tattoo is the symbol of his birth sign, Sagittarius, and also, represents the times spent with his dad as they used to have "family time by the fire."
9. Wolf Tattoo
Tattoo: There is a big wolf tattoo received by Ethan on his body.
Meaning: The wolf reminds him of the London times because he was wearing a jacket with a wolf on it most of the time. Otherwise, wolf is the symbol of strength, confidence, and high spirits. Also,
"can remind you of really good times."
10. Two Skulls Tattoo
Tattoo: Ethan has got the tattoo of two skulls.
Meaning: Skull tattoos symbolize evil and death. However, Ethan got the tattoo as he thinks skull tattoos are cool and trippy.
Skulls are "cool and trippy."
11. 'Claw' Tattoo
I got it "because it looks cool."
12. 'Door to Door Service' Tattoo
Tattoo: On his left thigh Ethan has got a Door to Door service tattoo inked.
Meaning: Ethan admits that he wishes to go to space one day and thus, this tattoo is a representation of that. His idea behind getting this unique door inked was to showcase that we do not actually know what is the level of someone's problems and difficulties as we are really small to analyze them unless we step out to stand in their shoes and feel it. Also,
"You don't know what's out there…And it's comforting to know that we're really small because it makes our problems seem even smaller."
13. 'CAN'T FOLD' Tattoo
Tattoo: On the inner side of his left hand, Ethan has got the words inked as 'CANT FOLD'.
Meaning: Ethan claimed that it is one of the deepest tattoos that he has ever received. He got it inked after he punched his hand into a glass window. The glass had punctured into his thumb and it was almost on the verge of being imputed. Also, the words, 'CANT FOLD' are inspired from Kid Cudi lyrics that talk about punching walls:
"In my spare time, punching walls, f*cking up my hand/I know that shit sound super cray but if you had my life you'd understand/But, I can't fold, some poor soul got it way worse."
14. 'Flower Girl' Tattoo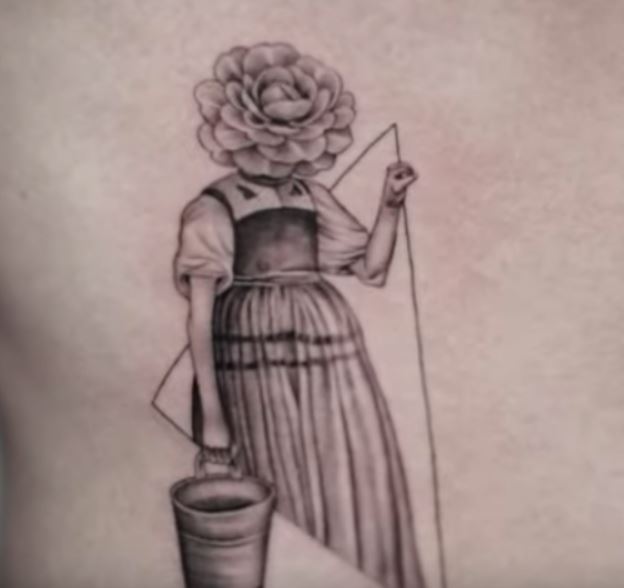 15. Watch owl Tattoo
Tattoo: This tattoo looks like a watch from the center, however, is actually an owl tattoo made in a geometrical way.
16. 'Flower' Tattoo
Tattoo: There is a purple color flower tattooed on Ethan. This tattoo was decided by Grayson on the day when they switched lives with each other. The reason for this colorful ink is that Grayson loves colorful things and so is this tattoo colorful.
Meaning: Purple flower is the symbol of innocence and purity.
17. Video Character tattoo
Tattoo: Next to his wolf tattoo, Ethan has got this character inked. It is the representation of the video character which, Ethen and Grayson used to play in their childhood.
18. Spooky Tattoo
Tattoo: Another spooky-looking skull is tattooed on Ethan's leg.
19. Eye on the back of the leg
Tattoo: All-seeing eye is tattooed on the backside of his leg.
Meaning: All-seeing eye is the symbol of the fact that 'God is above us all. He keeps an eye on all of us and thus, we should be cautious of our actions. It is the symbol of the omnipresence of God.
20. Clock Tattoo
Tattoo: There is a beautiful clock tattoo on Ethan's right thigh.
Meaning: CLOCK is the way of marking particluar moments or times of our lives forever. Some important times of our lives and thus, this clock on Ethan's body is the symbol of the time when his twin, Grayson Dolan was born.
21. 'Crown' Tattoo
Tattoo: There is a big crown inked on the backside of Ethan's neck.
Meaning: Ethan got this crown tattoo for his late father, Sean Dolan. The Crown is the symbol of victory and triumph.
22.  "A Distant Shore" tattoo
Tattoo: On his leg, Ethan has got the lines tattooed from a poem named, 'A Distant Shore' which was written by his father.
23. 'Italian Words' Tattoo
Tattoo: This is another common tattoo between the Dolan brothers. It is actually Italian wording which stands for "family forever."
Meaning: The words are dedicated to their Italian heritage and also to their  Italian friends in New Jersey.
24. Constellation Star Tattoo
Tattoo: This is another common tattoo between Dolan twins.
Meaning: They got it to represent their birth sign as the constellation represents the birth sign Sagittarius. They had gone to receive the tattoo with their dad who was also Sagittarius by birth.