John Martin Collins III, an American professional basketball player, plays for the Atlanta Hawks of the National Basketball Association (NBA). Collins always loved Basketball professionally and otherwise. As a starter in his sophomore year, Collins made such high performance which led the team in scoring 19.2 points, and thus, Collins managed to earn himself recognition as the ACC Most Improved Player. Just like other Basketball players, Collins is also a big tattoo lover. His body is adorned with multiple inks. Let us see what meanings do they hold for him.
When asked why does his body artwork is purely based on Polynesian to Egyptian to Native American to Asian?

"I like different cultures,'' he said.
1. 'Polynesian Tribal' Design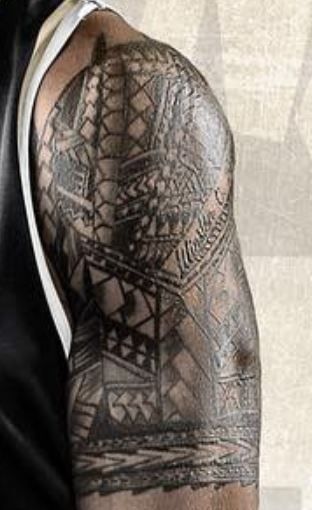 Tattoo: John's left bicep is covered with a very intricate tribal design. It is actually a Polynesian tribal design.
Meaning: Polynesian art design is the way of symbolizing the person's identity and personality. This is because Polynesian has nothing to do in writing and thus, the people have always been using symbols, art, and designs to depict their status, sexual maturity in society.
2. 'Skull' Tattoo
Tattoo: On the outer side of his left forearm there is a huge skull inked.
Meaning: Skull is not only the symbol of evil and death but also, represents the person ability to overcome the difficulties of his life with all his strength and courage, and thus we know, why John has got it done on his arm.
3. 'Roses' Tattoo
Tattoo: There are huge roses tattooed on the outer side of his right forearm.
Meaning: Roses are the symbol of love, affection, and romance.
4. Design on Left Arm
Tattoo: Collins' left forearm is covered with a very intricate block-like design.
5. Writing on Arm Tattoo
Tattoo: There are some Asian letters inked on his right bicep. The meaning of those is not known but however, he claims to be the lover of history so we can just guess what they could mean to him.
6. 'ANDERSEN AFB' Tattoo
Tattoo: Collins' right upper arm has some patterns over which there is a writing that says, 'ANDERSEN AFB'.
Meaning: ANDERSEN AFB has been used to denote the fAir Force Base of the United States which is otherwise named Andersen Air Force Base. John's love for history, the army, and his culture is the reason he got this tattoo done and to specifically pay his respect towards the army of his country i.e., the US. Additionally, John's love and respect for the air force of his country relates to the fact that his mother was in the Air Force.
7. 'Cross' Tattoo
Tattoo: On his upper right arm there is a tiny cross inked.
Meaning: Cross is the symbol of religious beliefs of the person and hereby, it symbolizes that John is a Christian and his religious views are Christianity.
8. 'Stopwatch' Tattoo
Tattoo: On his elbow, there is a stopwatch inked. The tattoo has been vertically flipped.
Meaning: Timeless and handles watch is a very common design which means that the person believes in living his life regardless of the time factor.
9. 'Elephant's Face' Tattoo
Tattoo: On his inner bicep there is a face of an elephant inked.
Meaning: John shared a very close bond with his mother, and this tattoo is his dedication to her and her love for elephants. According to Collins his mother is obsessed with elephants.
"You walk into the house, (there are) elephants everywhere," Collins said. "She's obsessed with them. So that's a tribute to her. She loves them."
10. 'Totem' Tattoo
Tattoo: John's right forearm is inked with a Totem.
Meaning: Totem is actually an emblem that depicts an animal or a plant, whereas each figure on the totem represents the part of a story. People use totems to represent and record the history and legends of their respective tribes. Each representative figure hanging over the pole is representative of the characteristics of the respective tribe or the clan and doesn't mean that they are gods worth worshipping. The totem on his forearm is representative of his own ancestral tribe.
11. 'Lion Head with war Bonnett' Tattoo
Tattoo: John's right bicep is tattooed with a huge portrait of a lion with a war Bonnett over his head.
Meaning: The lion symbolizes the person's strength, courage, and confidence to handle all the difficulties of his life independently. War bonnets are a symbol of peace, respect for Native Americans. Thus, altogether a lion with a headdress is the symbol of showing one's own power depicting the fact that it all comes from their ancestors. John got this tattoo inked to pay respect and in honor of his ancestors and to showcase his love for the history that relates to his tribe and family.
12. 'Lyria' Tattoo
Tattoo: On John's inner rit bicep there is a word, 'Lyra' inked.
Meaning: Lyria is the first name of Collins' mother (Lyria Rissing-Collins). John was brought up under strict regulations by his mother after his parents got divorced.
13. 'Egyptian sarcophagus tattoo' Tattoo
John's right forearm is covered with a huge Egyptian sarcophagus tattoo.
Meaning: Egyptian sarcophagus tattoo symbolizes the person's love for history and most importantly, to reflect the belief that life is short and unexpected for each one of us and thus, we should be aware that death waits for none. Some might also get this tattoo done as a tribute to the near and dear ones who are no more.
14. Tribal Tattoo
Tattoo: Not only his left bicep but his inner bicep is also covered with an intricate tribal design.
Meaning: Tribal tattoo is the symbol of strength, love for family, and higher achievements in life.