Jonathan Edward Bernthal better known as Jon is a famous American actor. He became famous from the time when he performed the role of Shane Walsh on the famous horror series named, The Walking Dead. This was followed by other prominent roles such as in the Netflix series, Daredevil (2016). Jon has also been the catcher for the Russian professional baseball team around the early 2000s. He has also got few body tattoos.
1. Russian Writing On the back
Tattoo: On his upper back, Jon has got a Russian word inked which when translated into English stands for 'Truth'.
Meaning: In an interview, he had revealed his love for Russia and Russian culture. this tattoo is his dedication to the same.
"I absolutely fell in love with Russian culture, Russian people," he later said. "I felt as an actor, there's a real respect for the arts there that I don't necessarily think too many of my peers at the time in America had."
2. Portrait of Dog
Tattoo: On the left side of his stomach, Jon has a tattoo portrait of a dog.
Meaning: Jon is a huge dog lover and currently owns three Pitbulls. He has always talked about his love for them, shared them in his Instagram posts. Also, his dogs are actually the rescued furries and not purchased ones. This is the portrait of one of his pet dogs who is no more alive. He had updated the post on Instagram sharing about the death of his pet.
His love for the breed has been displayed multiple times when he has talked in the support of Pitbulls and the dog fights. His three dogs are Lil Bam Bam, Boss, and Venice. He is also known to be too possessive about them going back to the time in 2009 when was also put in handcuffs as he had knocked down a man for grabbing at his dog, 'Boss'.
Love you, Cho. Give my love to the Bossman. Rest good big boy."
Jon is also one of the faces of The Majority Project initiated by the non-profit Animal Farm Foundation.
"Rescue a Pit Bull. They just may rescue you back. Big love."
3. 'LilBird' Tattoo
Tattoo: On the left side of his chest, Jon has got the tattoo of the word, 'Lil Bird'.
Meaning: This is the tattoo dedication for his wife. Yes, you heard that right!. Jon's tattoo actually reflects the nickname of his life partner-Erin Angle. They both got married in 2010. Erin is an American trauma nurse, by profession.
4. Chest Tattoo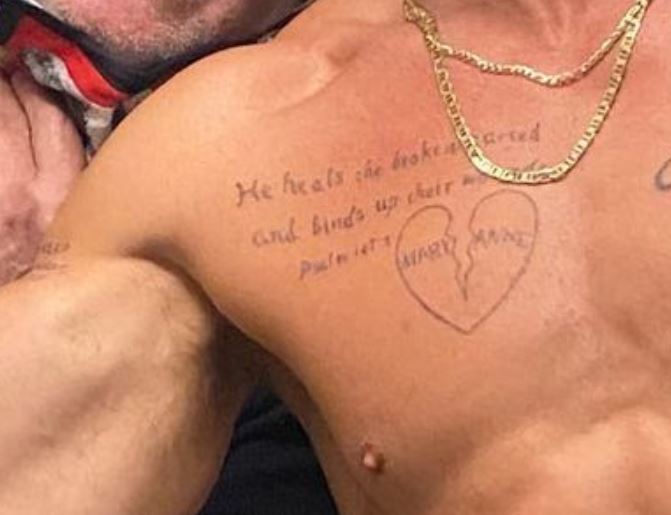 Tattoo: On his right pec, Jon has got few lines tattooed from The Holy Bible.
The tattoo says, "He heals the brokenhearted
 and binds up their wounds Psalm 147:3."
Also, there is a broken heart inked with two names, one on either piece of heart.
There has been speculation that he has got three latest additions to his body inks. However, he has not revealed them, neither have they been captured yet!!