Jarad Anthony Higgins professionally known as Juice Wrld, was an American Rapper, Singer, and a Songwriter. The Juice was famous for his hit singles "All Girls Are the Same" and "Lucid Dreams" and also owned merchandise known by the name of JUICE WRLD OFFICIAL MERCHANDISE STORE – 999 Club. He was pronounced dead when he was taken to the hospital on December 8, 2019, after suffering from a seizure at Chicago's Midway International Airport. The cause of the seizure is currently unknown. Here are the list and the meanings of the tattoos which Juice WRLD had on his body.
Juice made a profound impact on the world in such a short period of time," the artist's label, Interscope Records, said in a statement. "He was a gentle soul, whose creativity knew no bounds, an exceptional human being, and an artist who loved and cared for his fans above everything else.
HAND TATTOOS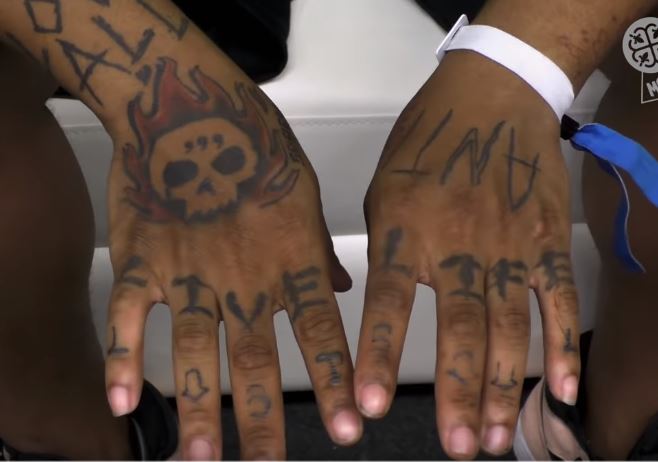 1. 'LIVE LIFE' Tattoo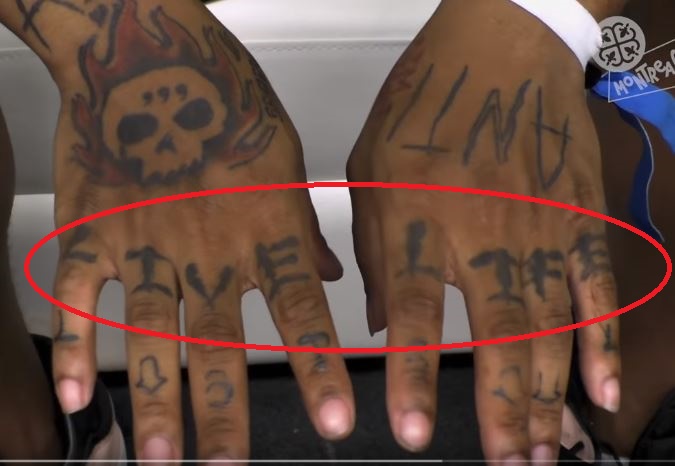 Tattoo: Just below the knuckles of both hands, Juice had got the words 'LIVE LIFE', inked on his right and left hand, respectively.
2. 'LOST SOUL' Tattoo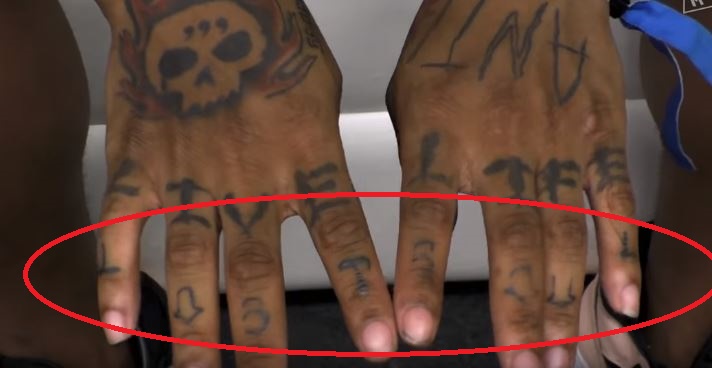 Tattoo: Juice's fingers were also inked with the lightly shaded letters. The tattoo said, 'LOST SOUL', however, the word was inked with the use of letters and differently shaped icons. Thus showing 'LOST' and 'SOUL' inked on his right and left hand, respectively.
RIGHT-HAND Tattoos
3. 'SELFLESS and a Cross' Tattoo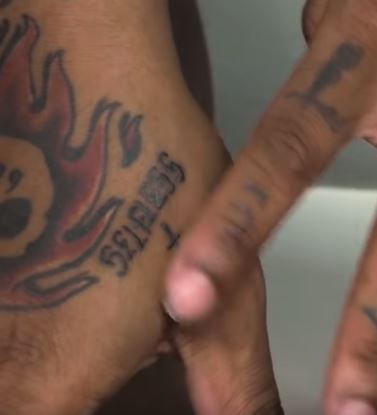 Tattoo: On Jarad's lower side of his right hand's thumbs lay another tiny ink which had the word "SELFLESS" inked. Right below the word was a cross tattooed.
In the interview he said,
"I have got SELFLESS and here is a cross under it. It is Saint Peter's. Many people guess and believe it anti christian but it really means Selfless and the cross means being humble and really selfless."
4. 'Burning Skull' Tattoo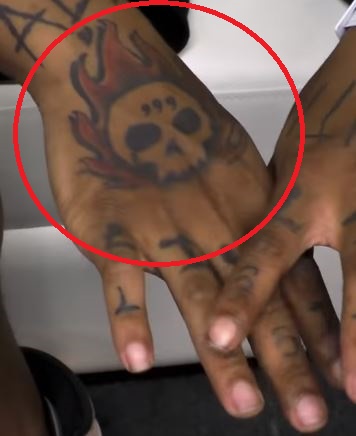 Tattoo: The outer side of his right hand was completely inked with a skull that has the fire rising from its top and inked in red. The skull was inked with the number "999" right on its top center. He had once told in an interview that 999 seems to take whatever difficulty he was into and helped him to pass through all evils.
"When you flip 666 you get 999, 666 stands for the devil and evil shit. So 999 stands for flipping any bad situation in your life into a good situation and overcoming your obstacles."

"This is my favorite skull and here in its head I also have 999 inked."
LEFT-HAND Tattoos
5. 'ANTI' Tattoo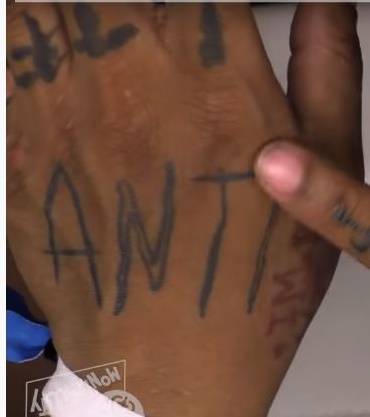 Tattoo: Juice had the word, 'ANTI' written on his left hand.
"I have "ANTI" on my hand. It is self-explanatory, just Anti yourself and using your own head."
6. 'I AM SORRY' Tattoo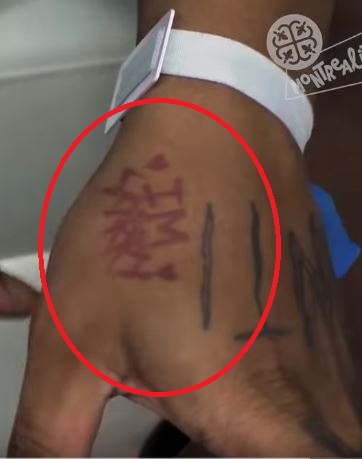 Tattoo: Towards the lower side of his left hand's thumb, Juice had the tattoo done in red ink which said, "I AM SORRY". The sentence also carries two tiny hearts inked on both the ends of the tattoo.
"I got I AM SORRY tattooed on me. When you commit mistakes and you know you can't really make out what is right and what is wrong."
ARM TATTOOS
LEFT ARM Tattoos
7. 'ABYSS' Tattoo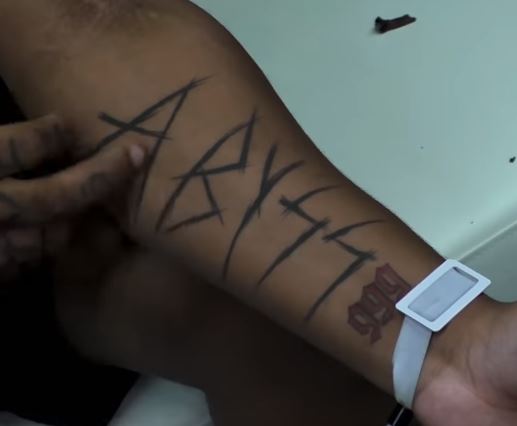 Tattoo: On the inner side of his left forearm, Juice had the word, "ABYSS" inked.
Meaning: Abyss was one of the favorite songs which Juice WRLD had been part of as the rapper.
8. '999' Tattoo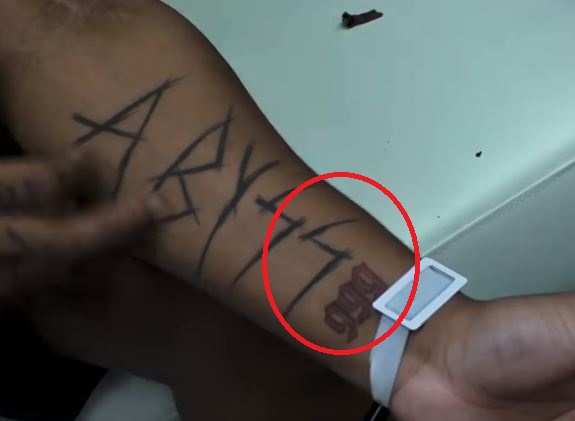 Tattoo: On his left hand's wrist, Juice had got the number 999 inked. 999 is the official Merchandise store of Juice Wrld. Additionally, he had also said that 999 is the number of good luck and it brings him courage and hope for pushing himself forward overall ills.
He said,
"Like in the last book of the Bible, it say dat 6-6-6 is the mark of the Beast, right? And that's Satan, that's Belfoid, that's Hell. 9-9-9 represents take whatever hell, whatever bad situation or whatever struggle you're going through and turn it into something positive. And you need to push yourself forward."
9. 'HELLPROOF' Tattoo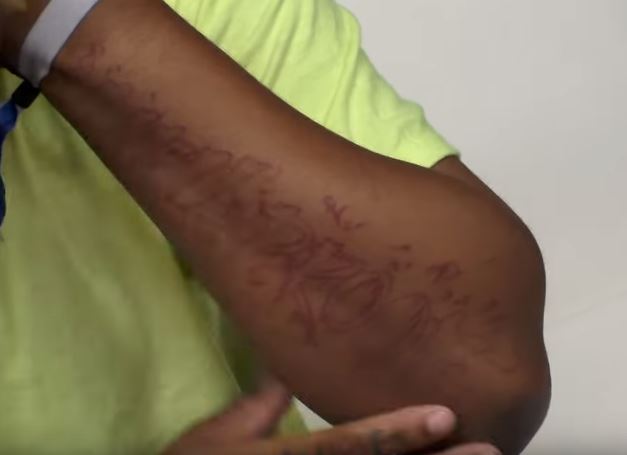 Tattoo: The outer side of Juice's left forearm was inked with the tattoo which included the word, "HELLPROOF". The tattoo was done in italic font and in red ink.
RIGHT ARM Tattoos
10. Girlfriend's Name Tattoo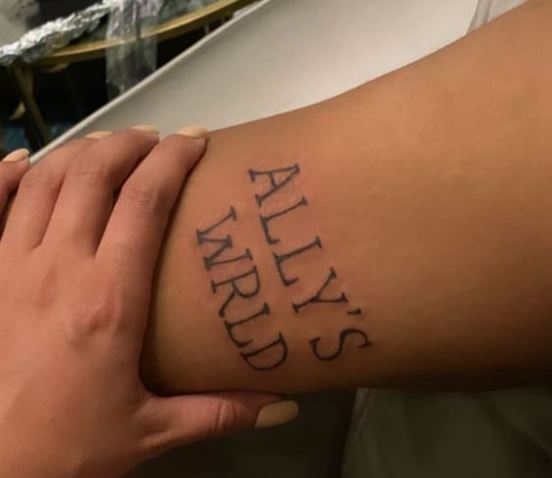 Tattoo: Juice got the name of his girlfriend known as Alexia inked on the inner side of his right bicep. They were both living together in Los Angeles. The rapper was too obsessed with his girlfriend that he got the ink her nickname which can be read as "ALLY'S WRLD".
In an interview, he had claimed to have received this tattoo to show his loyalty to his girlfriend as well as for the world to see.
11. 'Family' Tattoo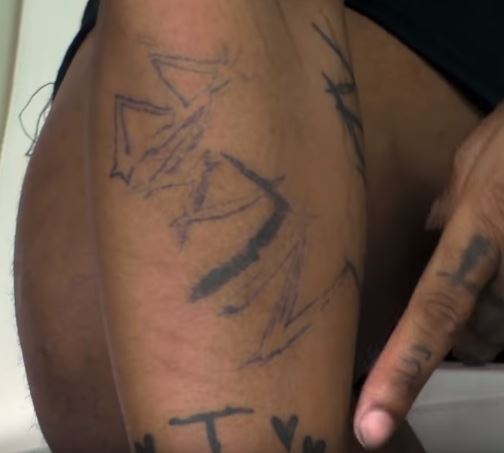 Tattoo: The upper side of Juice's right arm contained a faded ink, which he claimed to be his family tattoo.
"It's like my family in Chicago".
12. 'NO VANITY' Tattoo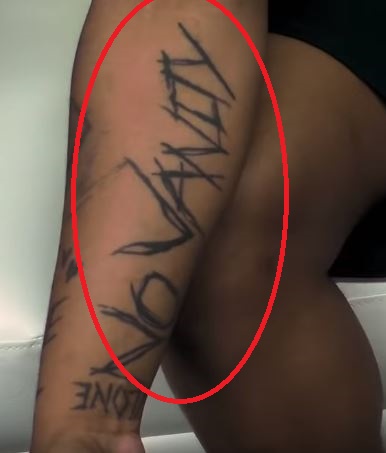 Tattoo: On the inner side of Juice's left forearm there was a tattoo inked, which said, "NO VANITY".
13. 'VLONE' Tattoo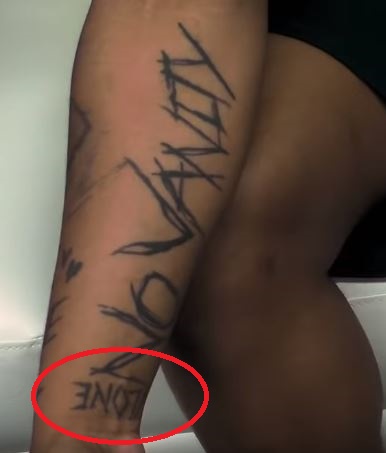 Tattoo: Juice WRLD had revealed his tattoo which lay on his right hand's wrist in a television interview.
Meaning: VLONE is the streetwear clothing label that was founded in 2011 and,  Juice's merchandise store deals with VLONE brand clothes'.
14. 'I LOVE ALL' Tattoo
I LOVE A.L.L 🖤🖤🖤 pic.twitter.com/gKwYfZ271a

— . (@JuiceWorlddd) December 21, 2018
Tattoo: On 21st December 2018, Juice revealed his tattoo through his twitter account. The tattoo could be read as 'I LOVE ALL' and was received by him on the inner side of his right forearm. There are tiny hearts inked around "I".
"It is a Lovy Dovy Tattoo."
15. 'Chained Heart' Tattoo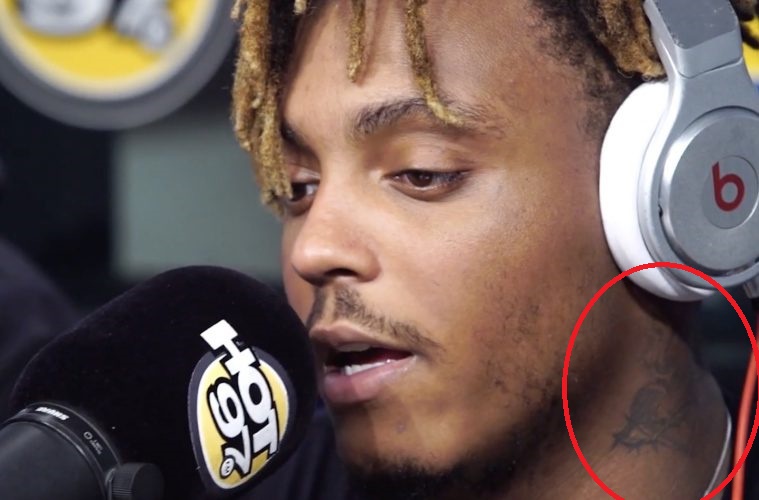 Tattoo: On the left side of his neck, Juice had a tattoo of a chained heart.