There's nothing quite like reading a book. If you're a bibliophile, you know what I am talking about. There's no feeling like holding a book in your hands and getting lost in the words
You can learn about different people in the world, feel connected to cultures you're never going to visit, deal with heartbreak and derive life lessons. It doesn't come as a surprise that many book lovers decide to ink themselves with something that will remind them forever of a book that moved them.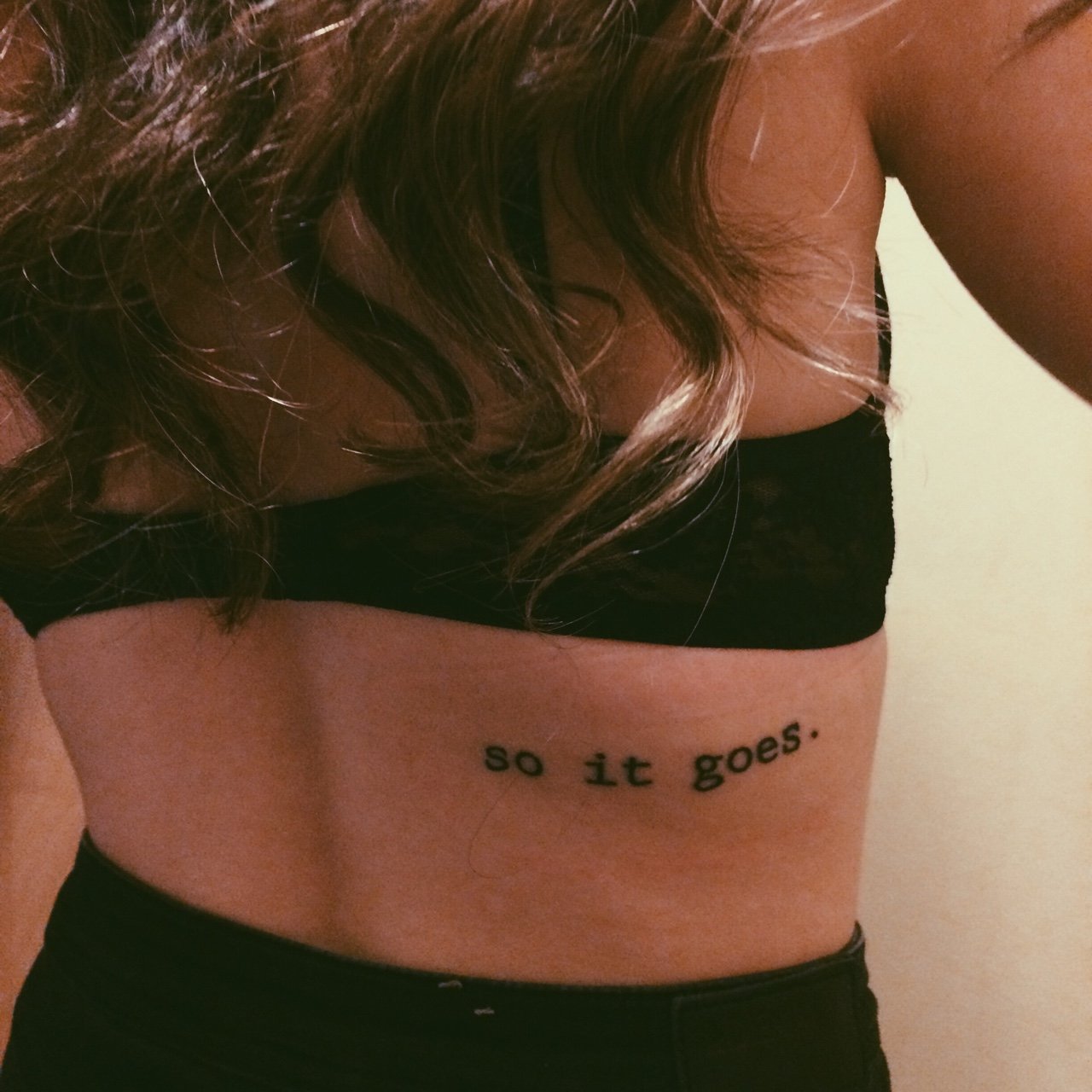 Kurt Vonnegut used this quote in Slaughterhouse-Five 106 times, each time after a character dies. Hence, teaching the readers to keep moving on.
"So we beat on, boats against the current, borne back ceaselessly into the past" from The Great Gatsby is about the human condition. With a few words, you feel connected to everyone who has been and is to come."
Kurt Vonnegut's quote convinces you that it all gets better someday.
Alice's adventures in Wonderland can make you imagine so much at different ages of your life.
Walt Whitman's words will encourage to contribute a verse too.
This quote from The Little Prince remains relevant even after you grow up.
"You're mine," she whispered. "Mine, as I'm yours. And if we die, we die. All men must die, Jon Snow. But first, we'll live." – Ygritte
Roald Dahl never let a kid have a dull childhood.
f you're not sure of quotes, choose a word from your favourite quote. The 'unless' here is from one of Dr Seuss' quotes: "Unless someone like you cares a whole awful lot, nothing's going to get better, it's not."
There's a reason Shakespeare is still famous. His philosophical words are tattoo-worthy.
This one is for those who believe in the green light just as much as Gatsby.
 So many of us have been inspired by The Chronicles of Narnia to look for our own secret cupboard.
Maya Angelou's simple yet powerful words are the perfect reminder that we need to keep moving forward.
 T. S. Eliot's The Love Song of J. Alfred Prufrock poem has so many literary gems within its verses. This one is just one of them.
Someone put Sylvia Plath's 'fig tree' from The Bell Jar into a pictorial form and it is pretty much what was imagined.
This quote by Charles Bukowski as a tattoo will inspire you to hustle till you get what you want.
'I took a deep breath and listened to the old brag of my heart. I am, I am, I am.' Another jewel from Sylvia Plath that means so many things to different people
To Kill A Mockingbird Tattoo
If you've also felt connected to To Kill A Mockingbird like so many others, this would be a beautiful tribute.
When She Woke by Hillary Jordan.
The text: "She woke, and she was herself."
 The Little Prince by Antoine De Saint-Exupery
The text: "Here is my secret. It's quite simple: One sees clearly only with the heart. Anything essential is invisible to the eyes."
The Grapes of Wrath by John Steinbeck
The text: "And since, when a joyful thing happened, they looked to see whether joy was on her, it was her habit to build up laughter out of inadequate materials."
 If Not, Winter: Fragments of Sappho by Sappho (Translated by Anne Carson)
The text: An ancient fragment of papyrus from Oxyrhynchus, Egypt containing part of a poem in Ancient Greek. There isn't much left of this particular piece of papyrus, but what's there has been identified as a fragment of poetry by Sappho.
 Bitch Planet by Kelly Sue Deconnick, Valentine De Landro, Taki Soma, and Robert Wilson
The text: 'NC' for non-compliant
Moby-Dick by Herman Melville
The text: " … then all collapsed, and the great shroud of the sea rolled on as it rolled five thousand years ago."
Red or Dead by David Peace, Dancer by Colum McCann, and Harry Potter and the Sorcerer's Stone by JK Rowling
The text: From Red or Dead: "But the word was not finished. The word was not satisfied. LI-VER-POOL, LI-VER-POOL, LI-VER-POOL. The word insatiable, the word voracious. LI-VER-POOL, LI-VER-POOL, LI-VER-POOL. In the last two minutes of the game. St John shot again. Gregg saved again. The ball flew back out of the ruck. Byrne drove the ball back into the ruck. And Milne diverted the ball. Into the net, into a goal. LI-VER-POOL, LI-VER-POOL, LI-VER-POOL. The word triumphant, the word victorious."
Harry Potter and the Sorcerer's Stone by J.K. Rowling.
The text: "Of course it is happening inside your head, Harry, but why on earth should that mean that it is not real?"
 Fahrenheit 451 by Ray Bradbury
The text: "'Stuff your eyes with wonder,' he said, 'live as if you'd drop dead in ten seconds. See the world. It's more fantastic that any dream made or paid for in factories. Ask no guarantees, ask for no security, there never was such an animal. And if there were, it would be related to the great sloth which hangs upside down in a tree all day every day, sleeping its life away. To hell with that,' he said, 'shake the tree and knock the great sloth down on his ass.'"
Daughter of Smoke and Bone by Laini Taylor
The text: "The only tattoos visible as she dug out her sketchbook and handed it over were the ones on her wrists like bracelets—a single word on each: true and story."
For Whom The Bell Tolls, Ernest Hemingway
The Little Prince, Antoine Saint Exupery
 Slaughterhouse Five, Kurt Vonnegut
Jean Cocteau
The Silence of the Lambs Tattoo
The Silence of the Lambs, Thomas Harris
Pride and Prejudice by Jane Austen
Harry Potter Quote Tattoo
Harry Potter and the Sorcerer's Stone by J.K. Rowling
The Perks of Being a Wallflower by Stephen Chbosky
Lolita by Vladimir Nabokov
Voyage of the Dawn Treader by C.S. Lewis
The Handmaid's Tale by Margaret Atwood
Matilda by Roald Dahl
Gunslinger by Stephen King
The Last Olympian by Rick Riordan
Fault in Our Stars Tattoo
The Fault in Our Stars by John Green
Harry Potter and the Deathly Hallows by J.K. Rowling
The Giving Tree by Shel Silverstein
The Glass Castle by Jeanette Walls
The Choice by Edith Eger
The Princess Diaries by Meg Cabot
Throne of Glass by Sarah J. Maas
 Where the Sidewalk Ends by Shel Silverstein
The infinitely quotable George R. R. Martin
The Little Prince by Antoine de Saint-Exupéry
 A Clockwork Orange by Anthony Burgess
Harry Potter by J.K. Rowling
 The Wind-Up Bird Chronicle by Haruki Murakami
Where the Wild Things Are by Maurice Sendak
Hitchhikers Guide to the Galaxy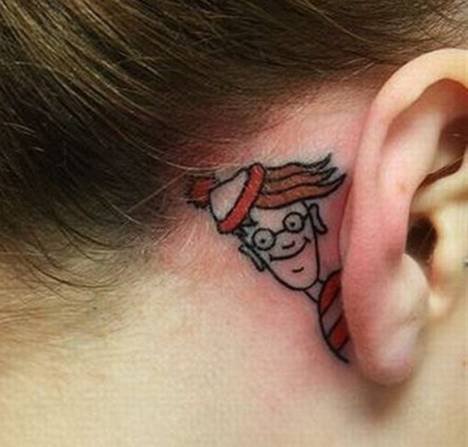 Alice in Wonderland Tattoo
Calvin and Hobbes by Bill Watterson
Taken from "The Raven" by Edgar Allen Poe.
The Great Gatsby by F. Scott Fitzgerald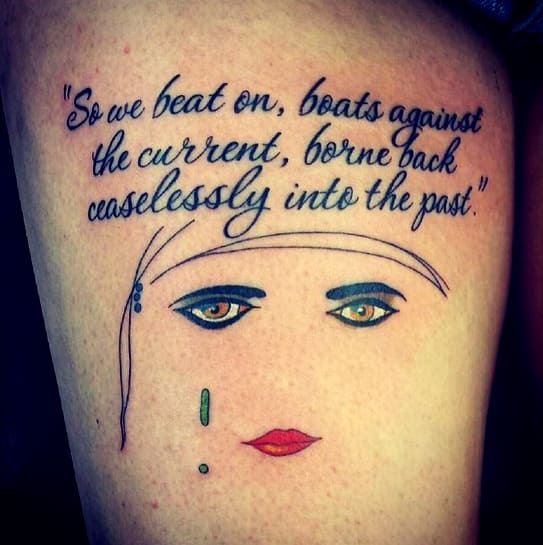 Harry Potter Inspired Tattoo
Slaughterhouse-Five by Kurt Vonnegut
Fear and Loathing in Las Vegas by Hunter S. Thompson
Harry Potter and the Deathly Hallows by J.K. Rowling
 Invisible Monsters by Chuck Palahniuk
Where the Wild Things Are by Maurice Sendak
Fahrenheit 451 by Ray Bradbury
Watercolor Background Tattoo
Books are Diamonds Tattoo
Harry Potter Board Tattoo
Enlightening Books Tattoo
Black and Red Theme Tattoo
Black Outline Book Tattoo
Passion for Reading Tattoo
Books and Feathers Tattoo
 The Daughter of Smoke and Bone
This teal blue Kirin was inspired by Laini Taylor's The Daughter of Smoke and Bone series.
'The Book Thief' by Markus Zusak
The Raven Cycle by Maggie Stiefvater
Wise Owl and Envelope Tattoo
This beautiful tattoo is inspired by son of Hades, Nico DiAngelo, from Rick Riordan's Heroes of Olympus series.
Fault in Our Stars Tattoo
The Catcher in the Rye Tattoo
"This above all, to thine own self be true". Hamlet
Charlie and the Chocolate Factory