Ashley Costello, famous as Ash Costello is the lead vocalist of New Years Day which is a rock band. She has an immense love for tattoos as she has mostly covered her body with these body inks. Each and every tattoo of her body have a unique message or a memory associated with it. To learn more about her tattoos read further.

1. Musical Note on Elbow
The musical symbol "O" was the first tattoo that she got inked on the inner side of her right elbow. And since then she has all in all 28 tattoos inscribed on her body parts. Although, she got this tattoo covered up with a crow so it is no more visible. Because this musical note was her very first tattoo so it will always occupy a special place in her heart though it has been transformed into a crow.
2. Om Symbol on Elbow
The sacred symbol of Hindus, "Om" was once tattooed by her on right elbow. She got it inked in grey shade but later on, she covered it with a pumpkin tattoo.
3. Grey Colored Flower on Shoulder
Ash got the top of her right shoulder inked with a grey colored flower with black outlines.
4. Mickey Mouse Along With Mumma's Name
She got a very pretty mickey mouse face with the name of her mom "Sandra D" underneath it on her right elbow. Her childhood memories of Disneyland is one of the main reason that she got this cartoon character inked on her body. She said, "Mickey of course! Old-school pie eyes & my mom's name, Sandra D. Innocent & virtuous, she raised me right."
5. Harry Potter's Lightning Bolt 
Being a lover of Harry Potter book series she got her left hand's index finger tattooed with Harry Potter lightning bolt scar.
6. "Believe" Tattooed on Right Forearm
Ash has inscribed a word "BELIEVE" in the Disney font. She and her friend both got this word inked on different areas of the body. Ash got it inked on her right forearm and her friend on her ankle.
7. Crow Design on Sleeve
She got half of her sleeves covered with a magnificent dark black crow with a tinge of purple and blue that spreads out on her arm. In addition to the tattoo, there is a banner with a quote stating, "Everything was beautiful and nothing hurts" which is from one of her favourite books "Slaughterhouse-Five by Kurt Vonnegut." It nearly took 4 months to get the design completed.
8. "Love Kills" Tattooed on Wrist
Ash Costello got her right wrist inked with words "Love Kills" in red color positioned next to her razor tattoo.
9. Bat Wings Tattoo on Thumb
Since mostly she has all her tattoos inked on her left side but the batwing tattoo is the first tattoo that she got inked on her left side. The batwings tattoo is even inscribed by her boyfriend Jimmy. She took a picture of their tattoos and captioned it "No one even knows what life was like, now it's paradise, no one even knows how hard life was, I don't even think about now because I finally found you."
10. Number 714 Inside Coffin
If you all have been speculating that 714 is her lucky number then you are wrong because it is not. She got number 714 inked because this is the area code of the place where she grew up i.e. greater Los Angeles, California region. She has a box full of memories so she got this tattoo inked inside the coffin.
11. Tally Mark Logo on Forearm 
She has inked the tally mark logo which is from the New Years Day band on her right forearm. To stand out differently she got it inked in black with a red outline rather than complete red.
12. Bat Wings on Back of Neck
Ash got the back of neck tattooed with bat wings and a fleur de lis which is a stylized lily comprising of three petals at the center. Before getting tattooed she revealed her plans for this body art in an interview, "What I'm really, really jonesing for is a big neck tattoo. Very soon I'm going to be getting bat wings that are going to come up underneath. Real big — I'm not just talking the back of the neck — I'm talking the whole thing. It's a very serious commitment to get your neck tattooed."
13. 1031 Tattoo on Knuckles
To mark the date 31st October, she got knuckles of her right hand inked with 1031. The swirls surround her "Dead" tattoo which further leads to her 1031 tattoo with teardrops connecting them.
14. Portrait on Thigh
Inspired by the character Captain Spaulding of horror movies "House of 1000 Corpses" and "The Devil's Rejects" she got the portrait of Spaulding inked on her right thigh.
15. Bow Tattoo With Skull At Center 
Ash has her right hand inked with a bow tattoo just above her "Dead" tattoo. The skull lies at the center of the bow with an upside down cross on the forehead of the skull.
16. "Dead" Tattoo on Right Hand
The self-claimed "Living Dead Girl" Ash Costello loves vampires and zombies. Ash Got the back of her right hand inked with a word "Dead." According to her if you decide to be an artist you are committed to being an artist and you are so screwed if you ever decide otherwise.
17. "Blow Me Up" tattooed on Hand
Ash has these 3 words "Blow Me Up" tattooed on her right hand. Ash is a strong woman and how anyone tries to bring her down or blow her up she will keep coming back. This shows that she is perseverant in nature.
18. Pumpkin Tattoo on Elbow
She got her old Om Symbol replaced by an orange colored pumpkin tattoo. It is located on the outer side of the right elbow.
19. Hidden Mickey Mouse Tattoo
Being a die heart fan of Disney and a frequent visitor of Disneyland, she along with two other friends of her Sheena and Brooke got the side of her right index finger inked with a mickey mouse tattoo. Much before coming into the limelight she, as well as her family members, used to work there. She explains, "It just reminds me of being really happy at that time in my life. I can't let it go."
20. Broken Heart Behind Ear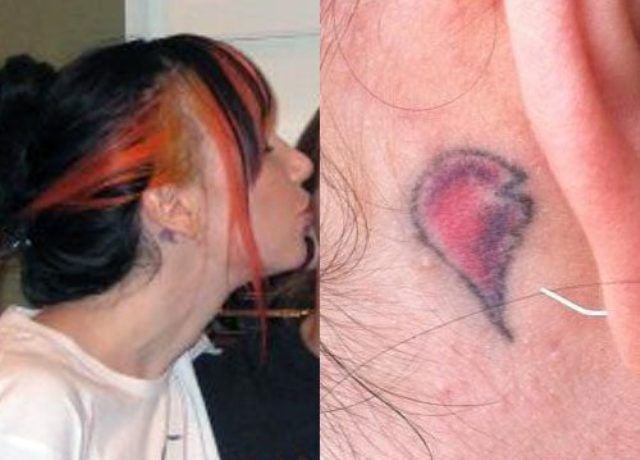 She was on a tour and there she went to a tattoo parlor and got this red colored broken heart tattoo behind her right ear. But, later she covered this tattoo with her bat wings tattoo.
21. Lyrical Banner on Upper Arm
Ash has her right upper arm covered with a banner "You Love Carries On" which is taken from the song "Your Love Carries On" sung by Melee.
22. "Caviar" On Wrist
Her right wrist is covered with a word "Caviar". It is one of the oldest tattoos from her collections. Through one of her tweets she explained, "it says Caviar 🙂 cause I gotta class."
23. Crooked Piano on Forearm
She has her right forearm inked with crooked piano keys. She got inspired by the album The Ugly Organ as it changed the way she wrote music as said by her.
24. Broken Heart Tattoo on Hand
The broken heart glass tattoo has been inked by Ash and her then-boyfriend Nikki Misery on their hands with the words, "I wished for you." She got this tattoo inked when she had to go on a tour for 5 months. She explained, "My boyfriend has the other one. We realized I'm going to be away on tour for 5 more months. So we wanted to have something where it's like a little piece of each other. So when we hold hands they connect." Although they are no more a couple, they do share a very close friendship bond.
25. Razor Tattoo on Wrist
Ash Costello's wrist is inked with a razor blade tattoo cutting her right wrist. It is symbolic of the struggles, depression, and hardships faced by her. A Roman Numeral XIII resides inside her razor blade tattoo. When interviewed she said, "My Friday the 13th tattoo with the @nydrock boys. To remind me…..I have survived the worst times, the fucking worst, but I pushed through it and now I'm enjoying the best times with my best friends."
26. Skull Tattoo on Thumb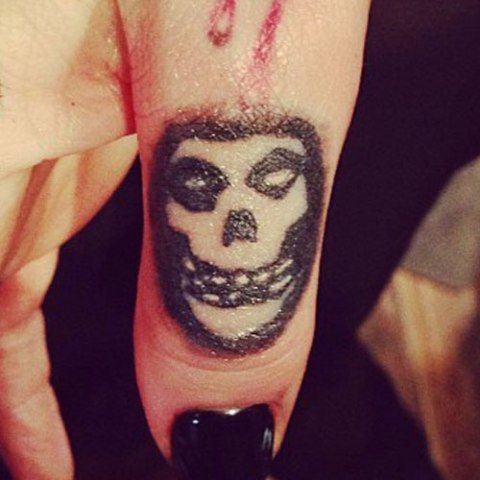 The band Misfits with a logo of a skull has been her all-time favorite bands since the days she was in school. Being influenced by the Misfits band she got her right thumb inked with a skull. This is her another matching tattoo that she and her ex-boyfriend shared together.
27. Noose Tattoo on Forearm
She got a noose tattoo on her right forearm adjacent to her crooked piano tattoo. It is one of her favorite tattoos as it reminds her of 2016 tour when she went on a tour with her The New Years Day band. All the bandmates too got it done. Explaining its significance to her when interviewed she said, "My favorite piece is what we all just got — it's a tour tattoo. It's a noose, and everyone on the tour got it because we're all gonna hang out forever."
28. Messy Heart and Initials on Forearm
She got a messy heart with the initials BF inscribed on her right forearm.