Michael D. Symon is a well-known American chef, restaurateur, television personality, and author. He can be seen on the shows like Iron Chef America, Burgers, Brew and 'Que, Food Feuds, The Best Thing I Ever Ate, Cook Like an Iron Chef on the Cooking Channel, and The Chew on ABC. Not ignoring the fact that he has also written a few award-winning cookbooks. He resides with his wife, his granddaughter, and his favorite dog, Staffy bull terrier Norman.
It is no secret that Michael is a talented chef, but what not many of us know is his avid love for body inks.
Do you know?
Michael Symon claims to have spent almost 200 hours of their life getting tattooed.
1. Chest Tattoo
Tattoo: On the left side of his chest, there is a tattoo of a pair of cherubs who are attached via a yellow-colored banner that says, "GOT PORK" in bold letter. It is said that this is Michael's favorite tattoo, and he got inspired when he saw the tattoo artist, Natalie Roelle, doodling cherub pigs; he instantly knew he had to get them.
"In tattooing there is a thought process kind of like the one that goes into the food you make, it becomes a part of you, its a personal expression actually!"
2. Leg Tattoo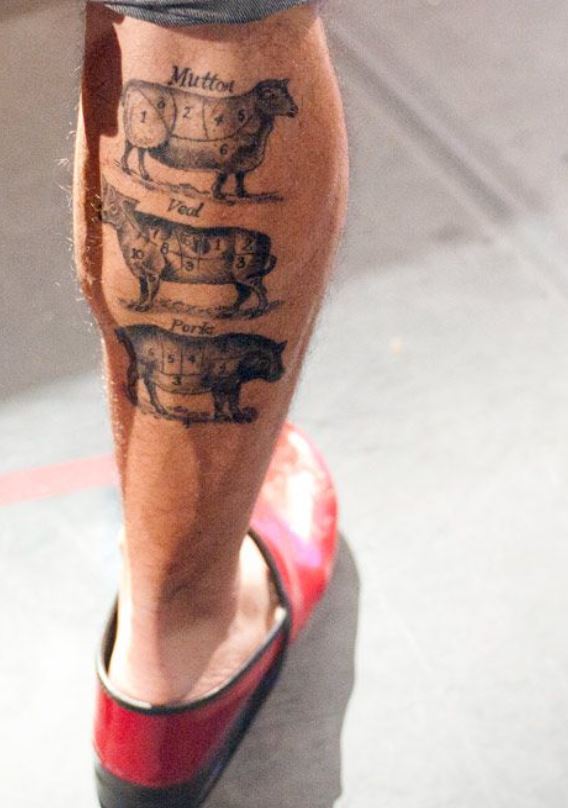 Tattoo: On his right calf muscle, there is another interesting tattoo that includes animals and three diagrams of primal cuts showing Mutton, Veil, and Porks. It is said that this tattoo is inspired by one of the cookbooks that he saw from the 1800s.
3. Flaming Skull Tattoo
Tattoo: On his left calf muscle, Michael has got a magnificent tattoo design that includes a burning skull with the number 13 and the symbols of playing cards tattooed.
The flaming skull is the depiction of the strong courage, determination, and will of the tattoo wearer. It also reflects the character trait that the tattoo lover is also a big risk bearer and daring at heart!
4. Michael Shoulder Tattoo