Trevor Dean Mann, better known and famous as, Ricochet, is a professional wrestler from the United States. He is presently contracted to WWE, where he competes on the SmackDown brand as Ricochet, and he is also the present WWE Intercontinental Champion in his first tenure. Ricochet debuted his video game as part of the "Rising Stars" DLC pack for WWE 2K19. It was not surprising if we got to see some tattoos on his body too. Surprised? But we aren't! Every wrestler seems to be a tattoo lover today. Let us see which ones are Ricochet's favourite.

1. 'Be Fearless' Tattoo
Tattoo: Ricochet has a very intimidating tattoo on his left shoulder blade that reads, 'Be Fearless.'
2. Berserk Brand of Sacrifice Logo Tattoo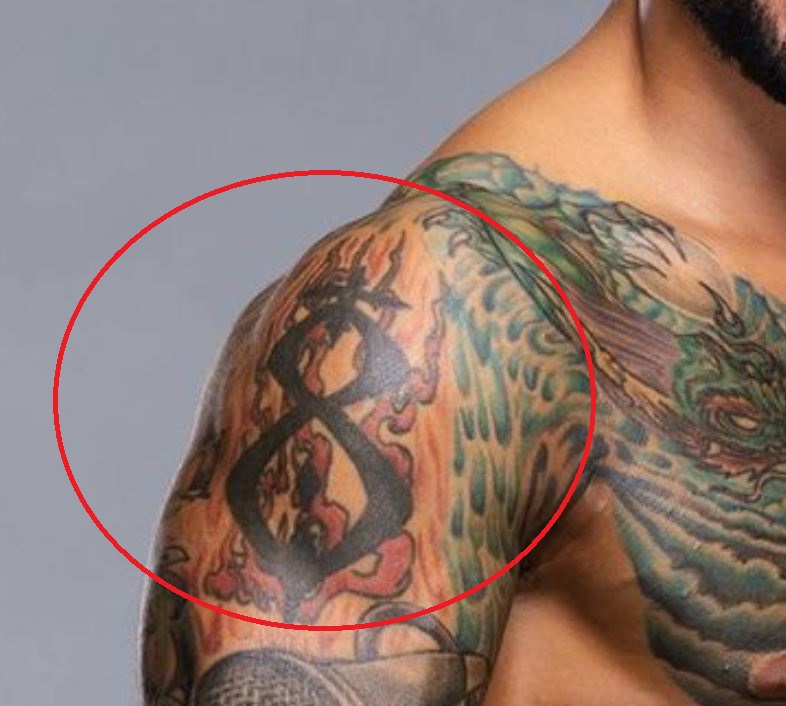 Tattoo: On his right bicep, there is a massive tattoo of the Berserk Brand of Sacrifice logo and a tiny cross that sits on its top. Also, to our surprise, the number seems to be on fire, as represented by him.
The Cross is the Holy symbol of Christians and represents the tattoo wearer's deep faith in Jesus Christ and his blessings.
The sacrifice brand is a mythical idea from the Japanese manga Berserk(Japanese series). It is inscribed on those chosen for the Invocation of Doom. This is a sacrificial event where people are subject to causality laws beyond their humanity. The brand reflects the fact that the tattoo wearer believes himself to be mortal and yet, has all the strength to fight till the last breath.
Wonder now? Why does he have a 'Be Fearless' tattoo?
3. Microphone Tattoo
Tattoo: There is a tattoo of a microphone mike on his right arm.
4. Nautical Star Tattoo
Tattoo: On the backside of his right arm, a five-pointed nautical star is inked in red and black.
A nautical star tattoo has been observed for ages as a way to keep a sailor in the right direction and is still assumed to direct a sailor home. Hereby, it is regarded as the symbol of direction, guidance, peace, and good luck. Many tattoo lovers get stars tattooed as a way to keep themselves intact on the right path in their life.
The nautical star is also associated with good fortune while sailing on the high seas, or we should rather say, the hard phases and tsunamis of life.
5. Writing on the Right Arm
6. Moon Dragon Tattoo
Tattoo: On his right pec and shoulder, a design is covered with a Moon Dragon.
The moon dragon tattoo design is a one-of-a-kind emblem that represents the connection between nature and the subconscious. The moon, which controls ocean tides, depicts ebb and flow, while the dragon represents nature's elemental energies. Together, they act as the connection to two opposite and deeper aspects of life, your inner self and being and the outer forces of life and the universe.
7. Sugar Dragon Skull Tattoo
Tattoo: Ricochet's right forearm is covered with a strange-looking dragon skull tattoo.
Meaning: The dragon skull on his arm is also surrounded by some flowers and leaves.
Dragons symbolize composition and innovation, whereas skulls represent evil, mortality, and death; the skull dragon signifies the cycle of life and the balance of creation and devastation.
Sugar skulls are used to respect and celebrate the deceased, our ancestors, and their lives. They also represent rebirth into the next stage of life, eliminating the sorrowful and terrible elements of death. They are more than the very conventional meaning of a skull that is often related to negativity or death.
The skull, flowers, and leaves: exemplify life and death, but the rose(often chosen for this tattoo and as used in Ricochet's ink, too) represents beauty and love. The skull and rose tattoo, when united, describe combat between the captivating/beautiful and the ugly/unattractive in times of good and bad. Leaves stand for the cycle of life.