When it comes to art, London is definitely a leader and for tattoos too, there is not much of a difference. With the new trend growing, so has the growth in tattoo studios in London shifted too. The studios which were once started in alleys and garages have evolved into a creative hub that inspired hundreds of people every single day. Most Londoners have decided to get themselves inked. This means that what was once a symbol of culture and art is not pretty mainstream. It has been estimated that at least every fifth of Brits has a tattoo and those who are under 30 have a higher percentage.
No matter if you love those bulky pieces or are someone who would enjoy a cute little dainty tattoo on your collar bone, these tattoo artists in London got you covered. Tattoos were a symbol of young rebellion, subcultural tinges, and [political leanings but now, the meanings have been quite ubiquitous. Most of us, even though don't of tattoos, has toyed with the idea of getting inked in their life. But where is the best place that you can trust someone with your ink? London has everyone from a master tattoo or recent young talents who are experts in traditional to oriental, portraits to dainty designs, etc.
While some people get drunk inked but then on another hand, are the ones who are more careful about their designs and would research before they would go for it. If you are out of this lot too and need some inspiration, you don't need to look as far because we have curated the list of best tattoo artists in London and best tattoo shops in London fr you. It is truly a place for a plethora of art stuff.
1. Aitor, Scabbage, Crusty- Extreme Needle
Extreme Needle is one of the most popular shops in London where it provides both piercing and tattoo services. This award-winning studio makes their customers satisfied with bringing on the table exactly whatever is needed. Their artwork is definitely one of a masterpiece. The artist in Extreme Needle is highly skilled in various kinds of tattoos designed especially, Japanese, watercolor effects, vintage as well as realistic and modern style tattoos too.
The Health Authority of London also authorizes extreme Needles and they make sure that the requirements that they use are sterilized and brand new to maintain health safety. The tattoo artists and designs at Extreme Needle take maximum effort to provide an exclusive design. You can look at their portfolio or just get your idea on the table. You will also be provided with loads of aftercare and pre-care instruction too.
Cabbage is one tattoo artist is especially recognized for his range of medium which includes aerosol, airbrush, tattooing, animation, painting, and graphic designing. His interest in tattooing came along in 2010 and it has been over a decade he has been tattooing now. He says, "My preferred subjects tend to be horror, dark and wildlife: an illustrative style rendered with realistic textures in both color and grey. I am also happy doing an elaborate script, portraits, biomechanical, or anything original with style. I also like to eat the skin of my victims."
Atior at Extreme Needle is known for his amazing realistic tattoos done in black and grey inks. He also is a fan of dark neotraditional in either black and grey or color. He is only available on prior appointments so make sure you call before. He aims to try and put his best foot forward every time so that he could bring a new piece and make himself proud of it. Besides inking, he loves to play drums and electric guitars. His love for metal bands has well known in the studio.
Crusty is another renowned artist in Extreme Needle and has been involved in arts and creative stuff since a very young age. As for the tattoo industry, it has been more than a decade that he is here. "I have been the Extreme Needle shop's manager for over 6 years and stepping deeper into the tattoo industry was an exciting natural progression. Under the supervision of the incredibly talented shop's team, I'm making my way up in this fascinating and messed up world!" he says. He is passionate about old school and black ink tattoos but also enjoys doing vintage a medieval woodblock tattoos. He loves a great new challenge. He is available only on appointments so make sure you check on the website and book one!
The specialty of Extreme Needle lies in styles such as Traditional Japanese, Portrait, Dragon, Wolf, Skull, Mandala, Script, Dot and Line Work, Eagle, Realistic, Watercolour, Horror, Spider, Clock, Butterfly, Graffiti, Neo-Traditional, Flower, Old School, Tiger, Sculpt, Animal & Illustrative Tattoo.
Location on Google Maps:
2. Hugh Sheldon, Luke Jinks- Cloak and Dagger Tattoo Parlour
Cloak and Dagger Tattoo Parlour is quite a popular tattoo studio that aims to provide an exceptional experience for clients. The tattoo artists are pretty professional who offer a service very reliable and in a relaxed atmosphere and ambiance. The owner of Cloak and Dagger Tattoo Parlour is Hugh Sheldonw whose point of interest lies in bold and clean strokes and does black ink and grey ink bodywork. No matter what kind and style of tattoo you want, Cloak and Dagger Tattoo Parlour covers everything under one roof.
They aim to provide a high-class tattooed experience with a little twist of their own. When you meet the artists for appointments, you will get a personalized approach based on their individual experiences. They suggest their clients book an appointment to reduce the hassle and for a smooth process of their design.
Hugh has graduated with a degree in Illustration from Bristol university and started his career in tattoo making in 2012 in Cheltenham before he moved to Cloak and Dagger Tattoo Parlour. Although he likes to work with black and grey ink, he also does a lot of fo Japanese styles which is his forte.
Another great artist at Cloak and Dagger Tattoo Parlour is luke jinks who has developed and worked on his tattoo style since 2009. He began tattooing under the apprenticeship of Nick Baldwin. He joined Cloak and Dagger Tattoo Parlour when it got opened in 2013. With this being said, he is clearly one of the oldest tattoo artists in Cloak and Dagger Tattoo Parlour. He loves to make Japanese tattoos and Maori inspired designs.
The styles that one can find in Cloak and Dagger Tattoo Parlour includes, Eagle, Portrait, Dragon, Tribal, Butterfly, Traditional, Skull, Large-Scale Maori, Black and Grey, Animal, Half and Full Sleeve, Japanese, Cover-Up, Birds, American, Colour, Flash, Tiger & Memorial Tattoo. The price of getting a tattoo from Cloak and Dagger Tattoo Parlour starts from £80
Location on Google Maps:
3. Ivan Bor- Hammersmith Tattoo
Hammersmith Tattoo London can be found in West London's North End Road and opened its doors to the public in 2007! With that been said, it has already spent more than a decade of its service for the Londoners. It is an award-winning tattoo studio with both national and international recognition. It has made such a strong reputation for itself. The artists at Hammersmith Tattoo London are so experienced that one will get the top solution for their tattoo designs.
The team of skilled and talented artists at Hammersmith Tattoo London would help you get a customized tattoo design that will exceed your own expectations. The tattoo studio also has some residential artists that specialize in a wide variety of tattoo styles which includes everything from color to black and grey, old school to new school tattoo, dainty tattoos to full body masterpieces, etc. You must book your slot before coming to the studio with an online appointment to avoid any hassle.
The artists at Hammersmith Tattoo London specializes in works such as Colour, Traditional, Neo-Traditional, Dot Work, Portraits, Pin-Up, Tribal, New and Old School, Realism & Celtic Tattoos.
One does not have to be worried once they give the task to the artists at Hammersmith Tattoo London because they take their sweet time creating the perfect design for you. While there is a starting range for getting inked, the whole amount is better discussed looking at a variety of things in the tattoo studio itself. The trust that is evoked comes from the transparency that they provide and guarantee with the price or any other kind of modification. The minimum price of getting inked at Hammersmith Tattoo London begins from £50, and Walk-ins are welcome too!
The official website has all the necessary information and the links to all their social media, contact info, and the official website have been provided below.
Location on Google Maps:
4. Paul Hill- Vagabond Tattoo
Vagabond Tattoo is one of the many tattoo studios that one can find in Shoreditch which is known for many tattoo parlors in general. However, the reason why Vagabond Tattoo has established itself despite the severe competition is that it provides the highest quality of tattoos that one can imagine.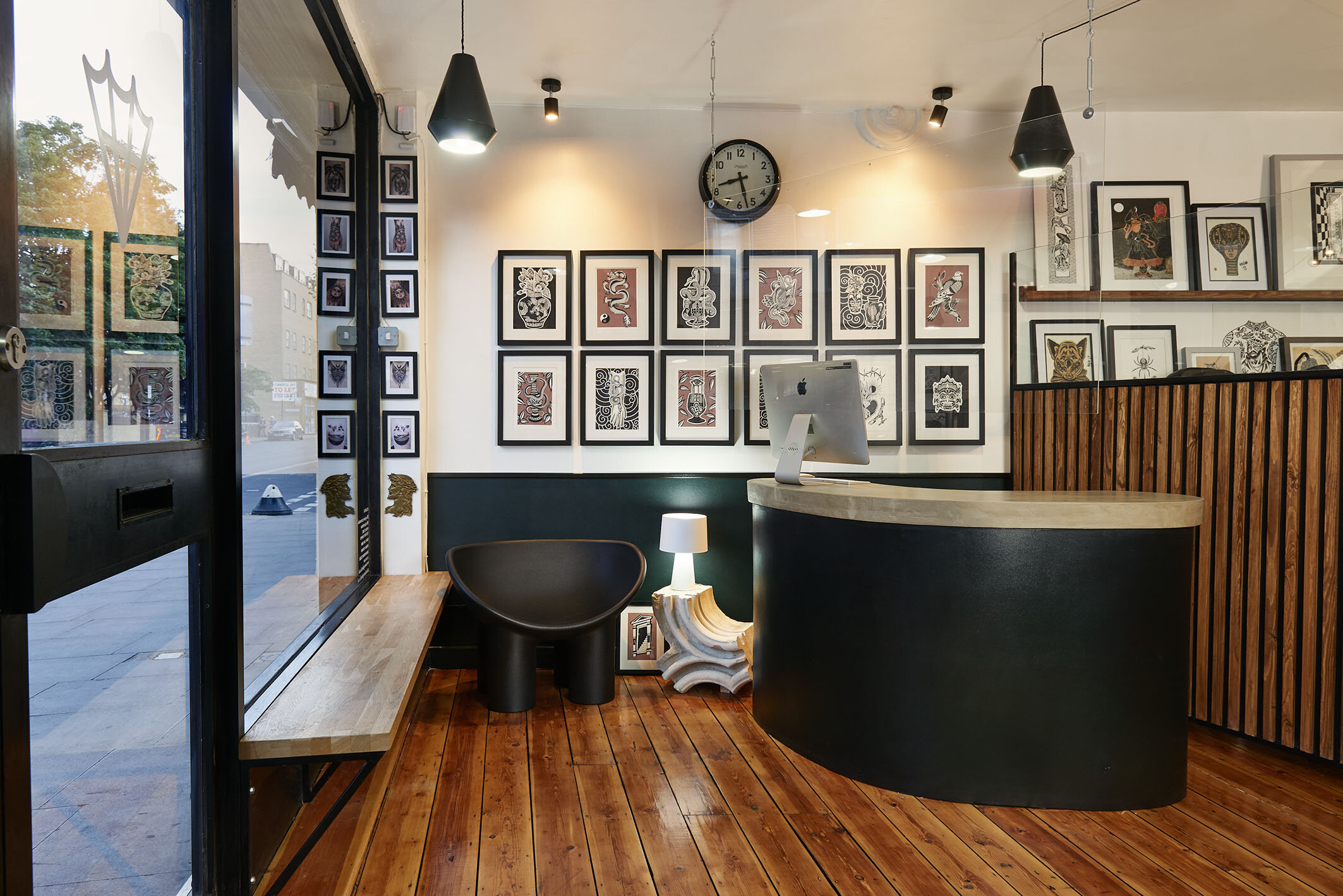 Vagabond Tattoo started in 2012 at Cambridge Heath end of the Hackney Road. The parlor itself is very creative and beautiful while the ambiance is very fun and amusing. The artists at Vagabond Tattoo make sure that all their equipment has been sterilized and they use fresh needles for each customer. With all that being said, we are certain that it is here to stay for many more years to come.
Location on Google Maps:
5. Grace Neutral, Indigo Forever- Femme Fatale Tattoo Studio
Femme Fatale Tattoo is one of the most recognized tattoo studios in London. Its owner, Grace Neutral needs no introduction either. She is one of the most recognized tattoo artists in London. She even has a very distinctive look which leaves people to wonder and thus giving her the nickname of Alien Princess.
She built upon her fame that she got while presenting the serious Beyond beauty for i-D magazine and Needles and Pins for Viceland and opened her own tattoo studio, called Femme Fatale Tattoo, in Hackey. She has a bunch of talented tattoo artists in her team who are all women. This is something that has also attracted the people who see Femme Fatale Tattoo as a measure of redefining what tattooing and getting tattooed as a female is.
Location on Google Maps:
6. Claudia De Sabe, Teide, and Yutaro, aka Warriorism- Red Point Tattoo
Started in 2018 by three of the most skillful tattoo artists in London – Claudia De Sabe, Teide, and Yutaro, aka Warriorism, all famous for their huge, throbbing, and productive oeuvre. The trio earlier experienced developmental times at Seven Doors Tattoo, off Brick Lane, before exercising the leap and establishing up tattoo place collectively. Driving from the bustle of Shoreditch to the comparatively peaceful backstreets of Angel Islington, their 50 years of blended knowledge has formed into a wonderful studio, presenting an artistic haven where they sharpen their ability and treat a series of top-notch guest artists. They say, "Hosting regular guests, we pride ourselves on working with some of the most interesting and exciting tattoo artists from around the globe."
They give a lot of importance to art and the community which according to them are the driving forces of their tattoo studio. They not only create beautiful inks for the customers but also love to celebrate creativity and community by doing regular exhibitions and workshops. Besides tattoos, they also sell their art stuff and merchandise which include T-shirts, screenprints, and their original art.
Claudia De Sabe has been tattooing for more than 15 years and is an expert in western traditional and Japanese styles. Yutaro has been inking for more than 25 years and specializes in Japanese traditional and modernistic styles. Teide has been tattooing since 2008 and enjoys working for pieces that he called "traditional psychedelic."
Location on Google Maps:
7. Scott Move, Nicola Mary- Parliament Tattoo
The small origins of Parliament Tattoo lie in the classic workshop it has become now. It was when Scott Move and his wife Nicola Mary Wyatt first took over the factory building on a little industrial property in Stroud Green, which then they used as their own tattoos studio where Scott inked his customers and Nicola operated her firm in delightful solitude. With time, as the popularity began to grow and the demand ameliorated, the potential for a bigger space to expand the creative vision and environment where the artists could thrive came into existence.
This was when they began hiring other artists to their team. What began as a small and aloof studio became one of the biggest tattoo salons with an international repo.
Scott describes his work by saying that his inspiration lies in the people and their stories and experiences rather than the works they have produced. There are many things he gets his inspiration from no matter what it is. Whatever struck him best becomes his inspiration. In his words, "I think my style of tattooing could be called "Illustrative Traditional" which seems to suit. In application at least. I use bold lines and black shading which is the basis for all traditional tattooing."
Scott Move has been inking since 2011 as he worked in a few shops before he opened in own studio Parliament Tattoo in 2014.
Another tattoo artist in Parliament Tattoo, Adam Ruff, loves to draw and ink hand-sized, one-shot designs. He constantly strives to push himself towards bigger projects while painting more and enhancing his potential to a greater degree. He describes his style by saying, "I guess my style is halfway between traditional and neo-traditional. I love tattooing in color or black & grey, I think it lends itself well to either. My designs have a decent amount of black in and good contrast; aging well with the wearer."
Location on Google Maps:
8. Nikole Lowe- Good Times
Good Times is great if you are a First-Timer, or looking out for styles such as Oriental, Tribal, Realism, and something a little bit different.
Opened in the horse of Shoreditch, Good Times is a contemporary tattoo studio with a light, breezy and bright space loft which is away from any traditional studios. Nikole Lowe is the mind behind Good Times and you might know him from the reality TV show, London Ink. The idea of the whole ambiance of Good Times is that it should feel welcoming for the people who are getting their tattoo for the first time.
"I wanted to make it more of a homely studio. What I wanted was for people to walk in, whether it was their first tattoo or if they'd been doing it for ages, to feel comfortable. Tattooing is quite scary, I think. The very first time I walked into a tattoo studio, I walked straight out because I was too nervous," she describes the concept that is working with.
Lowe practices in remarkable Oriental and Indian influenced ideas. She explains, "What draws me to it is the iconography, all the stories behind the tattoos and how it suits the body – like tribal Maori tattoos [a specialty of Lowe's colleague Matt Black], they always work with the shape of the muscle, to compliment you, and I think Japanese art does that too."
Several of her designers attempt some truly unusual work, including Hannah Keuls who produces "sketched" pictures with the draft lines kept intact, and Noon who dons his personal method of geometrically created metaphorical design, while Piotrek Taton is chief of Realism.
Good Times could be found right in the Shoreditch and is characterized by its different and unique character, style, and windows galore! The Good Times includes one of London's most famous tattoo artists including, Nikole Lowe's "London Ink", Piotrek Taton, Nick Horn, Miles Monaghan, Hannah Keuls, and Grace Neutral. This approach of mixing traditional with contemporary is unique with striking decor. They even adorn their walls with one of their best works. Besides, the customer attention that you get is surpassable.
They invite people with quite a quirky line saying, "With plenty of interest, why not come on down to view our work, have a casual chat, and let the Good Times Roll."
Location on Google Maps:
9. Darryl Gates- Diamond Jacks Tattoo Parlor
Diamond Jacks is one of the longest-running and oldest tattoo studio that is in London's West End. Go there if you are looking for a proper, golden age inking experience. It is great for rock n roll fans because it boasts of some hardcore imagery. In fact, it has all its popularity because of the punk rock client base which ranges from Sex Pistols to Peter Doherty and many other exclusive artists throughout history. For the owner of Diamond Jacks, Darryl Gates, the taboo of art is still clear and robust.
 "The classic image is a man's ruin," says Gates. "So a man's ruin would be a woman on a martini glass, it'd be dice and cards, it's symbolic of things that can bring you down. People haven't changed over the years – things have modernized but people have still got vices." For Darryl, getting inked is a homage and tribute that one would like to pay for a thing that is extremely important for him or her. "They're symbolic of feelings, sometimes people don't know how to express their feelings: a tattoo is a permanent reminder of them. And believe me, some of the characters I've tattooed, they need all the help they can get."
Diamond Jacks also has some of the best tattoo artists in the studio ranging from, Darryl Gates, Frank 'n' Tattoo, and guest artist Hwee Lo. They are also authorized by Westminister Health Authority and also do provide private sessions for whoever wants them to. They keep an eye on the health and sterilization processes of their equipment. They make sure that their ink, gloves, needles are all single used. Besides, their specialization lies in creating customized pieces by they also have portfolios that have thousands of designs that one can choose from. They also offer to redesign or cover up a bad tattoo.
Location on Google Maps:
10. Mo Coppoletta- The Family Business Tattoo
The Family Business Tattoo, which was established in 2003 right in the heart of London, is great if you are a fan of distinct artistry in different styles. It aims to create a great place for tattoo enthusiasts by creating whose unique atmosphere and ambiance for people who want to enjoy the whole tattoo process. The studio has since been growing day by day thanks to the genuine efforts of the tattoo artists who do not lay back when it comes to quality. The Family Business Tattoo has won awards not just nationally but internationally too and thus has created a strong niche for itself.
They aim to bring in the highest possible safety and creativity standards and are already famous for their customer services in the last years. This is what makes The Family Business Tattoo such a sought after place. They pay special attention to each step of getting a process which could be general inquires, appointments, and getting the final result. The humble nature of the artists gives their guests the benefit of appreciation saying, "Thanks again to our guests who enriched us with their art and experience and gave us the chance to provide our customers with the most talented tattooists in the world today."
The Family Business is a residence tattoo studio to eight tattoo artists, all of whom serve very different characteristics traveling from experienced line work by Michele L'abbate to beautiful geometric designs by Chisaki, to vivid, modern symbolic patterns by Inma. Mo Coppoletta, the Godfather of The Family Business Tattoo, has a design remit that stretches past tattooing, having provided graphic designs for labels that include Rolls Royce, Mont Blanc, and Liberty. When it comes to inking, Coppoletta practices in Oriental styles. "It's a classic and it never goes in and out of style," he says. "Symbolism is power." For Coppoletta getting inked is more about the artistry and creativity to make the body look even more beautiful. "I always start from a very decorative point of view: I see a tattoo as a body adornment. I think of the aesthetic more than anything then, of course, every tattoo has its own story, its own meaning, its own reason why. My job is to make my customer's ideas as beautiful as possible."
Mo Coppoletta, with his direct relation to huge labels and brands as a consultant, art director, and designer in the niche of interiors, luxury, and art has managed to bring and set in a huge client base that stays faithful and loyal to the studio. His creativity and ability are reflected in his artwork which can't be unseen. He worked hard and has managed to cultivate a loyal clientele through a direct relationship with each brand serving as a consultant, art director, and designer in the world of interiors, luxury, and art. A remarkable sensibility reflects on his work and allows him to interpret the DNA of each commission and product anticipating upcoming trends while maintaining a strong signature style
Location on Google Maps:
11. Lal Hardy- New Wave Tattoo
Lal Hardy's New Wave Tattoo is great if you are interested in Personal designs, portraiture, Jack of all trades. Lal Hardy, the owner of New Wave Tattoo says that his studio is one o the first in the new school tattoo and the last of the old school designs. New Wave Tattoo has opened its door in 1979 in London.
The list of his clients is pretty posh and includes, Liam Gallagher, most of the Tottenham Hotspur team over the years to which Lal Hardy says, "they make a joke that I'm their official tattoo artist", rock stars Dave Grohl and Vince Neil of Mötley Crüe, rugby players James Haskell and Danny Cipriani, and the ladies of All Saints. However, for Lal, it is not really about how many famous personalities he has worked with without their own personal stories. "I like it when people have designs particular to them," he says. "A guy, his daughter wrote him a little note, and it was the first thing she'd ever written saying 'I love you Daddy' so he had that put onto his arm which I thought was nice. I had a guy whose grandfather was in the Welsh guards and had a particular insignia so he had that done. I like something with a personal angle, with stories connected to it. I've formed some amazing friendships through being a tattoo artist. I like the fact that you've got that interaction with a person, it's very stimulating for the mind."
Lal Hardy accepts the fact proudly that he can ink in any of the styles but his own specialty lies in the classics, and some punk rock influence. The team of his artists in the studio also provides a variety of styles and realistic portraits, especially from Ryan Evans.
Location on Google Maps:
12. Kevin Paul- Kevin Paul Tattoos
Look up to Kevin Paul if you are into Cover-ups, black, and grey, horror, and realism. Kevin Paul who has made a niche for himself in the tattoo industry has some big A list names in his client base. For example, he has made numerous tattoos in Harry Style's collection of tattoos and his contribution to Ed Sheeran's lion design is pretty famous and took Twitter by swoon too.
For Kevin Paul, it is not about how many liberties he is tattooing but his own style lies in the dark and fantastical tattoo designs. It has a story behind it! "Before the celebrities, I was known for doing horror imagery and all that darker stuff – I won awards for that," says Paul. "My style is more realism, more 3D stuff. Do you know the artist, HR Giger who designed the Alien movies? His kind of stuff, biomedical. I used to love doing horror zombies. I like to do something that makes a big impact."
Kevin Paul has settled himself for most of his years in Derby but he set up his latest studio inc collaboration with a laser removal studio clinic so that he could help people who have got inked on a whim or want to cover their previous inks. In his words, "I want to be the first clinic that actually specializes in doping cover-ups. What I want to do is set up a clinic where we can help people with their problems. With it being a laser clinic already, we can laser bits that we need to laser to help it. You need a lot of years of experience, a lot of understanding of ink, needles, and styles."
Location on Google Maps:
13. Roxy Velvet- Velvet Underground Tattoo
Roxy Velvet revitalized the tattoo world when she opened her own tattoo studio in London. But what was so special about her? Well, her team of all-female artists. She wanted to give a breakdown of the stereotype macho tattoo stops that existed in the city before and through the 20th century. Tattooing was a male-dominated art form and Roxy wanted to break that.
Her all-female artists are anti of any traditional old school tattoo parlor. Her studio, Velvet Underground Tattoo, is a top-notch, contemporary tattoo parlor with the latest equipment and gadgets which provides a comfortable and top-level Hygenic place for her clients. It is not just for the comfort of her clients but artists too. Velvet Underground Tattoo is base next to barbican. For them, gender is no bar!
With that being said, they are also one of the few tattoo studios in London achieving a 4/4 star rating by Tattoo Hygiene Rating Scheme. And how do they do that? Well, thanks to modern technology and their disposable tools, they do not need to scrub the rooms every time or re-sterilize them which makes Velvet Underground Tattoo a completely safe environment.
Although getting inked at Velvet Underground Tattoo would mean that they will help you through the entire process but they also appreciate your own ideas and individual response. You can discuss that over an appointment. The artists in Velvet Underground Tattoo are also super friendly and each of them has a unique style individual to their own.
"Our artists and apprentices each have their unique style and create one-off pieces for every client. No copying, no flash, no rush. If we don't think we can achieve what you are asking us to do we won't take it on," is something that they claim. Their focus does not end after the tattoo has been inked but even after that. They would constantly ask you about the healing process!
Location on Google Maps:
14. Jethro Wood, Joao Bosco- Sacred Gold
Sacred Gold offers both piercing and tattooing experiences at the same spot. It has a hybridized offering in its Kings Cross studio where the owner of Sacred Gold, Joao Bosco has hired a set of talented tattoo artists who are also residents there. His partner Guy Sa'ar who is also the owner of Love Hate Social Club in Notting Hill has begun simultaneously his piercing business in the same place. The guy is a formed famous piercer and has a strong client base too. He has built himself on the credibility that he offers and has made Sacred Gold into one of the top-notch places to get tattoos and piercings at the same spot.
The artist at Sacred Gold is pretty devoted to their art and each of them has their own individual style. For them making a tattoo and getting a tattoo is a unique experience that is felt for every single client. Their customer service is on point. They give equal attention to small scale or larger scale tattoo. Each artist is skilled in the most acclaimed technique and so they can offer a variety of styles in a single place. In the words of the owner, "We want to be remembered as a tattoo parlor that delivers not only beautiful art on the skin but an environment of respect and trust."
Sacred Gold studio is established in the heart of London, and it has become a part of Coal Drops Yard, which is a fairly new development that focuses on the melange of art, commerce, and culture. They are just near King Cross Station and St. Pancras international that will give the clients an easy link as well as trains to reach the major airports and Eurostar.
They all give piercings services and sell their own customized jewelry option. At Sacred Gold no matter if it is a piercer or a tattoo artist, both use the expertise of their style and designs. They specialize in different techniques like modern to traditional, European, Japanese, black and grey, realism, portraiture, tribal, dot work, geometric, American traditional, neotraditional, script lettering, and all sub-genres in between.
Although each tattoo artist at Sacred Gold has their own portfolio, they work uniquely on each client's design. They provide both customization and fresh designs. They also have pre-drawn designs for people who are short on time and walk-ins. They however strongly suggest that clients take a prior appointment which could help them work efficiently.
Location on Google Maps:
15. Nick Horn, Clare Calbraith- Storyville Tattoo Studio
Storyville Tattoo Studio is a fairly new tattoo parlor that was opened in 2017 in East Dulwich by Nick Horn and his partner Clare Calbraith. Nick had a prior experience of 7 years working as a tattoo artist in Good Times in Shoreditch and has been tattooing since he was 18. Clare is the manager of the studio and although she does not have a tattoo of her own, she makes sure the environment and ambiance are pretty welcoming for the clients. She also provides her own fresh perspective to the studio.
The studio is pretty warm and cozy. It is a small little studio cabin that is flooded with natural light and has a lot of indoor plants which make the space very welcoming and relaxing for clients especially for people who come in for their first ink ever. In the words of the owner and his partner, "We knew when we set out to create our own studio that it had to be a peaceful, inspiring environment where everyone would be welcome regardless of age, orientation, or gender. Where the same level of care is applied to every tattoo, be it a small design or an entire bodysuit. Whether it's your first tattoo or your fiftieth."
Nick now has more than 2 decades of experience professionally. In the words of Nick himself, he explains how their experience which is quite too direct has helped theme established their dreams. He says, "We feel that our different experiences of tattooing have helped us to establish a genuinely warm, welcoming environment. We couldn't be happier to have opened our tattoo studio in our own neighborhood."
They really compel a very friendly and judgment-free atmosphere in the studio. They take their sweet time to get their art completed. They also recommend that the clients come in with a prior appointment while they also take in walk-ins too.
Location on Google Maps: