Adriel favela is a famous Mexican regional artist who has been talented enough to become a professional Sonoran singer, songwriter, and multi-instrumentalist. He recorded his first album at the mere age of 18 years. Adriel has much following when it comes to his YouTube channel. It is speculated that he began his YouTube posting when came into the limelight via ICON/EBO Music.  Adriel has got some interesting body tattoos. Let us explore them.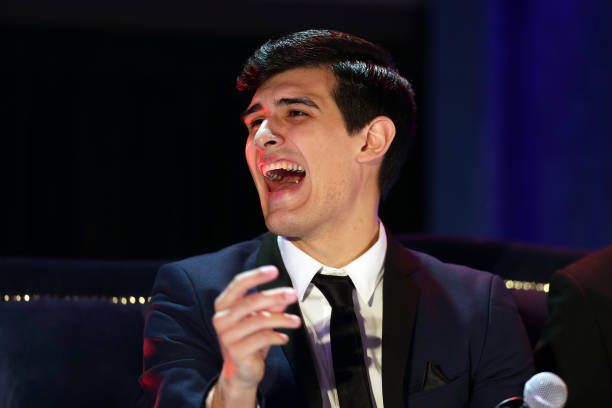 1. 'Angel Wings' Tattoo
Tattoo: On the right side of Adriel's neck, he has got the tattoo of angel wings. By the side of the angel wings, there are words inked as, 'DIE FOR ME DIE FOR YOU'.
Meaning: Angel wings are the symbol of faith, freedom, and protection. People also get the angel wings as the symbol of paying tribute to a loved one who is no more, a person who was rather as 'Guardian Angel'. Also, angel wings are a common way to symbolize your Christian faith and remembrance of Jesus Christ and his blessings.
2. 'Blessed' Tattoo
Tattoo: 'Blessed' tattooed on the corner of his left hand.
"I am highly blessed to have this life and whatever I am today, owe it to my family, friends, and loved ones."
3. 'Butterfly' Tattoo
Tattoo: There is a big butterfly tattooed across the center of Adriel's neckline.
Meaning: Butterfly symbolizes the beginning of a new phase or new beginnings of life. It represents freedom and independence.
4. 'DEVIL DOESN'T SLEEP' Tattoo
Tattoo: 'DEVIL DOESN'T SLEEP' is written across the center of his neck. Also, there is a tattoo of number 444 inked above.
5. 'All-seeing eye' Tattoo 
Tattoo: All-seeing eye is inked on the inner side of his left bicep.
Meaning: All-seeing eye is the way to remember that God is above us all and he is keeping eye on all our actions. Thus, we should be careful of our daily actions and deeds.
6. Left Hand Tattoos
Tattoo: Across his left hand there are multiple tiny tattoos inked. There is the year 1992 inked followed by 'RIP' along with a smiley on the pinky finger. Below them, there are three letters inked as 'FXH'.
7. Heart on Face Tattoo
8. Neck Tattoos
9. Portrait on Left Hand 
Tattoo: There is a [portrait of an old man with a wrinkled face inked on Adriel's left hand. Also, below the portrait, there are four X's inked followed by the year 1992. There are speculations that the tattoo represents the portrait of his grand-dad who passed away when he was too young.
10. Portrait on Left Arm
Tattoo: On his left forearm, Favela has got a portrait of a smiling lady tattooed.
Meaning: The portrait is of his mother, Elizanet Favela.
11. Left Eye Tattoo
Tattoo: Roman numerals inked above his left eyebrow which can be read as, 'X' and 'MCMXCII'.
12. Rose on Neck Tattoo
Tattoo: There is a big rose inked on the center of Adriel's neck.
Meaning: Rose is the symbol of love and romance.
13. Roses on Arm
Tattoo: On his left forearm there are a couple of large roses inked.
Meaning: Roses are the symbol of love. However, here the tattoos on his arm are his dedication of love to his loved one who is no more.
14. Clock Tattoo
Tattoo: There is a huge clock inked on Favela's left shoulder.
Meaning: The clock is the way to memorize an important event of our lives.
15. Teddy Tattoo
16. Tiger Tattoo
Tattoo: there is a huge tiger portrait inked on his left bicep.
Meaning: Tiger is the symbol of one's strength, courage, and confidence.  It is another way of showing your free spirit or independence. Along with these positive representations, the Tiger tattoo can also symbolize danger and punishment. However. Adriel got this tiger simply because he loves tigers and loved the idea of getting a tiger tattoo.
17. Writing on the arm 
18. Writing on Neck 
19. 'Broken Heart with Horns' Tattoo
Tattoo: Heart with horns tattoo is inked on the left side of the neck.
Meaning: The sacred heart is inked on his body which symbolizes his belief in Christianity. It is the symbol of Christ's compassion and also stands for honor, luck,  friendship, and acceptance.