Alejandro Speitzer is a Mexican actor. He started his acting career at the age of 5 and has appeared in many Mexican works but received mass recognition after appearing in many Netflix movies and series such as Dark Desire, The Club, and Enemigo íntimo. Alejandro has a few interesting tattoos on his body. Let us take a look at them and the meanings behind them.
1. 'Bible Verse' Tattoo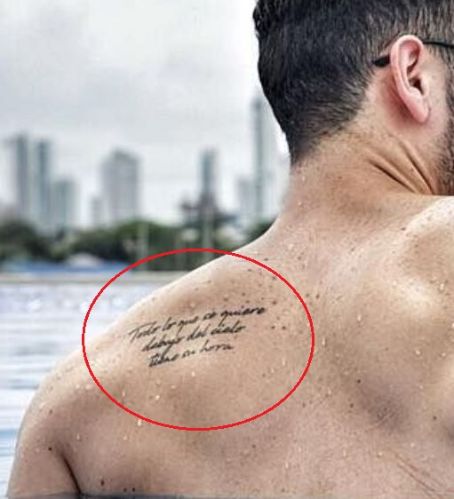 Tattoo: There is a paragraph written on the left side of his upper back in Spanish. The para has been taken from the Bible writings. It can be read as, "Todo lo que se quiere debajo del Cielo tiene su hora."
Meaning: It has been taken from Ecclesiastes 3: 1 of the Bible and when translated in English it means, "To everything, there is a season, and a time to every purpose under the heaven."
2. 'G' Tattoo
Tattoo: The left side of his body contains the letter, "G" tattooed on it.
Meaning: The "G" tattoo on his side represents his sun sign, Gemini. Alejandro was born on 31 May 1995.
3. Letters Tattoo
Tattoo: The side of his left forearm contains the letters, "JFL" tattooed on it.
4. Circles Tattoo
Tattoo: The inner side of his left leg contains three consecutive circles tattooed on it with letters inside them.
5. Side Tattoo
Tattoo: The right side of his body contains a line tattooed on it. There is another tattoo on his ribs that shows the coordinates of longitude and latitude to a place. The numbers are, 24° 19.29'6″N and 107°25.24'3″W.
Meaning: The latitudes and longitudes inked on his skin refer to the location where he was born i.e. in the city Culiacán, Mexico.