Anthony Michael Bourdain who was better know as Anothony Bourdain, was an American chef, book author, famous journalist, and travel documentarian. He used to work in programs based on International culture, food, cuisine, and human conditions. Bourdain was a veteran chef who was linked with multiple kitchens. He breathed his last on 8th June 2018 at Le Chambard Hotel Restaurant Alsace, Kaysersberg-Vignoble, France. Besides his love for his profession. he was an avid tattoo art lover. Bourdain had multiple tattoos that covered his body. Let us explore them.
"Photos were "inadequate to capture the moment."
"I stopped taking pictures on the road a couple years in. The lens didn't seem big enough and I was done with souvenirs. My apartment was full of junk and it looked like The Explorers Club in there." he says. "I've been tatted with a metal needle by hand by a monk in Chang Mai, I've had a number of tattoo parlors in the States, I've had one hammered into my chest by two drunken Iban tribesman in Borneo."

"Look, I'm 61 years old. I'm well aware a tattoo is not going to improve me in some measurable way. It's not going to make me younger, it's not going to make me hipper, it's not going to make me more relevant or interesting. It's more I see my body as an old car. It's covered with dents. It's not getting any newer, the wheels are going to start falling off soon. Another dent won't matter," he said. "In the end, I largely get them done to please myself."
1. Tribal Band Tattoo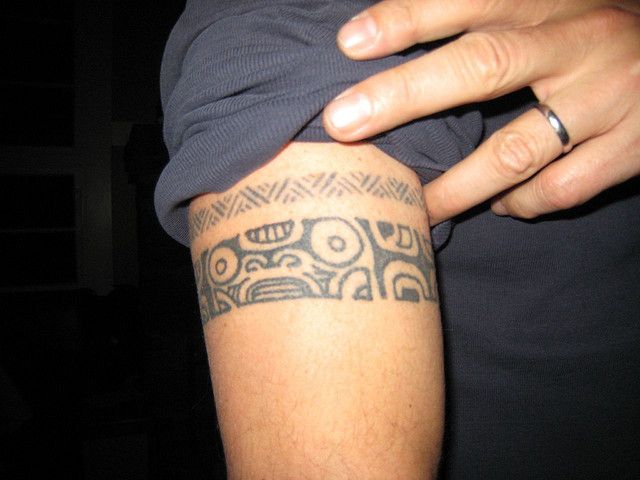 Tattoo: Anthony's right bicep was covered with a tribal band tattoo.
Meaning: Tribal band is the way to show respect for your culture. Also, it symbolizes your power and wisdom.
"I just thought it looked cool. It was a starter tattoo,"
2. Tiger Tattoo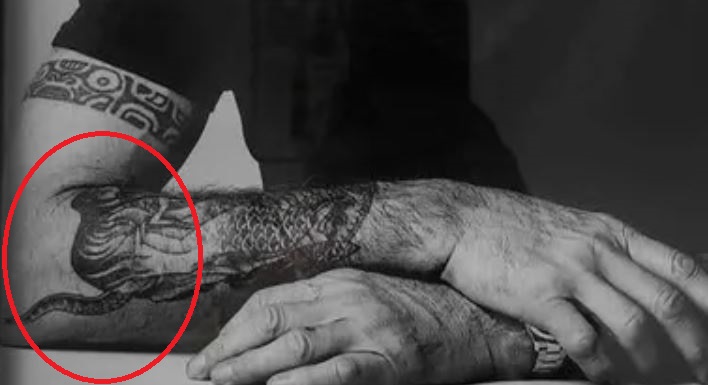 Tattoo: On his right forearm, he had a tiger inked in the horizontal direction.
Meaning: Tiger is the symbol of power, strength, and Independence.
3. 'Blue Crysamthumum' Tattoo
Tattoo: A blue chrysanthemum was inked on his shoulder. It is a tebori tattoo. Tebori tattoos represent Japanese Culture whereby tebori is believed to be a combination of two words i.e. (te) stands for the hand and (bori) means carving. The needle is hammered again and again into the skin to prepare the tattoo and is a time-consuming process as compared to the process of using machines for preparing tattoos.
I've wanted a really good tebori tattoo for quite a while. Someone I really care about got a really beautiful tebori and I thought, 'Well if you can get one, I can get one.' It wasn't competitive, but I was jealous. Envious."
4. Neck Tattoo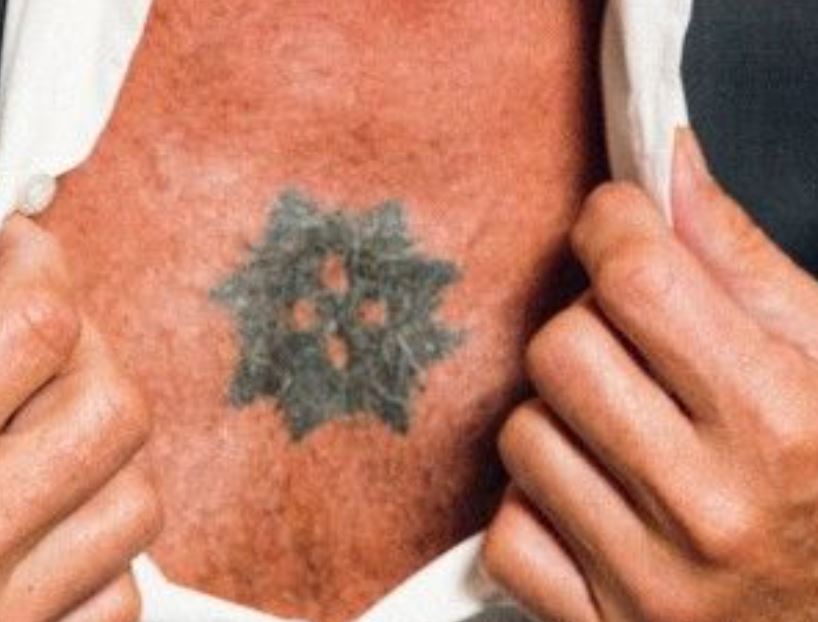 5. Arm Tattoo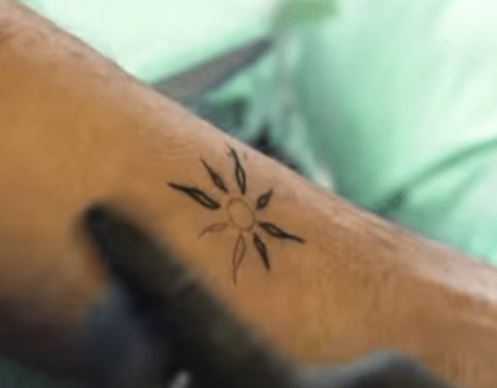 6. Left Forearm Tattoo
7. Snake Tattoo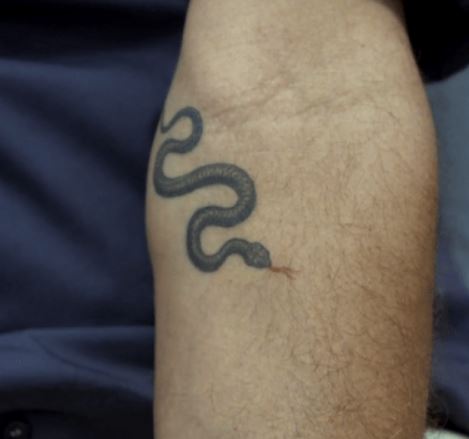 Tattoo: Anthony had a snake tattoo on his left upper arm. This was a couple of tattoo which he and his wife had received from Miami Ink tattoo parlor in South Beach, Florida in 2011. He got the tattoo of a serpent on his left arm whereas his wife, Ottavia got it on her left shoulder. Snake is the symbol of the endless cycle of life and death.
8. Right Forearm Tattoo
9. Right Arm Tattoo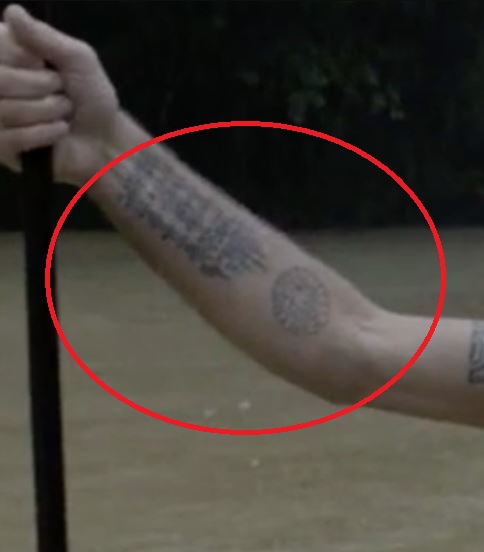 Tattoo: There was a circular design on his right inner arm which he got from Miami. The tattoo included some writing in a foreign language followed by a circular design. The tattoo was believed to be the notion of Epoch (time marked to represent the beginning of some good development) whereas the words when translated into English meant, 'I suspend Judgement'.
10. Shoulder Tattoo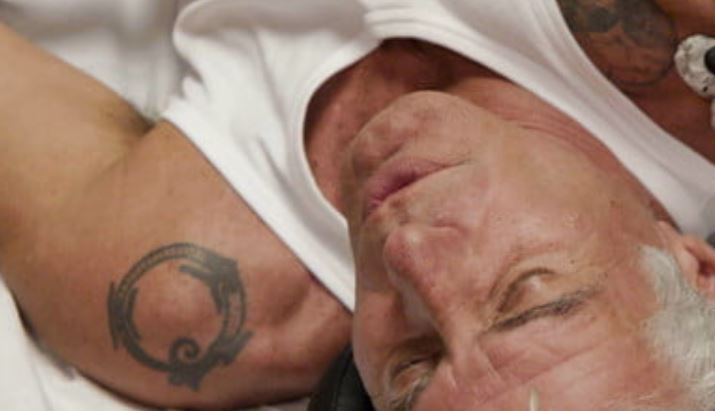 Tattoo: An ouroboros was inked on his left shoulder.
Meaning: Ouroboros represents a snake or a dragon eating its own tail. It is the symbol of infinity and directly focuses on the cycle of death, life, and rebirth. Also, it is the source of encouragement for oneself to keep building yourself and moving ahead in life.
11. Skull Tattoo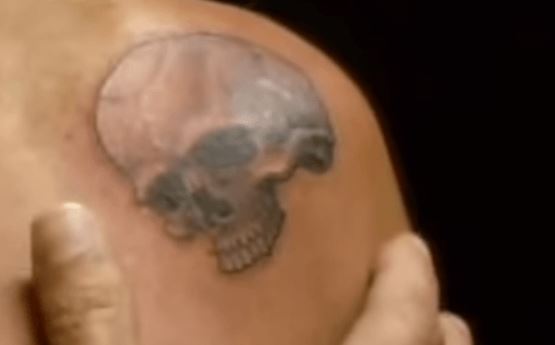 Tattoo: Skull was tattooed on his right shoulder.
Meaning: Anthony had got the tattoo done by the tattoo artist, Chris Garver. Skull is the symbol of death and evil. However, it is also believed to be the symbol of showing confidence and the capability to overcome all the difficulties of life with strength.