Cara Delevingne is a supermodel and a tattoo lover. Her choice is usually a New York based Bang Bang aka Keith McCurdy, who has come into the limelight as the tattoo artist of many A-listers, including Cara's friends Rita Ora and Rihanna.
Here is a short list of many Cara's tattoos.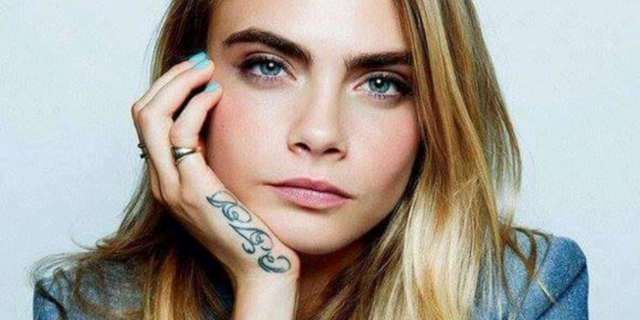 1. Lion Face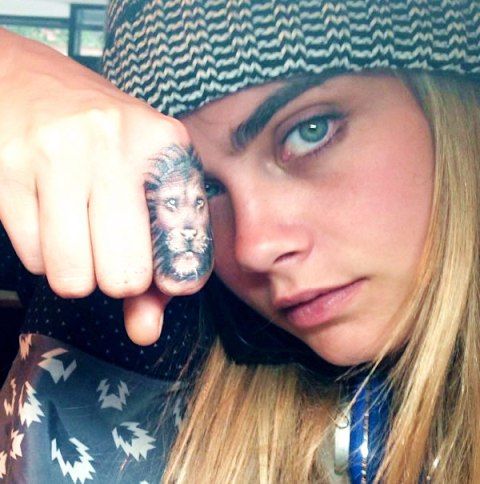 She has a lion-faced tattoo on her index finger. She said, "I'm a Leo. It's the first tattoo I got. I grew up being fearless in everything. I used to climb anything. I lost that (sense of fearlessness) when I started modeling. When you work a lot and don't really know what you want, you just do it because the work is there. I lost that inner fire, so I got the lion to bring that back in my mind."
2. Her Initials
Talk about self-love, this beauty has "CJD" tattooed on her right wrist which by the way are the initials of her full name, Cara Jocelyn Delevingne.
3. Made in England
This tattoo has a very deep meaning for her as with that tattoo she expresses her feelings on being a model.  "You're looked through, you're not looked at, you are treated as a kind of mannequin. I got a tattoo saying Made in England on my foot to represent that I felt like a doll for so long. Because you are just a kind of puppet, you know, entertainment. You kind of feel that you need to have no soul really, to do that job, a little bit.", she said.
4. Pandora's Box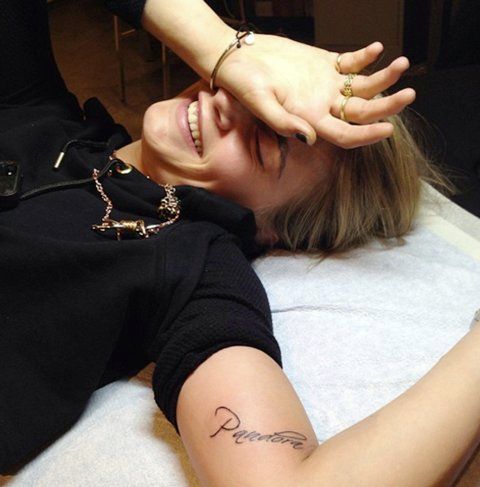 Ah, no! Don't worry, we're not opening any Pandora's box. It, in fact, is the name of her mom which she got tattooed on her bicep.
5. Number 12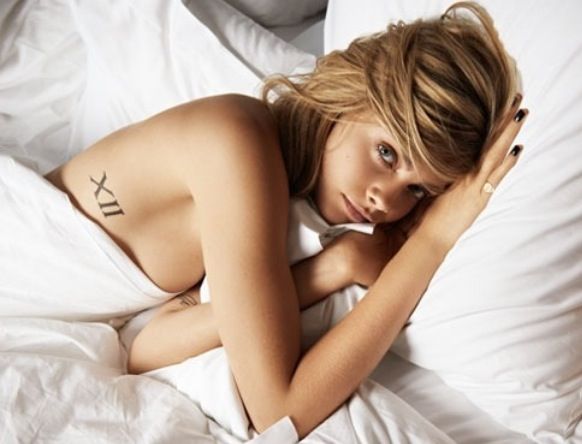 She has a number 12 in Roman numerals on her rib. She says that it is her lucky number.
6. Diamonds
She has a diamond inside her left ear with tiny stars outside.
7. Silence, Please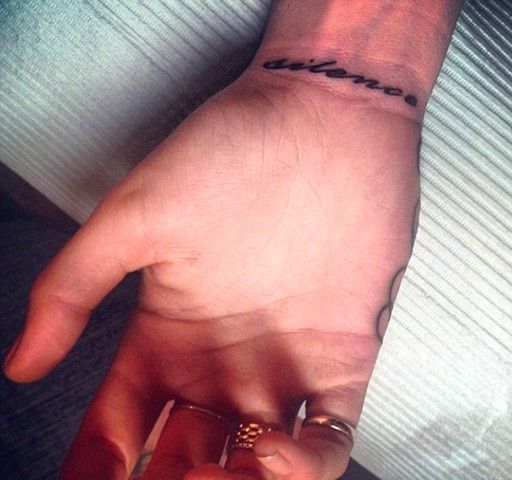 Cara added the word 'Silence' to her wrist claiming, "Silence speaks when words can't".
8. Heart
Cara Delevingne has a black ink tattoo on the side of her left pinkie finger and a large heart in red ink on her pinkie knuckle.
9. Don't Worry, Be Happy
She has "don't worry" tattooed on the right side below her chest and "be happy" on the left side.
10. Magical Symbol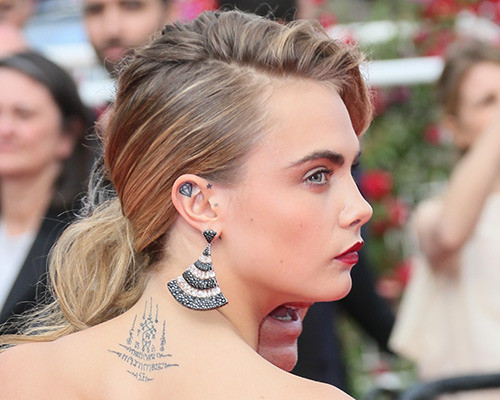 This one is the most complicated tattoo on Cara's lower neck. It is a magic symbol inspired by yantra tattooing.
11. Matching Ones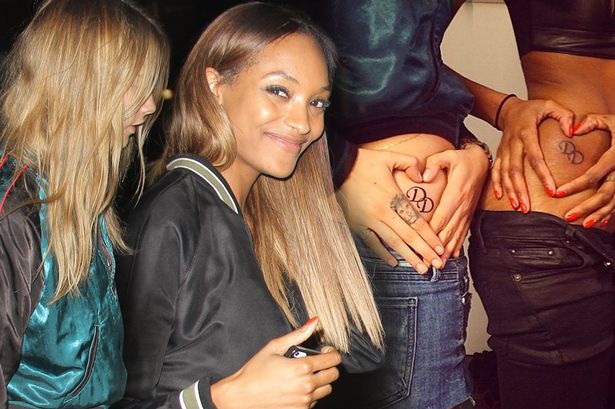 She has the initials "DD" with her friend, Jourdan Dunn on her lower waist.
12. Breathe Deep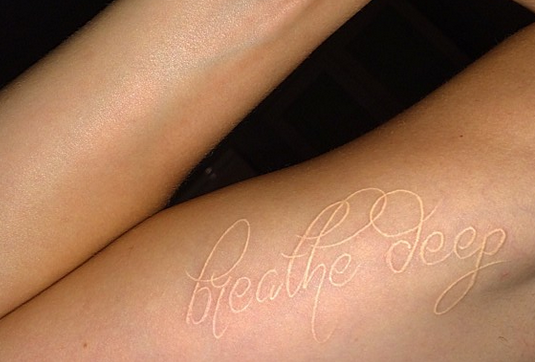 She has a "Breathe Deep" tattoo on her bicep as a reminder to keep her cool.
13. White Dove
She has a dove tattooed in white ink on her index finger.
14. Bacon
She has "Bacon" on the bottom of her left foot. Cara explained, "The tattoo was inspired by my love for bacon, obviously. I think of bacon every five seconds. It's the meatiness. I love the salt. Bacon is love to me. Bacon will always love me back. It's unconditional."
15. Wasp
She has a wasp on the middle finger of her left hand.
16. Coat of Arms
In January 2015, Cara got a tiny coat of arms with a D at the bottom of her rib cage. This was inked by tattoo artist Dr. Woo in LA.
17. Five White Dots
Just above the coat of arms tattoo, she inked five white dots which she said, represents the members of her immediate family.
18. AC
Cara had the initials 'AC' tattooed next to her red heart tattoo. It is thought that this stands for her girlfriend's initials – Annie Clark aka St Vincent.
19. SKWAD
As a tribute to her movie, Suicide Squad (2016), she got "SKWAD" tattooed along with her co-actors.