Carrie Underwood emerged from the promise of her 2005 American Idol win to become a true multi-format, multi-media superstar, spanning achievements in music, television, and film. A seven-time GRAMMY Award winner, she has sold 64 million records worldwide and recorded 26 #1 singles,13 of which she co-wrote. She has also 2 got tattoos on her skin.

1. Four-Leaf Clover Tattoo on lower Right Abdomen
Tattoo: Four- Leaf Clover Tattoo
Meaning: Carrie has inked her lower abdomen with four life clover tattoo filled with green color. But the tattoo was then deformed during the birth of her child. She tells People that the four-leaf clover tattoo on her stomach doesn't quite line up after her C-section. "It's not really a four-leaf clover anymore; it's a multi-leaf. It doesn't match up with the top! And I think most people deal with this after a C-section, there's like a little pooch over the scar. It's something that I'm probably going to have forever".
2. Cat Tattoo on her Left Buttock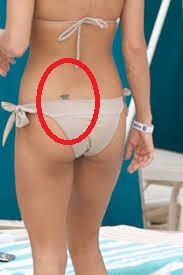 Tattoo: Cat or something like that tattoo
Meaning: Carrie has inked her left buttocks with a cat or something like that creature. She got the tattoo with her sisters after she won American Idol to celebrate. It was to express her immense joy after winning the season.