A circle is an essential form in nature and a prominent tattoo design element. It can represent a variety of symbolic concepts, including the life cycle, perfection, the ouroboros, mandalas, and enso. However, the circle can also be employed as a geometric or aesthetic tattoo design element to produce a straightforward piece of body art or to support the overall layout of a substantial idea. The circle offers virtually limitless potential for the design of stunning and significant tattoos because it is such a fundamental form to greater design in nature, spirituality, religion, and art.
The circle is important in tattoos, tribal, and religious subcultures all around the world. The following article aims to educate you about circle tattoo meaning and practical application so that you may use it as inspiration for your design concept. Many celebrities proudly wear circle tattoos on their bodies that carry special symbolism.
Sia Furler and Circle Tattoo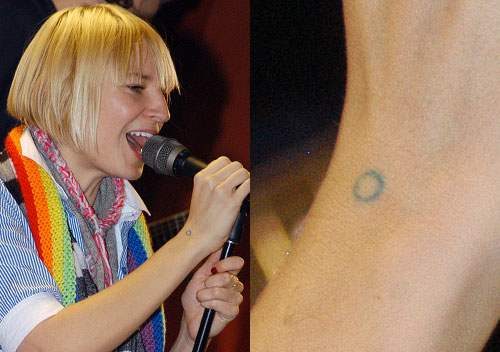 On the back of her right wrist, Sia has a little blue circle that dates from before several of her other tattoos. She hasn't mentioned her interpretation of it, but circles are frequently used as a representation of eternity.
Simone Biles and Her Olympic Rings Tattoo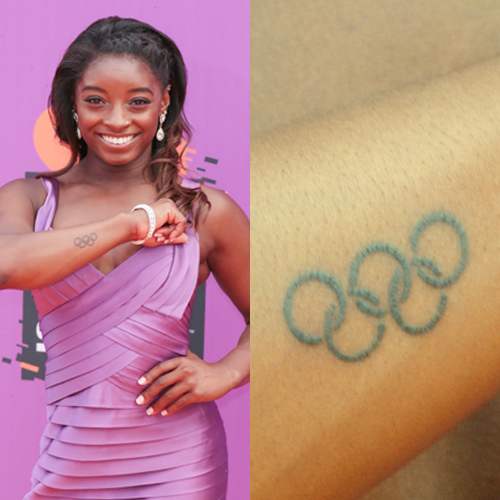 On her right forearm, Simone Biles has an Olympic ring tattoo. Biles is an Olympic Gymnast who has been a consistent performer in the Olympics. She has won the gold medal seven times. This was her very first tattoo that she got in 2017 after her first Olympics in 2016.
Sky Ferriera's Eye of Protection Tattoo
Sky Ferreira has a delicate line tattoo of the eye of providence on her right forearm. The All-Seeing Eye of God, also known as the Eye of Providence, is a representation of God's eye that watches over humanity. It is sometimes depicted as an eye inside of a triangle and encircled by rays of light or splendor. The back of the Great Seal of the United States, which is shown on the one-dollar bill, features a well-known illustration of the Eye of Providence.
Sophie Turner and X-Men Tattoo
Sophie Turner got the X-Men insignia tattooed on her left side as a tribute to her performance as Jean Grey in the X-Men film series. Uncertainty surrounds the timing of her ribcage tattoo, which was initially spotted in May 2016 at the X-Men: Apocalypse premiere in Beijing. Her tattoo displays an updated version of the X-Men emblem, which acts as the logo for Xavier's School for Gifted Children in the movie, as opposed to the original, which has considerably thicker lines. Sophie portrayed a student at the school who was a younger version of Jean Grey.
Vanessa Martinez Elaborate Circle Tattoo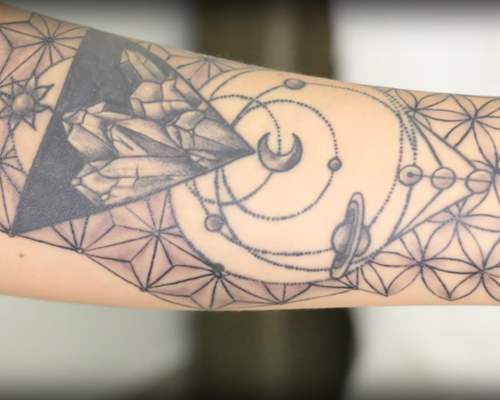 On her left forearm, Vanessa Martinez has a tattoo that is space-related. This was the fourth ink she created, and it relates to a crystal-filled triangle form that was also created at the same time. The space is a reminder of her fascination with space and her earlier dream of being an astronaut, while the triangle is a representation of femininity. Because "3" is a significant number in the universe, she has included the Sun, the Moon, and her favorite planet, Saturn, in that design. She has also included three tiny circles at the bottom.
Zoe Kravitz Simple Circle Tattoo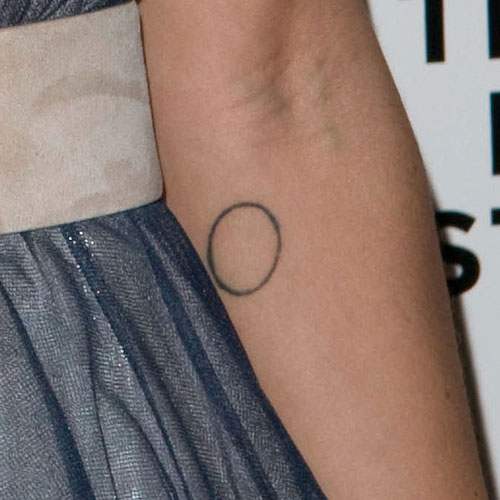 On her left forearm, Zo Kravitz once had a circle tattoo that she later reworked into an eye. Sometimes the most simple designs have the richest meanings. The circle has long served as a potent representation of completion, the wheel of life, and for some, the concept of perfection in ancient imagery, even in the shape of tiny tattoos.
Julia Michaels and her Circle Tattoos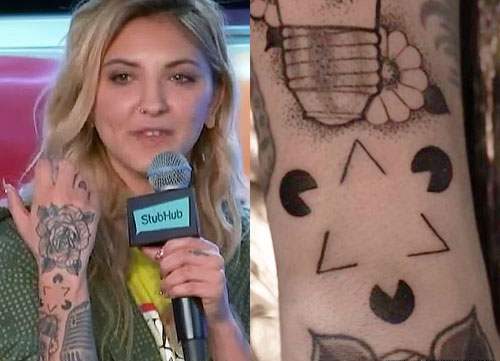 On her right wrist, Julia Michaels has a unique tattoo that features three circles and three V-shapes. Even though the two triangles are not entirely formed, you can still see them in the empty area. Julia was drawn to the design because of this optical illusion. It stands for the capacity of the human mind to see past the obvious.
Kalsea Ballerini and the Square in a Circle Tattoo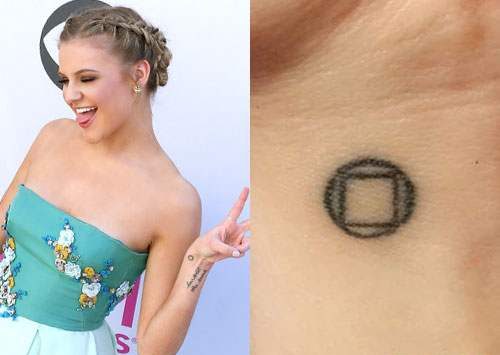 On her left wrist, Kelsea Ballerini has a tattoo of a square inside a circle as a homage to her song "Square Pegs" and its message of individuality. Kelsea is not the only one who has a sense of alienation. She attempted to express a mood that everyone occasionally experiences when she penned this song.
Kiersey Clemons Cross and Zero Tattoo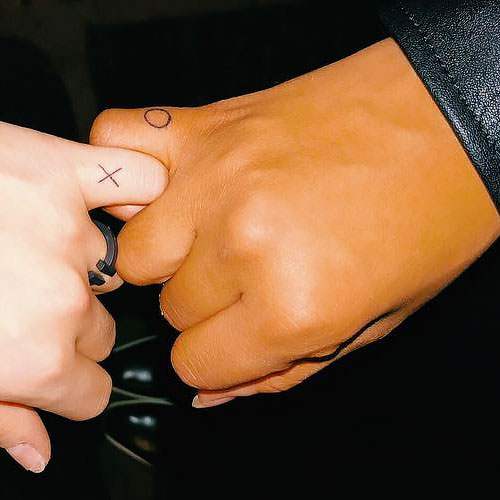 Dove Cameron and Kiersey Clemons both have identical "X" and "O" knuckle tattoos that stand for love and hugs. During one trip to Las Vegas in January 2017, the two buddies received tattoos on their pinky fingers.
Kristen Many's Mandala Tattoo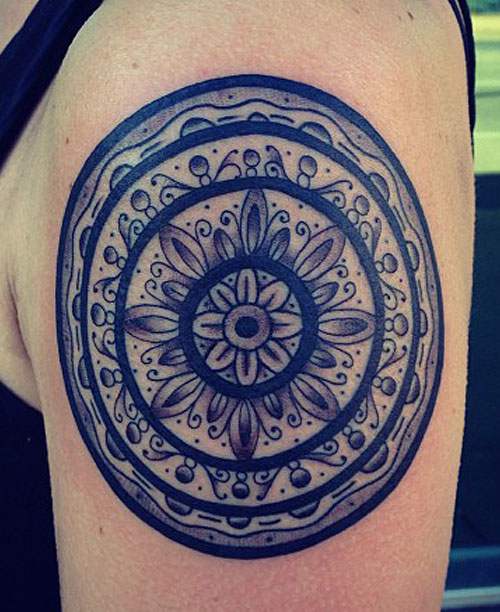 In December 2012, Kristen May had a spherical mandala inked on her left upper arm. Although a mandala is sometimes seen as a symbol of harmony, eternity, and perfection, its meaning isn't firmly established. The mandala symbol has been employed by many cultures in their teachings as a means of advancing that comprehension of balance.
Lacy Sturm Bold Circle Tattoo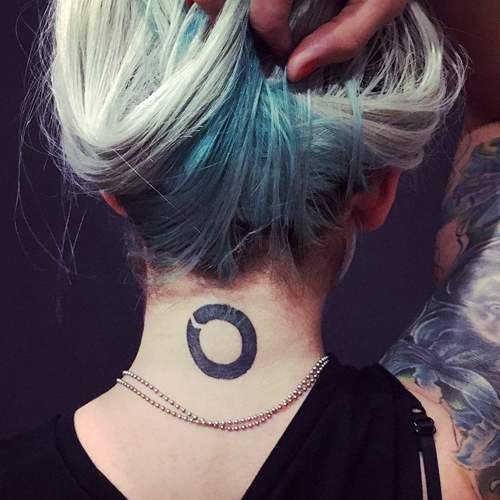 Lacy Sturn got this tattoo to honor @jesusisthereset. So she writes in one of her posts explaining the meaning of the tattoo. She states, "My @jesusisthereset tattoo is a symbol of my commitment to the message that God considers every human worth dying for, worth forgiving, and worth giving a chance to start over fresh and new in their soul, to be born again of The Spirit if only we are willing to admit we need a RESET and ask Him for it. So we are asking for healing and renewal tomorrow for our hearts, our nation, and our world. His forgiveness is a gift to all who ask. God's forgiveness was bought for us all by the blood of Christ. And when we encounter the love and kindness of God, we can't help but fall in love with Him back and feel his love for others. His perfect love casts out all fear and brings hope that rises to eternity. I believe in tomorrow so much."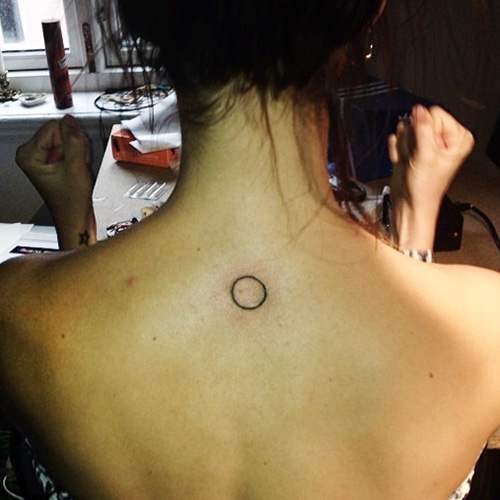 MØ's simple circle tattoo carries a lot of significance. Everyone in the world is familiar with the circle as a symbol. The circle tattoo has several symbolic connotations, including perfection, fullness, and totality. A large part of this derives from the fact that a circle completes the path by going around and connecting with itself. The infinite, God (in terms of divinity), timelessness, the Self, and all cyclical movement is likewise believed to be represented by it.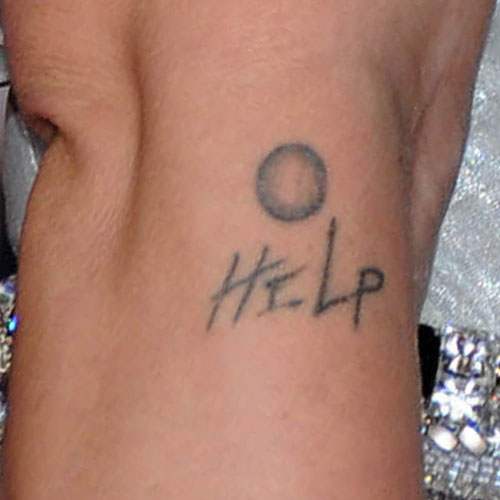 On her right elbow, Pink has the phrase "HELP" and a little panic button inked. In one of her interviews, she goes on to state that this tattoo was a "button" that she and her friend had gotten while they were drinking.
Scarlett Johansson's Interlinked Circle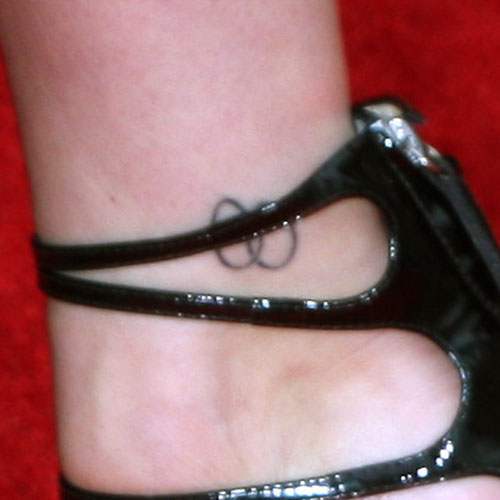 On her right ankle, Scarlett Johansson has two interlocking rings tattooed. This less obvious tattoo, which is located on the inside of Johansson's right ankle, doesn't draw as much notice as some of her other ink. But Johansson hasn't said what the "A" might signify.
Scarlet Johannson's Colorful Tattoo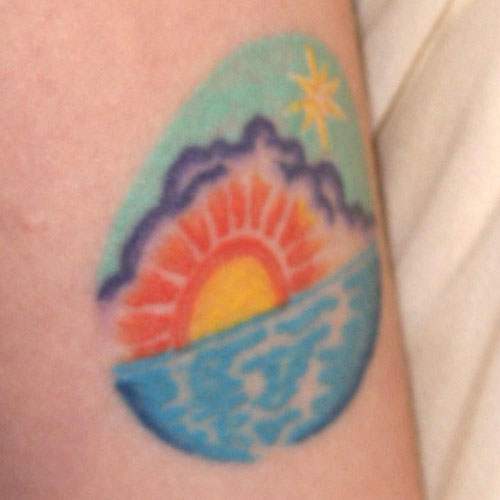 On her left arm, Scarlett Johansson has a circular tattoo of a sun setting in front of water that is pastel in tone. The dawn on the forearm is a vibrant, colorful design unlike any of her previous tattoos, and she has spoken about it. She told in an interview with Zimbo that "I've had the tattoo of a sunrise on my arm for a while. It makes me happy when I look at it, but the reason I had it done is very personal. Some things have to remain private."
Alison Porter and her Phases of Moon Tattoo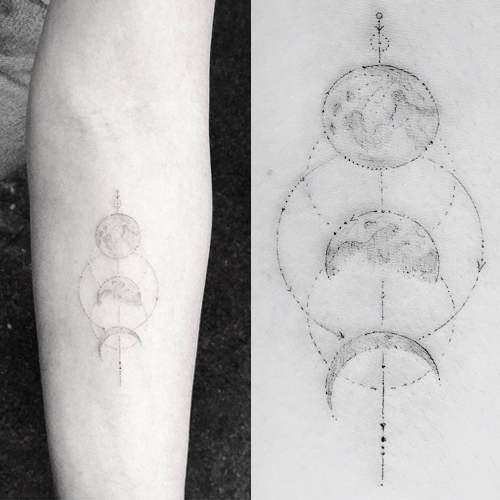 Alison Porter has these phases of the moon on her forearm. There is only one simple truth in life: the moon influences and stimulates everything. The connotations of the moon phase tattoo are similar to those of the heavenly and coffin tattoos in that they might symbolize magic, purity, dreams, mystery, shadows, and eternity.
Alyssa Milano Snake Circle Tattoo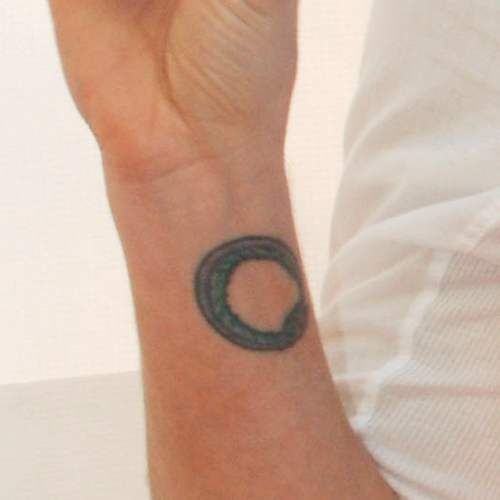 Alyssa Milano has a tattoo of a green and purple snake chewing its tail in a circle on her right wrist. An "Ouroboros" is the name of this emblem, which was utilized in ancient Greece and Egypt. It stands for the cyclical character of both life and the cosmos.
Asia Argento Outline Circle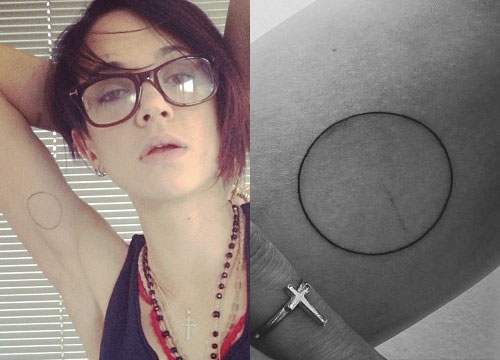 Asia Argento wears the circle proudly on her bicep. The circle stands as a representation of matriarchy and feminism.
Frances Bean Cobain's Abstract Circle Tattoo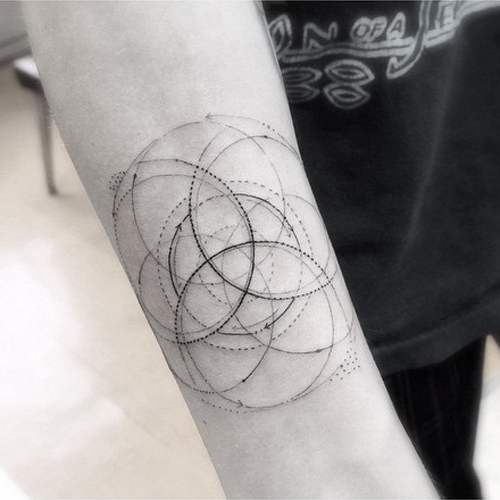 Dr. Woo inked an abstract space circle design on Frances Bean Cobain's forearm. These abstract circles represent various things like a circle of life, the karmic circle, etc. The design is a combination of lines and dot work.
Gillian Anderson's Outline Circle Tattoo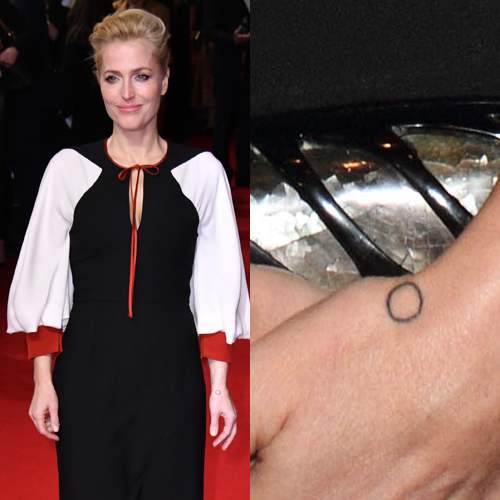 On her left hand, Gillian Anderson has a little circle with a thin outline. The circle tattoo has a strong symbolic meaning. You are transported back in time by it. This design will represent the end of a life cycle if you want to depict the accomplishment of a wonderful life. Everybody leads a particular existence. A person refers to their life as perfect when they are happy with what they have accomplished so far. The artwork also shows how lovely life is.
Jackie Cruz and her Circle Tattoo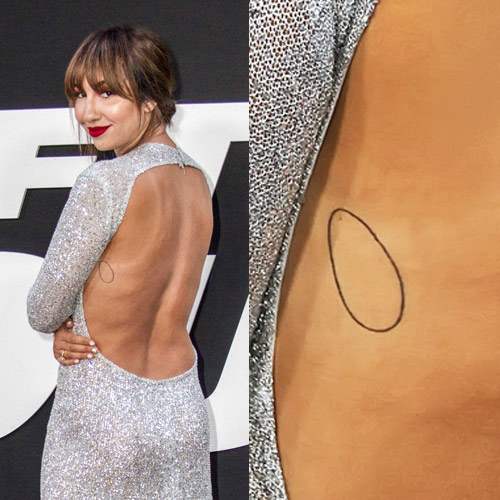 On her left rib cage, Jackie Cruz has an inked circle with a border. The single-circle tattoo is the perfect example of how you can style your minimalist tattoos.
January Jones Circle Tattoo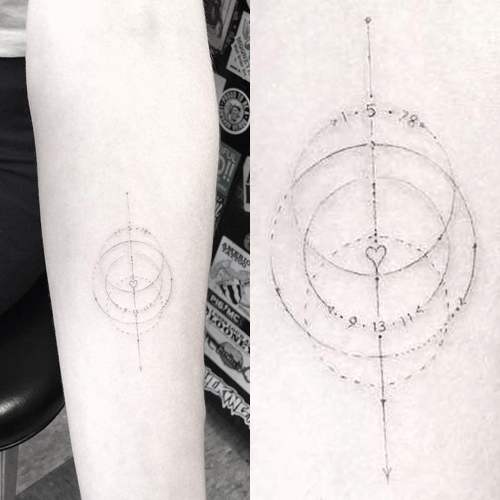 On her left forearm, January Jones received a half-needle tattoo with concentric circles bearing dates, an arrow, and a heart. She and her son Xander's birthdays are engraved inside the two rings of the tattoo, which was created in their honor.
Jenna Ushkowitz and Her Circle Tattoo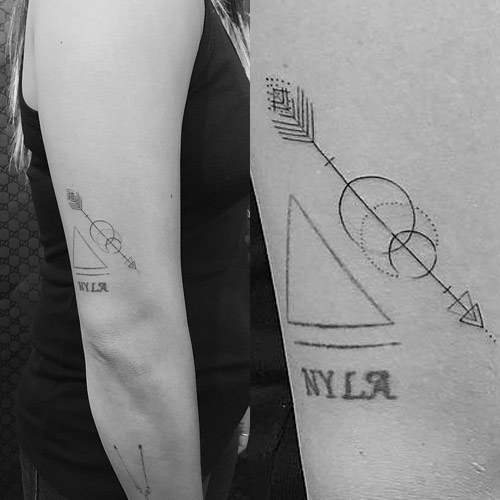 Above her "NYLA" elbow tattoo, Jenna Ushkowitz put a triangle and one arrow with circles. Arrow through the circle is a very common tattoo depicting protection. The arrow is pointing downwards which according to some cultures represents peace.
Jessie J and Her Circle Tattoo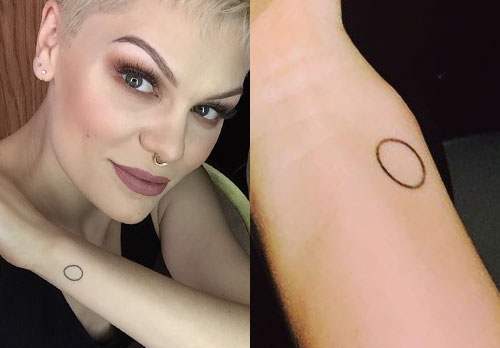 On her left wrist, Jessie J has an open circle tattoo that matches those of her mother and father. In November 2015, the English singer and her parents paid the musician Bang Bang a visit while they were in New York City. Although Jessie J already had four tattoos, it appears that her parents wanted them first. The circle tattoo is described by Jessie as "an incredible meaningful simple tattoo." She even uploaded the video on her Instagram.
Jessie J and Knot and Zero Tattoo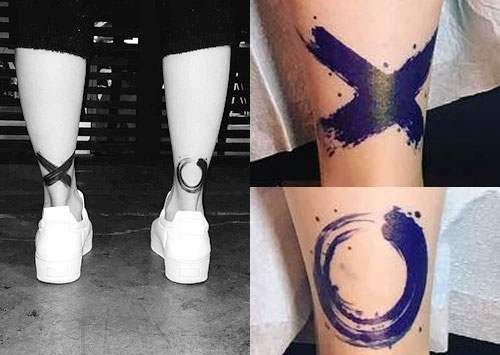 Jessie J painted a huge "X" and "O" consisting of brushstrokes over the small stick figure tattoo she had on the back of her ankle in December 2015. She returned to the tattoo artist Bang Bang who had just a few weeks earlier inked her and her parents' wrists with identical circle tattoos.
Circle tattoos are becoming more and more well-liked. You can't go wrong with circle tattoos if you're seeking a good tattoo design. The possibilities for circle tattoo designs are virtually endless because they come in so many various shapes and sizes. You can find just what you need here.