Carson Daly is an American Television Host, Radio Personality, Producer and Television Personality. He was most famously known for his late night show- Last Call With Carson Daly. Carson Daly has a unique collection of tattoos. Let us now further about them.
1. One-eyed Jack On His Right Arm
Carson designed the tattoo himself and got it inked. The tattoo is made for his son Jack Daly as the tattoo has many Jack references with Jack Daly written at the bottom of it and his date of birth on the top. Above the name is an image of a warrior in his left profile.
2. Love For New-york On The Right Wrist
Carson has letters NYC inked on his right wrist which shows the proud he takes in being the yorker(New-york resident).
3. Tribute To Father On Right Arm
Dali has the initials of his father's name Jack Daly inked on his right inner arm along with a crucifix. His father worked as a Corvette dealer and hence the tattoo has been designed after the hood ornament of a 1977 model Corvette.
4. US Army Special Forces Logo On Left Arm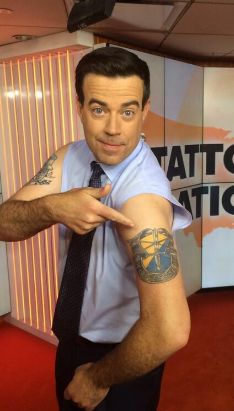 Dali is a proud American and it shows in his tattoos. He has DE OPPRE SSO LIBRE inked with the flag of US special forces flag. When translated in English it reads "To free the oppressed". Dali's grandfather was a green beret in the special forces. This tattoo is for him.
5. Name Of Niece On Left Arm
Carson has the name of his niece Jaden Patricia inked on his left arm. Patricia is also his mother's name. The tattoo is inked in cursives.
6. Name Of His Father's Favorite Drink On Left Wrist
Carson Dali has a tattoo on his left wrist which reads Curly Sark which is his step-father's favorite drink along with its bottle logo.
7. 456 On His Left Leg
Daly has the name of a record label 456 on his left leg. He got it inked to remember the amazing time he had in NewYork City.
8. Crab On Right Leg
Carson has a tattoo of crab just over her ex-girlfriend's name on his right leg near his ankle.