Chauncey Ray Billups is an American professional basketball coach and former player. He was drafted by the Boston Celtics in 1997 and is a five-time NBA All-Star. He has represented several teams during his career such as Detroit Pistons, New York Knicks, Los Angeles Clippers, Toronto Raptors, Denver Nuggets, and Minnesota Timberwolves. He currently coaches the Portland Trail Blazers in the NBA. He was nicknamed, "Mr. Big Shot" during his time with Detroit.
Chauncey has some interesting inks on his body. Let us take a look at them and the meanings behind them.
1. 'King' Tattoo
Tattoo: Chauncey's left shoulder and upper arm have a tattoo of a boy on them. The boy has a basketball in his right hand and a crown upon his head. He is seen wearing the no.4 jersey and also has a staff in his left hand. The words, "King of the Hill" are also tattooed with the boy. There is also a word tattooed on his bicep.
Meaning: The tattoo of the boy represents himself and his goal of becoming the best in the NBA.
2. 'Masks' Tattoo
Tattoo: The right shoulder of the player has the word, "Smooth" tattooed on it. There is also a tattoo of a pair of masks on his upper right arm. One of the masks has hearts for eyes and represents love and the other one has dark eyes representing hate. The words, "Loved By Many, Hated By Few" are also tattooed with the masks.
Meaning: The tattoo of the masks represents how he sees himself which is also shown by the quote.
3. 'Pain and Fame' Tattoo
Tattoo: There are words tattooed on the back of both of his upper arms. The words on his left arm are, "NO PAIN" and the ones on his right arm are, "NO FAME"
Meaning: The tattoo of the words on his arm represents his own twist of the famous quote, "No Pain No Gain"
4. 'Family' Tattoo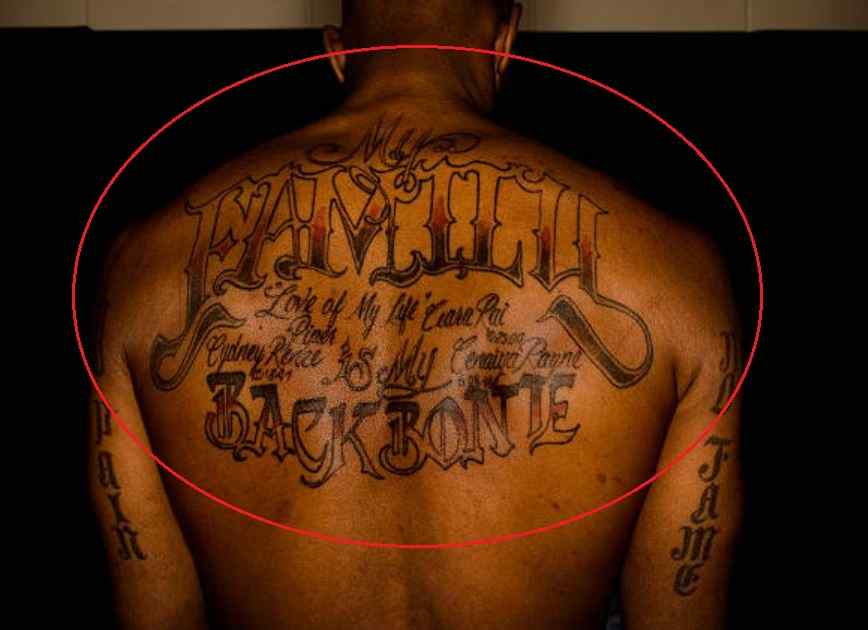 Tattoo: The back of the coach has his biggest tattoo. The quote, "MY FAMILY IS MY BACKBONE" is tattooed on his upper back. His back also has the words, "Love of my life, Piper" tattooed on it along with the names, "Ciara Pai, Cenaiya Rayne, and Cydney", The names, Cenaiya and Cydney also have dates tattooed below them.
Meaning: The tattoo of the quote on his back represents his love for his family. The rest of the words on his back are dedicated to his spouse, Piper Billups, and his three beloved daughters, Cenaiya, Ciara, and Cydney.