You may know her from the cutest star in "Barney & Friends" growing up to the sensual singer of "Body says," Demi Lovato is a singer, songwriter, and actress who has raised in front of Hollywood. Covering her journey from Disney to being an amazing singer and star, Demi is not just known for her singing talent; she is also popular for great and meaningful tattoos which showcase her beliefs and struggles and help her cope up with them positively.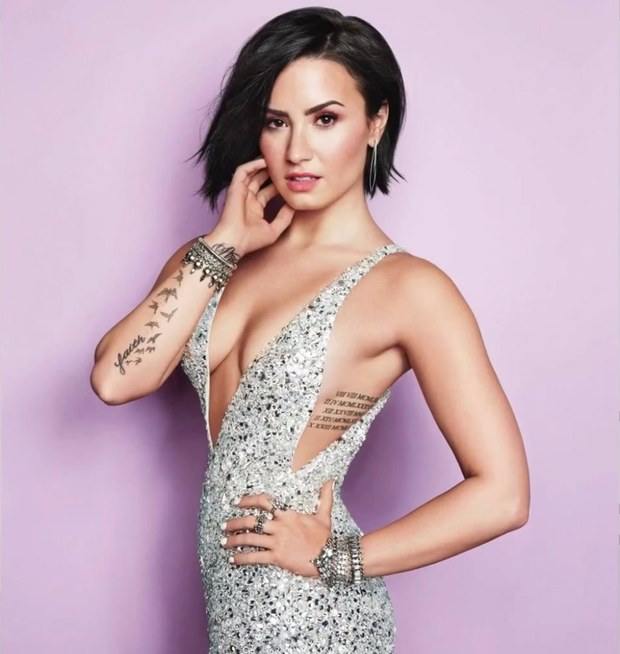 1."You make me beautiful" on her side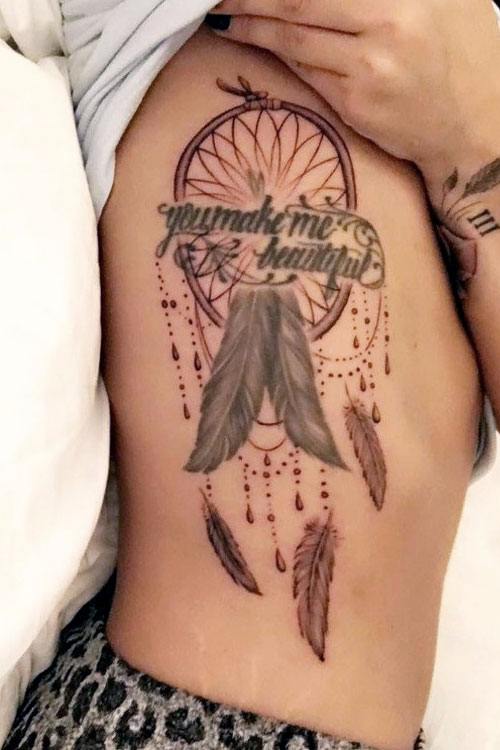 One of the very first tattoos of Demi which she got at the age of 16, was the wording "You make me beautiful" on the right side of ribs. It's from the famous song "Beautiful" by Bethany Dillon and seems to be very encouraging words to this star. This tattoo has been added twice, once with feathers and then by a dream catcher making it into a huge tattoo in the year 2016 by famous tattoo artist, "Bang Bang." Adding a dream catcher had religious meaning to Demi and gave her strength. It also has additional feathers and beads making it into an exquisite design.
2. A feather behind her ear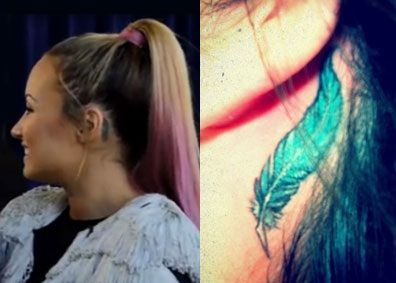 Demi got a turquoise feather tattoo behind her left ear which she says has no meaning but was just for fun. Demi says she liked the design and thought it was rather cute as a tattoo.
3. "Stay Strong" with a heart on her wrists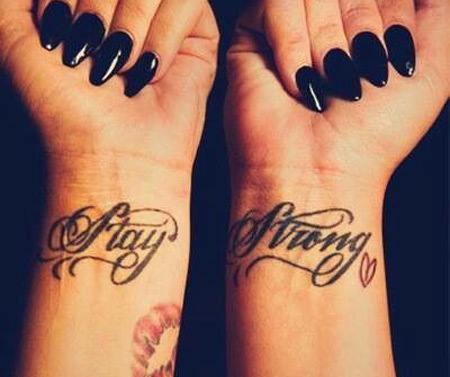 One of the most significant tattoos of Demi is "Stay Strong" written on her wrist which she got in 2011. This particular ink is very important to her as it reminds her to be positive. She got this tattoo soon after she came out of rehab for her problems with cutting and bulimia and got it inked on her wrist where she used to cut herself. She says that tattoo is symbolic to her and she wanted to cover up her bruises and replace them with something permanent.
4. Lips on her wrist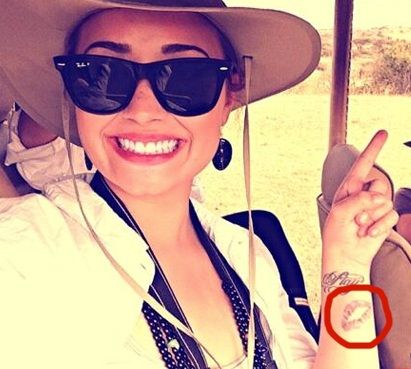 In a series of serious tattoos of Demi, she also got a fun and playful tattoo which is a red lip tattoo on her left wrist. She got this with her friends Hanna Beth Merjos, Ivey Ensley and Lauren Pietra and ink is on Ivey's lips. Even though it was a friendship tattoo, she claimed she hated it and got it covered with a rose tattoo in 2015.
5. A cross on her hand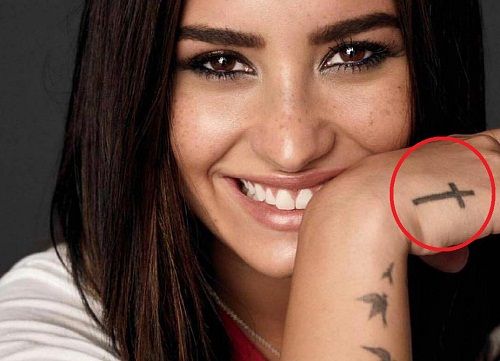 Demi got a black cross inked on her right hand in the year 2011 to show her devotion towards Christianity.
6. Feathers on her side
The first tattoo of Demi, "You make me beautiful" got the addition of beautiful feathers on her side which were precisely added to enhance the beauty of her previous tattoo.
7. "Peace" on her finger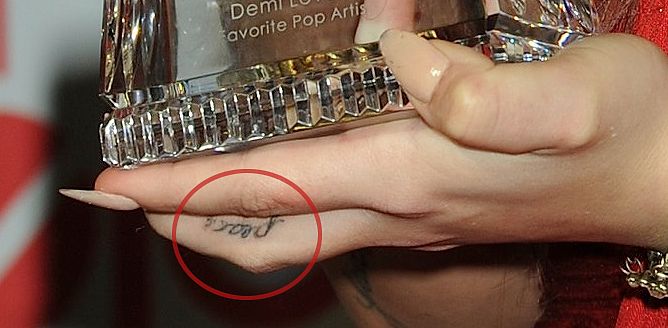 Demi got the word 'Peace" inked on the side of the middle finger of the left hand. The tattoo is written in a script font and is wearing off little by little because of the unusual spot which causes the ink to fade away. It makes up the discreet tattoos of Demi.
8. "Rock N Roll" on her finger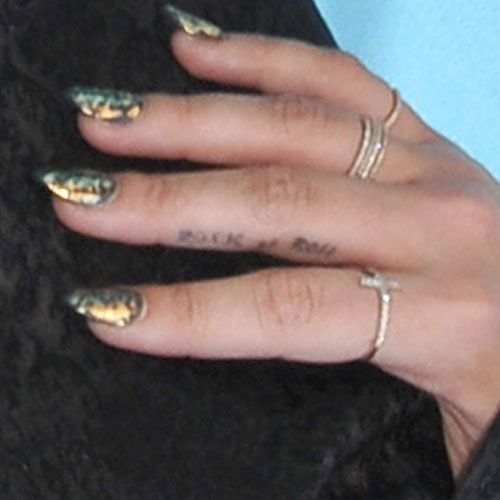 The star got the words "Rock n Roll" tattooed on the middle finger of her right hand. She says she is a big fan of rock and roll music and that's why got it inked. It is similar to her friend's, Hanna Beth Merjos tattoo. Demi also said that she would consider getting laser tattoo removal for this particular ink.
9. "Faith" on her arm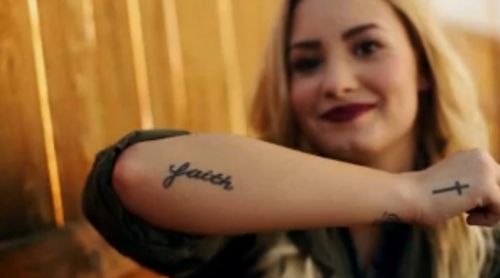 Demi Lovato also got the word "Faith" inked on her right arm just below her elbow. It was among her first tattoos. It is also a matching tattoo which she got with her friend Lauren Martin. She met this friend in Timberline Knolls during her treatment.
10. "Let Go & Let God" on her feet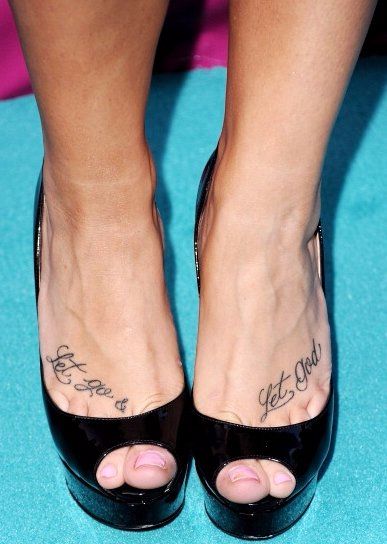 In September 2012, Demi got the words "Let Go & Let God" inked which follow through both feet where Let Go is on the right and Let God is on the left.
11. A flock of birds on her arm
Making it one of the huge tattoos, Demi got a flock of 12 birds inked on her right forearm surrounding her previous "Faith" tattoo. The birds signify freedom to her and the 12 birds which were not intentional while she got them are supposedly connected to the Alcoholic Anonymous 12 step recovery program. So she called this tattoo the step towards her freedom from substance abuse. This design of tattoo appeared in Demi's book, "Staying Strong: 365 Days a Year".
12. "Now I'm A Warrior" on her shoulder blade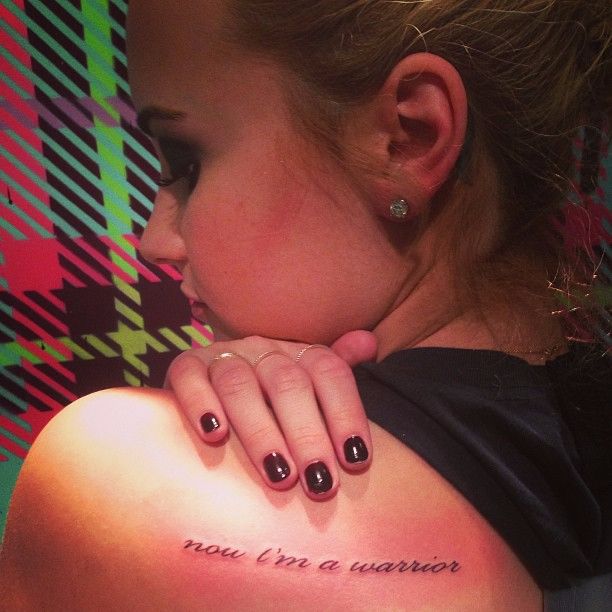 Demi got a tattoo "Now I'm a warrior" on her shoulder blade from the tattoo artist, Bang Bang in the year 2013. This particular tattoo is her dedication to her album "Warrior." She also has a song in the album with the same name which talks about her personal struggles and is very close to her heart as it brings out the positive vibes in her.
13. A Roman Numeral "III" on her left wrist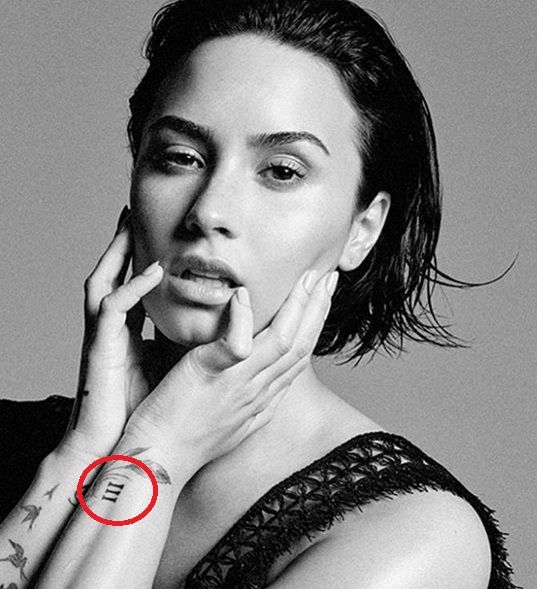 Demi got a Roman number III on her left wrist in honor of his father. Her father died in June 2013 after a long battle with cancer. She chose this number as this was her father's favorite number. Her father was a fan of NASCAR racer Dale Earnhardt, who drove car number 3. Even though Demi was not very close to her father, she wanted to honor him after his death.
14. An outline of Africa on her elbow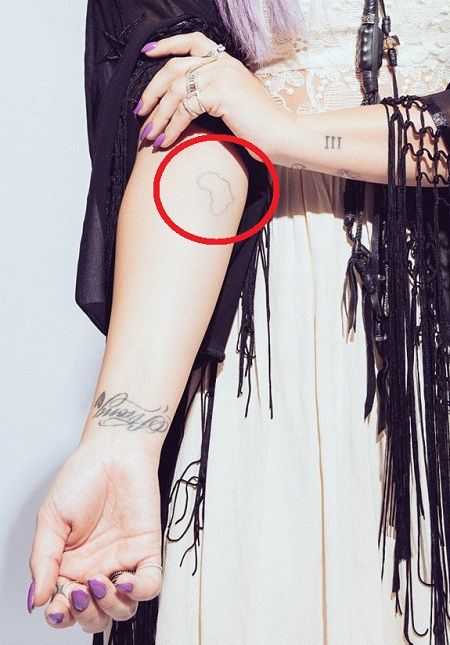 Demi got an outline of Africa as a tattoo on her right elbow. She got this tattoo commemorating her 21st birthday which she celebrated in Kenya. She went to Kenya with the charity, "WE" and helped to build a school. This trip was very special to Demi and having it tattooed meant a lot to her.
15. Roman numerals on her side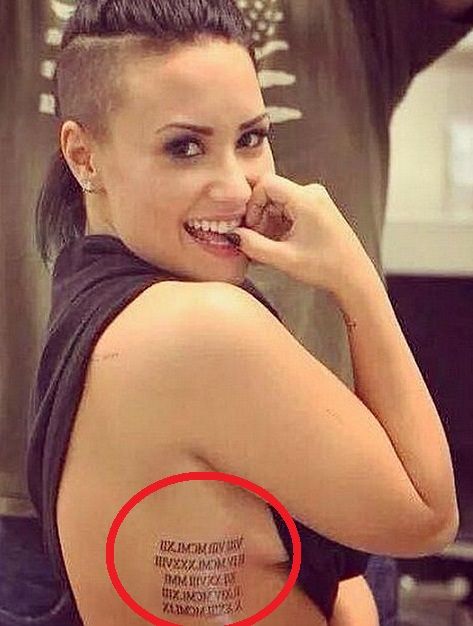 Demi Lovato got 5 dates inked on her side in Roman Numerals from the tattoo artist, Bang Bang. These dates signify the birthdays of her family members. The dates inked were VIII VIII MCMLXII– 8/8/1962 (Mother's Birthday), II-IV MCMLXXXVIII– 2/4/1988 (Older Sister's Birthday), XII XXVII MMI – 12/27/2001 (Younger Half Sister's Birthday), II XIV MCMLXIII – 2/14/1963 (Step Father's Birthday), XXXIII MCMLX – 10/23/1960 (Biological Father's Birthday).
16. Rose on her forearm
Demi got a gray rose tattoo on her forearm in the year 2015. This tattoo was a cover-up for a kiss tattoo of Demi. This ink also has dark black leaves surrounding it.
17. Second rose on her forearm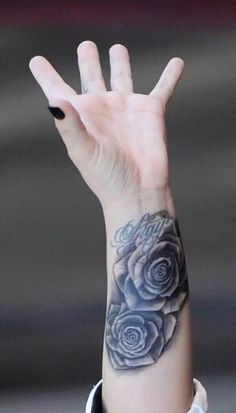 In the year 2016, Demi got another Rose tattoo to add to the existing one from the tattoo artist Bang Bang. The added tattoo has leaves that spread up to the backside of her arm, next to the "III" tattoo.
18. "Buddy was here" on her foot

In the year 2015, Demi got a writing tattoo on the inside of her left foot with the words "Buddy was here." This tattoo was in memory of her beloved dog Buddy who was killed in an accident. The dog was very close to the singer, and she wanted to give her a tribute with this tattoo.
19. A smiley face on her pinky finger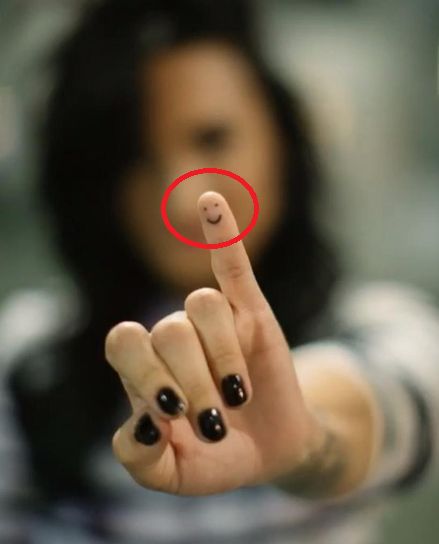 The long list of Demi's tattoos ends with a sweetest smiley face tattoo on the inside tip of her pinkie finger. This tattoo has no serious meaning to it, and Demi said, "Cause life's too short not to tattoo your pinky."
20. Dainty Rose on Index Finger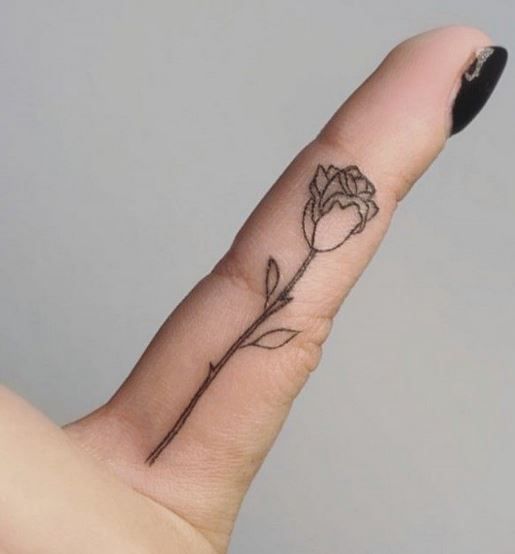 In January end of 2019, Demi got a "Daisy Tattoo" inked on her index finger by the LA-based tattoo artist, Winter Stone.
Demi completed 6 months of sobriety on 26 January 2019, this tattoo is perhaps a tribute to the 6 months of sobriety.
21. Infinite Universe Lyrics Tattoo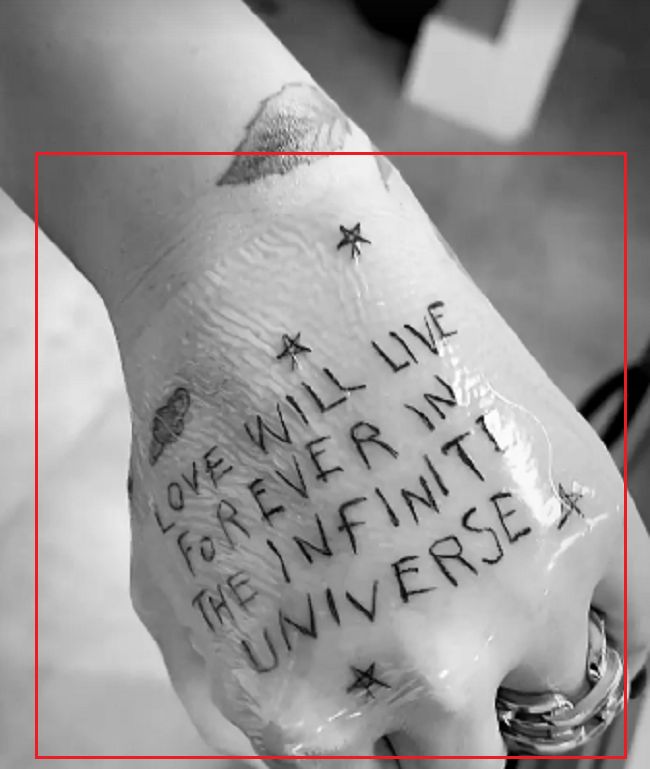 Tattoo: 'Infinite Universe Lyrics' tattoo on her left hand.
Meaning: In late August 2021, Demi revealed in her Instagram story that she got the tattoo of the lyrics of the song 'Infinite Universe' by Beautiful Chorus. She got this tattoo inked by the tattoo artist, Dr. Woo. Along with the lyrics, she got the tattoo of tine stars and Saturn planet inked on her hand.
22. Tattoo on her back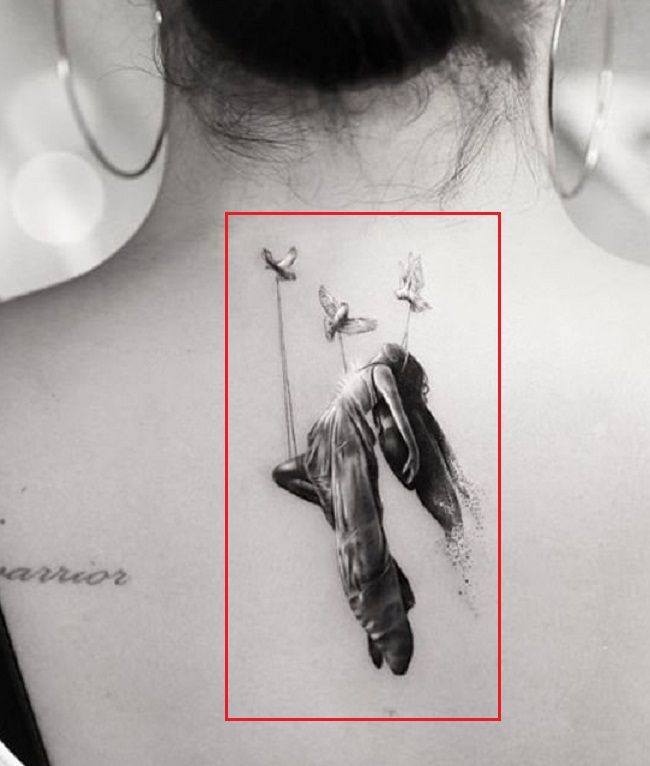 Meaning: Demi got this tattoo inked by the tattoo artist, Alessandro Capozzo. In one of her Instagram posts, she said,
Getting tatted by him was an experience I've never had before.. no idea what I was going to get done, I told him about my life and where I was at in that moment and we created a combination on images that best symbolized the spiritual awakening I was having. Having a fallen angel being lifted by 3, pure, angelic doves (the Holy trinity) as her inner light is being guided by a higher consciousness, and the disintegration of her dark wings was representing the darkness I was shedding."
23. 'survivor' Tattoo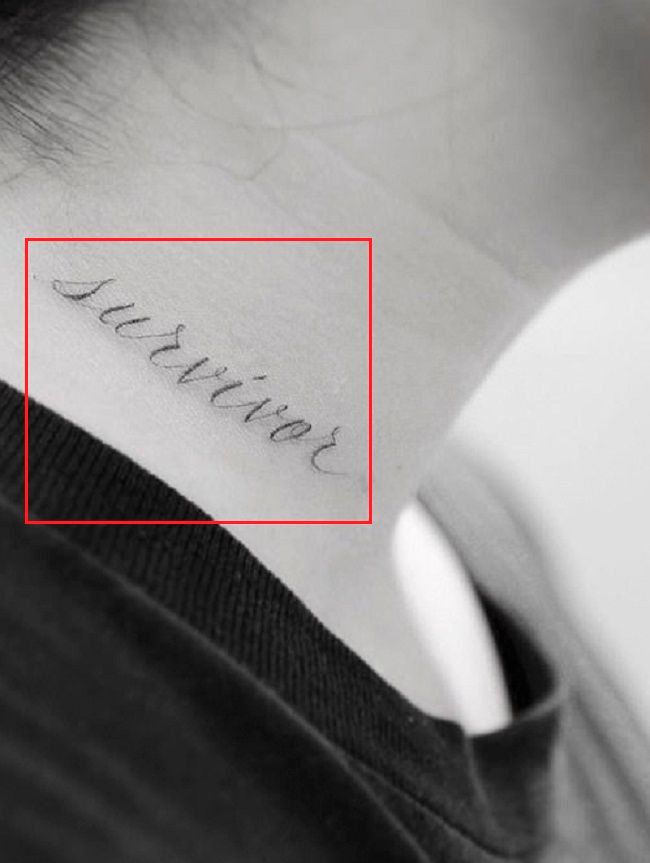 Tattoo: 'survivor' on the right side of her neck.
Meaning: Demi had face several health issues related to depression, eating disorder, addiction, and self-harm but was still able to overcome all these with her willpower. So, in December 2019, she got the word 'survivor' inked by the tattoo artist, Dr. Woo.
24. Tiger Tattoo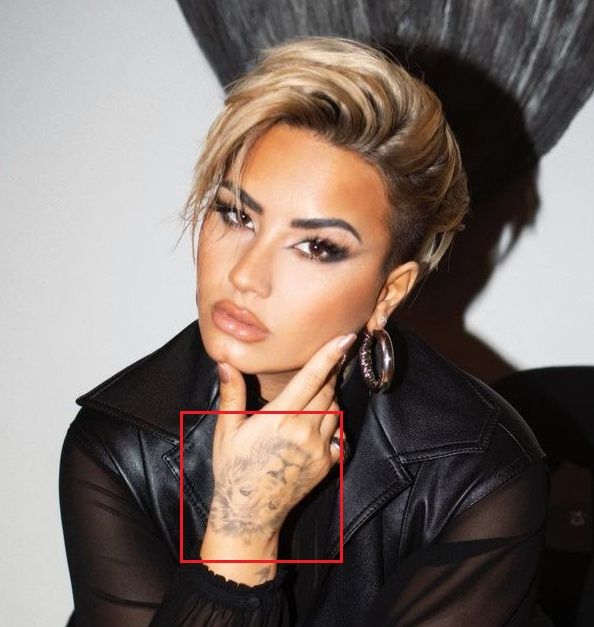 Tattoo: 'Tiger' tattoo on her right hand.
Meaning: Demi got this tattoo inked in 2017. Tiger tattoo symbolizes power, strength, wisdom, authority, and independence.
25. 'free' Tattoo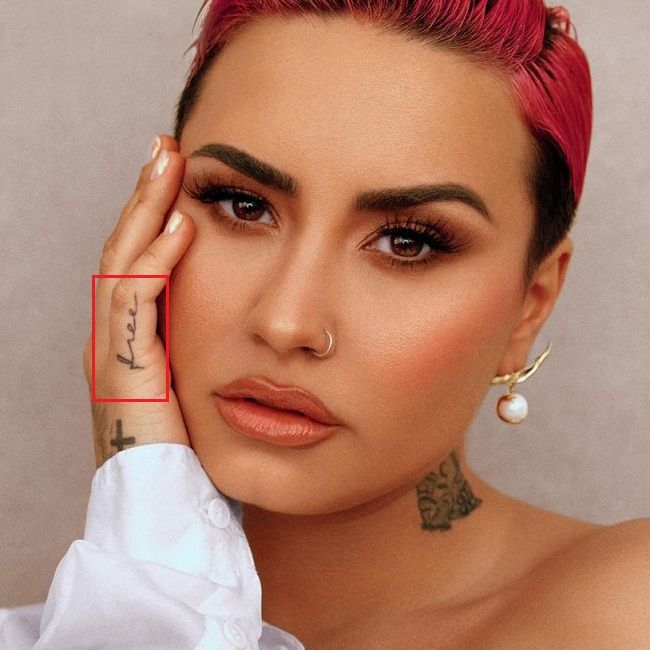 Tattoo: 'free' tattoo on her right pinkie finger.
Meaning: Demi got this tattoo inked in June 2018 along with the members of her team.