From her angelic voice to her gorgeous hair and beauty, Ariana Grande is one of the most famous and talented singers in recent times. With many hits in the music industry, the star is quite young and immensely talented. Apart from being a good girl image of the star, she is also known for her tattoos which show her love for the ink and her music and beliefs.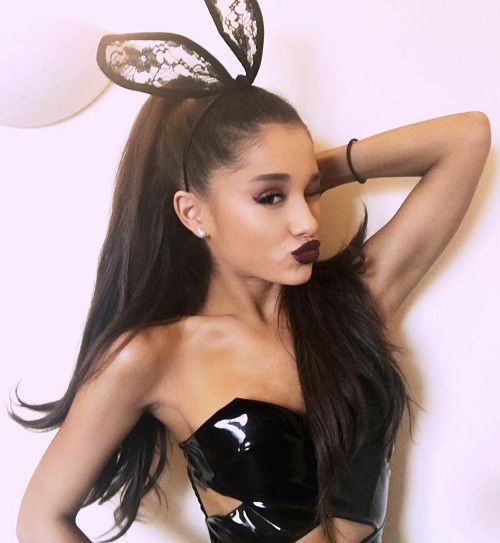 Let's check out some awesome ink of the singer which shows another part of Ariana.
1. Toe Heart Tattoo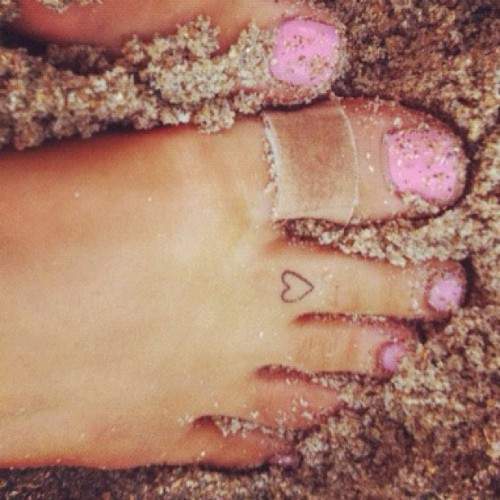 The very first tattoo Ariana got was in the year 2012 while she was recording her debut album, 'Yours Truly.' She got a heart-shaped tattoo on her toe as a reminder of a great time in her life. Some said that this tattoo was inspired by the "Tattooed Heart" song in her album.
2. Mille Tendresse Tattoo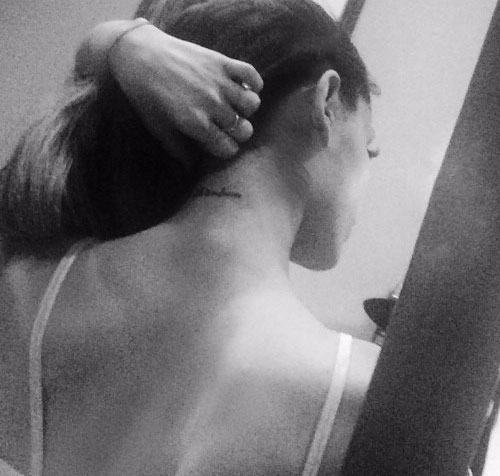 Ariana got a French Tattoo from the tattoo artist, "Romeo Lacoste" which reads "Mille Tendresse" which means "A Thousand Tendernesses." She got this writing done on the back of her neck on the same day when her brother Frankie Grande got a tattoo as well. This particular saying is also used in a famous movie "Breakfast at Tiffany's" which is apparently Ariana's favorite.
3. Bellissima Tattoo
Ariana also got a tattoo of "Bellissima" on her side in small letters. It was her nickname that her grandfather called her. In a way, this tattoo is dedicated to her grandfather, Frank Grande. She got this tattoo during a house party where many of her friends got their first tattoo, and the singer called it a "bonding experience."
4. Crescent Moon Tattoo
Ariana got an outlined Crescent Moon Tattoo below her left ear on her neck. One of her good friends and a dancer, Brian Nicholoson also got the same matching tattoo. She got this tattoo in dedication to her favorite song "Moonlight" which is very close to her heart.
5. Honeymoon Tattoo 
Ariana got the words "Honeymoon" tattooed on the side of her right middle finger. The tattoo is in beautiful cursive writing. She got this tattoo during her "The Honeymoon Tour" and is in reference to her favorite song written and recorded "Honeymoon Avenue."
6. Tattoo in Hebrew Script
Ariana got a rather interesting tattoo along with the "Honeymoon" tattoo. This tattoo is also on her right-hand ring finger and has a phrase in Hebrew. It reads "dalet lamed aleph" which is the tenth name in the 72 names of God. This tattoo signifies Ariana's faith which is Kabbalah and the name "protects from the evil eye and bad dreams, and helps in the rebirthing process."
7. 2nd Heart Tattoo 
Ariana got a second heart outline tattoo in 2015 on her right ring finger. She flaunted her tattoo on her Honeymoon Tour.
8. "Hi" Tattoo
Ariana got a very small and hardly visible tattoo with the letters "Hi" on her left foot toe. She got this tattoo along with Ricky Alvarez and flaunted it in her Snapchat story on June 13th, 2015. They both joked that they themselves couldn't see the tattoo.
9. Babydoll Tattoo 
Ariana got a tattoo on the inside of her finger which says "BABYDOLL" all in capital letters. She got this tattoo as this is her nickname which is used by her Nonna.
10. Female Gender Tattoo
In a rather amusing list of tattoos, Ariana also got a Female gender symbol/Venus tattoo on her left middle finger. It is a small black outline tattoo which is one of her most recent inks.
11. Alphabet "A" Tattoo 
Ariana got the letter "A" tattooed on her thumb recently. She got this tattoo along with the female gender/Venus symbol tattoo. She said that this tattoo is for her longest best friend, Alexa Luria, and got the initial "A" for that friend.
12. Bee Tattoo Near Ear
Grande honored the city of Manchester, one year after a bombing at her concert that claimed 22 lives and injured many others, by unveiling a bee tattoo as a permanent tribute. The bee has been a significant symbol of the city's industrious history since the Industrial Revolution, and following the tragic terrorist attack at Manchester Arena, many people got worker bee tattoos as a sign of solidarity. During her One Love benefit concert in 2017, Grande and her crew likely got the tattoo while they were in Manchester.
13. Lumos on Right Hand
In the "Harry Potter" series, "Lumos" is a magical incantation utilized to create light. Grande acquired a tattoo of this spell subsequent to her romantic relationship with her former fiancé, Pete Davidson. It is widely recognized that the two shared a mutual affection for "Harry Potter" and even went as far as to ink themselves with tattoos inspired by the franchise.
14. Cloud Tattoo on Finger
15. 'Court' on her Knee
16. 'H2GKMO' on her Right Hand
17. Undisclosed Tatoo on Thigh
Grande's right-hand index finger bears a tattoo of the number "9 3/4," which fans believe is another nod to the "Harry Potter" series. The tattoo is difficult to discern, but it is widely speculated to be a reference to Platform 9 3/4 at King's Cross Station, which serves as a portal to the Hogwarts Express.
27. Chihiro Tattoo on Arm
Before unveiling her tattoo inspired by anime, Grande posted a detailed description of the character Chihiro, the protagonist from the film "Spirited Away". The post described Chihiro as a young girl who embarks on a journey to the "Spirit World", growing from a timid and childish character to a brave and responsible young woman who overcomes her fears for those she loves. The tattoo, which portrays Chihiro, was created by tattoo artist Mira Mariah based in New York City.
28. Crescent Moon, Sun, and Stars on Left Hand
On her Instagram account, Grande shared a picture of a tattoo of the Pokémon Eevee on her left arm, expressing her excitement by saying "I've wanted this for so long." She also acknowledged the tattoo artist, Kane Navasard, based in Los Angeles, who did the work.
31. '7 Rings' in Japanese on her Palm
Grande unveiled a tattoo reading "七 輪" on her left palm on Instagram, which means "seven" and "hoop," "circle," or "rings." However, fans pointed out that when combined, the two kanji characters translate to "shichirin," a small charcoal grill. Due to the pain, Grande admitted in a now-deleted tweet that she had left out the necessary characters in between. After receiving backlash for the error, Grande returned to the tattoo parlor of Kane Navasard and added another kanji and a heart to correct the phrase. Despite consulting with her Japanese tutor, the tattoo is still not technically accurate.
32. Plant Tattoo on Right Index Finger
Grande's latest tattoo, done by Mariah, aka @girlknewyork, was revealed on Instagram. It appears that the plant design is large enough to cover her "9 3/4" tattoo. Along with a photo of the tattoo, Grande wrote, "my hands make me so happy."
33. Plant Tattoo on Left Pinkie Finger
After Grande's best friend revealed her new "The Truman Show" quote tattoo on her upper back, Grande reposted the image and shared that she got the same quote inked, but "upside down". The tattoo was created by Grande's favorite tattoo artist based in New York. The quote, which is arguably the most famous line from the titular character, reads: "In case I don't see ya: Good afternoon, good evening, and good night!" Grande is known to be a big fan of Jim Carrey, who played Truman in the 1998 film.
37. Angel Wing Inside Left Ear
In 2019, Grande's fans noticed that she had added another tattoo to her ear, specifically an angel wing inked on the inner cartilage.
38. Dog's Name on Hand
In an Instagram story shared by Grande, a faint word is visible on the side of her left index finger. Although the tattoo is hard to decipher, fans speculate that it says "Cinderella" in cursive. If this is true, the ink is likely a tribute to Miller, with whom Grande was in a relationship. Miller's 2016 album includes a song titled "Cinderella," which he wrote about Grande. The lyrics include lines such as "You in my dreams, that's why I sleep all the time / Just to hear you say I love you, just to touch you, just to leave you behind" and "I need it every day, I yell your name, Cinderella / Never gonna find nobody better, all my life."
46. GWS on Finger
47. Umbrella Tattoo Near Thumb