Claire Elise Boucher, professionally known as Grimes, is a Canadian singer and musician. Grimes' music styles involve multiple genres including dream pop, R&B, electronic music, and hip hop. Her fourth studio album (Art Angels) released in 2015 was the most famous ones among all of her albums. Grimes is also well known because of her unique styles statement. She has got some amazing body tattoos. Let us explore her inks and their meanings.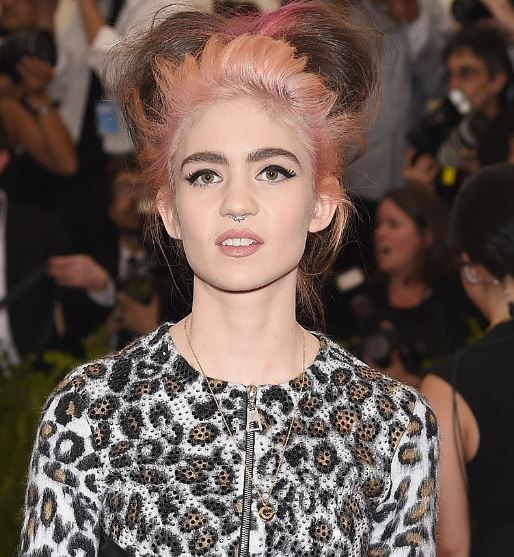 1. Heart on Left Forearm
Tattoo: A black outlined heart is tattooed on the inner side of Grimes' left forearm.
Meaning: Heart tattoos are the symbol of love and courage, however, heart tattoos are also considered being the religious symbols of depicting the religion, i.e. Christianity.
2. Heart on Left Bicep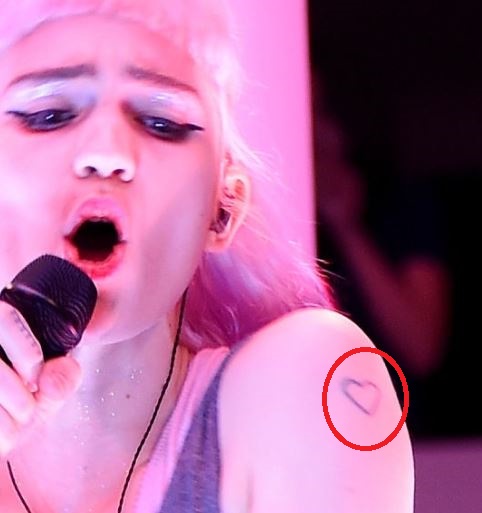 Tattoo: There lies another heart tattoo on Grimes' left shoulder. It has been inked with a double outline in half black and half red shade.
3. 'Brush Stroke' Leg Tattoo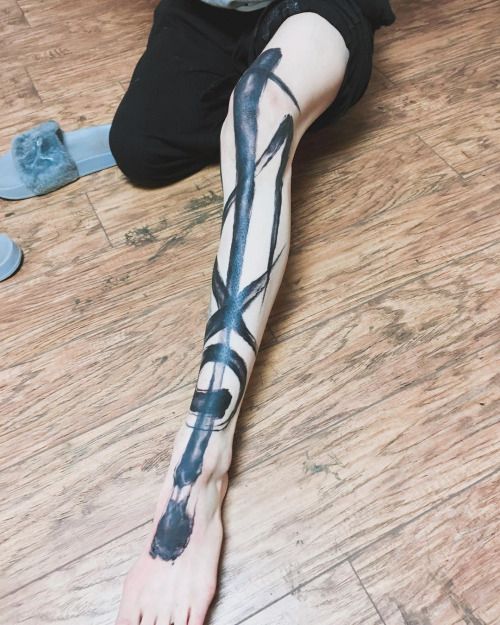 Tattoo: Grimes' left leg is inked with a brushstroke tattoo which begins from her mid-thigh and goes down till the center of her foot.
Meaning: The tattoo involves the word 'тихо' which can be translated to "quiet" in Russian. This tattoo was done by the tattoo artist, Delphine Noiztoy at Love letters tattoo parlor in Los Angeles in January 2017. Grimes revealed her tattoo through her Instagram on January 11, 2017.
"new tattoo by @delphinenoiztoy тихо," she wrote in her Instagram reveal.

"I never decide until 10 minutes before I'm getting a tattoo what it's going to be," she said. Can't beat a spontaneous, full-leg tat!
4. Hand Writing Tattoo
Tattoo: The fingers of Grimes' left hand are inked beautifully. This was her first body ink, which she got along with her friend Hana Pestle.
Meaning: Both of them got the semi-matching tattoos such that Grimes got it done on her fingers (Index, ring, and pinky finger) of left hand, whereas her friend Hana got it done on her thigh. Grimes tattoo acted as the cover up to her previous ink which had some sort of symbols tattooed. Again, this tattoo was also done by the Artist Delphine Noiztoy at Hana's house. The tattoo has the writing in  elvish language called "Qenya",  a form of language that later came to be known as Quenya (High-elven). Grimes got eleven script on three of her fingers which can be read as,  "Contradiction / Be ready for war / No shields allowed" when converted in English.
5. 'ФАЙ' Tattoo
Tattoo: 'ФАЙ' tattoo on her right knee.
Meaning: On Grimes' right knee we see a tattoo of the word, "ФАЙ", which is pronounced like "fae," but people claim it to look more like "РАЙ" which means "paradise."
6. 'Beautiful' Tattoo
Tattoo: On the backside of her left hand there is a word tattoo which can be read as, 'Beautiful', tattooed in italicised font.
In an Instagram post, she wrote "feeling beautiful despite many imperfections haha, terrible and wonderful memories etched into my skin. Even the most screwed up ones were all done w or by my best friends and they all feel like home."
7. Chains on left-arm Tattoo
Tattoo: On Grimes' left forearm we can we some chains tattooed. They begin from her forearm and are wrapped around her wrist. This is another of her home made tattoo.
8. 'Triforce' Symbol on left arm
Tattoo: There is a Triforce symbol inked on Grimes' left forearm.
Meaning: The famous Triforce symbol is taken from the video game, "The Legend of Zelda". Grimes claimed that this is her favorite video game, and she and her brothers all have this matching tattoo on their bodies. Grimes' tattoo is on her left arm, just below the elbow. They all decided to get it inked in order to immortalize their childhood memories.
She said, "The Legend of Zelda was the first video game me and my brothers ever got, and so we all got matching Triforce tattoos."
9. 'DIY Tattoos' on left hand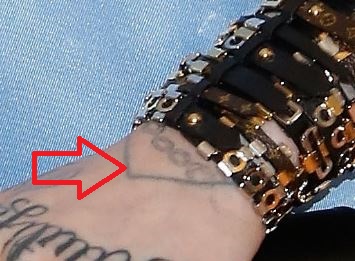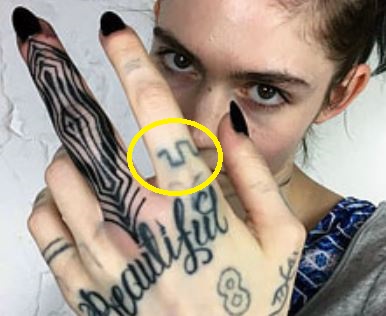 Tattoo: On her left hand Grimes has multiple tattoos which were done by Grimes herself. There is a Greek meander on her finger, an alien head, her lucky number (8), and a wristband cum bracelet which is inked on her left wrist and is inked in somewhat triangle shape.
Meaning: Grimes happily boosts of her tattoos which lie on her left hand and says that she did them all by herself. Her decision to ink these specific designs is based on the facts that she believes in aliens and their existence so, she got the alien inked, and number 8 is her lucky number.
"I did them all myself, I have a Greek meander that is often mistaken for a square wave on my finger (very telling of the times), an alien head because I believe in aliens, an "8" because it is my lucky number and a wrist band my friend designed for me that I did in the woods in Minnesota."
10. 'Magical symbols of Elves' Tattoo
Tattoo: There are mystical symbols inked on the palm of her left hand. The tattoo was done by the tattoo artist, Grace Neutral, in March 2007. He had shared it in his Instagram and captioned her photo with the words, "Spells for Elves.".
11. 'Rune Words' Tattoo
Tattoo: On the right side of her rib cage we can see another tattoo which was beautifully done by her favourite tattoo artist, Delphine Noiztoy, in November 2016. As per our study, the rune symbols can be joined into "ᚷᛈᚫ  ᚷᛗᚫ" which symbolise the letters "gpa gma" in English.
12. Black Bands on finger Tattoo
Tattoo: On the pinky finger of her left hand we can see two black bands inked.
Meaning: Black ring bands are the symbol of matrimonies and eternal commitments. They also symbolise power and strength.
13. 'Geometric Finger Design' Tattoo
Tattoo: The middle finger of Grimes' left hand is covered with a geometric black work design tattoo. The tattoo was done by Delphine. Grimes showed off her tattoo in a November 2016 through her Instagram. The tattoo doesn't have any specific meaning however, it has been observed that she loves getting geometric figures and designs.
14. 'Dagger on left calf' Tattoo
Tattoo: There is a dagger inked on the inner side of Grimes' left calf.
Meaning: Dagger is the most common symbol of bravery and strength.
15. Brushup Arm Tattoo
Tattoo: On her right wrist, Grimes got a cross inked initially. In the center of the cross there was an eye tattooed. However, later, she got it covered up with another brush up tattoo which goes upwards towards her right forearm. She got it done from the tattoo artist, Delphine Noiztoy, (an artist who specializes in realism black work) in December 2015.
Meaning: Her idea behind getting the brush up tattoo is to show people she's always involved with paint and also to remind herself that she is an artist for ever.
 "Big streaks of paint so I always remember that I'm an artist, Delphine is a master of this style. I hope to add more specks of paint with her later, so that my hands always look as if I've just been painting and making a mess."
16. 'Geometric design' on right hand's index finger
Tattoo: On the index finger of her right hand, Grimes has got another geometric design inked. It shows two straight lines followed by multiple horizontal lines inked on them.
17. Alien Scars Tattoo
Tattoo: 'Alien Scars' tattoo on her back.
Meaning: In April 2021, Grimes got the tattoo of 'Alien Scars' inked in white ink on her back by the tattoo artist,  Tweakt. On April 12, 2021, she uploaded the picture of this tattoo on her Instagram handle with the caption,
Full back in white ink by @tweakt w sum help from the alien computer brain of @nusi_quero Don't have a good pic cuz it hurts too much and I need to sleep haha, and it'll be red for a few wks , but gna be beautiful alien scars. Hope everyone's having a good day 😴"