Jeffrey Lynn Green is an American professional basketball player. He plays for the Brooklyn Nets in the NBA. Green was drafted by the Boston Celtics in 2007 and has also played for Seattle SuperSonics, Memphis Grizzlies, Cleveland Cavaliers, Washington Wizards, Utah Jazz, Los Angeles Clippers, and Houston Rockets.
Jeff only has a single tattoo on his body. Let us take a look at it and the meaning behind it.
1. 'Angel' Tattoo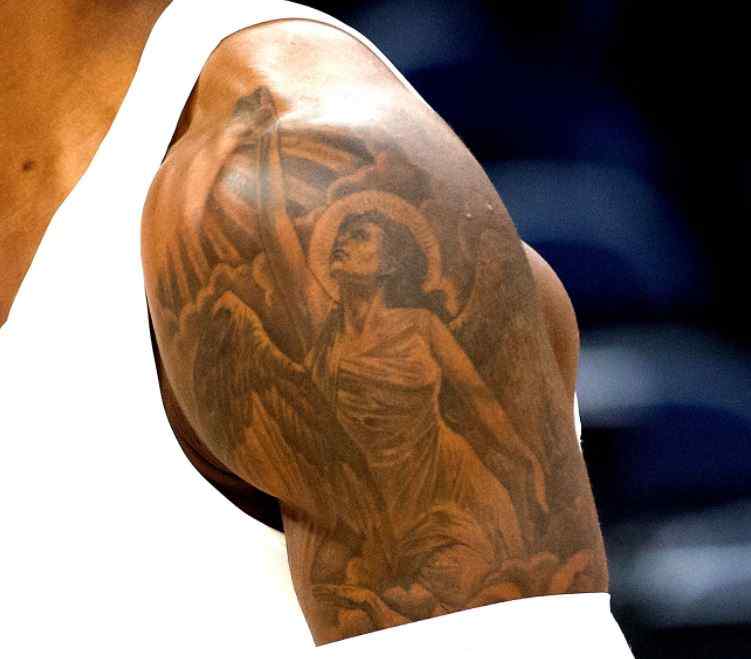 Tattoo: The left shoulder of the player has a tattoo of an angel on it. The angel has its wings spread and is reaching her hand upwards towards the sun. There are rays of light and clouds surrounding the angel as well. There is another angel tattooed on the back of his left upper arm, surrounded by clouds. The tattoo design ends near his elbow but is rarely visible as he wears an arm sleeve.
Meaning: The tattoo of the angel on his body represents a guardian angel that looks out for him and his family. The tattoo also represents a tribute to a lost loved one.