Remember Danny Trejo, one of the most recognisable badasses of Hollywood movies. Danny Trejo is not only known for his impressive acting skills, the guy is a perfect example of rags to riches story. He had a troubled childhood and spent most of his youth on and off in prison.  Danny tried to clear up his life with the help of boxing and later entered into acting, to be the most recognisable villains in Hollywood. Though his deep voice, harsh and craggy face is ideal for an anti-hero role, he is quite the opposite in real life. Apart from his incredible acting skills, great boxing Danny Trejo also sports some pretty impressive tatttoos. Here is all we know about Danny Trejo's Tattoos and their meanings.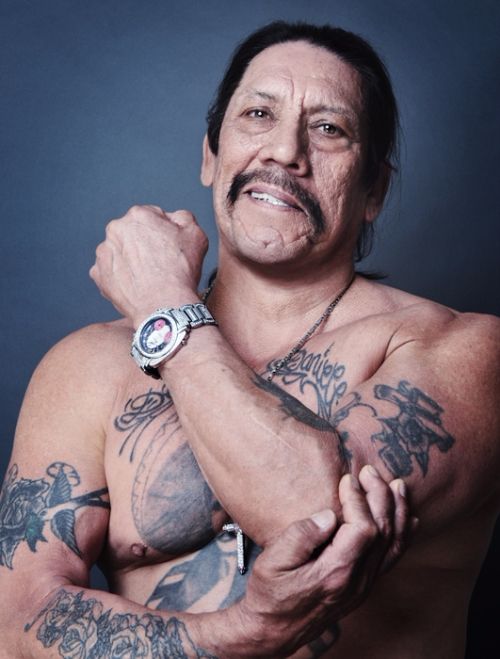 1. Mexican cowgirl
This chest tattoo is Danny Trejo's signature tattoo that he got during his time in prison. The impressive tattoo is inked directly over his heart and covers a majority of his torso. The tattoo features a woman wearing a sombrero. There is bright red heart wrapped in barbed wire near the base which is meant to signify 'forever' in regard to his marriage with Debbie.
2. Debbie
Debbie, the name of Danny Trejo's wife is inked on the right side of his chest. As obvious, the tat signifies Danny's love for his wife.
3. Danielle
Just like the Debbie's tattoo on the right side of Trejo's chest, there is the name of his daughter, Danielle inked on the left side of his chest. Danny Trejo is truly a family man.
4. Peacock tat
A large peacock is tattooed on Danny's left forearm. Peacock symbolises purity of heart and fidelity.
5. Hummingbird tattoo
A hummingbird sits on Danny's right arm. Hummingbird is a totem animal and symbolises many different things in different cultures.
6. Rose tattoo
Another incredible piece in Danny's collection of body art is that of a rose bush on his right arm.
7. Catholic cross tattoo
A Catholic cross inked on Danny's left bicep is a sign of his personal faith.