To a child's ear, "mother" is magic in any language.
– Arlene Benedict
Mothers and Daughters have always shared a special bond that is inexplicable in words. There are so many great ways to show this lovely bond and getting it tattooed is one to make it live on forever. The permanence of the tattoos is the reason why people desire to get themselves inked these days. They will remain with you through all the aspects of life. Just like your relation, it is a long term commitment. A matching tattoo will always be a reminder of that special one. So if you are in a long-distance relationship with your family members, I think getting a tattoo is such a great way of keeping a track!
A mother-daughter relationship is one of its kind and it can not be turned the other way so easily! It will stay strong until the end of time. So if you and your mom share such a cool relation that will let you both have some fun while it being meaningful to you, tattoos are something that you must give a shot. Here we have compiled a list of 100+ ideas for you and your mom so that you could get the game on. Not many mothers are open to getting inked, but if yours is, I think nothing can be better than that. Consider yourself lucky!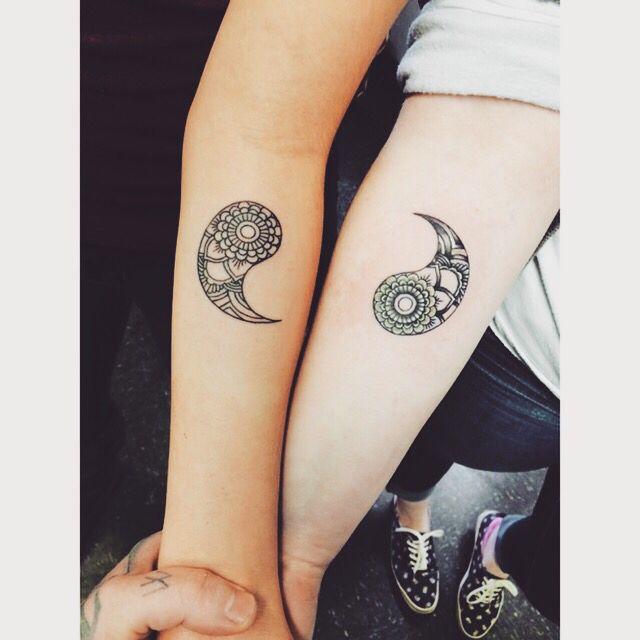 This yin and yang tattoo is done in a very beautiful design pattern and I think it looks beautiful too besides being pretty meaningful!
You are My Sunshine Tattoo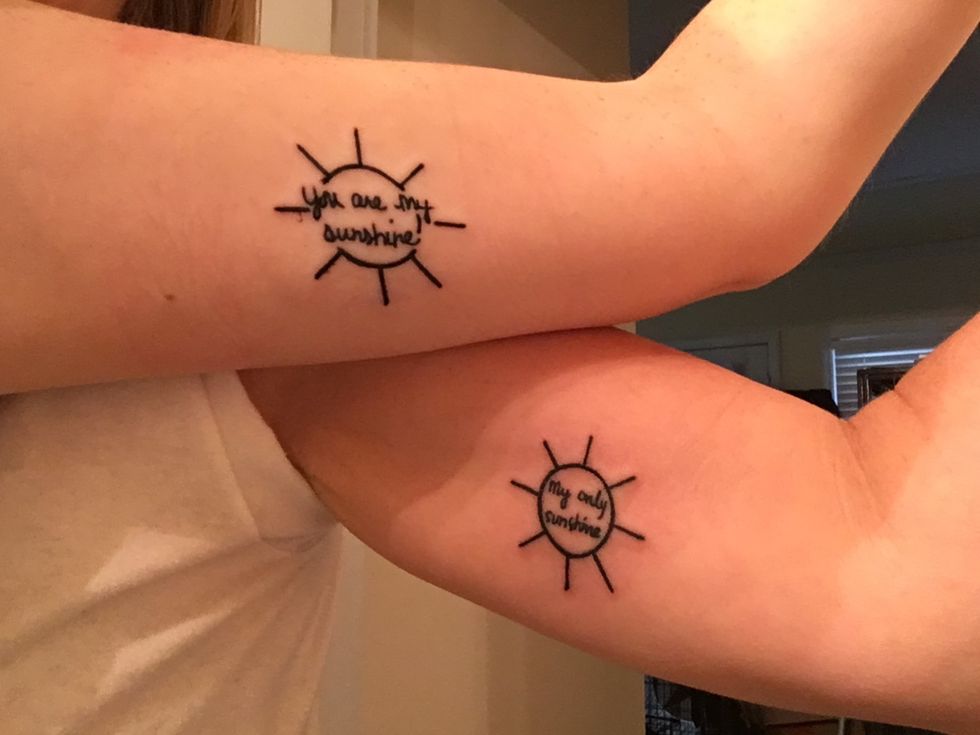 You must remember the song, You're My Sunshine, right? The lyrics have been taken from the sun and inscribed in two little suns. Pretty simple but cute!
This is a simple love you tattoo along with some date, probably the birth date of each other.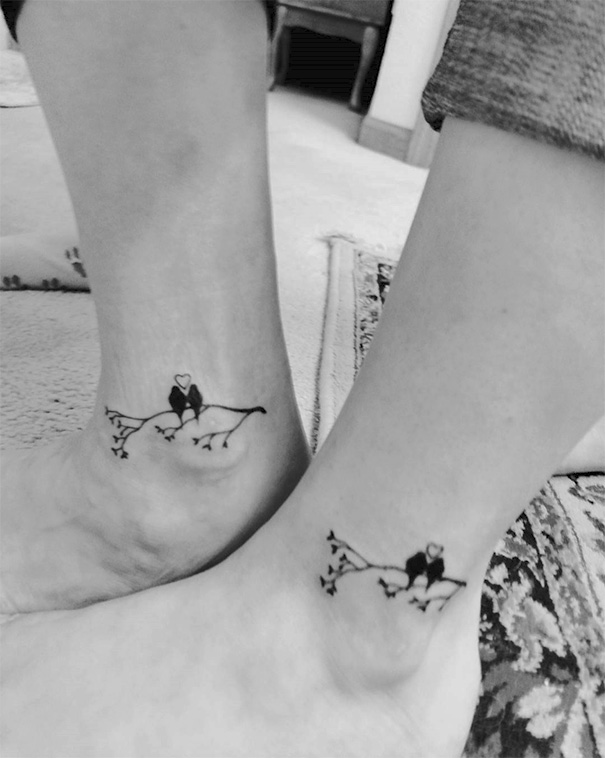 Two birds on a tree branch are quite romantic. However, it is not necessary that it signifies romantic love only. It can stand for a mother-daughter love too.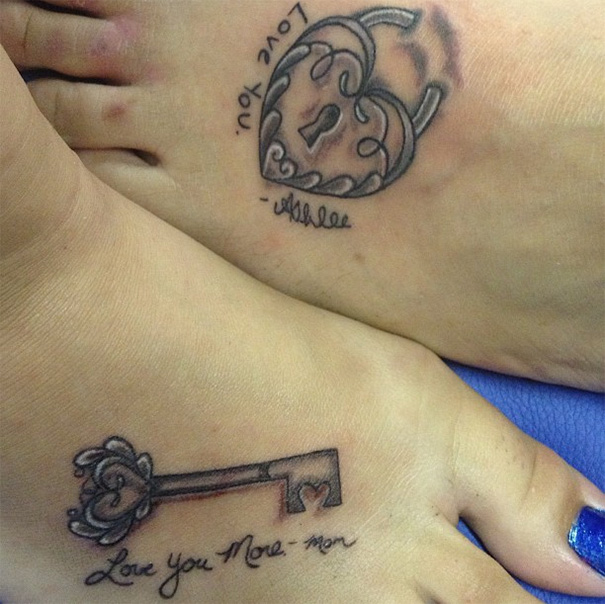 This is just like leaving notes on the fridge while you are away.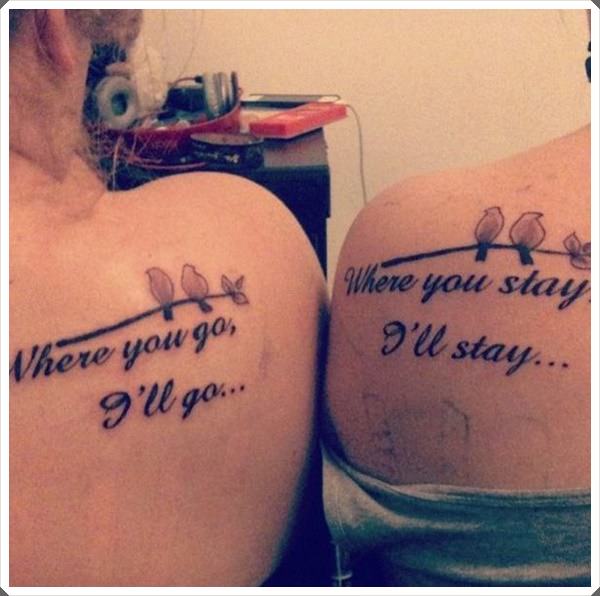 The lines that are written here are quite meaningful. Relations are often hard to maintain than to build and these lines signify just that.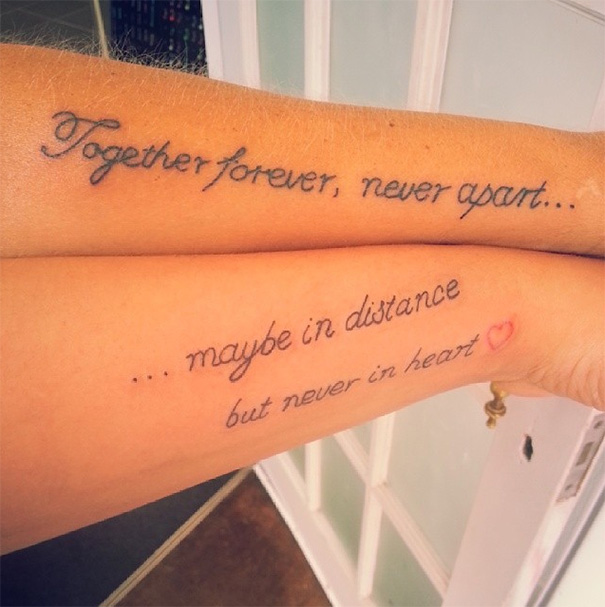 This stands true for a mother and daughter relationship. No matter how far they are, they are still kinda inseparable.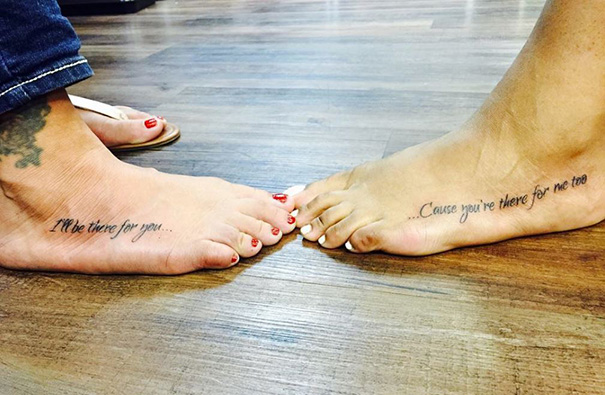 A mother and daughter will always be there for each other no matter the situation. So you can get this tattoo (and I think the placement idea is superb!) to show your mom that you will always be there for each other.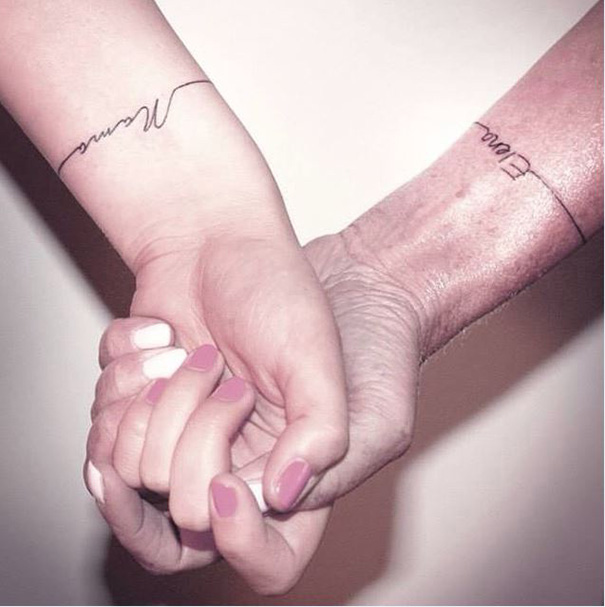 This is a simple and elegant way of showing your loved ones that you care, by simply getting their name inked.
All the young ones have painted a picture where the kid is giving a flower to their parents. This image seems to be taken directly from that childhood drawing!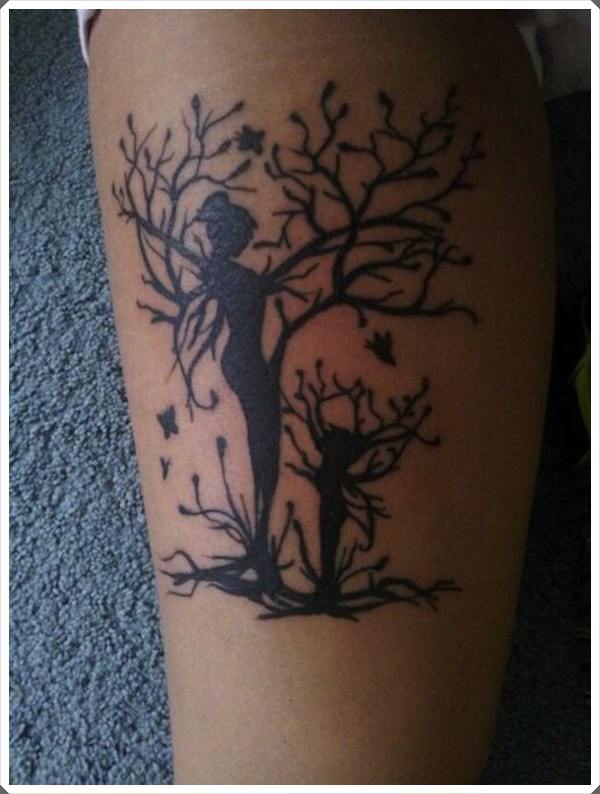 This is a very poignant image. It reflects the fact that both the mother and daughter share the same roots.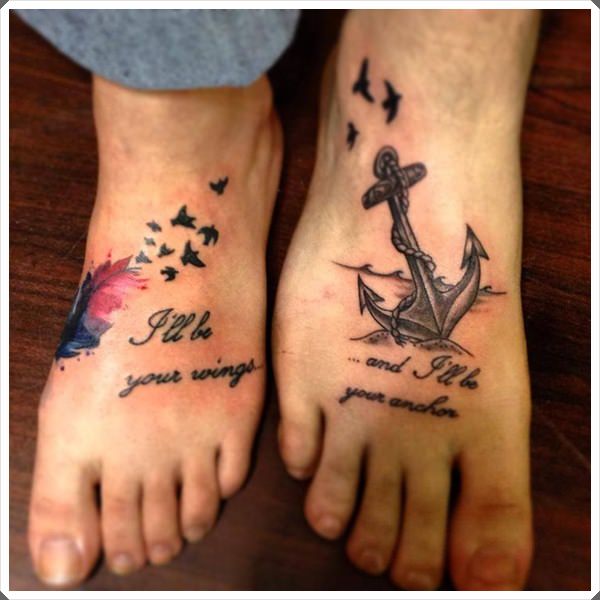 Wings denote freedom while the anchor denotes stability. For a great relation, both of these elements are required in a perfect harmony.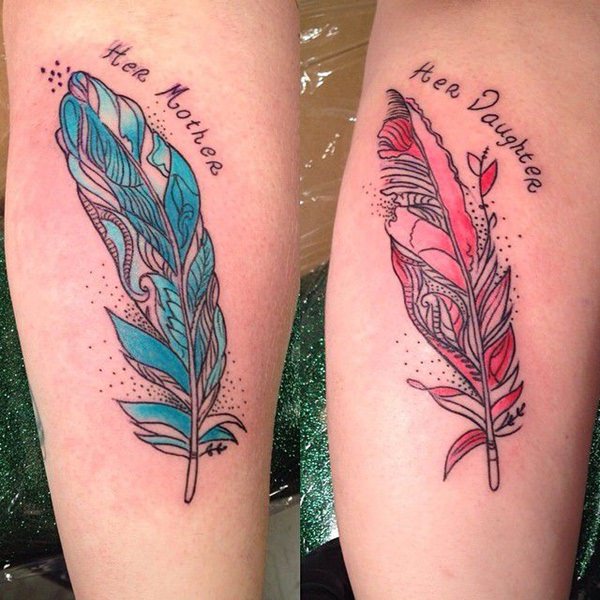 Colorful feathers have always been quite popular when it comes to getting them tattooed.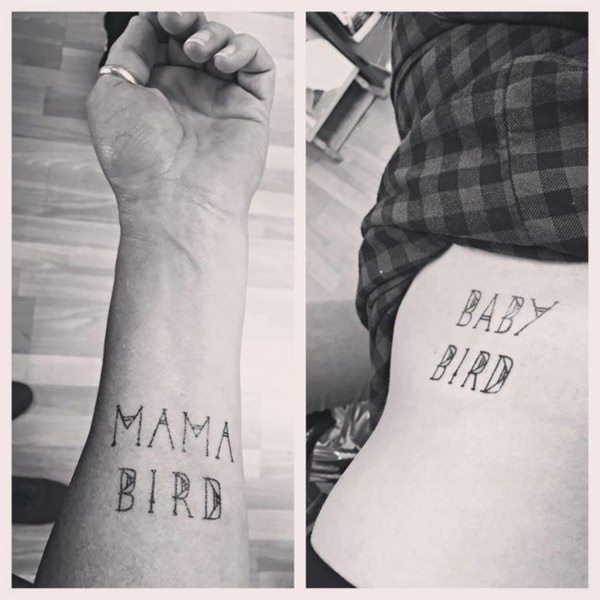 This is a rather cute way to express your love for your mother. It is quite simple, although you have a choice to choose the kind of font for yourself.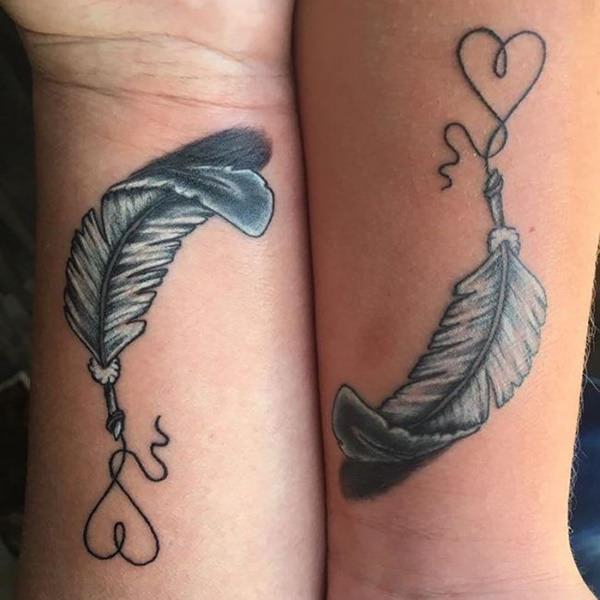 Getting  a matching feather tattoo looks great but what is more amazing is the fact that thread tied to it opens to become a heart.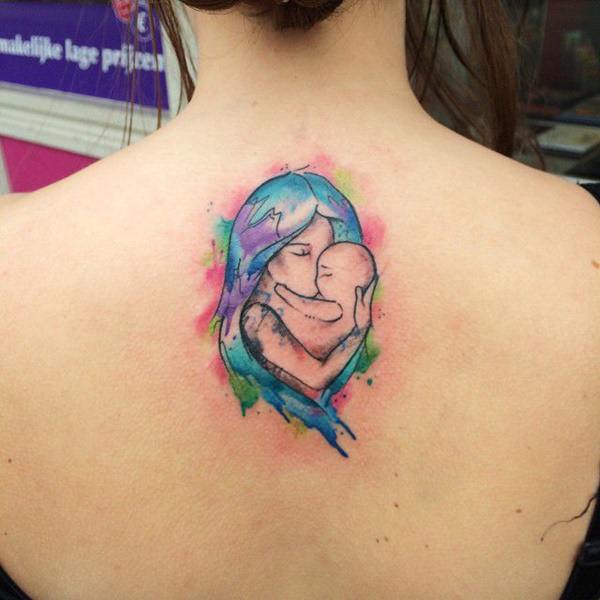 Watercolors are very much in trend and you can use it to represent this bond of mother and daughter relationship.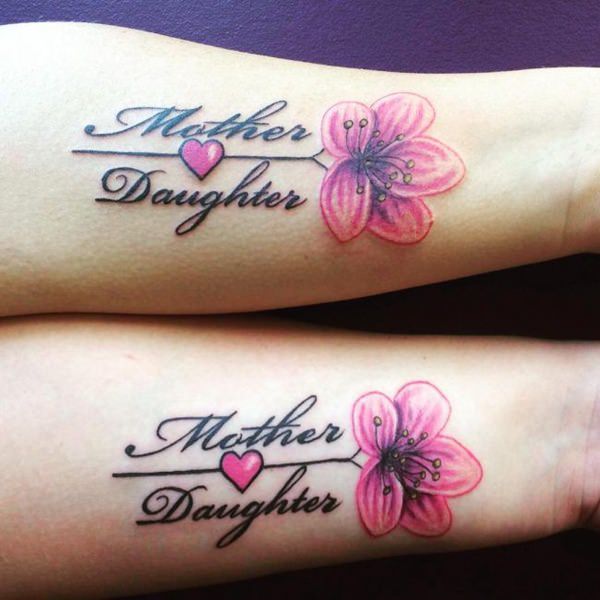 This is definitely one of the most beautiful looking tattoo designs that you can choose to have. The flower represents the delicateness of this relationship that a mother has with her daughter.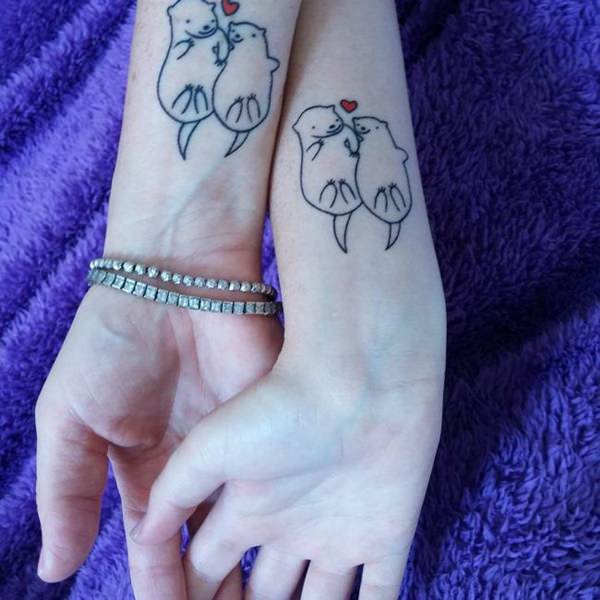 Two little cuties lying together encompassed in love makes for a great tattoo!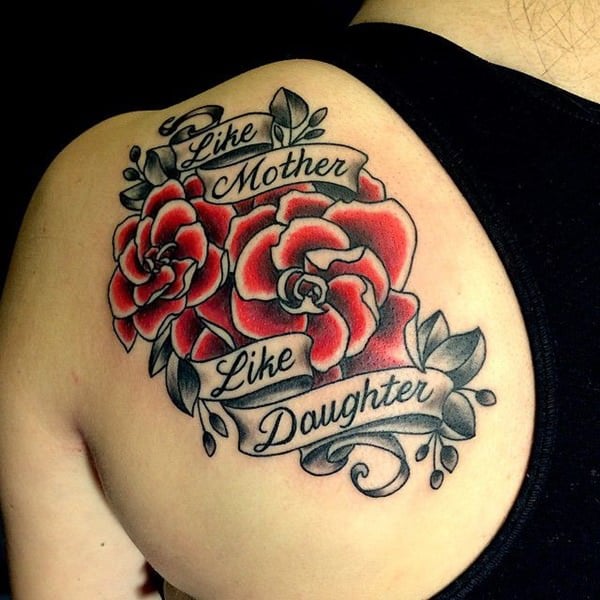 This banner tattoo looks quite majestic. It is nothing fancy but just beautiful blooming roses with banners suggesting the similarities in nature of both.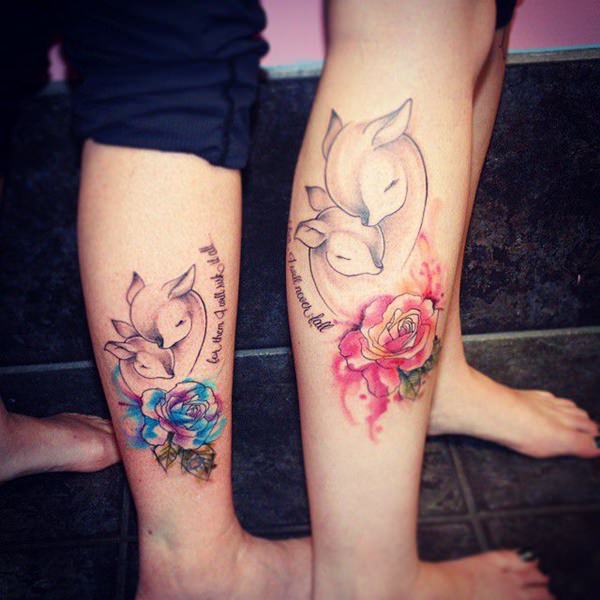 The two doe represents love. They are hugging each other and it is quite adorable!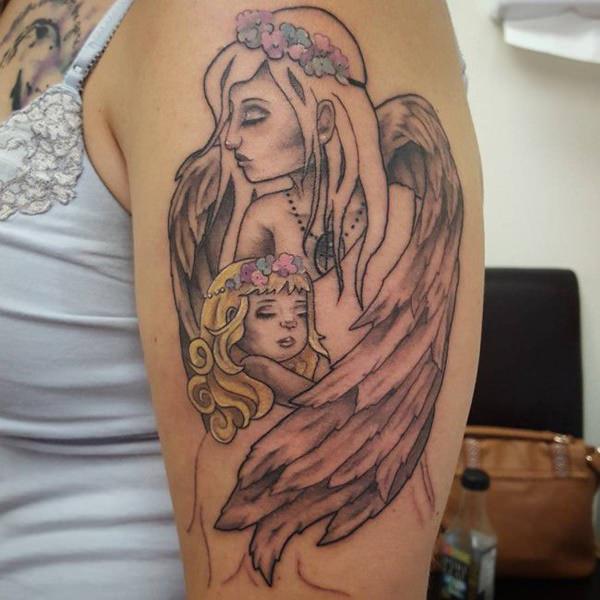 This angel looks extremely beautiful and divine hugging her child.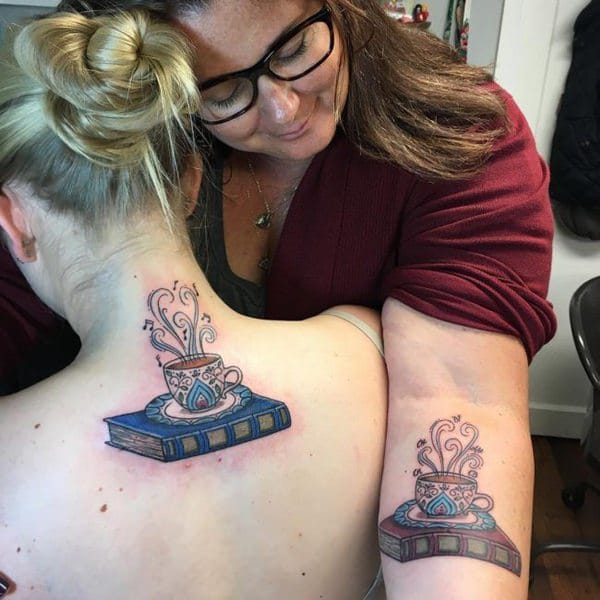 You can get something that you both adore, probably a hobby or anything that you both enjoy together. Here, probably the duo loves tea and books!
Getting each other's name tattooed is also a great way to dedicate your love.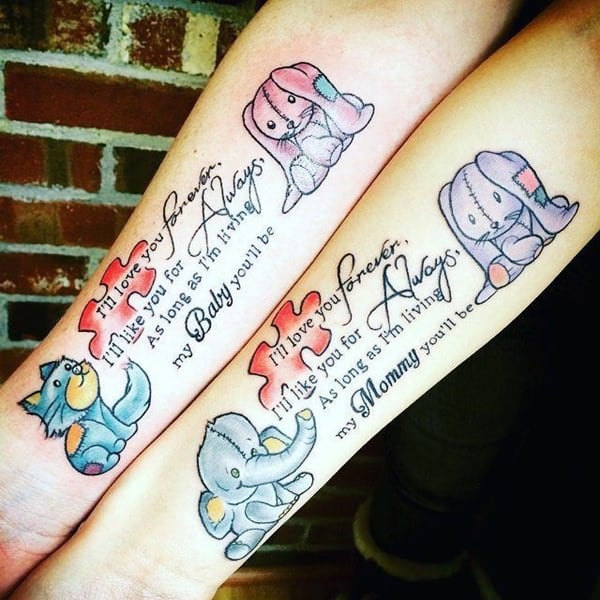 This tattoo suggests togetherness until the end of time. It is a beautiful tattoo that has all the elements that combine to form a mother-daughter relationship.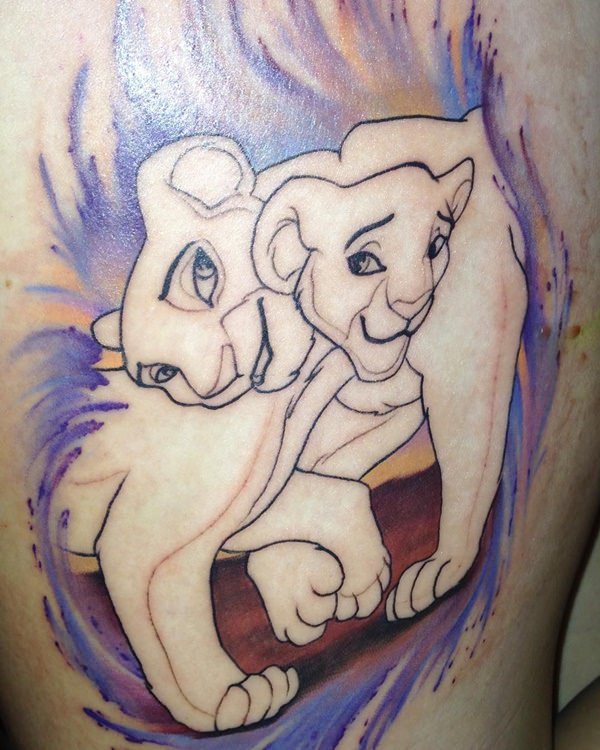 What I love about this design is the fact that the Lioness and her cub are done in a simple outline but they are encompassed by the watercolor effect. This is quite a unique pattern and yet suggests the strength of the bond.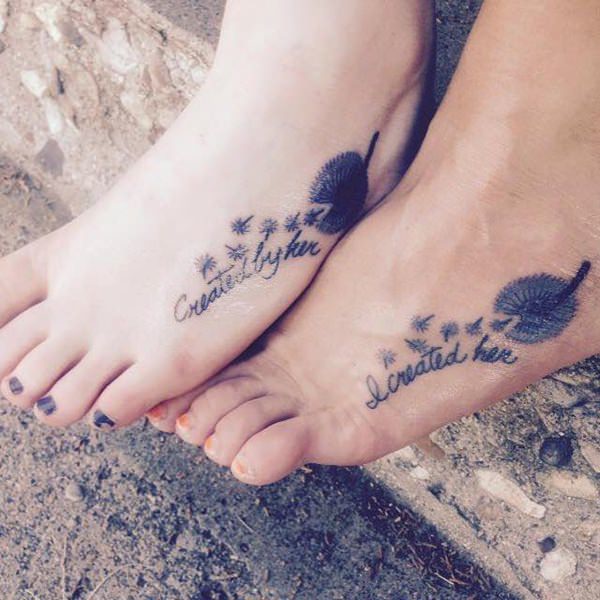 This is such a cute way to show your rights of love over your mom.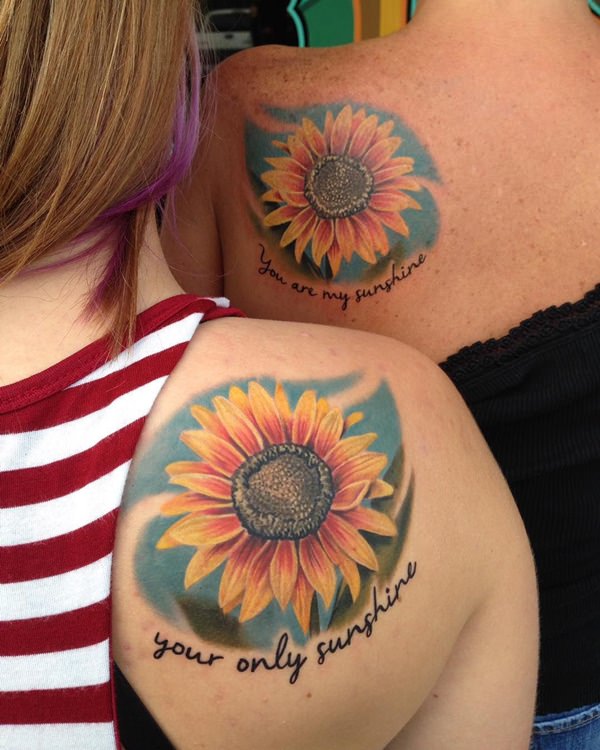 This is a beautiful looking sunflower and as a sunflower should be, it is extremely vibrant and cheerful.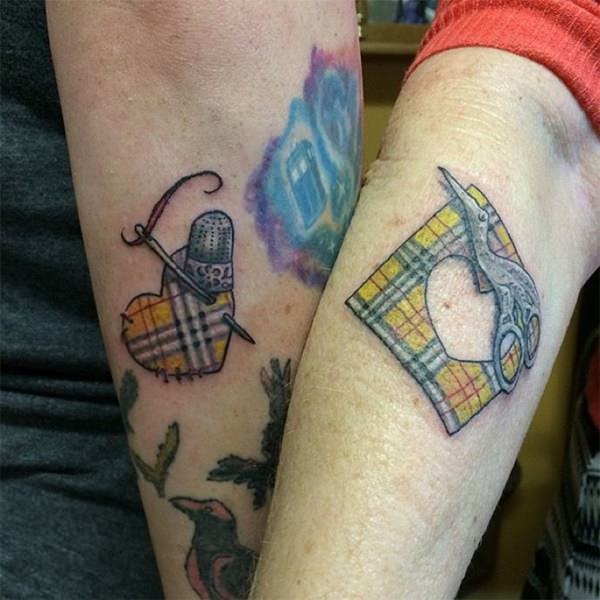 It feels like one of them has placed a cut off from the other's tattoo over her body! The scissors and the needle represents the same.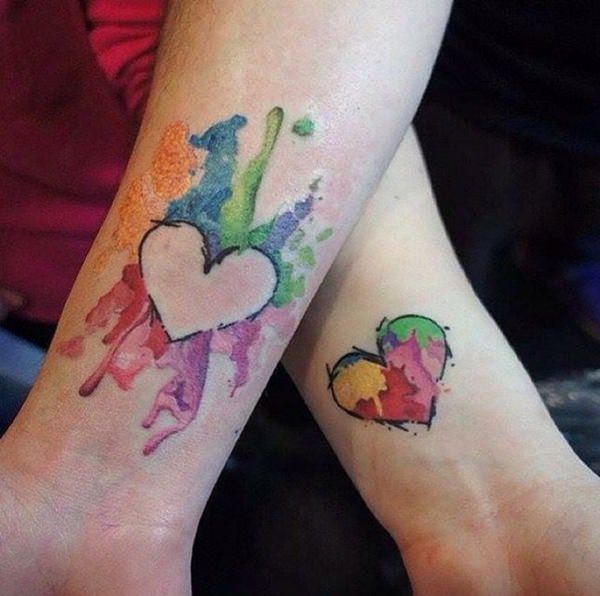 Once again a cut-out design, this pattern means that they complete each other because one is evolved from the other one.
Peanut Butter Jelly Tattoo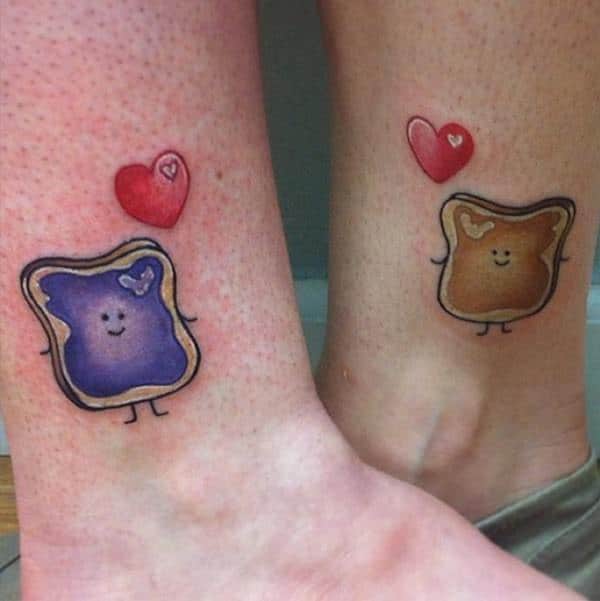 So everyone knows that peanut butter and jelly is a classic combo! Here it is for you those who feel are inseparable!
This cup and kettle tattoo is very cute. I think things paired up like this is extremely cute as they represent teamwork!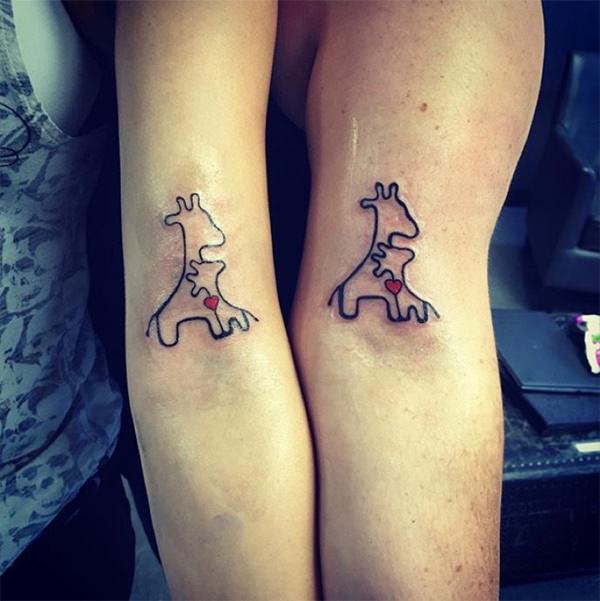 The outline of the giraffe and her baby is very cute. It does not only shows love in a great way but also the simplicity of this design is great!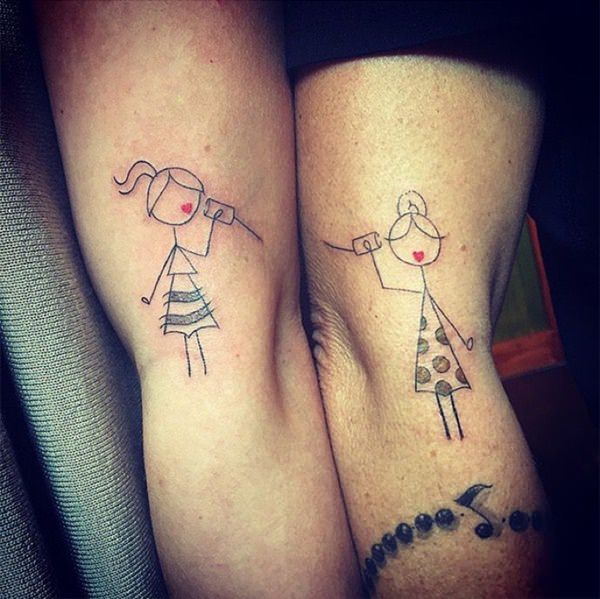 Every mother and daughter need to converse and tell each other about every single detail that happened throughout the course of the day! If you share this kind of relationship with your mom, you just found your perfect tattoo!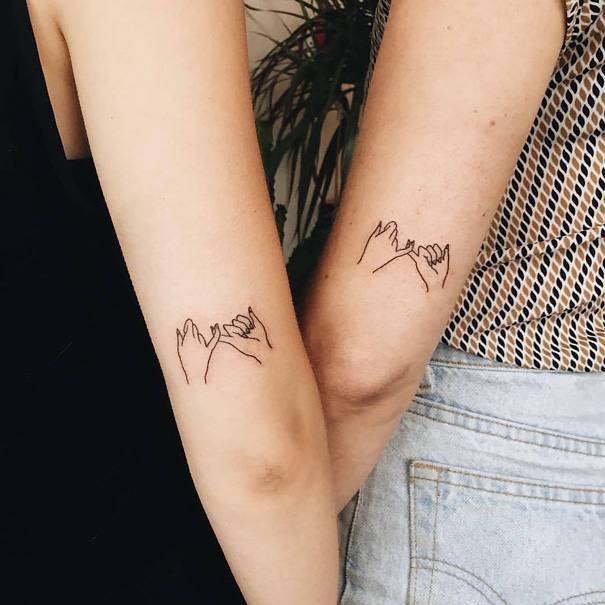 Your mother is someone that you can share every little secret with but you might need her to pinky swear to not let the secrets out.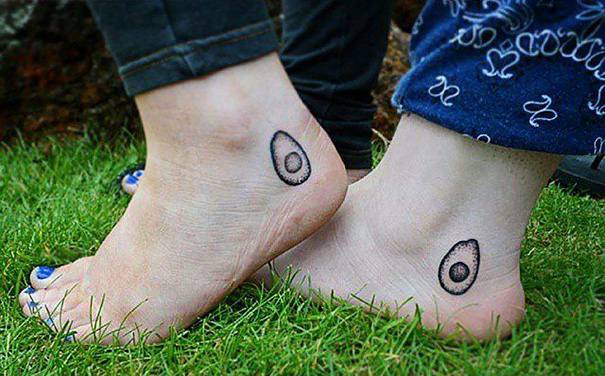 The avocados are very much in trend these days and the heart-healthy fruit represents a heart full of love between the mother and daughter.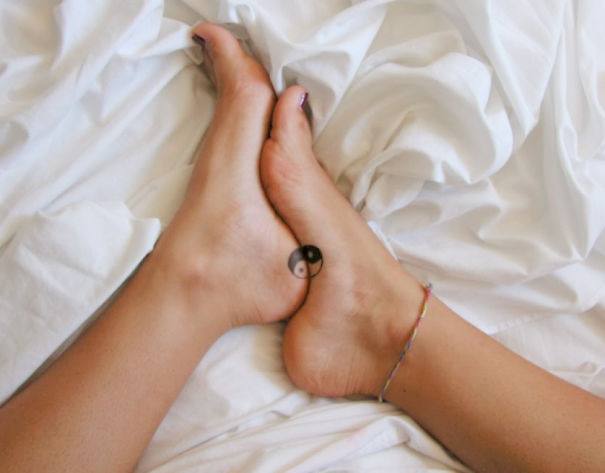 If you notice, just like the yin and yang tattoo, the feet, too, have a certain shape where they fit together perfectly.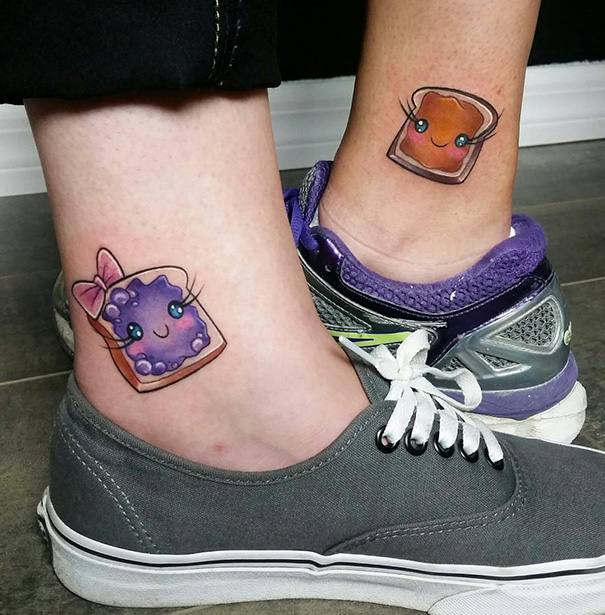 These peanut butter and jelly sandwiches are too cute and represent the inseparable bond of the relationship.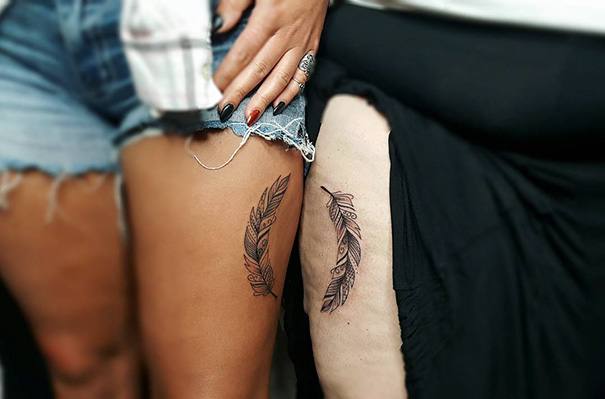 The feathers are very hippie tattoo ideas and the two of them are done such that they face two different directions. They together complete a circle.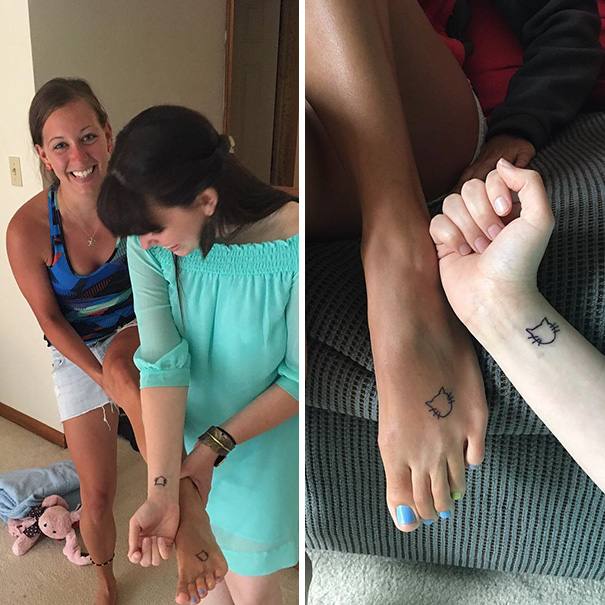 Matching kitty cat tattoos are super adorable!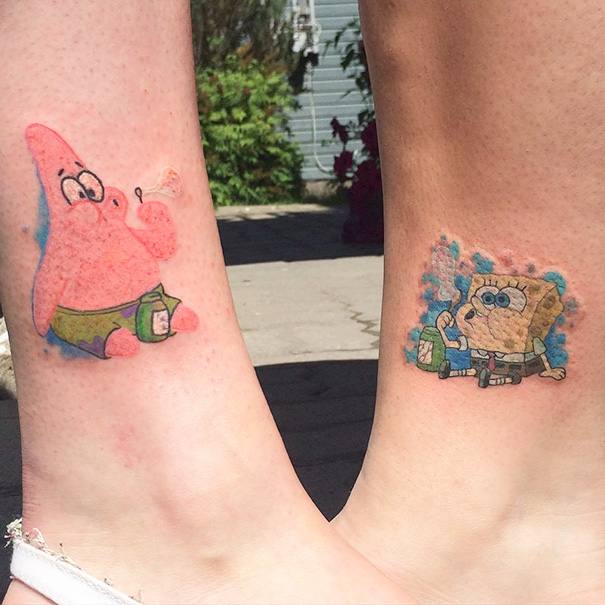 Just like them both, your mom can be your best friend too. Someone that you can just chill around with and blow some bubbles.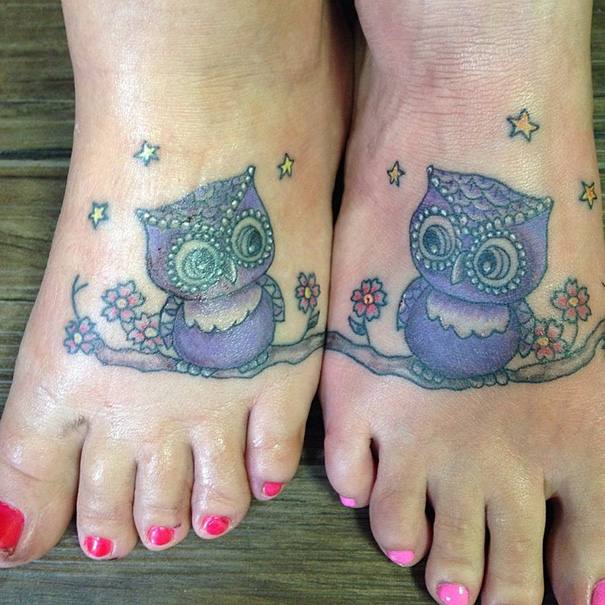 The owls look very cute and the branch that they are sitting on connects them in a beautiful way.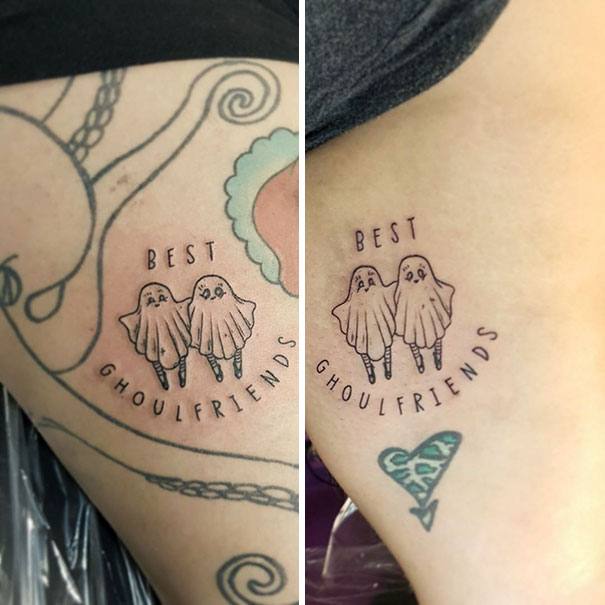 So we have seen best friends and soul sisters, your mom might be both of them rolled in one- A Ghoulfriend!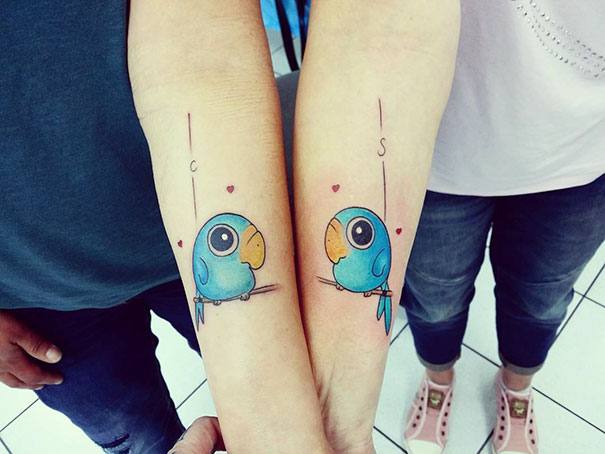 These two blue parrots are extremely cute and it seems like they are talking to each other…which is very similar to the mother-daughter relationship.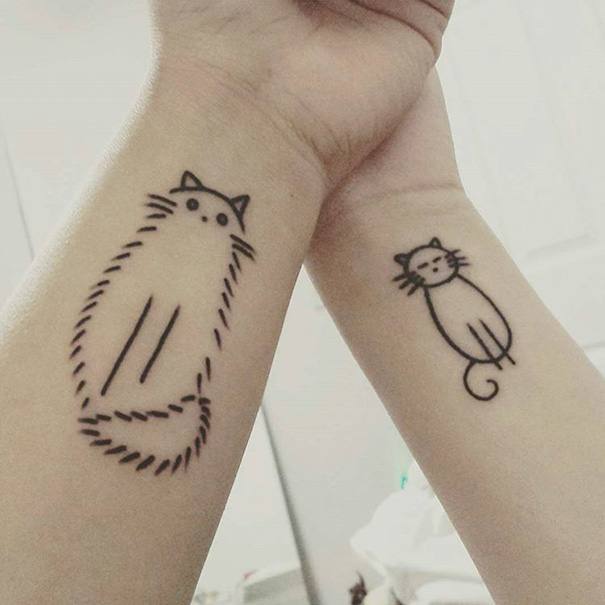 So apparently, one is the big furry mom cat and the other one is a little baby cat!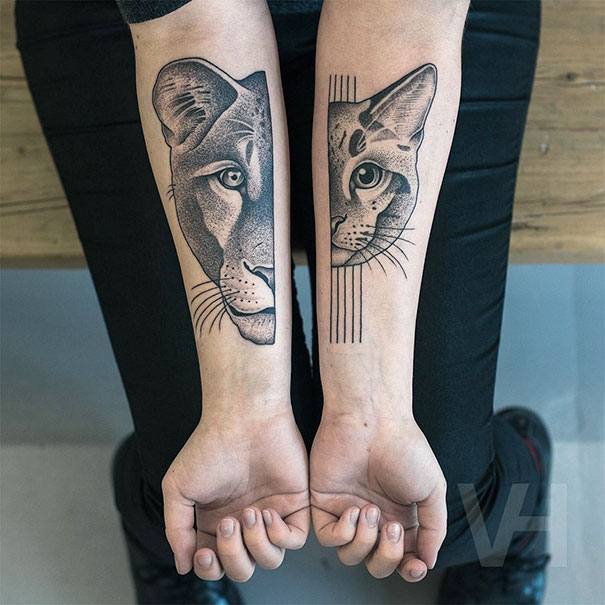 The lioness and her cub…or cat if you like it better. They're from the same family, right?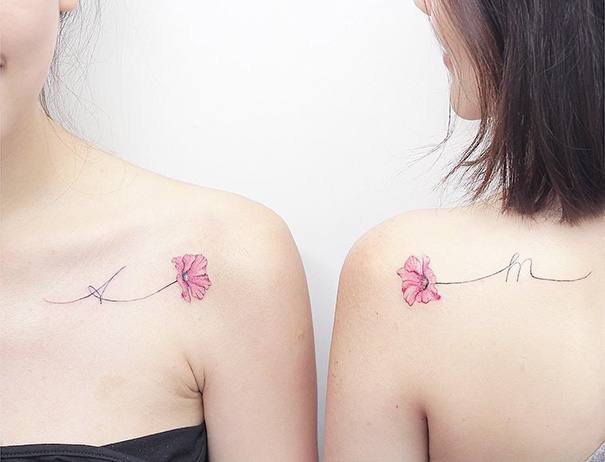 You can get your initials done with your mom. The upper chest or upper back would be perfect for this. I love how the initials are ending with a beautiful flower.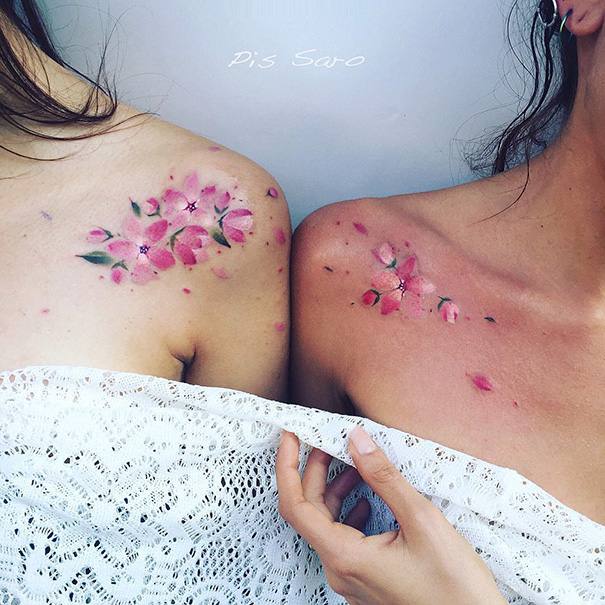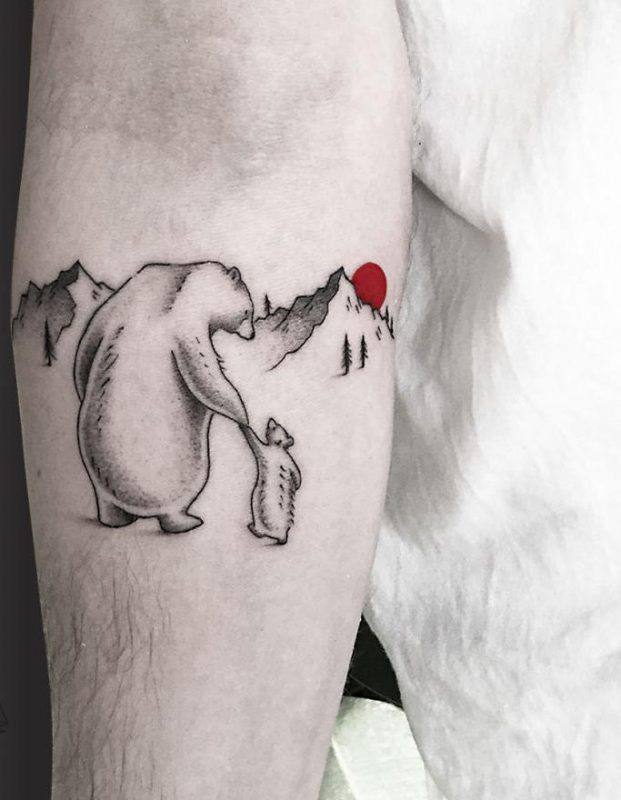 Aw, this baby bear and mama bear are going back home after the sunset. This is not only an extremely cute tattoo design but very touching too.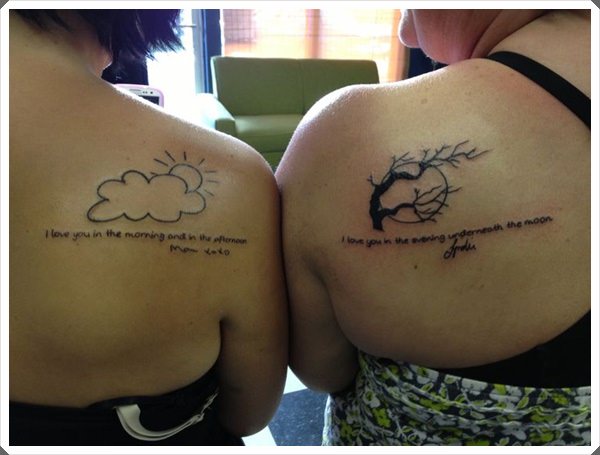 These two quotes complement each other when paired together just like two contrary things like the sun and moon. Although they are totally opposite, they still can not do without each other.
Your mom is definitely your missing puzzle piece and the key to your lock!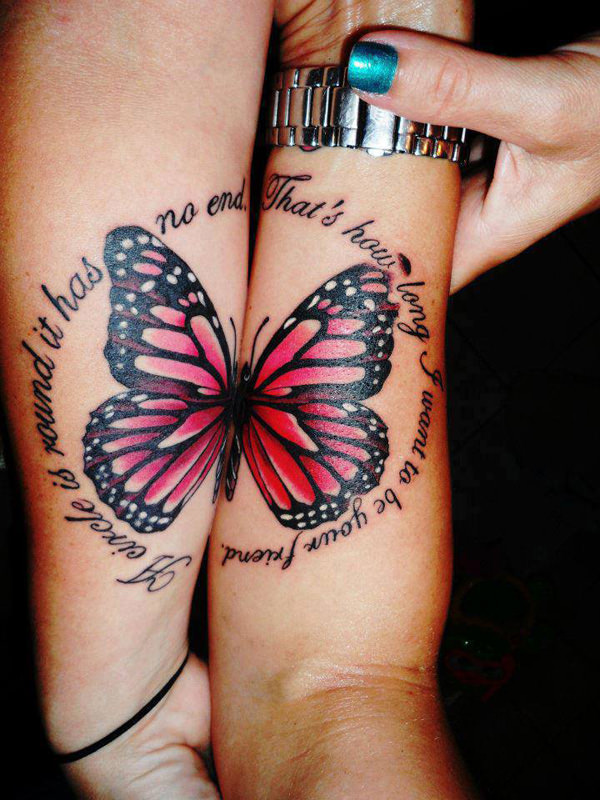 The two tattoos on each hand complete each other. The quote forms a whole circle while there are two halves of the butterfly on each arm.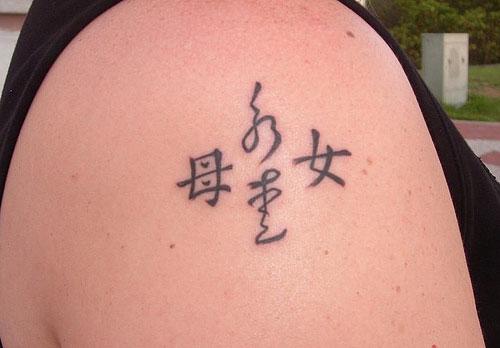 A bond like that of a mother with her kids does not need a specific language as it is universal.
Traditional Key and Lock Tattoo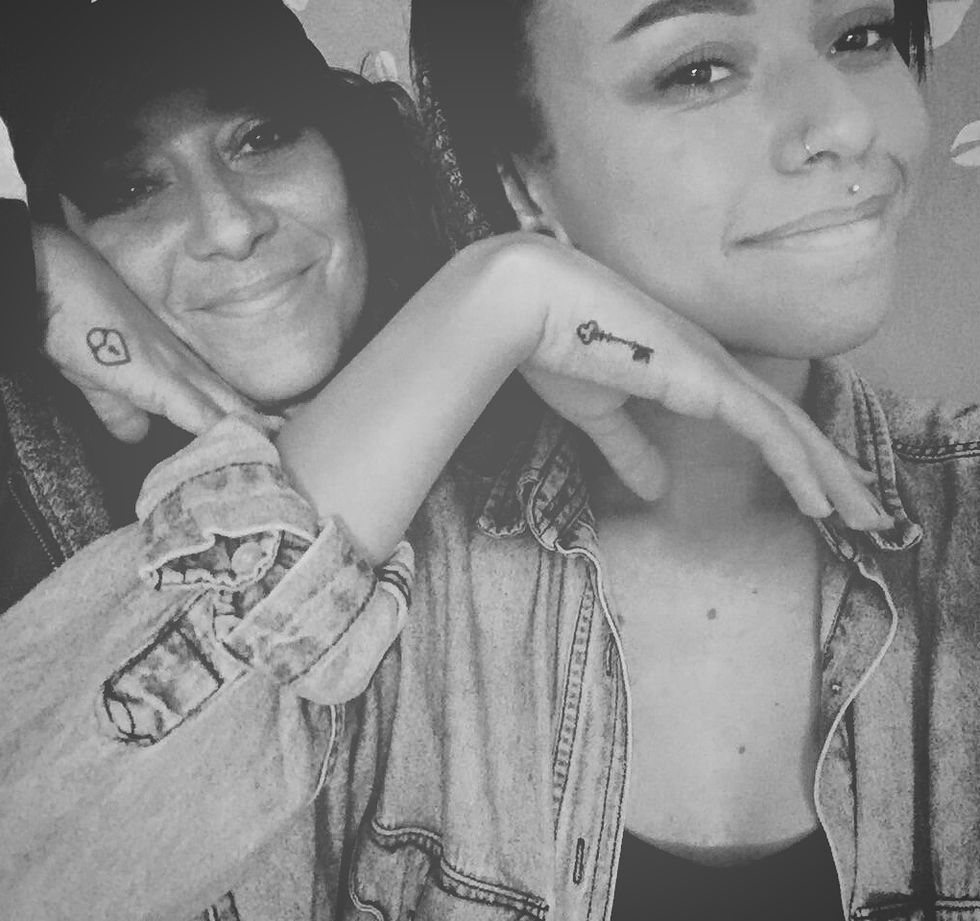 The lock and key design is kind of a classic design.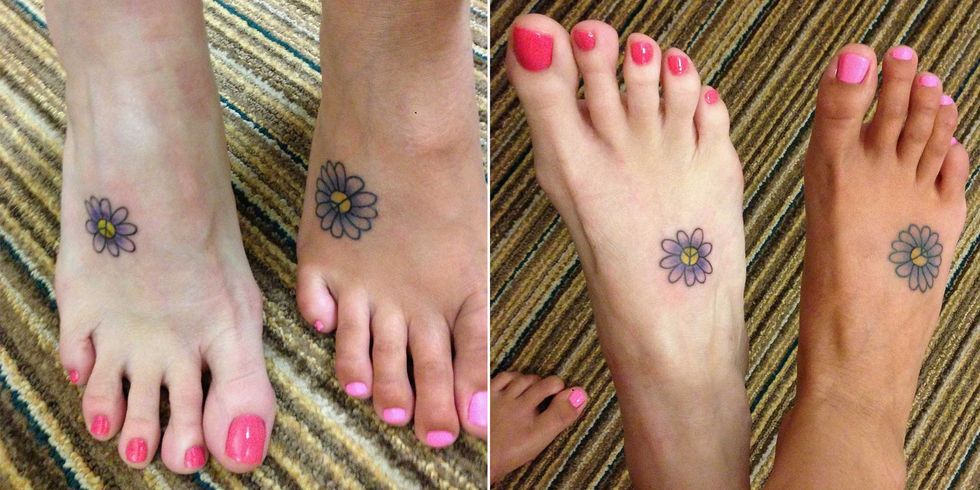 Matching daisies on the foot look very adorable. They are simple and yet kinda attractive.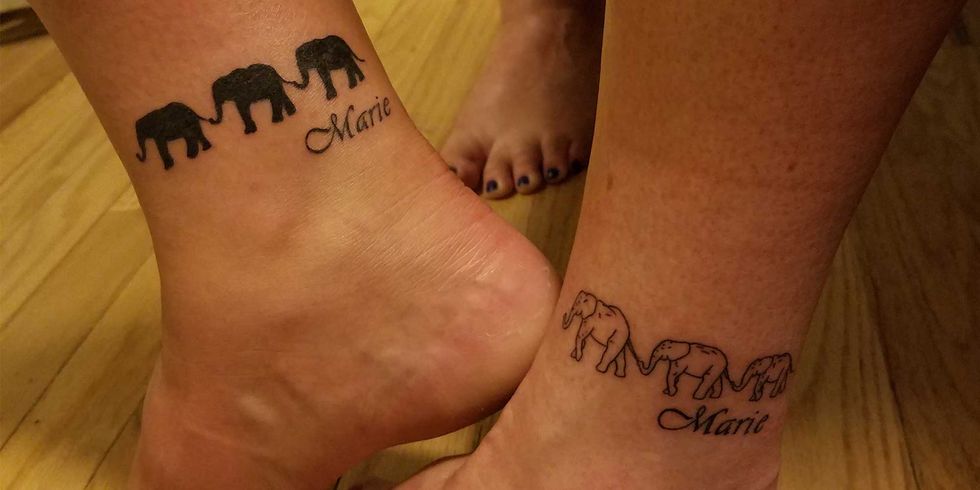 Elephants are known for their level of protection and their instinct for family integrity. So here you go with your elephant tattoos!
I love how the quotes are supplemented by hearts. However, the heart is not anything usual but a heart made out of fingerprints!
Baby and Mommy Elephant Tattoo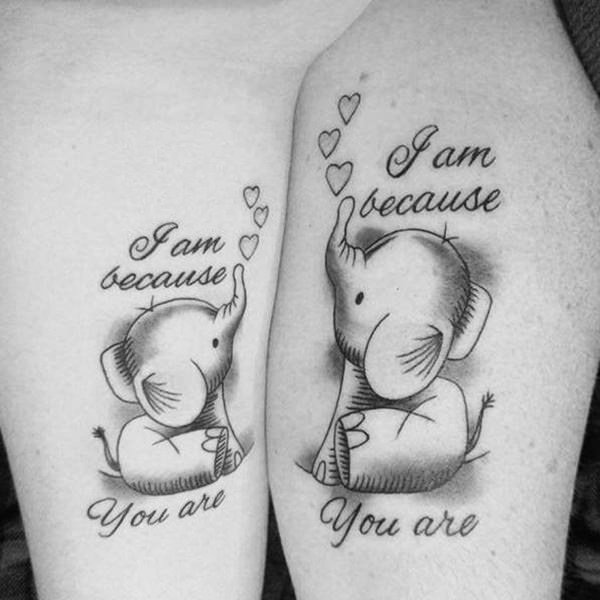 This is a very cute tattoo design as it does not only resonates cuteness but warmth too.
This mermaid holding a baby is a very beautiful sight to behold.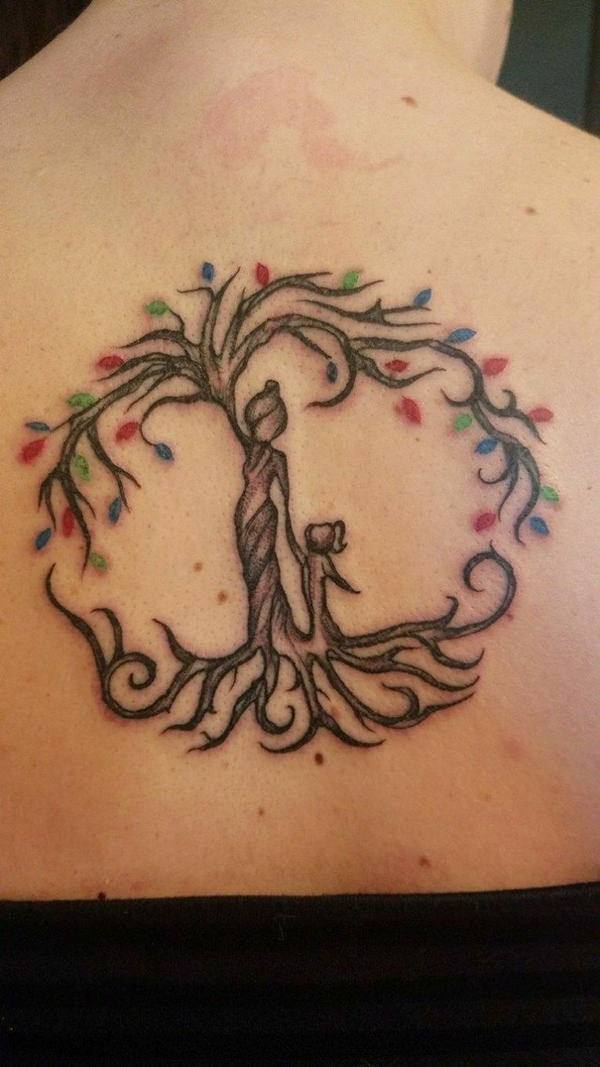 The mother tree is letting the little daughter tree rest in her shade or these beautifully colored leaves.
This shows that true relationships live forever.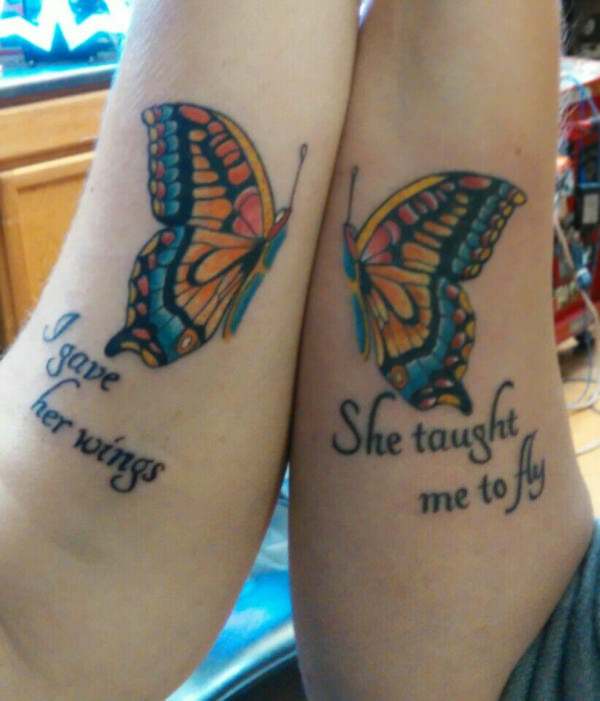 Once again a wing tattoo that forms into a butterfly when placed together.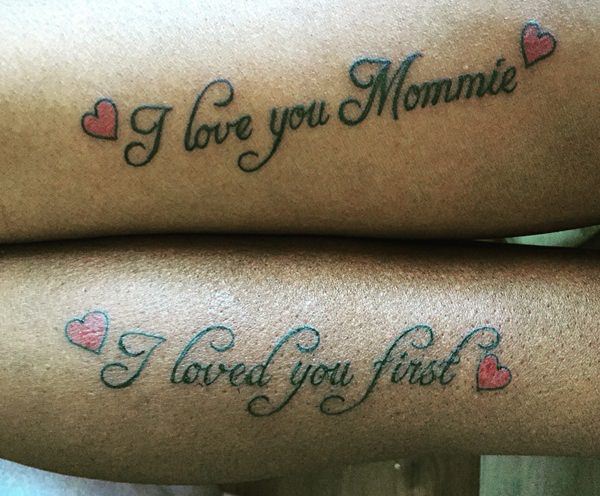 It seems like a pretty simple and straightforward design until you read the second tattoo. I think that it is quite impressive and touching.
Like Mom Like Daughter Tattoo
A puzzle is a classic symbol to show that two people complete each other no matter the relationship.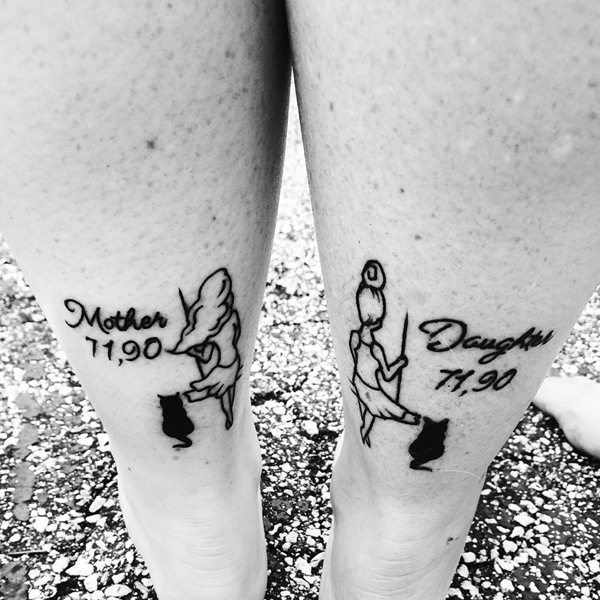 These numerical are probably the age that the mother and daughter are in when they got these tattoos done. Or probably sitting on a swing side by side is what they wish to do when they reach a certain age?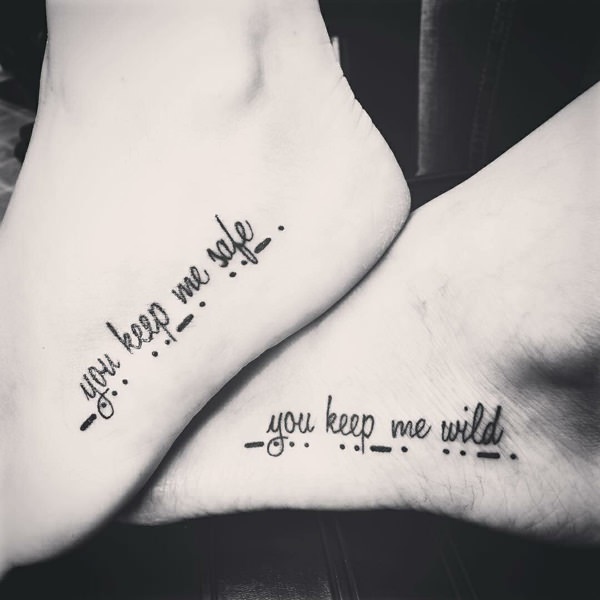 Youth means being wild and the mother is always there to support, guide and keep her child safe.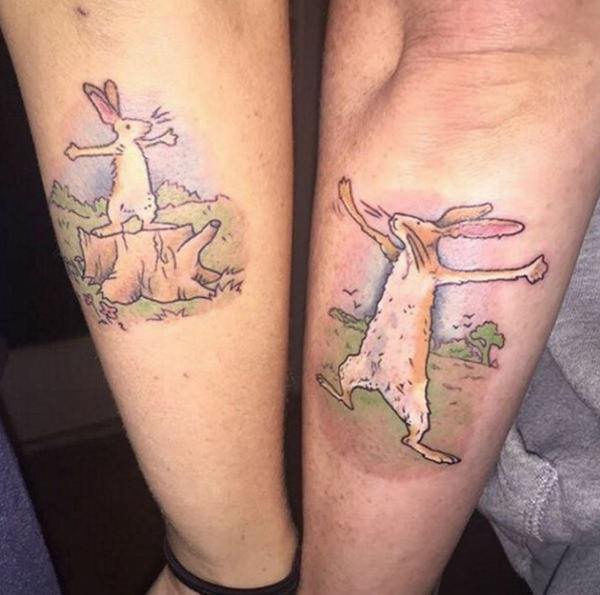 Once again the love of a mother and daughter has been represented by the means of animals. These bunnies look extremely cute as they reach out to each other with open arms.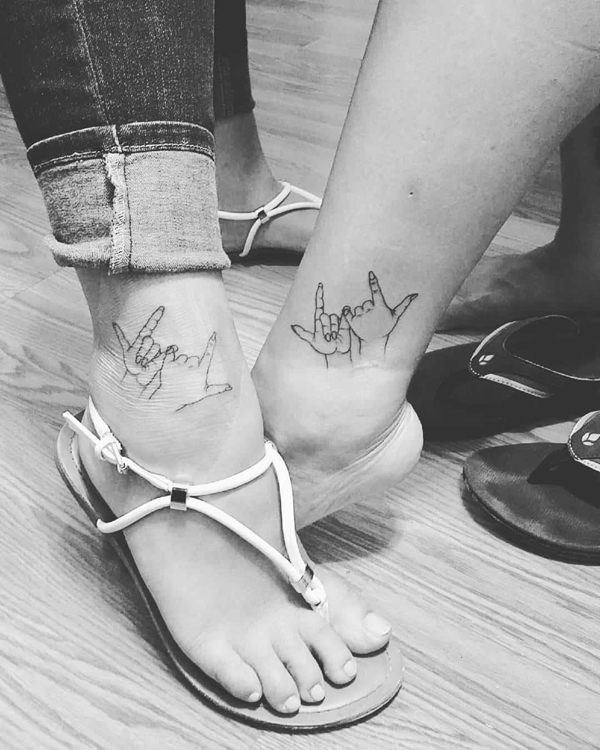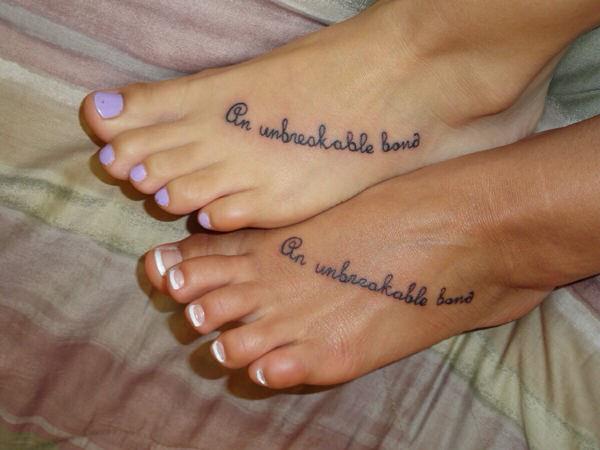 That's quite true. A mother's and a daughter's bond is quite unbreakable.
Cute Mother Daughter Tattoo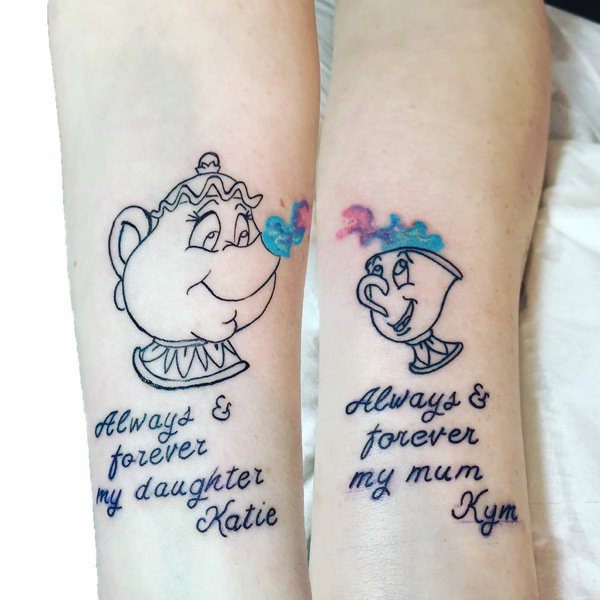 You can make your vows and write your name on the bottom. I think it is a pretty sweet idea.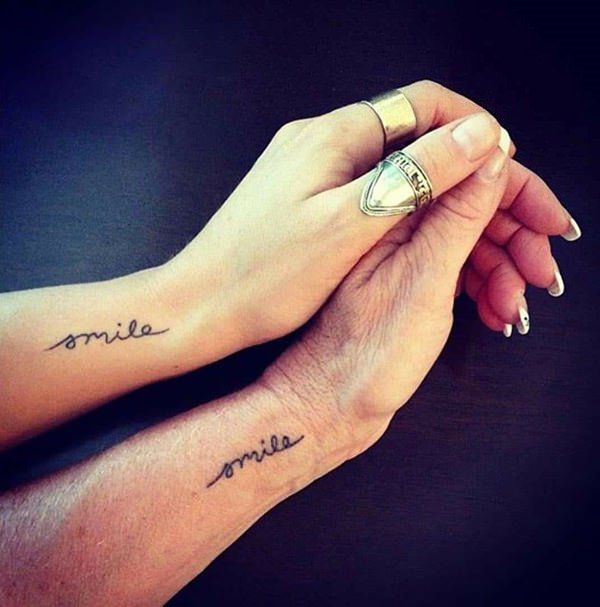 Because you may be the reason for each other's smile. Or probably, you can remind each other to smile whenever they look at this tattoo. Isn't that you would want for each other after all?
A Different Script Tattoo
A mother and daughter bond can be expressed in absolutely any language.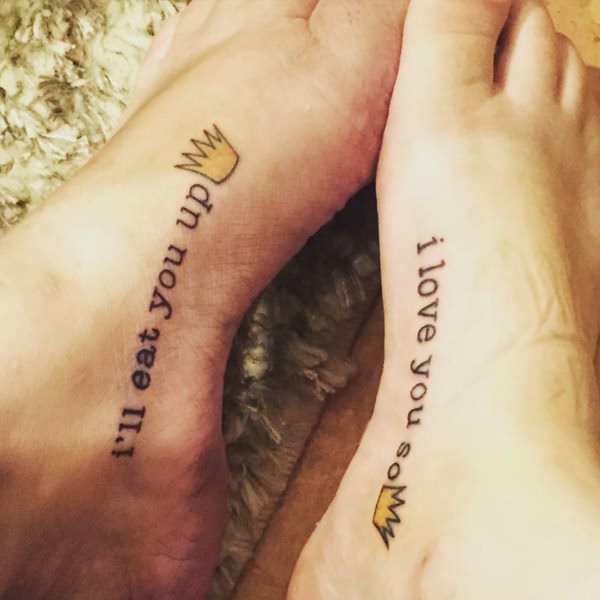 Do you ever feel like you are in so much love with the other person that you want to just hold them tight enough to squeeze them or eat them up?
Forever and Always Tattoo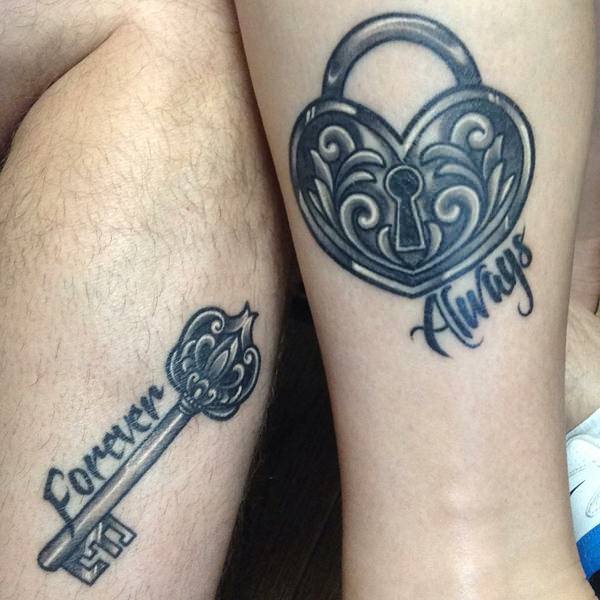 Different Script, Same Emotion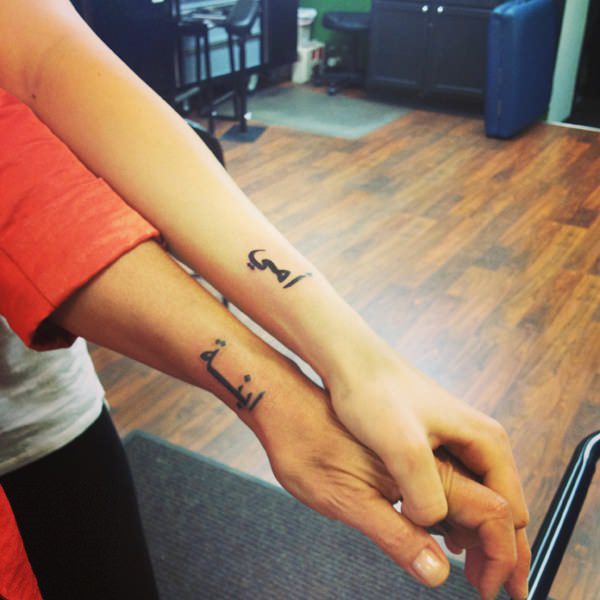 This is written in a different script, but the emotions are the same.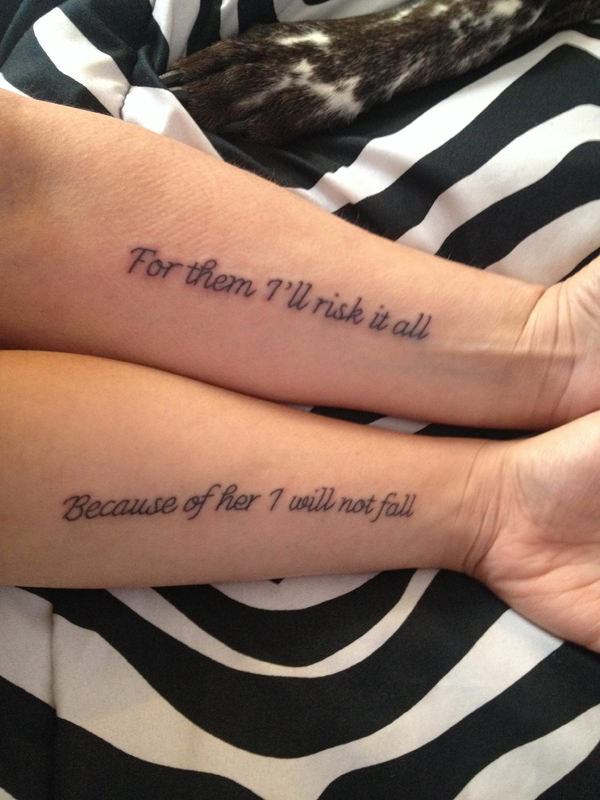 This tattoo resonates energy, valor, and encouragement for each other and I think it is pretty beautiful that way.
The pair of elephants with their trunks entwined with each other makes it feel like they are hugging each other.
This is a very simplistic tattoo design right on the back and depicts a mother and a daughter in a very creative way.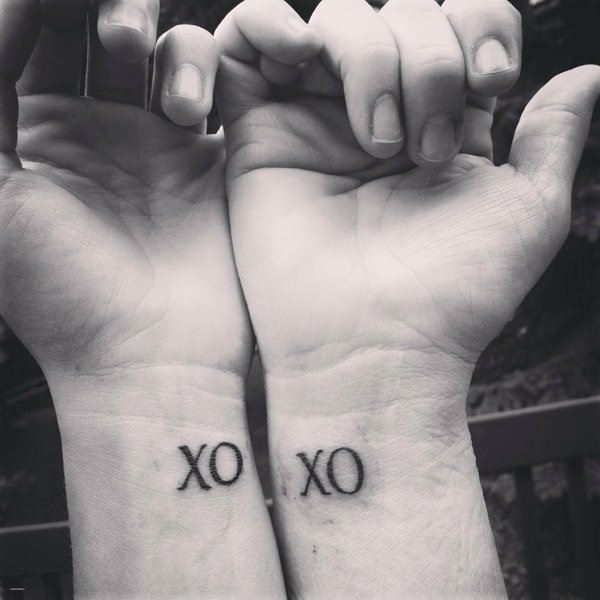 You can never have enough hugs and kisses to give to your mum.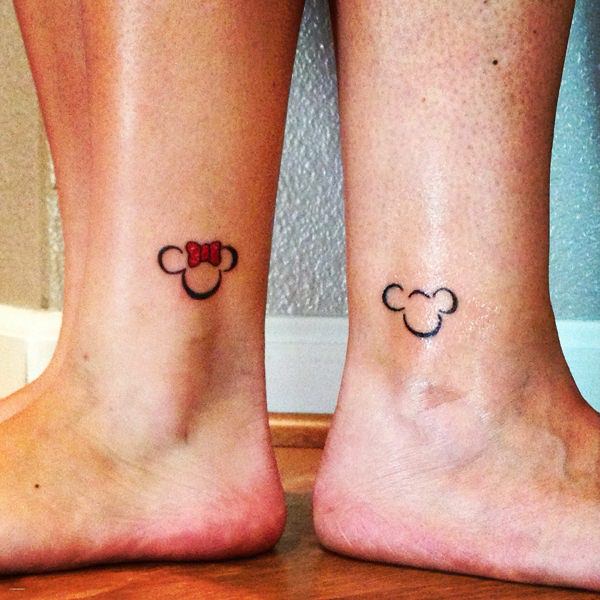 If you both love Disney, then this one might just be the perfect tattoo design for you.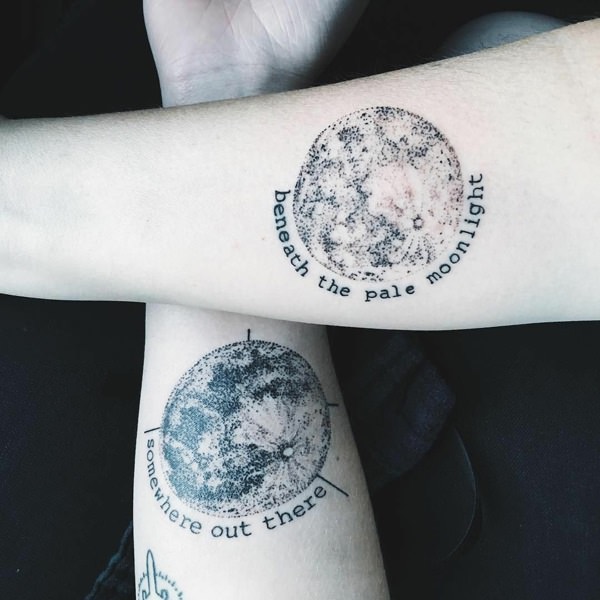 The matching moon tattoos with a quote that is completed only when read together is perfect.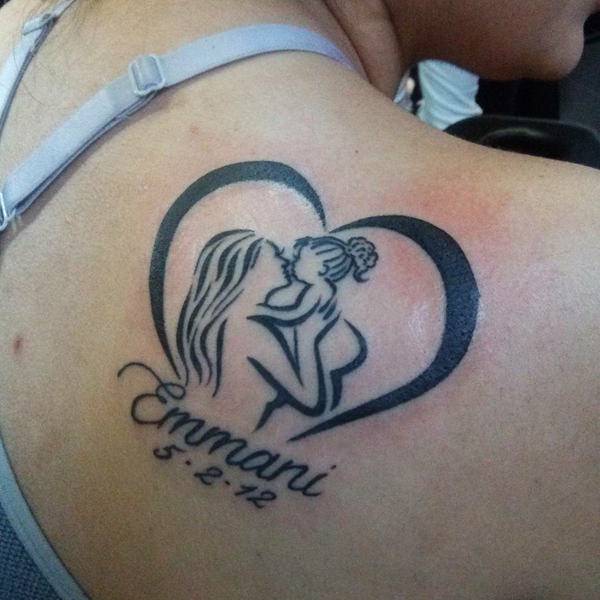 You can always get this symbolic tattoo with your mother's name and your birthdate to show your love for her and your gratefulness.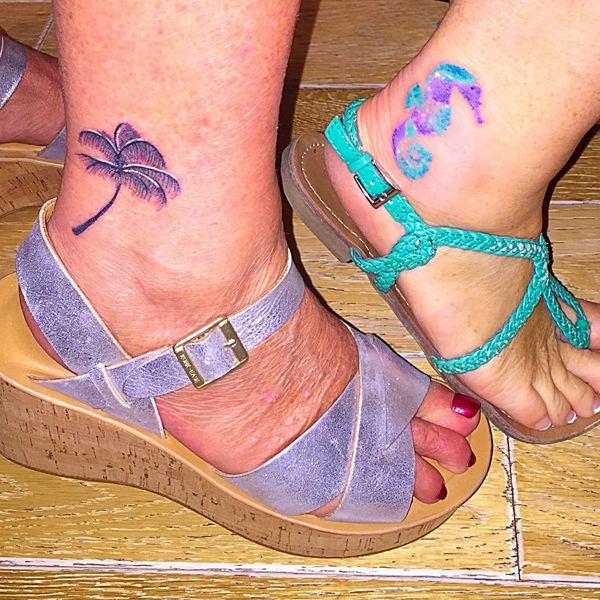 You can get these vibrant designs if you both love to travel or just beaches. If the beach is your favorite hangout spot then these tattoos are pretty great.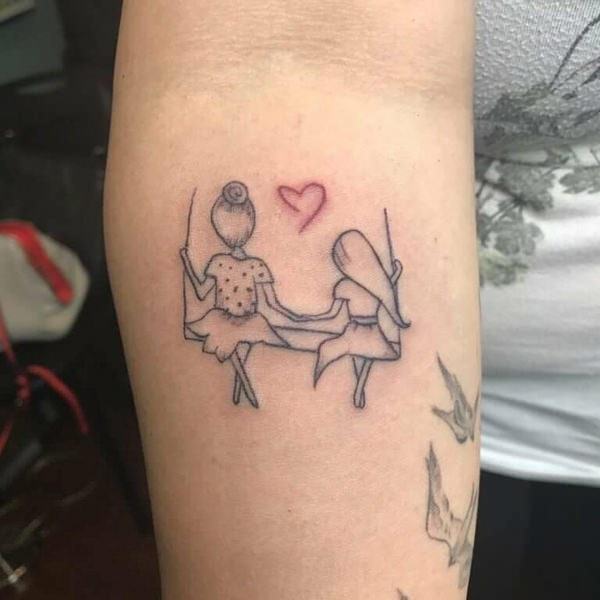 This mom and daughter outline on the swing depicts the special bond that they share. You do not really need to have a lot of elaborative colors on this one as its simplicity speaks volumes.
This is a very cute infinity design. You can get each other's names along with their birthdate infused inside the infinity symbol.
Heart and Infinity Tattoo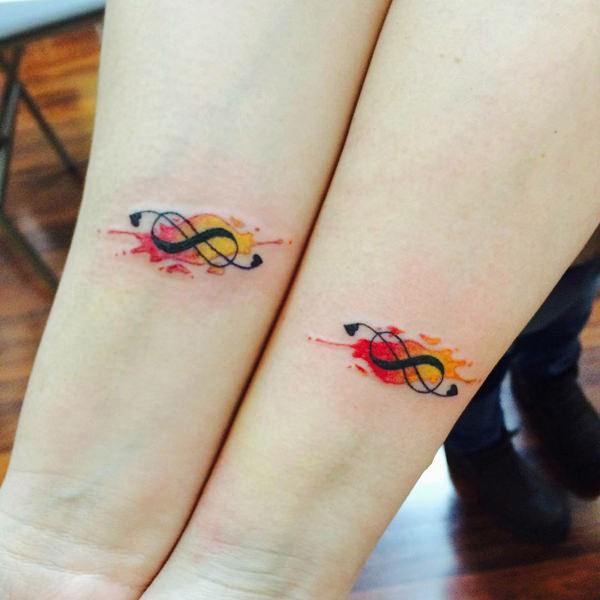 It can be both an infinity symbol of a note of music. Anyway, what is the most attractive thing is the blotch of colors on the background that makes the design pop out.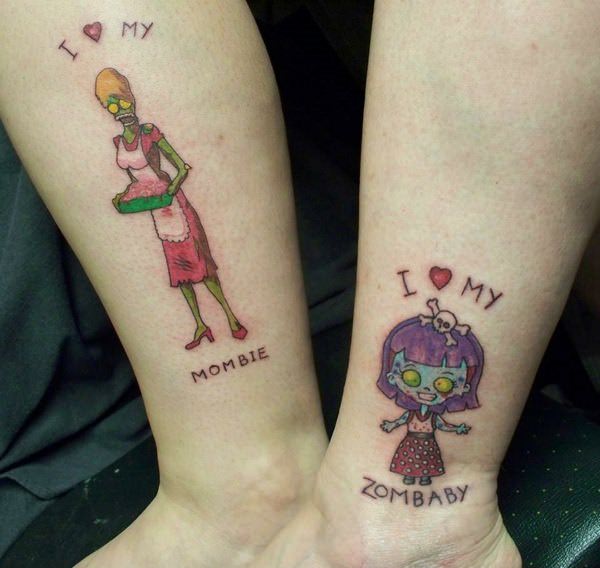 This is a very witty and funny design but altogether very adorable too! I love the vibrant colors and whenever you will look at it, you will definitely have a reason to smile or even laugh!
Arm Mother Daughter Tattoo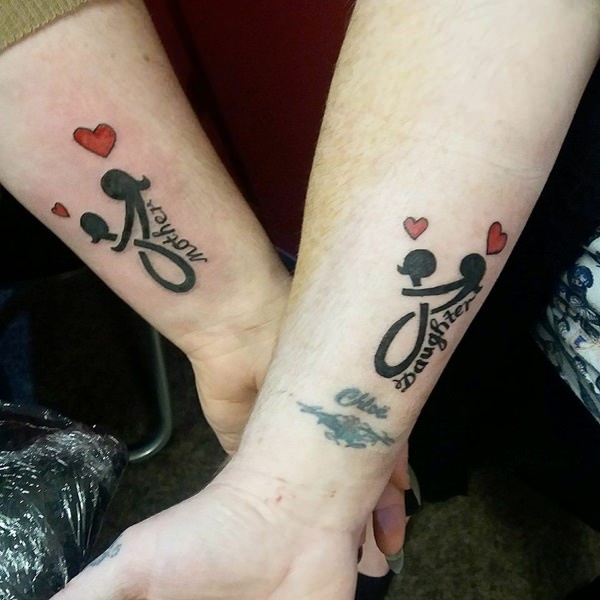 The arm is a great placement idea for your tattoo design as it is one such area that is very visible.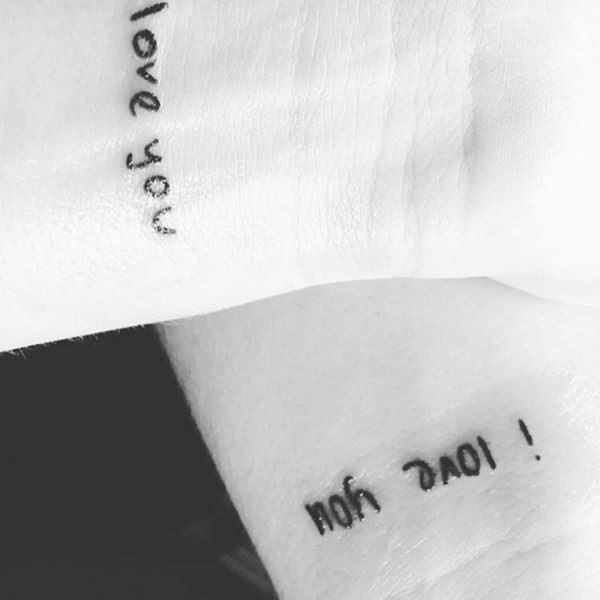 You can just simply put down your feelings for her on your wrist. I think true feelings do not require many words.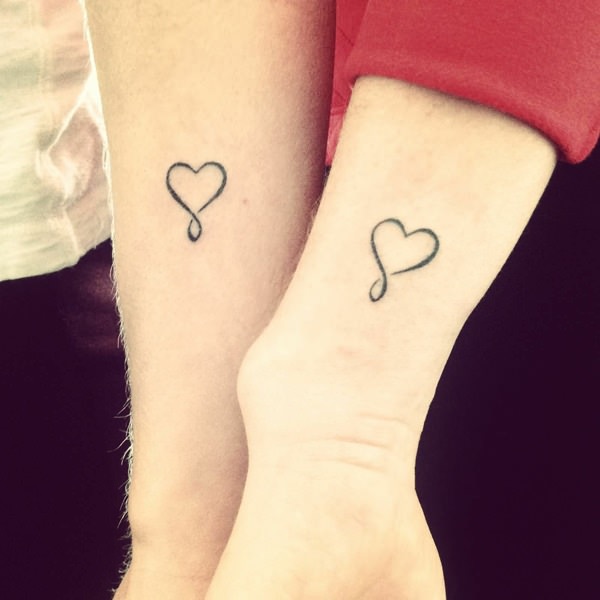 You both can pair it up with matching hearts.
This is a tattoo made up of some special words like 'believe', 'faith' and 'family'. It is a great tattoo to show your love for your family which is your greatest strength.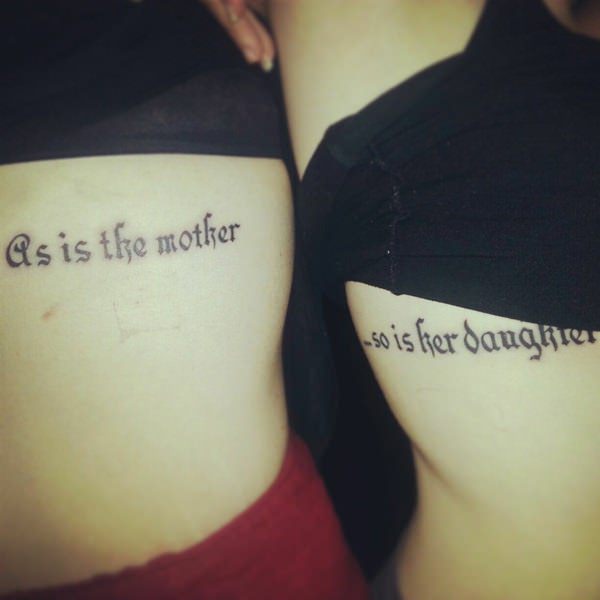 These two swallows seem to be made for each other as the fingers intertwine with each other.
Mother-Daughter Bond Tattoo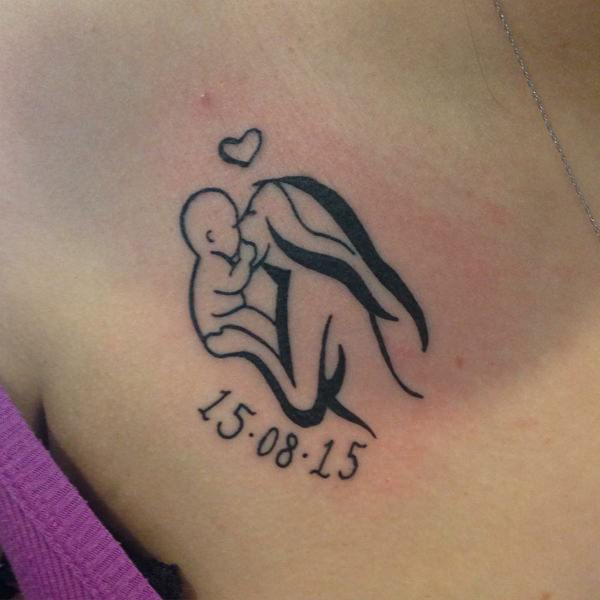 This simple mother and her child tattoo represent the unconditional love that a mother has for her child.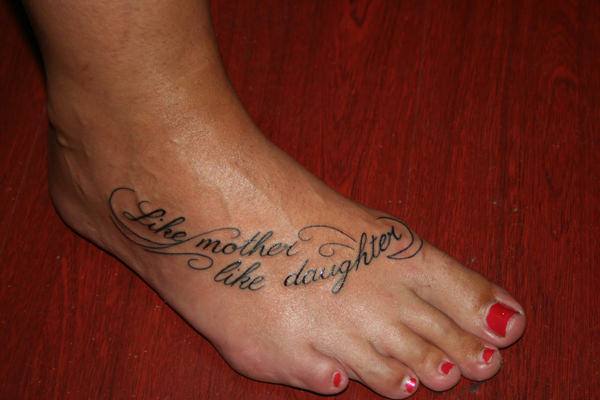 You can try and get such tattoos at unconventional places like your lower abdomen, ear or feet.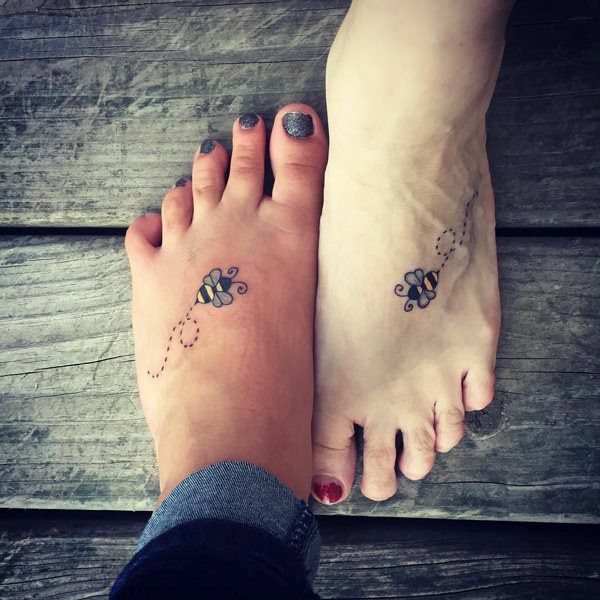 These bumblebees seem to be making their way towards each other. The vibrant yellow colors make them pop out.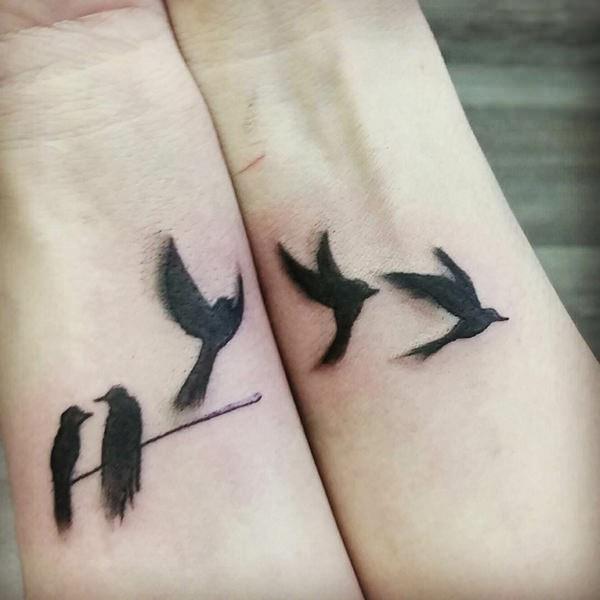 The two birds sitting quietly on the branch seem to have flown away to some new spot make for a great tattoo design.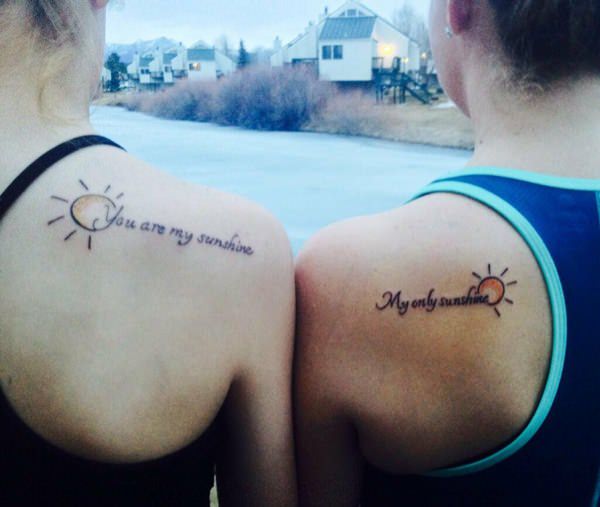 You can write these lyrics on your upper back with a rising sun. The tattoo does not need to be too ornamental. I think a simple design can express feelings too well.
I think the more simple and straightforward a tattoo is the more poignant it is. You do not really need anything ornamental things to describe your feelings for someone. For me, this is one of the perfect designs that you can get.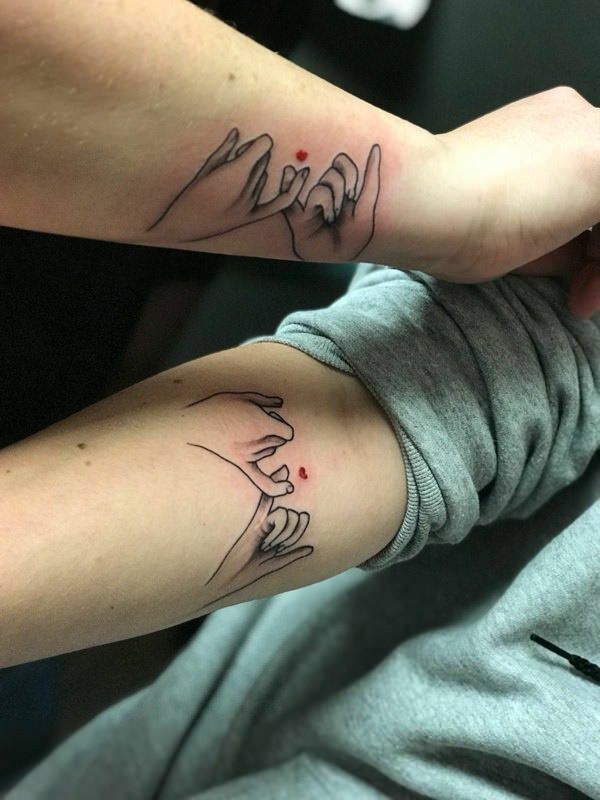 A pinky promise is a necessary element of all the relationships.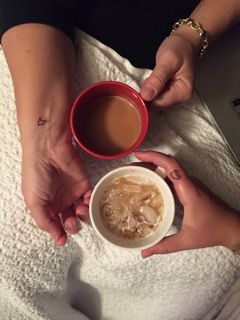 You can get something you guys really love to do together even if it as simple as having coffee with each other. It will remain with you as a testament to your quality time with each other.