So, everything that you have planned for your wedding is almost done and now you need to relax before your big day, isn't it? It is time to get yourself indulge in a spa- a nail or a body spa, both work wonders. So get on with your research glasses and dive into the internet to search for beautiful manicure ideas that you can do that will compliment your dress on your D-Day. There are many manicure options that you can choose from, but we are not talking about your usual manicure nails. It is a special occasion which calls for special wedding day manicures. You can always get them customized with your own and your groom's initials, which I think would be rather cute. Then you can have gold tape, floral themes, exquisite glittering and what not? For a plot twist, you can even keep it minimal by going for a french manicure. There are many variations to this type of manicure style and you can choose to do infinite designs.
We do understand that with your wedding day around the corner, the nails might not be on your priority list when there are still guest lists to be made, decide on your trousseau, send those invitations, get your bridesmaids and groomsmen ready…and the list just goes one. However, your hands too need that special pampering because each strand of a bride gets attention on her day. And we do know that you do not want a picture with chipped, unmanicured nails that will become a matter of embarrassment for you. Brides are super busy and we do understand their situation, so skip those hours of scrolling on Pinterest and Instagram because we have put together all the best kinds of manicure that you can get for your special day. All the work is done, and all you need to do is scroll through this list.
There is such an extended list for the brides. They can choose from the shades of nude and pretty pastels that are so in trend because really, the color choices are just endless and infinite. However, if you have that white traditional dress, we would want you to choose something lowkey, for example, nudes, light brown, pink, lavender, etc. However, it is about you this day and you can go and be a bit edgier and choose darker shades like wine color or maroon.
Luckily, we have added almost all kinds of nail arts, right from something subtle and simple to something that will make you look a little edgier. So, go ahead and scroll through these 100+ nail art designs for your wedding.
French tip is great but you can always add your style to it. We love how this bride has decided to choose white as her base color and silver tape for the tips of her nail. You can even get a light pink base color which would look equally pretty.
Classic French nails have always been a hit amongst girls, in general, and who said it would look basic on the wedding day too? I think french manicure is extremely elegant and you can even skip the base color if you think your nail does not have that yellow shade and is healthy enough. The one in the picture has some little beads to make it a little less basic.
If you do not want something very overpowering, this design would look gorgeous. It is subtle and has great soft colors that would match your trousseau. I love the rose theme in the center of the nails. It gives a feminine touch.
Adding little glitter is a great idea if you want some glamour in your style. French nail design is a little traditional, but you can always further it up a notch. The gold glitter would sparkle through your lovely day.
Heart Themed French Manicure
Because weddings are all about love and connection, adding some heart to your French nail art is a great idea to romanticize the day. The hearts look pretty cute and this wearer has even added a bit of jewel to add a little glamour to the design.
This is not your basic French Manicure. The nails are done with acrylics and so you would have a lot more to experiment with. There are many shape options like coffin, square, oval, almond, and round. You can add sequence patterns near the cuticles of your nail.
You can ditch the traditional colors and go a little haywire with these turquoise nails. This design is best for shorter nails and looks very chic. All you need is to give your nails a beautiful shape.
A 3D Wedding Nail Art Design
3D Designs are not only super cool but your wedding is the right occasion for you to get something different done. Do not let your ring be the only thing that shines on your hand.
This orange nail design with pretty pearls and a whole nail full of shimmering crystals look very attractive. If you don't want to look anything less than a fashion star, this design would definitely 'nail it'.
This design is beautifully sophisticated. It is the perfect one for your traditional wedding day. It feels like ombre and french manicure has been clubbed together. The result is something uber-sophisticated. I like how a single nail has been given a floral pattern. Flowery designs do add a feminine touch to the look.
This nail art consists of different styles with nail paint. The nail color, of course, is the same, but all you need are three different types of same nail colors. So we have a glossy purple, a glimmering purple, and a metallic one. Quite a variety!
Gel manicures are superb for the brides who are running out of time and want something that would not chip easily and is durable enough. Gel manicures take lesser time to dry and work well if you have lesser time to spare. With gel manicure, you need not worry that your design would fade away too quickly. The shine and gloss would be maintained. Getting something as simple as this lavender color is great because all you need is a set of clean nails that are presentable.
Absolutely Glam Nail Art for Bride
Did we hear that right? It is your special day? Well, I see no point in keeping it basic. You need to go all gold and glam up your wedding day. This gold manicure design would add the much-needed wow-factor to your outlook.
This is a lot of fun, I think because florals are never really out of fashion. The design looks cute and chic done with perfect nude colors. It is a bit of everything, right from modern to classic and everything in between.
A natural look is great for your wedding day because it looks effortless and yet pretty elegant. Make sure that your nails are clean to enhance the effect. All you need to do is shape your nails, work on your cuticles, and buff the nails to achieve something healthy as this. You can keep it bare or apply a coat of transparent nail paint to give it a bit of luster.
Well, if your wedding dress is made up of lace, I see no reason why you can not mix it up with your nail art too? This nail art looks like something fun. You can even do it yourself by getting some stencils that are readily available online. The next step is to collect your bridesmaid for a fun sleepover and get started on your nails. All you need to do is apply a base coat of any lighter shade, preferably a nude tone, then with the help of a stencil (or even a real lace would do), you need to create the pattern. While all this dries up, your next step would be to add a top coat to lock the look. Here you go, your DIY wedding nails are done.
If you are getting married during the winters, getting a snowflake as your nail art design would be just perfect. You can do a winter theme wedding and sync with nature a bit.
You have perfect nails on your hand but what you do not want to miss out are your feet nails and especially if you are wearing peeping toe heels. You must not limit your nail routine to your hands because feet are important too and would give you a little more put-together look. You can add a little embellishment to add it to the glamour effect. If you want to contrast your feet manicure with your hand manicure, I see no reason why you should not. Or you can just simply coordinate them. Anyway, they would look picture perfect.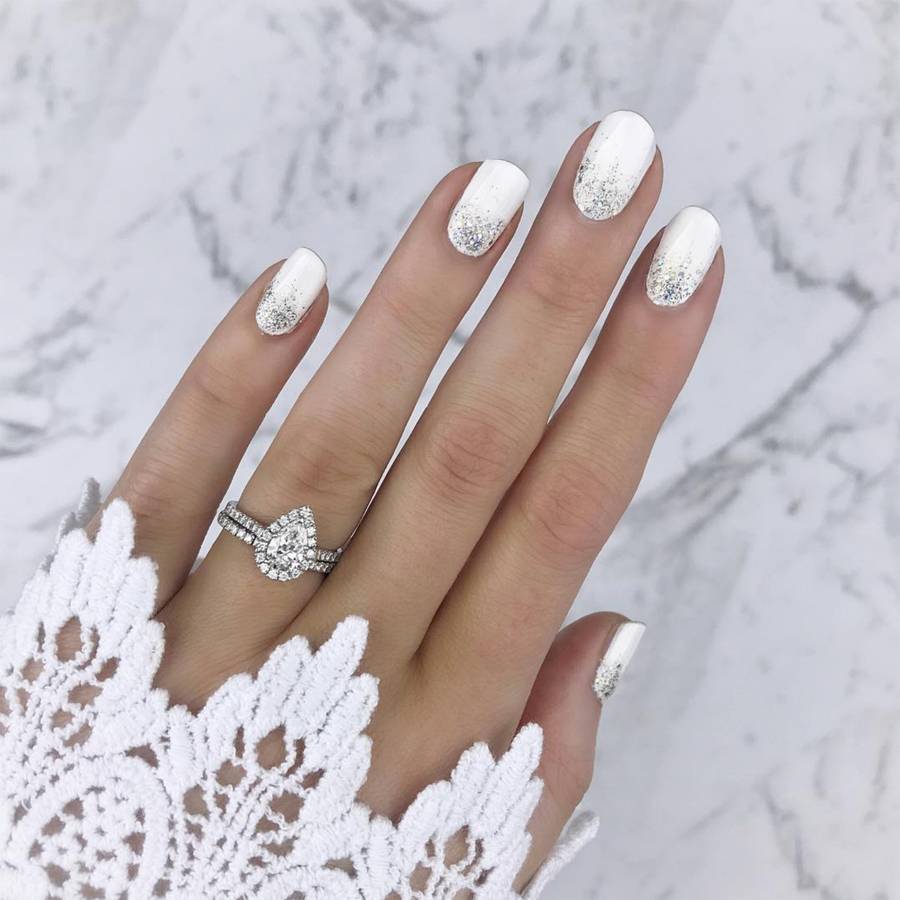 Since white is the theme of weddings, these white nails look perfect. The wearer has added some glitter to the nails to make it look a bit festive. I love the simplicity of this design and you always need not be overdoing things.
Different Gold Tape Patterns
Gold tapes are great for outlines or covering the cuticle and the tip of the nail. The wearer has kept the rest of the nail quite natural and I guess this is all it takes to get a decent look for the wedding.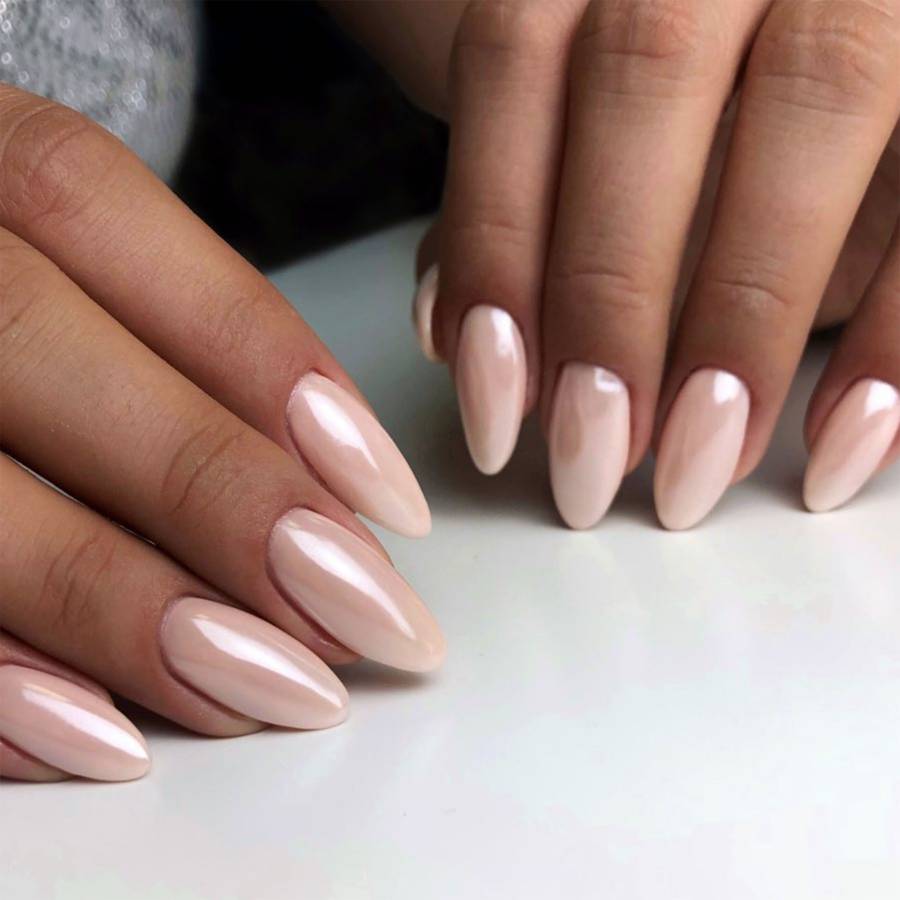 These metallic pink nails are beautiful. this style is also called the chrome nails which are great for any glamorous occasion. The color makes it look like a seashell, so you can consider it for your beach wedding too.
Glittering French Manicure
This bride has kept her nails very minimal but the only exception is the glittering French tip that looks gorgeous.
Blue is a great color for a wedding because it stands for peace and tranquility. Adding a bit of floral design would take your nail art up a notch. The nail sequence looks pretty cute too.
You need to show your love on your wedding day with these cute little hearts. I like how the base has been kept to a minimum.
This design is perfect for a summer wedding. It is very floral and the yellow color makes it look so refreshing. The base has been kept simple so that the flower pattern could just bloom.
This look is great for a wedding. I think it has that extreme wedding vibes going on and we love how the nails have been given the groom and bride effect.
The sequence design is great because it is very minimalistic and does not falter to impress anyone.
This design is great if you want your nails to dazzle up a bit for your special day. It seems like a mix of ombre and french nail art. The gold and nude shade go perfectly hand in hand.
What a cute way to agree to the proposal, isn't it? I love the little message idea; it is super creative. The design is very simple and perfect if you have short nails.
You need to share the love with everyone on your wedding day and what can be better than getting some beautiful hearts in different shapes, sizes, colors and patterns to be imprinted on your nails? It is a unique way to show how loved you feel during the wedding day.
Have you ever dreamt of a princess or barbie wedding? If yes, then undoubtedly, this is your design. Don't even think twice before getting this design. It is super easy and a DIY.
This design is super cute. Instead of polka dots, you can add hearts that would resonate with your wedding theme. The base is beautifully done with pink while the red hearts look just lovely.
Without any doubt, pearls are a girl's best friend. And if you want something elegant and pretty for your wedding day, this pearl design would make heads turn. I like the base has been kept simple with silver nail paints.
The silver ornaments on the glittery silver base look pretty glam. We love this design for you if all you are seeking is a little glitz to make your day a little sparkling.
Square French Nail for Bride
This is a little twist on the traditional french manicure design. The basic idea of getting the tips white is the same, however, you can get it done with many other design pieces which would look fabulous.
This design is pretty basic and you would not even need that salon's appointment to get this for yourself. All you need is a base coat of beige or other nude colors and this golden sequence would look gorgeous on it.
The wedding nail art is pretty adorable. I like how the nails are done with groom and bride theme designs. The little 'I do' message is pretty cute too. The pretty sequence work looks scintillating and what else shall we say? It is ready to party!
Silver Tape French Manicure
You do not have to get a simple french manicure. You can add loads of elements to make it look a bit more glamorous. Bejeweled nails look awesome at any occasion, and if the occasion is your wedding, there are no second thoughts about it!
This nail art gives a few tribal vibes. I like how the base colors are a shade of nude tones and then out of the blue…. yes, blue tones. I like the silver and gold embellishments though. It adds a bit of extra spark to it.
Like we said before, flowers can never really go out of fashion and this nail art justifies it very well. Flowers add tons of glamor and feminity. This is specifically the rose pattern and the best thing about it is that it is 3D. You can choose any kind of flower that you want and that will go with your theme. However, I think that roses are pretty romantic.
This nail art has everything right from the much-needed glam to the pretty princess like vibes. There are so many various kinds of embellishments that you would just never get bored with this one. The overall look is pretty girly.
If you are minimalistic and looking for a little creativeness, this design is great. The lovely flowers look extremely delicate.  I like how some of the nails have single half-flowers while others have two or more. It adds a bit to the spontaneity. A little bit of glam factor can be seen through these pretty sequences.
The matte nail paints also look amazing because it is not always necessary to have those glossy nails and especially if it is your wedding day, you need to do something different.
You can have a lot of patterns that you can do by using the tape. It is super easy and you can even do it yourself rather than visiting the nail salon. You can mix and match any colors that you like and the tape would help give you uniform patterns.
This is such a creative way to write your wedding year or the first time you met on your nail art. It makes it feel like you want to make your wedding a part of everything which I find extremely cute.
For those of you obsessed with nail extensions, this is a perfect set or you. This nail art screams of glamour. The metallic or chrome nail tone is wonderful. I love how one of the nails is done completely in rhinestones. All you need to do is take care of them after you get them because they can get stuck easily in that wedding fabric.
You must experiment well with your matte nail paint. I like the way roses have been incorporated in it to give it a beautiful and romantic touch. This nail art looks very pretty on small nails.
Red and White Floral Design
The red glittery base against the white floral pattern is pretty amazing. You can go for such a design on your wedding day because it is quite a romantic design. Besides this, red is a color of love. It speaks of positive energy and passion and that's what is needed exactly.
This is pretty simple when it comes to adding some extra ornaments to this design. A strip of stones looks quite pretty and elegant. It is a great way to waver that monotony and add a bit of the glam. Bright red nails always steal the show; make sure to match it with your lipstick to give it a kick.
I like how this design is done very subtly and it looks extremely elegant. The pink is absolutely great if you want something different for your wedding. I would suggest that you can also get some base colors like beige or white and then decorate it with rhinestones so that they pop out more.
This red nail shade is not too bright or very dark. If you do not want the red color to overpower your day, then this design suits very well. I like the little silver flowers which add to the femininity of the design. Adding such patterns enhances the elegance of the design. Even though this design is done on square nails, I think nails shaped like almonds would look pretty amazing too.
This dark red base looks fabulous against the white-colored hearts which are made out of dots. It is absolutely perfect for someone who is all about love, romance, and roses. A perfect example of how "love is in the air".
Grey color comes somewhere between being a basic nude one and a bit visible one. However, it looks perfect with these golden embellishments. I like the use of golden tape and glitters that add up to the glam effect of this nail art.
This nail art is inspired by the henna designs that are so popular among the Millennials these days. If you are crazy about a henna design too, this design is something you can consider. Even the color that is used is dark brown which is the natural henna color. I love how the brown color is contrasted with the golden patterns. This design looks quite traditional and tribal and very distinctive on your D-day.
This glittery french manicure is awesome. You can even reverse the style so that the golden tips are the base of the nail and the white base becomes the tip. Isn't it the traditional method for a french manicure too? I love the featured nail done in complete golden color, it definitely jazzes up the whole look instantly. A design like this would definitely turn heads.
Pink and White Floral Design
I love the white floral pattern that is there amidst the all pink nails. You might even notice some gold embellishments on the pink nails, which give the look a much-needed glamour. Even if it was not for the golden studs, the floral arrangement would have been in the limelight.
Awesome Nail Art For Bride
A beige or a nude nail color looks extremely elegant and if you are selecting earthy colors like this, you can definitely turn it up a notch by adding golden ornaments like sequence or rhinestones. Earth colors work extremely well with gold as shown in this design. And in addition to this, this design does not look very overpowering too.
The white border of this design looks extremely pretty. Such designs look specially made for weddings. I think white is such a pure color that it really helps other ornaments to pop up extremely well. The silver sequence looks rather great with such a design. Quite decent and elegant.
If you love red hot nails then this design is perfect for you because besides being red, it has that touch of glamour because of the glitter nail polish. I love big sequences rather than the smaller ones because they give a 3D effect to the nail. A chunky nail paint just enhances the overall look of the design very well and you are sure to stand out more.
If having over the top manicures are not your style, then you can keep it simple. Just make sure you have cut your nails, shaped them well, pushed your cuticles in, and buffed them properly. All you need is a neat and clean look.
Glittery French Nail for the Bride
If you love the idea of having French nails and it is something that you are comfortable in, then this design would be the best for your wedding day. Adding glitters would make it look different from your normal design but on the same hand, making it work wonders for you.
If you want to dazzle everyone, you must try this all gold glitter nail paint. It does not include any nail art and all you need is to get your nails cleaned and shaped You can even apply the nail paint at your home. This chunky gold glitter would definitely add to your white wedding dress.
Just like the gold nail paint in the above picture, you can opt for pink nail paint too. I think this chunky and glittery pink nail paint would look pretty feminine. I personally like this one much better than the gold one. It is more feminine than the gold design which seems to be a little extra sparkly.
This is quite a simple pattern too. All you need to do is get yourself a pretty almond-shaped manicure done at the salon, and the rest of it can be handled easily at home. This nail art includes just two shades of nail paint, that is, red and glittery white. You can put the glittery white nail paint on your ring finger to make it shine just like your ring.
Subtle Nail Art for Wedding
This nail art is perfectly beautiful. It is done with the most subtle tones of the nail paint, which is silver and white. To add to the glitz, some rhinestones have also been added to the design. I like how the whole nail has not been involved to not to overpower the design.
This design is as simple as it can get. With just a shade of beige nail paint and a little bow ornament, you can easily achieve this look at your home. Ornaments like these are readily available these days or you can buy it online too. It totally transforms the whole look.
This nail art design is a mix of being edgy and elegant at the same time. The pink nail paint is beautifully elegant along with the gold tape work. The golden rhinestones are something that provides that bit of the edge to the design.
What a great way to reflect on how you feel on your wedding day! This design is so minimalistic but hits the right spots. Weddings are totally about love and I can find no better way in which you can express this. Nothing can be more perfect for the occasion than this design. Although, I must say that this design is a bit girly.
If you are spending a lot on your hand nails, why to leave your toenails behind especially when you are planning to wear those peeping toe shoes? If you are dressing to impress, I see no way why your toes must be left behind. This is a classic French manicure that will instantly win many hearts. You can either match your toe design with your hand nails or give it a whole different look.
This stone studded design looks super romantic. I really love the base color which looks natural and also enhances the beauty of the stone too. The crystal accent looks very chic and elegant. You can recreate this look on your own with the other varieties of stone designs that you can buy online. However, you might need some nail extensions if you do not have naturally long nails.
Simple Nail Art for the Bride
This design is not only simple but super stylish too. Perfect for a wedding, this design is extremely elegant. This style is a bit different because the silver stripes are done vertically instead of horizontally. I think the addition of the silver strips is really brilliant because it makes the basic pink color look very distinctive. Either silver or gold, all you need is that bit of the glam touch to get wedding-ready and look fabulous.
We have these beautifully done nails that look super neat and chic. The pear white tone is the perfect one for this design. A single nail on each hand is studded with beautiful stones that will make the look perfect for any bride and not too bland. Such nail art would suit any length and shape of the nail.
Ombre Wedding Nails for the Bride
This is a super glam way to change how the ombre looks. I think a french manicure and ombre, both look so amazing that usually, people get confused about which style to go with. However, I think that a bride can break all the rules and get whatever she wants. So here is a glittering, embellished ombre french manicure nail art design that has the best of both worlds for the bride.
Plain White Elegant Design For Bride
Silver strips are great to add a bit of elegance and glamour to your sober and simple design but if you want to add a bit more glamour, then a single silver strip would not help you much. You need to convert your whole nail into the glimmery silver beauty that it is. The nails look absolutely gorgeous without looking too crowded for any pattern.
Combination of Pink and White
This design has half the nail done in pearl white tone and half of them done in a pretty baby pink color. The silver-tone nail paint is added to the bottom of the nails. For a second option, you can even add rhinestones to the design. I think this basic palette with all the nude shades really works amazingly with silver or golden embellishment. This is such a modern look for the bride.
This is the gorgeous pink color done in matte kind. I think either glossy or matte, pink is absolutely perfect for an occasion like weddings because it is elegant and pretty. It does not overpower the rest of the dress and attracts unnecessary attention. The last three of the nails are decorated beautifully with crystals in different shapes. If you want you can add any other kind of jewel to this design and make this work out better for yourself.
French manicures are great for weddings or even if you want something for your day today's lifestyle too. This design has the perfect balance of sheer elegance, glamour, and a bit of twist. This is definitely not your conventional French manicure. The base is done with beige nail paint and one of the nails does not even have the french manicure and is decorated with beautiful rhinestones instead. It looks like pretty little polka dots.
This french manicure inspired ombre trend is very cool. It looks pretty unique and elegant. I like the addition of the stones, they actually look like little pieces of diamonds strung together. I like the idea of getting the embellishments on the ring finger because that's where the ring goes too. It is too romantic.
White toenails are looking absolutely gorgeous and why should they? If white hand nails can look divine, then so can the toenails. I love the addition of little sequences and stones that look absolutely elegant. The simplicity of this design is the sheer beauty of this nail art.
French Manicure With Glitter Ombre
This french manicure has something unconventional about it. It has a glittery ombre thing going on about on the ring finger which looks absolutely stunning. I think this design would suit any bride perfectly. Moreover, the square-shaped nail looks absolutely gorgeous. The silver ornaments definitely suit the white and beige french manicure.
For any bride, pearls accessory is to be there for sure. Pearls always look super amazing no matter where on the bride's wedding dress, her jewelry, or even her nails. This design right here makes the use of pearls very judiciously. The base color of these nails is white with one featuring a nail that has pearls and crystals on them. The pearls make the design look very stylish and the classic pearls have been given a modern touch. Getting your hand on pearls is relatively easy now and it is easily available online.
Vertical Lines with Crystals
The silver stips going down have been seen previously on this list, however, this wearer has upgraded that strip design and replaced it with some crystal strips which look very enthralling. The basic manicure is the French one done on square-shaped nails. One of the nails also has a cluster of crystals near the cuticle area of it and it looks absolutely stunning.
We have one more chrome or metallic look with a baby pink color. The base nail paint is done with chrome color while you can feature two to three nails with silver or golden glitter nail paint and silver or golden embellishments like sequences, rhinestones, or pearls. This look is a great design for any bride as it not only covers a single style factor but mostly all of them.
The pearl white makes the base of this nail art and has an absolutely finish. It gives a beautiful glossy touch so that it stays glam. This design features two accent nails with one having silver glitter nail paint and the other one with beautiful crystal designs. I bet the brides out there would love such a sophisticated design for their wedding day. You can use any other neutral colors with it.
This is not really the common manicure that you see all year long on people. Rather it has two featuring nails that are beautifully embossed in floral or jungle pattern. You can also get some flowers embossed on the nail. Other than that, the nail has that classic white tip along with a neutral color as its base. I love the minimal sequence pattern on two other nails too.
Elegant and Simple Nail Art for Bride
This design can not get more pretty or elegant than this one. It is very trendy and chic. It has a baby pink nail color base along with two accent nails. The accent nails have a horizontal silver stripe with a crystal-studded in the center of it. It looks very elegant and subtle. I like how the design has been kept to just two nails otherwise it would have looked overcrowded.
A classic French manicure with white tips and the earthy base seems to be the go-to of the brides these days. To be honest, French manicures are everywhere and they have been n trend for so long that they do not seem to go out of fashion at any time. The addition of the crystals do ofc course, adds the much-needed glam effect that is required for a bride.
White Nail Patterns for the Bride
The greatest thing about white nails is that they look amazing with all kinds of embellishments, sequence patterns, etc. I love the polka dot nails that are done with the round sequence. It adds a little surprise factor to the design. The single white nail is also done with white glimmering nail paint and looks pretty glam. This subtle design is perfect for any bride…or for even a bridesmaid.
This nude french manicure looks absolutely gorgeous on short nails. I think the addition of the crystals does actually make a difference in the look. The best thing about it is that you do not really need long nails for beautiful manicures and nail arts. This modern and chic look is absolutely gorgeous. You can add any jewel of your liking to this design.
If you are obsessed with the trendy ombre and still love the elegance of French manicure, then this design would be absolutely perfect for you because it is a mixture of both of them. The nails look pretty subtle and it is the best choice for any special occasion. A design like this would not really suit that well if you have shorter nails. But you can still try it on because it is all about personal comfort and liking.
There is nothing more beautiful than the red base color done in red matte nail paint because it looks absolutely gorgeous. Red is also associated with romance and energy and nothing can be better than this for their wedding day. I also love the elaborative crystal work that has been done over the base color because nothing is more charming than a few sparkling sequences over a matte look. It is absolutely going to make your nails worth it.
This French manicure design is absolutely distinctive from anything that has ever been seen before. The nails are done in chrome or metallic nail paint with a French manicure. They look absolutely glossy. However, the glossy part is beautifully balanced by glittery nude color. This nail art has all the interesting elements in it to make your day dazzle.
This design is completely unique. It does not only have cute little hearts like million other designs that we have shown above but also heartbeats along with it that express love. If you are a die-hard romantic and want everyone to know, there can be nothing better than this design. It is a great design for experimenting and you can customize it as you per your own liking. Something like this would definitely express you feel to your loved ones perfectly.
Pink Triangles and Glitter
If you want something fashionable and yet elegant, you must try this design. This one has certain geometrical designs on the featured nail that looks absolutely stunning. The glittering pink nail is also very gorgeous. The combination of all the different elements is something that really adds up to create a beautiful design like that.
Beautiful Floral Nail Art
This design would look absolutely amazing when you walk down the aisle of a beach on your summer wedding. It absolutely has those summer vibes. The floral design is very professionally made and is quite refreshing too.
This picture-perfect nail art is absolutely gorgeous. It has subtle designs that would attract attention from miles away.
It is not necessary to stick to the traditional gold and silver glitter. You can do something different like a blue or pink sequence for your wedding nail. It would look different and absolutely worth it.
This design is absolutely sweet. It has the perfect bride and groom theme going on. All the groomsmen are here with their cute little tuxedoes and a little bowtie. It is very adorable.
Flowers are absolutely perfect for your wedding day and this 3D floral design is absolutely stunning.
You can paint the same exact flower that you are going to carry in your wedding bouquet to make your nails look like they are an extension of your whole look.