Peace Tattoo stands for a pacifist comprehension on one hand, while it also delivers with a political statement. Peace tattoos have evolved to be a full-fledged movement that emphasizes corporate well-being over individualistic benefits. In addition to this, it is a possibility that peace tattoos maybe cleverly sugarcoated. The symbol for peace, the circular outline, is one of the most popular logos in the history of humankind. The index and the middle finger sticking up is another such gesture that is popular among the contemporaries and has proven to be a great alternative. If you, as a person, have quite a flair for peacemaking, then a peace tattoo is quite an appropriate pattern to think about. Although quite simple in design, they can be supplemented with objects and quotes that are special to your heart. It takes just the right components to create a masterpiece. One more objective of the peace sign is to remind oneself of the peaceful demeanor that needs to be followed and imparted to people without taking their race, gender, religion, and orientation into consideration.
Here are 27 great Peace Tattoos with meaning and suggestions for your next tattoo expedition.
This tranquil yet reverent tattoo is in the merit list to get inked especially for the people who possess a strong belief in God and regard all the religious doctrines as equal. This art piece will fall short of words to express your trail of thoughts and your reverence and gratitude in a gracious way. This tattoo pattern incorporates all the major religions of the society and all these symbols are exquisitely incorporated together to spell the word "peace". Isn't it too creative?
One needs to have unique ideas to make their tattoo stand out. In this pattern, the tree inside the circle represents the peace logo. The three branches of the tree complete the peace symbol. What is ironical is the clock on one half of the tattoo and the colorful mosaic in the second half. The unique blend of black and white along with a collage of beautiful colors adds depth to the whole design.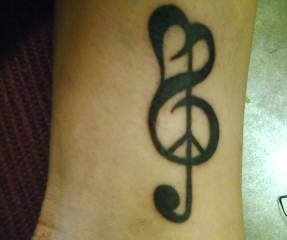 If you look closely, you'll find that this is not an ordinary musical symbol. This musical symbol contains the peace symbol incorporated in it. Music is considered as something which has a universal language. People from all over the world can be connected by musical notes. It not only helps to enrich one's mind but also aids in expressing our feelings. Furthermore, this sign has a heart symbol on the top which indicate the passion for music. Although you can experiment with colors for this pattern, it will look classy in black ink.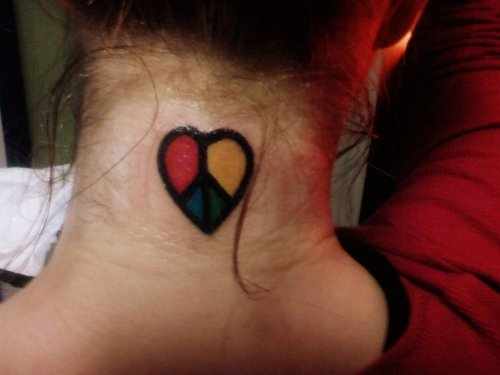 Isn't it true that love always spread the message of peace? Hearts are almost like another logo for peace. This heart is special as it includes the peace logo within. A pattern like this would only spread a message of respect and kindness for others. Even though this tattoo piece is not too complicated, and rather quite simple, it looks exquisitely stunning. All the segments in this tattoo have been colored differently, symbolizing the coming together of various sections of the society to form a peaceful whole. This tattoo pattern is highly symbolic.
Sure Looks Like an Anklet
This tattoo design will definitely let you have the best of both worlds. The anklet looks super realistic with the symbol of peace dangling from it. The feather connected to the peace symbol represents, across many cultures, a kinship with the spiritual realms and to sacredness. And because of their link to birds, they have always been a representation of inspiration and autonomy, not just corporally, but also in a psychic or spiritual sense. The only drawback of this design is that it is limited to the girls only. You can add colors to this tattoo patter to give it more depth.
This peace tattoos flanked by eagles at both sides execute a lovely piece of art. Eagle carries the potential and words of the spirit. It is a man's nexus to the divine because it soars higher in the sky than any other bird. The raptor carries the word of a regenerated life. It is related to the course of springtime, daybreak, and renewal. The intelligence is spread widely like the wings of the birds that confer that harmony and peace can induce perpetual bliss in our life. The beautiful rays of the sun that shine through the peace symbol is actually a metaphor for new hope. The word 'Imagine' seems to have a greater significance for the wearer.
Flowers are a delicate piece of nature's creation and can give a significant message of peace through its beautiful appearance. The white color is actually an emblem of peace and the flower just seems to be the cherry on the cake. Although a white flower has a profound significance specifically associated with the peace symbol, you can get other kinds of flowers inked as per your liking. All in all, it is in the delicateness of the flowers that initiates the message of love and peace. Therefore, having a particular kind of flower in a particular color won't necessarily make a difference.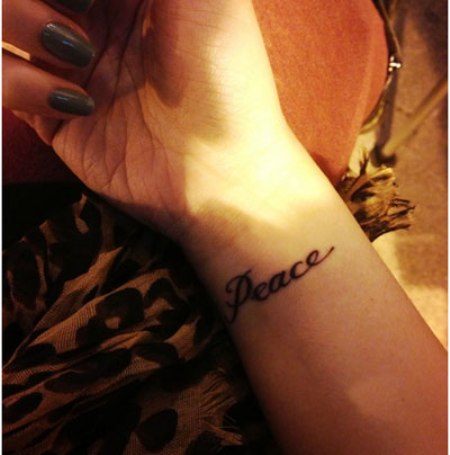 A wrist tattoo is always classy and looks sleek. All you need is to get your tattoo artist to inscribe the word "peace" in a chic format. It is simple, yet an amazing tattoo idea. What can be more straightforward than to speak the word out loud? There are many font options that you can select for. What more is that you can try to get it tattooed in some other language.
For every day is equally beautiful, this happy-go-lucky banner is delightful to look at! It is a good idea for both males and females alike. It is quite a revolutionary design and is definitely to touch hearts. One can also write any other inscription on the ribbon tagging alone the peace symbol to enhance the message.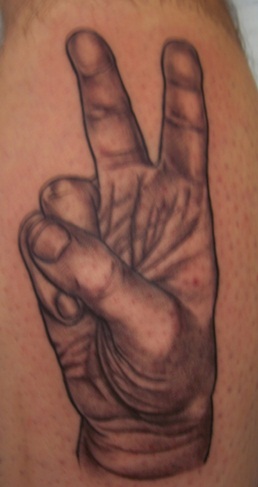 This finger peace tattoo gesture is instigating the cooler version of spreading the message of peace. Customarily, when one needs to peace out, the index and the middle finger are opened wide. This design is quite simple and realistic but the most important thing is that it spreads the message accurately in a very distinctive and cool manner. The black ink is used for shading which gives it a natural look. Although many colors can be used, this tattoo patterns suits best with black and white ink.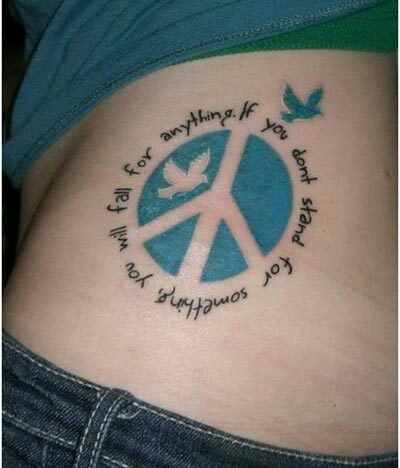 Everyone knows that white dove is a universal symbol of peace. According to customs in many parts of the world, doves are released before some special ceremonies to indicate peace and harmony. In this tattoo, two beautiful doves can be seen spreading their wings high in the sky. This design really does look spectacular with the blue color tone. The quote encompassing the peace symbol really makes it look fashionable and distinct.
Components like nature can be added to enhance the peace message on your body. Nature is consolidated with peace and harmony. This particular tattoo design rectifies the case. Water is symbolic of peace. The thing to notice is the shades of the sun that give it a spectacular view. It's almost like scenery on your skin.
People have expressed the value of peace by means of religion. The Christian Peace Tattoo that displays the logo of peace with a lovely pink and purple flower embellished on it seems elegant and natural. Adding a scripture verse or a quote from the Bible will supplement its elegance.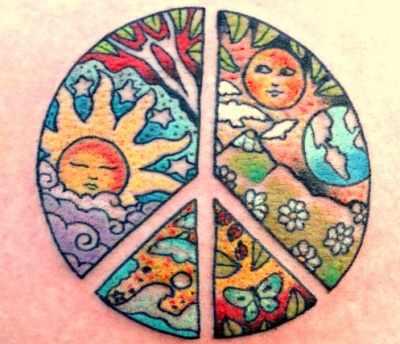 This tattoo is quite artistic in nature. All four segments of the tattoo are embossed with some kind of natural elements. It is symbolic of all the elements that are required to sustain life on earth. It is quite a colorful piece that will bring depth to your message.
Peace Out With Hello Kitty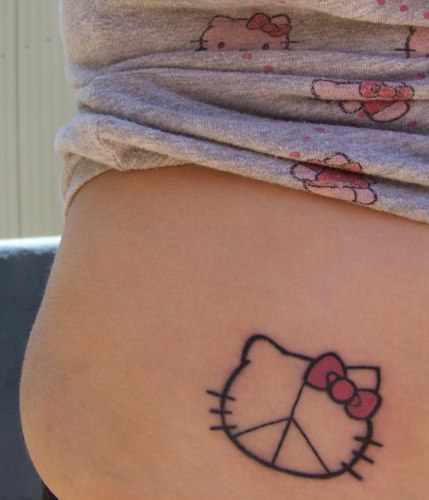 Hello Kitty is quite widely recognized as a feminine cartoon character. This tattoo pattern is definitely more suitable for female enthusiasts. The bow on her head is a cute little embellishment that makes the whole design look more adorable. She is symbolic of a sober, delicate, and kind nature. According to me, this is quite a creative design.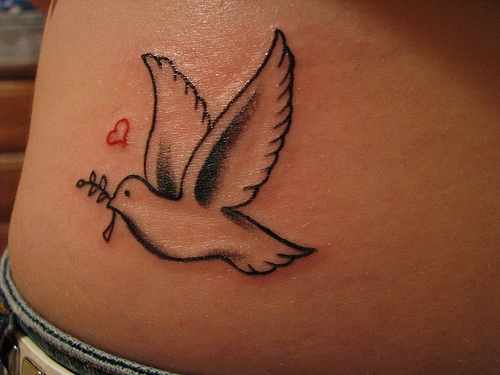 As mentioned before, the dove is a metaphor for peace. Here, the dove is holding an olive branch which also resonates well with the message of peace and harmony. Hence, these components add to the peace message. The little heart on the top looks cute. More subtle colors can be added if you want to make your tattoo a little colorful.
Peace Tatoo Color Explosion
The watercolor effect is great for any tattoo and is quite in vogue. You can incorporate this effect with your peace symbol as it'll seem to provide vibrancy and energy with its colorful explosion.
A peace sign can be provided with a creative twist by devising its perimeters with a message rather than a bunch of lines. The choice of message totally depends on you. It could be something with substantial, filled with meaning or just with words of affection and kindness. The message, however, should not be anything random as this can hamper with the meaning.
Mickey Mouse is one of the most famous cartoon characters on earth. If you are into Disney cartoon, you could consolidate Disney cartoon tattoo and peace logo by affixing a peace sign to the outline of a mickey mouse head. You can get it done simply in black ink, however, getting it done in color will truly enhance the fun part of the whole design. This is a fabulous tattoo design if there's still that kid left in you!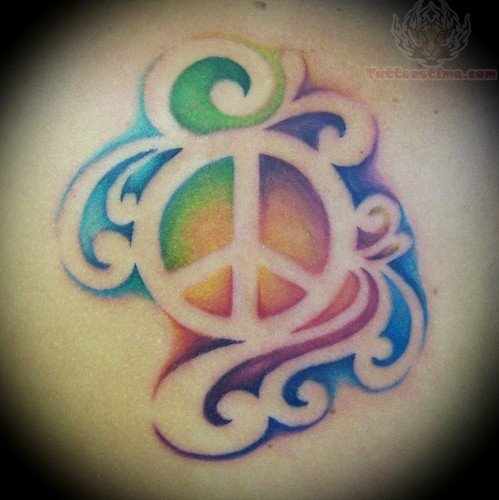 The watercolor effect always adds a depth of creativeness to the overall design. This pattern is only based on outlines and does not have a definite border. Quite good for a creative mind.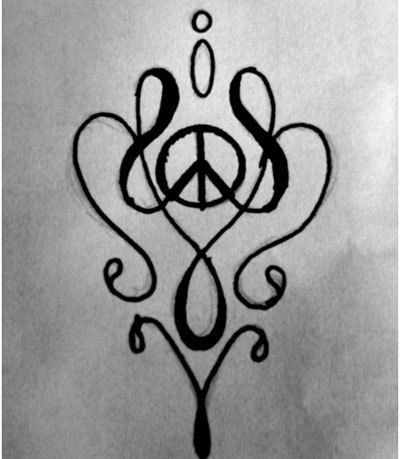 Although the peace symbol basically emerged as a political statement, it has currently grown to become more of a style statement that everyone seems to accept. The placement of this symbol is usually on things like necklace or lockets but it is completely okay to use it as a tattoo design too. A more magnificent way to create a flawless tattoo would be to include this peace symbol tattoo into a geometric design.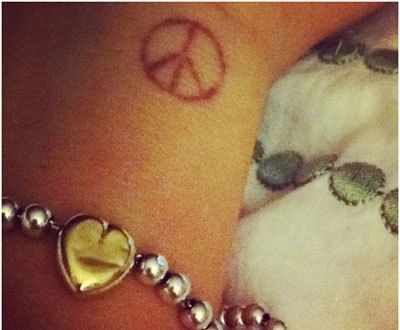 Adding color or going monotone is totally dependent on you. The peace logo tattoo patterns can be inked on any portion of the body in a monotone like red, blue, violet, green or yellow. In fact, the trend of white is growing in leaps and bounds. Although the placement ideas for such a subtle design are many, the symbol, nevertheless, would look best on the ankle, the nape of the neck, the wrist and behind the ear.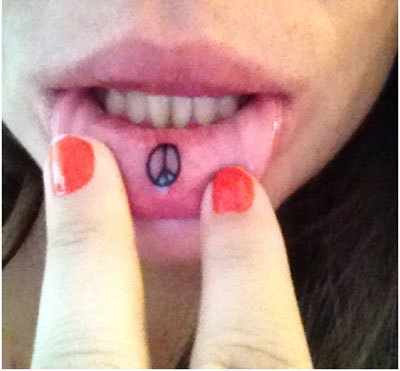 At first glance, one would definitely think of such a bizarre placement idea, won't they? Many times, tattoos are inked on areas that are not noticeable on a regular basis. This can be due to various causes including workplace limitations or probably the wish to keep the tattoo uber private.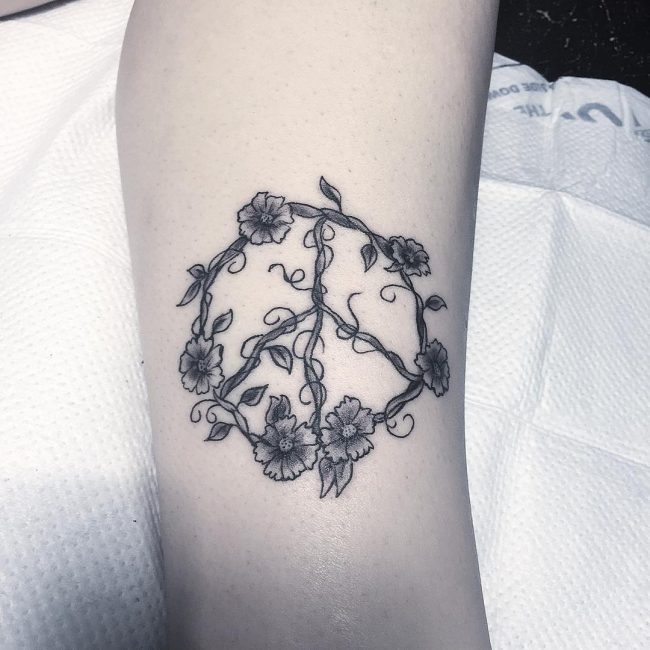 Peace signs with floral designs look great when some traditional flowers that are associated with peace and harmony are incorporated in the pattern. Such a pattern can feature flowers like daisies or probably even olive leaves too.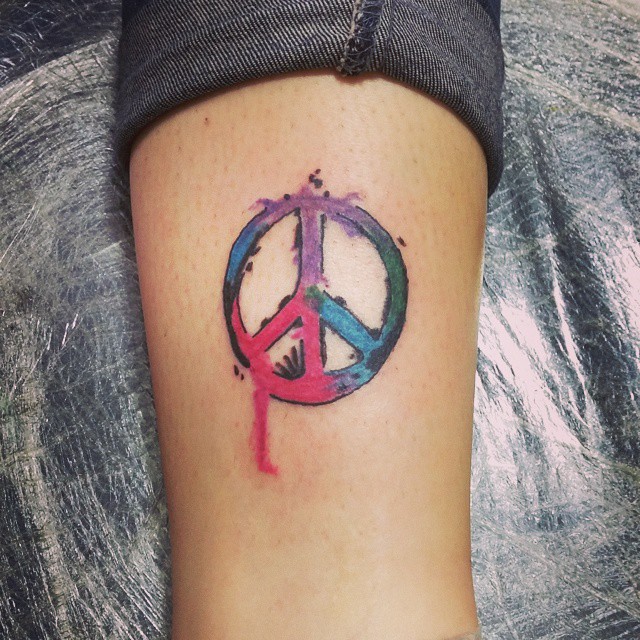 Tribal patterns have gained popularity among the youth of today. They have certainly become one of the most recognized designs in the tattoo industry too. These kinds of designs are sometimes incorporated with other elements that resonate with a similar message as the main one. The designs are suitable for both men and women alike. Commonly, black ink is used to give the tattoo a shape. However, with the increasing trend for using colors, many try to blend watercolor pattern along with it.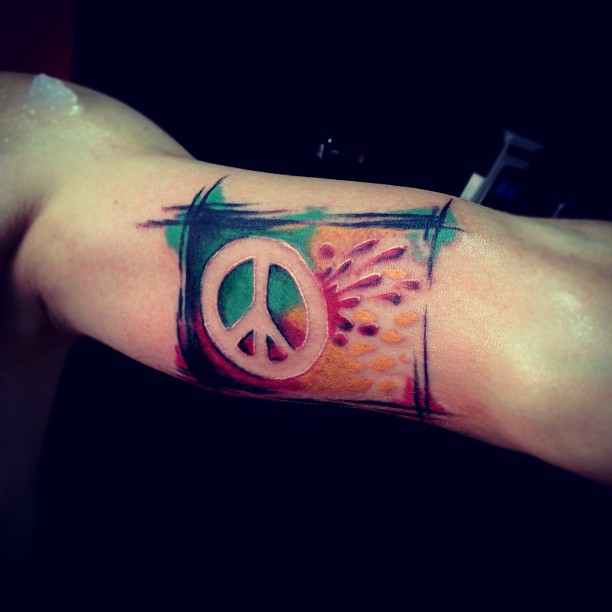 It is quite a trend to choose colorful and vibrant designs over the more traditional black and white ink designs. If inked in an accurate manner, these designs can look great whether they are petite or enlarged. This kind of pattern suits any part of the body.
Hippie Culture Peace Sign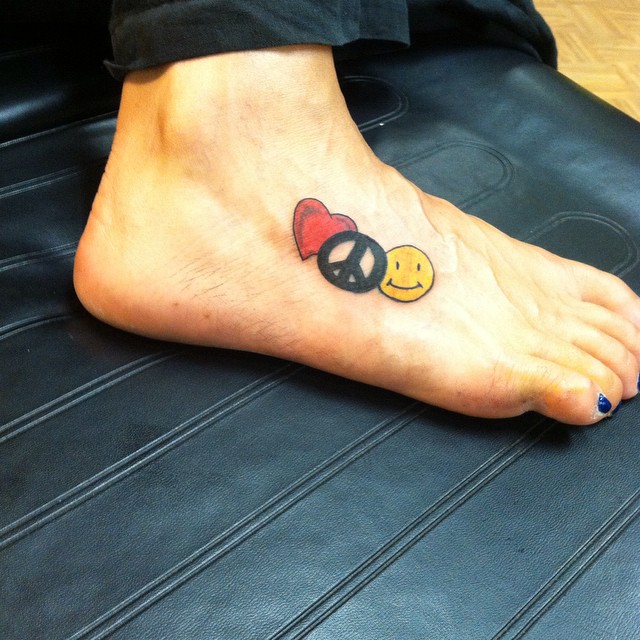 The greatest number of people who lasted through the hippie culture pick a particular tattoo design because they feel a powerful attachment to it. Most of them also claim for the hippie culture to be the most amazing period of their lives. Needless to say, the peace logo was a popular emblem during that movement. Therefore, peace sign tattoos form a better relationship with fabulous memories and recollections.
Additional Tips To Follow Before Opting For A Peace Tattoo:
Engraving your body with peace tattoos may be chic and unusual but it may not be very acceptable to others. So, have a glance at the subsequent tips before imprinting these designs on your body:
It is important that peace tattoos must be inked on a suitable body part since religious tattoos associated with peace beneath the lower body can be unacceptable for the community.
If you have a corporate job, make certain that your body art remains concealed beneath the sleeves or collars, as it is inappropriate as per the corporate environment.
Large and extra-large sized tattoos are remarkably difficult to handle as it is readily apparent and will be tricky to erase.
A tiny or average-sized tattoo will also dispatch your message to others, so make certain that you choose the proper dimensions of your tattoo.
The peace symbol held an esteemed position in the world since the '60s and '70s. The hippies with their long hair and baggy outfits made the symbol popular and so, it is widely accepted in the whole world. Many people choose to have the peace logo tattooed on different parts of their body be it for commercial purpose, personal reason or to spread a social message. Besides this list above, there are many more peace symbols that can be entwined to produce such creative works of art. Many celebrities have taken a fancy towards body art and have inked the peace logo on their bodies. Below are some of those celebrities who have inked themselves with this symbol of love and harmony.
CELEBRITIES WITH PEACE SIGN TATTOO
Ashlee Simpson has an outline tattoo of a peace sign on the knuckles of her right middle finger.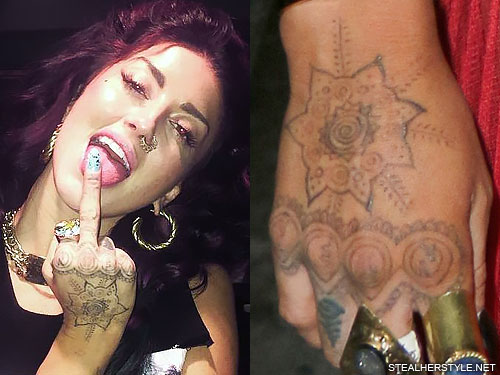 Neon Hitch has a henna-inspired mandala design tattooed on the posterior of her right hand. Over her knuckles is her name "Neon" which, consider it or not, is truly her birth name. The letter "O" is modified into a peace sign.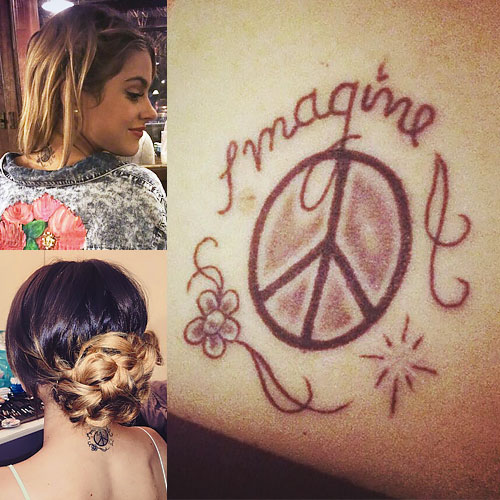 In April 2014, Martina Stoessel went to artist Mariano Antonio at American Tattoo in Buenos Aires, where she got this tattoo on the nape of her neck. It includes a peace sign with the word "Imagine" and a small flower.
Ashley Roberts has a "peace & love", where a peace sign is incorporated in a heart-shaped logo tattoo on her right wrist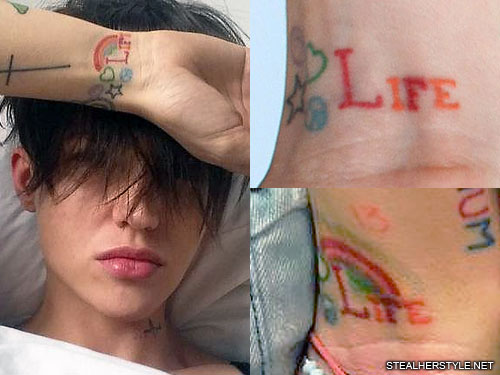 Ruby Rose has "LIFE" printed on her left wrist in red and orange inks. Adjoining it are tiny logos in colored ink including a purple smiley face, green heart, black star, and blue peace sign. A little later on, she combined it with a rainbow to the tattoo as a token of LGBT pride. In April 2012 she got a number "13" as a component of a tradition in which tattoo salons proffer discounted tattoos of the number 13 on every Friday the 13th.
Chanel West Coast has a peace symbol inked on her right middle finger which looks quite neat.
Katie Waissel's left arm tattoo incorporates a bird flying in front of clouds, a bunch of lavender flowers, and a peace sign.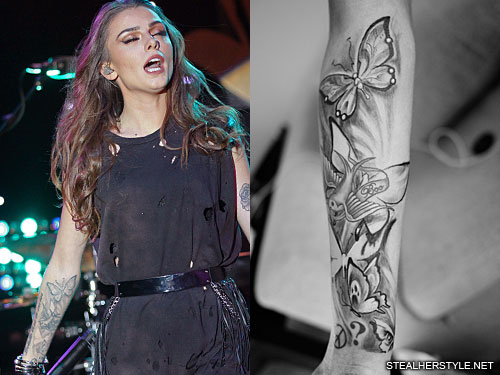 Cher Lloyd has a butterfly partial sleeve tattoo on the interior of her right arm. It includes three former tattoos: a bird, a peace sign, and a question mark.
Cher Lloyd took to a question mark tattoo on her wrist in January 2011 and the peace symbol came shortly after in March 2011. She jammed in her design with a butterfly partial-sleeve in May 2011. She also supplemented her husband, Craig's name in May 2012, after these photos were clicked.
Naya Rivera has a peace sign tattoo on the interior of her left ankle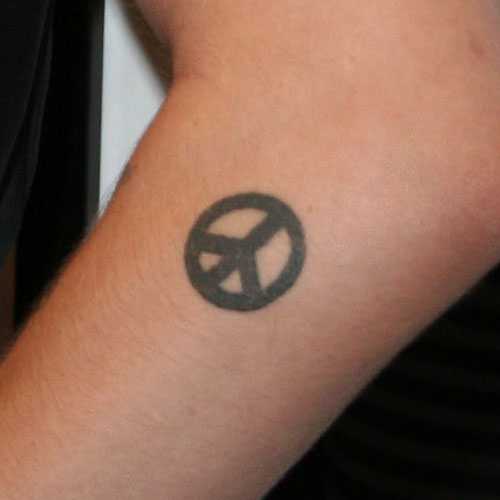 Alexis Neiers has a thick-lined black peace sign tattoo on her left arm, just underneath her elbow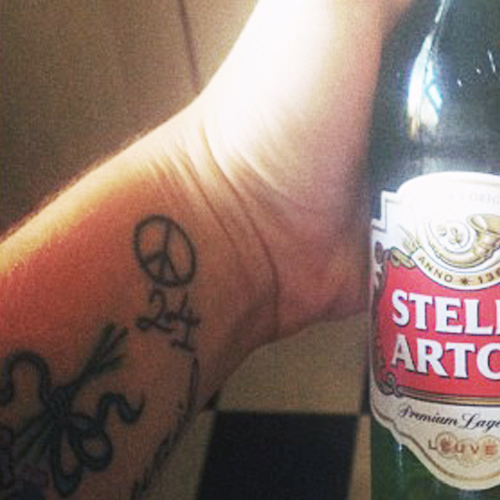 Katie Waissel has a peace sign symbol on the interior of her left wrist with the number 24.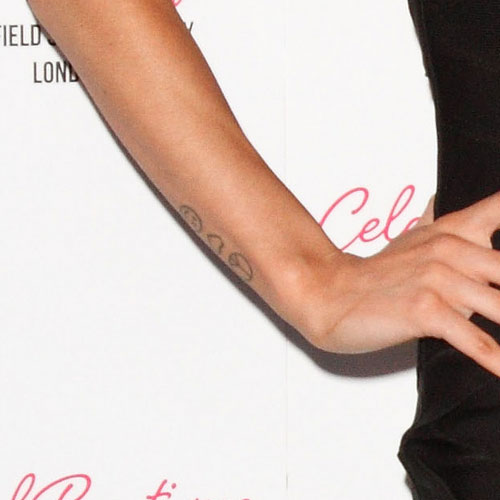 Danielle Peazer has a peace, heart and a smiley logo tattoo on her right forearm that represents peace and harmony, love and happiness respectively.
Vanessa White has inked herself with a heart, a peace sign, and an anchor on the side of her right hand.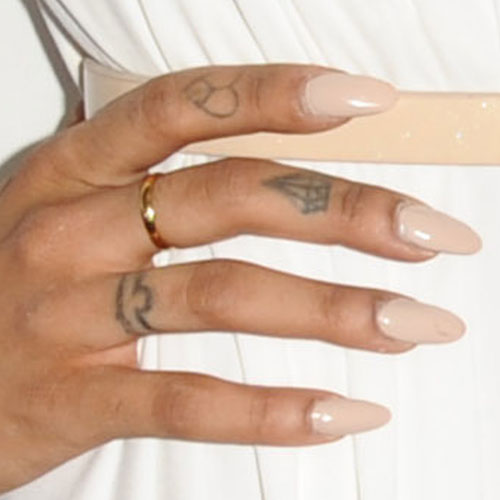 Karis Anderson has three emblems inked on the knuckles of her right hand. On her index finger is a peace sign which is heart-shaped. On her middle finger is a solitaire. On her ring finger is the Libra zodiac symbol. Karis was born on October 17th, 1989, making her belong to the Libra Star sign.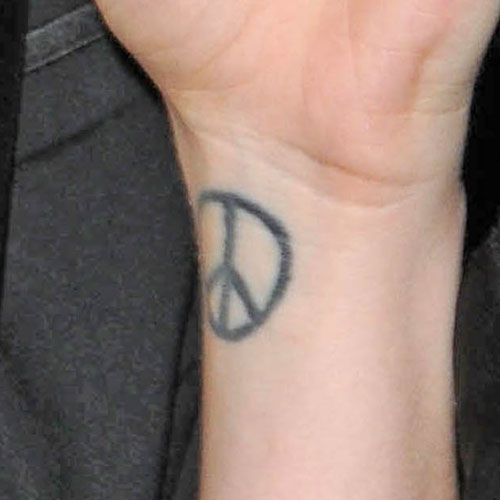 Lady Gaga's peace sign wrist tattoo is located on her outer wrist.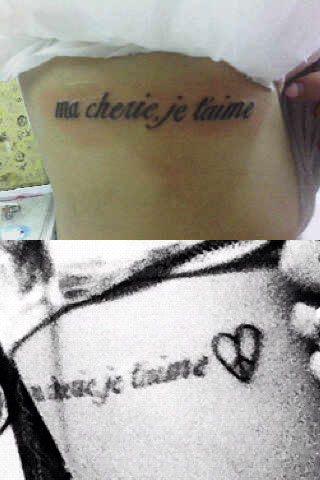 Hanna Beth Merjos has two tattoos on the side of her torso. In August 2009, she got the words, "ma Cherie, Je t'aime" which is French for "My love, I love You" and in October 2012 she combined it with a heart shaped peace right in the front of it.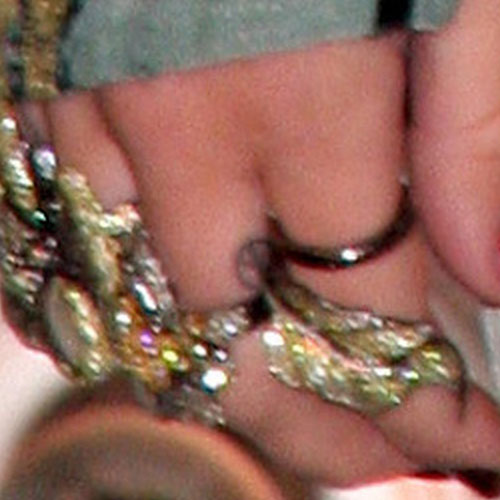 Miley Cyrus has a small peace sign tattooed on the side of her ring finger.