Angelina Jolie is world renowned for her mesmerizing beauty and amazing talent. She has been making the headlines on and off for one reason or the other. But did you guys know that this beautiful star is a tattoo enthusiast and has over a dozen of tattoos covering her body? This superstar is definitely not afraid to go under the needle. Although many of her tattoos have been removed or covered up over the years, according to her, most of her tats were done during happy times and represent a diary of her life. So let's explore Angelina Jolie's tattoos and their meanings.
1. The Bengal tiger tattoo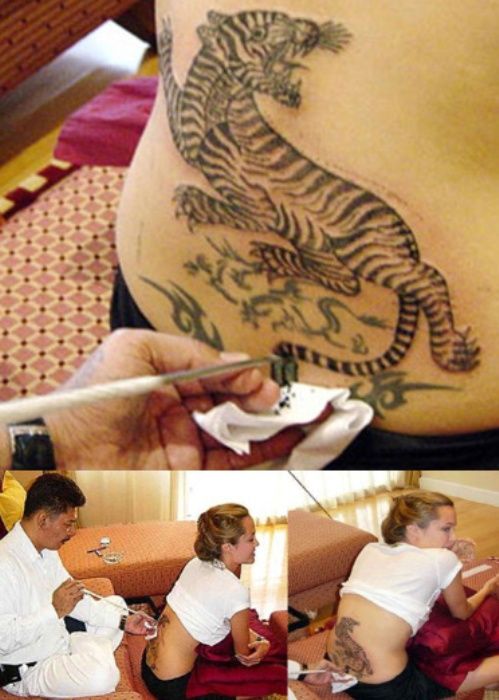 Angelina got a 12 inches long and 8 inches wide Bengal tiger inked on her lower back in 2004. The tattoo artist Sompong Kanphai who also did her Khmer tattoo blessed the tattoo with an ancient hymn. This tattoo was done to commemorate her Cambodian citizenship.
2. Know your rights tattoo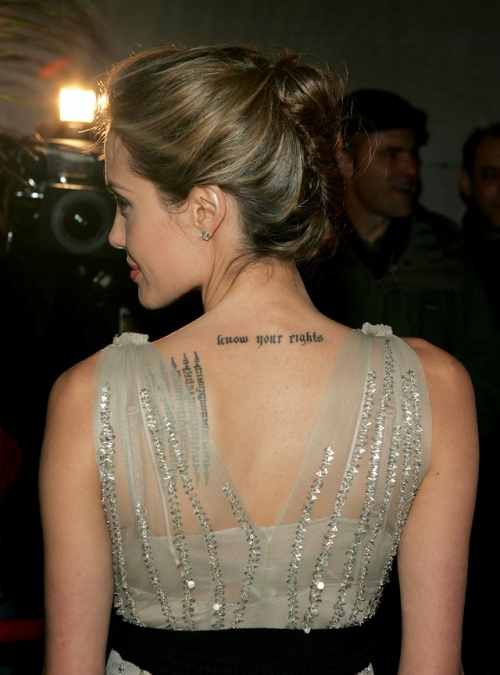 The phrase "know your rights" has been inked between Jolie's shoulder blades on her upper back. It is a song from "The clash" (her favorite band). She got this tat done in 2004 and is a slogan of empowerment which describes as "humanitarian, but a little punk rock"
3. Death tattoo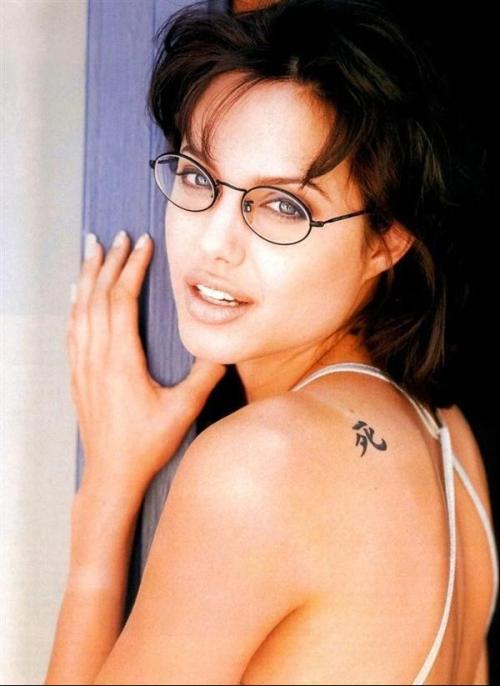 Angelina's first tattoo was a Japanese kanji for the word death. Although the tattoo means death but according to Jolie it is a reminder to live for her. This tattoo was later covered by her with Khmer script tattoo.
4. Khmer script prayer tattoo
The Japanese kanji tattoo on her shoulder was covered up by a Khmer script prayer for her son Maddox to protect him from bad luck. The tattoo translates to "May your enemies run far away from you; If you acquire riches, may they remain yours always; Your beauty will be that of Apsara; Wherever you may go, many will attend, serve and protect you, surrounding you on all sides."
5. The blue tongue dragon tattoo
Angelina got a tattoo while on a trip to Amsterdam in 1996. It was a funky looking tattoo of a dragon with a blue tongue and she got this tattoo when she wasn't in her senses she soon regretted it. The tattoo was soon covered with a cross tattoo.
6. Quod Me Nutrit Me Destruit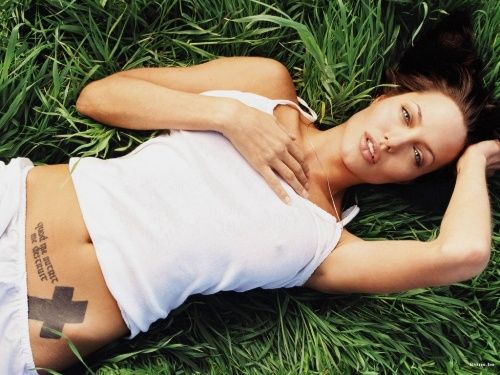 To cover the blue tongue dragon tattoo, Angelina got a large black cross with a Latin saying besides it. The saying "Quod Me Nutrit Me Destruit" has been inked with the cross which translates to "What nourishes me, destroys me."
7. Roman numerals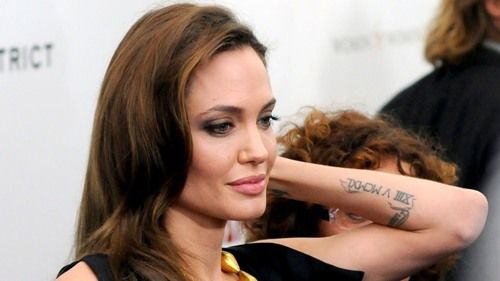 The Roman numerals XIII (13) and a V MCMXL are inked on Angelina's left forearm. Both the tattoos were inked separately, the no. XIII was inked to show her disbelief in superstition and the date May 13, 1940, was tattooed in 2009. It was the day when Winston Churchill gave the speech, "I have nothing to offer but blood, toil, tears, and sweat."
8. Strength of will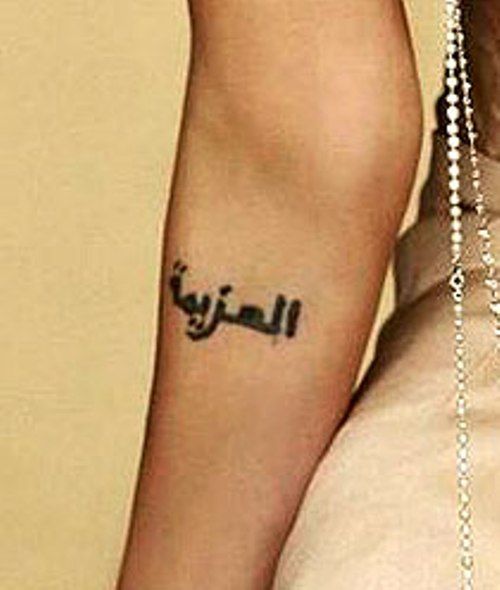 This is another cover up tattoo which was inked to cover an abstract tattoo Angelina got when she was with her ex-husband Billy Bob. The word "determination" in Arabic script is inked on her right forearm and according to Jolie it means "strength of will."
9. Billy Bob tattoo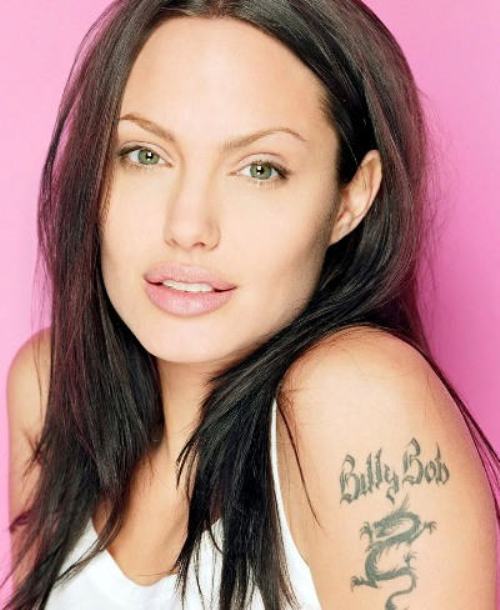 Angelina formerly had the words "Billy Bob" inked on her left arm with a black dragon tattoo to honor her former husband, Billy Bob Thornton. After they got separated, the tattoo was removed and replaced with another tattoo.
10. Geographical coordinates
Once the Billy Bob tatt was lasered off, Angelina inked the coordinates of the birthplaces of her children at the same place. A set of seventh coordinate was also added in 2011 which is supposed to be Brad Pitt's birthplace.
11. A prayer for the wild….
A phrase from Tennessee Williams, "a prayer for the wild at heart, kept in cages" is inked on Jolie's inner left arm. Angelina says, "I don't think I know one person who I think can be completely who they are, every second of the day, who feels completely free… So it's kind of a prayer for everybody to find their happiness, to break out… Anything that makes us comfortable, those things are cages around us."
12. The letter 'H'
On the inside of Angelina's left wrist the letter 'H' is inked. The tattoo is a tribute to her brother, James Haven. Some also speculate that the tattoo was for her ex-boyfriend Timothy Hutton.
13. The letter 'M'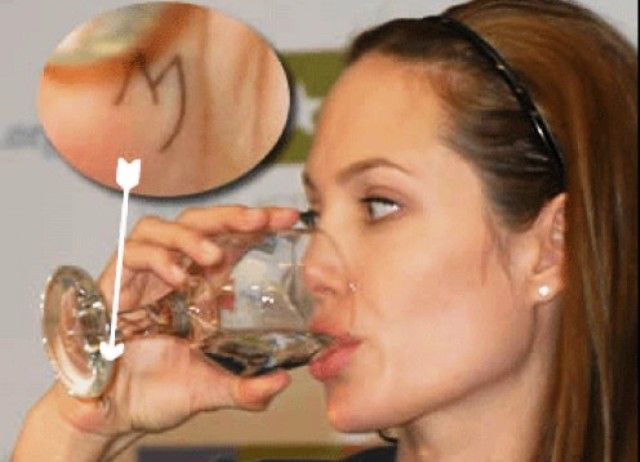 Another letter 'M' is inked on the palm of Angelina's hand and is a tribute to her mother Marcheline Bertrand.
14. Whiskey Bravo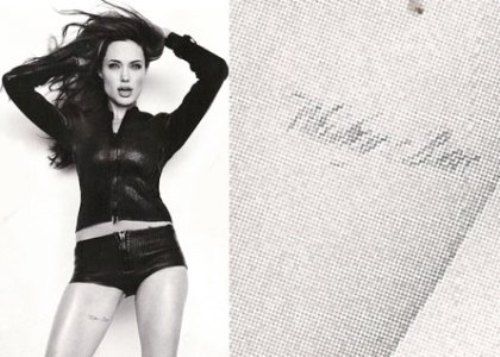 Whiskey Bravo is inked on Jolie's inner right thigh which represents Brad Pitt's initials. Both Angelina and Brad Pitt are licensed pilots and Whiskey Bravo are Brad Pitt's initials in the aviation alphabet.
15. Tribal Tattoos
On Angelina's lower back are two small tribal tattoos surrounding a tribal dragon. Recently the Bengal tiger tattoo was incorporated into these two tribal tattoos.