The soccer star, David Beckham is no stranger to tattoo parlors and by now the superstar has as many tats on his body as years on the clock. Well, the star is addicted to tattoos. Most of his tattoos are a tribute to his beloved wife and children. From his latest Harpers drawing inked on his hand to the sweet "99" tattoo carved on his pinkie finger, the handsome star is always trying to find ways to commemorate his adorable family.
Beckham already has dozens of tats inked all over his body and it seems like he's just getting started. Let's have a look on David Beckham's tattoo and their special meanings.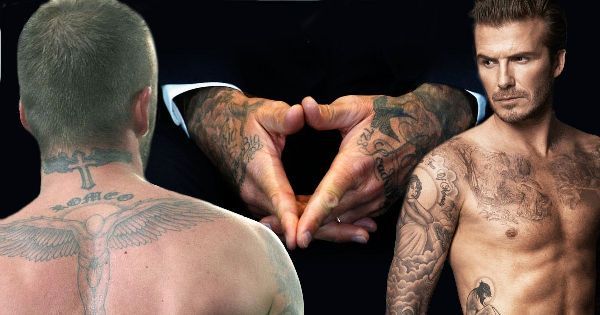 1. Harper
David Beckham being a proud daddy, got a "Harper" tattoo inked on his chest when his daughter was born in 2011. Harper is the name of his cute little daughter.
2. Pretty Lady
David added "Pretty Lady" just above the "Harper" tattoo in a scrolling black script font, with a tiny little heart at the base of the left side of his neck. This was a tribute to his youngest daughter on her fourth birthday.
3. Rose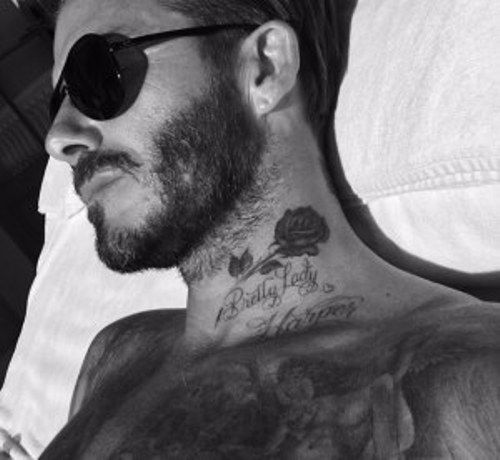 The star thought that the 'Pretty lady' tattoo didn't do any justice to the love for his daughter so he added a new rose tattoo just above the 'Harper' and 'Pretty lady' tattoo.
4. Buster
Just like the "Pretty Lady" tattoo, Beckham got as a tribute to his youngest daughter, he also got a matching "Buster" tattoo on the right side of his neck to commemorate his relationship with his eldest son, Brooklyn. Buster is Brooklyn's nickname since the day he was born.
5. Jesus and cherubs
Jesus and the cherubs tattoo inked on David's upper left chest is a portrait of Jesus designed to look like him and three baby angels lifting Jesus from his tomb. David says "It's Jesus being carried by three cherubs and obviously the cherubs are my boys and so my thought of it is that at some point my boys are going to need to look after me and that's what they're doing in the picture. It means a lot."
6. Lady in a forest
David Beckham has a tattoo of a lady in a forest over the right-hand side of his chest. The meaning behind this tattoo remains a mystery.
7. Angel and 'in the face of adversity'
David got a tattoo inked on his upper right arm featuring an angel with the saying "In the Face of Adversity."This tattoo was an expression of his distress during the personal crisis alleging his affair with model and personal assistant Rebecca Loos.
8. Two cherubs
David Beckham got two cherubs inked within his right bicep to represent his boys, Brooklyn and Romeo.
9. Cherub and the Hebrew saying
David got a tattoo on his left arm in 2008 featuring another cherub which is supposedly for his third son, Cruz accompanied by a Hebrew saying, "My son, do not forget my teachings but keep my commands in your heart"
10. Biblical text
David Beckham certainly has an affinity for textual tattoos. He got a large block of writing inked on his right rib cage that appears to be either a quote or a passage from the Bible.
11. Man of sorrows
He got a side tattoo featuring a black and white representation of Jesus on his way for being crucified. The tattoo is based on the famous painting "The Man of Sorrows" by Matthew R. Brooks. He got the tattoo to honor his grandfather Joe West when he passed away.
12. Clouds
The clouds and other tats together make up David Beckham's sleeve tattoo. The clouds and cherub design over his shoulders with the other tats on his arm and wrist make one continuous piece of 'artwork'.
13. Angel and 'let them hate as long as they fear'
Another piece of David Beckham's sleeve tattoo on his right arm includes a guardian angel holding a flame and spreading her wings out to converge with Beckham's other arm tattoos. Beneath the tattoo is the words "Let Them Hate as Long as They Fear," which is inspired by a quote by the Roman Emperor Tiberius and was also used by Caligula.
14. Pray for me
In 2007 David got the words "pray for me" inked on the outside of his right wrist. Rumor has it this tattoo was inspired by Beckham's clashed move from Manchester United to L.A Galaxy. This tattoo was inked with another symbolic piece and both the tattoos together mirror the profound turmoil he feels about going to L.A. The second portion of David Beckham's sleeve tattoo includes a Knight Templar, symbolized by a cross. The Templar Knights are recognized by their white mantle with distinct Red Cross, and David Beckham's tattoo meaning is accepted to represent him and his England group.
15. 'Victoria' and hummingbird
"Victoria" is inked on his right hand in an elegant script font, along with an image of a swallow beside it.
16. '99'
Number "99" is inked on Beckham's pinkie finger of right hand in a simple black font. Apparently, the year 1999 was a memorable one for Beckham as he tied the knot with his wife, Victoria. He also helped his team, Manchester United to a European Treble, winning the Premier League, FA Cup and UEFA Champions League in a single season.
17. 'Dream big, be unrealistic'
David has carved the lyric "Dream big be unrealistic" from Jay Z and Beyonce's 'on the run' tour in an impressive cursive font on his right hand.
18. 'Victoria' in Sanskrit
Beckham got Victoria inked in Sanskrit on the inside of his left arm in 2000. This tattoo was a public declaration of the love for his wife. As Sanskrit tats don't always translate properly the tattoo was misspelled and reads "Vihctoria" instead of "Victoria".
19. 'Ut Amem Et Foveam'
Below the "Victoria" or should I say "Vihctoria" tattoo there is another textual tattoo which reads "UT Amem Et Foveam" in Latin. This translates to "To Love and To Cherish." Beckham surely knows how to express his love for his wife.
20. 'Perfectio in spiritu'
There is another textual tattoo on Beckham's right arm, reading "Perfectio in Spiritu," or "Perfection in Spirit."
21. 'I am my beloved's and my beloved is mine'
David and Victoria on their 6th wedding anniversary got matching Hebrew tattoos. Victoria's tattoo is inked in a line running down her neck and back while David's tattoo is on his left arm just above the "Victoria" in Sanskrit tat. The tattoo is a wonderful demonstration of the love they share for each other. It translates to "I am my beloved's and my beloved is mine."
22. Cupid and psyche
One of the David Beckham's sleeve tattoos is based on a painting done by 15th-century artist Francesco Francia which features a Renaissance image of Cupid carrying his wife, Psyche, up to heaven.
23. 1975
David Beckham also has the year "1975" inked in tiny black numbers on his left side. 1975 is his birth year since he was born in the UK on May 2, 1975.
24. Chinese proverb
David has a Chinese proverb inked just below his left armpit all the way down to his left hip. This impressive tattoo has an equally impressive meaning. The proverb translates to "Death and life have determined appointments. Riches and honor depend upon heaven."
25. Mum and Dad
The model and soccer star's "Mum and Dad" tattoo is inked in a rich dark script font, like most of his tattoos. The tattoo has two or three conceivable implications. Either he got the tattoo as a tribute to his own mom and dad, David and Sandra Beckham, or the ink was implied as a gesture to his youngsters, who have demonstrated an interest in getting inked up simply like their dad.
26. 10 Roses
Yet another tribute to his beloved wife, Beckham got a ring of roses inked around his left arm near the elbow. The 10 roses in the tattoo indicate the couple's tenth wedding anniversary.
27. Victoria
It seems David Beckman's left arm is reserved for his wife. Apart from the Victoria in Sanskrit tattoo and anniversary tats, Beckham got another tattoo as tribute to his loving wife in 2007. This time, was a 6-inch tat of a lingerie-clad Victoria inspired from his favorite Brigitte Bardot style photo.
28. Forever by your side
Apparently the Victoria in Sanskrit, anniversary tats and the sexy Victoria tattoos weren't enough to showcase his love for his wife so David got another tattoo beneath the sexy Victoria tat that read "Forever by your side" accompanied by a star.
29. Roman numeral VII
The number 7 holds special significance in David's life as it represents his jersey number from Manchester United and England so David got a large Roman numeral seven inked on the inside of his right arm.
30. Roman numeral

The Roman numeral VIII.V.MMVI is inked on the football star's right wrist which represents May 8, 2006. This was the date when Victoria and David took part in a secret commitment ceremony.
31. '723'
David Beckham inked '723' on to his left hand to represent the jersey numbers he wore during his time in football.
32. 'Lead with love'
'Lead with Love' in a curly script font is carved on the back of David's left hand.
33. 'Love' and Swallow
"Love" written in script with an image of a swallow beside it is one of David's most recent tattoos. This tattoo was inked on his left hand in 2011 and is a symbol of family love and loyalty. The swallow is a popular tattoo design dating back to sailors who used it to represent how far they had traveled. In Beckham's case, it represents the love and devotion he has towards his family.
34. Cross and wings
A tattoo on David's back of the neck features a four-by-six-inch, Gothic-style outline of a cross accompanied by two intricately-inked angel's wings. The tattoo is a religious iconography. It is like a protective talisman over his children as the tattoo is located just above the "Romeo" tat (his son's name).
35. Romeo
David added the name of his second son "Romeo" above the guardian angel tat on his back in 2002.
36. 'Guardian angel'
Beckham got a guardian angel tattoo inked on his upper back in 2000. The original tattoo featured a bald figure with arms outstretched just like Jesus on the cross. Beckham wanted the tattoo to represent the idea of a free spirit. Later he added the large wings to his back tattoo and completed the look of a guardian angel.
37. 'Cruz'
In 2005 when David and Victoria had a third son, he added the name "Cruz" to his back tattoos. Inked in a gothic script, the 'Cruz' tat is just below the guardian angels feet.
38. Brooklyn
'Brooklyn' was this soccer stars very first tattoo to commemorate the joyous occasion of the birth of his and Victoria's first son in 1999.
39. We love you daddy
'We love you daddy' inked on Beckham's left rib cage is a message from his boys. The tattoo was also written by his sons.
40. Harper's drawing
One of the most recent additions to David Beckham's body art is a drawing by his sweet little girl Harper. The tattoo is inked on the inside of Beckham's hand and features an image of a little girl with a stick figure, arms, and legs.