Austin James Rivers is an American Professional Basketballer who plays for the Houston Rockets of the National Basketball Association (NBA). Rivers was one of the top-rated high school Basketball players in the class of 2011. He came into limelight after making a game-winning 3-pointer against Duke rival North Carolina in 2012.  Rivers has some astonishing artwork featured on his body. Here are a few things that he had to say when asked about his tattoos:
"Trying to send a message to kids that tattoos are "bad?" It's possible, but my advice to anyone getting a tattoo is to make sure it will mean something to you ten years from now, and you get what you pay for. That doesn't mean you need to spend a fortune on your work, but always seek out a top-quality artist, guys like Freddy Negrete and Chuey Quintanar," Austin said.

Where do Your Tattoos Originally come from? "I'm not an extremist, but I am a religious person. I have a lot of faith and a lot of my tattoos reflect that. I believe in Jesus Christ and this is my way to pay homage to him. Without him, I wouldn't be here today," Austin said.
Let us take a detailed look and study the stories behind all his permanent inks.
 1. 'G.F.B' Tattoo
Tattoo: On May 25, 2012, Austin Rivers got a tattoo which reads as, 'G. F. B'. where G stands for God, F represents his Family, and B stands for basketball. Beneath it, there are the symbols of a cross, a heart, and a basketball inked.
2. 'WOW' Tattoo
Tattoo: The inner side of Austin River's left-hand wrist has a tattoo of the word "WOW" inked on it.
3. 'Cross' Tattoo
Tattoo: The side of Austin's right hand contains a tattoo of a black colored cross.
4. 'Faith' Tattoo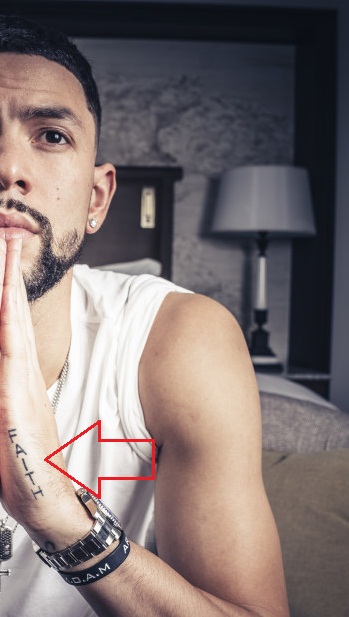 Tattoo: The side of Austin's right hand contains ink which reads the word, "FAITH".
5. Script
Tattoo: On Austin River's inner side of his left forearm there is a tattoo in a form of the script as to how he overcame failure.
Meaning: Austin explained:
"I have a tattoo about overcoming failure. I have an entire scripture about that. I got that when I joined the Clippers and was playing for my father. The pressure was incredible and I got the feeling then that everyone wanted me to fail. Then I found a way to break through and just understand that I'm gonna stop caring what everybody else thinks. I got that tattoo on my arm to remind me to never be frightened. To fear no man. I don't care what any analyst or anybody says about me".
6. 'Roman Numeral' Tattoo
Tattoo: Near the base of his left hand's thumb, Austin features a tattoo of "III".
7. 'Worda Of Wisdom' Tattoo
Tattoo: On July 2, 2012, Austin Rivers got a tattoo of wording that reads, "The difference between a successful person and others is not a lack of strength. not a lack of knowledge but rather a lack in will", which means that the lack of will power differentiates a successful person from an unsuccessful person and not the level of their intelligence.
8. Quote on Right Pec
Tattoo: The right side of Austin River's chest contains a quote with initials "KGF" inked on it.
9. 'Jesus Christ' Tattoo
Tattoo: On March 28, 2016, Austin River revealed a tattoo of Jesus Christ and a dove bird which is inked on the inner side of his right forearm.
The black and grey work on my skin is very reflective of my entire approach toward color in general. I am very much into black-and-white, whether it be in my choice of clothing, artwork or tattoos. I also feel that this type of tattooing intrinsically produces cleaner lines and gives a feeling of sophistication to the work. Something I personally feel can get lost with flashy color work. Overall, for me, I think black and grey work just has a cleaner feel," Austin said.
10. Martin Luther King tattoo 
Tattoo: The right leg of Austin River's features a tattoo of the depiction of Martin Luther King with an ultimate quote that reads, "The ultimate measure of a man is not where he stands in moments of comfort and convenience, but where he stands at times of challenge and controversy." Martin Luther was an American activist who was famous since the Civil Rights Movement began until the time of his death in 1968.
Meaning: Austin is known to be the learner and a great follower of motivational aspects in his life. He and his family had to suffer a lot besides the taunts and torture he used to bear while being in school. He chose the Portrait of King as a symbol of hope and faith. He had been affected by Martin Luther's work to such an extent that he decided to get his portrait inked.
The massage explains says, "it is easy to be calm and collected in times of ease and comfort, but a man should be judged in times of challenge and controversy. That's when a man should be judged: by how he acts, how he goes about himself, what his spirit is like, what his confidence is like.
I come from interracial marriage, you know what I mean? So, men like him and many others paved the way for me to be in existence today.
11. 'Jesus Christ and Virgin Mary' Tattoo
Tattoo: The upper part of Rocket defender, Austin Rivers's right arm features a Portrait of Virgin Mary with her Son Jesus Christ lying in her arms, inked on it.
12. 'Faith and Hope' Tattoo 
Tattoo: The lower side of Austin River's right arm has a tattoo of two roses, hands of Austin himself joining together in praying formation followed by the addition of an owl inked on it. Towards his wrist lies another rose. This tattoo combination is the symbol of peace, love and his faith in God and life.