Briana Barbara-Jane Evigan is an American Actress, Dancer, Singer, Songsmith, and Choreographer. She began dancing and acting at a young age. She began dancing to professional heights in the year 2003 and has appeared in numerous music videos, the most famous one being the "Numb" by Linkin Park. Briana came to the acting front in the industry with her roles in the 'Step Up' series and for her 'scream queen' roles in many horror films. Let us get to know about her several body tattoos and explore their meanings.
1. 'Latin Writing' Tattoo
Tattoo: Briana Evigan's has the Latin writing on the left upper side of her back which reads "Zaniness I na sempre".
Meaning: The verse means  "Always and Forever"  whose parts are written in Polish and Latin both.  The words "Zawsze I na" stands for "always and for" are written in Polish, and the word "Sempre" which stands for "forever" is inked in Latin.
2. 'Three dots' Tattoo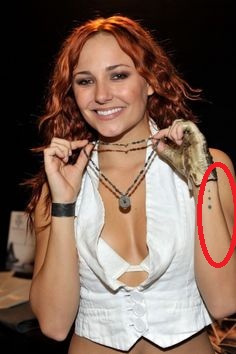 Tattoo: On September 21, 2011, Briana Evigan got a tattoo of a set of three dots near the wrist of her left arm.
Meaning: In order to represent her friendship with her friends Rumer Willis and Samantha she got these three small dots inked in the increasing sizes.
3.'Butterfly, Protector, Strength' Tattoo
Tattoo: The tattoo of  "Butterfly, Protector, Strength" is inked on the right side of her rib cage. She got this inked on April 2, 2013.
Meaning: The three-word ink which reads as "Butterfly, Protector, Strength" represents her love and affection for her siblings, Vanessa Lee and Jason. Accordingly, Butterfly is the meaning of the name Vanessa; Protector is the meaning of the name Jason, whereas Briana's name stands for Strength.
4. Quote Tattoo
Tattoo: The ink which reads as "and the world spins madly on…" is tattooed on the inside of actress's right arm quite near her elbow.
Meaning: Briana revealed her ink during the premiere of Vertical Entertainments on July 11, 2016, in Hollywood, California. The ink is inspired by the music video from the artist 'The Weepies' launched in 2006.
5.'Initials BJ' Tattoo
Tattoo: On the inner side of her left wrist, Briana has a tattoo of beautiful script design of initials B and J.
Meaning: Initials B and J altogether stand for her first and middle name, Briana Jane.