Do you think you got what it takes to carry a bullet tattoo? We really are guessing that you do because probably that is what has landed you on this article in the first place. We have an amazing collection of these friendly firearm designs that will riddle your friends to the core. With these designs, you're probably going to set a new bar for a powerful attitude. That's probably the most important feature that a bullet tattoo can give. This particular tattoo element is quite reflective of boldness and strong masculinity. But don't get me wrong, a girl can carry it with equal attractiveness. It signifies the confidence of a person, as strong as a  bullet. There are countless ideas that can determine why you chose this design in the first place.
No matter what your profession is, whether it's a huntsman, from military or a simple person who really loves handling a gun, there's no better way to depict your love than engraving it on your body. You can also add your favorite gun with your bullet tattoo to demonstrate your love. Besides depicting just the bullet without any action in the background, you can also get a bit more creative and get a whole story engraved with the focus on the bullet. But no matter whatever design you choose to get inked by, it'll always have a great significance for you besides an amplified social stature.
We have compiled a list of 25 cool bullet designs that will help you select better and probably aid in your research about different bullet designs too. Go ahead and have a look.
MEANING
What is the meaning of Bullet tattoos? Bullet tattoos are not simply a design but a sentiment. Bullet tattoos can intend to mean ample of things for various people. Here are some most common Bullet tattoos meanings for you:
Outlaws or Badass: Gun tattoos are essentially intended for outlaws. So, if you sense you would be comfortable and feel at home in the wild west, gun tattoos are definitely for you.
Revolutionaries: Bullet tattoos are a great way to showcase your radical and free spirit. If you have a difficulty with self-assurance and wish to do it your own way, Bullet tattoos can definitely be your thing.
Bullet Enthusiasts: For the souls who really adore guns or anything linked to them, these Bullet tattoos are reasonable choices for them.
Fighting Spirit: Bullet tattoos are not only restricted to boys. For girls, it is an illustration of the fighting spirit. Superstar Rihanna recently got a tiny gun tattoo on her side torso after she was assailed by her ex-beau, Chris Brown. "That's when I got the gun. It was a symbol of strength – it was 'I'll never be a victim! ", she said.
Intensity: Bullet tattoos are a representation of power and energy for both men and women. Bullet tattoos are a comprehensive option for hunters, warriors from the infantry, navy or policemen.
Battle Lovers: If you are a follower of action movies with missiles hovering everywhere, you would apparently fancy a Bullet tattoo.
It is quite common to perceive a bullet tattoo as something negative but they actually are a representation of a free spirit and is ideal for someone who wants to showcase his fight against any sort of oppressive or violent behavior. It is a good emblem of the fighting spirit. All these elements add to their personality too. It is not a design that is restricted to the guys only. The present-day women are all about the fighting spirit and can sport the bullet tattoo quite efficiently too.
What are the various varieties of Bullet tattoos? Though bullets and action related things might seem like guy stuff, Bullet tattoos are growing to be remarkably widespread among girls these days. In comparison to the typical masculine Bullet tattoo design, Bullet tattoos for girls are rather extra innovative with all the floral designs with, the roses, and garter belt. Here are several popular designs ideas:
Flower Bullet tattoo: Girls getting Bullet tattoo inked on themselves to try and get that feminine touch with the flowers. The floral patterns are quite in vogue. Guns or bullets and Roses tattoo are also a good combination for the traditionally designed tattoos.
Thigh Bullet tattoo: Thigh is a perfect placement option as it has ample of space for a big sized tattoo. It is also good because the tattoo remains quite noticeable and does not remain hidden.
Bullet tattoo on Ribs: Besides a thigh tattoo, a tattoo on ribs is quite a unique placement idea and it looks pretty sensuous too, although it's not too visible as the thigh tattoo is. Rihanna got a gun tattoo on ribs.
Garter belt Bullet tattoo: Thigh Bullet tattoos are transformed into something even more sensual by adding the garter design in the whole pattern. It just produces the Hollywood sexy secret agent vibes.
Besides these tattoo pattern ideas, there are numerous other tattoo designs too which can be tried out. That is why we have created this extensive list for you to stimulate your imagination. Probably you will be inspired by some of these designs or maybe create something by yourself. Check them out as they are appropriate for both boys and girls.
Target an aim at the subsequent views for more motivation!
This 3D bullet design looks quite badass as it is held between the pair of very luscious looking lips. This tattoo is apt for both guys and girls.
Bullet with American Flag
3D USA Flag With Bullet Tattoo Design is usually for a person who understands that getting a bullet inked on your body is not the goal of giving beauty to it. Most probably, it will be a remarkable sign, which can symbolize the loss of a loved one. The design is completed because of the USA flag background which signifies devotion to a certain kind of troop as well as service to the country and the fellow comrades.
All Day Music Cartoon Bullet Tattoo Design is basically just a very pleasant looking bullet who is also very vibrantly colored. The tattoo pattern is quite interesting as it represents that the bullet in the design is almost alive and ready to mark its aim.
Tattoos with bullets and guns are highly popular among the militia or people serving the country. From this tattoo, which actually resembles a necklace made out of bullets, one can infer that it means bravery, determination, and fearlessness. Being on the chest, this tattoo acts as an amulet for the people in the services. It denotes the mark of protection for its wearer from the foes. It can also be a reminder of the previous injuries and how it has only aided in making him strong.
This amazing butterfly bullet is quite amazing. It is definitely perfect as a girly design who wants to portray her female strength and feministic tendencies. This is a reminder for every girl that they are not lesser than anyone.
Awesome Bullet Hole Tattoo On Left Front Shoulder is an acute representation of realistic-looking artworks. With every day departing, bullet tattoos are growing to be more and more prominent all over the globe. The best thing is that it is not known for its meaning related to violence and other negative connotations but for its association with rebelliousness. Not everyone would be attracted to such designs but for people who have a different approach towards life.
Trust No One Tattoo Designs
This bullet inside a girl's mouth is quite contemporary. The metaphorical meaning that the design represents is quite straightforward. It tells to not trust too easily. It serves as a reminder for anyone who has fallen prey to such misfortunes.
This is an amazing arm bullet tattoo that has two words engraved on it "one-shot". I think it represents one opportunity in life, that we have only one moment which can change our lives forever. One can even add embellishments like guns or flags to it to enhance its significance. There can be another color scheme that can be used for this tattoo design and besides, this can be teamed up with some beautiful yet meaningful quotations.
These two bullet shots intercrossing each other look quite realistic. Some people might use the bullet tattoo design to denote something else, even by the means of incorporating a gun or some other armor with it. Most people associate the bullet tattoo with violent themes as well as aggressiveness and malice. It is something that can literally kill or harm someone. But besides the negative connotations, it can also stand for something positive like motivation or fearlessness.
This is the black and white bullet tattoo design on the bicep which is almost correlated to the gun tattoo designs. The people with the gun or bullet tattoo use this design to prove something to others. They seek to show strength and courage in the face of profound adversity which stands in their way and diverts them from achieving their goals. Bullet or gun tattoos can also be used for the purpose of frightening.
Black and Grey Bullet Tattoo Design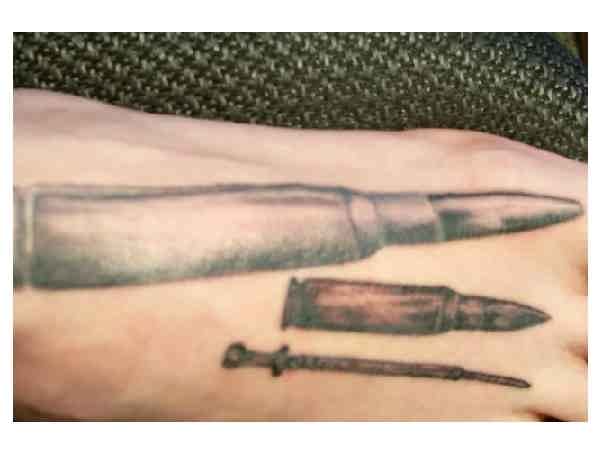 This neutral color tattoo gives the whole design quite a serious and realistic outlook. The body placement for this design is the feet of the wearer. Quite a unique placement idea, but yet attractive.
Realistic Bullet Tattoo Design
This brown and black shaded bullet tattoo design is perfectly engraved on the forearm. Oftentimes it is tattooed in a more conventional and old school way to depict realism. The realistic-looking bullet tattoo looks like something that won't disappoint.
The two black and grey bullets Tattoo on both the thumbs is quite a unique placement idea. The bullet exhibiting a detailed artwork reveals how attractive a bullet can be. It does not simply take a life but it can also be artistic. In this tattoo design, the wearer has engraved his initials probably or that of a loved one.
These black bullet strap tattoo design for thighs looks quite dangerous. The bullets are oftentimes seen as something violent and have a negative connotation. However, this isn't always true. It is not necessary that all those who have bullets or guns tattoo always endorse or promote violence and guns. Some are just simply interested in it. A bullet strap like this can be a gap filler in a bigger piece of work and can act as a gap filler.  It can be any shape or size according to your taste. A bullet tattoo makes an excellent gap filler or even looks exceptional when standing alone.
Black Ink bullet with girls tattoo on the half sleeve looks as if the bullets have been burst out right from a machine gun. It is one of the rarest and unique tattoo designs that you will come across. Itis a fantastic creation for someone who wants to be something far from the usual and does not want to follow the crowd.
Black ink shooting Bullet tattoo on the left shoulder looks quite fierce. You can add some roses and thrones to it because quite honestly, this bullet is resembles a throne. Somehow the thrones and the bullet of the gun are related in some ways. One implies the anguish of love and the other points towards to the crudity of the war.
These are the two bullets tattoo on the middle finger of the girl with the words "Ride me". The two bullets have been inked on her middle finger with black and white ink that provides it with a classical look.
A colorful bullet banner looks quite decorative and vibrant. It is more unique than any other tattoo design on this whole list. You can add your name to the banner of probably or someone else who is important to you. You can even add some random words which are quite significant.
Colorful Winged Bullet Tattoo
Colorful bullet with wings design for arm looks quite cool. Men with bullet tattoo use the bullet as a sign of straightforwardness. This tattoo seems as if it is engraved to frighten someone. Probably the wearer's foe. It shows that there is no point in entangling with the wearer as he is strong in the face of adversity.
This caricature bullet tattoo is quite funny and cute, although it is in such a fierce mood. It looks like it is going to attack its enemy with full power. The caricaturish bullet also resembles a cartoon shark.
Grey ink 3D Three bullets tattoo design for forearm represents the life of a warrior. The three bullets represent three shots which probably might have some significance for him. It can be a tattoo made by an army person for whom itis symbolic of a warrior. The bullets are surrounded by some quotes written in a foreign language and similarly, you can also inscribe some quotes to represent your mind process.
This 3D bullet tattoo with a gun has something engraved above it which is in Spanish. Similarly, you can get something written for your design which is significant for you.
This no regrets tattoo design is quite real looking and significant for the wearer. Probably it shows that the wearer has no regrets to eliminate his foes.
Three Bullets hole tattoo on man's chest symbolizes the life of a soldier who has to face hardships in life regularly. This tattoo is symbolic of the multiple battles that this soldier must have fought in order to save himself. It is also representative of strength and courage and his capacity to face any challenge that comes his way.