Do you know what a 'Soot Sprite' is? I mean I think you do! Why else would you want to get a Soot Sprite tattoo? Right? All I'm saying is, I didn't until an anime fanatic friend of mine came and talked my ear off, I looked for it and dude are they cute, little, and fuzzy black creatures! I would get the soot sprite tattoo done without even watching any of the films they were featured in. Anyhow! You may be just as clueless as I once was and are here on hearsay, well, let me make things easier for you!
Meaning of Soot Sprite Tattoo Designs
They continuously offer kindness larger than life towards anyone they take a liking to, like Chihiro and Totoro. They have the strength and courage to do all that at times humans cannot and just like that become a symbol for all of the above traits! Soot Sprites are spirits that have appeared in two films by Studio Ghibli ( Creators of all-time favorite characters) yet, 'My Neighbour Totoro' and 'Spirited Away'. They are portrayed as small, round balls made from the soot that reside in old, abandoned houses and leave a black dirt trail. Their key job or trait is to judge whether the new inhabitants of their house are nice enough or not. If they are, the soot sprites leave and move to another house.
Ideas For Soot Sprite Tattoo Designs
Minimalist Soot Sprite Tattoos

All the minimalist ghibli studios fans, hear me out! If you are not into excessive, out-there, and extravagant tattoos? This is the perfect idea for you. Small, simple, minimal, and just-so cute soot sprite tattoos are your soulmate.
All-in-one Ghibli Studio Tattoos

There is not just one set of characters in their world. Mix things up by infusing together Soot Sprites, Calcifer, No-Face, Princess Mononoke, Totoro, and Haku tattoos! The world is your oyster! Ohh oysters! Gotta eat'em! Bye!
The Coal and Konpeito Candy Tattoos

The coal that they help Chihoro with is a major part of their kindness and .. Then comes the Konpeitō candy! the soot sprites seem to be eating them and them only and loving'em with all their little hearts!
Where Should You Get Soot Sprite Tattoo Designs
For Women
Ankle
Wrist
Finger Spaces
Hands
Shoulder Blades
Behind the Ears
For Men
Chest
Biceps
Legs
Neck
Back
Forearms
List of Soot Sprite Tattoo Designs & Meanings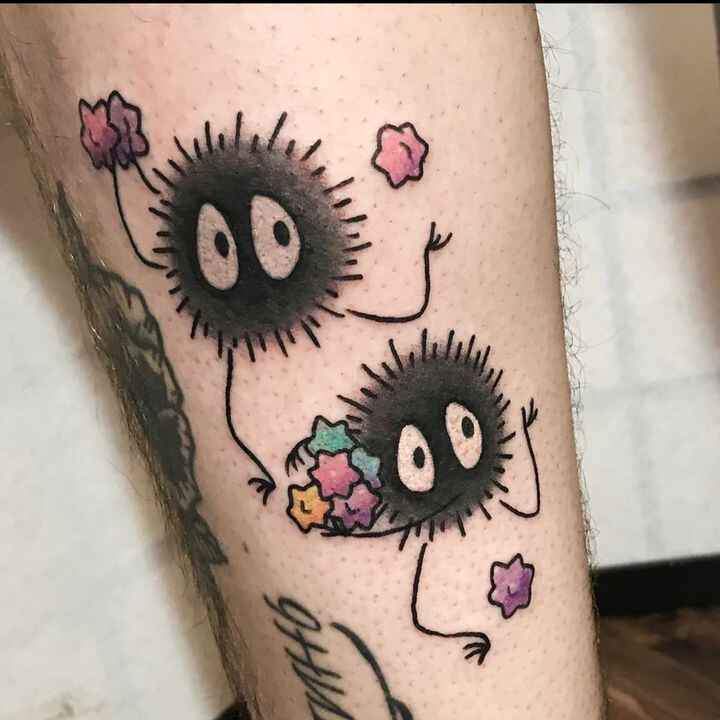 These happy, dancing soot sprites, running around with their favorite Konpeitō candy without any worries are just what we need in our lives 🙂

Watch, as this ankle tattoo keeps getting cuter and cuter! This soot sprite shows off its candy to all its spectators.
 The Soot Sprites in Work Mode Tattoo

The soot sprites in their work-mode, help Chihiro move the coal. And tell me this doesn't look exactly like a scene from the movie itself? The details on the coal and the soot sprites are tattoo supremacy!
The Lone Soot Sprite Working Tattoo

And if, group one is too much for you, how about this lone wolf, with its piece of coal that probably weighs 100 times its weight!
The Coal and Candy Tattoo
When you can't choose between candy and coal? Why bother? Keep'em both!
Candy Couple or Sisters' or Brothers' Matching Tattoo
A set of sisters, brothers, or even a couple can try for this one. It's innocent, it's cute, and it's child-like. Come on! They're holding hands for god's sake!
The Trio Soot Sprites Tattoo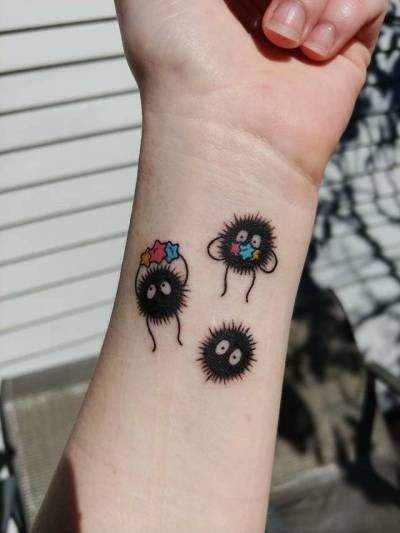 This wrist tattoo is just the one for a trio of sisters, a trio of brothers, and a trio of best friends. This. Right. Here. Get it! PLEASE! Different personalities, different people, one trio.
The Three Musketeers Tattoo
When you are the inseparable three musketeers, let your matching tattoo say that, pretty exactly! :)) quite literally.
The Awkward Soot Sprites Tattoo
Seems like these introvert soot sprites have just been caught outside their rooms trying to get some candy for themselves and they are stuck! Too cute, right?
The Playful Siblings' Tattoo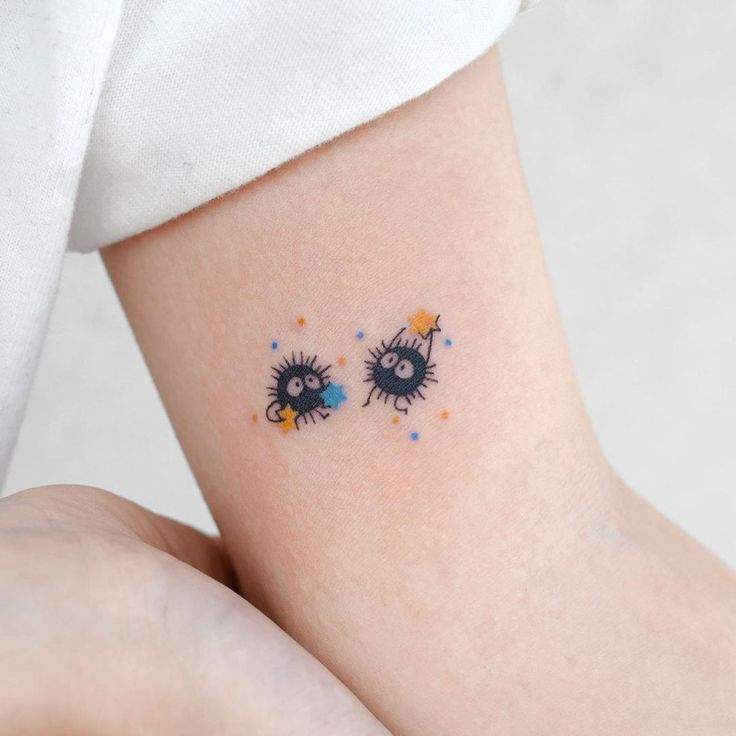 They're perfect little kids, without the stress of the outside, adult world, and are playing with their candy… ahh those days… what I wouldn't give to be this carefree!
Little Soot Sprite Kid Tattoo
Hear me out! Isn't this the most beautiful, little, soot sprite, holding onto its candies with the puppy dog eyes? I mean, I'm in love!
The Soot Sprite Cartoon Tattoo
It's an embellished version of a simple soot sprite tattoo, that looks like a cartoon more than a tattoo. I'm totally in for this one! I can never get over a soot sprite cartoon tattoo!
The Group Soot Sprites Tattoo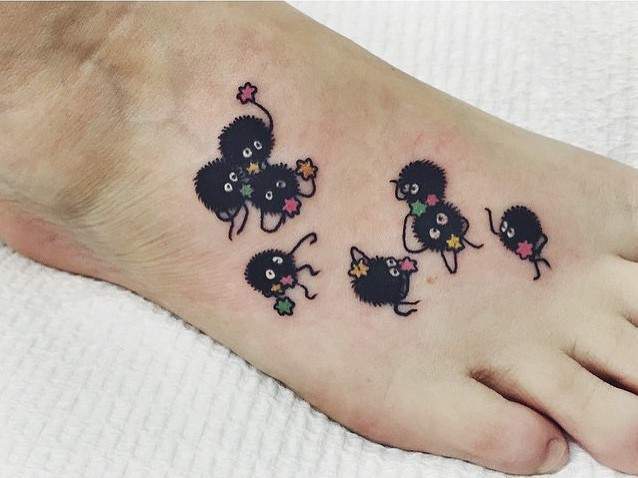 Now, if you are not a duo, not a trio but a big-a** bunch! And you fight, you love, you play together? This soot sprites troop foot tattoo is going to be the perfect representation of your little or not-so-little, tight-knit group!
The Solo Soot Sprite Tattoo

Try saying that 5 times in a row! The sole travelers and exclusively lone people can get the solo soot sprites tattoo. It's simple, small and is a darling!
The Matching Solo Soot Sprite Tattoo
And if you are two solos, without any 'hoos' and 'haas', and just want a matching tattoo that represents your love for the soot sprites together, look no more! This matching wrist tattoo set is minimal and definitely your vibe.
The Soot Sprites with a Semi-Colon Tattoo

Changing the stigma around suicides, the semicolon tattoo is used to symbolize bravery and endurance and cheer on the fact that their story isn't over yet. With the accompanying soot sprites
In-a-Band Soot Sprites Tattoo
Do you love soot sprites and are a band person? Is there something about jazz music that just makes you groove? Then this tattoo is your jam! Get it? You can even get the name of your favorite band or artist in place of 'in the pocket' in this one. Look at just how happy they are!
Soot Sprite, The Planter Tattoo
I'd like to think this soot sprite is dancing 🙂 If nothing else, it is happy to have success keeping its plant alive 🙂 Which I too am trying 🙂
Soot Sprite and Totoro, The Planters Tattoo
A minimal mélange of 'My Neighbour Totoro' and 'Spirited Away', this tattoo is the cutest mix and oh-so-perfect with that little pop of green!
The Innocent Soot Sprite Tattoo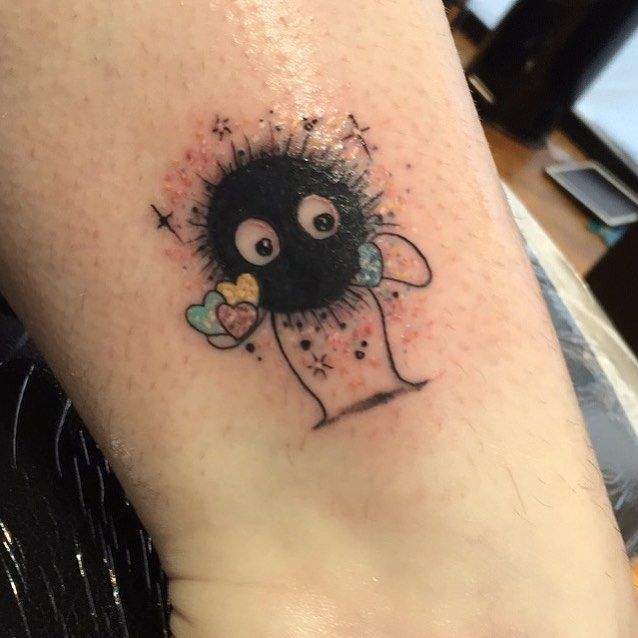 This one, right here, is one of my favorites! Why you may ask. It's the innocence of this soot sprite for me. It seems that for this one, the love for the candy is so much that it's in the shape of hearts and it's holding very close to itself.
The Soot Sprites and Stars Tattoo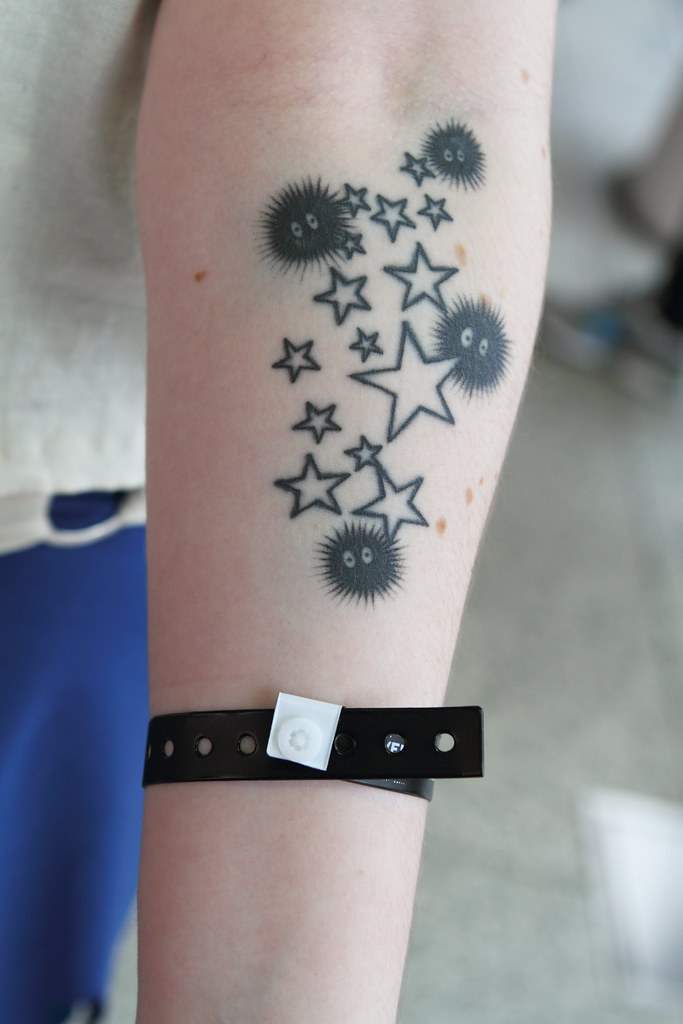 If you love all-things-stars? These soot sprites have your back. It seems like they are one of the eternal stars and are just casually hanging out with them! Or are probably even bringing them to you. Flawless! Isn't it?
The Black and White Spirited Away Tattoo

Chihiro, Haku in his dragon form, birds, soot sprites, arrow, and Calcifer. If you are not into colored tattoos this black and white version of the above one is great!
The Soot Sprites, Candy, and Cherry Blossoms Tattoo

Cherry blossoms majorly resonated with japan and are a huge part of their culture and movies. A black and white cherry blossoms tattoo with the adorable soot sprites and their candy (also in black and white btw!) has my heart!
The Simple Chihiro, Soot Sprite, and No Face Tattoo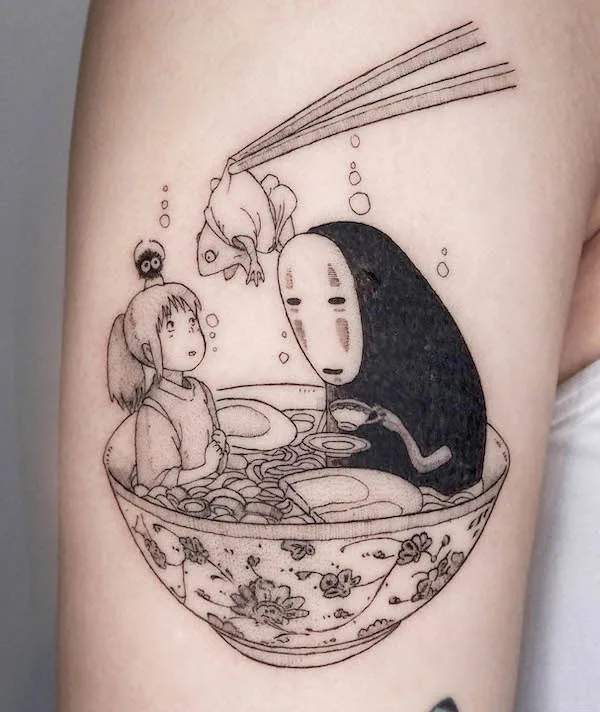 A clueless Chihiro and No-Face, the foodie sitting in a ramen bowl with one of the most beautiful carvings, a frog( who's looking right at Chihiro btw!) being held by someone( probably Yubaba!) over them, and the cutest little soot sprite standing on top of Chihiro's head, if this isn't the cutest summation of 'Spirited Away'? I don't know what is! Also, in the movie, Chihiro managed to get away but, this tattoo leaves that as a question and keeps the fans of the anime on their toes. Plus it's all-black. Sooo, it's kind of minimalist? maybe?
The Soot Sprites with Cupcake Tattoo

Who loves cupcakes? I do! I do! I do! (Monica style!) This cupcake with the perfect frosting being accompanied by Konpeito candy and your favorite soot sprites is A-one! It's colorful, it's happy, and it's all yours to get inked!
Trapped in an unknown world with weird alterations is sure to upset one! And here, the soot sprite following a sad Chihiro and trying to do its best as it offers its favorite candy shows its kind and selfless capabilities.
The Soot Sprites and Chibi Tattoo
Basic, black and white, and adorable. If that's your dream mix, then get this tattoo right here. Little Chibi and Soot Sprites are sure to make you smile every time you look at them.
The 'Spirited Away' Tattoo
In the movie 'Spirited Away', the bathhouse represents a lot of things including greed, society's unjust hierarchy, and the obnoxious work culture. Here, Chihiro is facing it all and growing from her experiences and the soot sprites are accompanying her. With the cherry blossoms at her feet, No-Face beside her, hope in her eyes, and the soot sprites and Haku having her back, this tattoo is the perfect spirited away symbol.
The Haku- The Dragon, Soot Sprites, and Cherry Blossoms Tattoo
Unlike the western culture where dragons are seen as menacing, in Japan and China, they often represent royalty. They also symbolize the guardians of a dynasty, a river, or a city, just like Haku in 'Spirited Away'. This tattoo brings out his sanctity and captures his essence in his full glory with the soot sprites and cherry blossoms as a delicate little addition.
The Black and White Haku- The Dragon, Soot Sprites, and Cherry Blossoms Tattoo
If you want Haku- the dragon, the soot sprites, and cherry blossoms but the above tattoo are a little too much for you? Then this black and white version can be your perfect little comfort zone. It has all the elements but with its own elegance.
The Soot Sprites in a Gashapon Tattoo
This pretty shoulder tattoo features Tororo and Soot Sprites in a gashapon. A Gashapon is a popular game machine that originated in Japan. You put a coin in the machine and a ball comes out. The fun part is that you will never know which ball you'll end up getting! And the best part is that it's the perfect little childhood happiness reminder and Studio Ghibli Tattoo.
The Soot Sprite, KiKi, and Calcifer Tattoo
Calcifer, looking like a real fire is the fire demon who fuels Howl's, Moving Castle. With his evil eyes, him trying to scare JiJi, the service cat of Kiki's Delivery Service with an adorable soot sprite at the bottom, this tattoo is the perfect graphic illustration trying to tell you a story!
The Subtle Soot Sprite, Calcifer, and KiKi Tattoo
When I look at this tattoo, I know it's the same set of characters as all the previous ones but, I feel a calm, kind energy being flown through me. The colors, the spacing, the placement, and their faces, they're all just, so captivating!
The Soot Sprites and Otori-Sama Tattoo
Otori-Sama, the Spirited away duck, is also, a client of Yubaba's bathhouse, keeping a hot towel on its head, with cherry blossoms at the back and the kind soot sprites enjoying the company, makes for the most subtle colorful tattoo. One that I'd definitely consider getting because let's get real, who doesn't love ducks?
The Chibi and Totoro Tattoo
Totoro, Chibi, Soot Sprites, and all things Studio Ghibli! In this forearm tattoo, I feel togetherness, brotherhood, and just pure tranquility. If you are like me and like simple yet powerful messages, I'd suggest this!
Okay, I know, you might like tea, but, you can name it whatever you want! As long as your tattoo makes it perfectly clear that you love it! And this soot sprite's starry eyes are just how I look when I have my coffee with me! So, you want to race me to the nearest tattoo parlor or what?
The Studio Ghibli Graphic Tattoo
Can it BE more graphic? Studio Ghibli is going to be pretty proud of this creation. The colors, the characters, they look as real as they can. I don't think I would be able to spot all the details and elements but I'm sure you can! This sleeve tattoo is sure to turn heads at your next public appearance.
Seems like a few friends gathered together for a camp night. Someone Dancing around, someone roasting marshmallows, one starting the fire( Calcifer himself is FIRE but, you get the point right?), and someone watching the starry night. I've never been a camper but this makes me crave s'mores!
All I think you should keep in mind is that you can look at a bajillion ideas and still feel like they're not completely you. So, keep looking because your perfect tattoo is either out there or is still to be customized, by you!