Chris Andersen is known for brightly colored tattoos on his arms, chest, neck, back, hands, and legs. According to Andersen's regular tattoo artist, Denver-based John Slaughter, Andersen has inked 65 percent of his body with colored tattoos.
"I like all of them, it ain't something I regretted. It wasn't like I got drunk and went and got a tattoo. Every tattoo has a meaning.'' said Andersen. He is also famous with the names like – the Birdman, the Ink-Obsessed big man simply because of his giant colored body flaunting a mohawk hairstyle. Chris Andersen is rapidly running out of places on his body where he can get a tattoo.
1. Chinese Symbols
Andersen had Chinese Symbols inked on the insides of his forearms. The one on the left stands for "Good'' and the one on the right for "Evil.''
2. Arm Tattoos
a) Phoenix Wings
Andersen has phoenix wings in vibrant colors on the inside of each of his arm. This body ink carries deep meaning for him as this ink was of the time when he was serving his drug suspension. Andersen once admitted to crying "like a little girl" while getting his wing tattoos on both his inner biceps.
b) Red Dice
He has tattooed a pair of red dice on his left arm.
c) Dead End
"DEAD END" is inked in bold black color in between the phoenix wings and the red dices. This tattoo is inside of a black square on his left arm.
d) Chains
Chains are tattooed on both of his arms.
3. Free Bird
Andersen has "FREE BIRD'' with colored flames tattooed across his neck in bright yellow lettering. He is a fan of the "Free Bird" song by Lynyrd Skynyrd. This song has a connection with him as he used to listen to it regularly during his drug suspension. He once said that the tattoo also had something to do with having just broken off an engagement.
4. Back Of Head Tattoos
a) Give Me War
The back of his mohawk hairstyle is now framed by tattoos. The words "GIVE ME WAR" in blood red color are inked on the bottom. The Birdman appears to have raised his tattoo game with this new ink behind his head.
b) Sinister Skulls
There are two sinister looking skulls on the back of his head. Thereby, flanking his mohawk hairstyle along with the words "GIVE ME WAR."
c) Wording
There is inked "FOREVER NIGHTMARE" at the back of his neck in a stylish manner.
5. Punk Tattoo
The word "PUNK" is inked on Andersen's left hand.
6. Neck Tattoos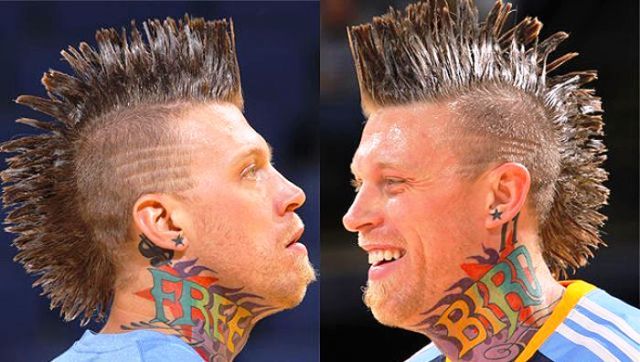 a) Dollar
On the right part of his neck, there is a dollar cash sign behind his right ear.
b) Star
There is a star on Andersen's both ears, and these are appearing like his ear studs.
c) Number 11
The Number 11 is inked behind his left ear.
7. Right Arm Tattoos
a) Basketball Player
On Andersen's right arm, there is a tattoo of a basketball player making a making a Slam-Dunk.
b) Yellow Stars
Yellow stars are inked in between the basketball player and the word "COUNTRY."
c) Country
The word "COUNTRY" is inked in capitals on his right arm.
8. Left Arm Tattoos
a) Skull
There is a scary skull tattoo on Andersen's left bicep.
b) Giant Crown
A tattoo of a giant crown just above the skull is there on his left arm.
9. Stomach Tattoos
a) Chain Tattoo
Chains are tattooed on his upper chest also.
b) Words On Stomach
The words "HONKY TONK" are inked on Andersen's stomach.
10. Snow Crystal
A snow crystal is tattooed on Andersen's left elbow.
11. Hands Tattoo
"SCREW YOU" is tattooed in capitals on all the fingers of each of his hand.
12 Leg Tattoo
Andersen has a group of dark black colored flying birds inked on his left leg.