Dwayne 'The Rock' Johnson, an actor and a mostly-retired professional wrestler, has a rich history which he represents by his affinity for tattoos. His popular tattoos are on his chest and arm. "The story of my (chest and arm) tattoos is a very elaborate story", Johnson once said during an interview, "It represents all the things that are important to me, that I love and that I'm passionate about".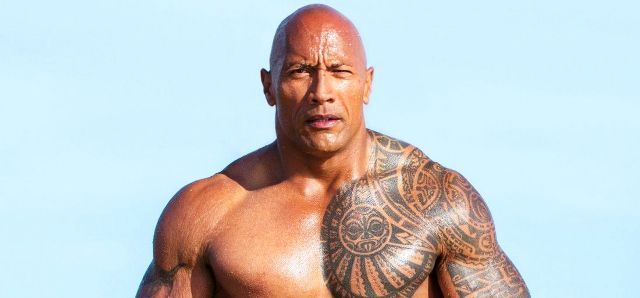 1. Intricate Tribal Tattoo
The Rock's tattoos come down to three things: family, protecting his family and having an aggressive warrior spirit. It would be difficult to put into words, the meaning of the ink as a whole. Therefore, we've broken down the intricate ink into fragments, explaining their unique meanings:
a) The Great Eye
The Great Eye is supposed to let the person who has inked it, possess the spirit of his or her enemy. This symbol is used as a distraction in times of confrontation.
b) Swirls
Descending swirls around The Rock's left shoulder represent past, present and future. The pattern furthers under his arm, where its meaning is written. It says, "It changes in the place where it is found to be gone."
c) Warrior Spirit
The tattoo on his chest represents the "warrior spirit" which helps him to overcome obstacles. This is why he has it made over his heart.
d) Coconut Leaves
The coconut leaves on his collarbone represent Samoan chief-warrior.
e) Sun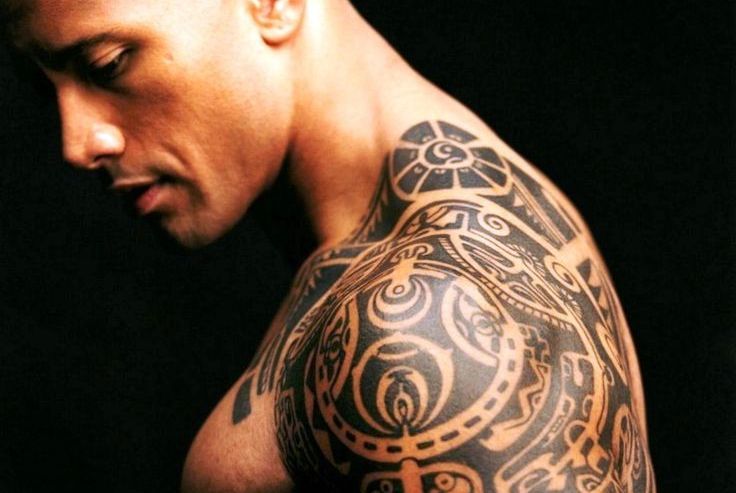 The sun behind his coconut leaves represents good fortune.
f) Family
"This isa/ga fa'atasi (three people in one), that's me with my arms open. As it continues on my chest, it connects to my o lo'u to'a/ua (my wife, Dany) and my o lo'u afafine (my daughter, Simone Alexandra)", Dwayne said.
g) Two Eyes
The two eyes called o mata e lua represents his ancestors and who he believes to be watching over his path.
h) Broken Face
The broken face marked by shark teeth represents his soul protector and his struggles throughout his life. It is also a symbol of strength.
i) Priest
The priest or the spiritual guide helps the warrior to attain his supernatural powers and enlightenment.
j) Stones
Stones of achievement and abundance are inked around his bicep. The Rock says, "they're the foundation of my life and symbols of my dedication. They bring the right to stand and speak with honour as a Tula Fale—a high talking chief—and they maintain mana or supernatural power."
k) Tortoise Shell
The lower part of The Rock's left arm tattoo is a tortoise shell design. Warriors used these as shields for protection from evil spirits.
2. The Brahma Bull
The bullhead tattoo on Dwayne 'The Rock' Johnson's right arm is his other tattoo and also the first one which corresponds to his Western zodiac birth sign of Taurus, the Bull. The tattoo is a long-horn type of steer with red-coloured eyes.
3. Dwayne Right Arm Tattoo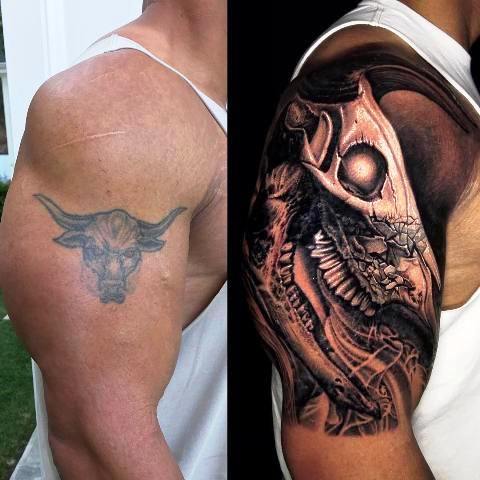 "Evolution of the bull. Blood, sweat & years. After 3 sessions and 22hrs of tattooing with world-renowned Nikko Hurtado, the story's almost done", said Dwayne, who has now got his bull tattoo transformed into a new one. Every detail in this ink is a reflection of his own personal history.