James Alan Hetfield, who is famous as the Co-founder, lead vocalist, rhythm guitarist, and main songwriter for the American Heavy Metal Band, Metallica, is an American musician and songwriter by profession. We know him for his intricate rhythm playing and guitar performances. Metallica has won nine Grammy Awards and released ten studio albums, three live albums, four extended plays and 24 singles. Hetfield has won multiple awards and nominations. Hetfield has claimed that his body acts as the imagery for his hobbies. Besides, he also has some religious inks which according to him relate to his ethics, beliefs, and his staunch belief in God just like his parents. Let us explore his body inks.
1. 'Playing Cards' Tattoo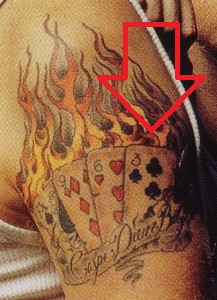 Tattoo: James' left shoulder is tattooed with four playing cards which display 'A' of spade, '9' of Diamonds, '6' of hearts, and '3' of the club moving from left to right. Flames can be seen rising from the top of the playing cards.
Meaning: The numbers on the play cards jointly depict James' birth year. The tattoo has been dedicated to the memory of the incidence, which occurred during a performance at a concert in Montreal in 1992. The flames above the play cards have been used to symbolize the flames of nearly twelve-foot long which engulfed James when he was performing with the group "Guns n' Roses" on 'Fade to Black'. The accident was the result of the pyrotechnics. The whole theme of the tattoo has been dedicated to the day on which he was born and to the day when he felt he was just near death.
2. 'Carpe Diem' Tattoo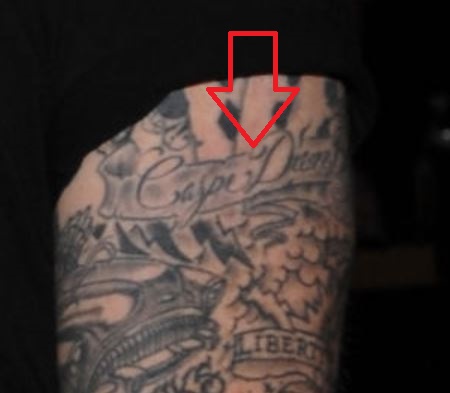 Tattoo: Just below the cards and flames tattoo we can see the words, 'Carpe Diem' inked in italicized font.
Meaning: The word Carpe Diem is the Latin phrase which means 'to live and enjoy every moment in present'. James once revealed that this tattoo is very close to his heart as he is the firm believer of this. He said that he lives each day as it is his last and believes in rejoicing each little moment in the life which we are destined to receive.
3. 'CBL' Tattoo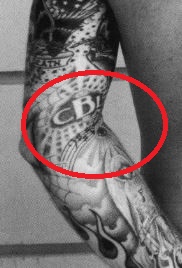 Tattoo: On the inner side of his left arm there is a tattoo of the abbreviation, 'CBL'.
Meaning: This is James' tribute to his friend, 'Cliff Lee Burton' who was the Bass guitarist for the American band Metallica from December 1982 to September 1986. He was an American musician and songwriter, who died on 27 September 1986. James had a very close bond with Cliff.
4. 'Dagger' Tattoo
Tattoo: On his right bicep there is a dagger tattoo with a modernization. The handle of the sword has a skull.
Meaning: Dagger with a skull handle shows the person's pro-activeness to face all danger. It also represents freedom, revenge, betrayal, and a sharp intellect.
5. 'M 81' Tattoo
Tattoo: On his right hand, James has got the letter M tattooed. Later he got number 81 added, turning it into M81.
Meaning: M stands for his band, the American heavy metal band, Metallica. Whereas, 81 depicts 'EMG 81', which he used for playing custom-made Explorer-style guitars, which he has also been endorsing since the 1980s.
6. 'High Power Eye' Tattoo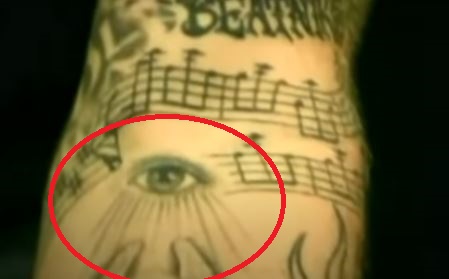 Tattoo: On the inner side of his left eye there is a black eye tattooed. James, in an interview, said that it is a high power eye tattoo.
Meaning: High power eye or single eye tattoo is the symbol of the fact that God (eminent power) is seeing us all. God is omnipresent and thus, the eye of God is watching over humankind. James got it as a continuous reminder to himself that he is under surveillance and thus, he should be doing nothing wrong and evil.
7. 'Multiple Stars' Tattoo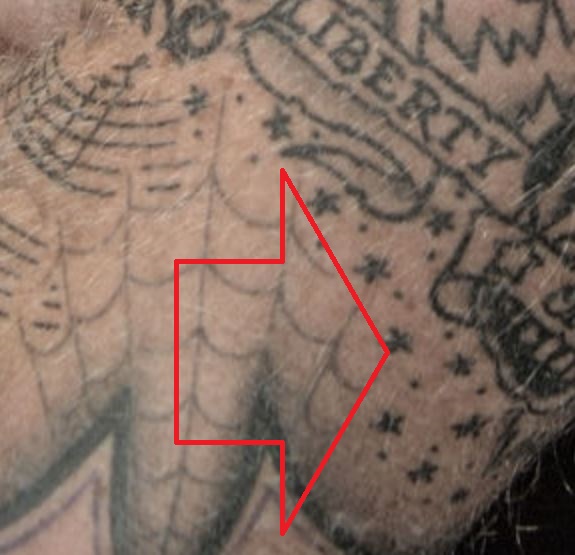 Tattoo: James' left upper arm is tattooed with multiple tiny stars.
Meaning: Stars are the guiding light and also have spiritual relevance representing the divine relationship that we have with God. This is the clear symbolism of how religious a person James is.
8. 'Dedication to Cliff Barton' Tattoo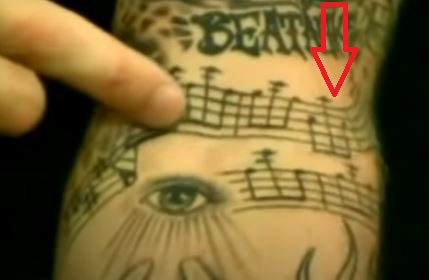 Tattoo: On his inner left arm there is a tattoo that is completely dedicated to James' late friend, Cliff Barton.
Meaning: The musical notes represent the notes from one of Cliff's songs, 'Orion'. This is the second tribute tattoo which James has on his body, which he has dedicated to Cliff. Cliff Burton was killed in a bus accident on 27 September 1986.
9. 'Palm Trees' Tattoo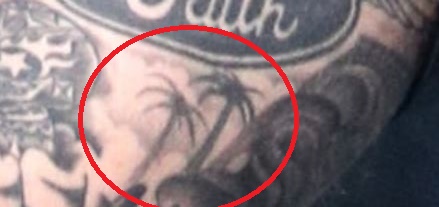 Tattoo: James' inner right bicep is tattooed with two black colored palm trees.
Meaning: Palm trees symbolize peace and eternal relationship with God.
10. 'RIFF LIFE' Tattoo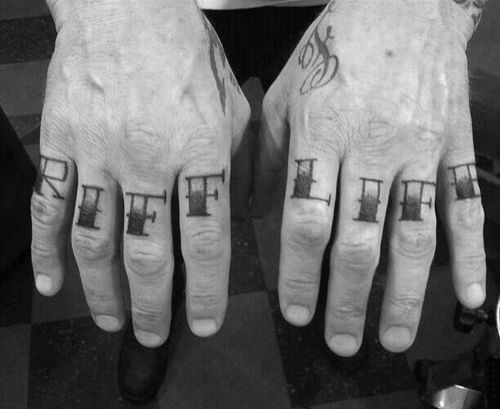 Tattoo: Across the knuckles of his hands, Jams has got the word, 'RIFF LIFE' inked. Riff is the common slang used in the music and rapping to refer to the tune that is commonly used throughout.
11. Right Arm Inscription Tattoo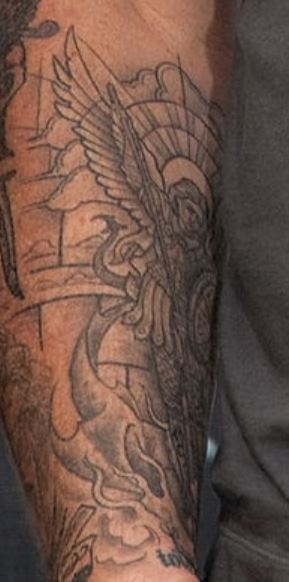 Tattoo: James' right arm depicts the religious illustration of St. Michael and Satan. The tattoo is a religious depiction of the fight in heaven between the angels who are led by the Archangel Michael against the evil who are led by the Devil/Satan.
Meaning: James has been a lover of religious stories. This is another of the religious ink which symbolizes the victory of good over evil by showing how the battle between Micheal and Satan ended with Satan's defeat, thus showing that victory always rises above human vices.
12. 'Mathews 6:13' Writing Tattoo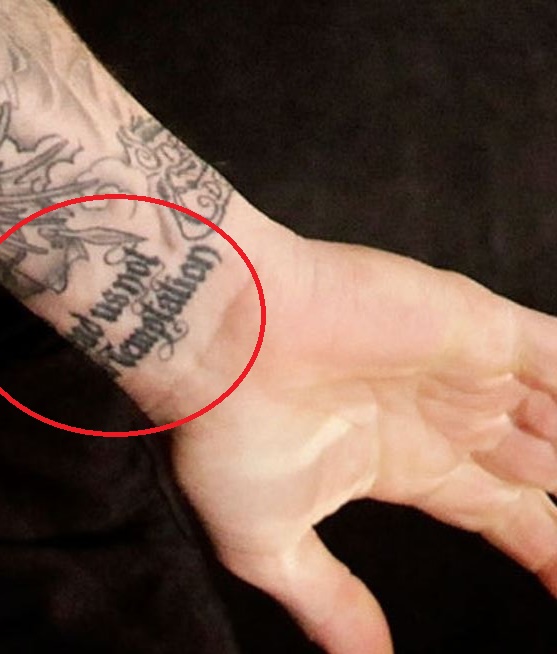 Tattoo: On the inner side of his wrist there is writing which can be read as, 'Lead Us Not Into Temptation'.
Meaning: The inscription is taken from Mathews 6:13 which says, "And lead us not into temptation, but deliver. Us from evil: For thine is the kingdom, and. The power, and the glory, forever." The key idea is the person's prayer to God to not to lead him into evil or temptation of greediness, but only fulfill him with goodness.
13. 'Skull with Wings' Tattoo
Tattoo: James' left side of the neck is tattooed with the skull which has wings.
Meaning: Skull with wings involves two aspects; Wings that are the symbol of freedom and spiritual enlightenment. Whereas, the skull is the symbol of death. Skull with wings is thus the symbol of our mortality and also symbolizes a sense of personality and character enhancement.
14. Skull on Left Arm Tattoo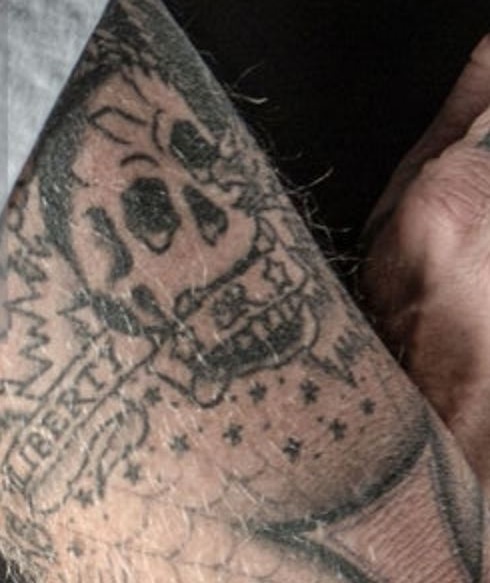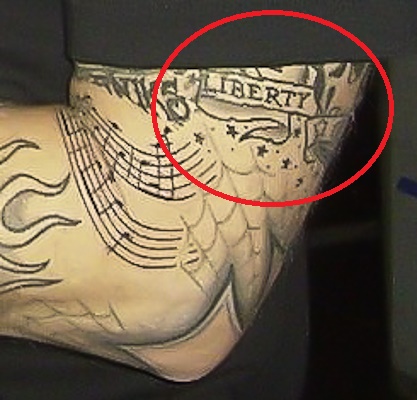 Tattoo: On the outer side of his left bicep, there is another skull tattoo with a banner running around its bottom that carries the slogan, "LIBERTY OR DEATH".
Meaning: Skull as we already know is the symbol of death, however, they are used by the person to depict his confidence of facing all difficulties with ease. There is a banner running on the bottom of the skull which carries the words, 'LIBERTY OR DEATH' which means that the person is either looking for freedom or death. It was actually a popular slogan used by many countries at the time of seeking their freedom.
15. 'Rolling Dice' Tattoo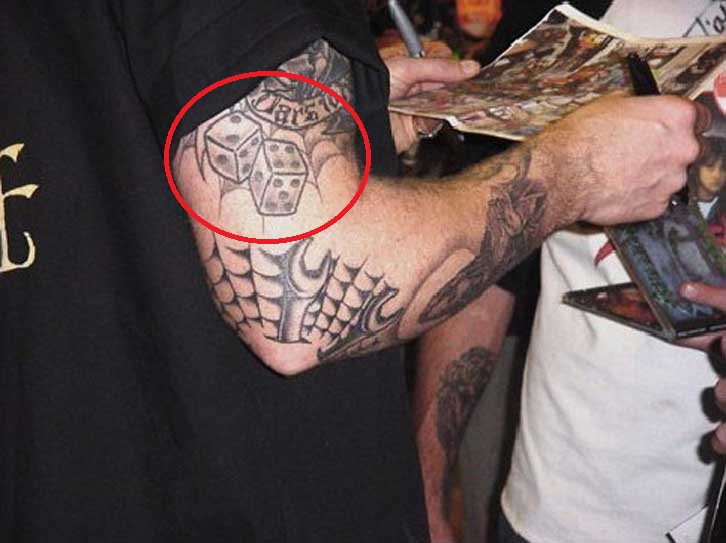 Tattoo: James' right bicep has a tattoo of two dices. Rolling dice symbolizes the phrase 'roll the dice' which aims at taking the chances and risks in life. This tattoo shows that James believes in taking all risks in life.
16. 'Cross' Tattoo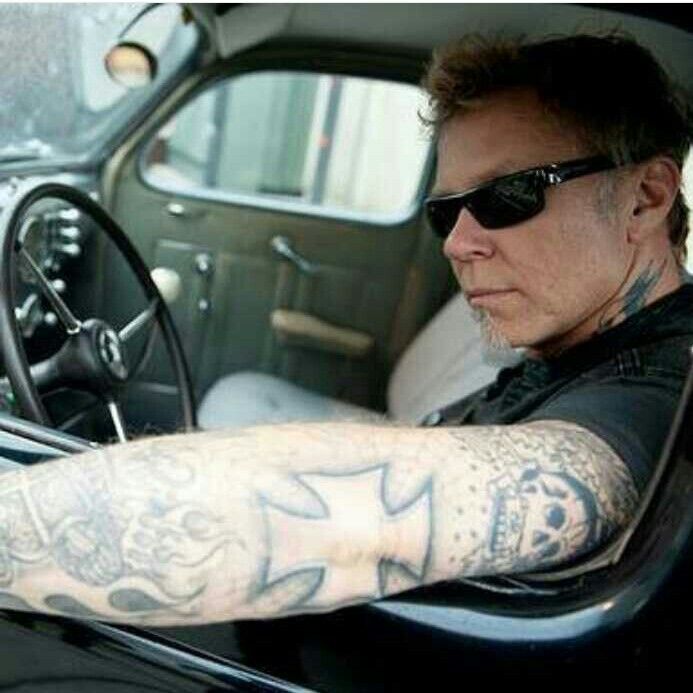 Tattoo: There is a huge cross inked on James' left elbow.
Meaning: Cross tattoos are the symbol of one's religious beliefs, i.e. Christianity.
17. 'Spider web' Tattoo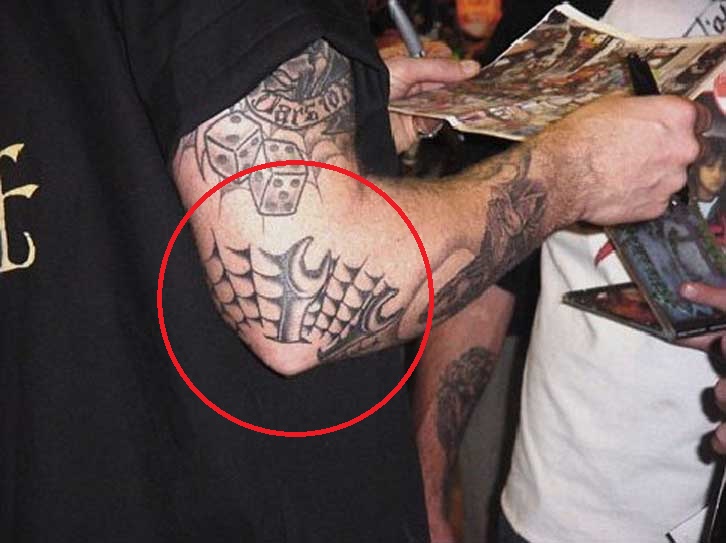 Tattoo: On his right elbow there is a Spiderweb with spanners.
Meaning: Spider webs are used to remind yourself to be courageous enough to manipulate your activities and depend upon destiny to pass through the struggles of life. Since spider and webs are something that is used to divert our attention towards our own life choices, how we can cob the ways to tackle through the webs and tangles of life just like a spider does in making his own web.
18. 'Faith with wings' Tattoo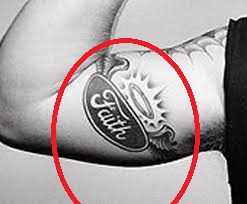 Tattoo: The inner side of his right bicep is inked with the word, 'Faith' in italicized font. Besides, there are angel wings inked on either side of the circle inside which word is inked.
Meaning: This is another religious tattoo that shows James' FAITH in God. The wings here are the symbol of a guardian angel who is a person or his loved one who has passed away and James has great faith in him/her.
19. Flames Tattoo On Left Forearm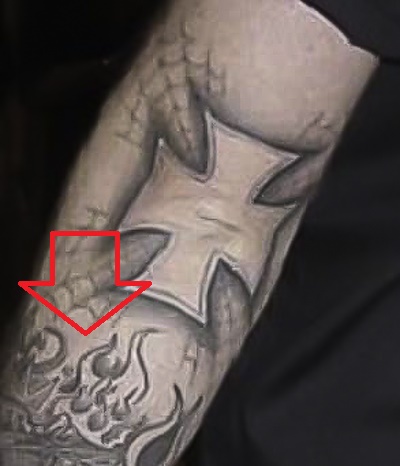 Tattoo: On the backside of his left forearm, James has got the flames inked.
Meaning: Flames are the symbol of passion, love, and desire. They can also mean strength and knowledge.
20. Skull on right arm Tattoo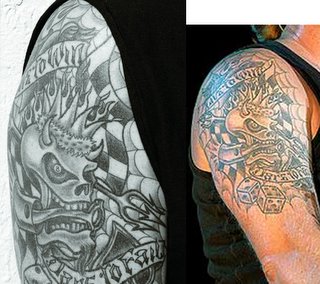 Tattoo: On James' right bicep there is a big inscription tattoo which shows us a big skull through his eye there is an arrow coming outwards. Above the skull are the flames tattooed. There are words tattooed alongside, "Live to Win, Dare to Fail".
Meaning: The phrase has been taken from the lyrics of the song 'Carpe Diem Baby' by the band Metallica.
21. Ship Tattoo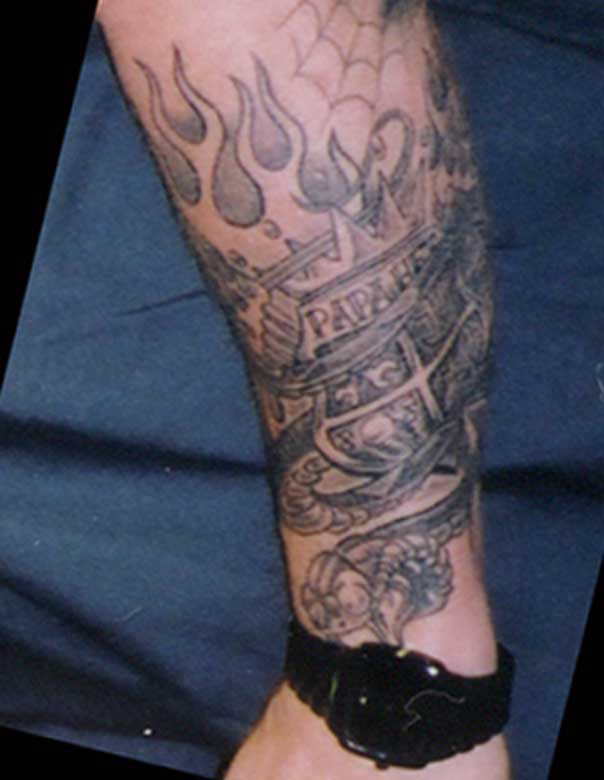 Tattoo: The inscription on James' left arm includes a ship that depicts the wrenches, a guitar, a microphone, and also a royal lily. There is a coat of arms covered with a flame called 'Daddy Pat'.
Meaning: Daddy Pat is the name by which James Hetfield is popular in rock parties. He had given this name to himself after the birth of his second child. James claims to have received this tattoo to depict the problems he has ever experienced. It also displays his favorite hobbies. Tattoo symbolizes the experienced problems and favorite hobbies of the musician.
22. 'Angel' Tattoo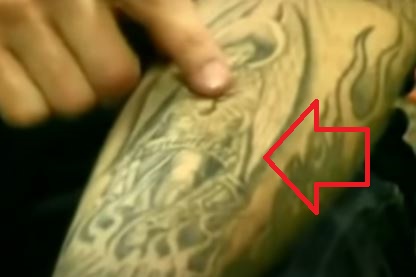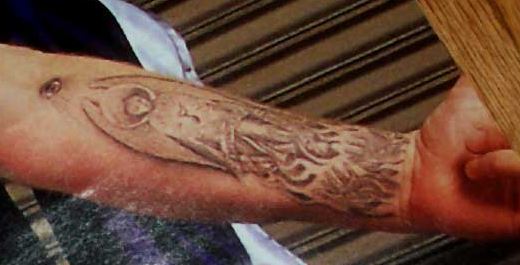 Tattoo: On the inner side of James' left arm there lies a big tattoo of an angel. Angel with the wings also carries fire and a pair of hand on its bottom.
Meaning: James, in an interview, said that it is his guardian angel who protects him from all the issues and difficulties. The angel brings to her, the gift of music which passes to his hands that are inked on his wrist, by passing through the line of fire which has also been inked in the form of flames. The line of fire means that it is a gift to James that has been brought to him by the angels directly from God.
"I am kinda infatuated with the angels. I always wonder that I should have died hundred times, and it is all because of this angel here. I just thank whether it is my mom and dad or anyone else who's my guardian angel and protects me lying here in this tattoo angel form. This is angel bringing the gift of music to me, at the bottom are my hands. My tattoo artist took the polarized of my hands and copied them so that is my hands inked which means struggle. So this angel is bringing me the gift of music through the line of fire that means gift from god."
23. Back Tattoo
Tattoo: On James' back we see another inscription of "Lead Foot", fire and horseshoe. This tattoo symbolizes James's attitude to life.
24. The Family Chest Tattoo
Tattoo: It contains the names "Marcella", "Tali" and "Castor". Inside are prayerfully folded arms and a cross. It symbolizes a prayer for the well-being of their children. The tattoo on the chest of the singer is dedicated to the family and children. It is the unification of the names 'Marcella', 'Tali', and 'Castor'. They have been inked around folded hands and the sacred cross.
Meaning: The family tattoo which combines the names and also the prayers is his dedication for the love for his family.
25. Swallows on shoulders Tattoo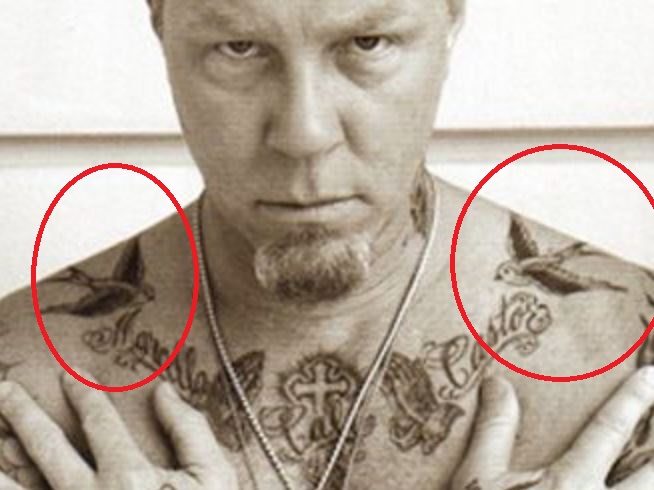 Tattoo: Across his shoulders, James has got a pair of swallows inked, one on each shoulder.
Meaning: Sparrows are the symbol of peace and harmony. They are also believed to bring good luck.
26. Latin Letters F and M Tattoo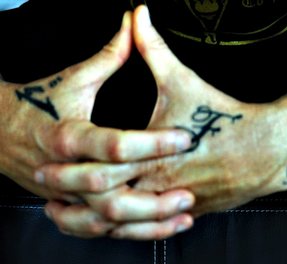 Tattoo: There are letters of the Latin alphabet «F» and «M» on the back of the palms. ,
Meaning: Letter M denotes his band Metallica and the letter f denotes the name of the woman of life, his lovely wife, Francesca Hetfield.