The queen of pop, Lady Gaga has a serious love for ink. But the interesting fact behind Lady Gaga's body art is that all of her tattoos are on the left side of her body. Wonder why? Lady Gaga had promised her dad that she'll keep all the ink restricted to the left side of her body and keep the right side of her body tattoo free. Just like this story about the "keep to the left" principle of Lady Gaga's body tats, there are numerous interesting stories about each of her tats. Let's find out all about Lady Gaga's tattoos and their meaning.

1. Treble clef 
There is a treble clef tattoo on her lower back. Do you guys know at what age she got her first tat? 17 years, Yes! That's right. Stefani Germanotta got her hands on a fake ID and used it to ink a small black treble clef tat on her back. She got it covered up in 2008 with a beautiful rose tattoo.
2. Peace sign tattoo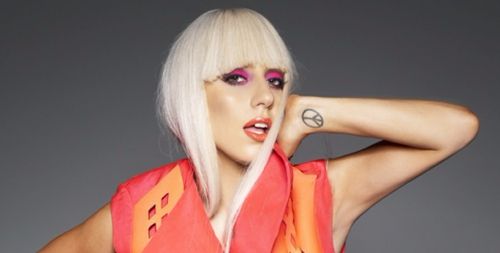 Lady Gaga got a peace tat inked on the inside of her wrist in 2006. The tattoo was in memory of John Lennon (one of her musical idols) and his vision of peace and equality. Another interesting fact about the tattoo is that it is upside down but according to Lady Gaga it's just right. She deliberately got it inked right-side-up so that when she looks at the tat, it reminds her of what is important in the world.
3. The lower back rose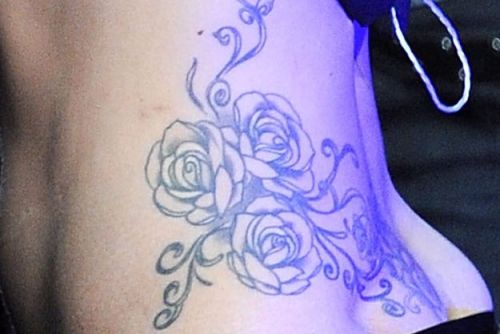 In 2008 Lady Gaga decided not to carry her first treble clef tat anymore. She regrets getting that tattoo using a fake ID and its "tramp stamp" location, so she added an intertwining vines and roses tat that sprawls from her lower back to the left side of her waist to cover up her old tattoo.
4. Daisies on the shoulder
Three beautiful white daisies sit on Lady Gaga's left shoulder. She got this tat inked in 2008 just after getting the lower back rose tat by the same tattoo artist, Kat Von D. Obviously Lady Gaga does love flowers a lot.
5. "Tokyo Love" tattoo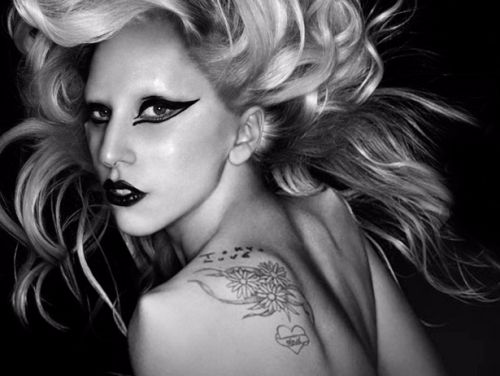 Lady Gaga got her next tattoo in 2009 which was inspired by the famous Japanese photographer, Nobuyoshi Araki. He did S&M-inspired photo shoot with Lady Gaga which involved her being bound, painted and photographed. Nobuyoshi had signed all the photographs "Tokyo Love" and Lady Gaga got it inked on her back in his handwriting.
6. German tat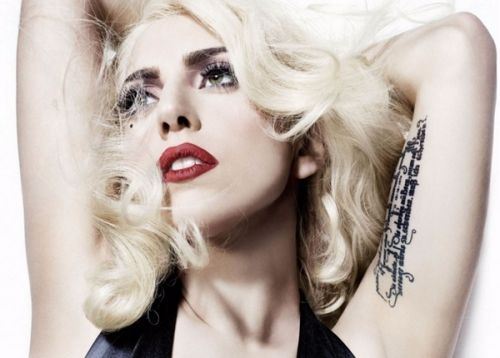 In 2009 Lady Gaga decided to get another tat, this time to commemorate her favourite philosopher, Maria Rilke. She got a quote from Rlike's "Letters to a Young Poet" inked on the inner part of her left arm. The quote which is inked in German translates to "Confess to yourself in the deepest hour of the night whether you would have to die if you were forbidden to write. Dig deep into your heart, where the answer spreads its roots in your being, and ask yourself solemnly, Must I write?" To Lady Gaga this quote is about her need to write music.
7. Date inked in the middle of German tat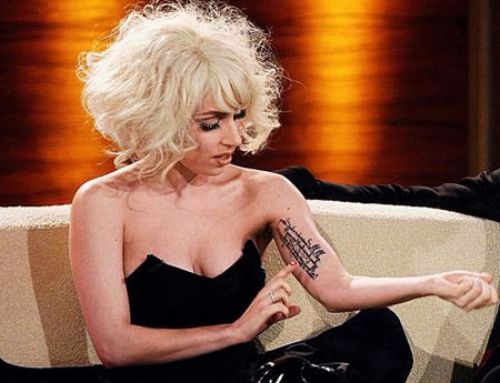 The date 12/18/1974 is inked right in the middle of Lady Gaga's German tat. It is the day when her aunt Joanne passed away.
8. Dad tattoo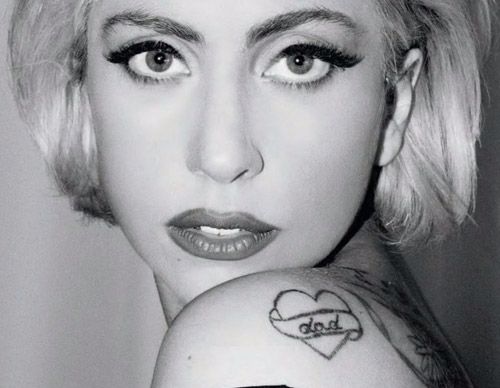 The pop queen being a daddy's girl decided to express her love for her father with a tattoo. She got a heart tattoo with "Dad" written on a banner on her. Lady Gaga got this tat in October 2009 just after her dad had a successful open heart surgery. He had initially refused the surgery but Lady Gaga persuaded him by saying she would never love or write again.
9. Little Monsters tattoo
Right next to Lady Gaga's German tat sits her "Little Monsters" tat inked in a script. The queen of pop really loves her fan and this tattoo is dedicated to her adoring fans. "Little Monsters" is the name given by Lady Gaga to her fans.
10. "Born this way" tat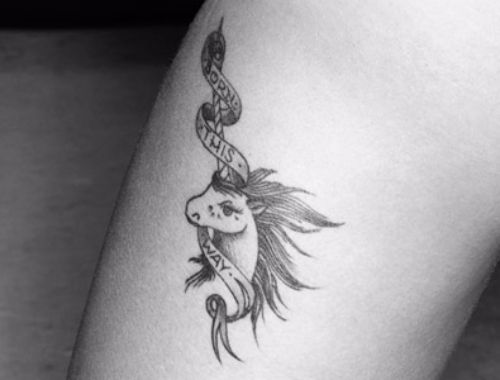 The queen of pop has a Unicorn inked on her thigh with a banner that reads "born this way". Born this way is both the title of her highly anticipated album and its lead single track. Unicorn is a symbol of uniqueness and so is her tat. It is all about accepting your uniqueness without compromising.
11. "ARTPOP" tattoo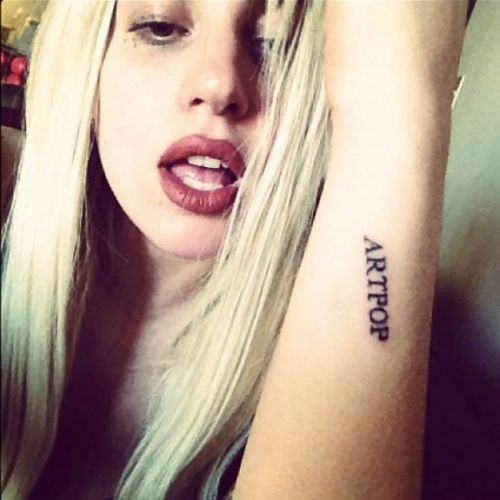 Just like Lady Gaga got her "Born this way" tattoo to commemorate her album, she also decided to add the title of her new album "ARTPOP" to her tattoo collection. An interesting thing is, she got the tattoo in August 2012 and gave her fans a super early hint at her album which wasn't released until November 2013. The "ARTPOP" tat is not only the name of her album but is also an expression of Lady Gaga's life and career.
12. Anchor tat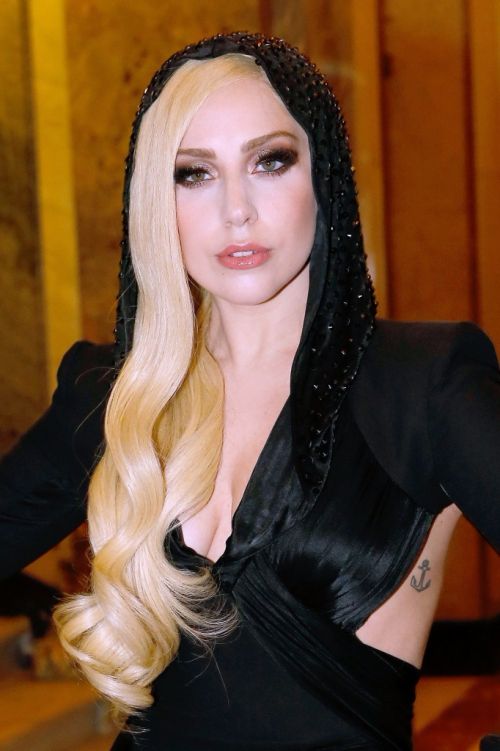 Mother monster got a new tat on her European "Born This Way" Ball tour in 2012. It was a small anchor inked on her left rib cage. She announced her new tattoo with a tweet, "New Tat. Stamp of his Mermaid" and a pic of her fresh ink.
13. Cherub Tattoo
All Lady Gaga's tattoos are fascinating and have an interesting story too, but this tat is super special. The Queen of pop got her cherub tattoo inked live in front of thousands of viewers at her fragrance launch. While Lady Gaga sat in a giant perfume bottle, tattoo artist Michael Mahoney inked the Cherubs tattoo on the back of her head.
14. RIO tattoo
Another addition to pop queens tattoo collection is the "RIO" tat inked on her neck. The tat features the word RIO with the 'I' fashioned to look like a cross. Lady Gaga's new tattoo is inspired by her little monsters and the font is three different fans' signatures.
15. Mouse tat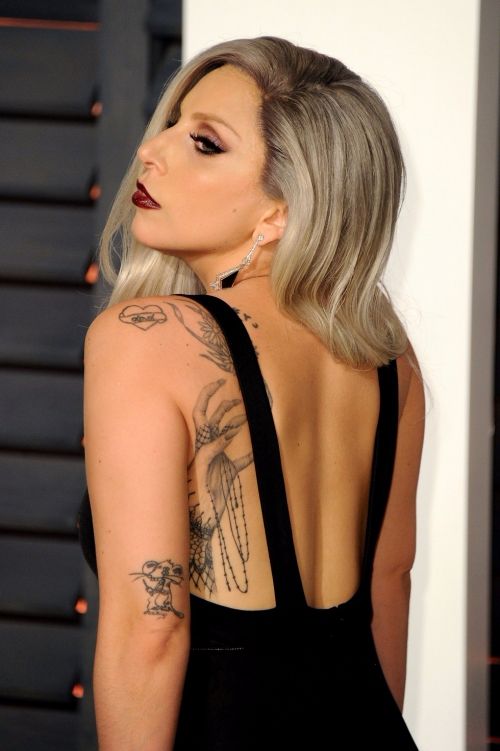 A quirky little mouse decorates the back of Lady Gaga's left arm. The tat features a small mouse with an "X" over one eye and a sewing needle and thread in one of his hands. The tat is in honor of Lady Gaga's younger sister Natali Germanotta whom she used to call "mouse" as a child. The details of the tat also symbolize Natali's life where the needle shows her love for fashion designing and the thread spells "Nat", her nickname.
16. Trumpet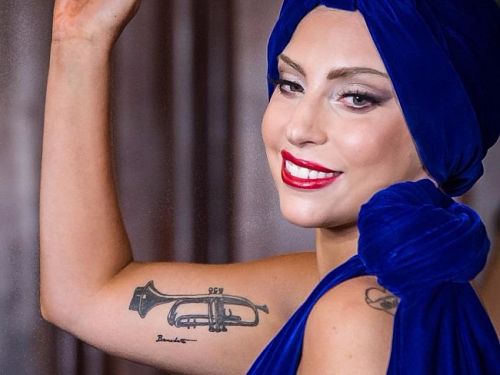 Lady Gaga went against the promise to her dad of leaving the right side of her body ink free by getting a trumpet inked on the inside of her right bicep. The inspiration behind this tat was the music legend and accomplished painter Tony Bennett. The tattoo shows Lady Gaga's appreciation for Tony Bennett.
17. "Monster Paw"
A rather recent addition to Lady Gaga's body art is a "Monster Paw" tat on her back. Inspired by her fans, mother monster got this tattoo which features a 'monster paw' in red color with scales and scary-long fingernails. Lady Gaga says that the tattoo is a reminder of her "little monsters" for her.
18. "Mother monster"
Just after a month of getting the 'monster claw' tat, Lady Gaga went under the needle again to get another tat. This time it was pop queens own nickname, "Mother monster" in a paisley design sprawling across the left side of her rib cage and extending up to her armpit. The tattoo was in honor of 5 year anniversary of The Fame Monster (reissue of her debut album, The Fame (2008).
19. Tribute to the late David Bowie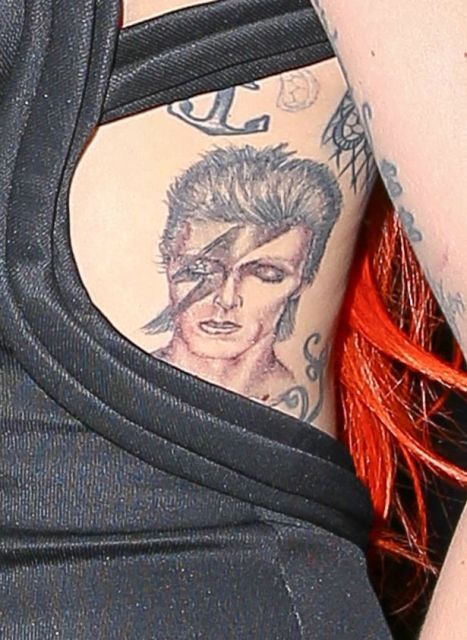 Lady Gaga was chosen to perform a tribute to the late David Bowie at the Grammy Awards, and the pop star decided to commemorate the honor in the most permanent of ways – by getting a portrait tattoo of the legend inked on her side.