The 29 years beauty who gained popularity in the Hollywood industry for being the girlfriend of R&B singer Chris Brown is an American model and an actress. The actress has few tatts inscribed on her body which are meaningful quotes related to life. Take a look at her body inks that will inspire you as well to get tatted.

1.Writing

on Forearm
The inner side of Karrueche Tran's forearm is inscribed with a piece of writing in cursive writing. It states, "Where there is love, there is life." It is a Mahatma Gandhi quote.
2. Arabic Writing on Spine
There exists a writing in Arabic that runs through the spine of the actress which translates to, "an ounce of blood is worth more than a pound of friendship."
3. A Zipper on The Back of Leg
The back of her right leg is inked with a zipper which runs from the upper thigh and goes down till her ankle.
4. A Bracelet on Wrist And Chinese Dragon on Hand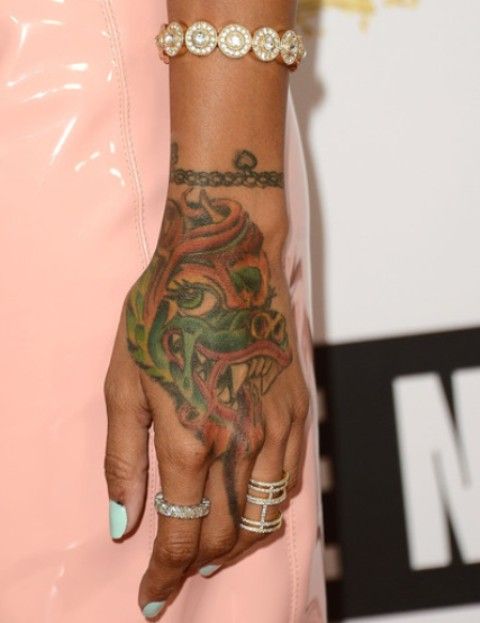 The left wrist of the actress is inked with a bracelet with a heart hanging in an upward direction. The upper side of the hand is tattooed with a colourful Chinese Dragon which is a symbol of strength and wisdom.
5. Quote And Red Rose on The Side of The Ribcage
The left side of the ribcage of Karrueche is inked with a quote which states, "A beautiful life does not just happen, it is built daily by prayer, humility, sacrifice and love. May that beautiful life be yours always." Below her quote, there exists a red rose tattoo.
6. Writing on Forearm
There is a piece of writing on the Karrueche's forearm which says, "The Past Is Practice." The writing is in typewriter font. The quote means recognizing one's mistakes and learning from them. She further explained, "I own up to all the poor choices I have made and pray for the better. I pray every day to God to strengthen me as a human and a young woman."