Jesse James Rutherford is an American singer, songwriter, and actor. He is well famous as the lead singer of the band The Neighbourhood. Not many people know that he had also auditioned for a role in the TV series Hannah Montana but had failed to grab it. Beginning from his childhood, he has been part of various television commercials. Jesse is known for getting his whole body covered in tattoos and most importantly not revealing their relevances. Let us explore his amazing body arts.
"Don't get those tattoos on your right arm (laughs). Save that real estate because you're going to want some other shit some day. Maybe don't get any of the tattoos so early. But 17 year old me, looking at 26 year old me, with like neck tattoos and shit, would be like "yo this guy is so sick what the fuck." I know that really surface level but I think the boxes you in. If I'm in the whitely tatted lane, then okay. I did it to myself. Other than that, just keep doing what you're doing. It's working."
CHEST AND STOMACH TATTOOS
1. Portrait on Stomach
Tattoo: JR's stomach is inked with the portrait of a girl with folded hands. There are flowers tattooed right above her head, and two bluebirds inked facing towards each other.
Meaning: The roses are the symbol of love and affection whereas the blue-colored birds are the sparrows that symbolize love and relationship with the family and loved ones.
2. 'Now I Can Breathe' Tattoo
Tattoo: Now I Can Breathe' is inked on the lower part of Jesse's stomach. There has been no known revelation by Jesse about the importance of this tattoo, however, this could be the line from the famous album named Now I Can Breathe Again by Simon Patterson.
3. 'LET GO AND LET GOD' Tattoo
Tattoo: Across his chest, Jesse has got the quote inked which says, " LET GO AND LET GOD". It has been inked inside a design which can be seen clearly,
Meaning: 'LET GO AND LET GOD' means you are ready to accept God's will and whatever he has in store for you and your future.
4. 'PALM TREE' on Abdomen
Tattoo: Jesse's lower abdomen is tattooed with a palm tree along with a tiny manly figure with an ax in his hand.
Meaning: Palm tree is basically the symbol used for the Garden of Paradise and often represents wisdom, peace, and goodness. Whereas as per certain beliefs the branches of Palm are also considered to be the symbol of God.
HAND TATTOOS
5. 'html' Tattoo
Tattoo: On the middle finger of his left hand, there is a tattoo that can be read as, 'html'.
6. Logo on Finger Tattoo
7. 'KNOW LOVE' Tattoo
Across his fingers of the right and left hands are the words inked, as "KNOW LOVE", respectively. It is the song sung by the "RKCB" musical group.
8. Small Dagger on Thumb
Tattoo: The area of his right thumb is tattooed with a very small sword.
Meaning: Sword tattoos are used to represent strength and power.
9. 'Spider web and feather' Tattoo

Tattoo: There is a tattoo on Jesse's right hand which seems more like a spider web along with the feathers inked around it.
HAND TATTOOS
10. 'Treasure Box' Tattoo

Tattoo: There is a treasure box tattooed on Jr's left hand which tells us about his fantasy of attaining fortune and wealth in life.
NECK TATTOOS
11. 'All Seeing Eye Pyramid' Tattoo
Tattoo: There is a tattoo of all seeing a pyramid eye on the center of JR's neck.
Meaning: All-seeing a pyramid eye is a symbol that shows that the person is the firm believer of God and his rules. The eyes show that God is above all and is observing the actions of all of us. This tattoo is also considered to be one of the common symbols used in Christianity.
12. Pair of Cherries On Left-side of his Neck
13. Heart Tattoo on the Right-side of his Neck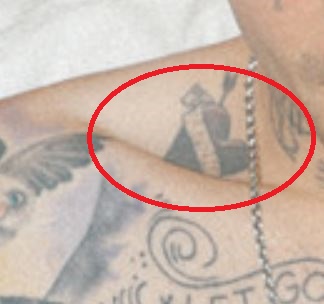 Tattoo: There is a small heart inked on Jesse's right collarbone with the name "ANNIE" inside it.
Meaning: Annie is the nickname of Jesse's girlfriend, "Anabel".
14. Shadowed Girl inked in Blue
15. Dollar Tattoo
There is a tattoo of a dollar sign on the right side of Jesse's neck. It simply is the sign of his interest in the finances or the financial world.
16. Wordings on Neck
17. 'CRUISE SAILING IN SEA' on Neck

Tattoo: On the left side of his neck, Jesse has a sailing cruise inked in colors.
Meaning: The sailing cruise signifies the courage and free-spirit nature of Jesse.
HEAD TATTOOS
18. 'R' Tattoo
Tattoo: There is the tattoo of the letter R tattooed within a circle on the left side of Jesse's head.
Meaning: 'R' represents the initial letter of his surname, 'Rutherford'.
19. Garfield in Red
20. Angel on Head
Tattoo: Towards the upper side of his right ear exists a tattoo of a baby angel.
Meaning: Angels are the symbols of good luck and reflect the need to connect with God.
ARM TATTOOS
21. Bushes and Trees Tattoos
Tattoo: Supporting the wolf theme tattoo the inner side of his right arm is all covered in deep bushes and pine trees.
22. 'MORE' Tattoo on Right Forearm
23. 'Barbed Wire' Tattoo
Meaning: Barbed wire tattoo is the religious symbol that signifies the Crown of Thorns that Jesus wore and the sacrifice he had to endure during the crucifixion.
24. Wolf ARM
Tattoo: The whole of Jesse's right arm is inked in Wolf theme. There are huge wolf portraits inked on the outer side of his right bicep, on the inner side as well on his forearm. There are bushes and trees inked all around them including the pine trees.
Meaning: Wolf tattoo is the symbolism of power, fearlessness, and strength, however, Wolf theme tattoo on Jesse's right arm reflects the wolf pact which is his tribute to close bond that he shares with his family and friends.
25. Words on Left Arm
There is not a clear image of the tattoo but there is some word inked on the inner side of his left arm.
26. Airplanes and Clouds Tattoo
Tattoo: There is a tattoo on Jesse's left bicep which includes the top heads of airplanes and clouds.
27. Portrait on Left Arm
Tattoo: There is a portrait of a lady inked on Jesse's left bicep. The portrait also has a design inked as its crown over her head which goes till Jesse's back.
28. Rose on Left Elbow

Tattoo: There is a huge colorful rose inked on Jesse's left elbow along with a huge stem and few leaves around it.
29. Left Arm Design
There is a design inked on Jesse's left arm which seems to have water waves inked in blue, followed by some bushes done in green, followed by a hand which can be seen clasping some kind of weapon in it. Whereas towards the wrist area, there is a tiny tattoo of number 25 inked.
30. 'THE MARATHON' Tattoo on Left Arm

On his left bicep, Jesse has the checkered flags inked. Above the flags are the words written as "THIS MARATHON".
31. Owls on Shoulder
Tattoo: Owls are the symbols of knowledge and wisdom apart from being considered as the protectors of the dead. Thus, Jesse has also got owls inked on his right shoulder which can be seen in flight mode.
BACK TATTOOS
32. Design on Lower Back

Tattoo: There lies an intricate design on Jesse's lower back with a butterfly inked right in its center.
Meaning: Butterfly represents the new beginnings of life.
33. 'R.I.P. OFF' Tattoo
Tattoo: On the backside of his neck, there is a tattoo that says, "R.I.P. OFF".
Meaning: "R.I.P OFF" is the name of the song sung by Jesse.
34. 'YOUNG and GUNS' Tattoo
Tattoo: There is a danger sign inked right under the backside of his neck. There are two palm tree heads coming out of the top of the danger face from each end. There are two words that Jesse got inked along with the skull i.e 'YOUNG' and 'GUNS', however YOUNG was covered with the word, 'FUCK'.
Meaning: YOUNG GUNS is the name of a tattoo studio in California, United States. This is the one famous tattoo studio from where Jesse has received multiple of his inks.
35. Pigeon and Parrot
JR has two parrots inked on the corners of his upper back. The one on the right side is inked in red whereas the one on his left side is tattooed with open feathers in blue. Their faces have been inked towards the outer sides away from each other.
36. Sunset Window
On the center of his back, there is a colorful tattoo of a window through which the scene of the riverside, sunrise, and birds is seen.
Leg Tattoos
There are multiple tattoos inked on both legs but the clear pictures have never been captured of his completely revealed legs, and moreover, he has never talked about them publically.
37. Left Leg Tattoos
38. Right Leg Tattoos

There is no information available about Jesse's leg tattoos.