Getting a new piercing is always a wonderful event just like getting a tattoo! But to ensure that your piercings do not suffer from rejection to migration, you need to follow a great aftercare routine and clean your piercing regularly to avoid any kind of infection or bacteria formation. To do all that, you need to follow some basic steps which might be different for each kind of piercing depending on your body part. While you avoid constant irritants, it can lead to a quicker recovery!
Here's all that you need to know about belly buttons and how can you help heal your belly button quickly by following an intensive aftercare routine:
The Kinds of Belly Buttons That Exist
Your belly button is actually a scar that was left when you were born. It is due to the removal of the umbilical cord which was connected to your mother during the pregnancy. The umbilical cord is known as the lifeline of the baby's body when you are inside the womb of your mother which carried all the nutrients and blood flow from the mother to the child to help that fetus develop into a baby. When the cord is cut during the birth, the arteries and veins which help to pump the blood and make it flow to other places are still linked with you behind your belly button scar. That is why people who are piercing [professionally know that this area is important and they try to avoid as many complications as possible during the process.
To know more about navel piercings, you must know a bit about the kind of belly buttons because each person has a unique belly button, just like our fingerprints! The belly button is one of the body attributes that make you who you are. While there are a few variations in how they look like we have explained before, there are a lot of belly button shapes! Take a look:
Protruding (outie)
Protruding belly buttons are also most commonly known as the outie. According to a survey, a significant amount of people that exist have an outie while the other has what is called an "innie". An outie form of several factors, the one being when the remaining portion of the umbilical cord which is cut when a baby is born goes out instead of getting in.
Deep hollow
As the name suggests, this kind of belly button is deep and will appear if there's the formation of shadow underneath the belly button's top slayer. This kind of belly button also has a slightly open mouth. A subcategory of this kind of belly button is a "funnel" belly button which is more commonly seen in people with excess belly fat.
Vertical (typically narrow)
Many people see the vertical belly button as a split belly button because the shape of this navel looks like that the portion of the stomach is a bit split into two. The vertical belly button has minimum folds on its top and looks more like an I which is there on the skin. The vertical belly button, according to the research, is also the most common belly button type.
Horizontal (typically narrow)
The horizontal belly button is also called the T-type belly button which has the folds going horizontally. The depression at the top of the navel looks as if the upper line of the alphabet T. This kind of belly button is totally different from a hollow belly button because the upper part of the skin covers the innermost portion of the navel
Round
A round belly button does not necessarily mean that it is an outie navel but it is considered close. It is still in a concave shape and protruding in an inwards direction, but it does not really have any hood or cover at the top, but in place of it, it appears to be symmetrically rounded.
Light bulb
A light bulb shape belly button has really tiny folding on the upper part of the navel, with a somewhat oval shape that channels down as it goes in the downward direction very similar in shape to a light bulb. There have been some comparisons made to the light bulb shape belly button to an upside-down bottle of beer or even a wine bottle.
Why some Belly Buttons Can't Be Pierced?
Professional people would know where you can and can't be pierced. Besides, every belly button is different and might have different anatomy altogether, yours might be ok to go for piercing. The main reason is that your belly button might not really be suitable for a piercing is because there is not enough skin for the hook of the jewel to hold into space or a loop that has been created for a long time.
The skin tends to shed the layers and so shallow piercings would find complications like migrations and rejections and wouldn't hold themselves for a very long time. So while it might be safe to get pierced, your body would not be able to hold the piercing and might reject it. Here are some kinds of belly button piercings that might not be suitable for getting pierced:
Protruding outie belly buttons
Split outie belly buttons
Circlet outie belly buttons
Swirly/spiral outie belly buttons
Belly buttons with umbilical hernias
What is a Belly Button or a Navel Piercing?
A navel piercing or a belly button piercing is a kind of pairing (done with studs or rings) that requires perforation through the skin which is near your navel (top and bottom part of it) which goes through the inside of it to the outside part fo the skin. They are the second most common kind of piercing after earlobe piercing, especially for women! That's for an extremely good reason: Well, they look amazing.
The piercings are normally arranged at a tiny gauge/jewelry girth of 14G (1.6mm or 1/16″) or  16G (1.2mm or 3/64″) and the most prevalent varieties of ornaments used in belly button piercings are belly bars or ball closure rings (BCR)/captive bead rings (CBR).
Where Can You Place Your Navel Piercings
The belly button can be pierced at various angles and places near the navel but here are some of the most common kinds of belly button piercings which include:
Upper Rim: The regular belly button piercing, at the upper part of the navel ring.
Lower Rim: This belly button piercing is placed at the bottom of the navel.
Sides: Anyplace amidst the skin of the upper and lower belly button; usually on the horizontal left or right sides.
Some people also seem to have their actual navel pierced which is only possible if you have an outie. It is called a "true navel piercing." However, it has its own pros and cons, especially that it can cause a lot of problems while healing. It also has more chances of getting misplaced and uncontrolled movement.
Some people also choose to get a surface piercing on their navel to emphasize the style and improve the standard navel piercing. Technically, they are not called belly button piercing.
What You Must Know Before You Get a Navel Piercing
If you want that your navel piercing must heal properly, here are a few rules that you must follow at all costs. It all begins even before you get pierced. This suggests that you must talk to your piercer before getting pierced for being aware of what you are getting into and for proper healing of the skin without any lingering issues.
If you have an outie belly button, you might wanna ask the style of piercing that the piercer would do on you. If you decide on going for a full-blown surface piercing, know that for an outie, there are more chances for rejection or migration with a surface piercing. If you feel that this is the only option that has been left here, ask for your piercer to pierce you at a heavier gauge that is not smaller than 12g. It is quite well known that the heavier your gauge or the deeper your piercing is, it would be less likely for your piercing to reject or migrate to another place. It is not just true for belly piercings but also for other standard piercings. The heavier gauge and deeper piercings won't move from their spot than the smaller gauge jewelry which is lesser than 16g.
The most ideal jewelry option for you would be a bent barbell. However, there are there options available to you: bent barbell, captive ring, and circular barbell. The bent barbell is best because it will not meddle with your clothing in the way the other kind of jewelry would. Circular barbells are the second-best option for it. No matter what option you choose, your piercing must be long enough so that not much pressure is put on the healing process of the jewelry.
The most common options when choosing the material for jewelry are titanium and surgical steel barbell. You must choose the titanium material because it is the better out of the two. This is because it is more likely to trigger any kind of allergic reaction on your skin. If you think you have a sensitive skin type, you might want a piece of more flexible jewelry that will help it heal better, You can then ask for a PTFE belly button ring which is also known by the name Bioflex or Bioplast. This kind of jewelry is especially beneficial if you play sport (that is if your coach allows you to keep your piercing in the first place) or are pregnant. You must make sure about the kind of jewelry and piercing style that you are going to get into before you visit the studio and get piercing which you might not be able to keep later on.
Basic Belly Button Piercing Aftercare
Once the piercing has been done, it is imperative to focus on the aftercare at least until the piercing has healed fully. It is important to keep it clean at all times otherwise it could lead to infections and could ruin the whole process. In general, one must stay hydrated and eat nutrient-dense foods so that the skin remains supple. One can also sleep well and practice good hygiene in general. This helps with your immune system and hence it all boils down to how much time does your body takes to heal the punch. A strong immune system that is not distracted by other kinds of issues like malnutrition or exhaustion will focus on healing the piercing in a better way.
Besides this, it is also very important that you clean your navel piercing with some slaine solutions at least 3 to 6 times a day. Two out of the 6 should be a fulls ea salt solution with some aftercare sprays in between. To do a full sea salt soak, you would need a cotton ball fully saturated with the saline solution and applying them one at a time for at least 5 minutes. You can even make a DIY homemade saline solution and then apply it using the same method. Here's a recipe of how you can make your own sea salt solution which has basic ingredients and is also easy to store and inexpensive!
Homemade Sea Salt Solution
Ingredients:
1 Cup Sterile Water
1/4 Teaspoon Sea Salt (NOT table salt)
Optional: 2–3 Drops of Tea Tree Oil
Directions:
Either buy sterile water or boil water for 5 minutes to disinfect it.
Portion out 1 cup of water (in a heat-safe vessel, if you heated your own).
Mix in 1/4 teaspoon of sea salt. Table salt isn't a great option to sea salt, because it includes iodine. Sea salt from the Dead Sea, like our Recovery Aftercare Sea Salt, is the most suitable variety of sea salt to utilize.
Add 2–3 drops of tea tree oil for its calming and antibiotic features, if wanted. You will get a variety of options online which you might wanna use.
Let the mixture cool until it reaches a suitable room temperature.
Fill a little container, like a shot glass or simply a 3oz disposable rinse cup, with your DIY sea salt mixture. Bend and press the rim of the cup or the container to your navel so that it covers your whole piercing portion. Hold the cup tightly against the skin o that the solution remains in contact with your skin. Hold it for at least 5 minutes and then throw away the used solution after then. You can also dip in a cotton ball to your solution and then apply the solution to your belly button one at a time for 5 minutes.
Showering with a New Belly Button Piercing
One must try and avoid using soap where you have been pierced because soap tends to dry out the skin and since you will have a piercing on it, it will irritate your skin. It is okay if you get soapy water over your navel piercing during a shower but you must wash it with sea salt solution after you have taken a bath.
Moisturizers & New Navel Piercings
One must also avoid any kind of moisturizers, creams, balms, etc, or any scented stuff to your belly button piercing. However, you can use emu oil for your piercing. This is because moisturizers will clog the pores and prevent them from healing well which will lead to infections and bacteria. Emu oil is different than other kinds of oil that will help heal the skin because it is moisturizing and penetrated the skin deeply with its nourishing qualities that will not clog the pores and will allow the skin to breathe properly during the process.
This oil is also abundant in vital fatty acids that benefit in fresh cell development, encourage more accelerated healing and decrease or eradicate scarring. Although emu oil has a lot of benefits and it won't clog the pores, you must still use it judiciously and just massage it into the skin around the piercing rather than massaging it rigorously on the top of your piercing.
If you want something lighter than this, you can add tea tree oil to your sea salt solution which will work wonders. You can either mix some drops directly into your solution or add a single drop to the soaked cotton ball before you apply it to your piercing. Do not apply tea tree oil directly over your piercing because it requires to be mixed with some kind of carrier. Thus you can mix it with another oil or simply the sea salt solution.
What Not to Wear While Your Navel Piercing Heals
Belly button located right at the middle where the skin folds in half when you sit or bend. Thus the whole physical movement incorporates touching the clothes which might irritate your belly. Thus you must avoid wearing tight clothe completely because it will make it worse. Wear airy and light clothing that will help the piercing breathe. Do this for at least the first 2 months after getting pierced. Remove skinny jeans, spandex, yoga pants, and other tight-fitted clothes from your closet until your piercing is well healed. It is best to wear flowy and loose articles of clothing like skirts, dresses, sweatpants, loose jeans, low-rise pants, and basically anything with a  waistline that sits below your belly piercing. Use cotton undergarments for the easy flow of air.
What You Can and Cannot Do With Your New Belly Button Piercing?
First 48 hours
Try to make a plan to get pierced on a day where you don't require to do much in the day. The best thing would be to go back home and take the day off. So do it on a holiday.
To support faster healing, try to avoid getting your belly button pierced before going out to have alcohol.
Elude vigorous exercise or proceeding to the gym. You don't need your piercing to jump around too much.
First week (0-7 days)
Evade tight-fitting clothing
Do not take long showers
Don't go swimming in public swimming pools, hot tubs, the beach, rivers as there is a lot of chemicals and bacteria floating around the water.
Take it light at the gym and desist any repetitious core or ab exercises
First month (0-30 days)
Make sure that you do not touch your piercing or let your friends or family member touch it either. Only touch it when you are cleaning it.
Try not to use the scented kind of soaps while taking a shower, It has a lot of fo chemicals. You can use non scented antibacterial soaps for showering and cleaning the piercing spot.
Don't go swimming in public swimming pools, hot tubs, the beach, rivers as there is a lot of chemicals and bacteria floating around the water.
Don't utilize a tanning bed
Get your navel professionally pierced. Make sure that you have done your research to come across a famous and professional piercing shop with qualified, adept piercers. You can take suggestions from friends and family about the piercers they got their piercing done from, and inquire if they would suggest the place for you to get yours. You never want to sacrifice the essence of the salon or piercer you visit. The more trained the business and verified its workers, the less probable is the chances that you'll encounter difficulties or germs with your piercing. An expert piercer could also contribute specialist information on sizing, jewelry, and other issues you might have while arranging for your piercing.
Going to a secure and reliable piercing shop will possibly mean that the piercers utilize quality jewels for their work. Quality piercing ornaments incorporate jewels made from implant-grade stainless steel, titanium, nickel-free 14-karat (or above) solid white or yellow gold, and niobium out of many others that are there.
A trained piercer will also utilize a hollow needle to perform the procedure of piercing on you preferably a needle gun. If any piercing shop needs to practice a needle gun to perform your piercing, you ought to search someplace else. Needle guns can break the skin significantly and are more likely to cause infections.
Handle your piercing with clean hands. Wash your hands completely with antibacterial soap and water ere you reach out for your piercing with your fingers. Dirt and oils that are present on your fingers can carry over to your piercing (which is just like an open wound), and possibly create an infection.
Try to get any kind of dirt from your nails. You can even cut your nails so that the director does not get accumulate underneath the nails. It could get transferred and infect your new piercing as soon as you touch it.
Wash your piercing daily. To clean and wash your belly piercing, you need to use a Q tip which shall be dipped in warm water. Use it to remove any built-up material in your belly. Make sure you do this gently and do not move your jewelry around too much in the process. Then you can wash your piercing with some anti-bacterial soap by simply adding a small amount of soap to your fingertips and then cleaning off your piercing well for at least 20 seconds. Rise off the foam from your navel using showed water. After you are done rinsing, dry your navel using a paper towel instead of using a bath towel.
Your piercing should be cleaned with soap at least two times a  day. Nevertheless, you can employ a Q-Tip dipped in water or saltwater to push the forming from the navel as well. Just attempt not to wipe it with a Q-Tip further than 3 times a day. You need to withdraw from over-cleaning your punch.
Instead of taking a bath in a bathtub, you must try to shower. With a shower, you have a constant current of clean water, on the other hand, a bath includes standing water combined with sweat, dirt, and residue from your bathing materials.
It is better to use paper towels to dry out the navel instead of using normal cloth towels. This is because the paper towels are clean and disposable while the cloth towels carry germs and bacterias.
Avoid moving your piercing too much in the shower while you are cleaning it. Excessive kind of movements can cause displacement of the piercing and irritation which can lead to bleeding and wounds.
Rinse your piercing with saltwater. Add ¼ teaspoon of sea salt into 8 oz of boiled water. Wait for a few minutes for the water to cool down a bit so that it doesn't burn your skin when you touch it. Pour this salt water mix into a small glass container. You can lean over so that your stomach remains in contact with the top of the rim of the glass and hold it tight in one place as you lay your back down on a flat surface. Allow this solution to soak your pierced navel for at least 10 to 15 minutes two times a day. Saltwater is a wonderful substance to evade any kind of bacteria and infections and helps to remove crush from the piercing site.
You can also form a warm compress with saltwater and a folded-up paper towel, or apply a sterile sea-salt spray bought from your neighborhood drug store.
Take vitamins. Some piercing experts have discovered that using vitamins such as Vitamin C, Zinc or multivitamins are useful in spurring navel piercing healing. Taking vitamin D by exposure to the sun may also further support the healing of your navel piercing.
Avoiding Irritation To The Piercing
Keep from touching your piercing. Of course, it's relevant to reach out for your piercing with clean hands, however, you must not use abrasive movements with your piercing. You must avoid any kind of jerk movements and forceful movements.
Do not touch your piercing excessively especially when your hands are not washed or when you have come from outside. It will make your piercing more prone to opening up and bleeding even more.
Leave the jewelry in place. Your originally piercing jewelry must linger in place for the term of the remedial phase which is 4-10 weeks. Removing your jewelry before your piercing has been fully healed can cause problems and would lead your piercing to close which can make reinsertion a  huge problem in the end.
This continued stress could produce more scarring and reduce down your body's essential healing manner.
Avoid applying ointments. Ointments or creams inhibit your piercing from being in contact with fresh air which is important for the healing process. They block out the pores and seal the piercing and moisture in a single place which increases the risk of bacteria. Even if your ointments and serums are anti-bacterial, chances are that they will hinder the healing process and would instead amp up the infection.
Rigid cleaners like hydrogen peroxide and rubbing alcohol should also be shunned. This antibacterial can destroy the cells that support the repair of the perforation site of the piercing.
Cleaning liquids including Benzalkonium Chloride (or BZK) should also be withdrawn from, as these can likewise hinder your piercing from correctly fixing.
Much like any kind of creams and ointments, any oils, lotions, sunscreens, and makeup should be avoided from the site of your piercing. These outcomes can all close your piercing and promote an infection.
Wear loose clothing. Tight or uncomfortable pieces of clothes can actually irritate your piercing because of the friction that comes along with it instantly. The lack of fresh air too in tight clothing can hinder the healing process. Thus try to wear clothes that are loose and allow air into the fabric. Stay away from synthetic material as much as you can.
Also, be careful while removing your clothes or wearing them. Removing your clothes coarsely or immediately improves your possibilities of sticking your piercing on your clothes, and producing injury.
Our Expert Agrees: Dodge wearing tight stuff or clothing that brushes against or pulls when you sit or stand. These can aggravate brand-new piercings. Most normal costumes aren't a matter of argument, but a lot of clothes act as an enigma. You also need to make certain that you aren't slumping when you sit because that can make the jewelry brush into clothes or even get trapped in the fabric.
Stay away from unclean water. Just like you must not go for taking a bath and preferably take a shower, you must also withdraw from other pools or accumulations of water. Water spaces like swimming pools, hot tubs, and lakes and rivers should be evaded throughout the first year after your primary piercing.
This is because standing water can actually make your piercing accumulate some kind of bacterias or infections. Avoiding it will help to evade any kind of potential threat.
Sleep on your back or sides. Sleep on your back and sides for the initial primary weeks after you got your piercing. This assists to guarantee that you don't utilize painful stress on your piercing by resting on your stomach, while it's quite fine and delicate.
Dealing With Complications
Evaluate your symptoms. If you are encountering some kinds of comp; actions or problems with your piercing, you need to figure out the issue first before dealing with it directly. Any kind of discharge, severe pain or swelling and redness, and any physical changes on the piercing site like the formation of bumps, changing the position of jewelry, the opening becoming larger than it actually was, etc, is to be taken care of. It will depend on your symptoms the kind of problems that you have faced. Your piercing might be simply irritated or infected or you might need medical attention because of a reaction to the metal.
The less difficult your traits are, the more feasible it is that you lightly chafed your piercing. The more critical your signs are, the more likely it is that your piercing is affected, or you're encountering an allergic response.
Deal with an irritated piercing. If your piercing was to heal normally and if you accidentally pulled it or sleep on it, got it irritated with pool water or some kind of cosmetic material, and are experiencing some problems, then you can see a doctor. Your piercing might also feel discomforting if your piercing jewel is too tight or too loose and is moving around too much by itself or by external forces. An irritated piercing might come across as something which might face a bit of discomfort and irritating symptoms. This includes swelling, redness, discomfort, itching, etc. Make sure you are cleaning your piercing thoroughly with the sea salt water solution and treat your piercing with utmost care.
Contemplate utilizing a cold compress (consisting of fresh water and a little cloth or towel) onto your pierced surface. This may assist ease some trouble.
Leave the jewels in your pierced site. Pushing the jewelry may aggravate your piercing place even further.
If you have any problems, discuss them with your piercer, or visit them in their studio so that they can take a look at your symptoms and guide you better.
Deal with an infected piercing.
It is quite normal to face some discomfort, bruising, and redness after you got your piercing done for the first time, however, what you must look out for is the infection. When a navel piercing gets infected, there are signs and symptoms like swelling, redness, discharge, etc. The pierced area might give a feeling of warmness and might produce some discharge with green, yellow, and gray colors with a foul odor. You might also develop a fever in some cases due to infection.
If you think that your navel piercing has grown infected, see a doctor as soon as feasible. If you are not certain that your piercing is infected, you can reach out to your piercer to decide if your signs are common, or are associated with an infection.
Do not exclude your piercing jewelry if you think your piercing is contaminated. Removing your jewelry could aggravate the infection and make your piercing hole terminate, limiting your piercing from correctly removing the toxins.
Deal with an allergic reaction. An allergic reaction might happen hours after you have got yourself pierced. This is the body's general response for a foreign object to come in contact. Nickel is the most common material which causes allergy. Signs include itchiness, the formation of rashes or bumps, warmth or heat radiation from the pierced site, a wide hole, or swelling around the piercing site side. With these symptoms, your skin might also swell and tighten or loosen around your jewelry.
Rejection of the jewelry is a natural tendency with allergic reactions. The skin attempts to minimize connection with the jewelry, making the piercing holes grow and stretch.
In this case, reach out to your piercer instantly so they can switch out the jewelry and you can see your prime physician and begin healing your piercing site. You may require a prescribed dose of antibiotics.
It might sound a bit shocking but there are already many bacterias that live inside your belly button but do not cause any kind of problems in healthy people. However, some factors lead to belly button infections too. Depending on what are the causes and symptoms, here are the following kinds of infections that you can have after looking at the following types:
Bacterial Infection: Sweat, fluff, or deposits of cosmetic goods can lead to bacterial germination and infection in the belly button. If you see a brown or yellow release from your belly button, it is evidence of a bacterial infection.
Sebaceous Cysts: The development of a sebaceous cyst in your belly button may also point towards an infection. These sores are readily affected upon scraping.
Fungal Infections (Red Belly Button): Fungal infections, for example, those produced by Candida, can happen anyplace in the body, including the belly button. If your belly button changes into a red and tender site, it is a symbol of a fungal infection.
Urachal Cysts: The contamination of the duct inside the umbilical cord that allows the seepage of urine from the fetus is regarded as a urachal cyst.
Diabetic Infection: If you see a cottage cheese-like discharge from your belly button, it indicates that you have acquired infection as a consequence of diabetes.
Specific circumstances can also raise your chance of acquiring a belly button infection. They incorporate:
Contamination of the belly button piercing
Bad hygiene
Obesity
Touching the belly button repeatedly
An abdominal surgery
A wound or injury near the belly button
Kind of clothing
Pregnancy
Those who are affected by the belly button infection might see these kinds of signs and symptoms which have been mentioned here. Although navel piercing is the second most common kind of piercing that is popular among people, teens, and adults alike, they are sometimes difficult to handle. While they are easy to heal, you might suffer some kind of complications and problems with them.
For some people, it can be an infection, while for others they might feel symptoms of rejection (when the skin forces the jewelry out) or migration (when the skin dislocates the piercing from its primary location). Although they shall pretty prompt;y, complications cant be evaded. Infection, allergies, scarring, expanding of the belly button, tearing, etc are common. Some people are not competent enough that their body heals properly by themselves. For each one of us, the experience might turn out to be totally different.
The most important thing is that you have to keep up with your proper aftercare and cleanliness routine as this will significantly improve the chances of it healing quicker.
Things That Could Go Wrong With a Navel Piercing
Migration
Rejection
Infection
Scarring
Metal allergy
Excessive bleeding
Over-cleaning
Tearing
Stretching
Each of these problems is explained thoroughly here.
Migration: What If My Piercing Displaces?
When a punch migrates, it doesn't completely repudiate out of the body, but it shifts from its initial state. It may drive just a bit, or it may move entirely apart from the abdomen.
Common causes of migration include:
If the body does not really like the idea of the kind of jewelry used. Surgical-grade steel and titanium are the best options that you have.
If the type of jewelry is not correct. CBR and other rings move and displace a lot than a curved or a banana barbell.
If the tissue around the belly button has been damaged.
If the tissue lacks the strength to hold tightly to the belly button jewel.
If the placement is incorrect like if your piercing has been too shallow or if it is not done perpendicularly.
If there is any sort of friction such as which is caused by belts, shirts, or any other kind of clothing.
If there is unwanted pressure which is caused by other jewelry that is in movement or putting some pressure on the one which has already been pierced.
If your body grows: for example if you got a piercing when you were a teen and your body wasn't fully developed compared to what you are when you are a young adult; you might gain or lose weight, or become pregnant. As your body will change, so will your piercing too which can then lead to migration.
There is nothing really that can be done to prevent migration but you can delay or stop it from happening by keeping a look for the following things that have been listed above. If you see these symptoms or migration, you might wanna remove your jewelry but you must let it be and let it heal on its own.
Rejection: What If My Body Rejects the Jewelry?
If your piercing might continue to migrate for a long time, then it might get rejected by the body. It is when your body tries to forcefully push the jewelry out in an attempt to heal itself. If you ever had a splinter, you might have noticed that the body forces it out; the same is with the jewelry. The body does not like foreign objects inside the skin.
Some people just can't attend to navel piercings. Some frequently attempt, but at every point, it rejects or begins to migrate.
When rejection occurs, you may notice the following signs:
The barbell will look enlarged.
The fistula will grow more superficial.
The openings of the piercing will migrate.
There will typically be a path from where the pockets were first placed to where they are present.
There may be redness or scarring throughout the holes.
The jewelry may begin to stretch abnormally.
There may be unusual sensitivity in the domain, but it usually will not harm.
The hole may seem more open than before.
The skin separating the two holes may begin to look thin and see-through.
Sadly, there is nothing really which can help to prevent rejection. The best thing to do is consult your physician and get your jewelry to remove, let the area heal completely, and then try again later. If you do not remove your jewelry, you will be left with some scars. In this case, the body will try to completely reject the piercing and force the barbell out totally.
A great thing is that rejection does not hurt a lot and rejection or migration does not mean that you have to be infected.
Infection: What Are the Symptoms?
Bacterial infections are something that is the most common thing that can happen after you get yourself pierced and can happen at any point. It could be due to poor hygienic measures, a reaction to the material of jewelry, or a rip or tear in the skin.
Normally, you'll notice inflammation and redness in the field and it will feel uncomfortable and maybe hot to the touch. The swelling may grow into a boil or an ulcer.
You may notice a release of pus (clear, white, yellow, brown, or green) that might drain into a crust.
If you do not treat it or leave it unnoticed, you might develop flu-like symptoms that can cause fever or cough.
Red lines spreading from your belly button.
To prevent any kind of infection, you must try to follow a great cleaning routine and an antibiotic treatment. If you feel that the infection is due to the kind of jewelry, then you might need to change your jewelry for a titanium or implant-grade surgical steel. However, the best option is to remove the jewelry and not to touch your infected area often especially with a dirty hand.
Scarring: Can I Dodge It?
Some kind of scarring is totally unavoidable to heal because the skin around the piercing never really goes back to look like before. The piercing is itself considered a scar. However, sometimes, depending on what the location is, the kind of person, and his hygiene qualities, scarring become more dramatic than others.
Hypertrophic scarring is a standard risk, and keloid scars can occur to anyone, but those with deeper skin pigmentation are extra sensitive. Keloid scars seem like large red-and-purple mounds of tough scar tissue that seem strong and soft to the touch and can seem at each end of the fistula. They are usually tender and can seldom be painful and too dull to improve.
Metal Reaction: What If My Body Is Allergic to the Jewelry?
Various kinds of people have experienced sensitivities to various types of materials. There are cheap but attractive metals all over the place but you have to make sure that it is not risky. A reaction to the jewelry can put your piercing at risk and which turns your irritation to rejection or migration and you might have to lose the piercing after all. If you are a little allergic, you might experience some common symptoms of itchiness and redness, but major sensitivity can lead to severe pain or the development of fever too. Your skin might want to pull back from the pain and might discharge pus too causing the piercing hole to widen.
Hypoallergenic metals (which are more biocompatible):
titanium G23 (of any color) (the best choice!)
niobium (pure)
nickel-free, surgical, implant-grade stainless steel (316L or 316LVM)
solid yellow gold of 14 karats or more (but only after the piercing has fully healed)
platinum (but it's heavy, so may cause more tears or strain)
Problematic materials:
nickel
plastics (some acrylics are biocompatible BUT they can break down over time and are more likely to adhere to germs and bacteria)
lower grades of gold; anything plated, rolled or filled with gold
rose gold (contains copper) or white gold (if it contains nickel)
silver; even sterling silver (it may have copper or nickel and it will tarnish)
poor quality stainless steel (even if it claims to be "surgical")
anything plated in any kind of metal (the plating will flake off)
rough or unpolished metals
costume jewelry or any kind of unidentified metal
If you suspect that it is because of the material of the piercing that you are facing these troubles, then you might want to replace the piercing out and attach some comfortable material instead.
What Else Could Go Astray? Tearing, Stretching, Etc.
Excessive bleeding and nerve damage: This can be created by an amateur body piercer that pierces too adjacent to a nerve.
Over-cleaning: It is likely to damage the tissue with too much washing. Don't overload it! Track your piercer's guidance.
Changing the jewelry too soon: Extra obvious no-no. It can exercise eight weeks to six months before you are recovered sufficiently to fiddle with ornament. Encore, track your piercer's guidance.
Frictional irritation: Seldom the resistance from your clothing or waistband may hurt and slow healing.
Tearing: Navel piercings are less probable to split than those in different places (like the ears), but jewels can get trapped and split.
Stretching: If a piercing is too superficial or near to the end, a stretch may expand it too much. Chunky jewelry, tears, rejection, and migration can reconstruct the configuration of the fistula. Some people have to have the physician establish the hole by stitching it smaller.
Bacterial endocarditis or infective endocarditis (IE): If you experience congenital heart disease and you're revealed to bacteria via piercing, you're in danger, and it might even be deadly. This is why reliable, licensed piercers question you about your heart before they prepare for anything.
Dos and Don'ts While Healing
Let us face the fact: The internet is full of advice that might or might not be true. Thus, if you want to experience something, make sure you ask your doctor or your piercer first before experimenting on yourself. Here are some general Dos and Donts that you must follow:
Do's
You must wear loose clothes or even go shirtless if you can. This would help minimize the friction and thus irritation around the skin.
You must take care of your general health. So sleep, eat, and drink well so that your skin can heal better. Skin heals better when the immune system is strong.
Wash your hands a lot and especially before you touch the pierced part. It will help prevent any bacteria formation which will cause infection.
Avoid all kinds of public pools, rivers, beaches, jacuzzi, ponds, oceans, etc which will introduce new bacteria and which can cause infections.
Make sure that any kind of cosmetic product gets drained or cleaned away from the surface of your piercing.
You must remove the formation of the crust by using the Q tip.
You must avoid overexposure to the sun with your belly button exposed.
If a certain type of swelling occurs, you can reduce the swelling by using an ice pack!
Don'ts
Touch, fiddle with, or rotate your jewelry. It needs to be as immovable as possible. Otherwise, it can cause rejection or migration and will hurt more than it did before.
Do not scratch your belly button even if it itches. Instead, try and calm down the irritation by icing your belly button. It will help calm down the itch and will relieve the pain too.
You must avoid using products like Neosporin, bactine, alcohol, hydrogen peroxide, or antibacterial soap. These create a lot of problems with piercing, which comprises migration, excess scar tissue, and extended healing. Creams can suppress the piercing, and sanitizers can burn the skin
Do not wear tight clothing because it will restrict the air from entering the piercing space and will increase the healing time.
Do not change your jewels until you are sure that you are completely healed. Ask for your piercer's advice. Show him or her your infected area and wait for their approval.
Do not use a tanning bed.
Do not make sudden jerky movements with your belly button which can cause the skin to be pulled or displaced from its original position.
Avoid keeping your pairing under bandage at all times which can cause infection.
Do not sleep on your stomach which will cause too much pressure and discomfort on your skin.
Addressing Belly Button Piercing Problems
Belly button piercings can take a lot of time to heal because of their location. The fact that they are usually surface piercings and some people's careless attitude affect the healing response too. Many problems can arise with the belly button healing process which might be taken under consideration. It is thus important to familiarize yourself with all the kinds of possibilities that may arise so that you can recognize if you ever come across it and can then be able to deal with it without panicking.
Excessive Swelling
Swelling is very subjective because some people might swell up more than others. Selling is not necessarily an issue that you must panic over because it si was quite common. However, you must be concerned about over swelling and the kind which makes your body uncomfortable. If that happens, you can see your piercer immediately and ask him to replace your current jewel with another one. You can choose to get a longer barbell because otherwise the symptoms can be worse and cause infection.
Discharge of Lymph
Lymph is a clear fluid that the body readily discharges during the belly piercing healing method. It's completely natural and nothing to worry about. Lymph drains to a whitish crust, which most people attribute to as "crusties". You should never bend, roll, or push your belly button ring to release crusties. Just utilize a sea salt solution-soaked cotton ball to dissolve them, and then lightly clean the crusties off with a clean tissue.
Hypergranulation
Hypergrnaulation occurs due to excess moisture in the skin or pressure which can both be a cause of concern when getting a new kind of piercing. It comes forth as a red bump around the navel that looks as if it is filled with some kind of fluid. Many people mistake hyper granulation for keloids formation but keloids are rather rare and will not form until the later healing process and not at the beginning of the piercing days.
If you see hyper granulation, you might want to contact your piercer to change and replace your belly button piercing into a longe barbell or a completely different style of jewelry like a ring which will help you eliminate any kind of pressure that you might have. You must also follow your aftercare routine intensely and make sure that your belly button is neat and tidy. You can do this by taking 2 to 3 sea salt solution soaks in a day and misting your belly button piercing with an anti-bacterial spray at least 5 times a day. It will help the issue to clear up and make you feel more comfortable.
You must also change your wardrobe and wear something that is more loose-fitting and breathable especially if you are getting piercing in the hot months of summer, If you sweat constantly and a lot, you might want to use a spray-on deodorant and antiperspirant on your skin. Wearing loose-fitted clothes wouldn't have that much effect in this case and might not be able to protect your skin from infection. Make sure that you protect your piercing after using a deodorant or spray!
Infected Belly Piercings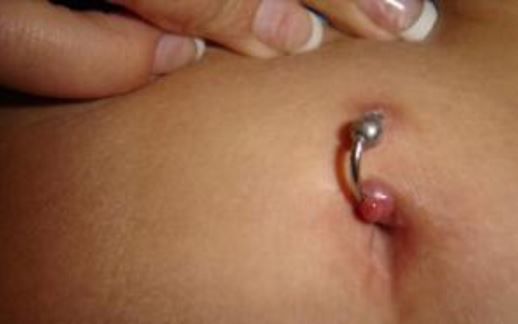 Sometimes, even after you have followed a good aftercare routine, you just can't avoid getting infections on your new piercing. The signs that you might look out for are discharges that could be thick gelatinous pus, red streaks that might emit out from your piercing, hot or warm skin, and in some extreme cases, you can also experience flu-like symptoms like fever. If you feel that you have an infection around your navel, you might want to see your family doctor right away and ask if you need any kind of medicine to elevate the symptoms.
You might also want to replace or remove your jewelry. In most cases, it is better to keep your jewelry intact which you take those antibiotic medicines so that the fluids and infection have a passage to drain through. Removing your jewelry could create an ulcer, so it's better to let it be in. Just take your antibiotic according to your prescribed schedule and wash your belly piercing daily. You must do full sea salt solution soaks 2-3 times a day and mist your piercing with aftercare spray 3–6 times a day till you get rid of the contamination.
Belly Button Piercing Scars
Some people catch hypertrophic scars throughout their belly button piercings, which look like a small and circular scar around your navel that might have a flat top with a little bit of textured surface. People will rarely develop keloids around their navel piercings. Keloids are genetic that affect very few people if any and are there as a smooth surface, filled with liquid, reddish scars that grow past the area where you have been pierced.
If you remove your jewelry after the belly button piercing you might develop another kind of scar which is called an atrophic scar. This kind of scar is a recessed scar that has a rather rough surface and does not quite fill up the hole where the navel has been pierced.
To prevent the formation of fo scare, use jojoba oil and silicone scar therapy gels which are the best options that you can get to relieve these scars. Massage these ointments onto your skin two times a day for as long as you do not start feeling and seeing an effect. Your scars will start to diminish. You must also try and wait until your piercing is completely healed before you begin any kind of treatment because they can clog your openings.
Keloid scars can be more challenging to manage, and they usually need some kind of physician's advice. Besides, silicone scar therapy can really relieve the appearance of these kinds of scars too in a few cases, most people have to get it removed using surgery, laser removal, freeze it off, or managed with corticosteroids to shrivel them.
Belly button piercing has grown widespread in prevalence over the years. It underwent its "golden age" at the beginning of the 1990s when certain stars like Christina Aguilera presented this type of body piercing mainstream publicity. Now that we are in 2020, people, men, and women alike are giving this kind of style a shot too and are liking it well.
There are many varieties of belly button rings available these days. Some people want to copy their favorite celebs but some people look at piercings and tattoos as a way of revealing their inner self and as a form of self-expression.  Since this trend is here to stay for a long time, I hope that you could take something from all this information that we tried to provide you here. Herre's all that you can expect when you get yourself a belly button piercing including how you can take proper aftercare of the piercing without facing any issues.
Belly Button Piercing: What Can I Expect?
Unless you have an outie kind of belly button, your piercer will insert the needle at least half an inch above your belly buttons and then will pull the other end out from inside of your belly button cavity. Most likely, it will be a curved piercing needle that will be used and will be replaced by a curved barbell or a captive bead ring or CBR. The bent barbell is the best choice to get after a piercing because it is a good fit.
The bent barbell or traditional belly button ring is the best because of its shape and the way it fits. It is less likely to put any kind of pressure on the navel where you have been pierced. Reducing the pressure on the belly button will help increase the chances of having a successful belly button that will not migrate or will get rejected.
Belly button piercings are the kind of pairings like eyebrow piercings, etc that are more prone to migration and rejection than other piercings like ear piercings. Thus, every single thing about belly button piercing is important right from the placement to the gauge of your jewelry. You need to be pierced far enough from the lip of the navel and must begin with at least a 14 g belly button ring. The heavier your gauge is, the more like it is that it will turn out to be a success.
The Belly Button Piercing Recovery Process
The recovery process for each person varies widely when it comes to the belly button. There is a lot of movement in this area of your body and so you must take care of this perpetual friction which might be harmful to your piercing. Besides the pants, and other tight clothing might interrupt the piercing by rubbing against it and further irritating the area around your belly button. It is a pretty sensitive area initially and must not be disturbed much.
Belly buttons also tend to trap a lot of dirt inside which makes caring for your belly button extremely important. If you decide to keep your belly button clean and wear loose-fitting clothing, it might help a lot to heal it properly and better. You might feel that the piercing has been healed within a matter of 4 to 6weeks but it can sometimes take about 6 months to heal completely. In some cases, it has even taken a year for the navel piercing to heal entirely.
During the healing stages, you must make sure to follow some of this process and some guidelines which might be provided by your piercer to minimize the chances of developing an infection or so that you can evade any chances of migration or rejection, and promote a successful healing process.
Keep your belly button clean! Allow warm water to run all over your body especially your navel area when you take a shower. However, do not scrub the pierced part of your navel. Let the sudsy water run over it. YOu can then wash your piercing with sea salt water by creating one of your own or by buying it. You can similarly perform soaks with cotton balls. You must do these soak at least 3 times a day to make sure that the gatherings around your navel have been properly cleaned which will help avoid any kind of infections and bacterias to spur in that area.
Be gentle when removing "crusties." Your body's natural reaction to any kind of foreign object is to produce discharge which is a clear fluid that dries up to form some kind of crust but it is no longer consider healthy just to neglect it. Before, the piercers used to tell people to clear the crustie by removing or moving the jewels a couple of times in the day which is no longer recommended. It can cause the bacteria around it to enter the navel which can lead to many problems. You can use cotton balls dipped in sea saltwater solution to remove these crusties which will help soften them and then they can easily come off with a gentle wipe.
Don't change your jewelry prematurely. With so many kinds of belly buttons that are available in the market, it is quite impossible to feel tempted. But try to resist it a much as you can. The belly button jewel that has been inserted should be extra long in the first place and must not be removed before it has healed completely. Even if you have little to no swelling, chances are that if you try to fiddle with it, it will swell up immensely. This is also the time when dirt and bacteria can enter your system causing various kinds of infections so you should stick with the same jewelry that was attached to your piercing until your wound has healed 100 percent. Also, just the method of changing jewelry can irritate a healing navel piercing, especially if you're employing externally-threaded belly button jewelry, which is not really advisable to use because it will scrape off the delicate healing skin over the navel.
Do switch your jewelry if you're having an allergic reaction. Some people might develop some kind of allergic reaction to the material of the piercing. A lot of cheap body jewels have a lot of nickel init to which most people are allergic. Thus it is highly recommended that you only use surgical steel belly jewels or titanium navel jewels. Titanium is the most recommended jewelry option that anyone will suggest. It also gives the best results when it comes to healing and aftercare. If you do not have these kinds of jewels and suffer from an allergic reaction, you might immediately want to switch your belly piercing jewel to these metals even if it has been a few days to piercing. You must not try to do it yourself and instead go to your piercer to let them do the process of removing the same. Not only is it difficult for a fresh piercing but also dangerous.
Avoid oils, balms, and creams! Oils, balms, and creams are strict to be avoided. There are more methods to nourish and moisturize your skin but using oils and creams isn't one of them. In fact, oils and creams can also trap bacterias and infections inside. If you feel that your skin is dry then you can probably add tea tree oil to your sea salt solution mix which would help moisturize your skin. It also has amazing antibacterial properties which will help moisturize your skin and nourish it. Do not apply the tea tree oil to your skin directly. It must always be diluted with some kind of carrier like the sea salt solution ad then used. You must not use more than 2 to 3 drops per cup of the sea salt solution.
How Do I Know if I Have an Infected Navel Piercing?
If at any point in time when you got pierced, you start seeing streaky red lines or redness around your navel with hot radiations oozing from it, along with fever or some kind of discharge oozing out of the navel, then you probably have infections and need to see a doctor for an antibiotic. You can even face irritation without it being infected so it is better if you ask for your piercer to take his or her feedback. You can even go online to know more about any problems that you face and then confirm with your piercer or your physician.
If you do go to the doctor to take medicine do not intent to remove your piercing at any cost. If you keep your belly button you can do it while following the aftercare routine if you take the medicines and you must be able to keep with your piercing. If you want to take out your jewelry you can continue to take sea salt solution to your navel or you can perform soaks by making your own sea salt solution or by buying products from your nearest drug store or online. You might wanna replace your sea salt solution after every use.
My Belly Button Piercing Is Healed & I Want New Jewelry! Where Should I Start?
With the kinds of the belly button that we have in the market right now, including titanium and stainless steel for material for jewelry to even more kinds of jewels that you would want. Here are a few of the options that you would want to have below:
Acrylic Belly Button Rings
Bali Belly Rings from Indonesia
Belly Chain Jewelry
Crystal Explosion Belly Button Rings and Jeweled Belly Button Rings
Fimo Belly Rings, featuring clay-made decorations
Gold Belly Button Rings in 14kt yellow gold, white gold, and more.
Rep your favorite team with an NFL Belly Button Ring.
Dangle Belly Button Rings.
Navel Shields
Opal & Vintage Belly Button Rings
Pregnancy Belly Rings with extra-long shafts
PTFE or BioFlex Flexible Belly Rings enable you to cut the stem to the ideal dimension for you.
Top-Down/Reverse Belly Button Rings
Unique Belly Button Rings
Navel Clicker Rings
Venus Hoops are beautiful belly button rings that fill the belly button and continue a bit past it. Each has a ball circled by a hoop that snuggles into the belly button, as well as various dangling drops for combined embellishment.
Titanium Belly Button Rings and Surgical Steel Belly Button Rings
You can find most of these kinds of belly rings online or anywhere in the piercing studio.
Changing Your Belly Button Ring
It takes a few months (3 t o6!) for your belly button to heal c completely but it can take up to a year if you face some problems during your healing process. You must not at all attempt to change your jewelry during the healing process or before your jewelry has healed totally even if you face some kind of infection or other problems during the process. You must visit your piercer in that case and get your jewelry changed. Even after your piercing has completely healed, you might wanna ask your piercing if they can help you replace the old jewelry with a new one since it can be a bit hard and complicated for you to do it.
When you try to do it yourself, however, you must try and change your navel piercing with a threaded tape to help you re-insert the new belly button. You must try to stick to a barbell that should have the same gauge as the previous one so you do not face any issue while putting it inside. Even if you do not use the taper, you must consider the replacement with an internally threaded navel piercing so that you do not have to care about the protruding thread which will then irritate your piercing.
Even still when you have troubles getting your piercing in, you might wanna add a few drops of water to lubricate your piercing to your taper or your jewelry so that it slides easily inside your belly button. Do not overdo either because otherwise it will lead to a lot of slippages and hence you will taper with your piercing and it will become unmanageable.
The thing about having a navel piercing is that it takes a huge amount of time for it to heal and in most cases, it would take more than 6 months because the belly buttons move a lot! Hence, the movement does not allow it to heal completely causing the healing process to take a longer time. However, here's the whole process of changing a belly button:
Removing a belly bar:
Dry your hands completely.
With your non-dominant hand, grasp the ball at the tip of your piercing amid your thumb and your index finger so for instance, if you are right-handed, this would be your left hand that you will use.
Securely grasp the lower ball within your thumb and index finger with your imperative hand – this will be the one handling everything uniformly.
Whilst taking the bottom ball in position, lightly press and rotate the upper ball in an anti-clockwise way (most spiral ornaments mirror the "left-loose, right-tight" habit!)
If the balls are resolute, press both balls a little tighter, and make several little but strong jolting movements as you spin (on the top ball only in the beginning, then try both balls if the jewel has a screw-twist ball at both edges). If this nevertheless doesn't work, attempt to put on a set of rubber gloves as this may assist you to grasp the balls fully.
Once one of the balls begins to rotate, spin it a few times then clutch the ball tightly so you don't lose it. Once the ball is removed, put it someplace secure.
Remove the bar out to the opposite end by seizing the spare ball.
Removing a ball closure ring (BCR) or captive bead ring (CBR):
Delicately turn the ring until there is quite a substantial part of the ring to grasp amid your thumb and index finger.
With one hand, grasp the displayed portion of the ring amid your thumb and index finger.
Utilizing your opposite hand, grasp the ball among your thumb and index finger.
Put your index finger clutched to the ring right close to the ball and put stress on the ring to secure it. At the same interval, utilize your thumb that's got a grasp on the ball to set the corresponding quantity of stress in the opposing track and the ball should pop out. Have a solid grasp on the ball with your thumb and index finger to retain ahold of it so it doesn't persist soaring.
Note: Some BCR's may need a specific tool named ring opening pliers, but you shouldn't require these for more petite gauge rings usually employed for belly button piercings.
Pro tip: If your piercing is contaminated or pains when you try to take it out, do not push it. Discuss with your piercer and a physician instantly as switching the jewelry can finish in the hole closing up and then nothing really could be done about the infection either.
Best Materials for Belly Button Piercing
Here are some of the material which will be best suited for your belly button piercing.
Titanium
When you look for a belly button piercing you would want a material that would not really react when you put it inside. Titanium is the best material for this purpose because it is hypoallergic. It so lights as well as very substantial and is used for medical implants too. Thus it is pretty perfect for navel piercing too. With this material, you can wither anodized or treat it with heating to obtain various shades of colors too. You, hence, have the selection of having colors such as purple, pink, blue, or green and not bother about there holding a reaction. The sole problem with that is the pigments do not last for a longer duration, and you're back to having the silver-grey color in this metal.
Niobium
Along with titanium, you can go for niobium. It is very similar to titanium and is also more affordable than titanium piercings. With this material, you can wither anodized or treat it with heating to obtain various shades of colors too, just like titanium. You, hence, have the selection of having colors such as purple, pink, blue, or green and not bother about there holding a reaction. The sole problem with that is the pigments do not last for a longer duration, and you're back to having the silver-grey color in this metal.
Surgical Stainless Steel
Surgical stainless steel is the other kind of material that you can use for your piercing. It is the 316LVM surgical stainless steel that you can choose. The overall advantage of surgical stainless steel is the that is best for navel piercing also because they are not too expensive and also durable. It is heavier than other metals but it does a good job. One more reason for choosing this metal for getting piercing is that it does not get reactive when used on the skin!
Gold
The other metal that you can get is gold but you have to be cautious about what kind of gold you get. The bets that you can have are 14k and 18k and if you get anything that is higher, it will be super soft and you might have the chances of it reacting to the exposed wound. Also, make sure that it is nickel-free because it is one of the top allergens. You must also check out the quality and validity of the gold so that you do not end up using fake gold earrings. You might also wanna avoid gold plating because once the plating comes off your skin will be exposed to the base metal and hence cause a reaction. The only negative about getting the gold metal is that it is super expensive especially when it is compared to other metals.
BioFlex
One o the best options that people go for is Bioflex which you can use. It is a transparent plastic material that is has known for its flexibility and versatility. It helps the piercing heal much faster and is used by both medical professionals and piercers. The reason why it is such a hit is also that it is hypoallergic and biocompatible even though it is technically plastic. It is also super light and hence comfortable while also being flexible. It can be adjusted very well and you get a perfect fit.
It means that it will help you diminish irritation which will lead to a faster healing process. Also, it will reduce any kind of reaction to your navel piercing, and thus you will have a good time wearing it. Keeping it hygienic and clear is also super easy and so is hiding it because it is clear and transparent.
Pain in the belly button
Inflammation and swelling of the belly button
Skin turns warm
Itching or tingling feeling in the belly button
Greenish, yellowish, or brownish secretion from the belly button
The obnoxious smell from your navel
Nausea and dizziness
Belly button bleeding
No one likes to suffer from an aching, liquid oozing belly button and so if you want to get instant relief, here are some well-researched home remedies that you must try to use and treat your infections naturally!
Coconut Oil
Salt Water
Warm Compress
Essential Oils
Hydrogen Peroxide
White Vinegar
Aloe Vera
Turmeric
Indian Lilac (Neem)
Rubbing Alcohol
1. Coconut Oil
Coconut oil comprises medium-chain fatty acids that show extraordinary anti-inflammatory and antimicrobial properties. These features not only support the infection-causing bacteria but also assist in treating the soreness and inflammation in the belly button.
You Will Need
Coconut oil (as required)
What You Have To Do
Take a small amount of coconut oil on your fingers and utilize it straight to your belly button.
Leave it on and let your skin consume the oil.
How Often You Should Do This
Do this at various points in a day.
2. Salt Water
A saline water aids decrease the moisture inside your belly button, stopping additional infection. Salt has antimicrobial and anti-inflammatory qualities. This can assist fight the actual infection as well as itching and swelling in the belly button.
You Will Need
1 teaspoon of salt
1 cup of warm water
What You Have To Do
Combine a teaspoon of salt with a cup of warm water and mix well.
Put some drops of this saline water in your abdomen or use cotton soaks to add water to your navel.
How Often You Should Do This
You can do this many times every day until you reach satisfaction.
3. Warm Compress
A hot compress is really beneficial when you use it especially for fighting infections to relieving pain and swelling in the body. Thus, it might be a great idea to use a hot compress on the area where you feel the ache and the infection in general.
You Will Need
Hot water
A clean washcloth
What You Have To Do
Take a fresh washcloth and soak it in medium-hot water.
Strain out the excess water and put the warm compress right on your belly button.
Let it rest on for a few minutes. Repeat as needed.
How Often You Should Do This
You can arrange this 2 to 3 times every day.
4. Essential Oils
a. Tea Tree Oil
Tea tree oil is one of the best remedies that you can use for an infection. It has all the anti-fungal, antibacterial, and anti-inflammatory properties that are needed to reduce irritation and belly pain. The properties can help kill the infection-causing bacterias and provide some kind of relief from the pain, swelling, itching, etc.
You Will Need
2-3 drops of tea tree oil
1 teaspoon of coconut oil
What You Have To Do
Add some dashes of tea tree oil to a teaspoon of coconut oil and mix well.
Apply this mix straight to the infected belly button.
Leave it on for 15 to 20 minutes.
Wash it off.
How Often You Should Do This
Do this 2 to 3 times every day for more active recovery.
b. Peppermint Oil
Peppermint is known for its pain-relieving qualities and can relieve inflammation. It also has some antifungal and antibacterial properties which help to eliminate the microbes which cause the bacterias in your body.
You Will Need
2-3 drops of peppermint oil
1 teaspoon of coconut oil
What You Have To Do
Mix peppermint oil with coconut oil.
Use this mixture to your belly button and let it rest for 10 to 15 minutes.
Wipe it off using a tissue.
How Often You Should Do This
You can do this 2 to 3 times every single day until you find relief.
5. Hydrogen Peroxide
Hydrogen peroxide is particularly beneficial if you are administering it with a pus-filled blister in your belly button. Its purifying qualities can fight the disease while its drying qualities can advance the healing of the growth.
You Will Need
1 tablespoon of 3% hydrogen peroxide
1-2 tablespoons of water
Cotton pads
What You Have To Do
Mix the hydrogen peroxide with water.
Dip a cotton pad in it and use it on your belly button.
Leave it on and let it dry freely.
How Often You Should Do This
Do this just once every day.
6. White Vinegar
Vinger has acetic acid in it which helps to have antiseptic properties and features that help to fight off any kind of infection in your belly button. It also has disinfectant properties which will help you eliminate any bacterias in your navel.
You Will Need
1 tablespoon of white vinegar
2 tablespoons of water
Cotton pads
What You Have To Do
Combine a tablespoon of white vinegar and two tablespoons of water.
Dip a cotton pad in this blend and use it straight to the afflicted region.
Leave it on for 15 to 20 minutes.
Rinse it off with water.
How Often You Should Do This
Do this 2 to 3 times every day till the infection is healed.
7. Aloe Vera
Aloe vera gel is generally recognized for its amazing healing properties. The plant includes more than 200 components of medical attention, which show anti-inflammatory and antimicrobial features. These features can assist in improving an actual belly button contamination while also reducing the inflammatory signs.
You Will Need
Aloe vera gel
What You Have To Do
 Use aloe vera gel straight to the afflicted area.
Leave it on for 15 to 20 minutes, after which you can wash it off with water.
How Often You Should Do This
Do this 2 to 3 times daily.
8. Turmeric
Tumeric is the golden gift that is considered one of the best remedies for treating any kind of fo infection in the body. It also contains an element called curcumin which shows powerful antimicrobial and anti-inflammatory qualities. This element can also help to heal and reduce swelling significantly. It will also relieve the itching and inflammation which is caused due to the infection.
You Will Need
1 teaspoon of turmeric powder
Water (as required)
What You Have To Do
Combine a teaspoon of turmeric with enough water to form a dense paste.
Use the paste straight to your belly button.
Allow it to dry and then wash it off with water.
How Often You Should Do This
Do this at least once daily.
9. Indian Lilac (Neem)
Neem is generally utilized to tackle different diseases because of its strong antimicrobial and anti-inflammatory qualities. It not only stimulates healing but also reduces itching and swelling in the belly button.
You Will Need
A handful of neem leaves
Water
A pinch of turmeric (optional)
What You Have To Do
Crush a handful of neem leaves with water to make a soft paste.
You can also combine a squeeze of turmeric with this paste for extra perks.
Use the paste to the infected belly button and leave it on for 15 to 20 minutes or till it dries thoroughly.
Wash it off with water.
How Often You Should Do This
Do this 1 to 2 times daily.
10. Rubbing Alcohol
The sterile nature of rubbing alcohol (isopropyl alcohol) cleans and purifies the belly button, which limits the infection from developing further.
Caution: Rubbing alcohol can dehydrate your skin and must not be applied more than twice daily.
You Will Need
Rubbing alcohol
Cotton pads
What You Have To Do
Take several drops of rubbing alcohol on a cotton pad and use it straight to the afflicted domain.
Leave it on to be received.
How Often You Should Do This
Do this 1 to 2 times every day.
These home remedies are natural and chemical-free and would help you to combat any kind of fiction and inflammation. If you have gotten yourself pierced recently or have medical conditions like diabetes which causes you to develop a belly infection, then these remedies help you combat it. Here are also a few prevention tips that you can use:
Contamination Prevention Tips
Wash your hands before reaching out for your belly button piercing.
Do not sleep on your stomach facing downwards.
Dress in loose clothes made of natural materials.
Shower daily.
Wash completely and make certain there are no deposits of soap left in your abdomen.
Decrease your consumption of processed foods if you are inclined to Candida infections.
Stay off from public pools for a while after receiving your belly button piercing.
Dodge junk food and have more extra raw fruits and veggies.
If you feel that your infection is not healing properly even after all the measures, you might want to rush to take medical assistance immediately.
When To See A Doctor
If your signs do not end at a bad odor, and you encounter any of the subsequent symptoms, please discuss with your physician promptly:
Fever
Inflammation and pain near the belly button piercing
Pain while urinating
Worsening of the existing symptoms
Although these traits are commonly linked with navel infection, in some cases, they could also hint towards a more serious underlying medical condition, for example, psoriasis and even cancer ins some cases. While a low to moderate belly button piercing can be easily treated at home by yourself, you must immediately seek some medical attention if your symptoms worsen!
Pregnant and Pierced
Now you might have a question that what you must-do if you are pregnant and have a piercing on your navel? Well, first of all, don't fret! There are various options that you can use when you are pregnant and have a navel piercing. The first option that you can elect is the flexible PTFE and a threading tool to help you get a navel piercing.
You can convert your existing navel piercing into a belly button piercing by switching the previous surgical steel piercing with a length of PTFE. Cut the PTFE into the right length for your navel. Add some threads to either side of your belly button jewel using the threading tool and screw it on top of the ball and charm from the navel piercing that you are converting and voila! Here you go!
After you have delivered the baby, you might want to cut down the PTFE further to fit your existing belly size or you can simply go back to using the surgical steel navel jewel that you were wearing initially. There are hundreds of options that are available online or you can ask for recommendations from your piercing too.
You will also get options to externally threaded ends that you can combine yourself with a length of PTFE and make yourself your own pregnancy belly button jewel which will be tailor-made for utmost comfort. You can also get yourself an externally threaded ball with a loo on the bottom part by selecting the dangly charm on a navel ring that you like and then transfer the charm to the ball.
All of the above options that have been discussed here allow you to keep your piercings during your pregnancy days and once it is over, you can rearrange your previous jewelry back by reattaching the charm for your initial surgical steel barbell that you got it screwing the ends that you bought on a new bent barbell. You can even cut down the shaft in PTFE belly rings to shorten its length so that it fits you perfectly!
FAQs for Navel Piercing
Why is the inside of my belly button red?
If your belly button has turned into shades of red, it is a sign of fungal infection. Candida is one of the most common fungal infections that you must avoid.
How long does it take to get rid of a belly button infection?
AA belly button piercing takes about 6 months to heal completely but it can take more depending on each particular case. It might take a whole year too.
Why does your belly button smell?
While mild navel odors are fairly common, discharge and unpleasant navel smell could be because of an infection or because you have a lot of built-up sweat and first inside your navel.
How do you clean your belly button?
The best way to make your belly button an infection-free zone is by cleaning it regularly. Here's how you can try to do it:
Get a little antibacterial soap or shower gel on a clean washcloth.
Utilize your index finger to lightly clean the interiors of your belly button with the washcloth.
Rinse it completely with water to eliminate any deposits of soap and pat dry.
Where should I go to get my belly button pierced?
Belly button piercings might get rejected or migrate to another place if they have not been done right. This is why you must select a professional for doing this job with sterilized piercing needles. Here are some important issues you need to take care of. Sterilizing needles are more preferred than doing them with piercing guns.
With a needle, you can get a deeper hold and then use a heavier gauge to prevent migration and rejection. Piercing guns will cause the bacteria to intrude pretty easily and will make a hole quite forcefully in the skin which can lead to scarring and other kinds of problems. Besides, belly piercing is not the kind of piercing that you can let any amateur handle. You need a trained hand for this kind of piercing. Do not let an inexperienced or unlicensed person do that to your belly button even with a proper piercing needle in hand. Always trust a professional with a reputable studio and after reading a bunch of reviews.
How much pain can I expect from a belly button piercing?
Since belly button piercing involves puncturing the skin, it will be painful. With any kind of piercing that punctures the soft tissue such as earlobes, lips, navel, etc, the pain is there for a short time. You will find yourself having a brief movement of piercing sensation followed by pressure as the needle performs its task and then additional pressure when the jewelry is put inside your pierced belly.
If you are really scared of the pain which might be associated with getting a piercing, you might want to apply some anesthetic to your navel which might contain some numbing agent like lidocaine. You will have to wait for a certain period of time (20 to 30 mins max) after being numbed to get yourself ready to get pierced. Once you have been dumbed, you will experience less pain and much pressure during the piercing procedure.
Note: If you don't fancy waiting in the piercing salon for some extra hours, you can apply some easy-to-use numbing agents which you can find at your local drug store from home. The numbing agent would be sufficiently soaked into your skin by the time you arrive at your piercing salon. You can re-apply it later before you start the piercing process.
How much does a belly button piercing cost?
The price of a belly button piercing ranges from studio to studio. Usually, you'll notice that belly button piercings are less in rural areas than in urban cities due to the varying cost of other extra things like shop rent. You can expect anywhere from 30 to 70 dollars for getting your belly pierced depending on the locality and experience of the studio. Anywhere about 40 to 50 dollars is a standard and fair price.
If you find yourself amidst a highly recommended and professional belly button piercing artist then you might expect a little more elevated rates.
What's the proper placement of a belly button piercing?
Standard belly button piercings are located within 1/2″ to 1″ or so of skin over the belly button, below, and out through the higher lip of the navel hole. The conclusion should be that the bottom ball of your belly button ring snuggles directly over the tip of your belly button. If you own an "outie" belly button, it may change the position of your belly piercing slightly, but not any over-the-top changes. The ground ball of your belly ring should nevertheless halt over the top of your belly button when the piercing is performed.
If your piercing is making a place that places your belly button so high that the bottom ball is above your belly button and it is visible, then it might be an incorrect belly button placement. This incorrect placement idea qualifies as a surface piercing than a belly button piercing which has an even more chance of getting rejected. This is not a very natural issue for those who choose an apt salon for piercing but it happens sometimes. Thus, you must be able to communicate with your piercer effectively so that you do not face any such problems in the longer end. Do not leave the salon unsatisfied.
If you're making a bottom belly button piercing or different arrangement, similar to a 4-point belly button piercing or a double pierced belly button, the position will be changed to a regular belly button piercing. The identical policy should be used, though, suggesting that one ball should halt over the top of your belly button, the barbell should go into the inner wall of your navel hole, and the outer ball should point somewhere between 1/2″ and 1″ apart from your belly button.
Can I get a double-pierced belly button in one session?
If you want you can have both your upper and lower belly button pierced at a single go. You can even select any other kind of configuration if you like. You can also get a quadruple, triple, or double piercing just in a single session. That is if you can tolerate all this pain in one go. If you can handle the piercing in one go with your piercer then you will be able to handle it better in a  single go. You might also want to ask if you have some kind of anesthetic applied to your belly button area if you want to have multiple piercings in a single go.
Although, having multiple piercings in a  single go might seem like a good idea to get but you must get one piercing at a time and then let it heal, observe how it performs and then add to your collection later. If your body rejects or migrates the piercing or you might have some kind of infection, then it's better to lose just once piercing instead of multiple. Otherwise, you'll end up with bad scars in multiple locations on your stomach.
What is a reverse belly button ring?
Reverse belly button piercing is like a standard belly button piercing. Whereas the standard belly button piercing might get inserted through the bottom navel cavity, the reverse belly button piercing might get inserted from the top one. The reverse belly button piercing is also called the top-down belly button rings. It has a decorative top, charm, or a threaded end just above your belly button rather than a standard ball. Many times a reverse or top-down belly button piercing also has a standard ball that will be placed inside your navel cavity.
You can wear reverse belly button piercing in your lower belly button too which would involve keeping the decorative and over the top of your belly button. On the other hand, the standard belly button ring placed in the lower part would rest with the decoration side of the piercing hanging below the belly button.
What is the best type of starter jewelry for a belly button piercing?
There are many various jewelry methods you can carry in a navel piercing, which includes regular bent barbells (banana barbells), captive bead rings, seamless rings, segment rings, clickers (usually called daith rings or septum rings, but you can use them in a broad assortment of piercings, including belly button piercings), circular barbells, and twisters. Most of those choices are excellently satisfied for use in a well-healed belly button piercing. Bent barbells are the perfect way to use a beginner belly button ring.
In terms of the kind of material to be used, titanium and surgical stainless steel are the most harmless, most optimal selections for a beginner belly button ring. Titanium is the most dormant metal and the least possible to trigger an allergic response, so if you have delicate skin, this is the best alternative for you. BioPlast (also called PTFE or BioFlex) is a different great option for those with delicate skin considering it's a hypoallergenic metal.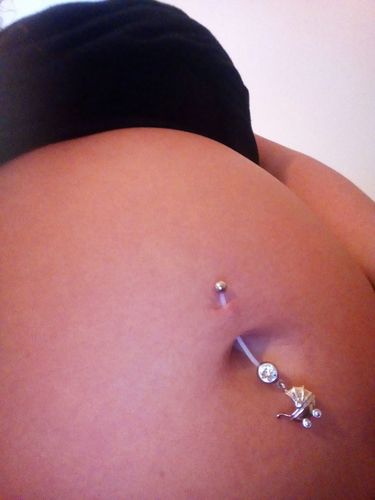 If you are a part of any team sports, like field hockey or football, you should unquestionably opt for a PTFE starter belly button ring. This belly button is softer, flexible, and is less likely to cause any kind of irritation that will mess with your healing process. You might also want to ask your coach if it is ok at all to wear a piercing on your navel before you get one. Some people might allow it but you can help your case if you have a flexible belly button piercing as your option.
How should I make sure that my navel is thoroughly cleaned?
A rigorous belly button piercing aftercare is important if you wish for your belly button to heal properly. You must keep up with the sea salt soaks as much as you can for at least a couple of weeks after you get your belly button piercing. You should also keep misting your belly button every few hours a day. An aftercare piercing spray would help keep the belly button pretty healthy and will flush out all the collectives that are present there in the skin. It will also keep the belly button piercing hydrated.
The sea salt solution has been prescribed before in this article. You can choose to make your own sea salt solution for your belly button piercing or buy one from your local drug store. You can also add tea tree oil or peppermint oil for better moisturizing and its antibacterial properties. Do not apply it directly to your belly button piercing. Later, you can use a plain tissue or cotton pad to lightly wipe away any "crusties" that have been melted up by the solvent. Crusties are just dehydrated lymph, which is a cloudless discharge standard with new piercings and other medicinal injuries. It drains to form a whitish crust that's safe. You just don't need to turn or accelerate your jewelry to break up the crusties; regularly dissolve them with a saline solution preeminently, then smoothly wipe it off.
Stricly avoid washing your belly button piercing with soap for a few months which can actually make your skin dehydrated and cause it has cracks and pain. It is also more prone to infections and built up of bacterias. It can take almost 6 months for the piercing to heal so try to do all the safe aftercare practices that have been recommended to you.
Is belly button piercing rejection a common issue?
The chances of having a rejection or migration are reduced when you piercer uses all the hygienic precaution like a sterilized needle and a heavy gauge needle and pierces deep enough so that the piercing might stay in. Ideally, belly button piercings must be in the 14g to 12g size range. Nevermore let a piercer insert a jewelry size 16g or less; finer-gauge jewels are much more likely to migrate and reject.
Belly button piercing is usually surface piercing and these kinds of piercings are more prone to rejection and complications than other kinds like lip piercing or ear lobe piercing. Thus the depth of the piercing is pretty important so that the belly button piercing stays in shape. Your piercer must be able to extract a good amount of skin from the belly button. If in case that does not happen then your piercing won't last for a long time. Let your piercer know that you are comfortable with a deep skin-piercing than a surface piercing.
A professional piercer will always keep a few factors in mind when getting your piercing which is why it is best to go to a well-researched shop rather than let an amateur do it. Once the piercing is done, it is up to you how you can care for your piercing so that it heals properly and stays ins shape. Above we have listed in detail all the major precautions for better healing of your belly button piercing and aftercare tips that you might like to follow.
I think my belly button piercing is infected. What are the most common steps that I must take?
The location of the belly button piercing is right in the middle of the body where you bend and so the skin folds into two parts. It is natural for a belly button piercing to get irritated during the healing process. You must wear loose clothes during healing to prevent irritation and add tea tree oil to your sea salt solution to calm the skin around your belly button piercing. You might still feel some kind of reactions and irritations even after you follow all the aftercare routine religiously but know that it is totally normal to feel that.
As for discharge, it is quite normal for the body to discharge some liquid during any healing process but make sure that your discharge is clear or whitish in color. If you notice another color in your discharge you must see a doctor.
If at any point in time you encounter a huge growth that makes the balls of your jewelry drive into your skin, or if you incur a hypertrophic scar (a variety of hard, round, granular tissue development throughout either the top or bottom ball of your piercing) or hyper granulation (more of a soft, bubble-like, reddish swelling), your ornaments may be too tight for you. In this instance, you should consult your piercer right away and require to have a larger barbell included. Extended stress on your piercing can induce necrosis, or tissue death, which can point to an infection. Taking the pressure down is the only way to circumvent necrosis and address issues like hyper granulation an opportunity to fix themselves. You'll also want to ramp up your aftercare management for the next 1 to 2 weeks, delivering full sea salt solution soaks (more cautiously with tea tree oil) 3 times a day and spritzing your piercing with some kind of sea salt solution that you got from your local drug store or if you made it yourself.
If the area around your belly button piercing produces streaky red lines throughout it or becomes hot to the touch, and/or if the belly button piercing starts leaking a thicker, yellowish, pus-like discharge, odds are you've gone from an irritation to a full-blown infection. If you encounter any of these traits, see your family physician as soon as feasible. You may require an antibiotic to fight the problem. Be certain to ramp up your aftercare management as detailed above if your belly button piercing becomes infected. You should be capable to have your piercing as long as you keep it neat and take any antibiotics you're appointed till you complete the medicine.
Important Note: Don't ever take a role in a prescription of antibiotics and end it abruptly, even if you begin to feel better. The contamination will just grow more robust to the point that the medicine can no longer overcome it, and you could acquire immunity to that distinct antibiotic.
Are there certain tricks and trips that I can use with my belly button if I am pregnant? Are there separate materials for pregnancy belly button piercing?
As we have even detailed about this in our pregnancy and pairing section of this article, you can wear a belly button piercing even when you are expecting. If you need to keep your piercing during that time, you have a lot of options. The first option is to buy bent barbell shifts in a variety of lengths and steel or titanium materials. You can swap them for longer as your belly grows bigger. Thus you will be able to turn your regular belly button piercing into a pregnancy belly button piercing without buying a special pregnancy belly button piercing.
Alternatively, the second option that you can use is to make the belly button piercing made from flexible PTFE/BioPlast that you can clip to the absolute length based on the prevailing size of your baby bump.
Tip: Leave it long in the first place so you don't have to buy additional lengths of PTFE later when your belly's at its most prominent. The excellent thing about pregnancy belly rings is that you can persist using them even after your stomach goes back to its usual size post-baby. Just chop the PTFE shaft down a bit more and continue to wear it!
Are there any more sources to help me determine if I need to get my belly button pierced?
You can check out more articles that we have posted on the various kinds of belly button piercing styles and other kinds of piercing if you want some inspiration. You can also visit many Youtube channels and see for yourself. Generally, the piercing studio will offer you to look at their portfolio and you can also check out their social media.
How do I make a fake belly button ring?
The most lenient way to create a fake belly button ring is to get a captive bead ring, eliminate the bead, increase the gap in the ring as required, slide it over the upper lip of your belly button, and press the surfaces collectively lightly till the captive ring meets snugly around the side of your belly button. Keep the bead, and with that method, you can pop it back into the ring and have an unimpaired belly button ring to wear following if you ultimately choose to get your belly button punched.
Is it okay to wear gold belly button rings, or should I stick to titanium and surgical steel?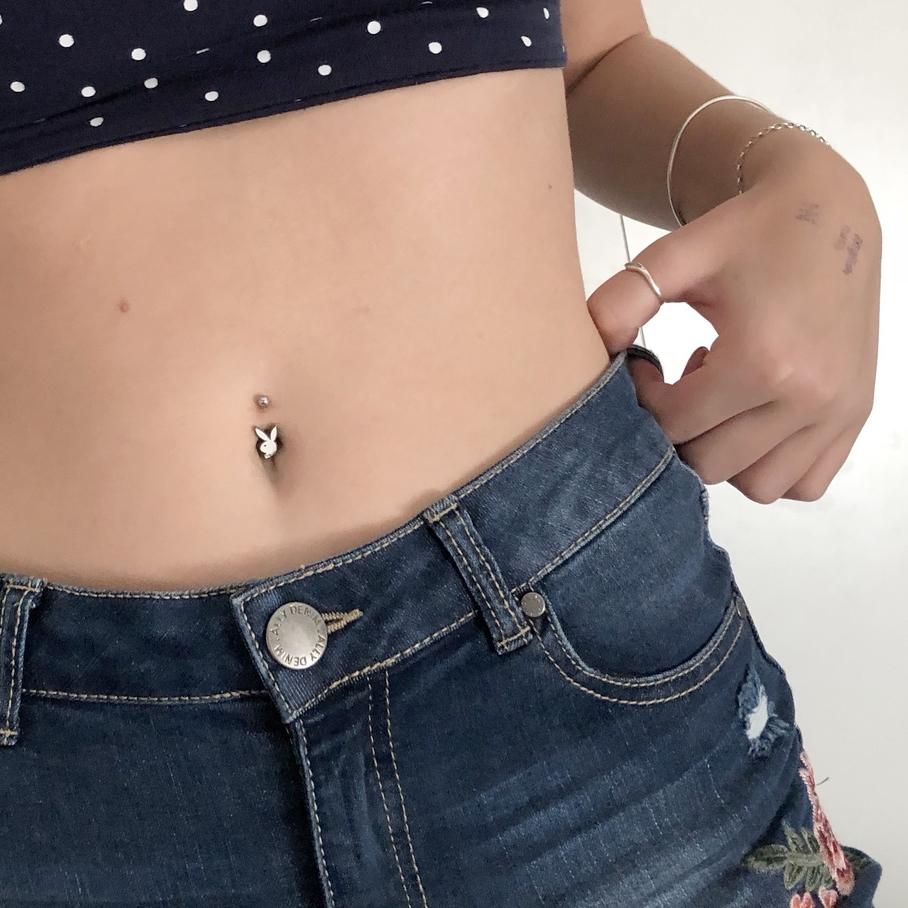 After 3 to 6 months of getting belly button piercing, it should be secure for you to try using belly button jewelry composed of materials other than titanium, surgical steel, or PTFE. You may discover it challenging to transform your belly ring by yourself the first time, so request your piercer to make a jewelry exchange for you once you find an original belly ring you like, if required.
You can find a huge selection of gold jewelry which is 14 carats to 18 carats. We also wrote about the kind of materials to use for belly button piercing which you can read above and know what kind of gold jewelry is important and beneficial to use for your belly button piercing. It is available at any local piercing store or you can easily buy it online.
When can I start wearing heavier jewelry, like dangle belly button rings?
It is better if you wait for 6 months before changing your belly button piercing and let your initial belly button piercing heal completely. The navel would have a good time to get stronger which will make it easier to change the piercing later on when you decide to change your style which includes any kind of heavy piercing or dangle belly button piercing.
If you have a problem transferring your belly ring yourself, you can either decide to use a threaded taper to enter your new belly button jewelry (with a dash of water-based lubricant on the top to let the taper drive through your belly piercing more quickly if wanted) or you can have your piercer replace your navel ring for you the initial time. It may take up to a year for your belly button piercing to strengthen to the limit that you can conveniently adjust your jewelry yourself, so don't fret if you require assistance at the 3-6 month streak. Even if you can't get your jewel in by yourself, that doesn't suggest you can't use a dangle belly button ring or another more substantial navel ring. If it seems suitable for you once it's in and it isn't continually becoming trapped up in your clothing, you can use any form of belly ring you want once your belly piercing is adequately restored.
When Can I Stop Cleaning My Piercing?
You need to clean your belly button piercing at least 3 to 4 times a day when you get it pierced initially. You can reduce it to 2 times a day after a few months. If you have some complications you might want to continue doing it for a bit longer.
When and How Can I Remove My Jewelry?
To decide if you're able to change out your jewels, attempt to remove the jewelry you already have. Shake and drive it about. Does your belly pain? Does it nevertheless feel uncomfortable or painful? If it does, you aren't set yet.
Are there occasions when I cant get my navel pierced?
Well, it is quite surprising that although everyone can get themselves pierced in any part of the skin not everyone can heal a belly button piercing.
For a belly button piercing to heal correctly, it must have a great margin of skin above the navel (or in some instances, underneath) with space both backward and underneath the mouth for the jewels to sit without stress. The rim of the skin should be a tab(like an earlobe), with an exposed front and back to it and a set margin between the two. Without a well-distinct "overlap" over the navel, there is an improved opportunity for difficulties fixing—including rejection. Furthermore, striving to punch your navels that do have a flap but do not have sufficient area behind them to provide jewels to rest easily will frequently succeed in a challenging and uncertain healing method.
Thus you must go to the studio and request a piercing only after the piercer has taken a look at your navel and discuss the viability of the piercing. A professional and licensed piercer will most likely reject the belly button piercing if you do not have a heal-able navel according to them. It will only lead to hassle and discomfort in the end. Your body structure and shape do not have anything to do with your piercing style or shape. Your abdomen is not developed in such a way that they think you can recover the piercing.
If I can't pierce the top, can I pierce the bottom?
Some people have plenty of skin on the bottom that it can be punched—but very little. More frequently than not the response is "no."
Can I get my outie pierced? Is it a safe option?
It is not really recommended to pierce an outie. A normal piercing goes at the surface of the skin and the edge of the navel while an outie is much more difficult than the simple navel. It is actually the scarring from the umbilical cord. Thus if an outie gets infected, it can become dangerous too quickly!
With that said, some people with outies have natural overlaps of surface skin over or underneath them—sort of a mixture of "innie" navel with a small outie within. Depending on the original form of the navel, this exterior skin may be pierceable. Nevertheless, this is completely subordinate to your shape. Your safest risk is to compare with your piercer to understand what's probable.
Why do navels take so long to heal?
The skin near the belly button is not really vascular which means that there is little to no blood flow in that area. The less blood that flows slower the healing process of the area. Due to the location of the belly button piercing her, it is also subject to bending, folding, and friction, it becomes difficult to heal. Thus these things led to a longer healing process which is about 6 months.
With such a lengthy healing time, navel piercings are also more prone to receive difficulties while healing. While a correctly managed piercing may never give you obstacles, a scar that is setting for up to a year has a much bigger possibility of becoming irritated—or even affected. To stop this from happening, retain your (and others') hands, mouths, and bodily fluids off of it through the healing process.
Why is the navel jewelry so thick?
Usually, the bigger gauge jewelry is best for belly button piercing because they tend to remain in one position for a long time. It is possible to heal the navel with gauges that are smaller and finer in size, but one must be very careful with these sizes. The thinner the jewelry is the more likely is the chance of the piercing getting rejected and migrating to various places. The thicker the belly button piercing, the more surface it covers and thus remains fixed at one point so that you have more skin supporting the weight of the belly button piercing.
Believe of it this fashion: if you share weight and pressure over a wider area or more surface cells, space becomes more flexible and immune and, normally, less inclined to little breaking and scarring. It's like taking a large bag on your shoulder: A backpack with small bands cuts into your shoulder a lot more than a bag with broad bands considering the weight is scattered more smoothly. As such, thicker jewels can give you a slightly more likelihood of accomplishment with healing.
Can I go swimming after my navel piercing?
With a fresh belly button piercing it si not advisable to go swimming in any kind of public pools, rivers, oceans, sea, beaches. etc because the piercing is at risk of getting infected with various kinds of bacterias that are found in the water. The saltwater and chlorine along with other elements are a matter of problem here. You can never be sure of what is there inside the public water. Ocean water serves to be excellent for amping up the healing process, but the water on a beach in the tropics is not corresponding to the water at the Jersey Shore. If nothing else, surely dodge hot tubs, shafts, or lakes as the water property is even more problematic.
If you do go swimming during this process, one would always recommend you to have some sea salt water soaks at least 3 times a day and directly after you come back from your swimming.
What about sit-ups and exercise?
Sit-ups and training normally don't bestow a difficulty for you or your belly button piercing, but you may want to change your exercise to evade placing excess stress on your ornaments or piercing—at least in the beginning. Attend to your body; if it burns, don't do it. (And sweating shouldn't irritate your piercing, just make it a habit to shower later.)
What about tanning?
Tanning itself will not harm your piercing, but tanning creams and the substances in them can be questionable. If you do go tanning, make certain you don't get any kind of chemical or cream on the piercing as it can block the pores.
Do I have to take it out if I get pregnant? Can I get it re-pierced after the baby?
Whether or not you want to take out your jewelry during pregnancy is totally up to you. The shape of your navel will change as your belly grows outwards to accommodate the baby growing inside you. At a later stage, the navel can also change its shape by turning inside out or being more flat which will make your belly button piercing even more uncomfortable. Thus wearing a piece of jewelry can be more difficult to keep in because of all these changes especially during your third trimester. For some, the pressure and stress are impossible to bear and they remove the jewelry and let the piercing close on its own which the other leave on their jewelry at all times without any pains or complications.
In many instances, particularly if the navel piercing has completely healed ere the pregnancy, ornaments can completely be extracted and put back in after childbirth. The piercing may shrivel a bit in the area, but the hole can usually be expanded open later—making piercing useless.
If you withdraw your ornaments and your piercing fully terminates, you can get yourself re-pierced after you have given birth to the child. You must wait to get back to your proper shape and after you have healed completely. You must also wait until your child has completed the stages of breastfeeding too before you think of getting a new belly button piercing. It gets difficult to heal any injury while you are lactating. It is because the body has its energy deviated elsewhere. Thus keeps in mind that you will also be holding your little born close to your skin which can be near your chest and stomach area and there is always a risk of him or her getting hurt because of the piercing and in the meanwhile you getting hurt too. Healing can also be difficult when your child starts to kick and punch his legs and arms.
The Takeaway: Final Words
If you have made up your mind to get a belly button piercing then you must make sure that you provide apt aftercare for it. It can be safe to do as long as you follow all the guidelines and keep it bacteria-free and healthy. Taking care of your general health plays a huge role in this kind of situation which will help your case to heal faster without developing any risks or complications in the meanwhile. Besides that, getting any kind of belly button piercing or body piercing, in general, is a great idea!