Dermal piercing is the kind of piercing that would lie flat on the surface of the skin. The alternative names for dermal piercings are single point and micro dermal. But what is it that makes it so popular? The ease. It can be fixed to almost any flat surface of the body, giving people more scope to better modify body parts that are otherwise different. Usually, a dermal piercing is not too painful either, but that really depends on the location of the piercing. This article is a detailed analysis of what a dermal piercing consists of: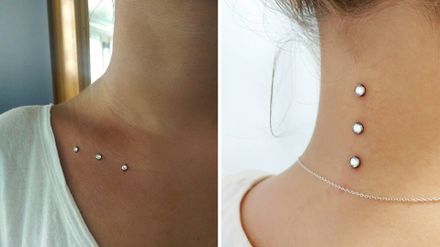 What do you understand by Dermal Piercing?
Dermal piercings are also known by other names, such as single-point piercings, since, unlike traditional jewelry, they do not have a separate departure and entry point. A single hole would be pierced by the concerned person so that the jewelry or anchor, which is only 6 to 7 mm long, may be placed into your dermis, which is also the skin's middle layer. Then you may put any jewelry you like on top of it. The anchor acts as a base for the jewelry, which is placed on the surface of your skin, giving the impression that you have beads under your skin.
What distinguishes a surface piercing from a dermal piercing is the question that now emerges. Even if the jewelry is attached to your skin's surface, it is not considered surface piercing. Surface piercing, unlike dermal jewelry, has different entry and exit locations. They're held in place by a separate device, shaped like a barbell, and put beneath the skin as well. That is the distinction between surface and dermal piercing.
What is the best place to get a dermal piercing?
So, you're probably wondering where you can obtain dermal piercings for yourself. As long as the skin surface is flat, a dermal piercing can be done on any portion of the body.
The following are some of the most popular places to get them:
cheekbones
nape of the neck
chest
lower back
abdomen
thighs
This list, however, is not exhaustive. Any part of your body can be pierced as long as the skin is thick enough to support the anchors.
Ear Lobes are punched on the skin.
Dermal punching on the ear lobes is undoubtedly in vogue, as evidenced by the images, but it does not imply that it is usually healthful. When it comes to piercing on ears, the punch for dermal punching would ruin the ear, so needle piercing is a preferable option. You might also try needle piercing first and then progressively increase the hole's size. When conducted on something as thin as earlobes, dermal punching also includes the loss of tissues, which can make it even thinner. Of course, stuff like this should be avoided since if you want to lengthen your ear lobes, it is much better to have more tissue on them.
Ear Cartilage Dermal Punching
Stretching the cartilage for more than a few gauges is still dangerous, but dermal punching is a better alternative for persons who desire a larger gauge on their cartilage. The difference between smaller punches and larger punches is that smaller punches require jewelry to be worn throughout the healing process, but larger punches do not and can be worn once the bleeding has ceased.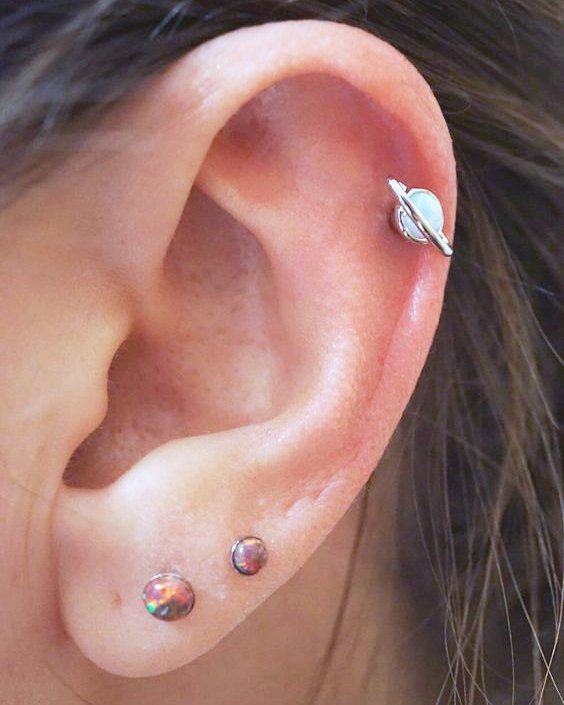 What are the dangers of dermal piercing?
Because it is a huge surgically produced hole in your body, dermal treatments have a number of dangers. As well jewelry can place a lot of pressure on the area, it needs to be given plenty of time to heal. Hemophiliacs and persons with thin blood require special caution. They should see a doctor before taking such drastic measures. If the bleeding continues for an extended period of time, medical help should be sought.
The second type of risk is that of an infection brought on by the use of needles. You must ensure that not only the needles themselves but also the atmosphere and the jewelry are sterilized. When getting any type of body modification, make sure the practitioner is experienced and certified. While a needle piercing hole may heal, dermal punching is a permanent procedure since the skin taken in this circumstance is significantly greater than in needle piercing.
The following are the kind of risks that must be considered and cared for:
Dermal punching, like any other type of skin modification, is prone to a variety of problems and dangers. Before considering a dermal punch, be aware of the following risks:
Infection. Any type of piercing can become infected, and if sufficient care is not given both during and after the procedure, you may have a skin infection. As a result, make sure you utilize sterilized materials and that the atmosphere is safe.
Displacement. If the anchor is not properly installed, it may become dislodged and move to a different location. It will cause discomfort and infection.
Rejection. Rejection occurs when your body considers a foreign object to be unwelcoming and rejects it. It usually occurs when the anchor is displaced and the skin tissue in the dermis swells until the anchor is pulled out.
Tissue damage. When the anchor is pushed too far or with too much force, tissue injury can readily occur, potentially affecting the surrounding blood vessels.
Hypergranulation. When the jewelry is overly tightly fitted or the piercing is inflamed, hyper granulation occurs. This can occur for a variety of reasons, including the use of makeup, wearing tight clothing over the piercing, or playing with the piercing before it has fully healed. Red pimples around the pierced area are common symptoms. Make sure your piercing is clean by using sterilized treatments such as saline water.
Scarring. If you want to remove the piercing or if the skin rejects the piercing, scarring is likely to occur.
What Kinds Of Jewelry Are Usually Appropriate For Dermal Punching?
The sort of jewelry that can be worn is determined by how the piercing is performed. A needle or a more modern dermal punch can be used to pierce the skin. You can, however, wear the following types of jewelry:
Anchor: Any dermal piercing must begin with the insertion of an anchor beneath the skin. There are two types of anchors: those with a rounded base and those with a flat base.
Top: The specialist will put the type of jewelry you desire, such as metal studs or magnetic stones, after the anchor, which serves as a base for your jewelry.
Diver: The first thing to know about the diver is that it cannot be replaced. They have a pointed end with your favorite jewelry on top. A dermal punch will be used to insert this type of jewelry.
Materials Utilized for Dermal Piercing
What types of materials are suitable for dermal jewelry? You might want to think about the following choices for yourself:
Surgical Titanium: If you have delicate skin, surgical titanium is the best option. This metal is the least prone to irritate or inflame the skin.
Stainless steel for surgical use: This is one of the most popular piercing options, with many people opting for it. Although it is hypoallergenic, skin irritation is a possibility.
Niobium.: It is hypoallergenic, just like stainless steel, although it can corrode.
Gold: If you choose to go with gold, go with 14 karats yellow or white gold, especially if you're still recuperating. Gold that is more than 18 carats isn't durable enough, and plated jewelry can quickly cause illness or irritation.
Pricing of Dermal Piercing
When it comes to the price of the piercing, a dermal punching will generally set you back between 70 and 100 dollars. While pricing varies from studio to studio and if you are purchasing jewelry separately, you should expect to pay an additional $10 to $20. Then there are fees for self-care and complications that arise after the piercing. To clean your ear, you may need to purchase a saline solution.
The procedure of Dermal Piercing
The procedure for dermal punching is as under:
Dermal piercings can be done in one of two ways: with a needle or using skin punches. An anchor would be implanted beneath the skin regardless of the method used.
A dermal punch with a needle entails the following steps:
Cleaning the ear with something sterile, such as saline solution, is the first step.
After your skin has dried sufficiently, your ear will be marked with a pen or marker to ensure that the punch is performed in the correct location marked.
They'll use a needle to poke a hole in your ear to make a pocket or opening for the anchor.
Your piercer will use forceps to enter the anchor into the hole and then place it until it is completely under the skin's surface.
The piercer will place the jewelry on top of the anchor once it has been successfully established on the surface.
The technique for a dermal punch utilizing a dermal punch machine is largely the same, with the exception that the piercer will use a dermal punch machine instead of a needle to make a hole in your ear.
The truth regarding the pain level: Pain is common in dermal punching, just as it is in any other type of piercing. However, the severity of one's pain is determined by a number of factors, which include:
The anchor is placed so that the more fleshy the area is, the less it hurts.
Dermal punching is a type of piercing that is less painful than traditional piercing.
The pain tolerance of a person.
Your piercer's qualifications and experience.
How long does it take for the body to heal?
Two to three months is good for the healing period. However, if you do not properly care for your piercing, it may take longer than usual to heal. You may notice some swelling and a crust growing on your ear during the healing process. This is very typical for the first week, and it will fade away as time passes. If the crusting is an unusual hue, such as green or yellow, or if you notice green or yellow pus, you should visit a doctor right once. Even if the ear feels warm to the touch or you suspect it has become infected, see a doctor.
The Do's and Don'ts of Proper Cleaning Method
Your dermal punching needs to be cleaned properly. In order to avoid infection, there is a list of dos and don'ts that must be followed:
The following are the must-dos:
For at least a few days, the region around the punch must be bandaged.
Before coming into contact with the affected region, always wash your hands.
Clean your wound with a fresh napkin or paper towel.
To clean your wound, employ sterilizing agents like saline water.
Cleaning the crust formation is critical since it can lead to infection.
Cover the region with a shower hat or a cloth to prevent it from becoming wet.
It is preferable to pat dry the affected region rather than rubbing it dry, so be careful.
The following items are not on the list:
Wear loose clothing and allow your skin to breathe.
Allowing your hair to tangle in your jewelry will create unnecessary agony.
Avoid high-intensity workouts and sports where colliding and sweating are likely.
If you're in a pool or a bathtub, don't soak the affected area for too long.
On the punctured flesh, apply antibacterial creams and washes.
Do not stomp your foot on the pierced skin.
Do not overlook the cleaning process or postpone it to a later date.
Do not keep changing your jewelry till the healing process is complete.
Playing with or moving your jewelry too much is not a good idea.
The Signs and Symptoms of a Poor Dermal Piercing
If despite taking all of these precautions, you experience any symptoms other than moderate swelling or crust formation, which are rather frequent, you should seek medical help. Among the signs and symptoms are:
extreme discomfort
significant swelling
skin that's too hot to touch
yellow or green discharge
terrible odor
inflammation
If your skin rejects the foreign object, you may suffer the following symptoms:
Displacement of jewelry
Instead of sitting flat on the ear, the jewelry has a drooping appearance.
full anchor dislodgement
translucent or calloused skin encircling the top of the decoration
How long will the piercing persist after it has healed?
This is one of the most frequently asked questions, and the answer is that there is no set time for it. Your skin will progressively regenerate and, sooner or later, the anchor will be pushed back to the top, eventually removing it. It is entirely dependent on how well you care for it in order for it to last for years or months.
How safe is it to alter your jewelry (and how often should you do it?)
You can easily adjust your external jewelry once your dermal piercing has healed completely, which should take about two to three months. To avoid issues like anchor displacement, you must consult your piercer for the alteration. You must be very careful not to change it during the healing process since this could cause the anchor to be displaced. However, if you insist on doing it yourself, you must adhere to the following guidelines:
Before you touch the region, you should first wash your hands with antibacterial soap.
To disinfect the piercing area, clean it with a saline solution.
After that, make sure it's absolutely dry.
Unscrew the jewels in an anti-clockwise direction. If you believe the jewelry is stuck, see your piercer since they can use forceps to help you undo it.
In a clockwise manner, screw the new jewelry you want to put on.
After cleaning the area with the saline solution, pat it dry.
What if you decide the dermal piercing isn't for you?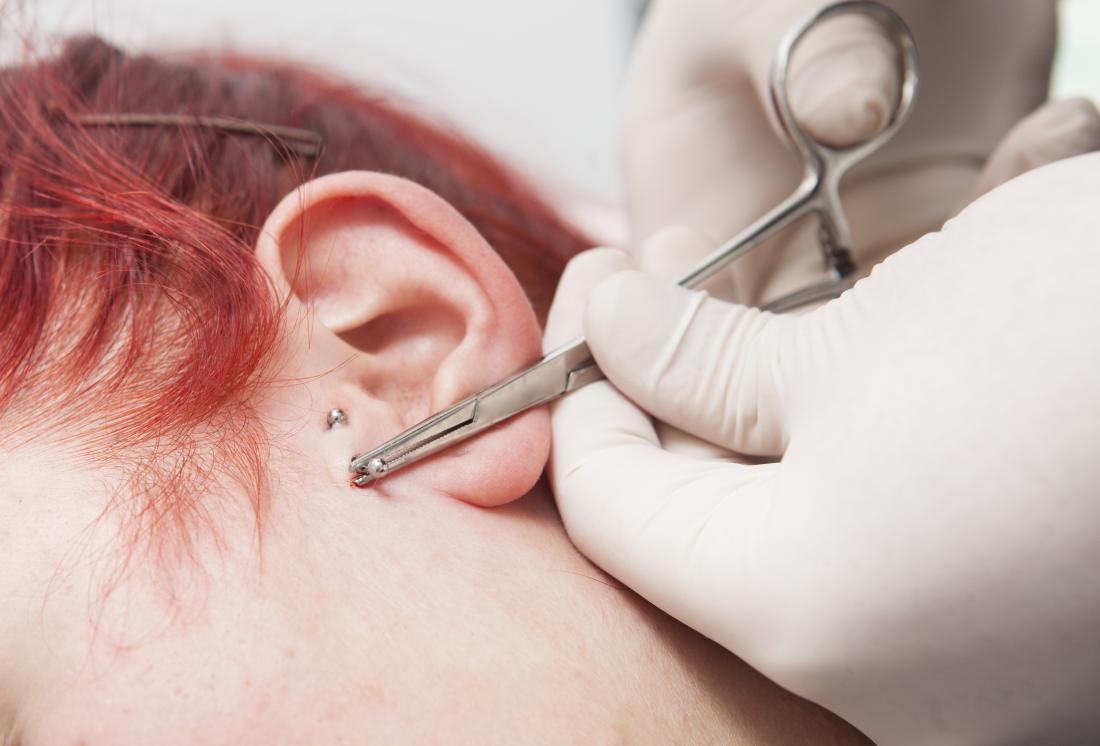 The best recommendation is to see your piercer to get the dermal piercing removed. It's best to avoid doing it yourself at home. It would complicate the procedure, even more, possibly resulting in bleeding or infection. This is what your piercer will do:
The first step is to disinfect the piercing area with clean hands before patting it dry.
The jewelry must then be unscrewed.
To release the anchor, use the massaging technique.
Using a scalpel, make a small incision that is proportional to the size of your anchor.
He can remove any scar tissue around the piercing region by using the scalpel once more.
A forceps would next be used to draw the anchor out of the skin.
After that, the region would be bandaged and allowed to recover.
It's best to get your piercing removed by the same person and in the same area where you received it in the first place. If you intend to see a general practitioner or cosmetic surgeon, you must first consult with your piercer. If there are any issues, the piercer will notify you as soon as possible and explain the next steps.
Your go-to authority for any piercing decisions should be a skilled piercer with a good reputation and experience in the field. They can also assist you with any questions or concerns you may have before or after your procedure. They will also assist you in determining the exact location where you must be pierced and, if necessary, the jewelry to be worn.
Dermal punch was the theme of the evening. People who are interested in high gauge piercings should have a lot of patience because it takes a long time to obtain the desired look, such as years of stretching and minimal jewelry changes. It takes a long time and costs a lot of money. However, after you've stretched your ear, you won't be able to return it to normal. As a result, many people who are interested in such things are Scalpelled or punched in the ears. However, scaling is not the best option for something like this, and piercings must be employed to solve such issues. Because of the damage, they do to the skin, both scalping and derma punch have a higher risk of infection.