Men and women both like getting star tattoos because they can be used in many ways and have a lot of meaning. Stars are linked to many things, like hopes, dreams, guidance, a sense of mystery, and desires. The North Star is one of the most well-known and easy-to-spot stars. It has been used for navigation for hundreds of years, keeping travelers and wanderers safe. It means good luck, guidance, and direction. Or you can choose a shooting star, which is a sign of good luck and destiny. Because the shape is simple, you can get a small inking or add other images to make art that is beautiful and full of detail. Stars can be tattooed anywhere, whether you want a small one behind your ear or a big one on your hand or face that makes a statement.
Meaning of Star Tattoo Designs
People like star tattoos because they have a deep meaning and can be used in a lot of different ways. People can find any meaning they want in this tattoo because it can be any size, color, or shape other than a traditional star. Hope is another big idea that is often linked to stars. It has a lot to do with the idea of getting things done. Hope and goals go hand in hand. So, they're also linked to the hope of finding your way and the reassurance that you'll never get lost, even on the darkest night. Stars are used as symbols and emblems in a lot of religions, but Judaism uses them the most. The six-pointed Star of David is a symbol of Judaism, and when it's inked on someone, it usually shows that they are religious and part of the faith.
Star tattoos are usually a sign of ambition and success (you're a star!) or honor and hope (looking up at the night sky). The website also: It can also be a sign to follow, like how travelers used to use the stars to find their way. Your star tattoo can remind you to stay focused on your goals or that fate will lead you in the right direction. In this case, the star tattoo is more than just a sign of love and hope from people who have died. Instead, the star tattoo is about general guidance, whether it comes from the stars themselves, your heart, or the world around you. It is a religious symbol, a spiritual symbol, an icon of beauty, and an image that can be used in any design. Your tattoo can have just one star or many, and the number of stars has its own meaning (e.g., the number three has long held symbolic power).
Ideas For Star Tattoo Designs
The most common type of star seen in tattoo designs is the pentagram, which can be easily added to any design. Often, a large outline of a star is drawn and then filled with patterns or images that the person likes. Patterns like paisley, lace, mandala-like designs, animal skins, and even simple stripes are used. Sometimes color gradients and shading are used as fillers as well. In these designs, the meaning of the image isn't always clear, so the star's appearance is what makes it interesting. In other designs, the outline of the star is not used. Instead, the shape of the star is made from the pattern itself.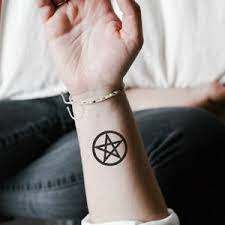 A popular choice is a star from the sea. It makes me think of when sailors crossed all seven seas without any tools to help them find their way. Back then, they could only follow the sun, moon, and stars. The North Star or Southern Cross Star would tell a ship where to go. It makes sense that sailors would get a tattoo of a nautical star to show that they were safe on their way back to their friends and family.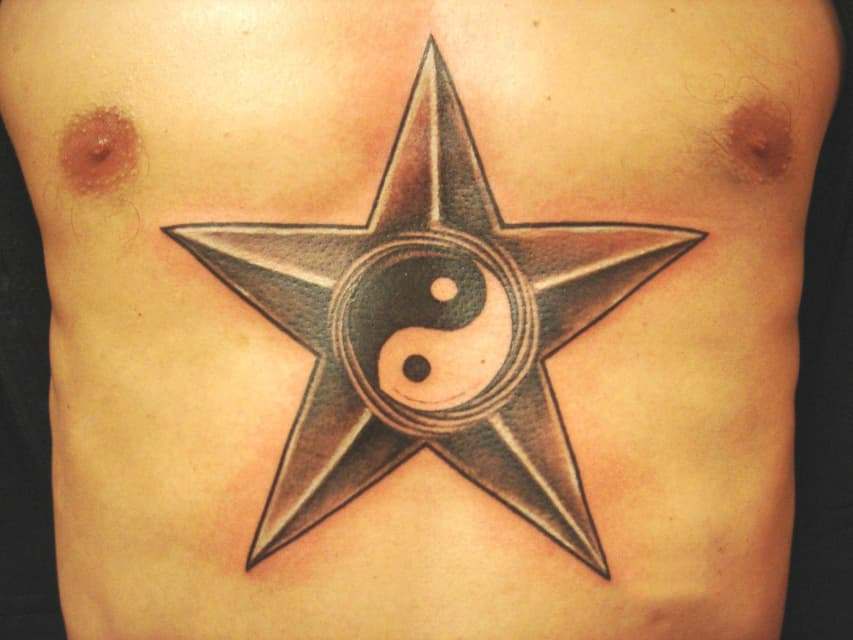 Seeing a shooting star in real life is thought to be lucky. A tattooed version could mean that the person wearing it will be lucky. If you see a shooting star, it means you can make a wish. Rihanna's tattoo of a trail of shooting stars is likely one of the most well-known. Maybe it has brought her luck in her successful career.
A pretty design with a moon (usually a crescent moon) and stars add more atmosphere than just stars alone. Complex details in the crescent moon or clouds moving across the scene give the scene a more mystical feel. The best tattoo sizes for this design are medium and large. This tat looks great on the inside of the wrist, ankle, or shoulder. If you lined up the stars and moon (for ideas, look at the solar system designs below), they would fit along a finger.
Some tribal designs have stars because they are important to that culture. Other tribal designs just use the tribal style (thick black bands) to make interesting tattoos. Tribal star designs are no different. These bold tattoos look great as large or very large designs on the upper arm, sleeve, or back shoulder blade, which are common places for tribal tattoos. Men are much more likely to get these tattoos than women.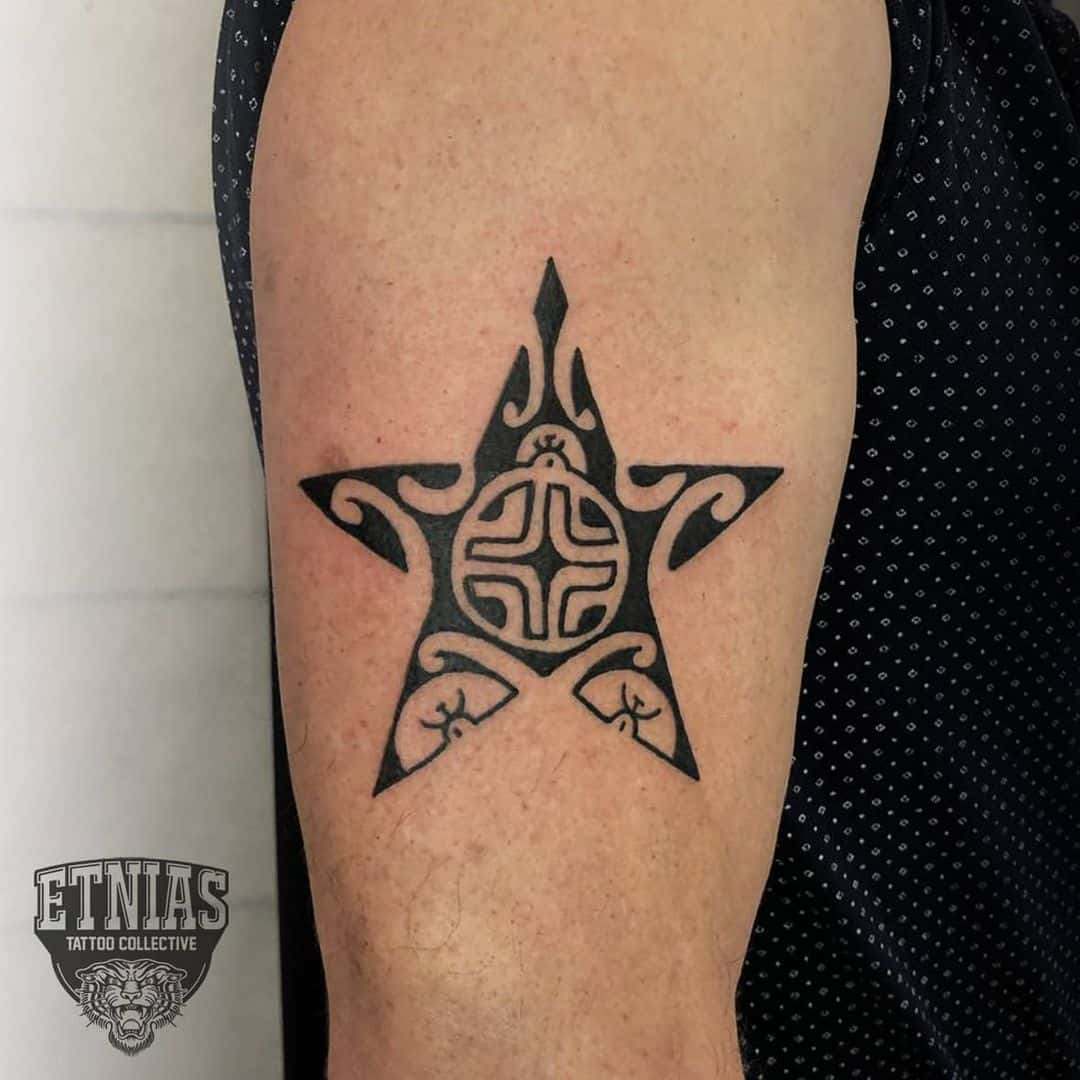 Constellation Star Tattoos 
Constellation tattoos are popular, and you can see them on many people who like body art. If you love the stars or are a nerd, or if you want a tattoo that has something to do with your birthday or someone you look up to, constellation tattoos are a great option. There are a lot of different ways to design constellations. In addition to the many constellations, you can add other things to your design to make it more meaningful or make it your own.
Where Should You Get Star Tattoo Designs
For Women
Ankle
Wrist
Finger Spaces
Hands
Shoulder Blades
Behind the Ears
For Men
Chest
Biceps
Legs
Neck
Back
Forearms
List of Star Tattoo Designs & Meanings
Nautical Star Tattoo Design on Shoulder 
Nautical stars can help you find your way, bring you luck, and keep you safe. It was written to help the sailor find his way and get safely back home. You don't have to be a sailor to like the meaning behind this design, though. Anyone who values these things or wants a tattoo that reminds them to stay on track will be drawn to this inking.
Bold Star Tattoo Design on Elbow
If you don't mind being in a lot of pain, a star tattoo on your elbow is for you. Because the skin is thin and the bone is close, this is thought to be one of the most painful places to get a tattoo. It won't be fun to get a tattoo on your elbow, but many people think it's worth it because any design, no matter what it is, will stand out when it's done here. It feels very rebellious, and the shape of a star can work well in this area.
Color Splash Tattoo Design on Bicep
These tattoos are more eye-catching than plain black ones, and they look especially beautiful in places where they can be seen. Ankles, arms, necks, and other places where the skin is visible are great places for this tattoo. Younger people of both sexes tend to like bright colors more than older people. The splash of colors of the stars makes the tattoo look very attractive.
Colorful Stars Tattoo Design on Body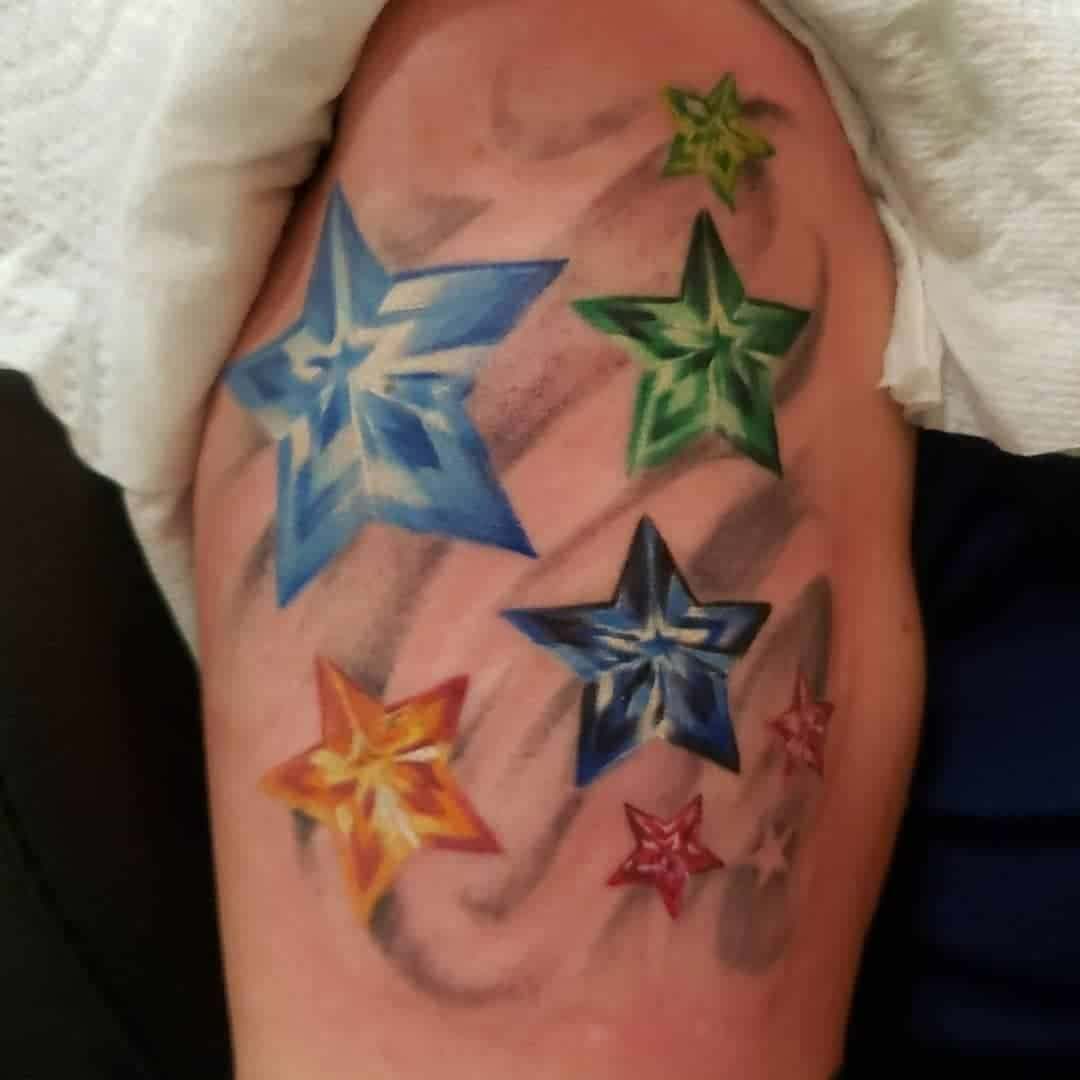 You've probably already noticed that most tattoos are black and white, but there are some that are full of color. Different things can be shown by the color of the stars. For example, people who have beat breast cancer wear pink. Or a rainbow of colors to show pride in being gay.
 Butterflies and Stars Tattoo Design on Shoulder
One of the most beautiful tattoo designs would be a butterfly and a star. Butterfly tattoos are very popular among both men and women on their own because they are gorgeous and have meaning. The insect with wings stands for change and freedom.
North Star Tattoo Design on Arm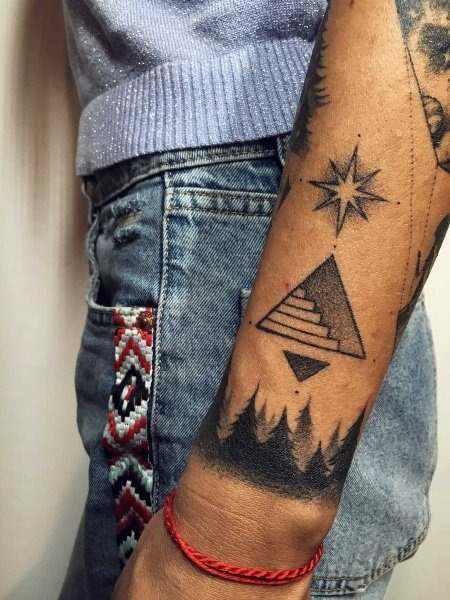 The North Star is one of the easiest and most well-known stars to find. Because of this, it is often used to help people find their way. It is also a symbol of luck, direction, and guidance. We have a lot of tools to help us find our way around when we travel now, but it's easy to see why someone might like the idea of a North Star tattoo because of what it stands for.
A Bunch of  StarsTattoo Design on Face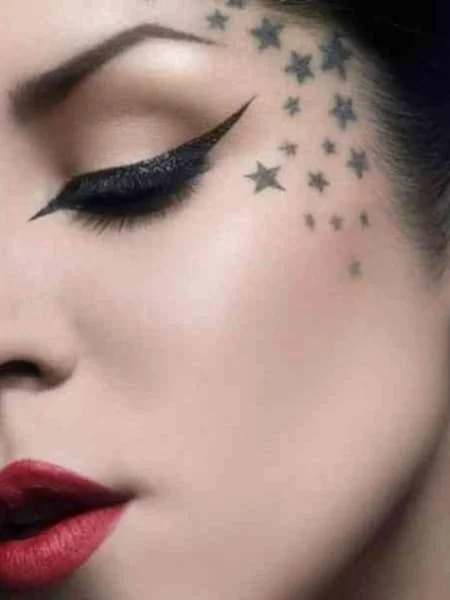 The face is one of the most controversial places for body art. A star tattoo on the face will make a statement because it is hard not to notice. You have to be very sure of yourself to get a star face tattoo, and you should think about the design for a long time to make sure it's something you will enjoy seeing every day.
Animal Print Star Tattoo Design on Body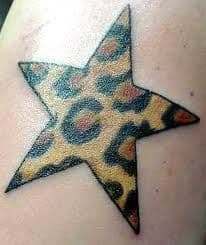 The star tattoo can be done for different reasons and in different ways. There are also a lot of different meanings for these, depending on what you have tattooed with the star or how it is tattooed. That's what's so cool about this sign. The wearer of this tattoo has chosen an animal print star which looks quite unique.
Portrait Star Tattoo Design on Arm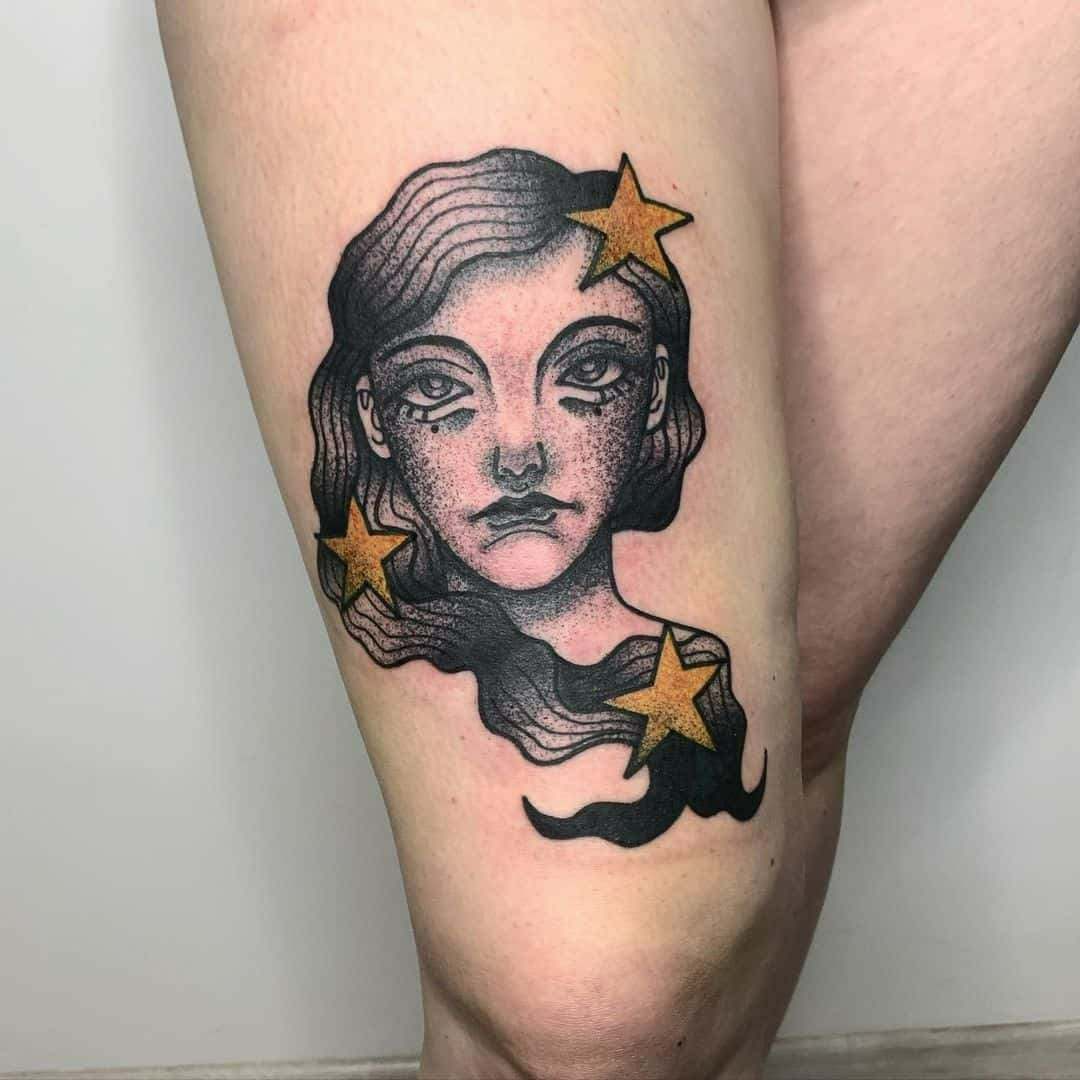 Putting a picture of a person on your star tattoo is a beautiful way to remember someone you love or who has died. It's also a chance to make your star tattoo even better. Large tattoos like these look great on the back, ribs, upper arm, or even thigh (especially on women), where there is a lot of space to work with. Angels, made-up characters, and members of the artist's own family are all popular subjects for star portraits. This design looks great with both black-and-white and colored tattoos.
Clouds  and Stars Tattoo Design on Arm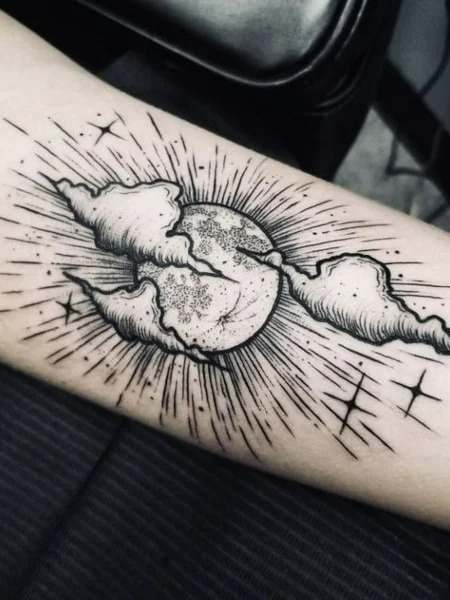 A cloud and star tattoo is a great choice if you want to remind yourself to dream big or not give up on your goals. The combination is powerful and makes you think. Stars can mean guidance, growth, and direction, while clouds can mean danger or darkness. Change can also be connected to them.
Subtle Star Tattoo Design on Bicep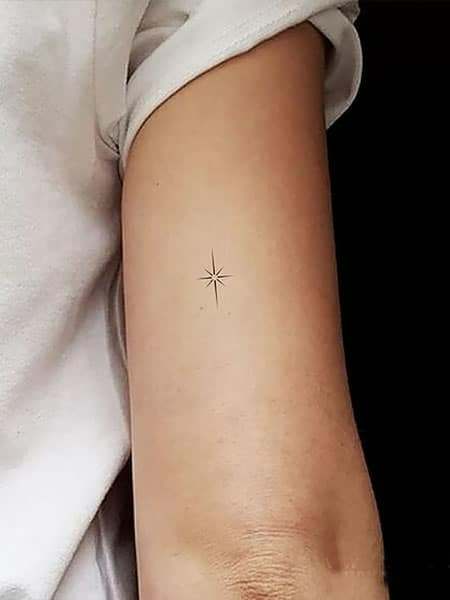 You can choose to draw the outline of a regular star, or you can try something different by drawing the North Star. You can also combine other images, like butterflies, the sun, and the moon, depending on how detailed you want your piece to be. The great thing about small tattoos is that you can put them anywhere you want. Behind your ear, at the nape of your neck, or on your finger are all great places.
North Star Tattoo Design on Face
Although face tattoos look pretty attractive, it probably shouldn't be the place where you get your first tattoo, either. In the past, only prisoners and gang members were allowed to get ink here. Now, models, social media influencers, and rappers are also getting ink here. It can be scary, but it can also be cool, and it can be designed in a lot of different ways. So, it's best to keep your tattoos as small as you can. A tiny star next to your eye or on the side of your hairline, for example.
Trail of Stars Tattoo Design on Neck
Trailing stars look very girly, but they can also look great on men, especially when they are part of a sleeve tattoo. The wearer of the tattoo is the famous celebrity- Rihanna. Since these trailing tattoos have so many stars, it's best to stick with a simple, minimalist star design that can be repeated in slightly different sizes and positions to make a nice effect.
Starry Night Tattoo Design on Arm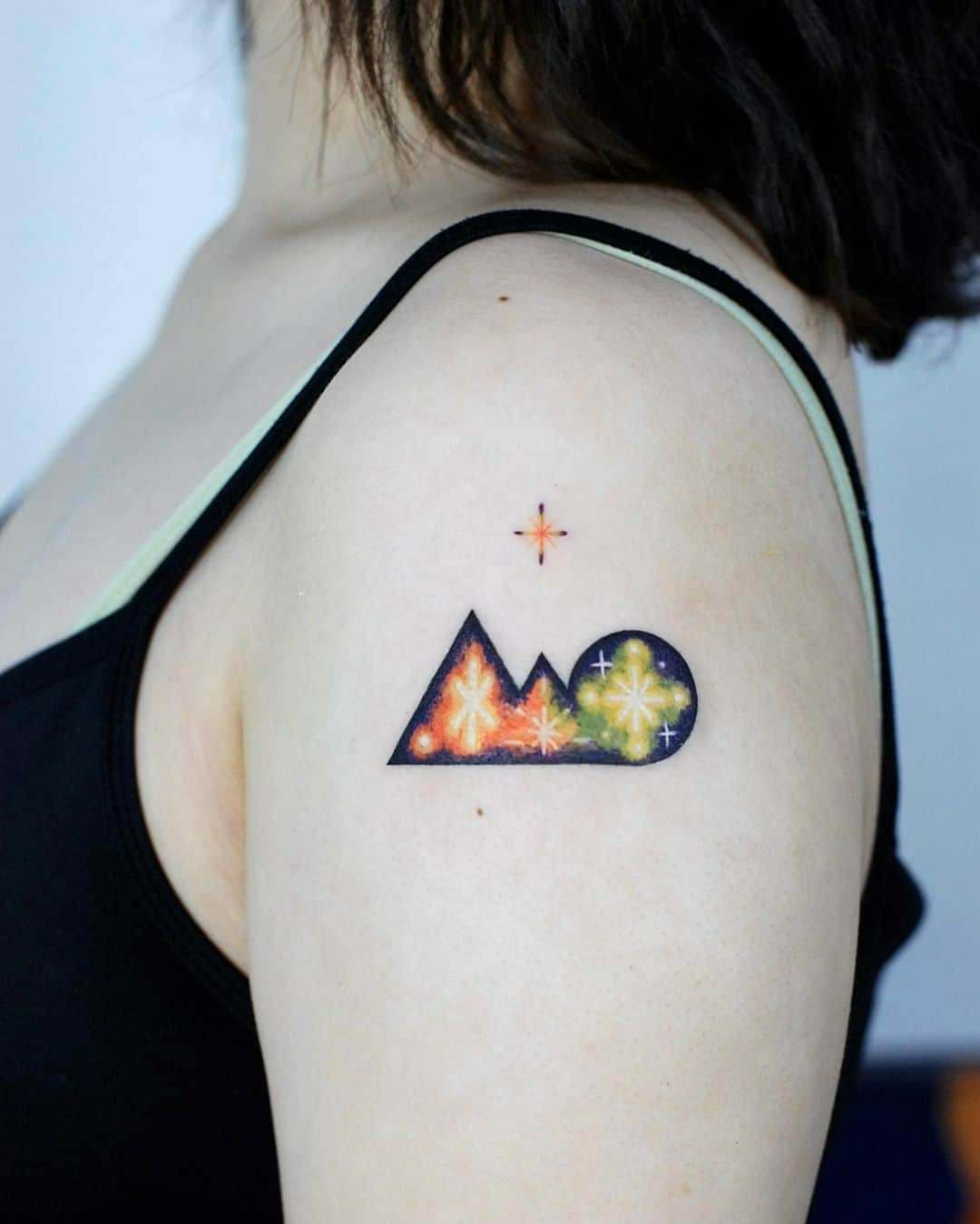 When put on the forearm, these starry night scenes are very popular, especially among younger people who like to get tattoos. These star designs, which can be made vertically or horizontally, show a night sky (sometimes with a moon and sometimes without) and other scenes. You can use trees, animals, or a famous skyline to show how much you care about a certain place.
Moon and Stars Tattoo Design on Shoulder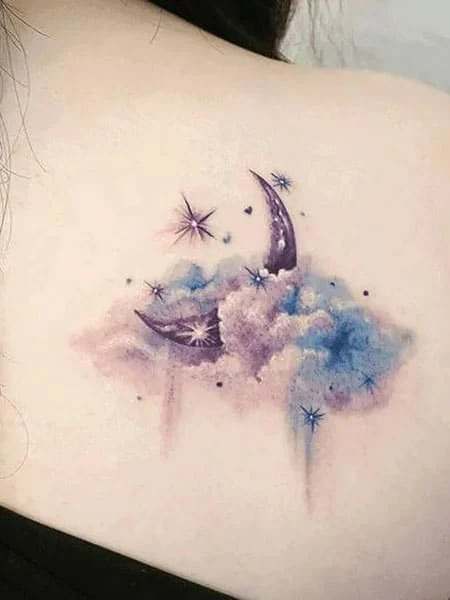 When you see these two words together, you might think about how you have to keep going even when things get hard. You can add a picture of the sun or moon to your ink to make it more meaningful, or you could add your favorite quote or song lyrics. There are so many ways to change this piece and make it your own.
Russian Star Tattoo Design on Shoulders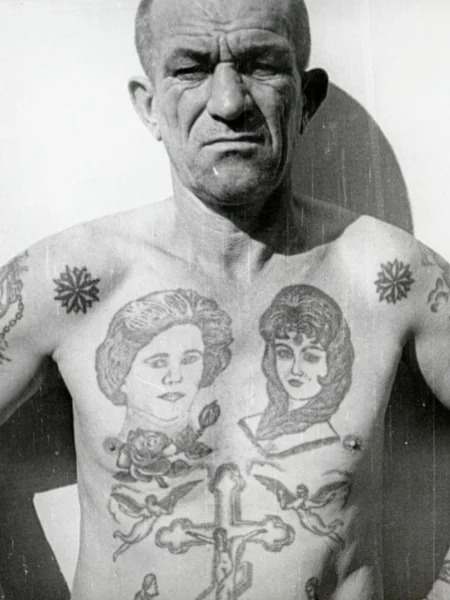 A Russian star tattoo is an interesting option because it is often associated with strength, determination, and authority. When this symbol is inked on the shoulder or knee, it means that the person will not bow to anyone. This could mean that they think they are above the law or that they are proud and won't give in. This tattoo also has ties to prison, and the design can show defiance or the order of things in prison. Before getting this piece inked, it's important to think about what it might mean in a bad way.
Tiny Star Tattoo Design on Finger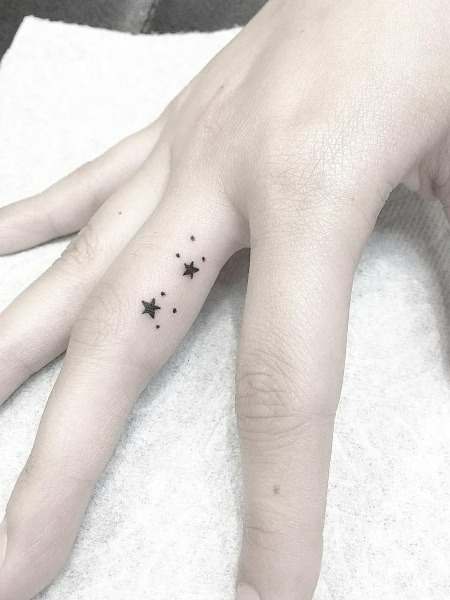 Right now, minimalist star tattoos are all the rage. They tend to be small and simple, with straight black lines that don't always meet! This style looks great with northern-pointed stars, simple five-pointed stars, moons, constellations, and even small quotes.
A Pair of Stars Tattoo Design behind the Ear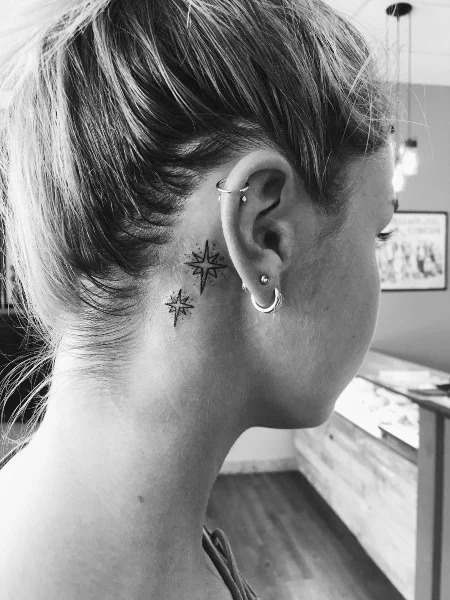 Often, where you put your tattoo is just as important as what it looks like. A star behind the ear is a cool and subtle choice. This spot is great for people who don't want the whole world to see their ink at first glance, and it works well for small tattoos. The great thing about the star is that it has a simple shape, so you can make a small, simple tattoo or a bigger, more detailed one.
Band of Stars Tattoo Design on Wrists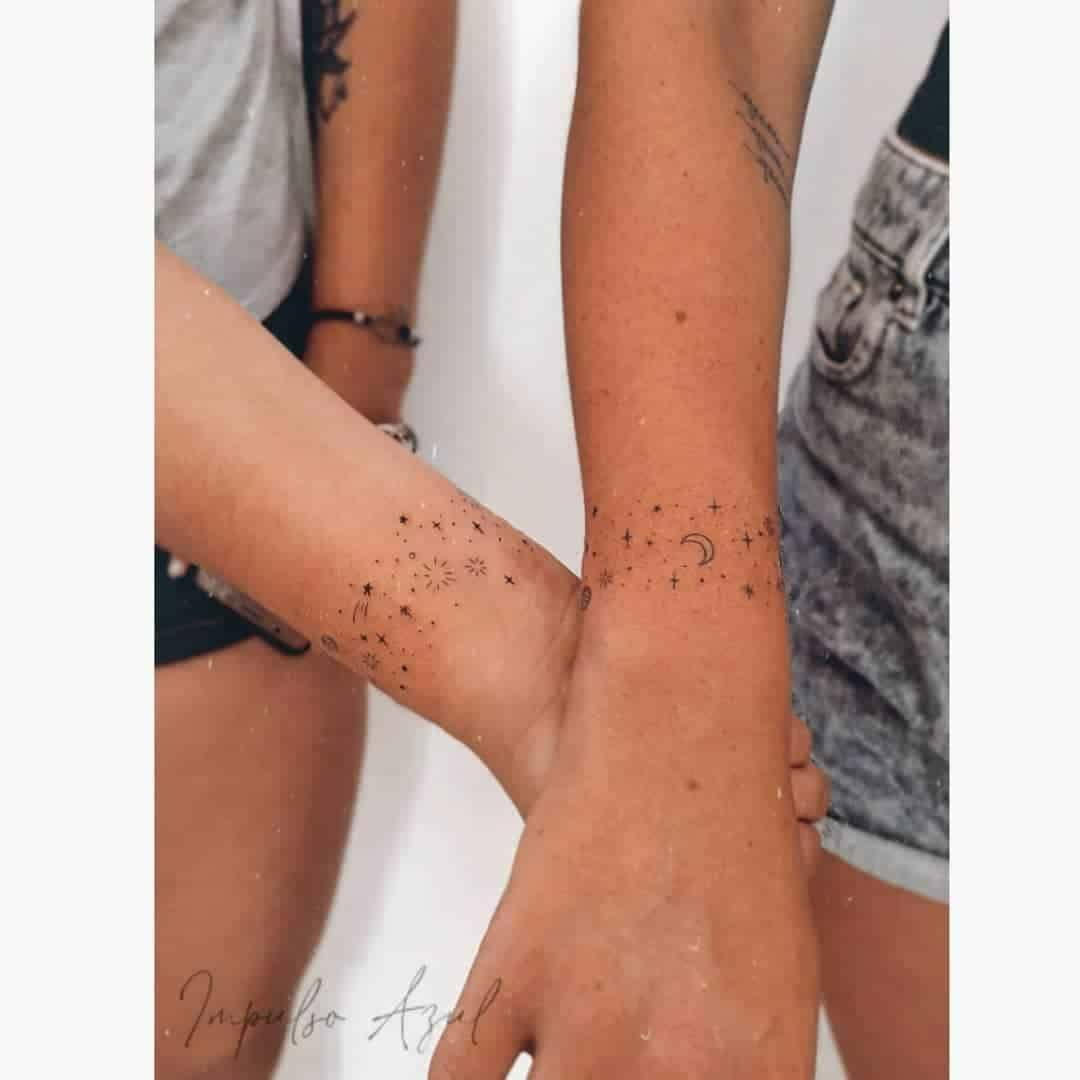 Like a string or trail of stars, these tattoos can go all the way around your forearm or make a thin band around your upper arm, wrist, or ankle. Men tend to like full sleeves and big, bold stars more than women do, but this isn't always the case. Women tend to like fine lines and small stars. The key to making this design work is to choose a simple star that can be used over and over.
Geometrical Star Tattoo on Arm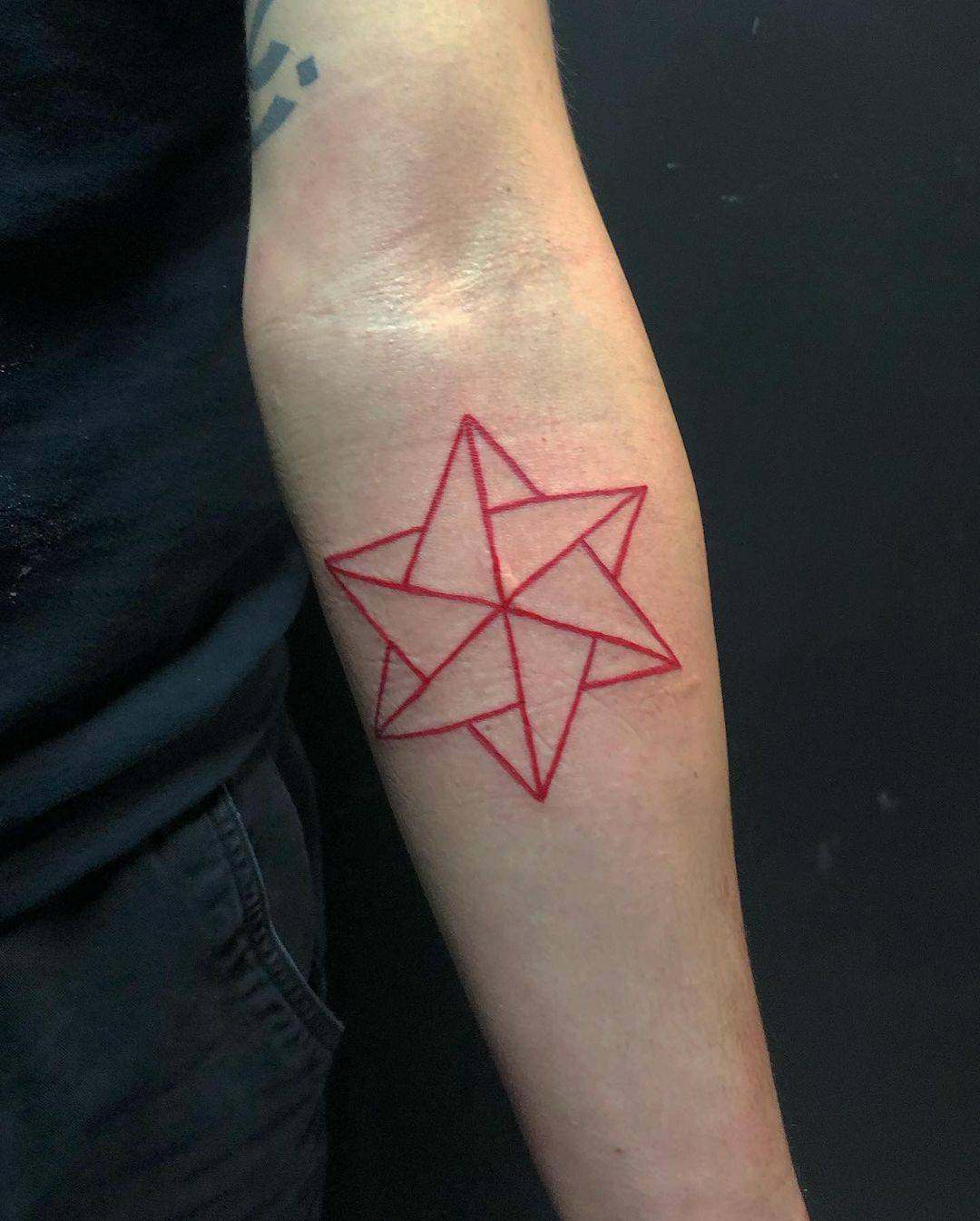 All ages and both men and women look great with these star tattoos. Sharp lines and angles give this tattoo a minimalist feel, but it can also have more meaning than other star tattoos. This design is often used with pentagrams or just mathematical angles and calculations to show an interest in science. Geometric star tattoos that are about the size of your wrist or ankle look good. You can also make them small enough to hide behind your ear or on your toe.
Star Wars Tattoo Design on Forearm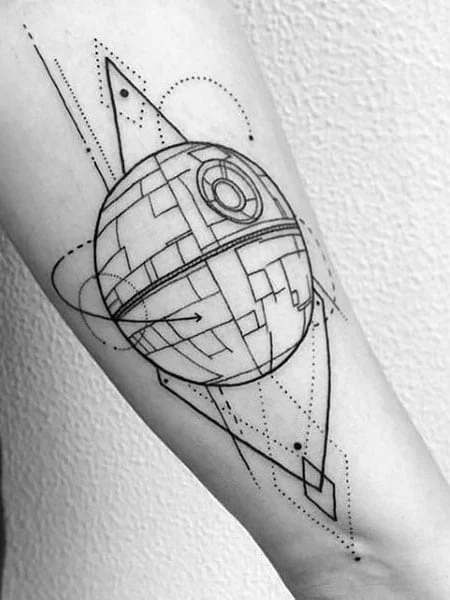 Star Wars fans can show how much they like the series by getting a tattoo of the Death Star. The ship was made for the 77th Task Force, but it later joined the Rogue Fleet. You might want to add other well-known Star Wars images to your battleship when you design your piece. This could show the light and dark forces, like Darth Vader, Storm Troopers, the Rebel Alliance, or the Millennium Falcon.
Cute Star Tattoo Design behind the Ear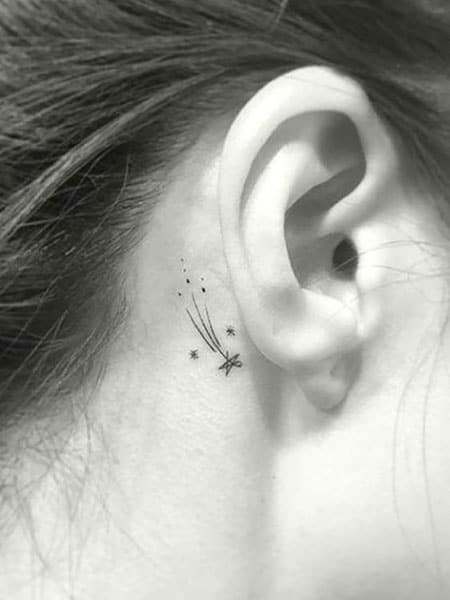 This is a beautiful, positive piece that you might want to ink somewhere you can see every day to remind yourself of how important it is. Most designs are simple and compact, which is a great choice, but you can work with your tattoo artist to make sure your art is unique and fits your style.
Simple Star Tattoo Design on Finger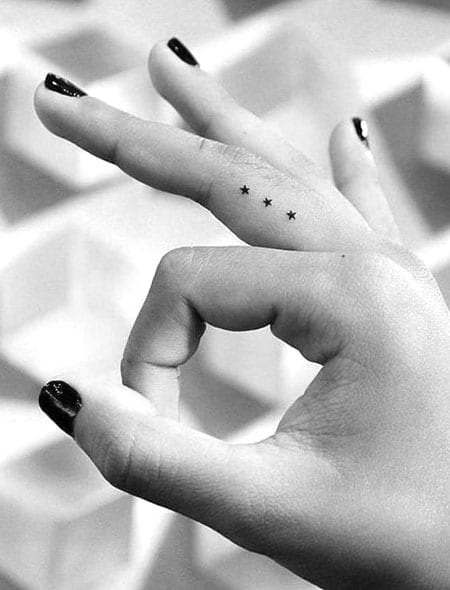 Tattoos on the fingers are common for both men and women because they are visible and can make a statement. This is a great place for something important to you, and a star tattoo is full of meaning. Every day, you can look at it to remind yourself of your goals. Or, you can see it as a good sign that better and brighter things are coming.
Minimal Star Tattoo Design on Hand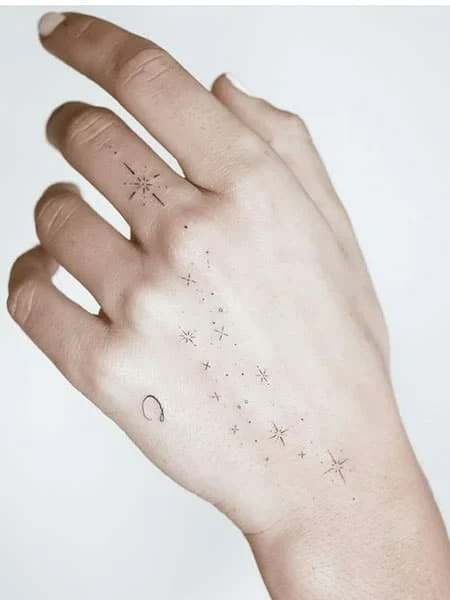 Getting a tattoo on your hand is a rebellious thing to do. It's a place where people go who don't care what other people think, it makes a statement, and it's a great place to look at every day. Because of this, it's a great place for a design that means something to you.
Cartoon Star Tattoo Design on Arm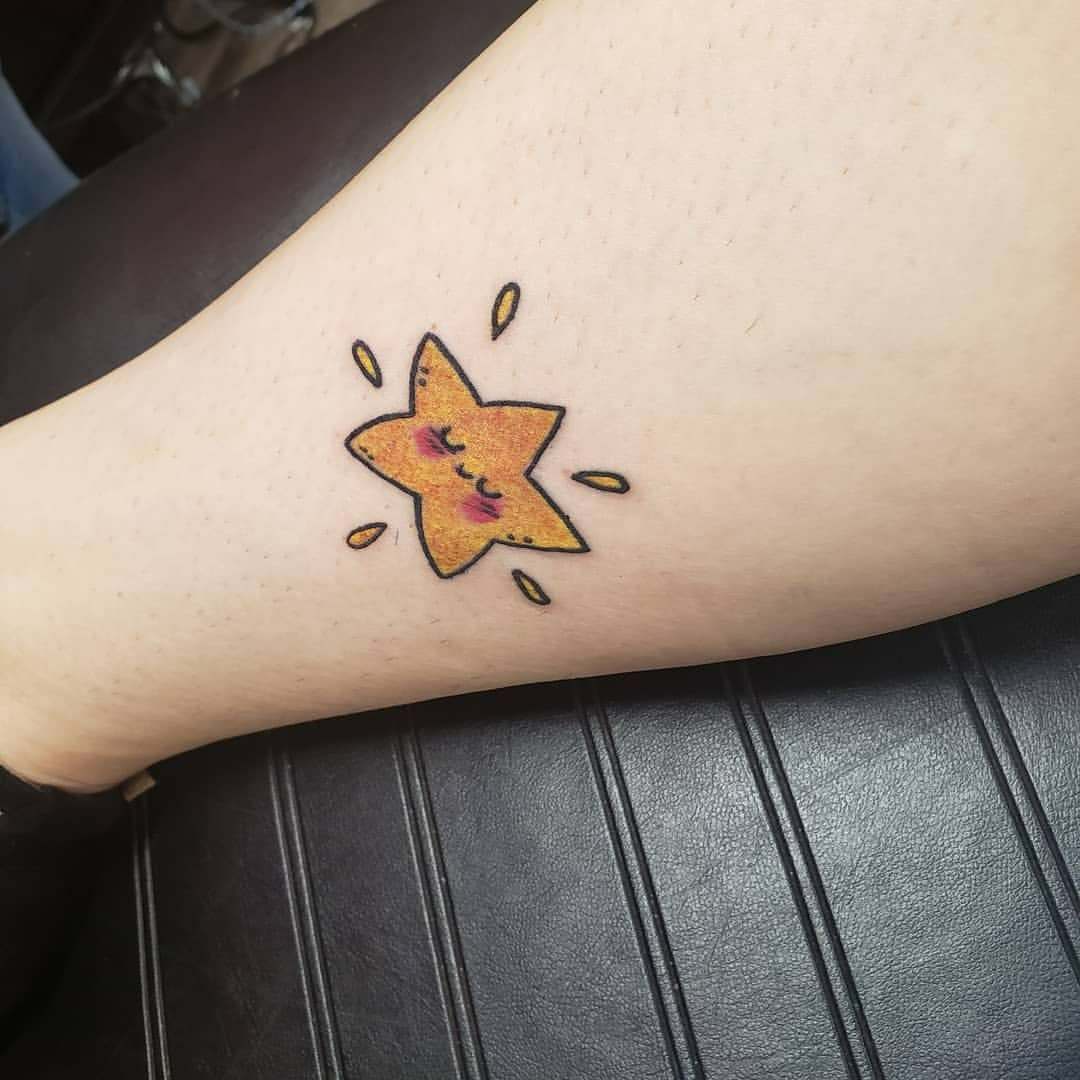 Cute cartoon star designs like this tattoo are super popular. These designs give your tattoo more personality and a sense of fun. You can also use them to honor a favorite artist or show, like Studio Ghibli's Spirited Away's soot sprite holding the star. These tattoos, which are usually between medium and large in size, look great in bright colors. Most young men and women get this tattoo on their wrist, hip, or lower back. Make sure you love the design before you get it tattooed on your body. Cartoons don't last as long as simple designs.
Dark Nautical Star Tattoo Design on Arm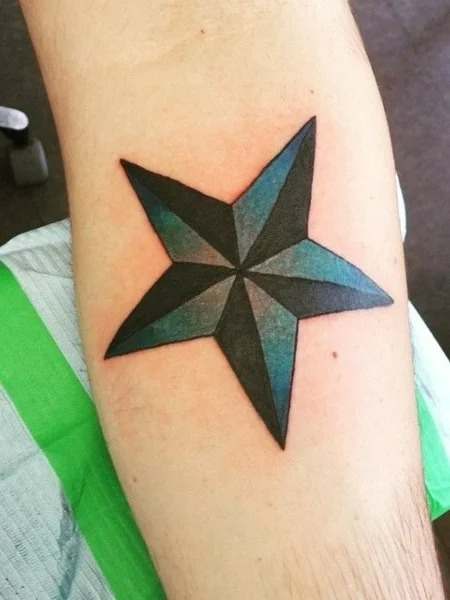 Sailors loved tattoos, which meant a lot more to them than just pictures on their bodies. The meanings behind nautical designs are strong, and they could give a person hope and courage before a long, hard journey at sea. Because it looks like the North Star, the nautical star tattoo is one of the most popular choices.
Shooting Star Tattoo Design on Back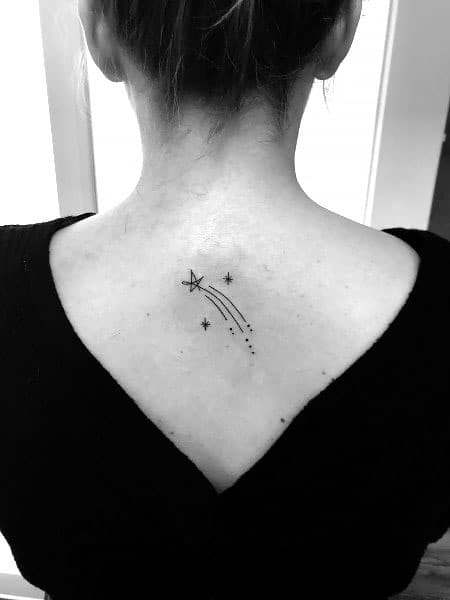 When you look into the night sky and see a shooting star, you might feel lucky and happy. This is what a shooting star tattoo is supposed to represent. It also has to do with making your dreams come true, trying to get better, and your fate and prosperity.
Healing Star Tattoo Design on Body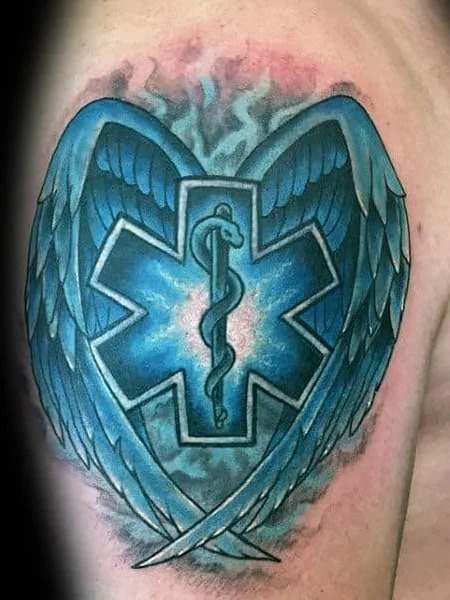 Body art that looks like a star of life is a very meaningful idea. It is a sign for the emergency medical services team that was made by the NHTSA. The six points of the star in the artwork stand for the main people who help in emergency medical services. It is blue and has the Rod of Asclepius in the middle. It comes from Greek mythology and has to do with healing and medicine.
Trail of Stars Tattoo Design on Back
When you group a lot of small stars together, they look especially pretty. This star tattoo looks great when it flows around your body in a natural way. You could get a tattoo of stars going up your back and neck, around your collar bones, or curling around your forearm or calf.
Small Star Tattoo Design on Wrist
With two points longer than the others, these northern-style stars make a more oblong shape that looks great on the wrist or forearm, behind an ear, or along a finger. With this type of star, you can go for both bold lines and simple designs (like a diamond shape), but the simple designs are more popular, especially among women. Adding dots or extra lines that move away from the star's centre makes it look like it's glowing or sparkling, which is very pretty.
Heart Stars Tattoo Design on Arm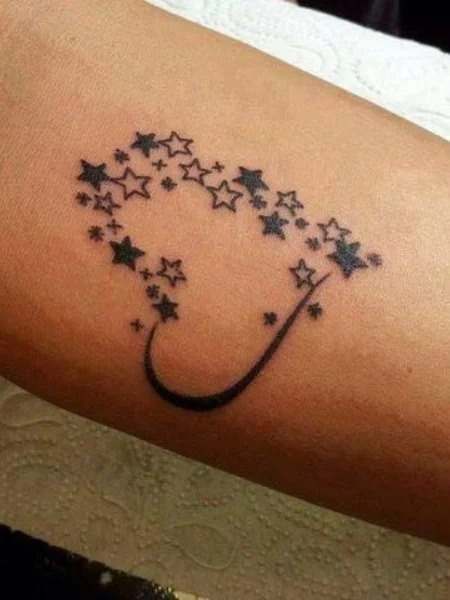 A heart and star tattoo is the perfect way to show that you have hope and love for someone. A heart tattoo is popular because it is a universal sign of love, passion, and commitment. Adding a star to your design makes it unique and adds to the meaning of the tattoo as a whole. Stars are connected to many things, like guidance, hope, mystery, and desire, so it's easy to see why someone would be drawn to this piece. On a more serious note, this tattoo could also be a memorial to someone who has passed away but still watches over you.
Elegant Star Tattoo Design on Finger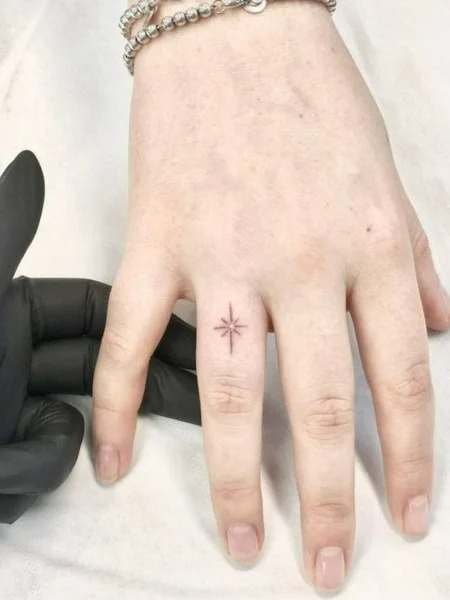 The North Star's brilliance can be seen as a sign of hope for the future. This is a great piece for either a man or a woman to get tattooed. You can get it tattooed on your finger, behind your ear, or on your wrist. Because most designs are simple, it is a versatile piece.
Three Stars Tattoo Design on Foot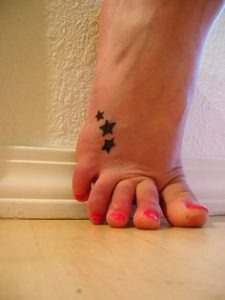 If you're looking for a tattoo design for your foot, then these stars will be an ideal choice. As it is known, that it's not easy to find finger or foot tattoos, stars are perfect for such places. A star can be tattooed alone or with multiple stars like the wearer of this tattoo has chosen three stars.
Pretty Star Tattoo Design on Wrist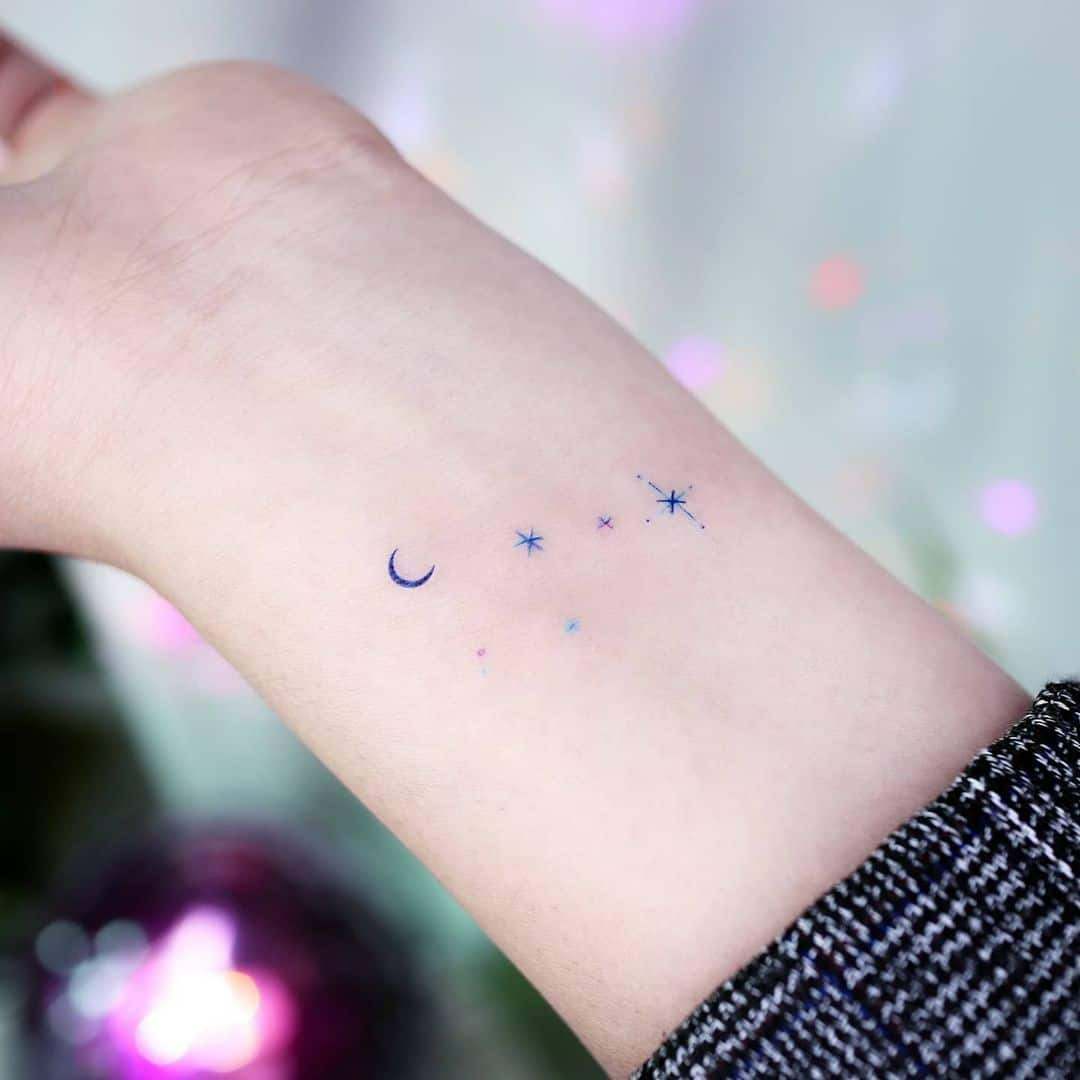 The crescent moon and the stars can be a way to celebrate women or show that you are going through a change in your life. There is also a romantic link because the two symbols stand for love. You could, for example, get a matching tattoo with your partner to show your commitment to the relationship or see your tattoo as a declaration of love.
Charming Star Tattoo Design on Body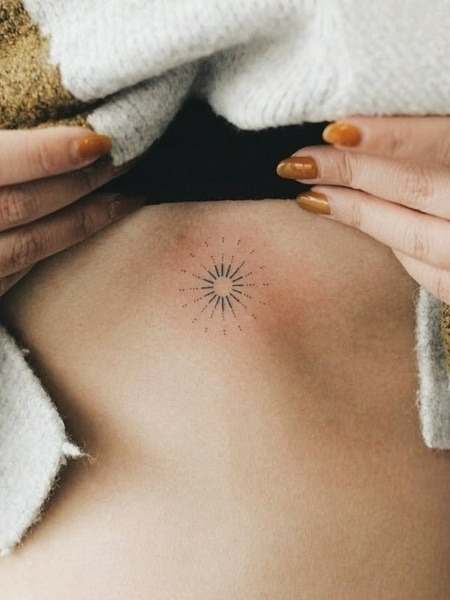 Star designs are great because they can be done big or small. However, if you want an underboob tattoo, you might want to keep it small because it hurts to get ink there. Because you are inking over the bone, the pain can be very bad. However, once your tattoo is completed, it will all seem worth it.
Crescent Moon and Star Tattoo Design on Arm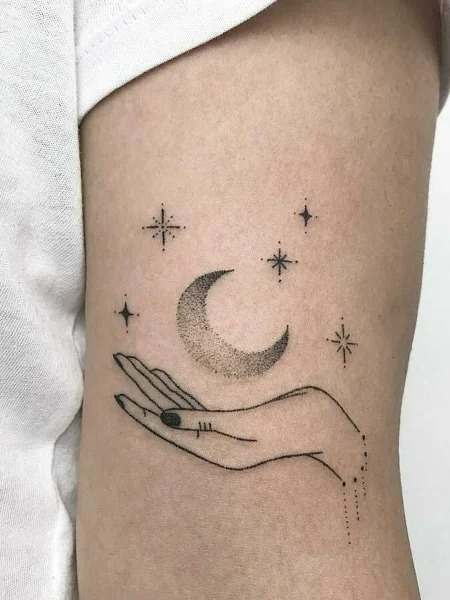 When you get a tattoo of a star and moon, it means something very important. The two people together often stand for a family, with the stars as the children. This is a great choice for someone who puts their family above all else. The number of stars on your design can show how many children or siblings you have.
Southern Star Tattoo Design on Wrist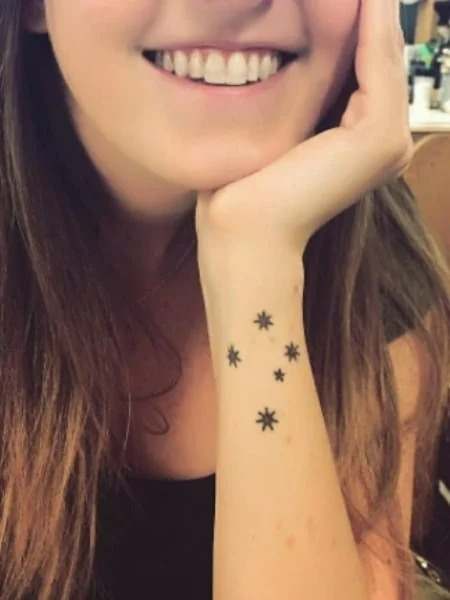 A southern star tattoo can show your love for your country or show that you like to travel and try new things. This star is different because you can't see it from the northern hemisphere. Because of this, a lot of people in the southern hemisphere are interested in this star and think it is special. Australians are now getting tattoos of the constellation all the time.
Cute Star Tattoo Design on Collar Bone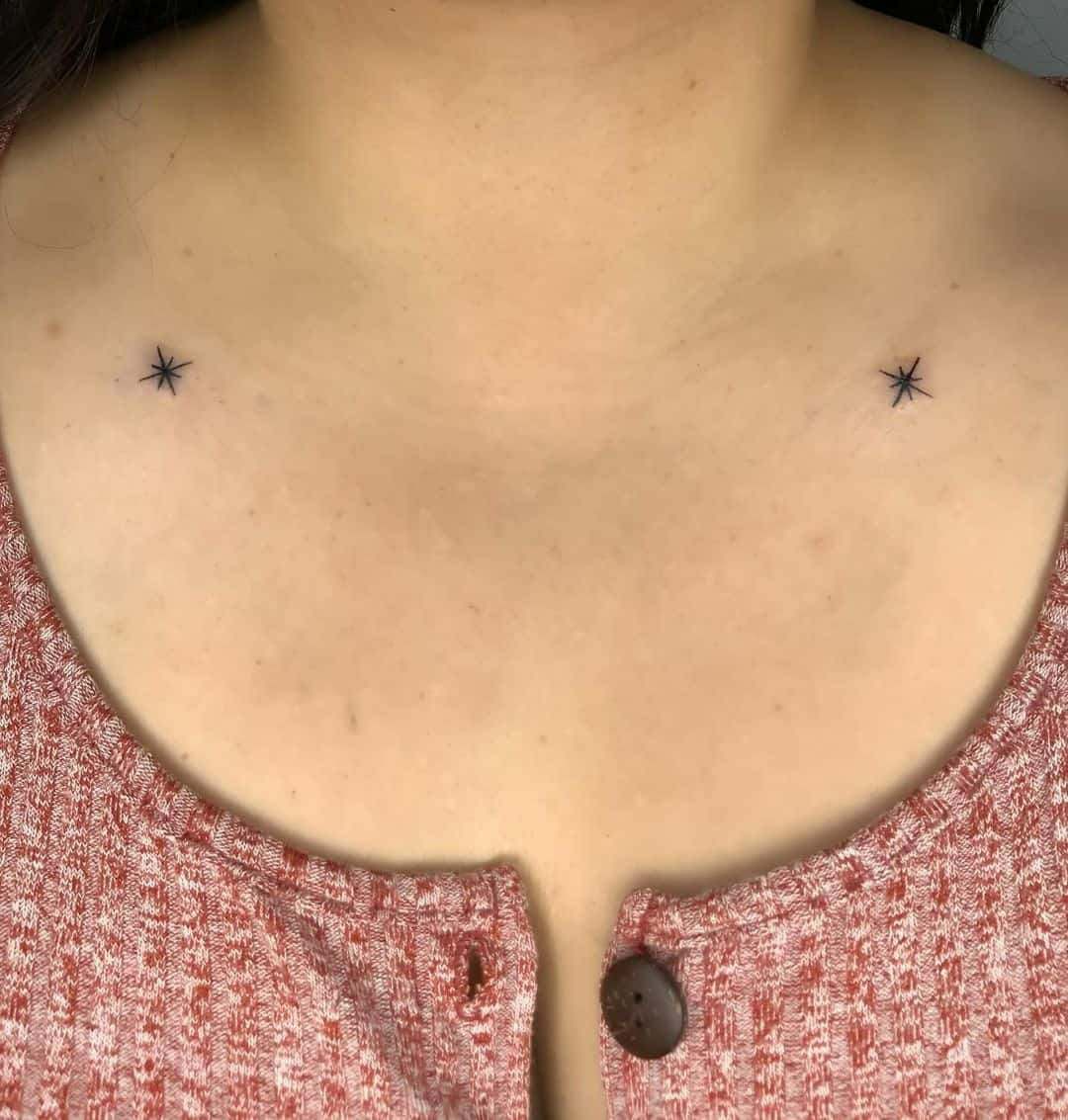 This is another adorable design for star tattoos. The wearer flaunts them on her collarbone of each side. Such tattoos are easily visible so you have to be sure of the design you're getting. Small tattoos look really cute in such places.
Sun and Stars Tattoo Design on Body
A tattoo of the sun, moon, and stars will give you ideas. It has a lot of symbols that stand for the whole universe. The combination can also make you think of magic and mystery, making it a great choice for someone who likes to think or dream. Your tattoo can mean night and day, two different things coming together, or finding a balance in life. The meaning you want to give it is up to you.
Dreamy Stars Tattoo Design on Arm
Men and women often get star tattoos because they can be made in many different ways and mean different things. If you want to show how strong and powerful women are, a crescent moon and star design is a great choice. This phase of the moon is often linked to growth, getting pregnant, and becoming a mother.
Single Star Tattoo Design on Neck
A small star tattoo is a great way to make a statement without needing a big design. Because the star shape is so simple, it's easy to get inked and is the perfect piece for something small and easy. Stars are often linked to dreams and goals, and this is a great way to keep these things in mind.
Colorful Star Tattoo Design on Back
Back is an attractive and a great place to get a tattoo, whether it's your first or tenth. The back is a good place for all kinds of tattoos because it is big enough to fit a big, detailed piece, but it also works well for small, simple tattoos. It is also easy to hide, which is great if you want to hide your design or work in a business setting. Also, on a scale of low to moderate pain, it's low to moderate.
Inside Out Star Tattoo Design on Body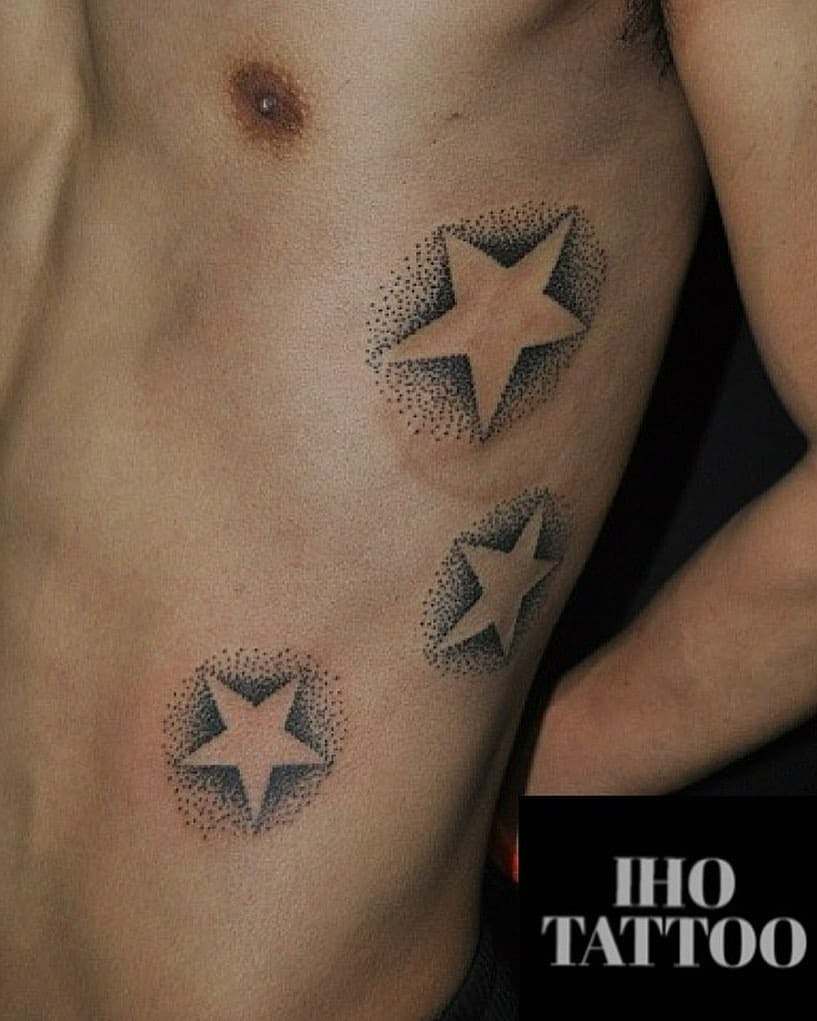 These "inside-out" tattoos leave blank spaces in the shape of stars by using clever shading techniques. To make the picture, small dots and shadows are used instead of straight lines. This star tattoo design is both bold and artistically detailed, which usually means that bigger is better. Even though you could tattoo a tiny star in this design, it would be hard to see all the little details, so what's the point? Bigger is better!
Tribal Star Tattoo Design on Ankle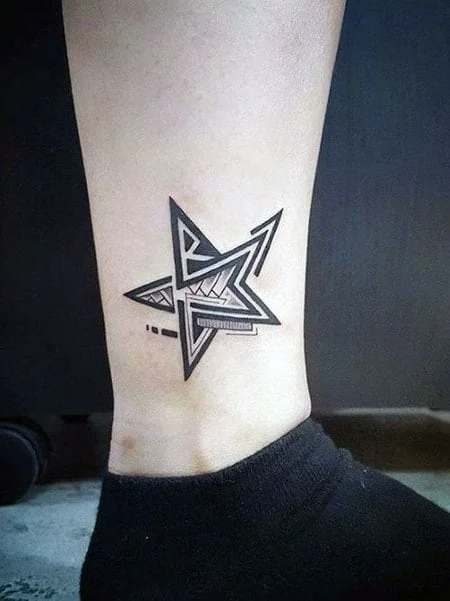 Some people get ideas from the general tribal style, which is made up of intricate patterns made with thick lines and black ink. But before you do anything, you should think about whether your design could be seen as cultural appropriation and make sure you fully understand its importance and meaning.
Moon and the Stars Tattoo Design on Forearm
The moon and stars can also show us where to go and give us hope. They can remind us that life can be good and that there is light even in the darkest times. It also matters what phase of the moon you choose. For instance, a full moon is associated with magic and mystery, while a crescent represents growth and fertility.
Adorable Stars Tattoo Design on Arm
There are many different kinds of star tattoos, and each one means something different. Not all of them show stars in the sky. People who wear these stars give them a lot of thought. This star tattoo will look super cute on your forearm.
Constellation Star Tattoo Design on Shoulder 
Constellation tattoos show a constellation by connecting several dots or very small stars. These designs are more flexible than you might think. The constellations themselves can have meanings, but adding flowers and other symbols to the design gives it more style.
Tribal Star Tattoo Design on Forearm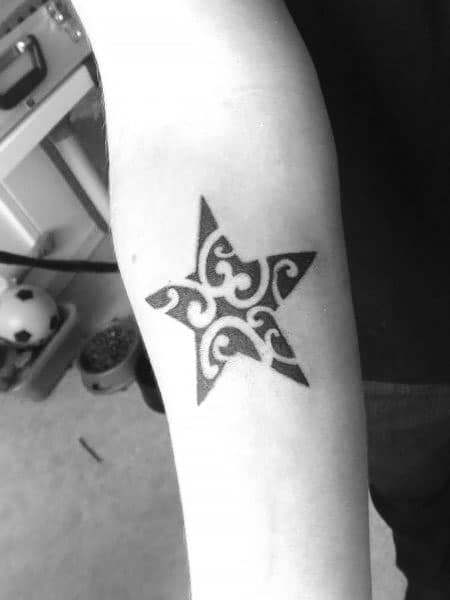 A tribal star tattoo has a very unique look and depending on the culture that inspired it, it can mean a lot of different things. The location of tribal art is also important because it can show social status, accomplishments, and power.
Pentagram Star Tattoo Design on Bicep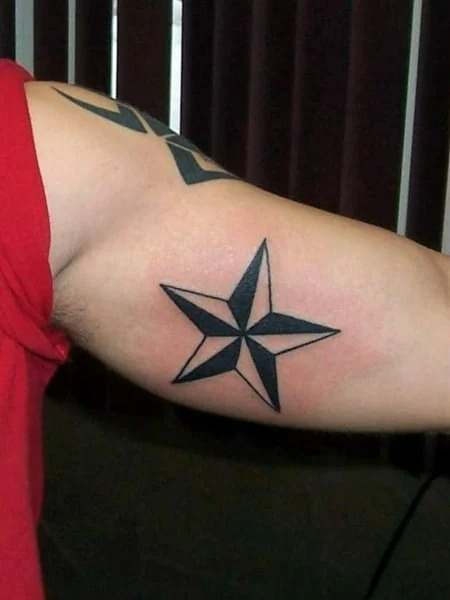 In general, stars can mean a lot of different things, from dreams and goals to guidance and safety. Still, some have less-than-desirable connotations, which you should be aware of when choosing your design. People in gangs often use a five-pointed star tattoo as a sign for the legendary Bloods.
Sun, Moon, and Star Tattoo Design on Body
If you want a dynamic placement, the sternum is an excellent choice. You can hide it when you want or show it off at the beach or to the people you care about most. This makes the place more sensual and can be done in a male or female way. It also draws attention to one of your most attractive body parts.
Unique Star Tattoo Design on Arm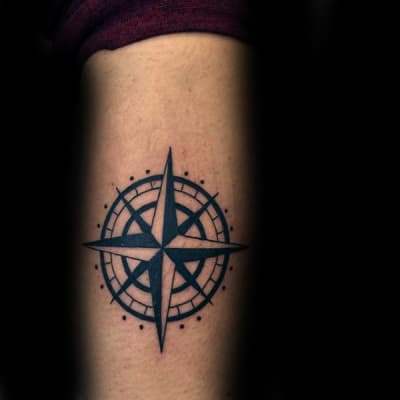 The star on a ship is also a pentagram. It's meant to look three-dimensional, with lines coming out from the star's center to add depth. The sections made by these lines are different colors and have long been used as a tattoo symbol called "sailor jerry." Most of the time, red and black or green and black are used.
Star tattoos mean something different to each person who has one. When the ink is permanently embedded in their skin, it's a way to show something that has a personal message or meaning behind it… or maybe they just like the way a pretty star tattoo looks. There's no problem with that!