Joshua Howard Luellen an American record producer, songwriter, and rapper is best known by his nickname Southside (also known as Sizzle). Southside became all famous when he gained stage in the hip hop industry for producing songs for prominent artists across the American hip hop sphere.  Southside has got ample tattoos that cover the major portions of his body. Let us explore them.
It's like a pain reliever for me. It doesn't hurt me anymore, just relieves stress. It feels like a message to me now. Except for this unfinished tattoo on my back, a big one. That shit hurt. I got my son's name, Carmelo. My daughter's name, Carly, is on my face right here.
1. 'AMG' Tattoo
Tattoo: On the lower side of his left eye, Southside has got two hearts tattooed vertically. Under the hearts is the acronym AMG inked. The hearts are colored in red and green.
Meaning: AMG is the name of one of the songs by Southside.
2. Right Bicep Tattoo
3. 'Cash' Tattoo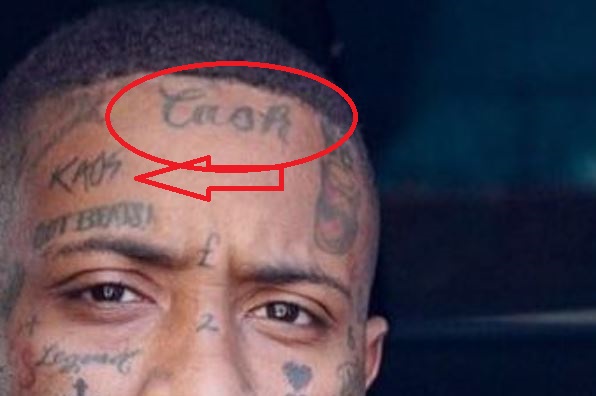 Tattoo: 'Cash' is inked on the top of his forehead.
4. Face Tattoo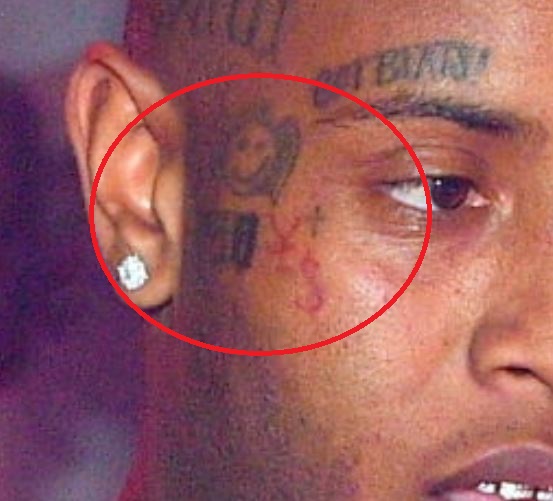 5. Forehead Tattoo
6. '808 Mafia' Tattoo
Tattoo: '808 Mafia' inked on his hands.
Meaning: 808 tattooed is actually dedicated to '808 Mafia', which is the name of the American record production and songwriting team, founded by record producers Southside and Lex Luger.
7. 'MANE' Tattoo
8. 'GOT BEATS' Tattoo
Tattoo: Above his right eyebrow, Southside has got the word, 'Got Beats' inked.
"Got Beats!!!," above his right eyebrow. "It's not like we went go out here and try to make beats today," he adds after returning to lounge on the couch. "We 'bout to chop it up about shoes, [weed], cars, everything, but make beats in between the shit."
9. 'Cross' Tattoo
Tattoo: There is a tiny cross tattooed under Southside's right eye.
Meaning: Cross is the symbol of religious beliefs and faith of Christians i.e. 'Christianity.
10. 'BB' Tattoo
Tattoo: 'BB' along with a funky face is inked on the top left of his face.
11. 'KAOS' Tattoo
12. Head Tattoo
13. 'INDIA' Tattoo
Tattoo: On his left pec there is a big rose tattooed along with a banner wrapped around it that contains the word, 'India'.
14. Neck Tattoo
Tattoo: Across his neck, there is a star inked with a skull inside it.
Meaning: Star is the symbol of guiding light and also considered as the symbol of adventure and bravery. Simultaneously, the skull is also the symbol of courageousness to deal with all difficulties of life.
15. Legend Tattoo
16. 'Pac Man' Tattoo
17. Arm Tattoos
Tattoo: There are few smileys, followed by musical notes and a flag that can be seen on South's right arm.
18. Skull Tattoo
Tattoo: Skull is inked on the outer side of Southside's left forearm.
Meaning: Skull is the symbol of evil and death. Some people get it just for the sake of getting it due to its spookiness but there are others who get it as the symbol of strength and a strong attitude to face hard times of life.
19. Skull Head Tattoo
Tattoo: There is a big skull with horns inked on the center of his chest.
Meaning: Skull with horns is the symbol of death, danger, and destruction. However, it is also a symbol of strength and confidence. In ancient times, a skull with horns was used as the symbol of reflecting a change or transition.
20. Chest Tattoos
Tattoo: Southside has got multiple tattoos done on his chest. There is a pac-man inked on his right pec and a rose with a banner is inked on his left pec. The rose is surrounded by a  banner that contains 'India'. Also, there are a huge number of buildings inked on the top of his right and left pec.
21. Abdomen Tattoo
Tattoo: 'TRUTH' inked on his stomach.
22. Written Tattoo
23. 'Brieh Squad' Tattoo
24. Head Tattoo
Tattoo: On his bare head, Southside has got the tattoo of praying hands and rosary beads.
Meaning: A pair of praying hands with rosary beads are the symbol of the fact that Southside is a Catholic and holds strong religious beliefs and faith in Christianity.
25. Shoulder Masks' Tattoo
Tattoo: Smile Now Cry Later masks are inked across his shoulder. The smiling mask is tattooed on his right shoulder whereas the crying mask is inked on his left shoulder.
Meaning: Smile Now Cry Later masks symbolize that we should live in the present and enjoy freely without worrying about the future and future consequences of current actions.
26. 'Legend' Tattoo on head
27. Smiley Tattoo
28. Buildings on Chest 
Tattoo: There are few buildings and dark clouds inked on the left side of his chest.
29. Writing on neck
30. Writing on the forearm
31. Smileys on the abdomen
32. Jesus Christ Tattoo
Tattoo: There is a shining portrait of Jesus Christ inked on the inner side of Southside's right bicep.
Meaning: Portrait of Jesus tells us about the strong faith and religious connection of South with God and his blessings and also the fact that Southside is a Christian.
33. Portrait on Stomach
34. Wings Tattoo
Tattoo: Angel wings tattooed on the left side of his collarbone. Angel wings are the symbol of good luck and a tool of guidance towards the right path in life.